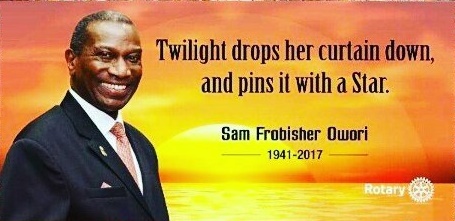 When the announcement was made that Sam Frobisher Owori of the Rotary Club of Kampala, Uganda, was the choice of the Nominating Committee for President of Rotary  International 2018-19, it was sensational news!  It was greeted with rapturous applause, not only because he was a popular choice, but also because it had taken a long time to produce another President from the African continent.
'Small Sam' as he was affectionately called,  was the 2nd African to be Rotary International President in the 113 year history of the Organisation.   This is why his untimely death has been so painful, and shocking beyond belief, leaving all his many friends and well wishers around the world utterly devastated.
Sam Owori was a man of many parts:   a seasoned banker who served in his country, as well as at the African Development Bank in Abidjan.  He was also a Law graduate.
Sam was a gentleman of impeccable character, polite, humble and always wearing a winsome smile.  He was a good Christian and together with Norah, prayerfully encouraged me during my health challenges.
Our late President-elect had great plans for the future of Rotary in the areas of membership and extension.   As a member of the International Polio Plus Committee, Sam was dedicated to the eradication of Polio.
The many tributes that have appeared on social media and the fact that his country is organising a state funeral for him bear testimony to the life of a truly great leader and the esteem in which they hold him.
A part of the "Psalm of Life"  by Henry Wadsworth Longfellow best describes Sam and his impact on us.
'Tell me not, in mournful numbers
Life is but an empty dream
For the soul is dead that slumbers
And things are not what the seem
Lives of great men all remind us.
We can make our lives sublime
And, departing, leave behind us
Footprints on the sands of time
Our thoughts and prayers are with his loving wife, Norah and the entire Owori family. May his soul rest in Peace.
Jon Majiyagbe