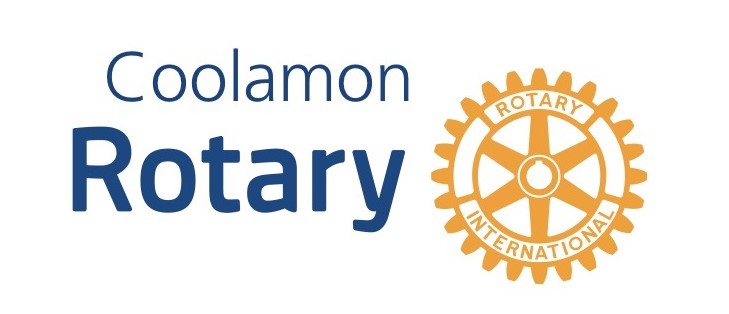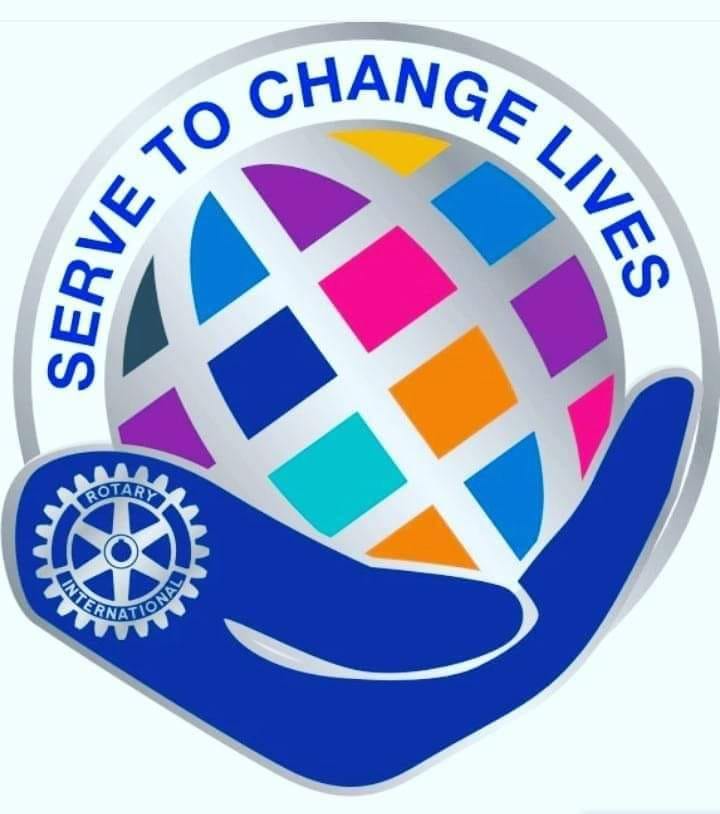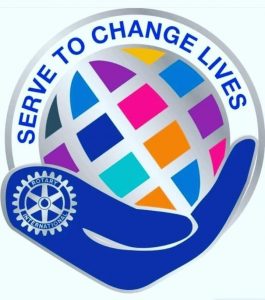 Week of 5th July
This week's meeting was the 50th changeover of the Rotary Club of Coolamon.  Similar to last year's changeover, we had to limit attendance to members only despite the fact that we had been preparing for 70+ members and guests for the occasion until last week, when new COVID restrictions in New South Wales dictated that we should not be holding a large indoor gathering when Sydney was in lockdown and events such as weddings and funerals were limited to a handful of guests throughout the state.  We did one allow one guest on the evening, which will be explained below.
Past President Daryl Breust chaired the changeover, and welcomed 22 members and one guest to the event.  The changeover followed the format typical of our changeovers except for the deletion of numerous toasts and singing of the national anthem (no singing at gatherings in NSW at present!).  Following a delicious three-course Chinese dinner, outgoing President Howard summarised the highlights of the past year, including the monetary donations to a range of needy recipients and charitable organisations in Australia and around the world, which amounted to over $29,000. Following that, Howard inducted Albert Suidgeest as the president for 2021-2022, who in turn thanked Howard for his service over the past year and introduced his board for 2021-2022, which included Paul Weston (President-Elect), John Glassford (Secretary), Henk Hulsman (Treasurer), Neil Munro (Foundation), Dick Jennings (Membership), Anne Rzeszkowski (Youth), Ian Jennings (Club Administration), Daryl Breust (Service Projects), Grahame Miles (Pubic Image), John Bond (Sergeant-at-Arms) and Howard Atkinson (Immediate Past President).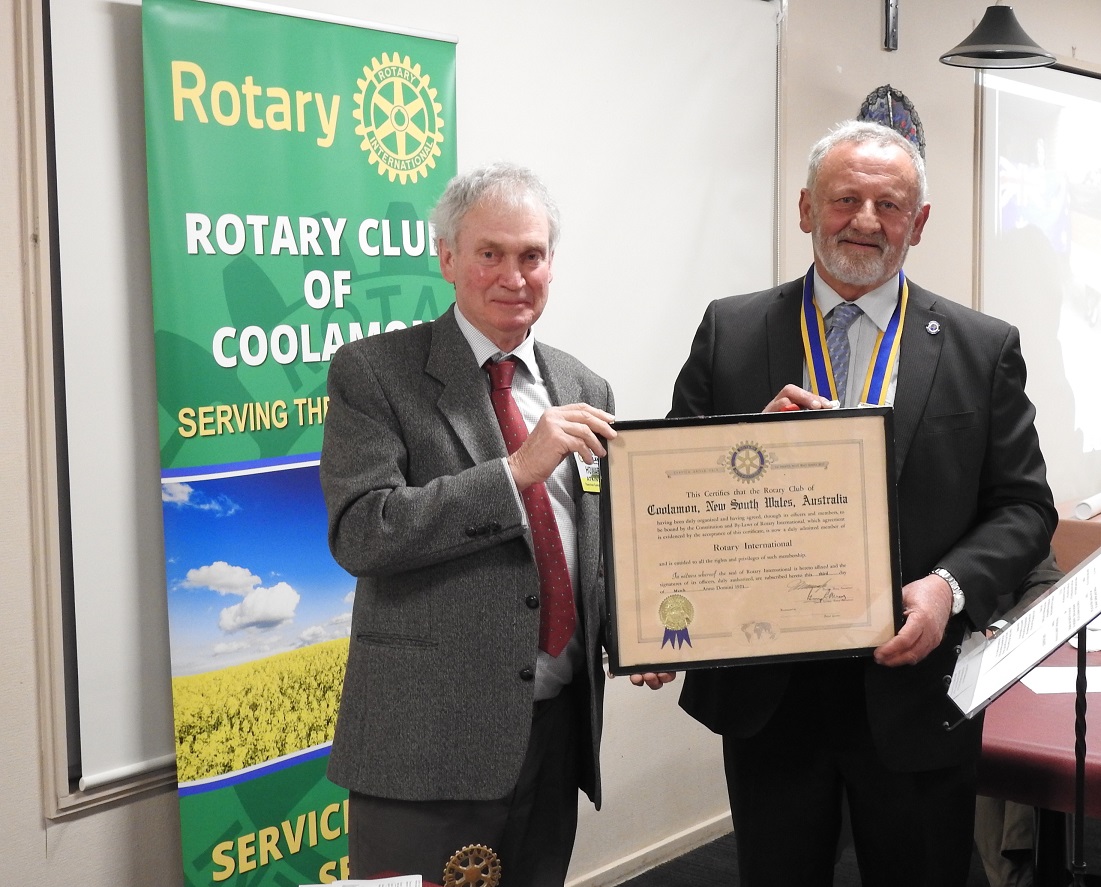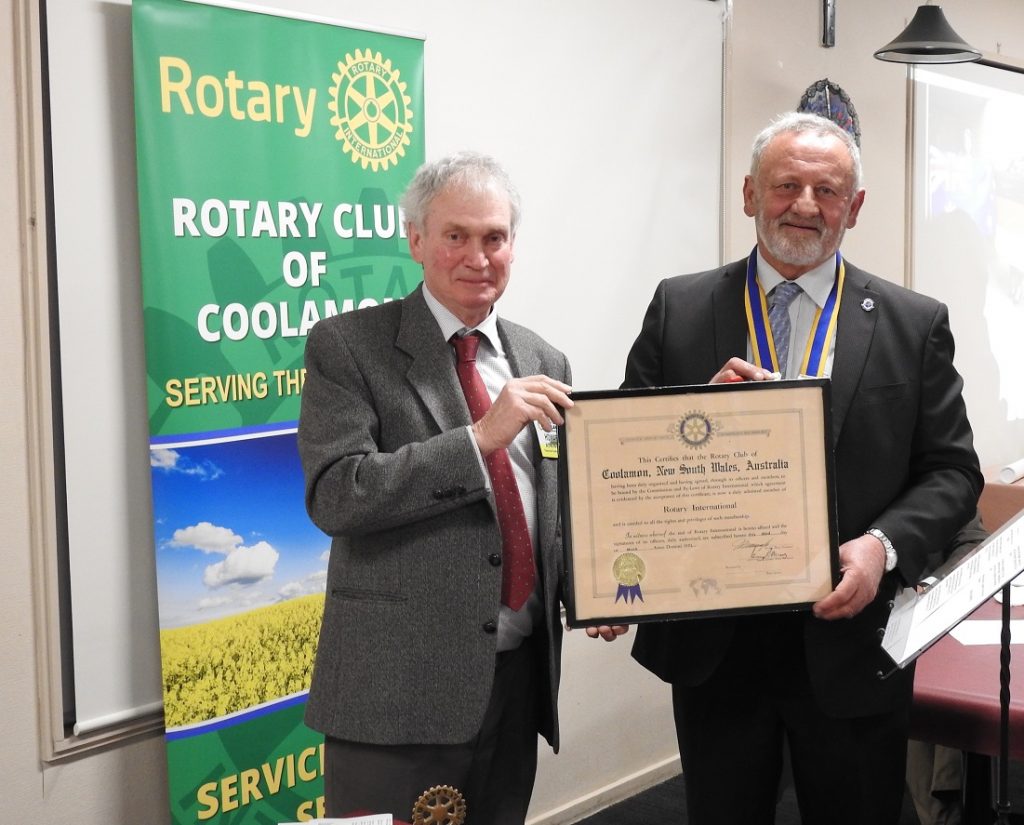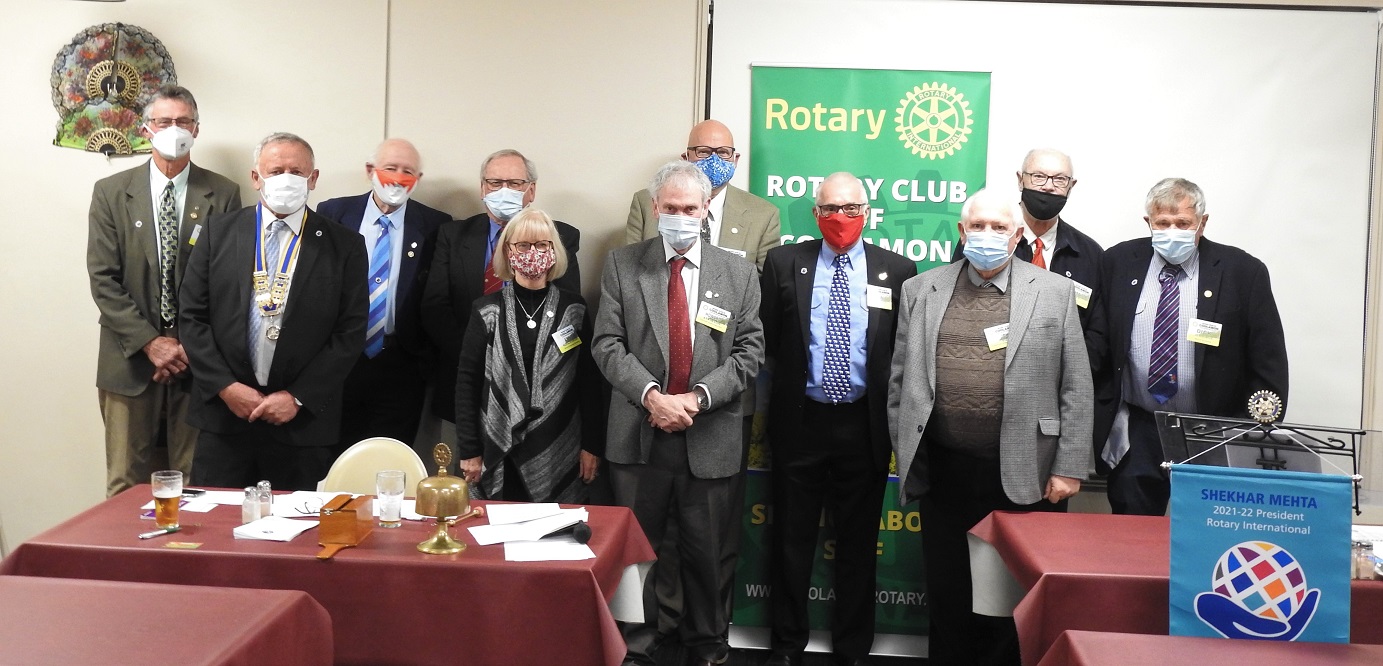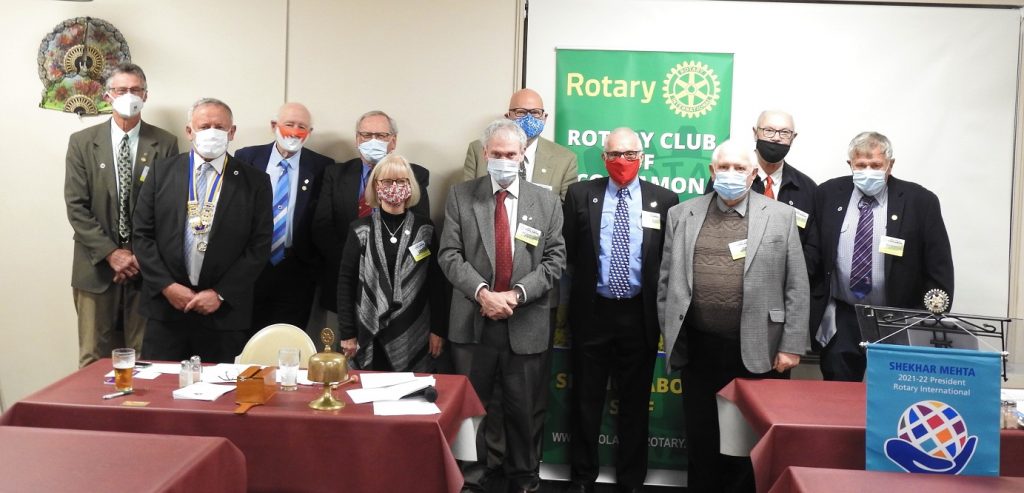 After the changeover, we had a special addition to the night's proceedings, which was the induction of our newest member, Adrian Lindner.  Adrian was introduced by his sponsor, Ian Jennings, and was inducted by President Albert under the classification of Accountant/Grazier.  Adrian was applauded by those in attendance, and then introduced his wife, Wendy, our lone guest on the evening.  Welcome, Adrian!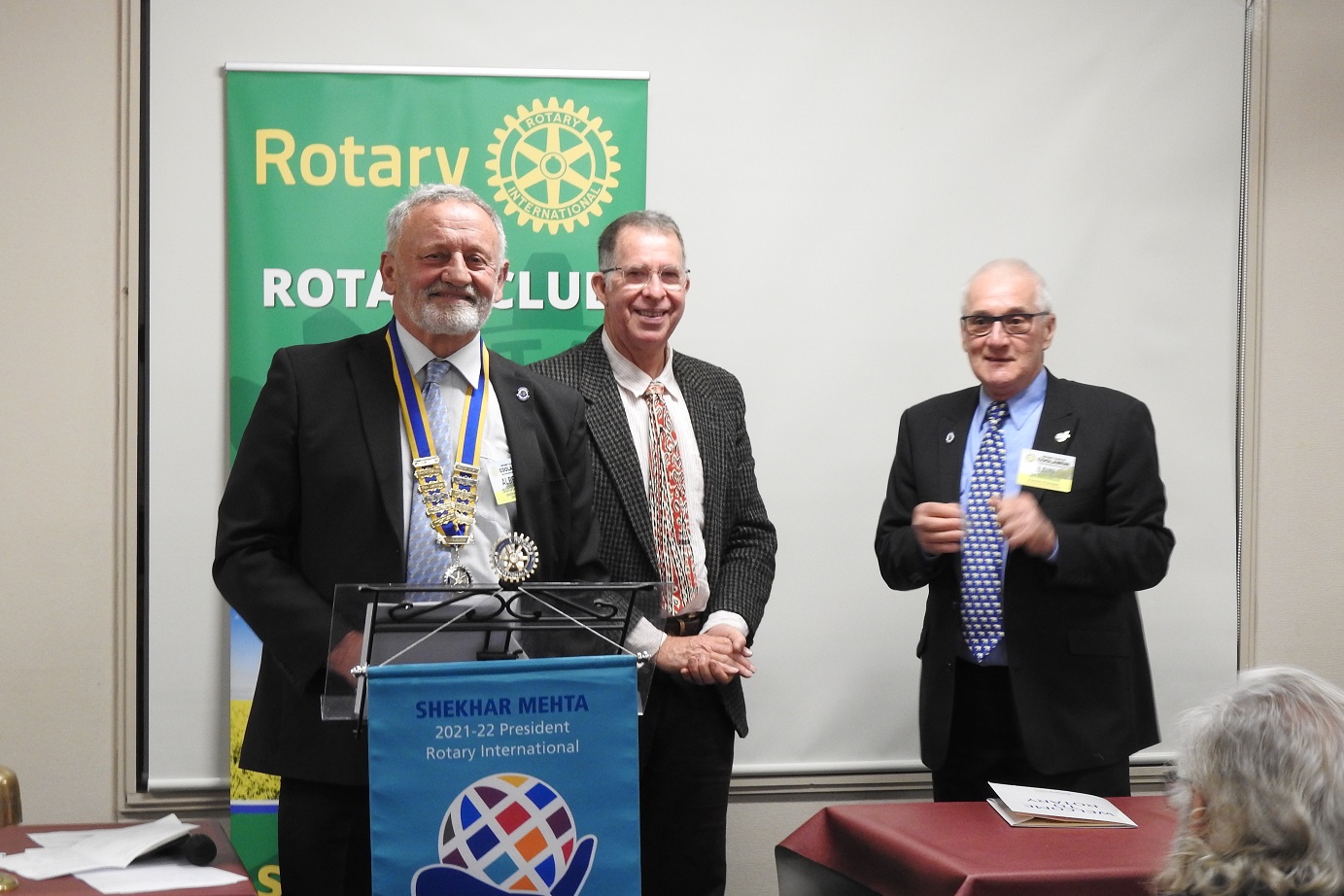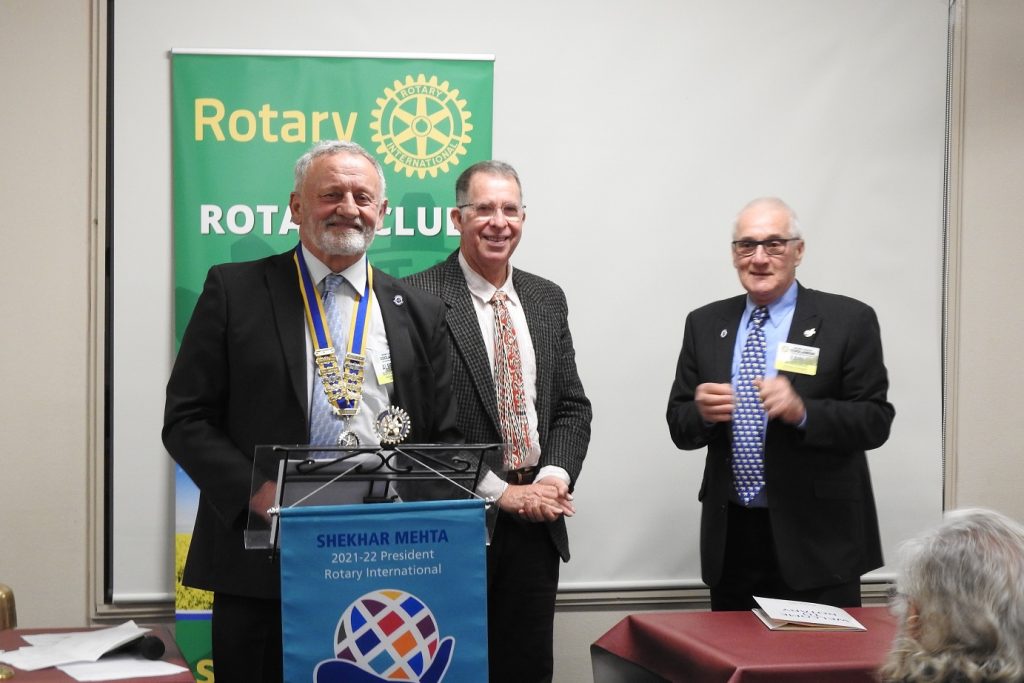 As usual, the meeting concluded with a fine session and raffle.  New Sergeant-at-Arms John Bond got stuck right into it, levying many humourous fines on the members.  The raffle was won by Howard, with the minor prize going to Grahame.
We wish all members a great new Rotary year and hope to see you at our dinner meetings and special events in the coming year!
DIARY
Saturday July 10th – Wagga Wagga Murrumbidgee RC Changeover Dinner.
Sunday July 11th – Firewood Gathering at Adrian Lindner's Property, 2.00 pm.  Wendy will provide afternoon tea.  755 Lindner Lane off Tooyal Road.
Sunday July 11th – Junee RC Changeover Luncheon. NB The Junee changeover is now members-only.
Monday July 12th – Speaker meeting.  Rachel McFail speaking on "Indigenous place names campaign". Coolamon Sport & Rec Club, 6:30 for 7:00 pm.
Wednesday July 14th– First Board Meeting. Coolamon Sport & Rec Club, 7:00 pm. Date TBC.
Saturday July 24th – Coolamon RC Street Raffle. Coolamon Newsagency, 7:30 am – noon. Roster TBA.
Wednesday 28th July – Narrandera RC Change Over Dinner. Narrandera Golf Club, 6.30 for 7.00 pm.
JUST FOR LAUGHS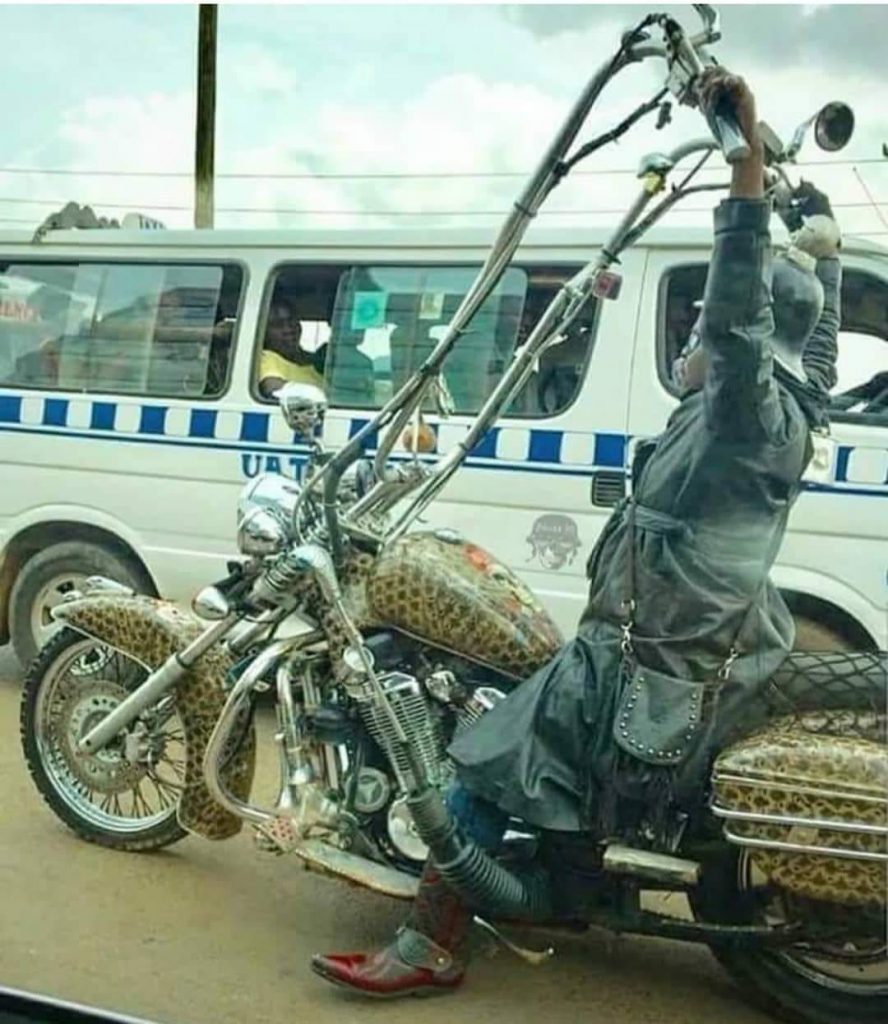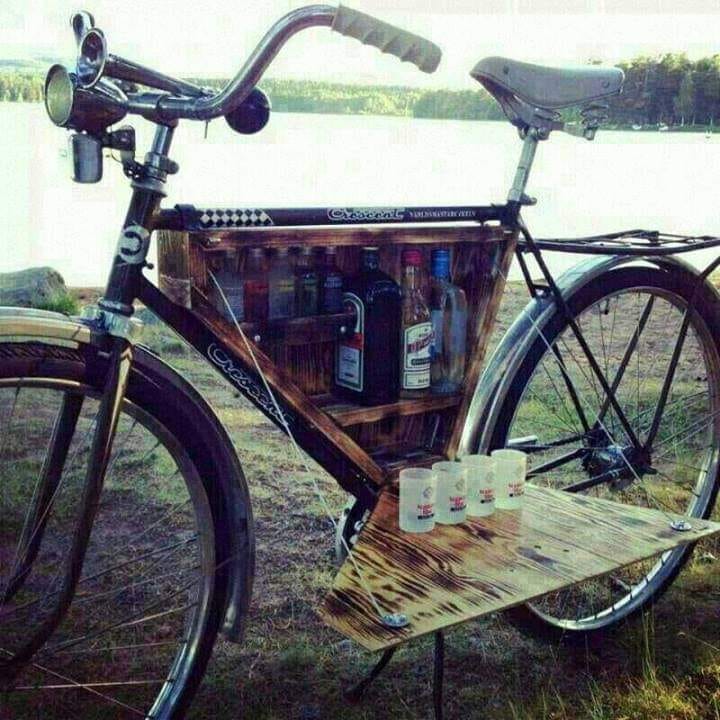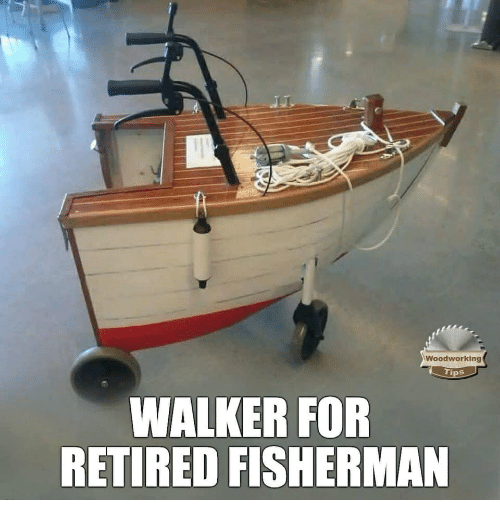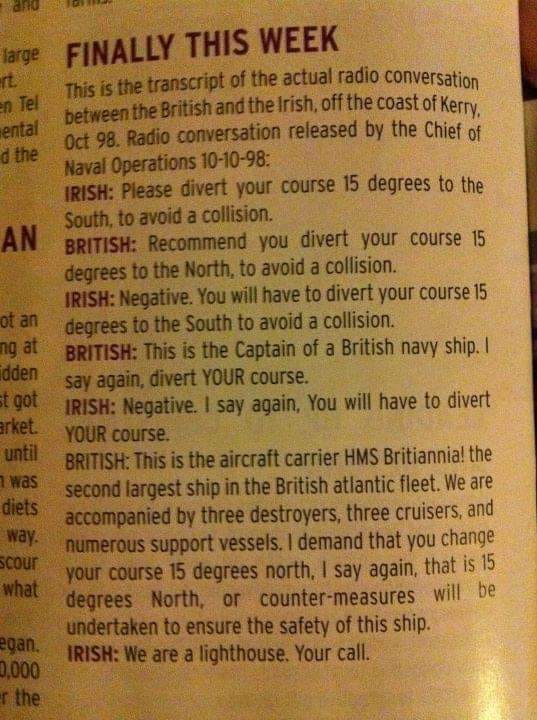 THE PUZZLER
Answer to last week's puzzler: First, the man takes the goat across the river, leaving the vegetables safely with the lion.  The man leaves the goat on the opposite bank and comes back and ferries the lion across the river.  The man then takes the goat back to the starting side of the river, drops it off there and takes the vegetables across to the far side, leaving them there with the lion.  The man comes back one last time and picks up the goat, taking him across the river to the opposite side, and the group resume their journey.

This week's puzzler: 
I am feared by many people,
but scramble my letters
and I become hated.
What am I?
ROTARY NEWS
1.  R.I. Presidential Message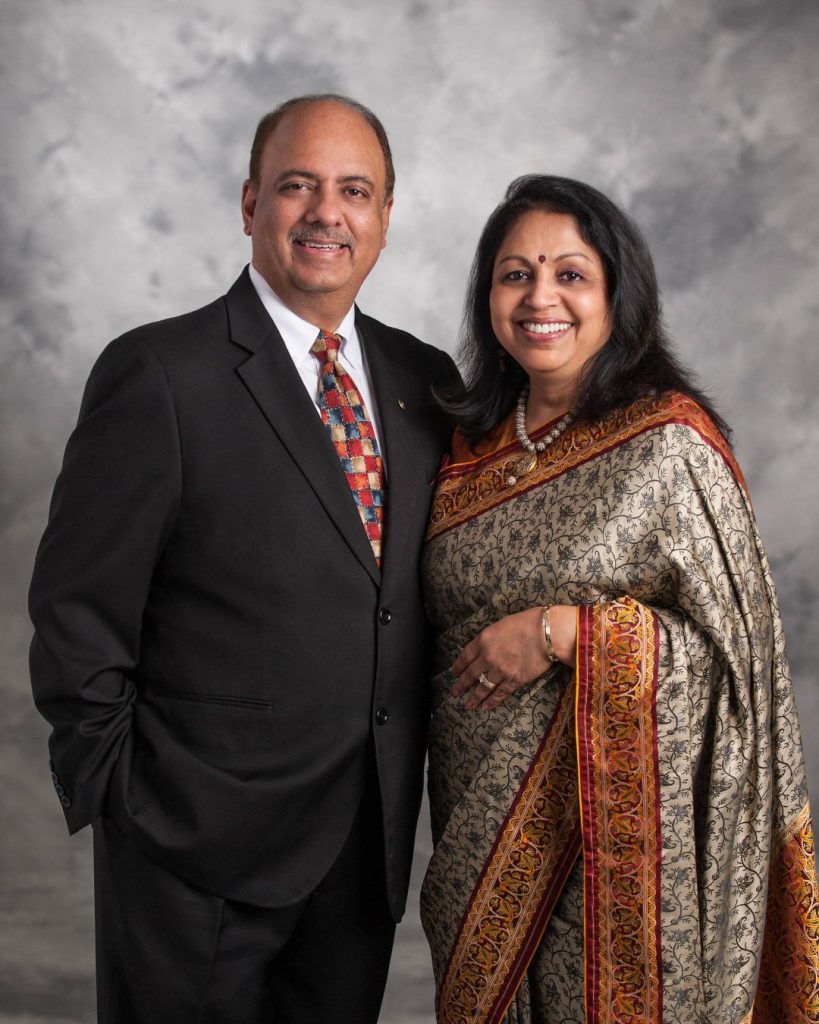 R.I.P. Shekhar and Rashi Mehta R.I. President 2021-22
I wish each of you and your families a great Rotary New Year! Together, let us make it the best year of our lives, by making it a year to grow more and do more. Let this be a year of changemakers, and let us begin with our membership.
2. District Governor Leo Farrelly OAM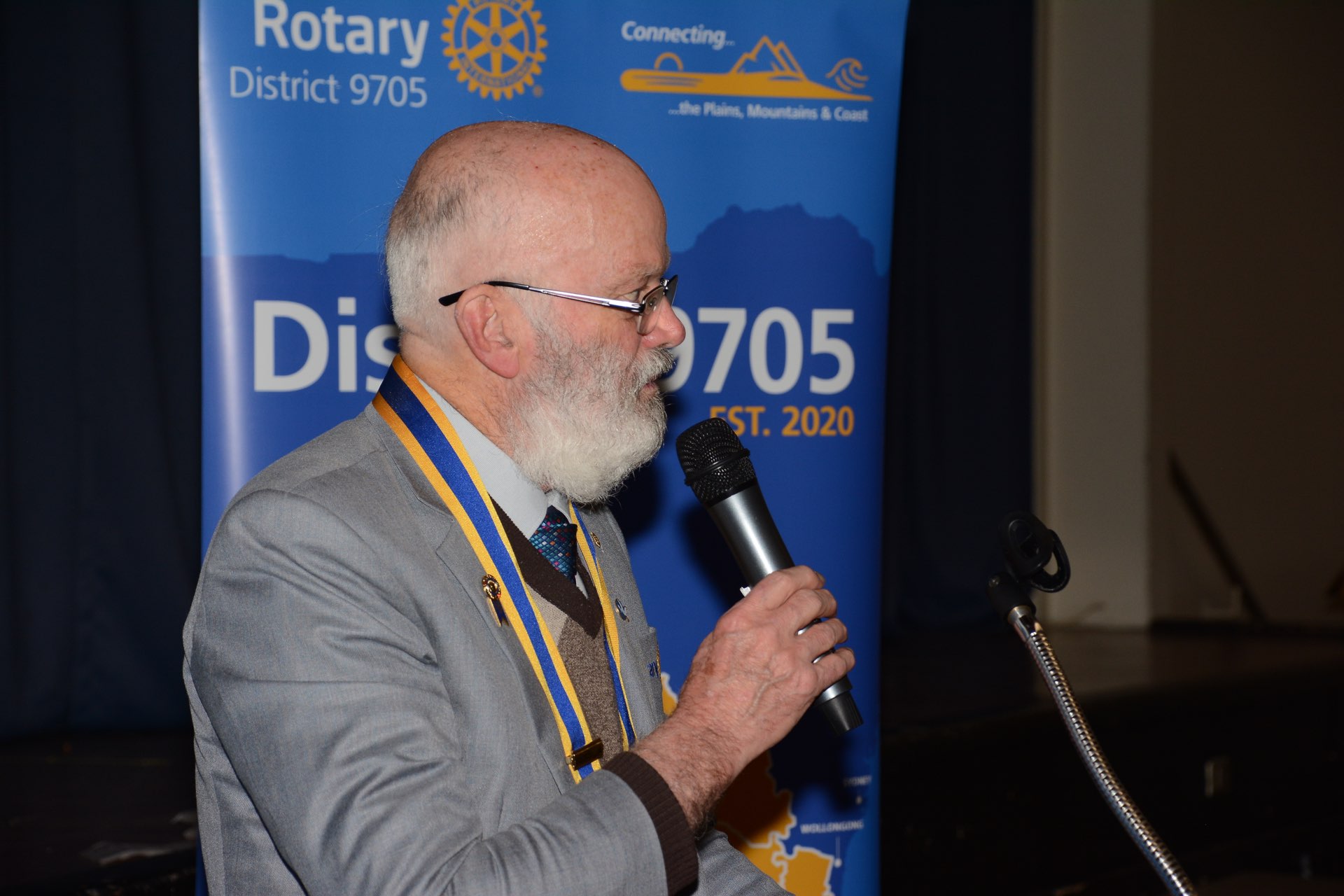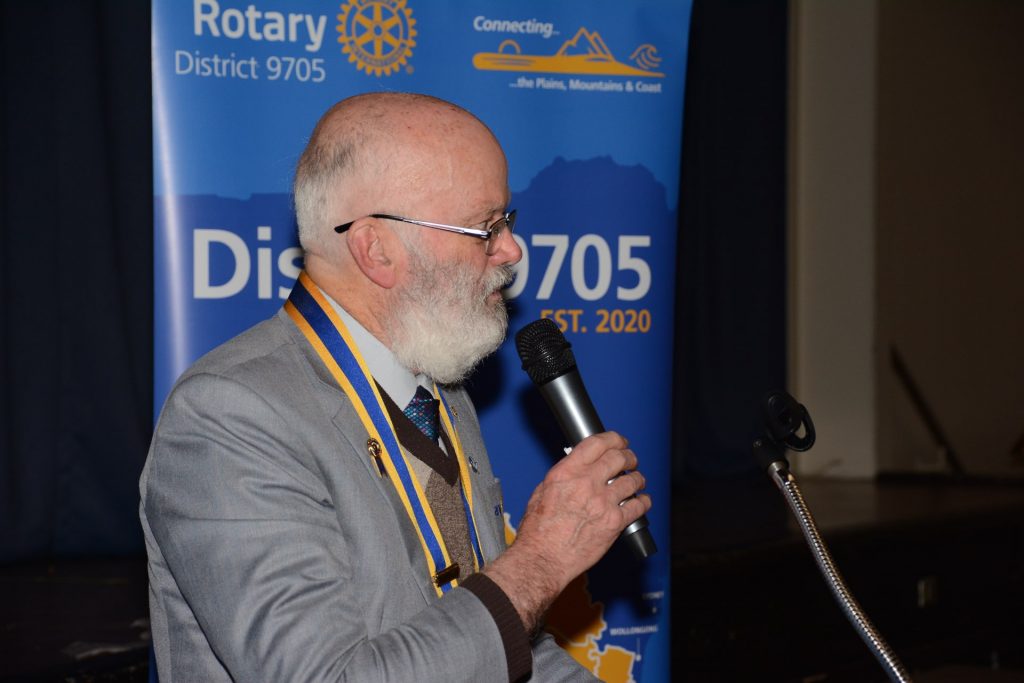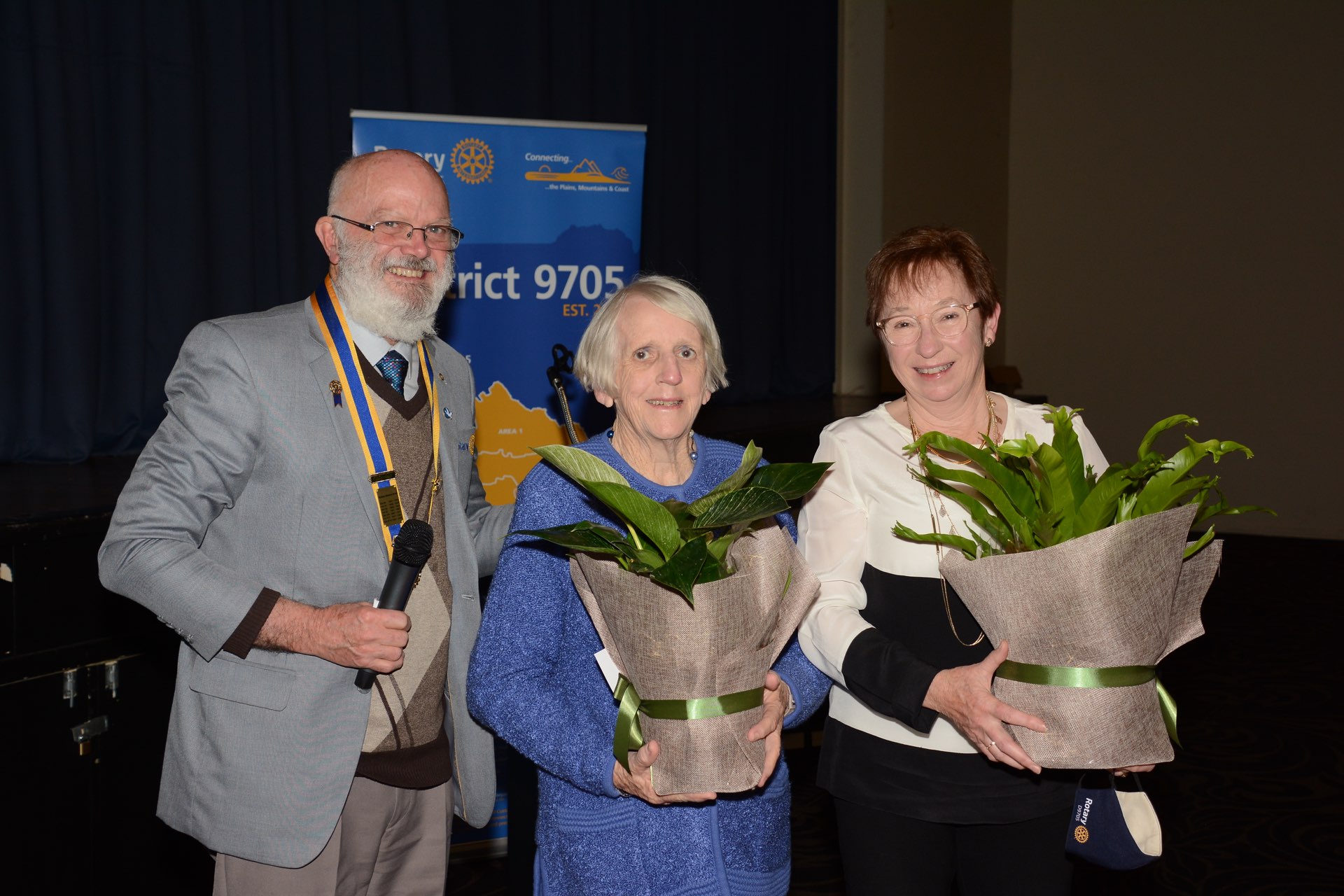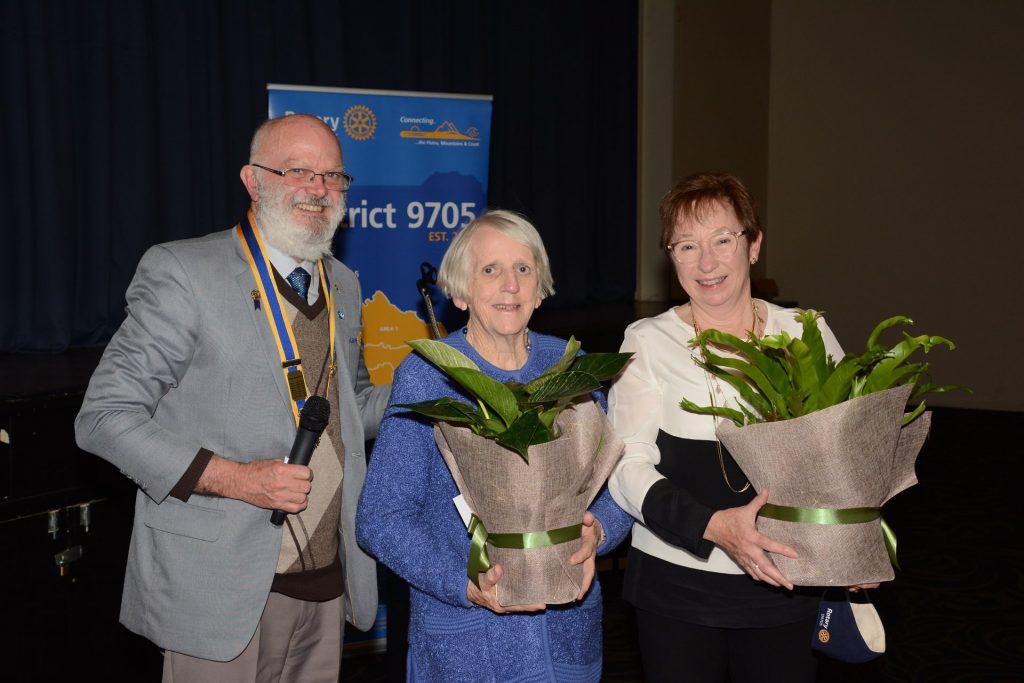 3.  President Albert Suidgeest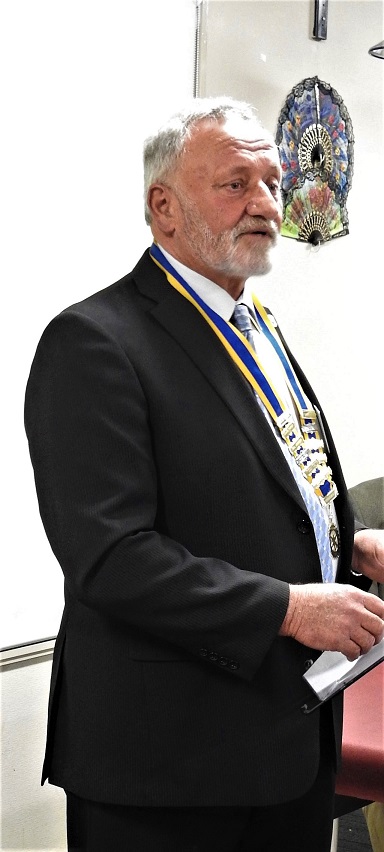 July is Rotary New Leadership Month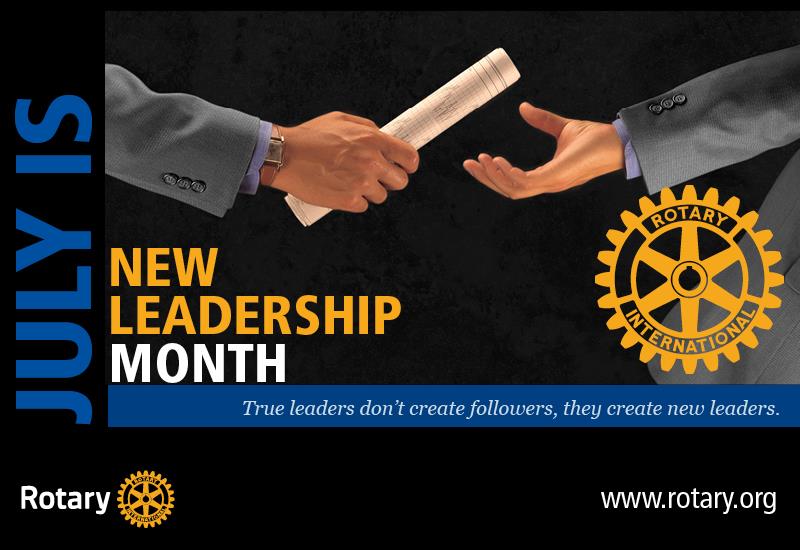 ROTARY CLUB OF COOLAMON Inc. 2021-22
Chartered March 3rd, 1971; Sponsoring Club Narrandera Rotary Club
President: Albert Suidgeest
President-Elect 2022-2023: Paul Weston
Secretary: John Glassford
Treasurer: Henk Hulsman
Rotary Foundation Director: Neil Munro
Membership Director: Dick Jennings
Service Projects Director: Daryl Breust
Youth Services Director: Anne Rzeszkowski
Club Admin Director:  Ian Jennings
Public Image Director: Grahame Miles
Sergeant @ Arms: John Bond
Immediate Past President: Howard Atkinson
Bulletin Editors: Paul Weston and John Glassford
Webmaster: John Glassford