Coolamon Rotary Bulletin for November 6th 2023
Meeting of Monday 6th November
President John Bond welcomed 16 members and no guests which is understandable seeing we had our social meting last Wednesday.  We did discuss a few items of business including:
Anne on the upcoming Wagga Cycle Club Event.  CRC to cater lunch and dinner for cycling event at Pomegolarna Reserve Wagga Wagga.  Anne said that they have enough volunteers for the event.
Grahame reported on the social night at the Ganmain Sports Club and thanked those who went along. Grahame asked the members present if we should have a social night every month.  No decision was made.
John Bond reported on the state of the club catering van and said that they are decreasing the size of the gas bottles to 9kg bottles.  That we are looking at putting on a sliding tray so that we can cook outside.  The air conditioning is also being looked into.
Adrian reminded members that our AGM will be upcoming in 2 weeks time on Monday November 20th.  PE Adrian is still looking for a President Elect Nominee to follow him.  Naturally all members are entitled to nominate for this position and other positions on the Board.
Adrian is recommending to the Board that we donate $600 to the Young Rotary Club for the driver simulator course to be held at the Coolamon Central School with Frank Lincoln from Young Rotary.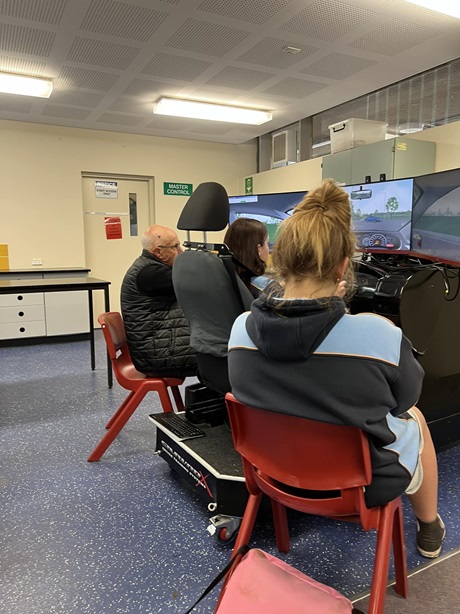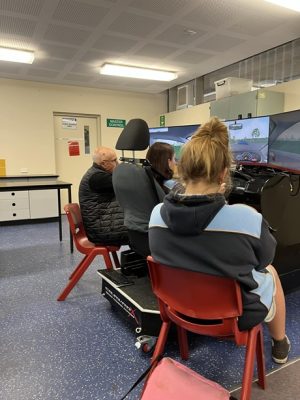 John Bond asked if it was OK for Sally Farmer to use the club printer to do some printing for the annual English literature booklet in colour.  John will ask Sally how many pages in total will be needed to be printed.
Ian reported on the Tackle The Track event held last Saturday.  This event was organised and supported by the Coolamon Shire Council.  All in all Ian said that it was a success despite the low turn out of participants.  Ian has received notification from the organisers Jacqui Collins and Laura Munro thanking our club for all the volunteers who acted as marshals.  Ian said the event deserves to be run again next year and with a grant this will be possible.
Christmas Party.  After much discussion it was decided to hold the annual gathering for the start of the holidays at John Bond's home on Saturday 16th December.
CRCTB 2023 John Glassford handed out the corrected pages of the entries for the next telephone book.  This so that the entries can be checked against the original 2018 book.  So far so good and our thanks go to all who made the necessary phone calls.  There will be a meeting of the CRCTB 2023 committee on Monday 13th at 5.15 at the Sports Club.
JJG created two club sweeps for the Melbourne Cup one $5 and one $2.  Winners will be announced at the next meeting on the 13th.
There was no raffle tonight due to the Melbourne Cup sweeps.  S@A Dick Jennings was again in fine form.
Here are some photos from the Tackle the Track held last Saturday, thanks to Mary Potts for taking them and a couple from the Coolamon Shire Facebook page.
NB click on the thumb nail for a larger photo.
TACKLE THE TRACK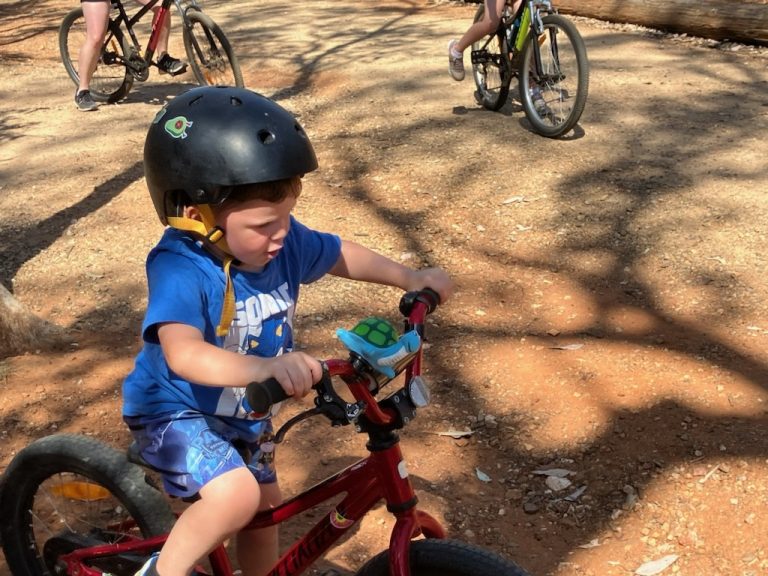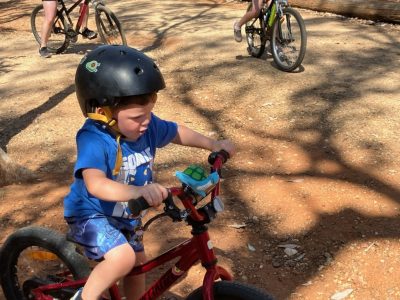 DIARY
N.B. You are always welcome to bring guests to most of our meetings, just advise Ian Jennings if you want to bring a guest along when you respond to the weekly dinner roll call!
Saturday 11th November – Wagga Cycle Club Event.  CRC to cater lunch and dinner for cycling
event at Pomegolarna Reserve Wagga Wagga. Volunteers needed.
Monday 13th November – CRCTB 2023 Committee meeting at 5.15pm at the Sports Club.
*Monday 13th November – CRC Meeting Wollundry RC visit for Gears & Beers.  6.30 for 7.00pm at the Coolamon Sports Club.
Monday 20th November – CRCTB 2023  Board meeting at 5.15pm at the Sports Club.
Monday 20th November – CRC Annual General Meeting. Coolamon Sport & Rec Club, 6.30 for 7 pm.
Monday 11th December – CRC Last normal meeting for 2023 Coolamon Sport & Rec Club, 6.30 for 7 pm.
*Saturday 16th December – CRC Annual Christmas Party at President John Bond's home. Details will follow.
* Partner's night
JUST FOR LAUGHS
N.B.  ALL of the above images were obtained from Facebook
ROTARY NEWS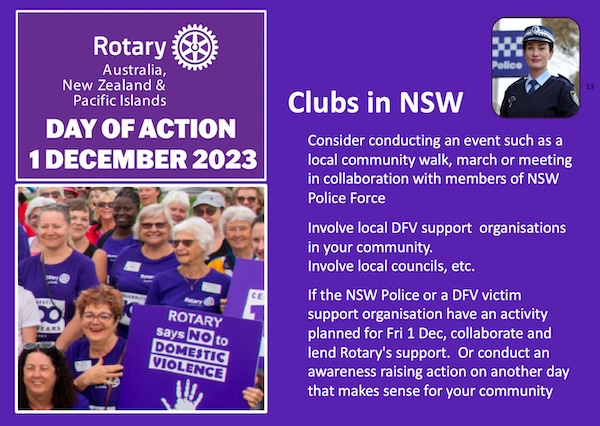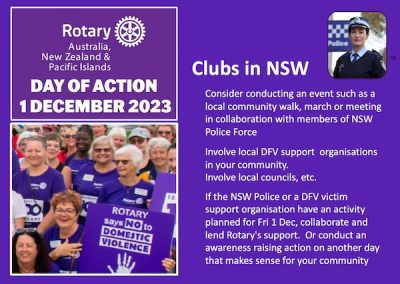 District 9705 Day of Action to Say NO to Domestic and Family Violence
National Launch on 15 November 2023 at Parliament House, Canberra
The worsening problem of Domestic and Family Violence in Australia
So far this year, 58 women/children have died through domestic and family violence in Australia.
Along with that terrible record:
1 in 5 women (22%) has experienced sexual violence since the age of 15.
1 in 2 women (53%) has experienced sexual harassment in their lifetime.
In most incidents of workplace sexual harassment, the harasser was male.
Women are at increased risk of experiencing violence from an intimate partner during pregnancy.
1 in 4 women are hospitalised due to domestic violence and sexualising violence abuse by intimate partners.
Hospitalisations due to spouse or intimate partners is 6 times higher for women than men.
Domestic Violence is the leading cause of homelessness for women and children.
On average one women is murdered by her current or former partner.
In 2021-22, 5,606 women, an average of 15 women a day, were hospitalised due to family and domestic violence.
73% of women are abused by cyber violence.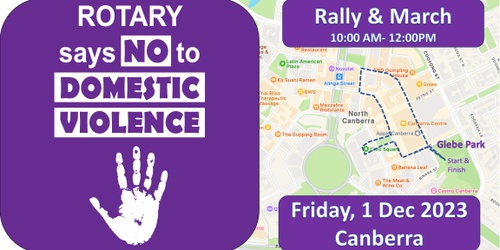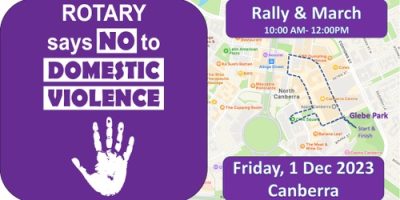 November is our Rotary Foundation Month

Graphics by Debbie Vance from Canada
ROTARY CLUB OF COOLAMON Inc. 2023-24
Chartered March 3rd, 1971; Sponsoring Club Narrandera Rotary Club
President: John Bond
President-Elect 2024-2025: Adrian Lindner
Secretary: Paul Weston
Treasurer: Mary Potts
Membership Director: Leslie Weston
Service Projects Director:  Adrian Lindner
Youth Services Director: Scott Mudd
Club Admin Director:  Henk Hulsman
Public Image Director: Grahame Miles
Sergeant @ Arms: Dick Jennings
Immediate Past President and Vice-President: Paul Weston
Bulletin Editors: Paul Weston and John Glassford
Webmaster: John Glassford