Coolamon Rotary News Bulletin #32
MEETING MONDAY MARCH 30, 2015
posted by Henk Hulsman
The last meeting for the month of March took the form of a farewell dinner to the Mt. Kenya climbers who leave Australia on the first leg of their journey on the 11th April.  Sixteen members of the Mt. Kenya team joined us, they also included the "Gin & Tonic" set who intend watching progress from the comfort of a Safari Ranch.  The youngest climber has just turned 27 years of age. The oldest is 72 years young.
During the evening, John Glassford ran a couple of short films. The first was taken at Mt. Kenya in the 60's. The second was more recent 2012. The difference in glacier presence on the mountain, between the two dates was quite obvious.  The Club donated a further cheque for $1,000 toward the team's fundraising.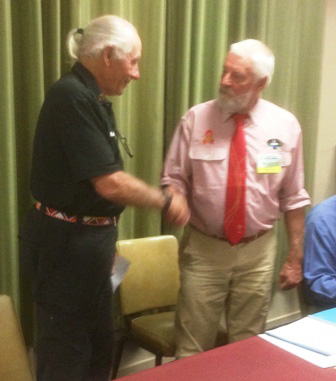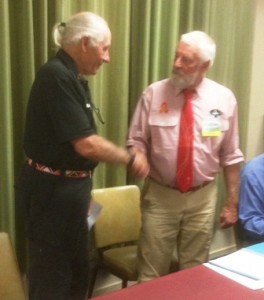 President Garth farewells John G with a cheque for $1000 from the club
Also leaving for faraway places are President Garth and wife Marg Perkin who leave for Nepal within the next week. It is their intention to conduct a training program with local teachers of primary school children. They will also attend a holiday camp with school children.  P.P. Dick Jennings congratulated both the Mt Kenya team and Garth & Marg on their dedication to Rotary ideals and effort in spreading Rotary goodwill throughout the world.
Before his departure, Pres. Garth inducted two fresh members to the Coolamon fold. Trevor Parkes was introduced by PP. Dick Jennings and Steven Exton was introduced by Wayne Lewis.
Easter markets a rousing success
posted by Paul Weston
The markets on Easter Saturday were a resounding success.  We had a great rollout of visitors to the markets, and the vendors left happy and looking forward to our next market.  The markets are not a huge moneymaker for our club, but I think success is judged by more than just the bottom line.  The markets were a great community event, and helped to draw many visitors to our shire when there were many competing activities in the region.  The garden viewings in Coolamon synergised nicely with the markets, both events benefitting from the other.
From left to right: The Easter Bunny shares candy with PP Dick, Sharon Miles, Maureen Hulsman and Marilyn Jennings selling tickets for the garden viewing, and a photo of the hopping scene at the markets.
We had some hiccups preparing for the markets because our chair had to step down several months ago due to family commitments, but other members of the committee pulled together and got the job done.  This club never ceases to amaze me because of its ability to come through when the going gets tough, and to get things done in style.  We came close to cancelling the markets several weeks ago because of concerns about participation by vendors, but we hung tough and made it happen.  I am proud to be a Rotarian, and particularly proud to be a member of our small club, which always seems to punch above its weight.
Thanks go to the Rotarians and Friends of Rotary who helped on the day, the partners who directly assisted or tolerated their partner's absence from family activities on the day, the vendors who made the markets possible, the students from Coolamon Central School who lent a hand, and the many local residents and visitors to the shire who patronised the markets.  And special thanks to Easter Bunny Garth, who entertained the crowd, young and old alike.
JUST FOR FUN!
An engineer could not find a job, so he opens a clinic, and puts a sign outside that says: Get Treatment For $50, If Not Cured Get Back $100.
A doctor thinks this is a good opportunity to show up the engineer and earn a quick $100. And so he visits the clinic.
Doctor:  I have lost my sense of taste.
Engineer: Nurse, bring the medicine from Box #22 and place 3 drops in the patient's mouth.
Patient (doctor): Spits out the medicine and says "This is not medicine, it's gasoline."
Engineer: Congratulations. You have your taste back.  That will be $50.
Doctor gets annoyed, and returns after several days to recover his money.
Doctor: I have lost my memory and can't remember a thing.
Engineer: Nurse, bring the medicine from Box #22 and put 3 drops in the patient's mouth.
Doctor: "This medicine is for the sense of taste," protests the doctor.
Engineer: Congrats. Your memory is back…that will be $50.
Doctor leaves, but after several days angrily returns for one last try.
Doctor: My eyesight has become weak.
Engineer: Well, I don't have any medicine for that. Take this $100.
Doctor: But this is a $50 note.
Engineer: Congratulations, your eyesight has gotten better…that will be $50.
Diary Reminders
BINGO Thursday, 9th April, 2015 Ian  Jennings  (Captain), Ted Hutcheon, John Glassford, Mark Reardon (as John G. is not available, we'll need a substitute–any volunteers?)
Saturday 11th April – Sunday May 10th Mount Kenya ANZAC Day 2015 Climb in Kenya.
Wednesday, 8th April – Board meeting.
Monday, 13th April – Regular club meeting and induction of new members, Part 2.
April 13th-April 20th RYLA Camp
Sunday, May 3rd D9700 Assembly at West Wyalong venue West Wyalong High School.
BINGO Thursday, 14th May, Grahame Miles (Captain), Paul Weston, Wayne Lewis, Dick Jennings
Saturday, 6th June – Tuesday 9th June 2015 RI Convention Sao Paulo BRAZIL.
*Monday, June 29th.  Annual Change Over Dinner
*Partners and Guests Night.
Apologies for Monday meetings call Christine Atkinson on 0427 880 158 or 6927 3521 BY FRIDAY 12.00 pm.
MOUNT KENYA 2015 ANZAC DAY CLIMB
This will be a permanent section for the next 12 months in our weekly bulletin and I will update stories to this article as and when we get them.   The Australian Commonwealth Department of Veterans Affairs have approved our application to be part of the Centenary for ANZAC and we are allowed to use the logo below with some rules on it's use: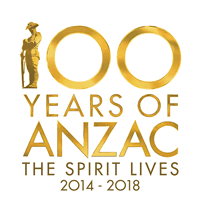 The Mount Kenya 2015 web site can be found here on clicking the banner below: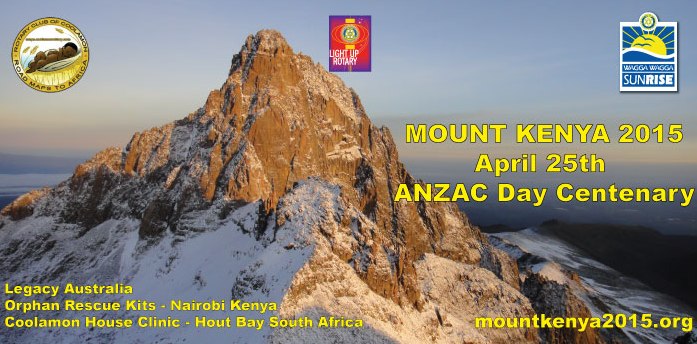 PLEASE CALL ME ANYTIME 02 6927 6027.
Bulletin Editor and Web Site:  John Glassford
Yours in Rotary John Glassford Chair 2014 -2015
Rotarian Action Group for Endangered Species
Don't  forget to regularly check our club web site for current information such as bingo rosters and various newsletters from the District Governor, the School of St. Jude's, the monthly membership on the move newsletter as well as several other club bulletins.
Rotary International President Gary Huang
Governor of District 9700 David Kennedy
Coolamon Club President  Garth Perkin
Coolamon Club Secretary Paul Weston
Club Treasurer  Henk Hulsman
Coolamon Rotary Club Inc. P.O. Box 23 COOLAMON N.S.W. 2701
Websites of Interest
Coolamon Rotary Club: http://coolamonrotary.com
Road MAPS to Africa a Coolamon Rotary Project: http://www.mountainsofthemoon.org/
Rotary Down Under on line: http://flipflashpages.uniflip.com/2/26587/49598/pub
Mount Kenya 2015 Web Site incorporating the ORK: http://theork.com/
Our Rotary Centennial Twin Club Hout Bay, Cape Town, South Africa: http://www.rotaryhoutbay.org
Rotarian Action Group for Endangered Species RAGES: http://www.endangeredrag.org/#