Coolamon Rotary News Bulletin #02
WELCOME TO THE NEW ROTARY YEAR 2014-2015
JULY IS ROTARY LITERACY MONTH
By DGN Michael Milston
In April this year our District 9700 Community Development team led by the Rotary Club of Orange Daybreak (RCOD) continued their work in the high Himalayas. On this, our fourth trip to Nepal one of the highlights was Ambassador Glenn White's visit to Maidi a day's journey from Kathmandu, the capital of Nepal.
Image Ambassador White and Immediate Past District Governor 9700 Geoff Tancred officially opened the community hall and the literacy platform, built to encourage English literacy skills throughout the village.
Ambassador White and Immediate Past District Governor 9700 Geoff Tancred officially opened the community hall and the literacy platform, built to encourage English literacy skills throughout the village.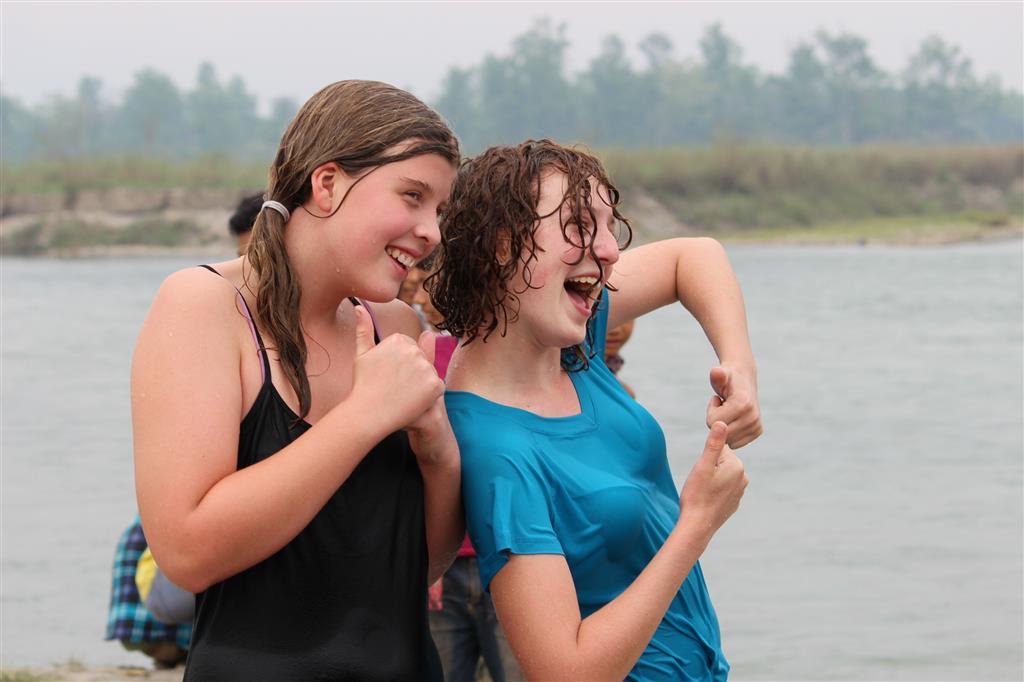 (Pictured are Kendra and Morgan who, as part of the tour team, went swimming with the elephants in Chitwan National Park)
MEETING MONDAY JULY 14th. 2014
Last night we had our first board meeting for 2014-2015.  Ten members were present.
President Garth Perkin asked our club to get behind the Mount Kenya 2015 Climb a joint project with the RC of Wagga Wagga Sunrise.  Garth also laid out some plans for his year as our President.   Among one of the local community projects that we will support is the Run2Raise project.
This is a group of four young women who are challenging ourselves to run marathons and raise valuable funds for families or individuals in need due to health hardship.
"We may not hit the lead, but we're here to help those in need".  Bridgette, Bronwyn, Jacqui and Jess as well as a few more.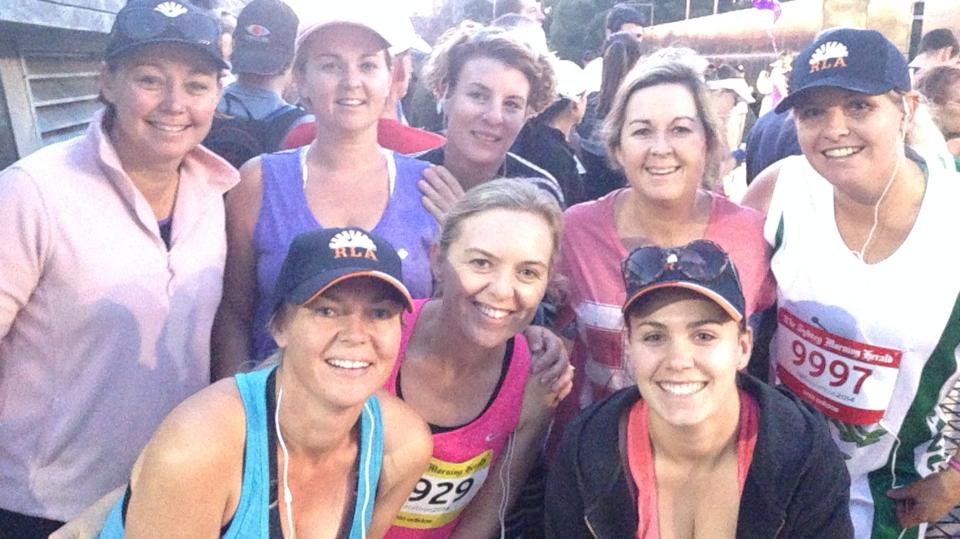 Foundation/International report.  John Glassford presented the club's Foundation/International report and the board agree to support the joint Coolamon and Wagga Wagga Sunrise project Oloimugi Traditional Maasai Eco-Village in Kenya.  The board also approved the purchase of a lap top computer for the village led by Armicus Philip Mayan Olesenteria, a budding lawyer.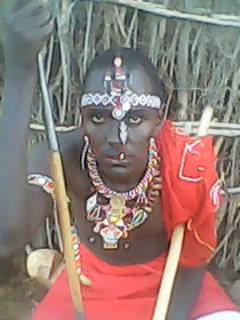 This project is under the control of RAGES with John Glassford as Chair.  This project will be the first in what is hoped will be many in a partnership with the Jane Goodall Institute and Rotary International.   Dr. Dame Jane Goodall is the Patron of RAGES.
President Garth Perkin called for invitations for guest speakers and to fill our diary up with great nights of fellowship.
Diary Reminders
Friday and Saturday July 18-19 Up 2 Date Art Show Exhibition in Coolamon.
* Monday 21st July Guest Speakers John Glassford and Garth Perkin Coolamon Rotary @ RI Convention Sydney.
"RICON Sydney 2014 Putting the International into Rotary."
* Monday 28th July Guest Speaker Wayne Lewis "White Line Fever".
Saturday 9th August Coolamon Street Raffle
Monday 11th August Board Meeting all members welcome to attend.
Thursday 14th August BINGO Roster:  Grahame  Miles (Captain), Paul Weston, Dick Jennings, Leslie Weston
Thursday -Saturday 12-14th September Rural Womens Conference and Workshops in Coolamon.
*Monday 29th September 2014 DG David Kennedy's Visit
Saturday 4th October Scarecrow Festival by the Coolamon Men's Shed
* Tuesday October 7th Joint Foundation Meeting at Junee with PDG Ian Simpson D9700 DRFC.  In lieu of Monday Meeting N.B.
Monday 11th November AGM.
*Partners and Guests Night.
Apologies for Monday meetings call Christine Atkinson on 0427 880 158 or 6927 3521 BY FRIDAY 12.00 pm.
ROTARY INTERNATIONAL PRESIDENT GARY HUANG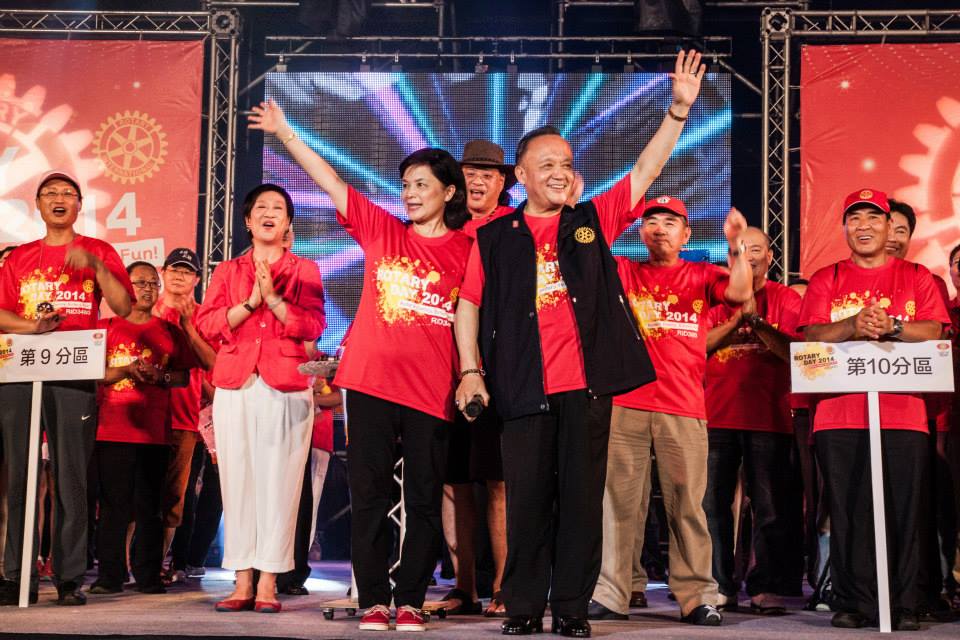 Rotary International President Gary C.K. Huang and his wife, Corinna, at the Rotary' year's first Rotary Day.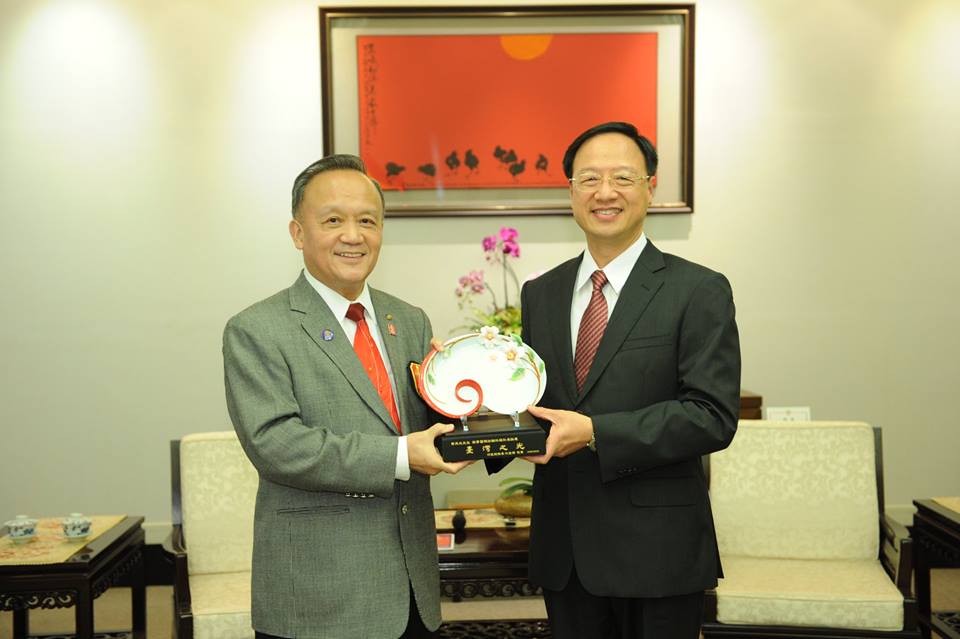 Republic of China Premier Jiang Yi-huah honoured Rotary by presenting a plaque to Rotary International President Gary C.K. Huang.
Rotary International President Gary C.K. Huang asks you to build a bigger Rotary family by inviting your family to join Rotary.
Let people know that you're proud and happy to be a Rotarian, and Rotary will grow.
DISTRICT GOVERNOR DAVID KENNEDY D 9700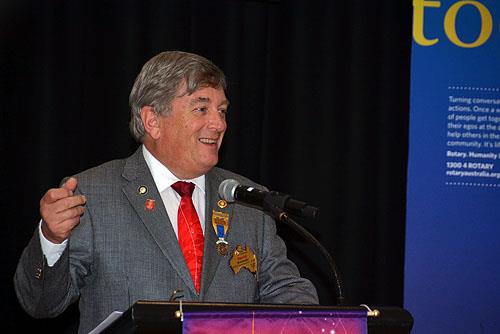 Well here it is July 2014. It only seemed moments ago that someone suggested that I should apply for this role of DG for District 9700 back in early 2012. I can guarantee that time flies when you're having so much fun!!
My year started with Blayney arranging a well organised changeover at their sensational new Community Centre with up to 150 people in attendance.
Congratulations to our new Board for the next year and thank you to PDG Geoff and Bettye for their guidance and friendship over the last couple of years leading up to changeover.
Since then I have had the pleasure of attending many Changeovers in our District and the official club visits due to start in July and wish all in-coming Presidents for the 2014-15 year the best in achieving their Club and personal goals.
ON THE LIGHTER SIDE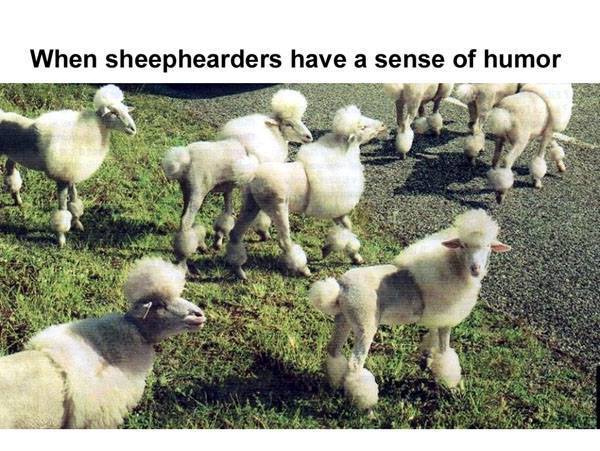 Buddy and Edna
Buddy and his wife Edna went to the state fair every year, and every year Buddy would say, 'Edna,I'd like to ride in that helicopter'
Edna always replied, 'I know Buddy, but that helicopter ride is fifty bucks; and fifty bucks is fifty bucks'
One year Buddy and Edna went to the fair, and Buddy said, 'Edna, I'm 85 years old. If I don't ride that helicopter, I might never get another chance'
To this, Edna replied, 'Buddy that helicopter ride is fifty bucks, and fifty bucks is fifty bucks.'
The pilot overheard the couple and said, 'Folks I'll make you a deal. I'll take the both of you for a ride. If you can stay quiet for the entire ride and don't say a word I won't charge you a penny! But if you say one word it's fifty dollars.'
Buddy and Edna agreed and up they went. The pilot did all kinds of fancy maneuvers, but not a word was heard. He did his daredevil tricks over and over again, but still not a word…
When they landed, the pilot turned to Buddy and said, 'By golly, I did everything I could to get you to yell out, but you didn't.
I'm impressed!'
Buddy replied, 'Well, to tell you the truth, I almost said something when Edna fell out, but you know,"Fifty bucks is fifty bucks!'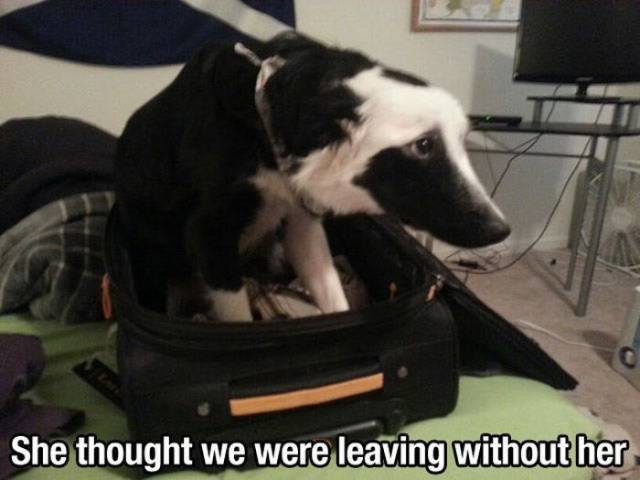 ROTARY INFORMATION
BLOWN AWAY BY THE REALITIES OF HUMAN TRAFFICKING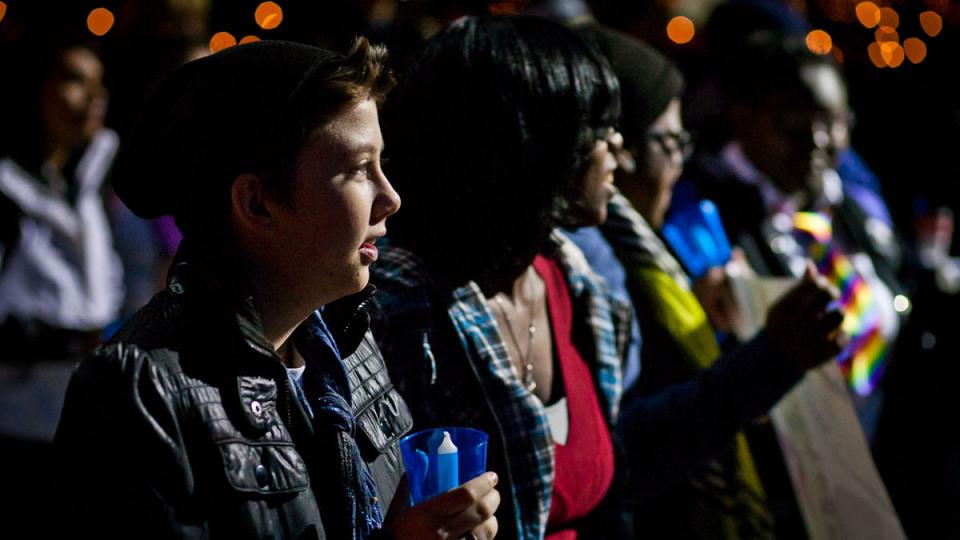 A candlelight vigil was held at Covenant House to raise awareness of child sexual exploitation. Thousands of homeless youth a year fall victim to child sex trafficking, a form of human trafficking, which is also referred to as the modern-day slave trade.
Photo Credit: Photo courtesy of Covenant House.
At the age of 17, Jennifer was sleeping on the streets of Atlanta.
She'd felt abandoned most of her life, unprotected from her brothers and her mother's boyfriends, who physically and sexually abused her since she was five. And now, kicked out of her house, Jennifer – whose last name is withheld for privacy – was alone and vulnerable. She was soon lured into sex trafficking and was unable to escape for two years. Then she found Covenant House.
"Studies have shown that if a young person ends up on the street, within 48 hours someone is going to approach them with the intention of exploiting them, typically for sexual exploitation," says Allison Ashe, executive director of Covenant House Georgia, one of 22 facilities in the U.S., Canada, Mexico, and Latin America. "But a lot of the time it happens so quickly that they come to us already exploited. Our work is then to help them heal and build a future for themselves."
The Rotary Club of Atlanta is helping young people like Jennifer through a $4.1 million campaign to expand the Covenant House, the city's only crisis center for homeless youth. At the start of the campaign two years ago, the house had just 15 beds and two bathrooms. Another 10 youths slept on floor mats, while others were on a long waiting list.
Learn about the Rotarian Action Group Against Child Slavery
OUT OF AFRICA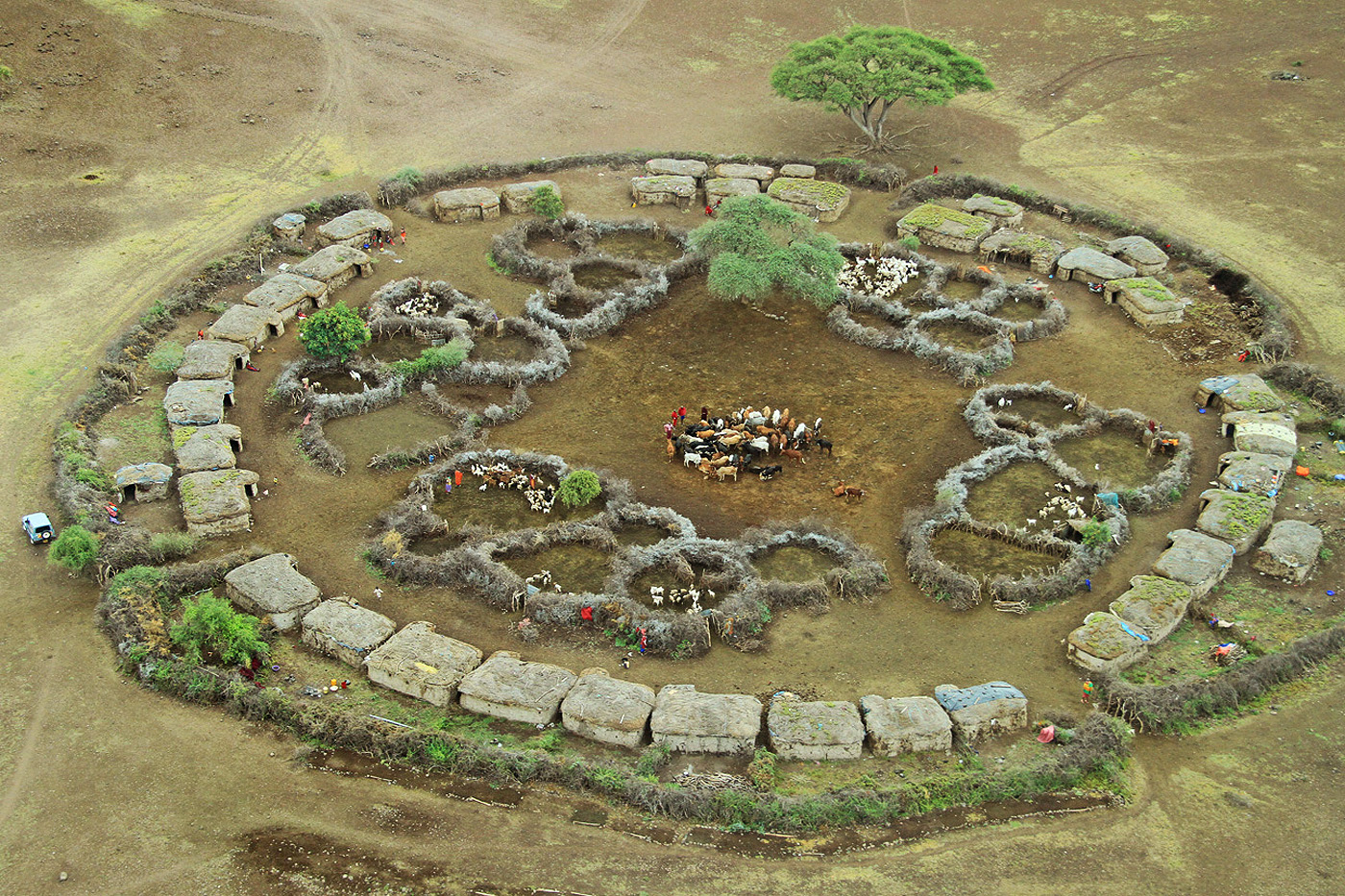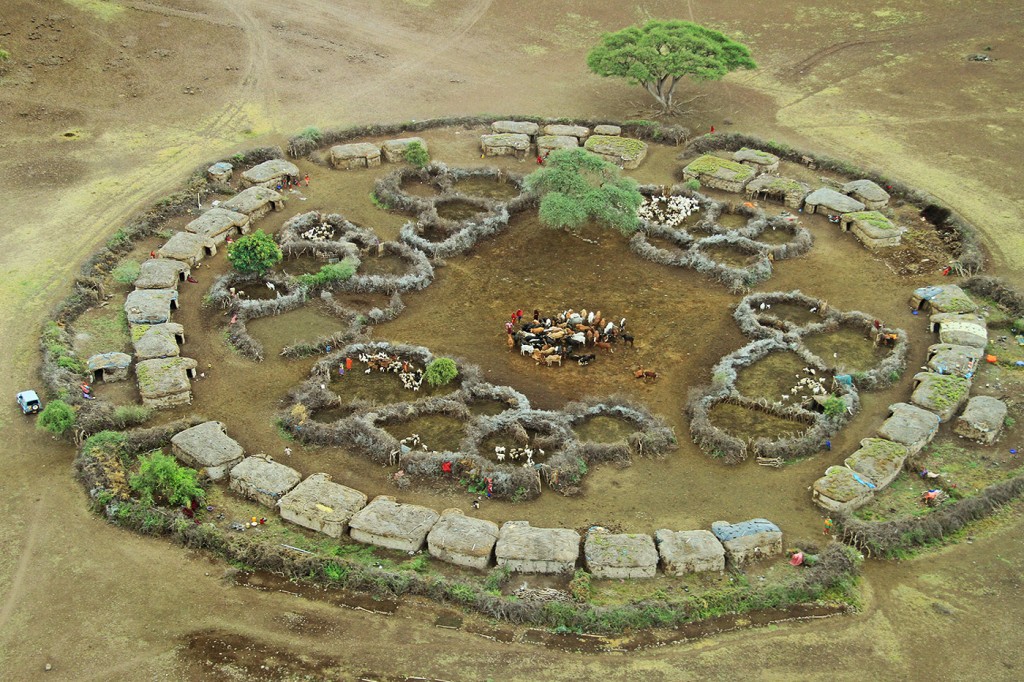 Traditional Maasai Manyatta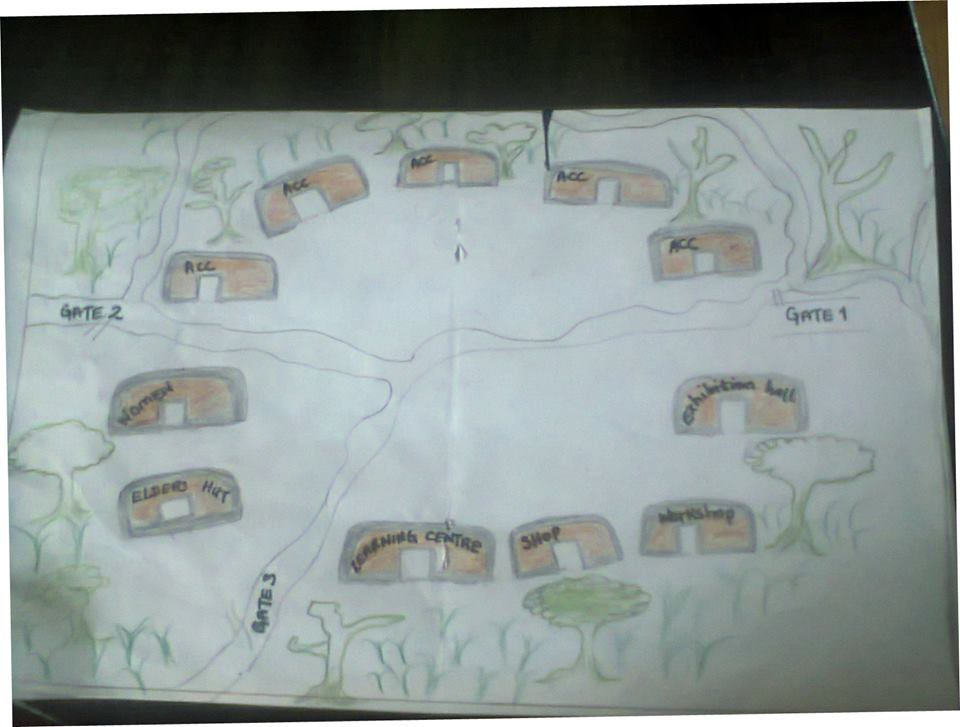 Oloimugi Plans Eco-eco-tourist lodge.
MOUNT KENYA 2015 ANZAC DAY CLIMB
This will be a permanent section for the next 12 months in our weekly bulletin and I will update stories to this article as and when we get them.   The Australian Commonwealth Department of Veterans Affairs have approved our application to be part of the Centenary for ANZAC and we are allowed to use the logo below with some rules on it's use: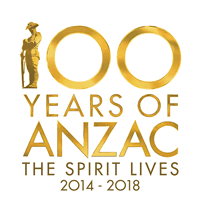 The Mount Kenya 2015 web site can be found here on clicking the banner below: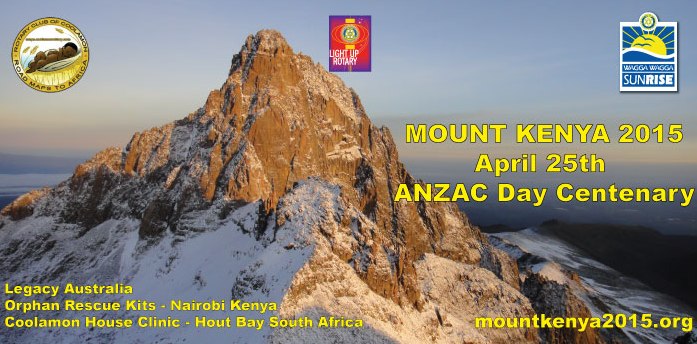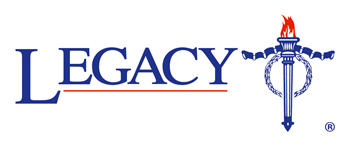 FOOT NOTE
Here are a few photos of change over dinners in Kenya: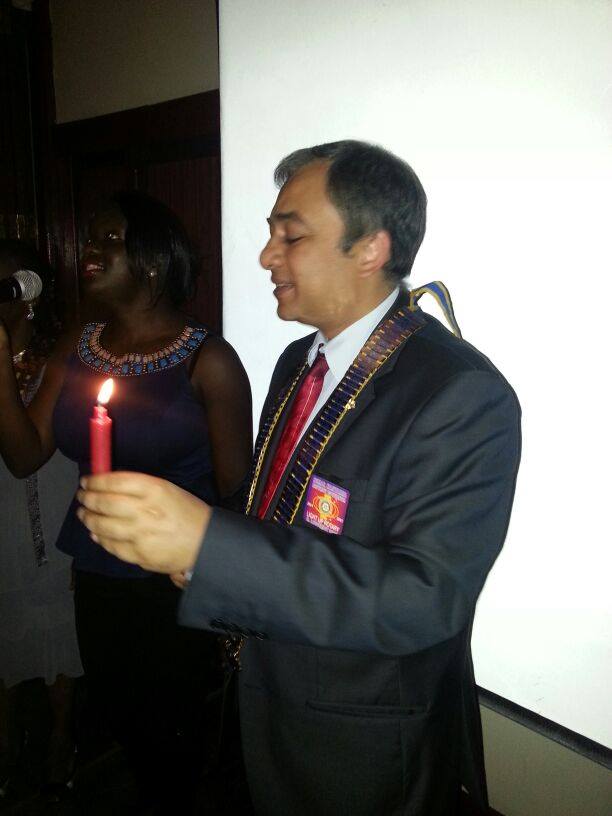 DG Bimal Kantaria D 9212 Lights Up Rotary!
Rotary Club of Voi Change Over.
District 9212 covers, Kenya, Ethiopia, Eritrea and South Sudan.
We will be there on April 15-18 2015!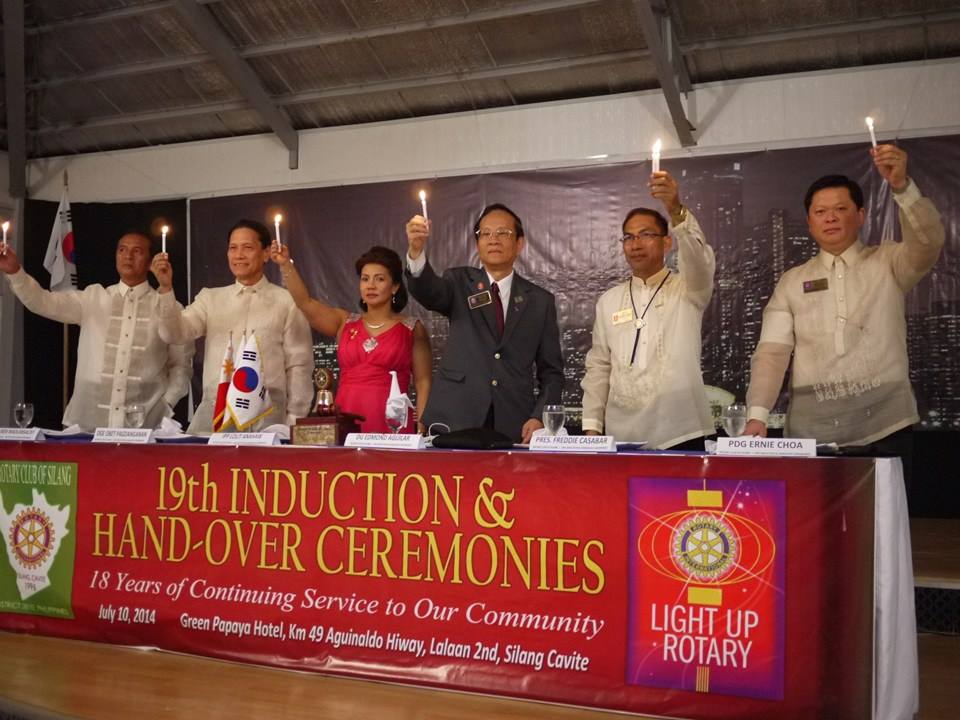 RC of Silang in The Philippines Light Up Rotary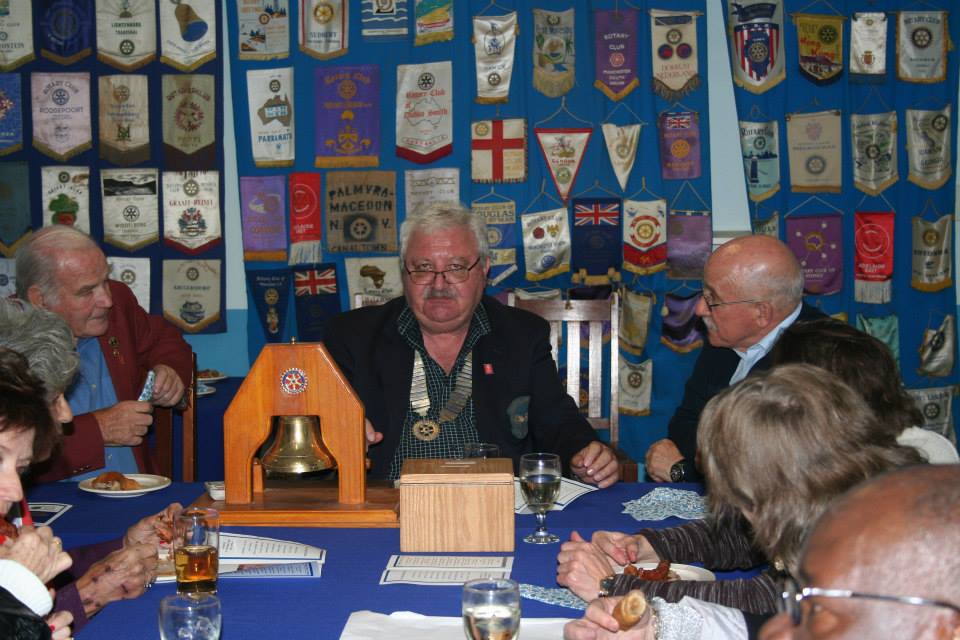 Rotary Club of Mafikeng South Africa Change Over with PDG Mark Doyle and new President Anton Liebenberg.
Yours in Rotary John Glassford Chair 2014 -2015
Proposed Rotarian Action Group for Endangered Species
PLEASE CALL ME ANYTIME 02 6927 6027.
Bulletin Editor and Web Site:  John Glassford
Don't forget to regularly check our club web site for current information such as bingo rosters and various newsletters from the District Governor, the School of St. Jude's, the monthly membership on the move newsletter as well as several other club bulletins.
Rotary International President Gary Huang
Governor of District 9700 David Kennedy
Coolamon Club President  Garth Perkin
Coolamon Club Secretary Paul Weston
Club Treasurer  Henk Hulsman
Coolamon Rotary Club Inc. P.O. Box 23 COOLAMON N.S.W. 2701
Websites of Interest
Coolamon Rotary Club: http://coolamonrotary.com
Road MAPS to Africa a Coolamon Rotary Project: http://www.mountainsofthemoon.org/
Rotary Down Under on line: http://flipflashpages.uniflip.com/2/26587/49598/pub
Mount Kenya 2015 Web Site incorporating the ORK: http://theork.com/
Our Rotary Centennial Twin Club Hout Bay, Cape Town, South Africa: http://www.rotaryhoutbay.org
Proposed Rotarian Action Group for Endangered Species RAGES: http://www.endangeredrag.org/#