Coolamon Rotary News Bulletin #04
WELCOME TO THE NEW ROTARY YEAR 2014-2015
JULY IS ROTARY LITERACY MONTH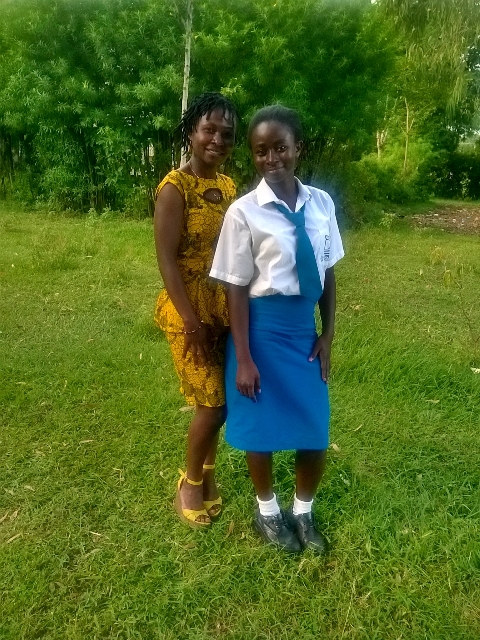 Quinter and Tracy Ochieng two of the young women from Mathare that we sponsor through our ORK project.  Tracy is now in Form 3 at her secondary school and Quinter is applying to go to University.  Both are doing very well and goes to show what a small amount can do to change two lives.  Email below from Quinter received this week.
"Hello
I hope you are doing okay am sorry for the silence was going through some waves but I was able to surf through now am settled and doing okay. Happy belated birthday!! Sure your even wiser now I always pray for you and your family as you have been a miracle in our lives we thank God for your presence.
Was just wondering how it went during the presentation to your chief guest The Australian Commissioner as I still have the dream to further my education while I am still young.
Tracy said hello she went back to school for her second term in Form Three.
I await your reply.  Warmest regards  Quinter."
Tracy finished 3rd out of 126 pupils in Form 3.  Well done Tracy.
Tracy, Quinter, Neema and others will be beneficiaries of the Mount Kenya 2015 ANZAC Day Climb.
MEETING MONDAY JULY 28th. 2014
PE Wayne Lewis, AG Alan Sharp and IPP Dick Jennings
We had a good roll up of members and two guests in Helen Lewis and Assistant Governor Alan Sharp.   President Garth Perkin announced that Winfried Holzapfel from Coolamon had been successful in his application to be part of the National Youth Science Forum.  Now in Canberra and Perth, the National Youth Science Forum is the only program in Australia that offers students currently in Year 11 the chance to test-drive a wide range of universities and careers in the sciences.
The official website for National Youth Science Forum is here
President Garth also advised members that the 2014 Coolamon Rotary Telephone Book is in the mail to everyone in the Coolamon Shire.
The street raffle is set for Saturday August 9th and volunteers are required please.
Our President Elect Wayne Lewis was our guest speaker for the night.  Wayne spoke on his life from his birth in Derby up until the present time.   Helen and Wayne have been in Coolamon for the past 40 years and run a trucking business.  They have three sons and one daughter as well 11 grand children.
Wayne was first introduced to Rotary as a Youth Exchange Student and went to New Mexico for 12 months.  Wayne lived with 3 families in Clovis and told a story of buying 6 piglets, selling them on and getting enough money for a one month ticket on a Greyhound bus anywhere in the USA so he went to New York and Niagara Falls.  Not sure if his pigs ended up here at the Snazzy Pig Cafe Clovis, NM?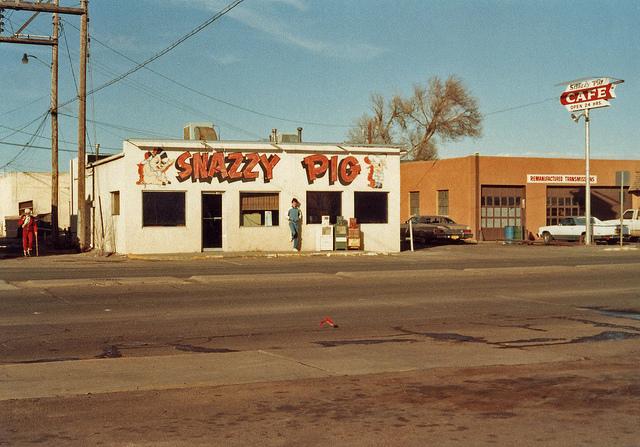 The upshot of Wayne's exchange is that he never forgot Rotary and vowed to pay Rotary back one day.  He has done that and we are looking forward to working with Wayne as our president next Rotary year.  Ted Hutcheon gave Wayne a very heartfelt and warm vote of thanks.
IPP Dick Jennings asked all of our members to join in the Run2Raise half marathon set for Sunday August 17th in Coolamon.
Dick also pointed out that there will be a luncheon on Friday September 5th at the Wagga Wagga RSL.  This is being promoted by the Rotary Club of Wagga Wagga and is called "The Biggest Blokes Lunch".  The subject will be prostrate cancer research and awareness.  The cost is $95 per head.  More details as they come to hand.
The meeting concluded with a spirited fines session by Dick and the raffle was won by Ian Jennings.  All in all a good night of fun and fellowship.
Diary Reminders
Saturday 9th August Coolamon Street Raffle
Monday 11th August Board Meeting all members welcome to attend.
Thursday 14th August BINGO Roster:  Grahame  Miles (Captain), Paul Weston, Dick Jennings, Leslie Weston
Sunday 17th August Run2Raise Half Marathon.
Friday 5th September Blokes Biggest Lunch for Prostrate Cancer Research Wagga Wagga RSL.
Thursday 11th September BINGO Roster Ian  Durham  (Captain), Myffy Collette, Bernadette Milne, John Glassford
Thursday -Saturday 12-14th September Rural Womens Conference and Workshops in Coolamon.
*Monday 29th September 2014 DG David Kennedy's Visit
Saturday 4th October Scarecrow Festival by the Coolamon Men's Shed
* Tuesday October 7th Joint Foundation Meeting at Junee with PDG Ian Simpson D9700 DRFC.  In lieu of Monday Meeting N.B.
Thursday 9th October BINGO Roster  Neil  Munro  (Captain), Ted Hutcheon, Wayne Lewis, Don Dyce
Monday 11th November AGM.
*Partners and Guests Night.
Apologies for Monday meetings call Christine Atkinson on 0427 880 158 or 6927 3521 BY FRIDAY 12.00 pm.
ROTARY INTERNATIONAL PRESIDENT GARY HUANG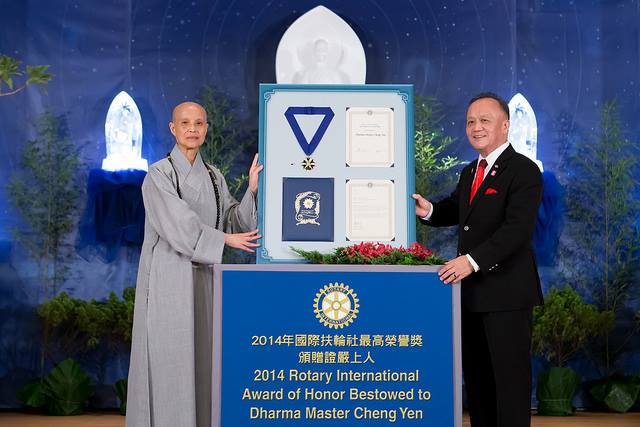 Rotary International President Gary C.K. Huang gave Master Cheng Yen, founder of the Tzu Chi Foundation, the Rotary International Award of Honor in recognition of her contributions toward humanitarian spirit and world peace. — in Taiwan.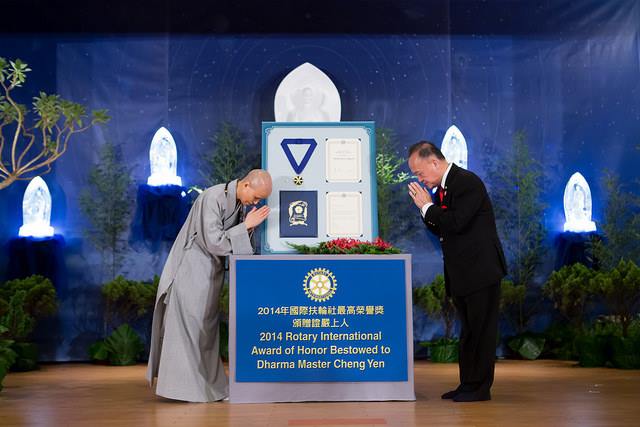 The award emphasizes peace and the eradication of poverty.
Past recipients include Britain's Queen Elizabeth II; former U.S. President Bill Clinton; Bill Gates; former Soviet President Mikhail Gorbachev, and President of India Pranab Mukherjee.
DISTRICT GOVERNOR DAVID KENNEDY D 9700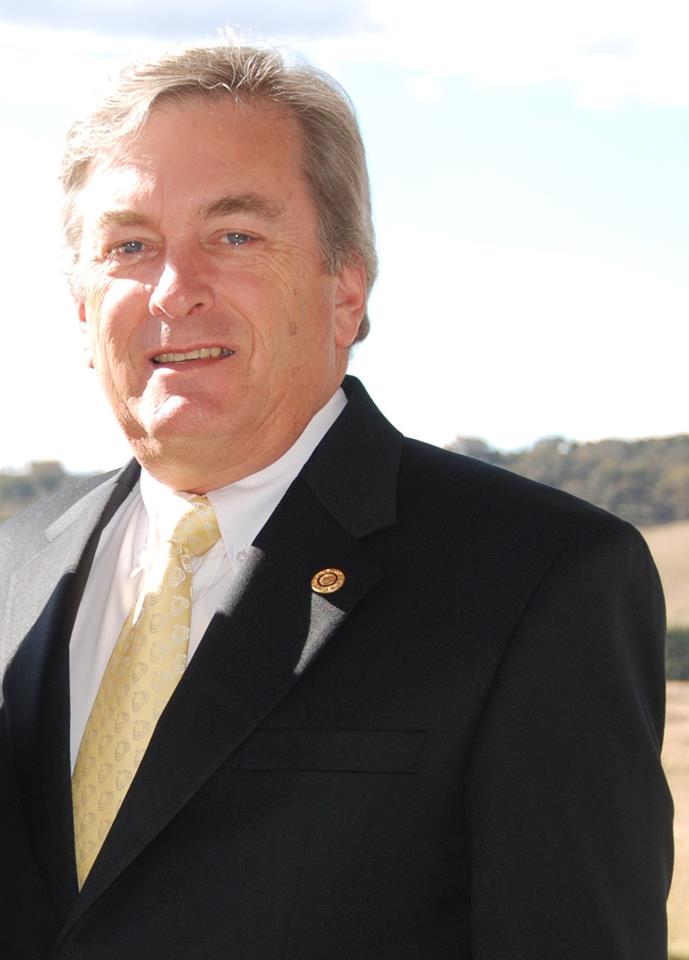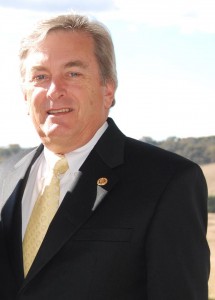 The Rotary Club of Bathurst Daybreak and the Bathurst Business Chamber have announced that the Bathurst branch of Riding for the Disabled Association, Glenray Industries and Interchange Bathurst will benefit from the business awards.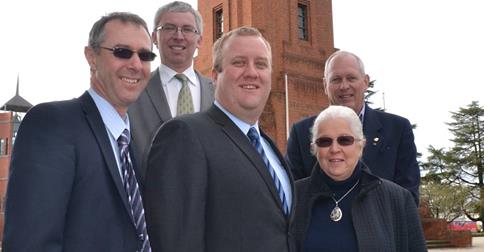 Crowe Horwath principal David Cooke, Bathurst Business Chamber president Angus Edwards, chamber treasurer Ian Morgan, Riding for the Disabled Association secretary Suzanne McDonagh and Rotary Club of Bathurst Daybreak president David Druitt.
THE Crowe Horwath Carillon Business Awards will help raise much-needed funds for three local charities.
The Rotary Club of Bathurst Daybreak and the Bathurst Business Chamber have announced that the Bathurst branch of Riding for the Disabled Association, Glenray Industries and Interchange Bathurst will benefit from the business awards.
Rotary Club of Bathurst Daybreak president David Druitt said applications were received from 13 local not-for-profit organisations and three organisations were chosen after an exhaustive selection process.
ON THE LIGHTER SIDE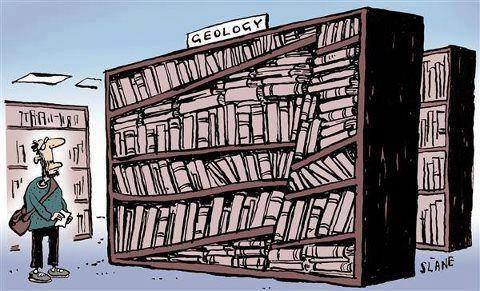 The Glass Eye
A man is dining in a fancy restaurant, and there is a gorgeous redhead sitting at the next table. He had been checking her out since he sat down, but lacked the nerve to talk with her.
Suddenly she sneezes and her glass eye comes flying out of its socket towards the man. He reflexively reaches out, grabs it out of the air, and hands it back.
"Oh my, I am so sorry," the woman says as she pops her… eye back in place. "Let me buy you dessert to make it up to you."
They enjoy a wonderful dessert together, and afterward, the woman invites him to the theater followed by drinks. After paying for everything, she asks him if he would like to come to her place and stay for breakfast the next morning.
The next morning, she cooks a gourmet meal with all the trimmings. The guy is amazed! Everything has been incredible! "You know," he said, "you are the perfect woman. Are you this nice to every guy you meet?"
"No," she replies, "you just happened to catch my eye."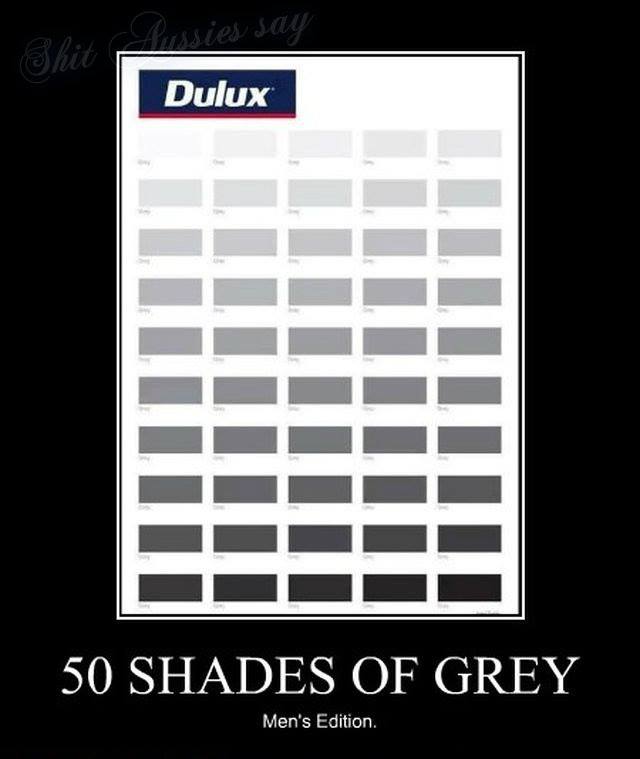 ROTARY INFORMATION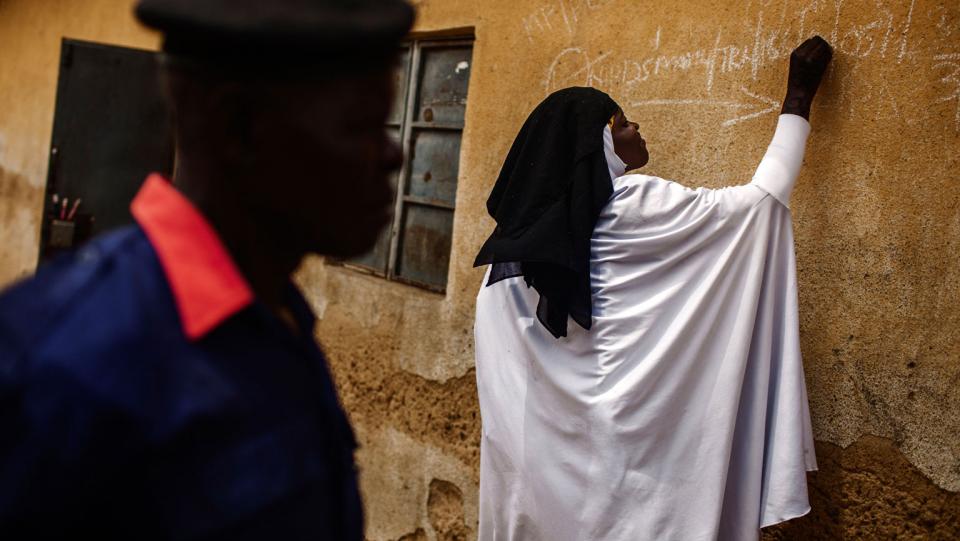 A polio worker marks the side of a house in Kano, Nigeria, to indicate the children were not at home and a follow-up visit will needed to ensure they are vaccinated. Photo Credit: Diego Ibarra Sánchez
Nigeria is closer than ever to eradicating polio, riding a successful effort to reach children in seven northern states at highest risk for the disease.
"Rotarians have [gone] into remote areas of the country by car, canoe, motorbike, and even on foot to ensure every child gets the vaccine," says Rotary's Nigeria PolioPlus Committee Chair Tunji Funsho.
In Katsina state, members of the Nigeria PolioPlus Committee (NPPC) recently met with leaders of two communities notoriously opposed to immunization, mainly on religious grounds and in protest of the lack of basic health care. They persuaded the leaders to endorse vaccination by obtaining government assurance that mobile health camps would provide free checkups, medications, immunization against diseases besides polio, and other services.
"It was very encouraging to see the positive impact of engaging these leaders . . . witnessed by the huge turnout of crowds at the health camps and women willingly presenting their children for vaccination in households, quranic schools, and other locations," reports the NPPC."
OUT OF AFRICA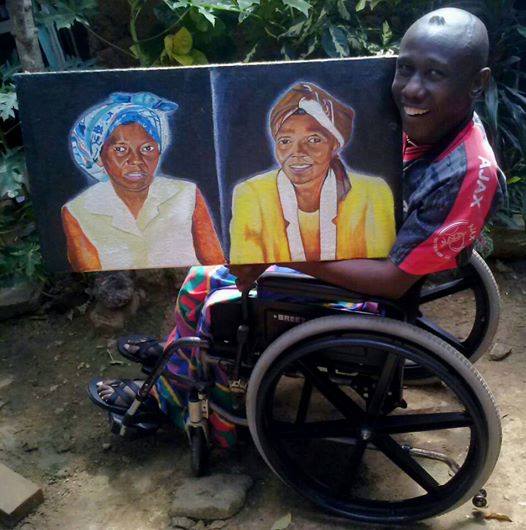 Rotary club of Mombasa North Coast is celebrating Kennedy Nganga. A level c-3/4 quadriplegic due to a diving accident in a swimming pool in 1992, then aged 16.  Though he still has no grip to his fingers, he has learnt to paint by placing the brush between his fingers and do paint to sustain his living, support other persons with disability and as therapy too.
He is the founder of "THE MOMMA KENNEDY AND FRIENDS" fund which supports other persons with disability in Bamba village in Kilifi county.  The Rotary Club Of Mombasa North Coast is partnering with him to support the Bamba Community with focus on persons with disability.  Below are some of art work that he does.  Indeed DISABILITY IS NOT IN ABILITY!  Well done Kennedy Nganga.
MOUNT KENYA 2015 ANZAC DAY CLIMB
This will be a permanent section for the next 12 months in our weekly bulletin and I will update stories to this article as and when we get them.   The Australian Commonwealth Department of Veterans Affairs have approved our application to be part of the Centenary for ANZAC and we are allowed to use the logo below with some rules on it's use: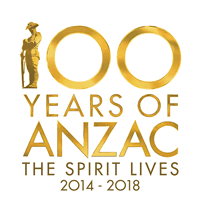 The Mount Kenya 2015 web site can be found here on clicking the banner below: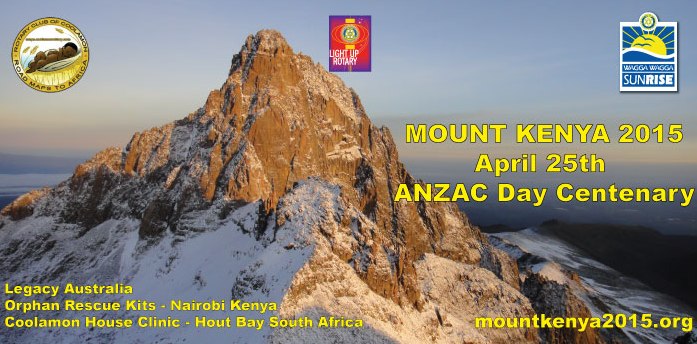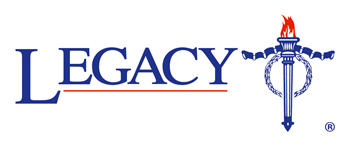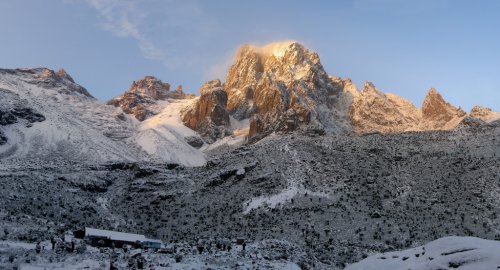 FOOT NOTE
RICON 2015 SAO PAULO BRAZIL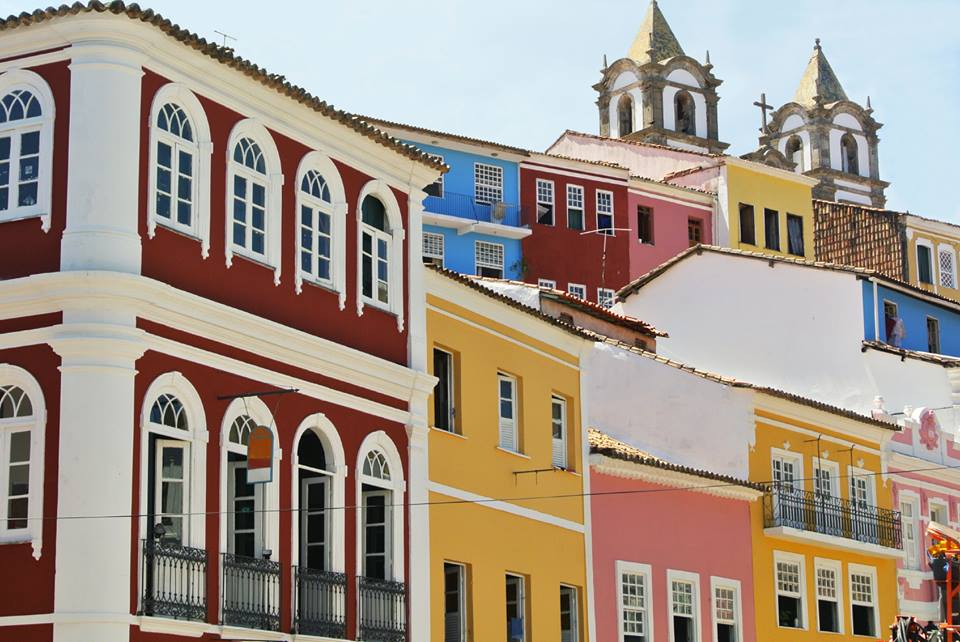 The 2015 #Rotary Convention (#ricon15) in São Paulo, Brazil, will be Saturday, 6 June, to Tuesday, 9 June. This means the convention starts and ends one day earlier than previously scheduled.
The dates were changed because the original opening day (Sunday, 7 June) coincided with one of the city's most popular parades and significant traffic congestion.
Help spread the word by updating your websites, newsletters, and calendars with the new dates. Check www.riconvention.org regularly for dates, deadlines, and registration and housing details.
Yours in Rotary John Glassford Chair 2014 -2015
Proposed Rotarian Action Group for Endangered Species
PLEASE CALL ME ANYTIME 02 6927 6027.
Bulletin Editor and Web Site:  John Glassford
Don't forget to regularly check our club web site for current information such as bingo rosters and various newsletters from the District Governor, the School of St. Jude's, the monthly membership on the move newsletter as well as several other club bulletins.
Rotary International President Gary Huang
Governor of District 9700 David Kennedy
Coolamon Club President  Garth Perkin
Coolamon Club Secretary Paul Weston
Club Treasurer  Henk Hulsman
Coolamon Rotary Club Inc. P.O. Box 23 COOLAMON N.S.W. 2701
Websites of Interest
Coolamon Rotary Club: http://coolamonrotary.com
Road MAPS to Africa a Coolamon Rotary Project: http://www.mountainsofthemoon.org/
Rotary Down Under on line: http://flipflashpages.uniflip.com/2/26587/49598/pub
Mount Kenya 2015 Web Site incorporating the ORK: http://theork.com/
Our Rotary Centennial Twin Club Hout Bay, Cape Town, South Africa: http://www.rotaryhoutbay.org
Proposed Rotarian Action Group for Endangered Species RAGES: http://www.endangeredrag.org/#