Coolamon Rotary News Bulletin #08
AUGUST IS MEMBERSHIP AND EXTENSIONS MONTH.

During Rotary Membership and Extension Month, I will:
MONDAY MEETING 19th AUGUST 2013

Another excellent meeting with good fellowship and new guests.  Present were Danny Henman Principal of the Coolamon Central School, Daryl Breust our guest speaker, Thomas Graham Honeywell Prize recipient, Digby Graham, Leanne Corbett, Alan White and partners Christine Lorraine and Helen Lewis.  Twelve members were also present.

Tonight we had a meeting in two parts but both engineering related.  Neil Munro presented the cheque to Danny Henman for the fees required for Thomas Graham to attend the Honeywell Engineering Summer School in December.
The Engineering Summer School is an initiative supported by Honeywell, Engineers Australia, Sydney Division and Rotary clubs around NSW and ACT.
It brings together students entering their final year of secondary school who have expressed a sincere interest and application for studies and/or a career in one of the many branches of engineering.
Applications forms are forwarded to year 11 students via schools and Rotary clubs. Students may apply either direct to Engineers Australia or through their local Rotary club. Students are offered places on a first come first served basis.
Successful students gain the opportunity of experiencing day-to-day life as an engineer through access to universities and contact with Australia's leading engineering organisations.
Opportunities exist to talk with and observe engineers employed in government, private and research facilities covering a broad range of discipline categories. Such opportunities might encompass biomedical, chemical, civil, environmental, electrical, computer or mechanical engineering.
It is hoped that through such experiences, student decisions about future career paths will be made using informed judgments.
Attendance at and transport to HESS involves a personal cost to the student. However, sponsoring Rotary clubs may wish to assist with the payment according to circumstances. Sponsoring clubs are also encouraged to invite students to their weekly meeting both before and after the Summer School as well as endeavouring to keep in contact during subsequent university attendance and after graduation.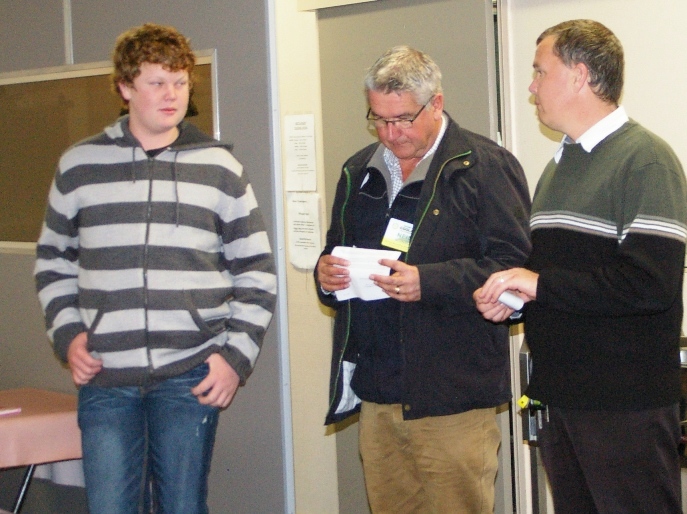 Thomas Graham, Neil Munro and Danny Henman
The second part was a talk on engineering and how our guest speaker Daryl Breust started life as an Architectural Draftsman and is now running his own engineering company with his son in Wagga Wagga.  Daryl specialises in steel and commercial buildings. From pencils, T squares and set squares to fully blown computer assisted drawings or CAD as we know it.  A most interesting talk and one that would have inspired Thomas as he embarks on a career in engineering.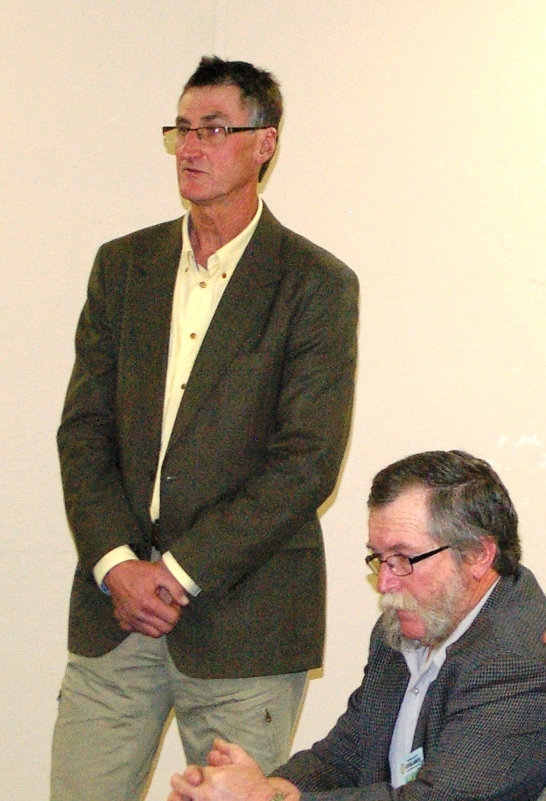 Daryl Breust Engineer
Diary Reminders
*Monday 26th August John Franklin Guest Speaker .  Times and life living in the Northern Territory.
Friday August 30th Steam Train in Coolamon Morning Tea  TBA.  Volunteers required.
*Monday 2nd September Guest Speaker Colleen Wilson Lord OAM.
Tuesday 3rd September Memory, Movement and Motivation Information Day Coolamon  by Colleen Lord OAM Health and Wellness Day at the Allawah Community Centre. Contact Clare Munro: 6927 3548.
Monday 9th September Regular Meeting followed by a Board Meeting, all members are invited to attend.
Thursday 12th September BINGO:  Christine Atkinson, Mark Reardon, Dick Jennings, Neil Munro
*Monday 30th September DG Geoff Tancred's Visit.
Sunday 6th October Coolamon Scarecrow Festival.
Monday 7th October NO Meeting Labour Day Weekend.
Thursday 10th October BINGO:   Ian Jennings, John Glassford, Grahame Miles, Ted Hutcheon
Saturday 12th October Coolamon and Ganmain Hospital Fete IN Ganmain.
Saturday 26th October Street Raffle in Coolamon.
Sunday December 1st Early Pre-Christmas Rotary Community Market Day in Coolamon.
Saturday 22nd and Sunday 23rd February PETS in Young
Friday 14th March Trike Convention Catering in Wagga Wagga proceeds to Ronald McDonald House in Wagga Wagga.
Friday March 21st-Sunday March 23rd D9700 Conference in Orange.
Sunday 18th May D9700 Assembly in Grenfell
Saturday 24th May Red Shield Appeal Street Stall.
Sunday June 1st-Wednesday June 4th.  SYDNEY 2014 RI Convention See promotion at the end of this bulletin.
*Partners and Guests Night.
ROTARY INTERNATIONAL PRESIDENT RON BURTON: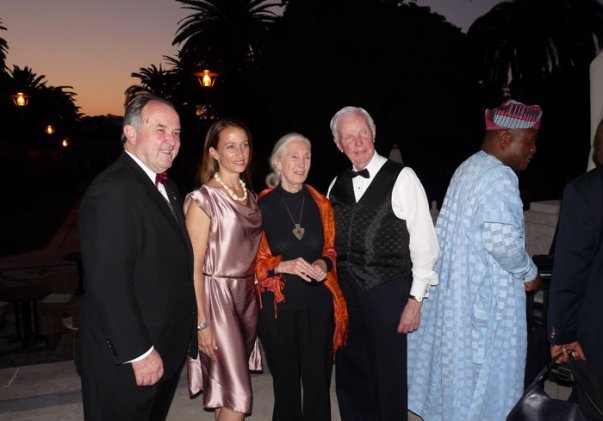 With his congenial manner and his inclination to keep things simple, Ron Burton has a natural ability to put people at ease. But don't let the easygoing demeanor of Rotary International's new president lull you into thinking that he doesn't get serious when it's time for business.
"If you ask my opinion, you're going to get it," Burton says, his neighborly look morphing into a solemn gaze. "When I feel strongly about something, I will argue like crazy for my position. I suppose that's sort of an ego thing, but if I discern that someone has a vested interest or may be looking at a personal economic benefit, I have a simple suggestion: Apply The Four-Way Test."
An uncompromising sense of ethics may be the only personal quality that the former president of the University of Oklahoma Foundation Inc. is willing to wear on his sleeve. "Like most people, I don't like to be told I'm wrong," he says. "But I can be convinced that there's another way to look at something, and sometimes I'll change my mind. If it's an ethical issue, though, you're not going to tell me I'm wrong. It's not going to happen. I've dealt with too many people over the years who wanted to misuse funds. I've looked them in the eye and said, 'I'm not going to jail for you or anyone else.'"
ON THE LIGHTER SIDE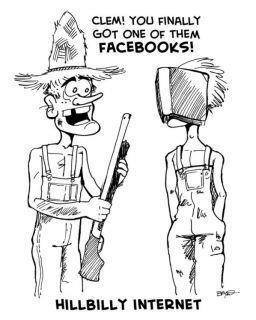 The Spoon
John invited his mother over for dinner one evening. During the meal, she couldn't help but notice how attractive his roommate Judy was.
She had been suspicious of a relationship between her son and his roommate for quite some time, but this only made her more curious.
She watched the two of them interact over the course of the evening and began to wonder whether there was more between John and Judy than met the eye.
Realizing only too well what his mother was thinking, John said, "I can see your wheels turning Mum and I know what you're thinking. Rest assured Judy and I are strictly roommates."
A few days later, Judy went to John and said, "You know the beautiful silver gravy ladle? Well, ever since your mother came to dinner I can't seem to find it. You don't think she would have taken it, do you?"
"I doubt it, but I'll write her a letter just to be sure," replied John.
John then sat down and wrote his mother the following letter: "Dear Mum, While I'm not saying you 'did' take a gravy ladle from my house, and I'm not saying you 'didn't' take a gravy ladle, the fact remains that ever since you were here for dinner one has been missing. Love, Your son."
Several days later, John received a reply from his mother which read: "Dear John, While I am not saying you 'do' sleep with Judy, and I'm not saying you 'don't' sleep with her, the fact remains that she would have found the gravy ladle by now if she were sleeping in her own bed. Love, Mum."
ERIC VAN SOEST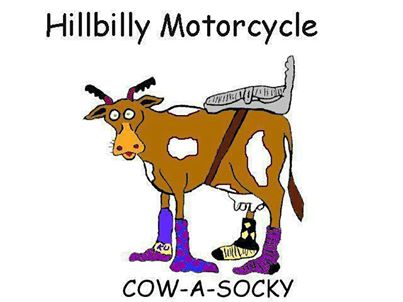 ROTARY INFORMATION
Rotary Coordinator Mary Berge of Pennsylvania, USA, finds her happiness in serving others, which is why she has remained in Rotary. Read her blog post for more inspiration on engaging your members.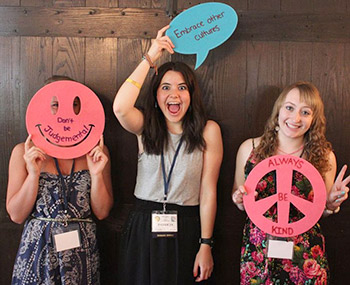 I wonder what Rotary will look like in 2050. I wonder about how our journey, together as Rotarians, will take shape. I imagine the powerful and meaningful projects that will happen along the way. I imagine the positive impact we will have on human lives, all over the world. I imagine the lifelong friendships and bonds that will spontaneously occur as a result. It makes me smile to think about it all.
Have you noticed the common theme in my words above? It's happiness. I believe that Rotary makes people happy. The givers and receivers of our Rotary service are happy people! And when we are happy, we work, play, and love harder and better. Our performance, energy and creativity increases. In Rotary, the happier we are, the harder and better we serve others!
Success doesn't lead to happiness; happiness leads to success. Our goal in Rotary is to serve others and to do good in the world and by working toward and achieving these goals, alongside my fellow Rotarians, I am a happy person!
Editor's note: Share your passion and commitment to Rotary during Membership and Extension Month! Here's how:
ONLY IN AFRICA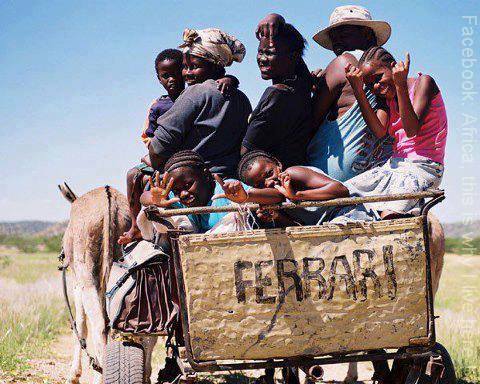 OUT OF AFRICA

CAUSES WORTH SUPPORTING
DARKNESS TO LIGHT ROTARY CLUB OF WAGGA WAGGA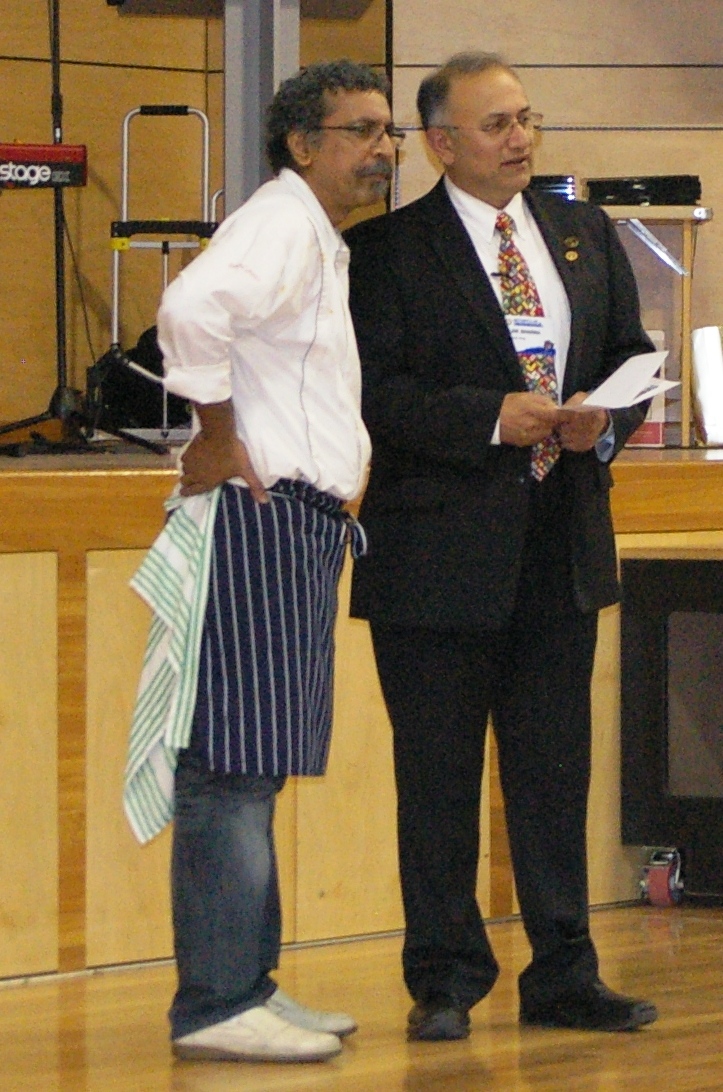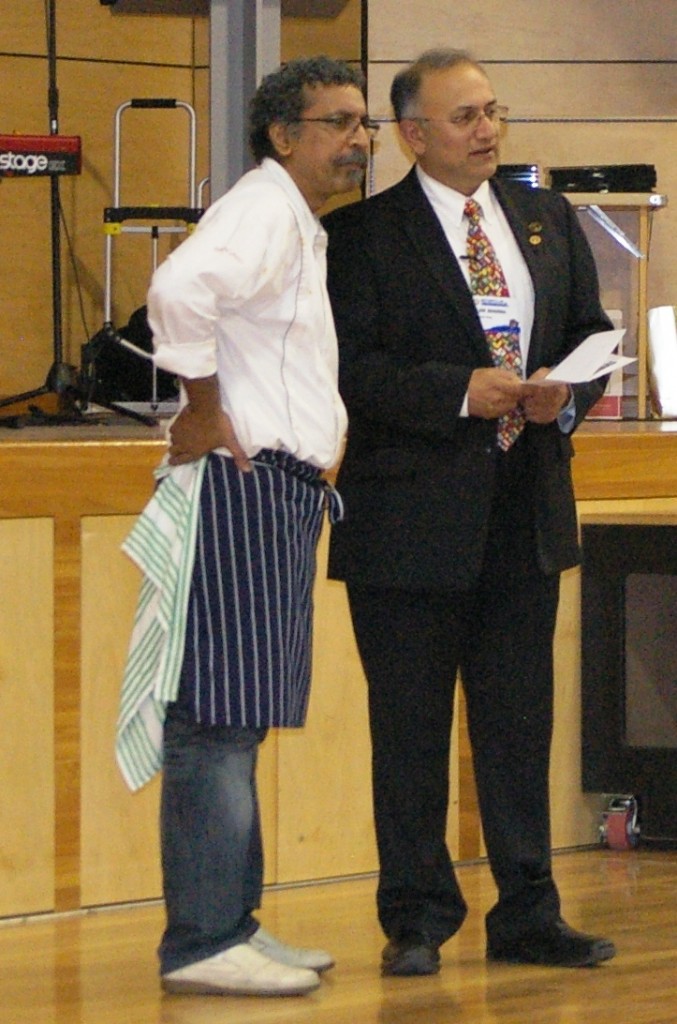 Ajoy Joshi and Dr. Alok Sharma
On Saturday night over 300 people including a large number of Rotarians and their partners supported Dr. Alok Sharma and his team in raising funds for the Darkness to Light projects for India and the Riverina.  The Chief Guest was Mr. Tarun Kumar from the High Commission of India to Australia.  The dinner was catered for by Ajoy Joshi from Nilgiri's Indian Restaurant in Sydney.  Ajoy donated all the food and his time and the dinner was plentiful and delicious.  Thank you Ajoy and all the members of Wagga Wagga Rotary who worked hard to put this night together.
Two from Coolamon Rotary club that is PP Marg (now retired) and PP Garth Perkin will be joining Dr Sharma in India in November as volunteers for Dr Sharma's next eye camp where Alok will be operating for cataracts and providing glasses and eye check ups for many Indians.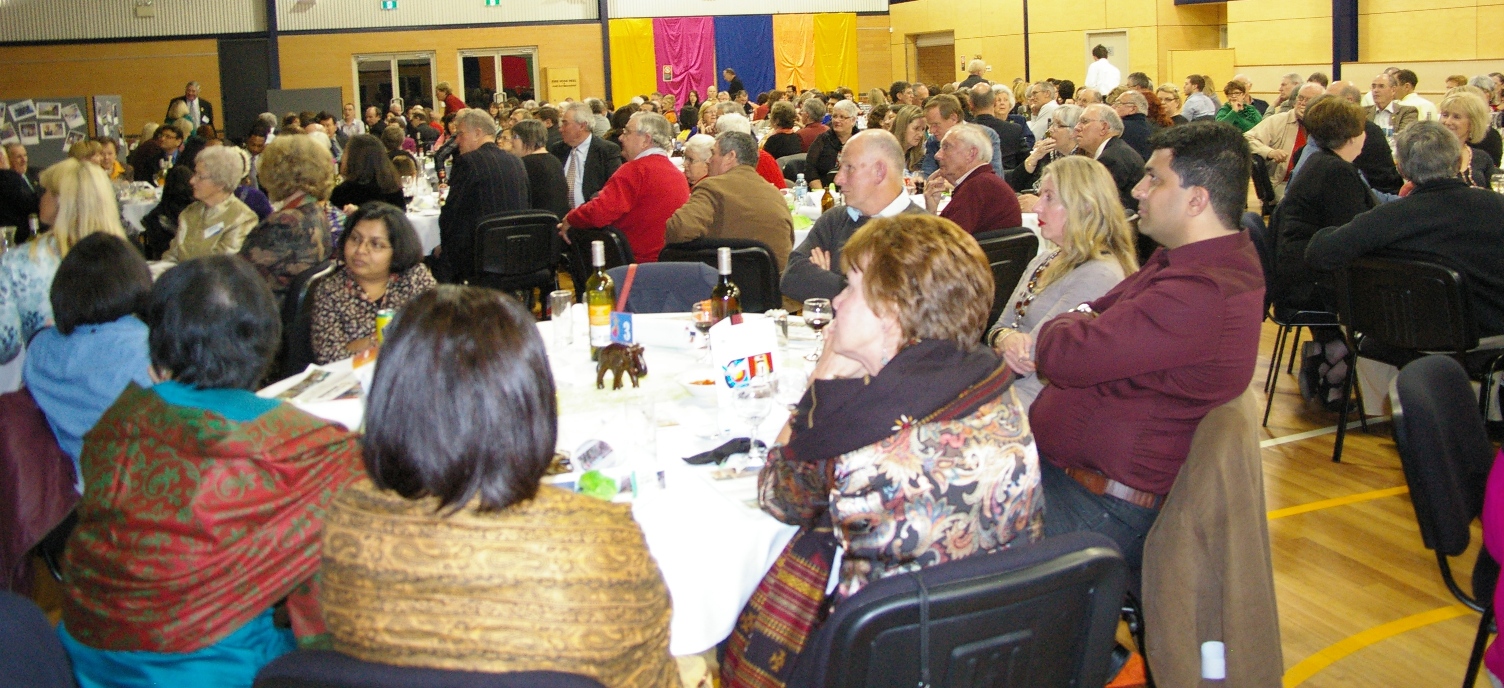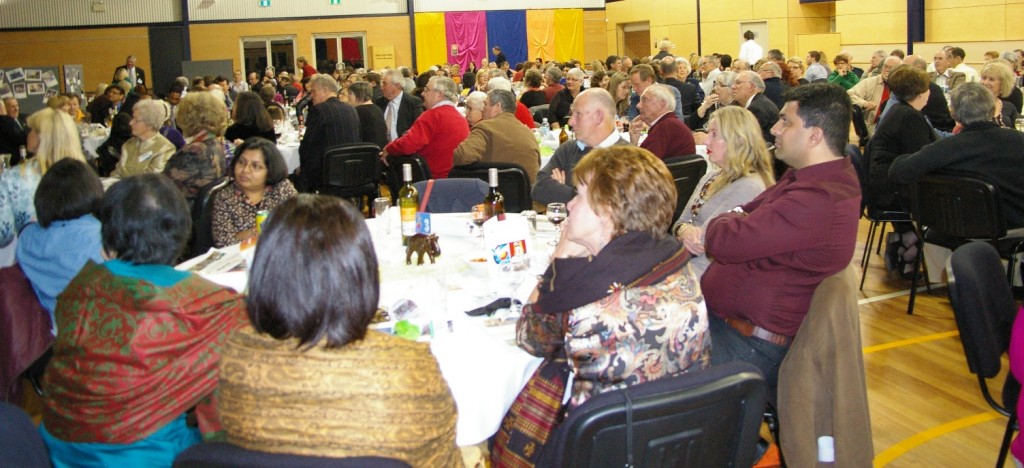 CONTACT THE ROTARY CLUB OF WAGGA WAGGA TO DONATE TO DARKNESS TO LIGHT. WEB SITE: WAGGA WAGGA ROTARY CLUB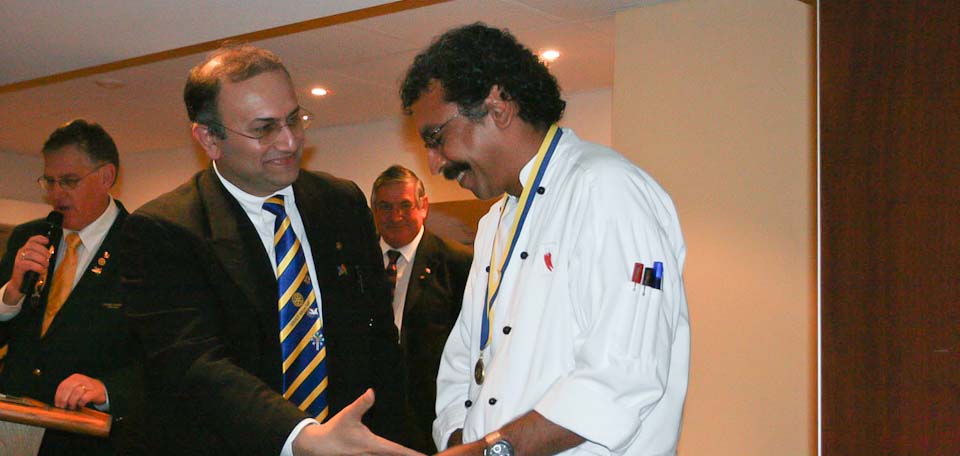 In 2007 Ajoy was awarded Rotary's highest honour by the Rotary Club of Wagga Wagga– the Paul Harris Fellowship – for his ongoing support for the 'From Darkness to Light 2007' project for vision-impaired people in India.
Rotary International President Ron Burton
Governor of District 9700 Geoff Tancred
Coolamon Club President  Dick Jennings
Coolamon Club Secretary Paul Weston
Club Treasurer  Henk Hulsman
Coolamon Rotary Club Inc. P.O. Box 23 COOLAMON N.S.W. 2701
Websites of Interest
Coolamon Rotary Club: http://coolamonrotary.com
Road MAPS to Africa a Coolamon Rotary Project: http://www.mountainsofthemoon.org/
Rotary Down Under on line: http://flipflashpages.uniflip.com/2/26587/49598/pub
Mount Kenya 2015 Web Site incorporating the ORK: http://theork.com/
Our Rotary Centennial Twin Club Hout Bay, Cape Town, South Africa: http://www.rotaryhoutbay.org
Proposed Rotarian Action Group for Endangered Species RAGES: http://www.endangeredrag.org/#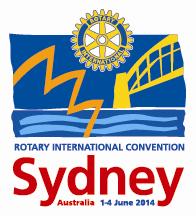 Register early for Sydney convention and save
Register early for the 2014 Rotary International Convention in  Sydney, Australia, 1-4 June, and pay US$100 less than the on-site  registration fee. Rotary's annual convention is a wonderful way to experience the true internationality of Rotary, as you connect with leaders, exchange ideas, and get inspired to take action to benefit communities worldwide.
AUSTRALIAN RULES FOOTBALL (AFL) MATCH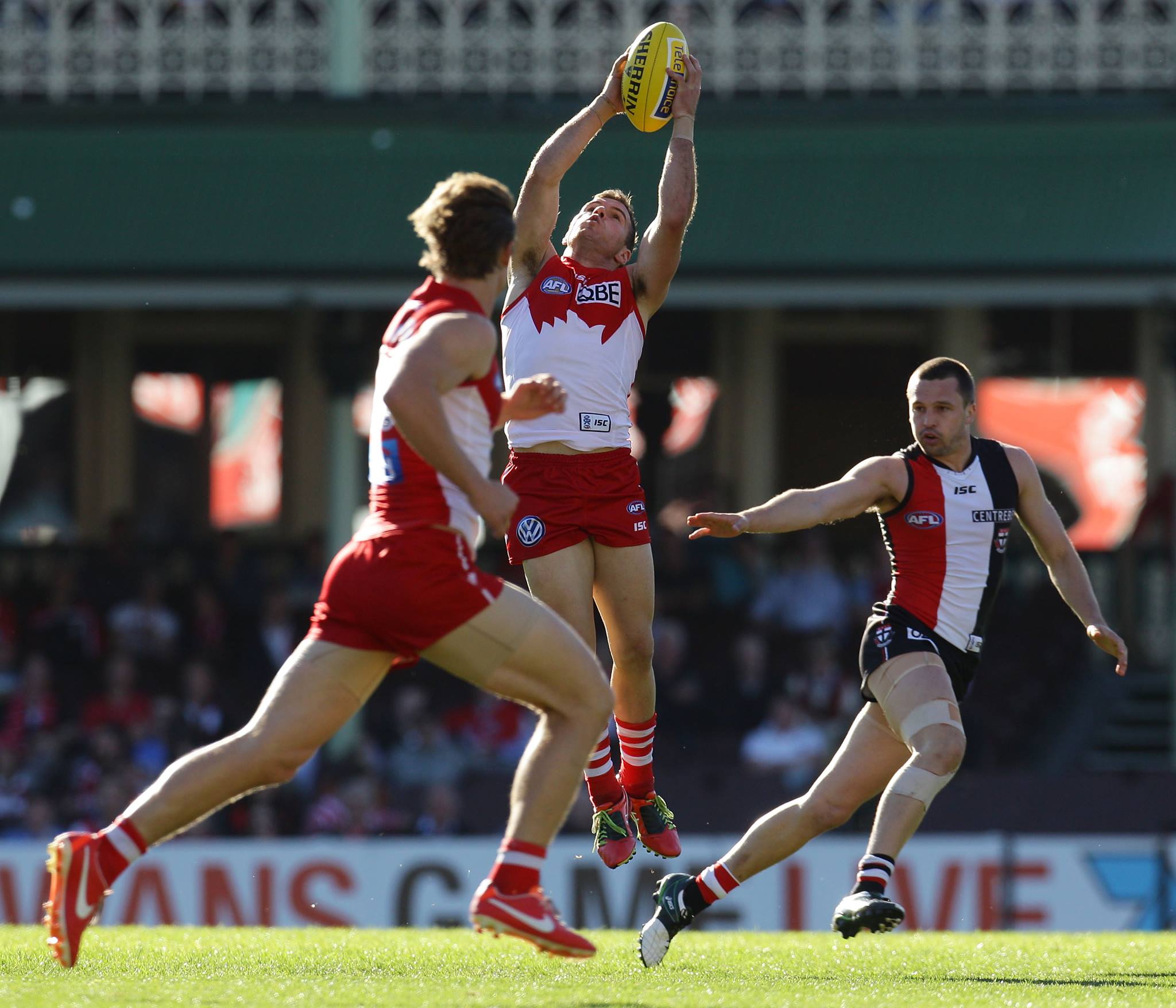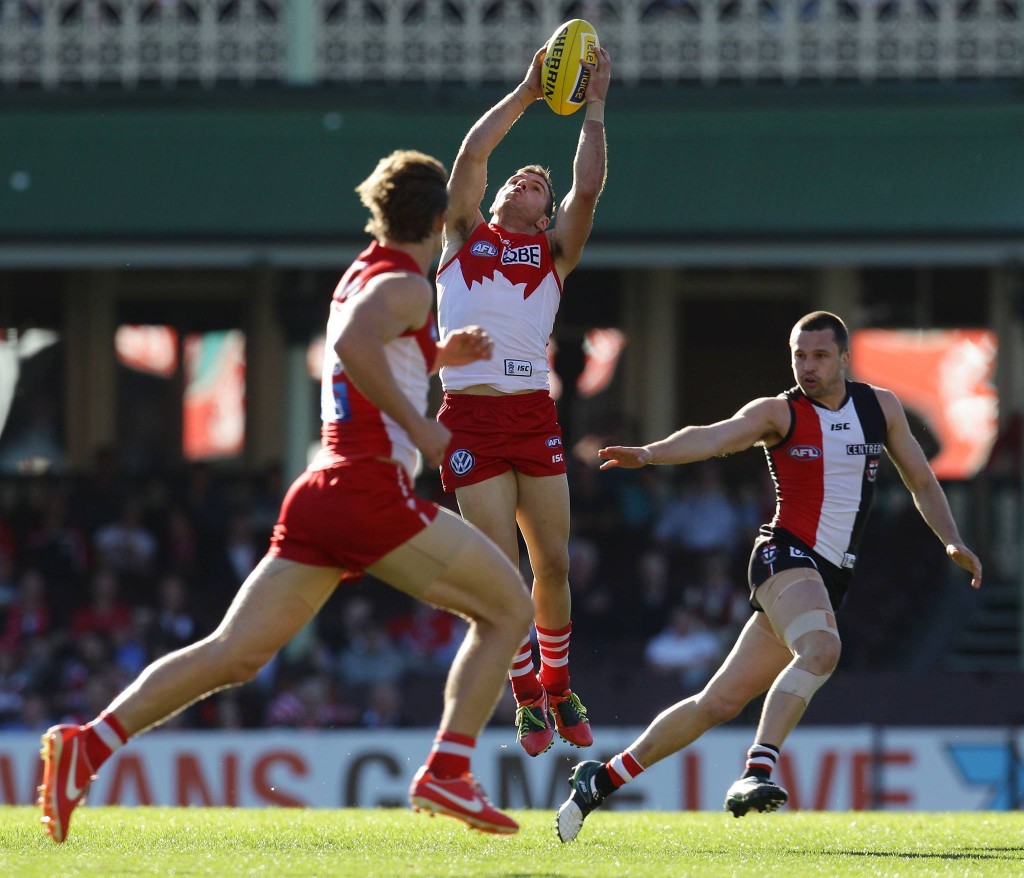 Where: Sydney Cricket Ground – Moore Park (to be confirmed)
When: 2014 Schedule to be released late October 2014
Price: $TBA
One of the best ways to get beneath the skin of a country is through sport, and when you're talking Australia, that sport would have to be Australian Rules Football (AFL). Often called "Aussie Rules" by locals, this particular game of football pits two teams of 18 players against each other on an oval nearly three times the size of a soccer pitch. Their sole aim is to get possession of an oval-shaped football and kick it through one of three sets of goal posts at each end. This rough and ready contact sport sees players hand-balling, bouncing, catching and doing anything in their power to possess the ball. The game is fast and furious, with brutal contests and collisions whipping crowds in to an excitable frenzy.
Join the HOC at a big weekend match in Sydney to experience this uniquely Aussie sporting event first hand.
Details
The match draw for the 2014 AFL Season will not be published until October 2013. The HOC are working to have an "Aussie Rules" football game scheduled for the evening of Friday 30 May or Saturday 31 May (afternoon or evening) however the draw is a random selection as to teams and venue. Further details will be provided later in October 2013. If the draw provides a game in Sydney, this is a not to be missed opportunity to see the big men fly in this enthralling game of physical skill and strength. The Sydney Swans are the 2012 premiers and on course (most Sydney-siders have fingers crossed) to regain the flag in 2013.
Inclusions: One ticket to an AFL match in Sydney. Free transport provided using free public transport pass provided courtesy of NSW Government.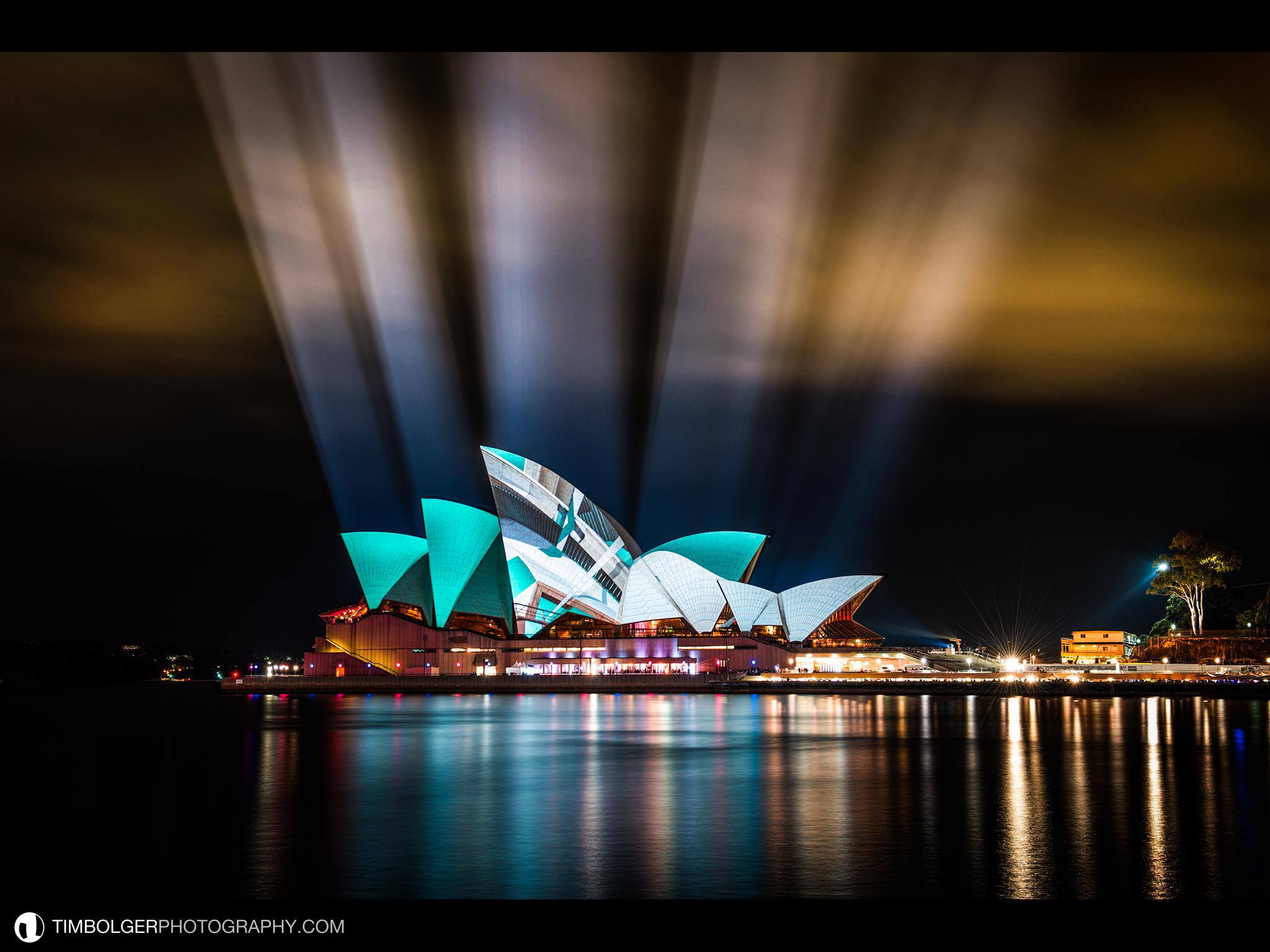 Bulletin Editor and Web Site:  John Glassford
Don't forget to regularly check our club web site for current information such as bingo rosters and various newsletters from the District Governor, the School of St. Jude's, the monthly membership on the move newsletter as well as several other club bulletins.