Meeting of 19 September
The focus of this meeting was John Glassford's presentation that will be made to clubs throughout the district as John prepares for his year as DG in 2018-19.  John presented some sobering statistics on the state of several endangered species, mainly white rhino, elephants and orangutans.  The number of white rhino and elephants continue to dwindle because of poachers who kill the animals solely for their horns or tusks, respectively.  The situation with orangutans was similarly grim, but primarily because of removal of habitat as oil palms plantations dominate the landscape.  On a brighter note, the number of mountain gorillas has increased in recent years, mainly because the locals have learned that they can make more money from tourists than from ashtrays made from gorilla feet.  RAGES, the Rotary Action Group for Endangered Species, co-founded by John, is attempting to increase awareness of the threat to endangered species and to help lessen the problem.
The rest of John's presentation was taken up with a survey assessing members' knowledge of Rotary District 9700 and their use of D9700 electronic resources.  The meeting concluded with a meat tray raffle, which was won by Helen Lewis.
[For more information on RAGES, have a look at the RAGES facebook page.]
Opening of Kindra Bike & Walking Track
The Kindra Bike & Walking Track was officially opened by Mayor John Seymour on Saturday, 17 September.  The track is an initiative of Coolamon Rotary, spearheaded by Ian Jennings and financially assisted by a district grant from D9700.  The track winds through woodland in the Kindra National Forest, and has been designed to have minimal impact on the native flora and fauna.  The Coolamon Shire has been supportive of the project and has contributed in-kind support that has helped make the dream a reality.  Attendees of the opening ceremony were welcomed by Aunty Gail Clark, and heard brief speeches by Ian Jennings, John Seymour, and club president Don Dyce.  A ribbon cutting ceremony was followed by a sausage sizzle hosted by Coolamon Rotary, ably assisted by Henk Hulsman, Dick Jennings, Daryl Breust, and Don Dyce.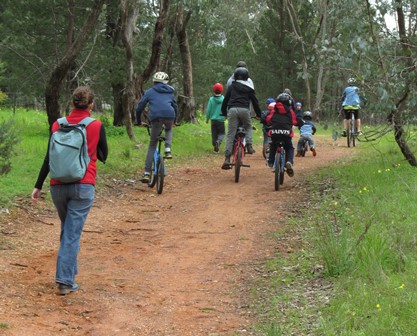 On the lighter side
Outsmarted
A farmer was frustrated with people stealing watermelons from his melon patch, so he came up with a clever deterrent.  He simply placed a sign facing the road that read "One of these melons has been poisoned." His ploy worked well until one day, when he saw that someone had added at the bottom of the sign "Now there are two."
The Puzzler
A Petri dish has a healthy colony of bacteria. Once a minute, every bacterium divides into two. The colony started as a single cell at noon. At exactly 12:43 (43 minutes later) the Petri dish was half full.  At what time will the dish be full?
Answer to last week's puzzler: Turn two of the switches on, and then turn one off after several minutes.  Then go up to the attic.  The lamp that is lit is obviously wired to the switch that you left on, and the lamp that is off and cool to the touch is wired to the switch that had been left off.  The lamp that is off but warm to the touch is wired to the switch that was turned on and then off before you left for the attic!
Diary
Saturday, 24 September: Moo Poo working bee.  Postponed because of excessive recent rain.

Sunday, 25 September: Visit from Griffith Avanti.  11:00 tour of Coolamon Cheese followed by visits to local attractions and 1:00 BBQ at Don Dyce/Sally Farmer residence (6 Loughnan Street, Coolamon).
Monday, 26 September: CSU Field Plot Twilight Tour (in lieu of weekly meeting).  Grahame Centre Field Site, cnr Wagga Road & Prices Road, 5-7 pm.
Sunday, 2 October: Gears & Beers. Stay tuned for details!
Monday, 3 October: No meeting (public holiday).
Friday, 7 October: Trivia Night benefit for Owen & Narelle Hawthorn.  St. Michael's School.  Watch for details.
Monday, 10 October: Regular meeting*.  Coolamon Sport & Rec Club. 6:30 for 7 pm.  Guest speaker: John Piltz (topic: the local drug problem).
Sunday, 16 October: President's Forum and D9700 AGM, Young.
Monday, 17 October: Regular meeting.  Coolamon Sport & Rec Club. 6:30 for 7 pm.
Wednesday, 19 October: Board meeting.  Dyce/Farmer residence. 7 pm.
Saturday, 22 October: Hospital Fete. Details to come.
Monday, 24 October: Visit from Butch Liebenberg and partner from Hout Bay Rotary, South Africa.  Coolamon Sport & Rec Club. 6:30 for 7 pm.
Monday, 7 November: AGM.  Coolamon Sport & Rec Club. 6:30 for 7 pm.
Saturday, 26 November: Street Raffle.
25-26 Feb, 2017: Presidents-Elect Training (Paul Weston), Young.
17-19 March, 2017: District 9700 Conference, Orange.
30 April, 2017: District 9700 Assembly (All Directors), Young.
10-14 June, 2017: Rotary International Convention, Atlanta, GA, USA.
---
*Partners and Guests Night
Apologies for Monday meetings: call Ian Jennings on 0428 492 157  BY FRIDAY 12:00 pm.