Meeting of 17 October
This week's meeting was a fellowship gathering featuring a guest speaker. Several club members served barbecued steaks and salads those in attendance.  Special thanks go to Heather McKinley, who made the salads, and Daryl Breust, who managed to cook a large quantity of steaks to perfection.  Henk Hulsman and Dave McKinley were also instrumental in pulling off this self-catered event.
After our meal, we were treated to a spellbinding talk by Mel Mayer, a Coolamon resident who recounted his experiences with the radio and recording industry in Australia.  Most people know Mel for his activities in providing the sound system and music at local events, but most are probably unaware of his fascinating story.  Mel started out as a sound effects man with one of the first radio studios to produce soap operas ("soapies") when these first came on the scene in Australia.   Mel described some of the tricks of the trade, and the little details that made these programs so enchanting.  In addition to these programs, Mel was involved with the production of heaps of advertisements, many of which were familiar to older members of the audience (the most famous of which was an advert for Aeroplane Jelly).  Mel got to rub elbows with many well-known artists over the years, notably singers such as Frankie Lane and Mitch Miller.  Mel also provided insights into the evolution of recording media over the decades, ranging from wax cylinders through 45 and LP records, 8-track and cassette tapes, ending with mini-discs and compact discs.  Mel still works three days per week compiling recordings for SONY after 50 years in the business.  Mel entertained us for well over an hour and could have gone on much longer except the club needed to shut down!  John Nulty thanked Mel for a most interesting presentation, presenting him with a coin pouch as a token of appreciation. It was an evening to remember.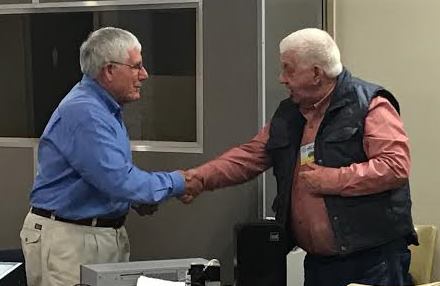 Hospital Fête this Saturday
Members are reminded that the Coolamon-Ganmain Hospital Fête will be happening from 10:00-2:00 in Lions Park in Coolamon.  A number of members are rostered on from 9:00 to help set up; this includes Don, Dave, John B, Alex, Henk and Paul.   Don, Dave, Henk and Paul will continue on from 10:00-11:30, and Daryl and Ian D are rostered on from 11:30-2:00.  We're a bit light for the last shift, so please put up your hand to help!
On the lighter side
A little girl was talking to her teacher about whales.
The teacher said it was physically impossible for a whale to swallow a human because even though it was a very large mammal its throat was very small.
The little girl stated that Jonah was swallowed by a whale.
Irritated, the teacher reiterated that a whale could not swallow a human; it was physically impossible.
The little girl said, 'When I get to heaven I will ask Jonah'.
The teacher asked, 'What if Jonah went to hell?'
The little girl replied, 'Then you ask him'.
The Puzzler
OK, we need an easy puzzler this week because the last few have proved to be very challenging.  Here goes: How long does it take for light to travel to the earth and back from a planet that is located 100 light years away?
Answer to last week's puzzler: The bus is travelling to the right.  We know this because the door, which is on the left side of buses in Australia, is not visible.  Therefore, we must be looking at the right (driver's) side of the bus, which means the bus must be travelling from left to right.  Simples!
Diary
Saturday, 22 October: Hospital Fete. Lions Park (Coolamon), 10:00 am – 2:00 pm.
Monday, 24 October: Regular meeting* and visit from Butch Liebenberg and partner from Hout Bay Rotary, South Africa.  Coolamon Sport & Rec Club. 6:30 for 7 pm.
Monday, 31 October: Club assembly.  Coolamon Sport & Rec Club. 6:30 for 7 pm.
Monday, 7 November: AGM.  Coolamon Sport & Rec Club. 6:30 for 7 pm.
Wednesday, 10 November: Bingo. Neil (Captain), Daryl, John N, Leslie.
Monday, 14 November: Regular meeting*.  Guest speaker: Rep from Kurrajong-Warratah Recycling.  Coolamon Sport & Rec Club. 6:30 for 7 pm.
Saturday, 26 November: Street Raffle.
Monday, 28 November: Bowls Night in lieu of regular meeting.  Coolamon Sport & Rec Club. 6:30 for 7 pm.
Saturday, 10 December: Christmas Party.  Details to come.
25-26 Feb, 2017: Presidents-Elect Training (Paul Weston), Young.
17-19 March, 2017: District 9700 Conference, Orange.
30 April, 2017: District 9700 Assembly (All Directors), Young.
10-14 June, 2017: Rotary International Convention, Atlanta, GA, USA.
*Partners and Guests Night
Apologies for Monday meetings: call Ian Jennings on 0428 492 157  BY FRIDAY 12:00 pm.