Week of 27 March
Another great meeting!  A bit more subdued than last week's affair, but still a great opportunity for fellowship and learning a bit more about our newest member, Julie Clark (Julie has been accepted into membership, but won't be inducted for another week or two).  Julie has got to have one of the most interesting life stories of all our members, and has held interesting jobs everywhere from Tasmania to Perth (and many points in between!).  One of her more surprising occupations was driving massive trucks in the mines of Western Australia.  She's now selling honey out of Coolamon (her classification is "Purveyor of fine honey"). Julie will add yet another dimension to the club, and we look forward to her involvement.  Ian Jennings thanked Julie for a most interesting talk and presented her with a kangaroo-hide coin pouch.  The meeting concluded with a brief fine session and a raffle, which was won once again by Helen "Lucky" Lewis.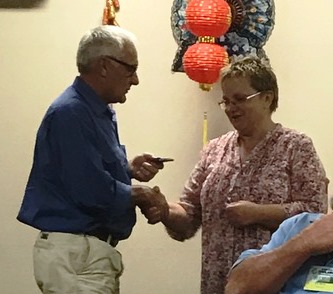 On the lighter side
All the stories in our bulletin are fair dinkum, but there were many news articles of dubious authenticity that appeared in the media on Saturday, 1 April, including the following (copied from BBC News):

1. Trump buys Irish high-rise
If you believe the Irish Times, Dublin is to get its very own "Trump Tower". "Trump Dublin is expected to be completed by the end of 2018," it exclusively revealed.
Extra credit should go to whoever completed the joke with a fake tweet from Donald Trump: "Bought a small tower in Dublin, Ireland. We are going to build an awesome hotel in Dublin. It will be totally great. Love Ireland! Great country! #trumpdublin".

2. Russian hackers on demand
Inspired by claims that Kremlin-sponsored hackers tried to rig the US election, Russia's foreign ministry shared "a new answering machine for Russian diplomatic missions abroad" on Facebook.
"To arrange a call from a Russian diplomat to your political opponent, press 1," the fake switchboard message suggests. Your other options? "Press 2 to use the services of Russian hackers", or 3 "to request election interference."
3. Germany to go GMT
The scamps at the UK's German embassy tweeted that Germans would shortly vote to "leave, or remain in" Central European Time (CET). "A replica of the Shepherd Gate Clock in Greenwich would be placed atop the World Time Clock in Alexanderplatz, Berlin, in a frivolous symbolic gesture," the writer deadpanned.
The clues were there for linguists, however – the surname of the "government spokesperson" quoted – Frau Sommerzeit – translates as "Summertime".

4. Triple-decker plane
Emirates airline almost had us going with the claim that it's planning to unveil a triple-decker plane. Why? Time zones. The UAE gets to 1 April before the UK and without that all-important date-stamp… could it possibly – somehow – be true?
No, is the answer. The Dubai-based carrier has not designed a plane including "a swimming pool, games room, gym & park".

5. Canine cabin crew
Meanwhile in the Antipodes… Virgin Australia will be the first airline in the world to employ dogs as cabin staff, the company announced on Twitter.
While less useful in an emergency, these little guys might have been a loveable distraction at 40,000
feet.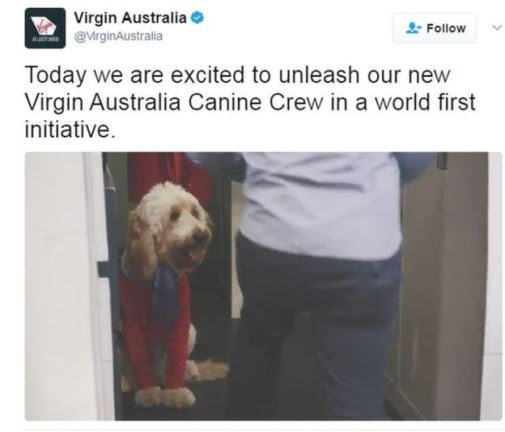 The puzzler
Hydrochloric acid is a corrosive, fuming, poisonous, highly acidic solution of hydrogen chloride (HCl). Sodium hydroxide is a caustic, strongly alkaline compound (NaOH) used in drain cleaners. If ingested, hydrochloric acid corrodes the mucous membranes, esophagus, and stomach causing dysphagia, nausea, circulatory failure and death. Sodium hydroxide, if ingested, will cause vomiting, prostration, and collapse. Why is it that if you mix these two substances in the right proportions before ingesting them you will not have any poisoning symptoms?
Answer to the last Puzzler:
You were 1 km from the North pole, and walked in a straight line directly toward the pole, then continued in a straight line for one more km.

Diary
Monday, 3 April: Club assembly. Coolamon Sport & Rec Club, 6:30 for 7 pm.
Monday, 10 April: Regular meeting. Coolamon Sport & Rec Club, 6:30 for 7 pm.
Thursday, 13 April: Bingo. Allawah Lodge, 6:45 for 7 pm. Ian J (Captain), Don, John B, Daryl.
Saturday, 15 April: Easter markets. Up-To-Date Store, 9:00 am – 2:00 pm.
Monday, 17 April: No meeting (public holiday).
Wednesday, 19 April: Board meeting. Don Dyce residence, 7 pm.
Monday, 24 April: Regular meeting. Coolamon Sport & Rec Club, 6:30 for 7 pm.
Sunday, 30 April: District 9700 Assembly (All Directors). West Wyalong High School 9:00 am.
10-14 June, 2017: Rotary International Convention, Atlanta, GA, USA.
Monday, 3 July: Coolamon Rotary changeover. Coolamon Sport & Rec Club, 6:30 for 7 pm.
*Partners and Guests Night
Apologies for Monday meetings: call Ian Jennings on 0428 492 157  BY FRIDAY 12:00 pm.