Week of 29 May
As this was the 5th Monday of the month, we had a special outing this week in lieu of our regular meeting.  We met at Coolamon Cheese with the Rotary Club of Temora and had a fine evening of fellowship and a fabulous meal prepared by Chef Chris of the cheese factory. Following our meal, host Barry Lillywhite led small tours of the production and cheese storage areas of the facility.  A joint fine session led by the Coolamon and Temora sergeants entertained the guests, and a raffle featuring three prizes of local produce finished off the evening.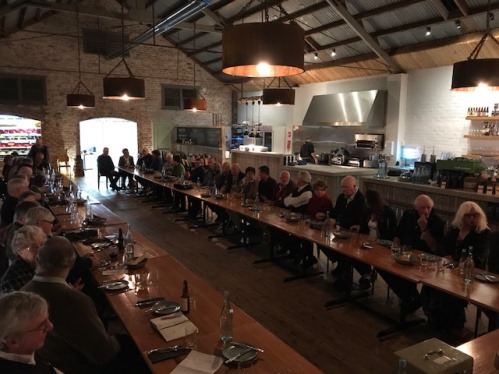 Week of 5 June
This week's meeting was a club assembly, so not a lot to report.  However, we did have a notable event on the evening, which was farewelling longstanding member Ian Durham, who recently sold his property in Coolamon and will be moving to be closer to his partner, Christine.  Ian has been a member of our club for 17 years, and has contributed mightily over the years, most notably by heading up the telephone directory effort three years ago.  Henk presented Ian with a farewell gift, and thanked him for year many years of service.  You'll be missed Ian.  Best wishes in this new chapter of your life.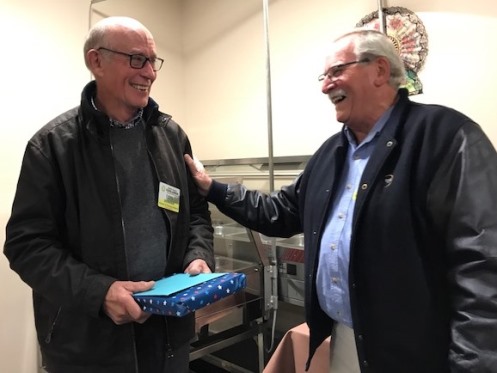 Reminder: No regular meeting this week (12 June)
Just a reminder that there is no regular meeting this week because of the public holiday.  Happy Birthday, your Royal Highness!
On the lighter side
Amazing technology
One day, leaning on the bar, Jack says to Mike "My elbow hurts like hell. I suppose I'd better see a doctor."
Listen, don't waste your time down at the surgery," Mike replies.  'There's a new diagnostic computer at Bloom's.  Just give it a urine sample and the computer will tell you what's wrong, and what to do about it. It takes ten seconds and costs only five bucks…..a lot quicker and better than a doctor and you get club card points".
So Jack collects a urine sample in a small jar and takes it to Bloom's.  He deposits five dollars and the computer lights up and asks for the urine sample. He pours the sample into the slot and waits. Ten seconds later, the computer ejects a printout: "You have tennis elbow. Soak your arm in warm water and avoid heavy activity. It will improve in two weeks".
That evening while thinking how amazing this new technology was, Jack began wondering if the computer could be fooled. He mixed some tap water, a stool sample from his dog, urine samples from his wife and daughter and the cat, and jerked off into the mixture for good measure.  Jack hurried back to Bloom's, eager to check what would happen. He deposited five dollars, poured in his concoction, and awaited the results.
The computer whirred for a little longer than he expected and then printed the following:
1) Your tap water is too hard.  Get a water softener.
2) Your cat's having kittens.  Get a vet.
3) Your dog has ringworm.  Bathe him with anti-fungal shampoo.
4) Your daughter has a cocaine habit.  Get her into rehab.
5) Your wife is pregnant with twins; they aren't yours. Get a lawyer.
…
6) And if you don't stop playing with yourself, your elbow will never get better…
Thank you for shopping at Bloom's the Chemist!
The Puzzler
What can hold water even though it has holes?
Diary
Monday, 12 June: No meeting (Queen's birthday public holiday).
Thursday, 8 June: Bingo. Roster: Neil (Captain), Wayne, Leslie, Mark. Allawah Lodge, 6:45 (setup) for 7:30 pm.
10-14 June, 2017: Rotary International Convention, Atlanta, GA, USA.
Monday, 19 June: Regular meeting*. Guest Speaker: Lloyd Dolan, CSU School of Indigenous Australian Studies.  Coolamon Sport & Rec Club, 6:30 for 7 pm.
Saturday, 24 June: District 9700 changeover. Leeton (details forthcoming).
Monday, 26 June: Regular meeting. Planning meeting for President-Elect Paul's year at the helm.  Coolamon Sport & Rec Club, 6:30 for 7 pm.
Monday, 3 July: Coolamon Rotary changeover. Coolamon Sport & Rec Club, 6:30 for 7 pm.
*Partners and Guests Night
Apologies for Monday meetings: call Ian Jennings on 0428 492 157  BY FRIDAY