Coolamon Rotary News Bulletin #21
MEETING November 26th. 2012
NOVEMBER IS ROTARY FOUNDATION MONTH.
Monday night was a social night at the club and we had 10 members attend.  We discussed many and varied items and had a great night finishing late.
Grahame Miles reported on the Rotary Sunday Markets apart from the heat Grahame said that we had 30 vendors stands and a good role up of visitors.
President Paul thanked all who volunteered on the day.
It got too hot for the chocolate factory as the delicious strawberries in white chocolate melted and they had to pack up their stand.
Next meeting on Monday 3rd December will be our last meeting for 2012 and it is also a board meeting.
SUNDAY NOVEMBER 25th. 2012 CHRISTMAS MARKETS
Venue Historic Up-to-Date Store in Coolamon
Some photos from the Sunday Markets: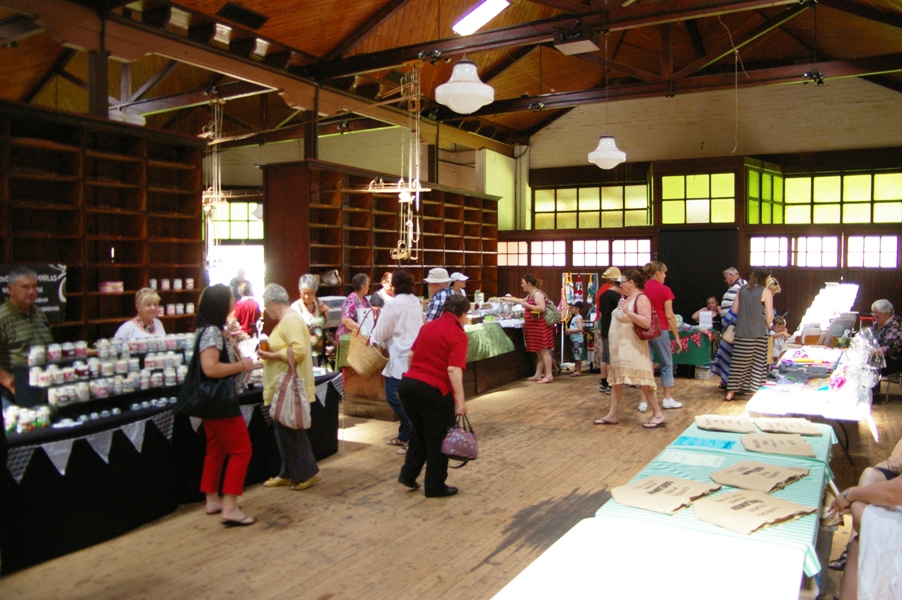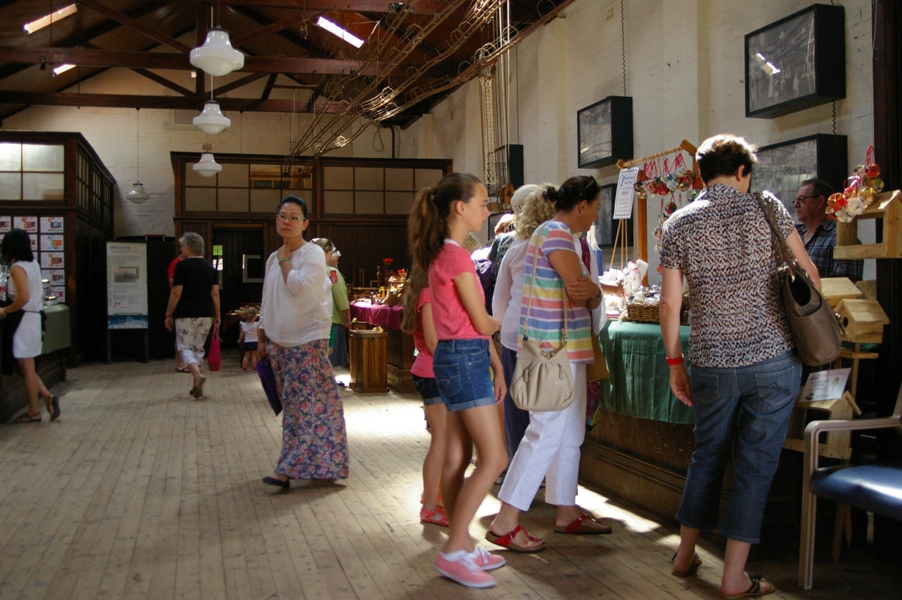 DIARY REMINDERS
Monday December 3rd Business Meeting and last meeting for 2012
Thursday December 13th BINGO rostered on: Garth Perkin,  Ian Jennings, Ian Durham, Mark Reardon
Friday December 21st Christmas Party
Monday 4th February 1st Meeting for 2013
Friday 19th to Sunday 21st April 2013   D9700 Conference Leeton
June 23-26 2013 Rotary International Convention in Lisbon. RI Convention Lisbon
*Partners and Guests Night.
WORLD AIDS DAY DECEMBER 1st 2012

Just a reminder that this Saturday is World AIDS Day 2012.  We have sent out our lunch bag for everyone to support the lunch money on World AIDS Day 2012.  So far we  have received around $1,550.  Thank you to all who have contributed so far.
If you did not receive a lunch bag you can go directly to our web site and donate on line:
The funds raised will be going to Nairobi and Hout Bay in support of our projects there.
Thank You.
ROTARY INTERNATIONAL PRESIDENT SAKUJI TANAKA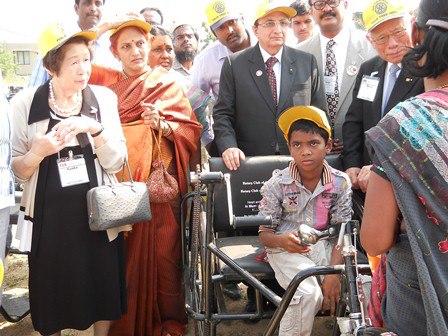 In Hyderabad, India, my wife Kyoko and I looked on as local Rotarians donated 500 tricycles to people with physical disabilities caused mainly by polio. Rotary projects that benefit the less fortunate are at the heart of Rotary's humanitarian mission.
インドのハイデラバードでは、地元ロータリアンから、ポリオによって歩行が困難となった人々に500台の三輪車が贈られました。今回一緒にインドを訪問した妻京子とともに贈呈式に出席させていただきました。
ON THE LIGHTER SIDE
Divorce
BEST DIVORCE LETTER EVER
Dear Wife,
I'm writing you this letter to tell you that I'm leaving you forever. I've been a good man to you for 7 years & I have nothing to show for it. These last 2 weeks have been hell. … Your boss called to tell me that you quit your job today & that was the last straw. Last week, you came home & didn't even notice I had a new haircut, had cooked your favorite meal & even wore a brand new pair of silk boxers. You ate in 2 minutes, & went straight to sleep after watching all of your soaps. You don't tell me you love me anymore; you don't want sex or anything that connects us as husband & wife. Either you're cheating on me or you don't love me anymore; whatever the case, I'm gone.
Your EX-Husband
P.S. don't try to find me. Your SISTER & I are moving away to Tasmania together! Have a great life!
Dear Ex-Husband
Nothing has made my day more than receiving your letter. It's true you & I have been married for 7 years, although a good man is a far cry from what you've been. I watch my soaps so much because they drown out your constant whining & griping Too bad that doesn't work. I DID notice when you got a hair cut last week, but the 1st thing that came to mind was 'You look just like a girl!' Since my mother raised me not to say anything if you can't say something nice, I didn't comment. And when you cooked my favorite meal, you must have gotten me confused with MY SISTER, because I stopped eating pork 7 years ago. About those new silk boxers: I turned away from you because the $49.99 price tag was still on them, & I prayed it was a coincidence that my sister had just borrowed $50 from me that morning. After all of this, I still loved you & felt we could work it out. So when I hit the lotto for 10 million dollars, I quit my job & bought us 2 tickets to Jamaica But when I got home you were gone.. Everything happens for a reason, I guess. I hope you have the fulfilling life you always wanted. My lawyer said that the letter you wrote ensures you won't get a penny from me. So take care.
Signed, Your Ex-Wife, Rich As Hell & Free!
P.S. I don't know if I ever told you this, but my sister Carla was born Carl. I hope that's not a problem.
ROTARY INFORMATION
About
To encourage and foster the advancement of International Goodwill, Peace & Understanding through meaningful World community Service projects with the active participation of Australian Rotarians and Rotary Clubs
Mission
To educate and inform people so that they can donate goods or funds or be attracted to volunteer to our humanitarian projects. We have DGR Tax Status. Donations are Tax Deductible.
Company Overview
Rotary Australia World Community Service Ltd (RAWCS) is the Australian arm of Rotary International that assists Rotary Clubs with the development and management of International Community Service Projects
Description
To encourage and foster the advancement of International Goodwill, Peace & Understanding through the meaningful World Community Service projects with the active participation of Australian Rotarians and Rotary Clubs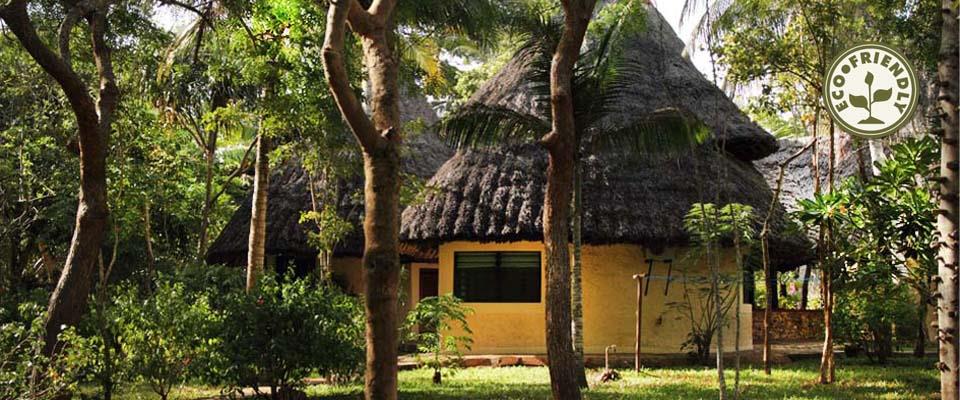 With just over a month until our 7 volunteers head off to experience what inspired Cathy to start Umoja, we thought we'd share the accommodation they'll be staying at in Diani Beach Kenya. Comfortable and clean – with a few colobus monkeys to keep them entertained. About 15 minutes from Umoja's land. Bet Katie, Ian, Leonie, Leanne, Adele, Trish, and Austin are getting excited!
Do you want to experience the REAL AFRICA while helping  'Raise the Roof' for Umoja Orphanage, Kenya? Here is your chance!  Join a fully guided tour with experienced Tour Guide and Orphanage founder, Cathy Booth. You'll be in the company of like-minded volunteer, Rotarian and be participating in the perfect combination of community work and pleasure. You'll love the authentic safari experience and enjoy plenty of crosscultural interaction with local African people. You will see firsthand why it is imperative we assist the many innocent child victims of poverty, AIDS and neglect.
Our vision is to build a children's village that will eventually house, feed and educate at least 60 orphaned and disadvantaged children from the Ukunda and Diani Beach areas of Kenya.
Are you excited by travel to remote locations?
Do you love in interacting with people in authentic ways?
Would you appreciate up close experiences with wild animals and ancient tribes?
THEN JOIN ROTARY AND JOIN US IN KENYA ONE DAY!
BUCKET LIST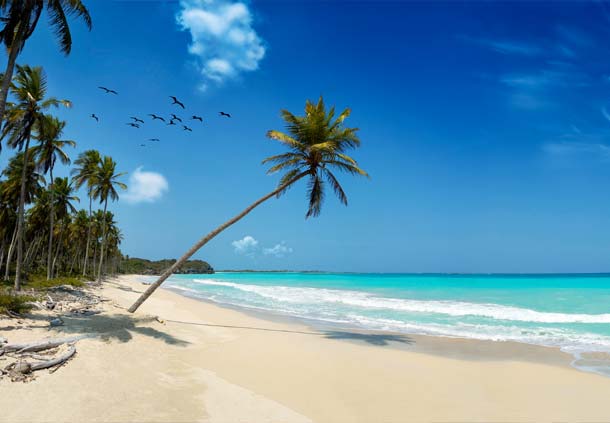 Diani Beach Kenya Diani Beach Holidays
AFRICAN STYLE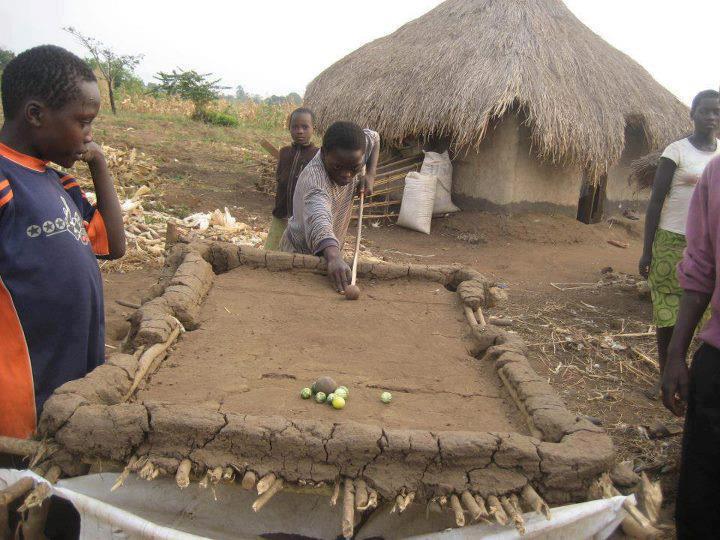 Rotary International President Sakuji Tanaka
Governor of District 9700  Greg Brown
Coolamon Club President  Paul Weston
Coolamon Club Secretary  John Glassford Coolamon
Club Treasurer  Henk Hulsman
Coolamon Rotary Club Inc. P.O. Box 23 COOLAMON N.S.W. 2701
Websites of Interest
Coolamon Rotary Club: http://coolamonrotary.com
Road MAPS to Africa a Coolamon Rotary Project: http://www.mountainsofthemoon.org/
Rotary Down Under on line: http://flipflashpages.uniflip.com/2/26587/49598/pub
The Orphan Rescue Kit a Coolamon RC Project: http://theork.com/
Our Rotary Centennial Twin Club Hout Bay, Cape Town, South Africa: http://www.rotaryhoutbay.org
Don't forget to regularly check our club web site for current information such as bingo rosters and various newsletters from the District Governor, the School of St. Jude's, the monthly membership on the move newsletter as well as several other club bulletins.