Coolamon Rotary News Bulletin #25
FEBRUARY IS ROTARY WORLD UNDERSTANDING MONTH.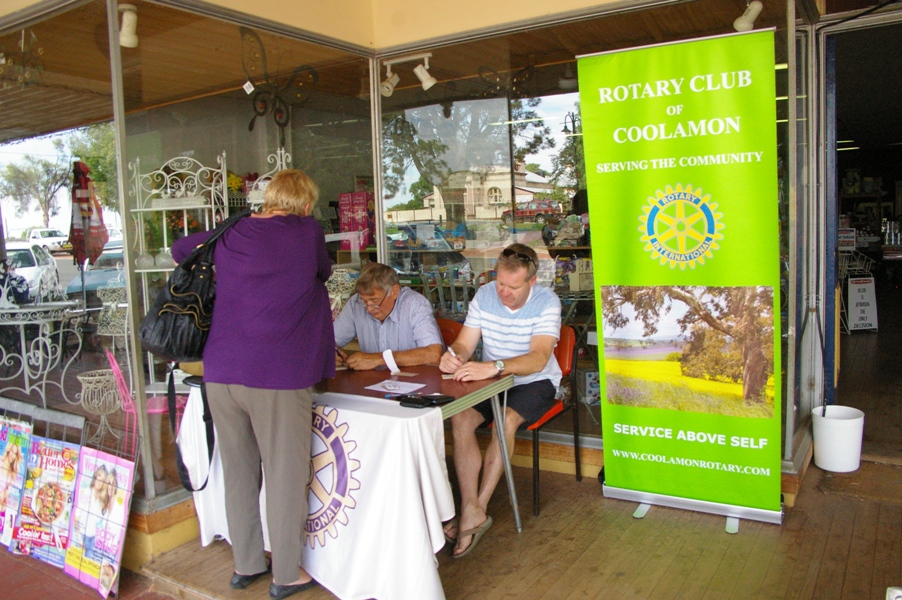 Above: Dick Jennings and Mark Reardon selling tickets.
This week we ran a street raffle in Coolamon and raised around $380.00 a good result for a Saturday morning.  We also had our weekly meeting which was our monthly planning and board meeting.  Many items and projects discussed and we enjoyed home made pizzas by our President Paul Weston, great tucker mate!
Volunteers came forward to support Blaze Aid with offers to help with fencing around Tarcutta following the very recent bush fires in that area.  We discussed holding a follow up dinner/finger food meeting to keep the Shop Locally Campaign in the eyes of the local community.  We felt that this meeting should be a financial one based on talks from a bank, a financial consultant and a credit union.
We approved the Coolamon Grand Designs open houses for Easter Saturday which is now a Coolamon Rotary club project with the proceeds of the tours to go to the Coolamon Mens' Shed (a Rotary Coolamon initiative).
Colin Paterson a well known and long term resident of Coolamon will be our guest speaker on this Monday night.  Members are invited to bring a guest along to hear about Colin's life in Coolamon.
SATURDAY STREET RAFFLE
ROTARY PEACE SUNDAY 
17th. FEBRUARY 2013
A reminder to all that this Sunday is Wagga Rotary Peace Sunday and the award presentation to those who have made significant contributions to Peace and Harmony in our community will be recognised.
The ceremony in the Victory Memorial Gardens commences at 11 am and will last approx. 1 hour
Wagga Wagga was the first declared Rotary Peace City in the world.
DISTRICT CONFERENCE LEETON APRIL 19-21.
Book now for the District Conference in Leeton this year,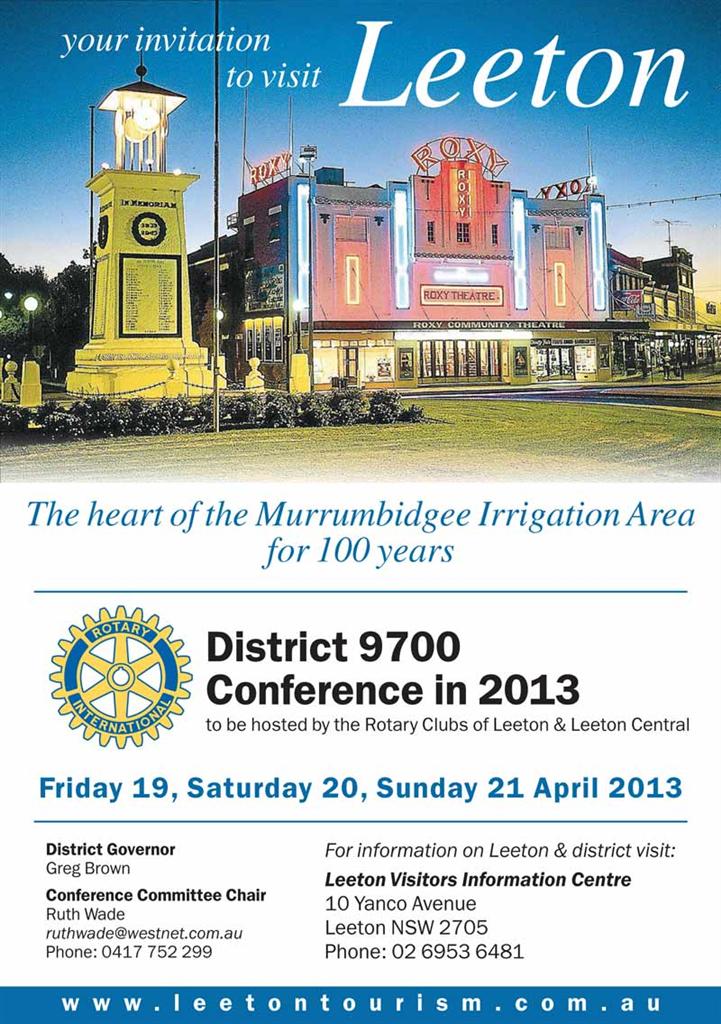 The Rotary Clubs of Leeton and Leeton Central cordially invite you to attend the Annual Conference to be held in Leeton from Friday 19th April to Sunday 21st April, 2013.
The town of Leeton was the first town built as part of the Murrumbidgee Irrigation Area (MIA) in the Riverina region of New South Wales. Today it is a showcase of contemporary rural Australia with its diverse agricultural and horticultural industries, value added processing plants and yet it is still renowned for its country hospitality. Leeton will also celebrate its art deco heritage with the bi-annual Art Deco Festival being held on the same weekend as the Rotary District Conference.
The Roxy Theatre is located in the main street of Leeton so there is ready access to cafes and shops if you need a break. Art Deco Festival markets and other activities will also be happening in the park directly opposite the theatre during the weekend.
An interesting range of Keynote Speakers have agreed to speak at the conference.
Former Deputy Prime Minister The Hon Tim Fischer AC will talk about "From the Riverina to Rome: Diplomacy & Peace". Army Major Matina Jewell will present about her time as a UN Peace Observer in Lebanon in 2006. Dr James Masson will show us the work he does as part of an Interplast medical Team and Kim Savill will show the great work of the school of St Jude in Tanzania.
Art Deco Conference Dinner Dance – Saturday Evening, April 20, 2013
The Conference Dinner Dance on Saturday evening will be held at the Leeton Soldiers' Club commencing at 6.30pm for 7.00pm. Dress will be art deco era and we will expect to see lots of feathers and beads to help celebrate this important local heritage. There will be a great band for music and dancing and official duties will be kept to a minimum to allow for fun and fellowship.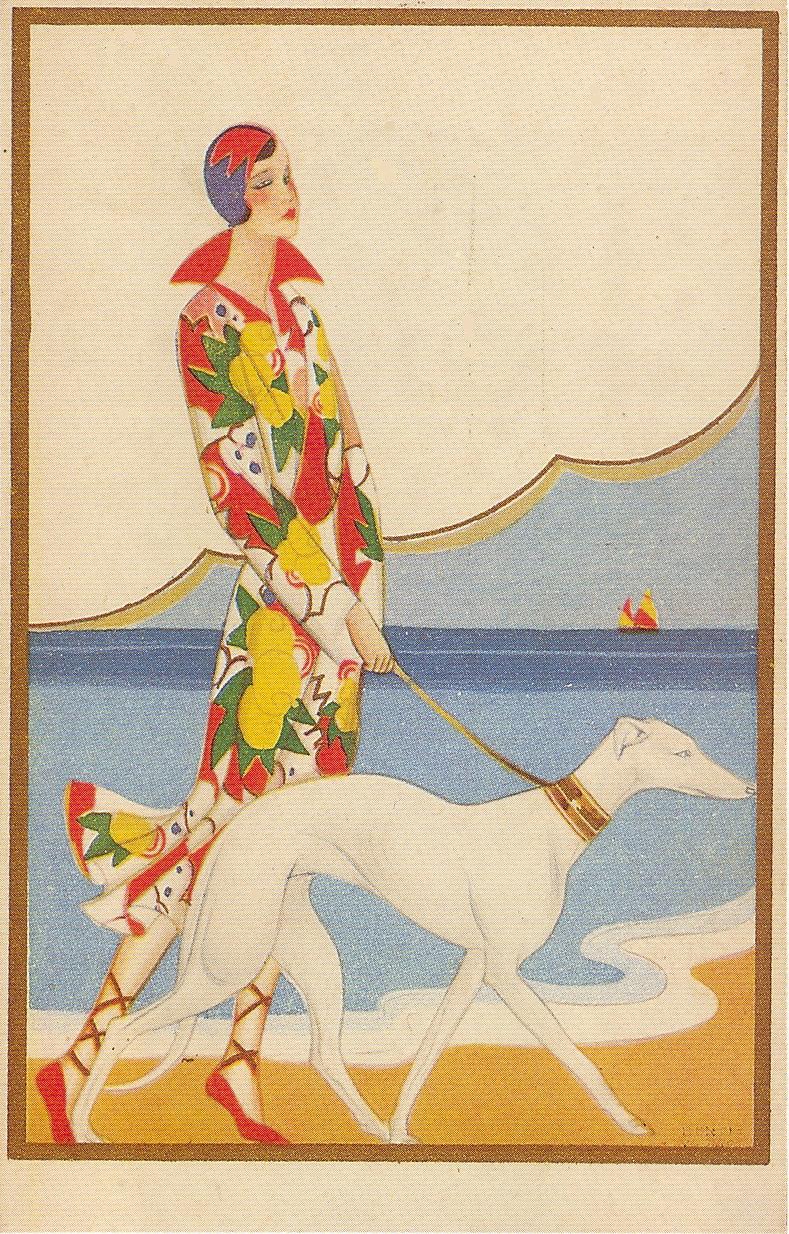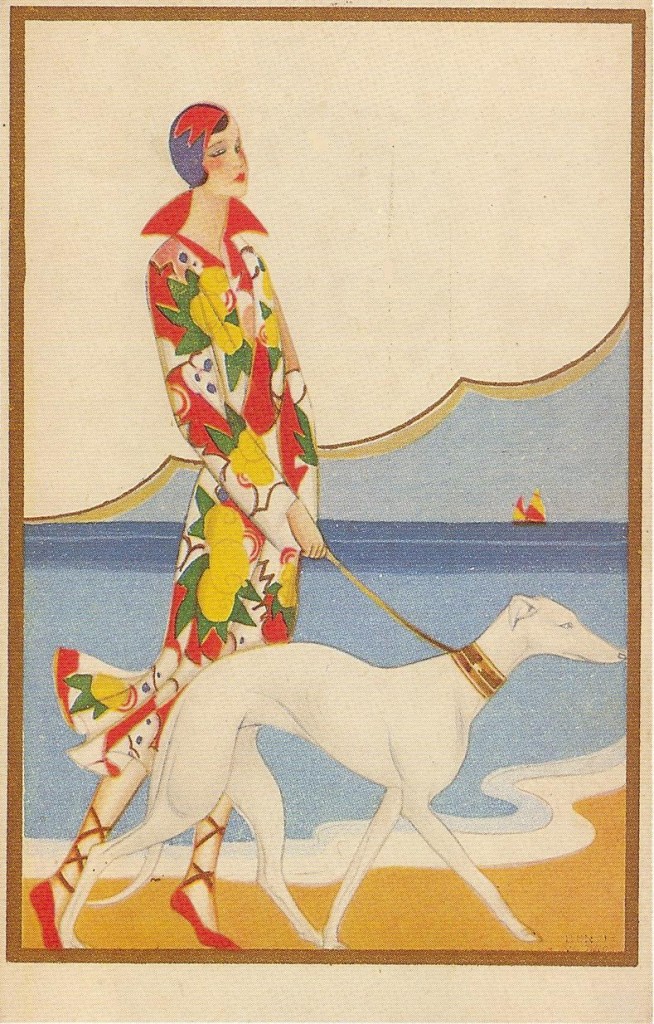 PRESIDENT PAUL WESTON'S REPORT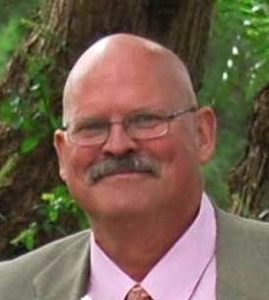 President's report
We're back into the swing of Rotary for 2013, having had our first official board meeting this week.  Although the meeting went longer than many had planned, we covered lots of ground and laid out the framework for many of the programs to be run before our next changeover.  The most significant, in my view, is a follow-up planned for our meetings with local business owners and operators.  Two events are planned: a financial workshop involving some local banking representatives and a financial planner.  Henk and Leslie will be taking the lead on organising the event.  The other follow-up is a purely social event with the business community, intended to be held soon now that nearly everyone is back from holidays.  The sense among those involved with these programs is that we will have done about as much as we can for promoting the Shop Locally campaign: signs will soon be hanging again in Coolamon, Ganmain and Marrar, we will have brought the small business owners and operators together and provided professional guidance in matters of greatest importance, if not perceived need (advertising and financing), and promoted fellowship.  After the final planned events in this series (the financing workshop and the social event), the ball will be in the hands of the business community.
Another vital issue discussed at our board meeting is membership.  While a number of our programs have raised our profile in the community indirectly, we need to continue to take a more active approach to soliciting members.  We agreed that personal contact with prospective members is the most effective way to garner new members, so committed ourselves to speak to at least one prospective new member in the coming weeks.  An invitation to one of our meetings is probably the best avenue of exposure, so consider inviting someone to one of our upcoming speaker meetings.
For a small club, we're quite active and strong.  Let's build on that and become a great Rotary club.
Yours in Rotary,
Paul
DIARY REMINDERS
Thursday 14th February VALENTINES DAY BINGO rostered on are: Neil Munro, Garth Perkin (for Christine Atkinson), Dick Jennings & John Glassford (for Rod Jarrett).
Sunday 17th February Rotary PEACE Sunday in Wagga Wagga 11 am Victory Memorial Gardens.
*Monday 18th February Guest Speaker Colin Paterson from Coolamon with Gilbert catering.
Saturday February 23rd and Sunday February 24th PETS at Young. (President Elect Training).
*Monday 25th February Club Member Night John Glassford "Into and Out of Africa My Story."  Club catering
*Monday March 4th David Jenkins Guest Speaker Gilbert catering.
Monday 11th March Business and Board Meeting Club catering.
*Monday 18th March Guest Speaker Ross Sinclair Gilbert catering.
*Monday 25th March Club Member Night Henk Hulsman.  Club catering.
Friday 19th to Sunday 21st April 2013   D9700 Conference Leeton.
Saturday June 8th Coolamon Rotary Street Raffle.
June 23-26 2013 Rotary International Convention in Lisbon.   RI Convention Lisbon.
*Monday July 1st our 42nd Change Over Night.
*Partners and Guests Night.
**West Wyalong Fellowship Night**
You are invited to a night of inspirational Rotary fellowship Wednesday 6 March 2013
7.00 for 7.30pm at the West Wyalong S&C Sports Club,  Tallimba Rd.
Cost per head – $40 which includes a drink and dinner (Two courses main & dessert)
Guest Speakers are two inspirational former RI directors Stuart Heal and Tom Thorfinnson.
ROTARY INTERNATIONAL PRESIDENT SAKUJI TANAKA

Please encourage the young people in your community to become involved in our New Generations programs. Find creative ways to promote Rotary and to interest them in our humanitarian mission.  Please share this on your Facebook page.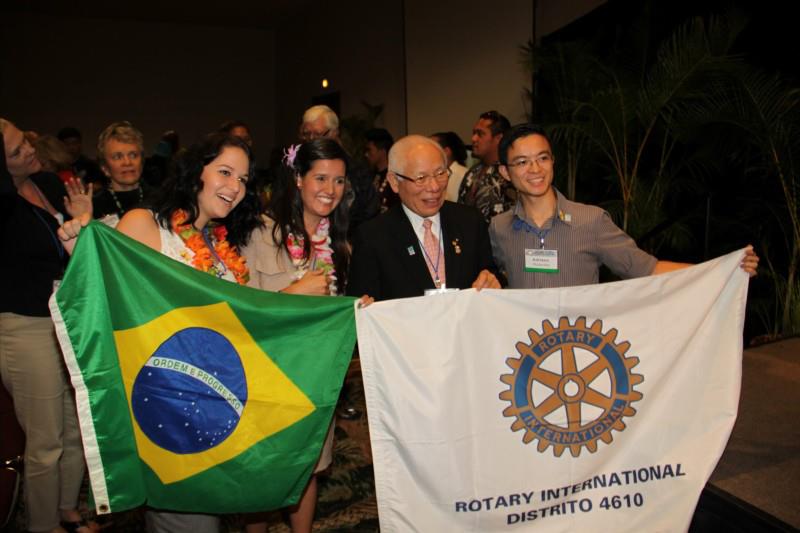 ON THE LIGHTER SIDE
A Cranky Husband:
An elderly lady went to the supermarket, she stole 1 tin of pears, she was caught and had to go to court.
The magistrate said "How many pears were in the tin?" the elderly lady replied "6" magistrate replied "Well you can do 6 weeks in jail."
The husband of the elderly lady stood up and stated " She also stole a can of peas!"
The Earring:
A man is at work one day when he notices that his co-worker is wearing an earring. This man knows his co-worker to be a somewhat conservative fellow, so naturally he's curious about the sudden change in fashion sense. The man walks up to his co-worker and says, "I didn't know you were into earrings."
"Don't make such a big deal, it's only an earring," he replies sheepishly.
"Well, I'm curious," begged the man, "how long have you been wearing an earring?"
"Er, ever since my wife found it in our bed."
The Parrot
An old man was sitting on a bus. A young woman sat down beside him. She had spiked hair in all different colours: green, red, orange, blue and yellow. The old man Just stared. Every time the young woman looked, the old man was staring. The young woman finally said sarcastically, "What's the matter old timer, never done anything wild in your life?" Without batting an eye, the old man replied, "Got drunk once and had an affair with a parrot. I was just wondering if you were my daughter".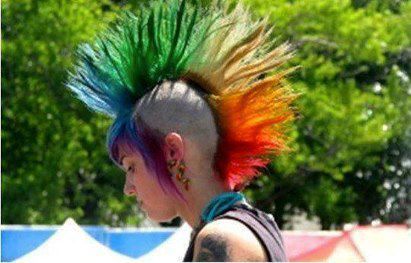 ROTARY INFORMATION
Rotarian circles Australia in a dinghy for polio eradication
Many Rotarians have gone to extremes to raise money for Rotary's US$200 Million Challenge.
But Australian Rotarian Robert Pennicott set a record with his fundraising venture. Pennicott, fellow Tasmanian Mick Souter, and cameraman Zorro Gamarnik became the first people to circumnavigate Australia in boats powered by outboard motors.
Pennicott, a member of the Rotary Club of Kingston, and Souter piloted two 17-foot-long inflatable dinghies, propelled by twin 60-horsepower engines, on the 12,000-mile journey around the Australian continent (including the island state of Tasmania). They began in Sydney on 2 June and arrived back on 11 September.
Rob, Mick and Zorro completed their circumnavigation of Australia on Sunday 11th September, 2011.
Their circumnavigation took 101 days and has raised over $285,000 to date.
This is why we fight polio which is still endemic in Nigeria, Pakistan and Afghanistan.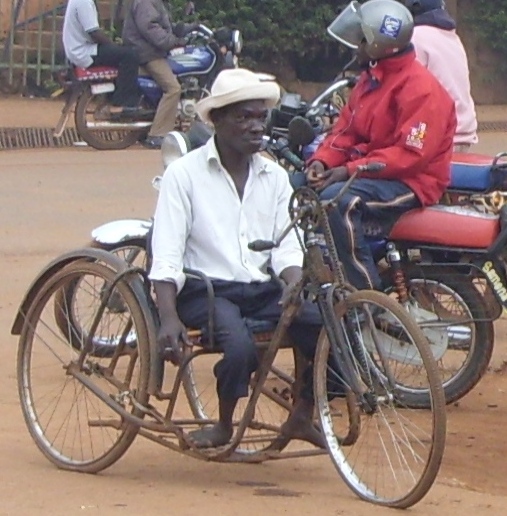 A victim of polio we saw in Kampala in 2011.
BUCKET LIST THE SEYCHELLES EAST AFRICA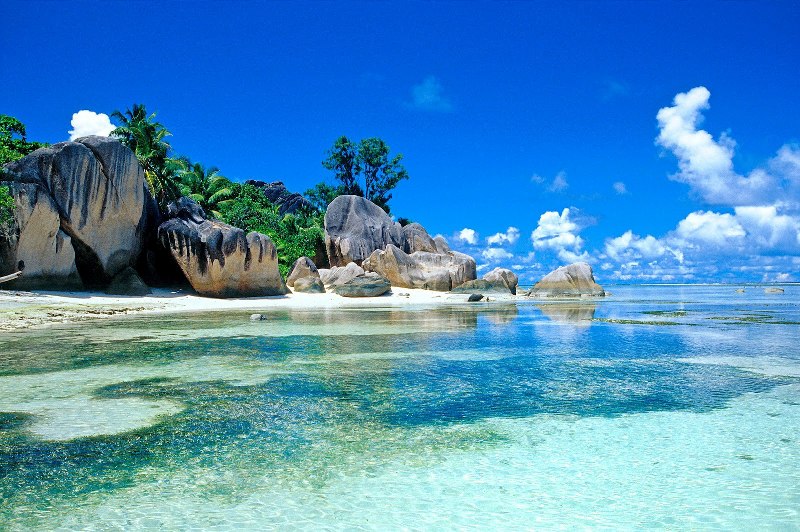 CAUSES WORTH SUPPORTING
Dame Daphne Sheldrick's Elephant Orphans Nairobi Kenya.
The Kilimanjaro 2007 team visited Dame Daphne's orphans and it was a very inspiring visit.  Daphne Sheldrick was the first person in the entire world to successfully hand rear newborn fully milk dependent African Elephant orphans, something that spanned 28 years of trial and error to achieve. By the year 2008 the Trust had successfully saved and hand-reared over 82 infant African Elephant calves, two from the day of birth. Currently, over 40 of the Trust's hand-reared elephants are fully established and living free amongst their wild peers in Tsavo, some returning with wild born young to show their erstwhile human family.
You can sponsor a baby elephant for $50 a year and you will receive newsletters and updates on it's progress.  The elephant poaching for ivory has reached a critical phase and some estimates say there will be no elephants left in the wild in Africa in 20 years.  The demand for ivory is being fuelled by China.
The David Sheldrick Wildlife Trust
Here are two elephants that we have sponsored, Shimba and Lempaute.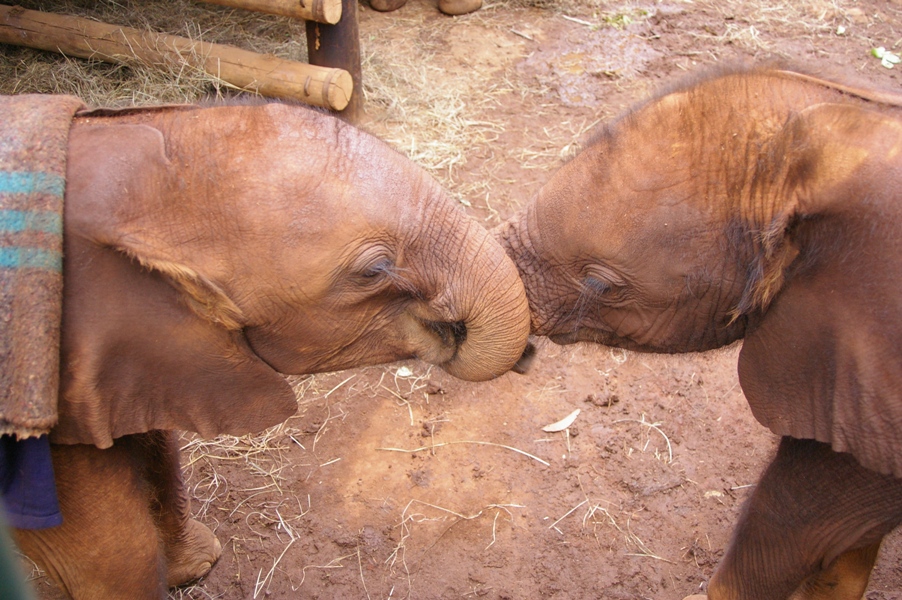 Rotary International President Sakuji Tanaka
Governor of District 9700  Greg Brown
Coolamon Club President  Paul Weston
Coolamon Club Secretary  John Glassford
Club Treasurer  Henk Hulsman
Coolamon Rotary Club Inc. P.O. Box 23 COOLAMON N.S.W. 2701
Websites of Interest
Coolamon Rotary Club: http://coolamonrotary.com
Road MAPS to Africa a Coolamon Rotary Project: http://www.mountainsofthemoon.org/
Rotary Down Under on line: http://flipflashpages.uniflip.com/2/26587/49598/pub
The Orphan Rescue Kit a Coolamon RC Project: http://theork.com/
Our Rotary Centennial Twin Club Hout Bay, Cape Town, South Africa: http://www.rotaryhoutbay.org
Don't forget to regularly check our club web site for current information such as bingo rosters and various newsletters from the District Governor, the School of St. Jude's, the monthly membership on the move newsletter as well as several other club bulletins.