Coolamon Rotary News Bulletin #37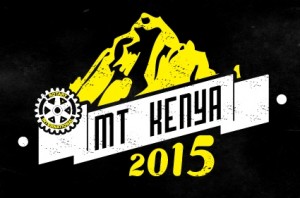 APRIL IS ROTARY MAGAZINE MONTH.
The Rotarian Digital Magazine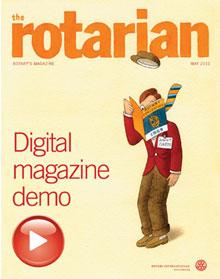 Click on the above image for a demonstration.
MEETING MONDAY APRIL 7th 2014
Great night of fellowship and visitors.  PDG Fred Loneragan and President Peter Gissing from Wagga Wagga Sunrise.  We must visit them one morning!  Other guests included Marilyn Jennings, Christine Lorraine, Helen Lewis and Robert Gollasch.  Alex Thompson was also a guest last night and confirmed he will be joining the Mount Kenya Climbing Team in 2015.  Twelve members attended.
President Dick Jennings welcomed one and all and we conducted some business before the guest speaker.   Paul Weston announced that the Hon M. McCormack will be attending our change over dinner on July 7th.   John Glassford called for volunteers for the Kenyan Night as did Grahame Miles for the Easter Markets on Saturday 19th April.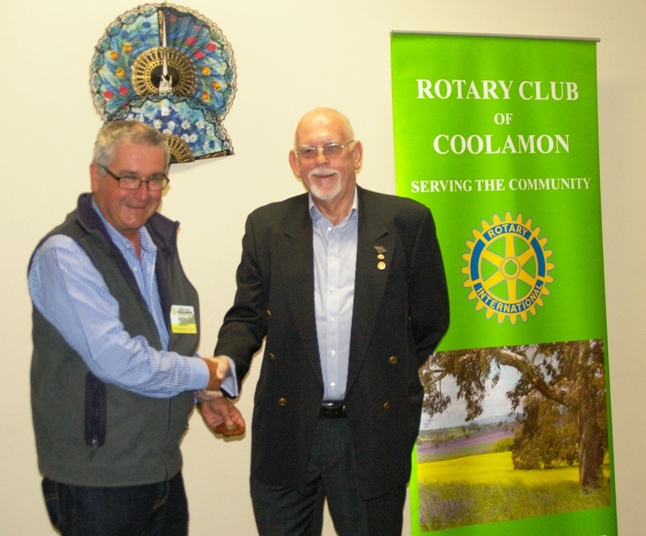 PP Neil Munro presents Des Carmody with a kangaroo money pouch in thanking Des for his talk.
Last night we had as our guest speaker Des Carmody from Junee.  Des and his family originally hailed form Wagga Wagga and the famous Carmody Hotel.  Des served  in Vietnam and worked as a public prosecutor in the New South Wales Government in Sydney.
Des had as a subject "Gallipoli Defeat or Victory".  Des gave a brief account of the history of Gallipoli and the reasons Australia and New Zealand went to war at this time in our short history.  There was a lot of mention about General Sir Ian Hamilton the British Commander-in-Chief of this campaign.
Des asked the question was Gallipoli a defeat or a victory or was it a draw.  In fact it was a stalemate and no one won this battle there were a total of 500,000 casualties in all both Turks, British, French, Greeks, Africans, Australians and New Zealanders lost their lives or were wounded in battle.  My father George was one of those casualties.  Below are two photos and a map from my father's book Gallipoli by John Masefield published in 1917.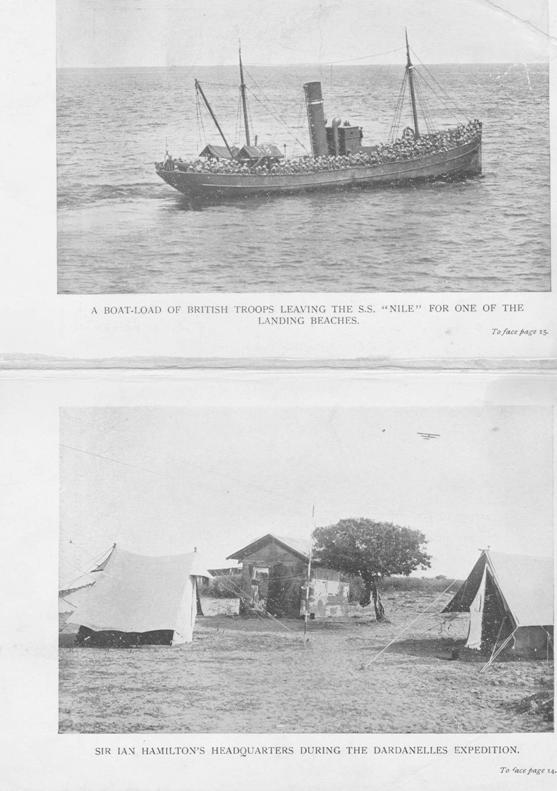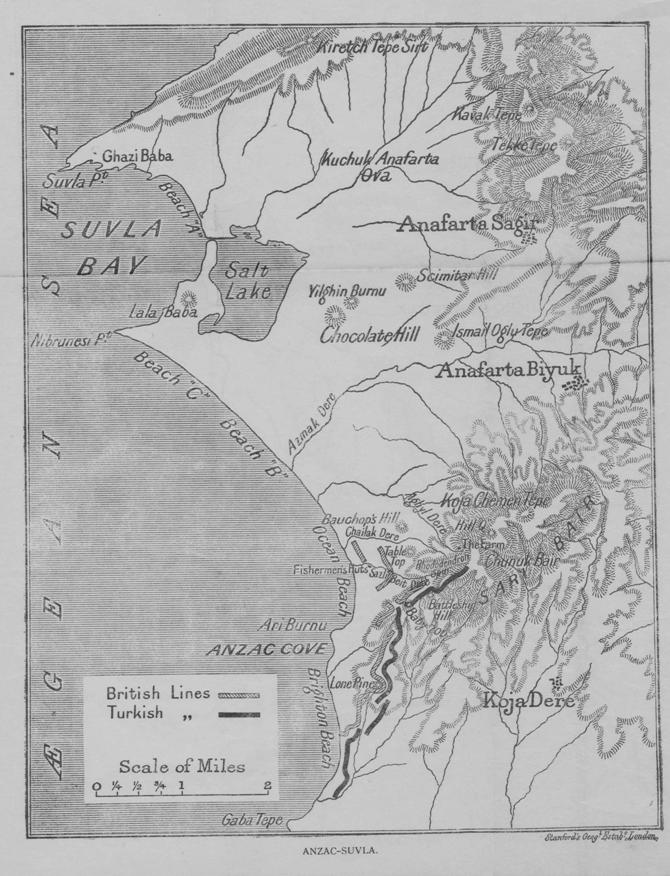 Diary Reminders.
Thursday April 10th BINGO Rostered ON: Leslie Weston, Paul Weston, Ian Jennings, Ted Hutcheon
Monday 14th April Regular Meeting followed by the April Board Meeting.
Saturday 19th April EASTER MARKETS in Coolamon.
Monday April 21st EASTER No Meeting.
Monday April 28th Libby Cruikshank Guest Speaker Community Health.
Sunday 4th May D9700 Assembly in Grenfell

Thursday May 8th BINGO Rostered ON: Bernadette Milne, Miffy Collette, Ian Durham, Mark Reardon
*Saturday May 10th International Night in Ganmain for AFRICA'S rhinos and elephants.

Saturday 24th May Red Shield Appeal Street Stall.
Sunday June 1st-Wednesday June 4th.  SYDNEY 2014 RI Convention See promotion at the end of this bulletin.
Thursday June 12th BINGO Rostered ON: John Glassford, Neil Munro, Christine Atkinson, Henk Hulsman
Saturday 17 and Sunday 18 June Wagga Wagga Book Fair.
Saturday 28th June D9700 Change Over Dinner in Orange.
*Monday July 7th 2015 ANNUAL CHANGE OVER DINNER
Saturday 9th August Coolamon Street Raffle
*Partners and Guests Night.
Apologies for Monday meetings call Christine Atkinson on 0427 880 158 or 6927 3521 BY FRIDAY 12.00 pm.
ROTARY INFORMATION
ROTARIANS FOR FAMILY HEALTH &AIDS PREVENTION
RFHA's FAMILY HEALTH DAYS HAVE BEGUN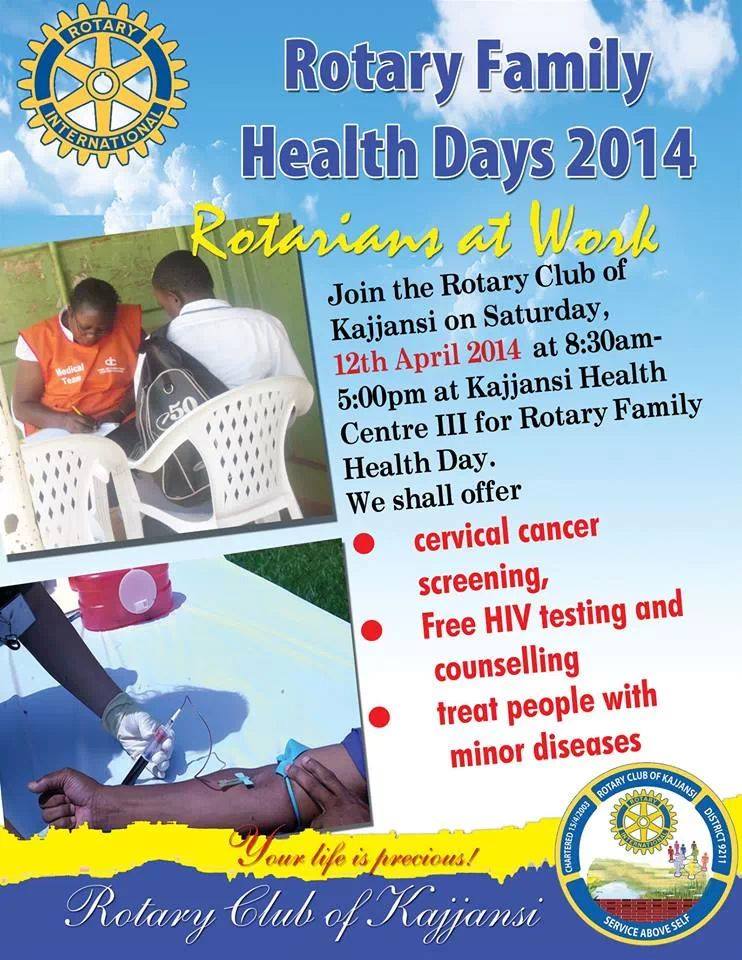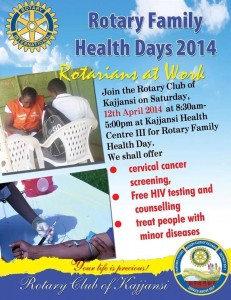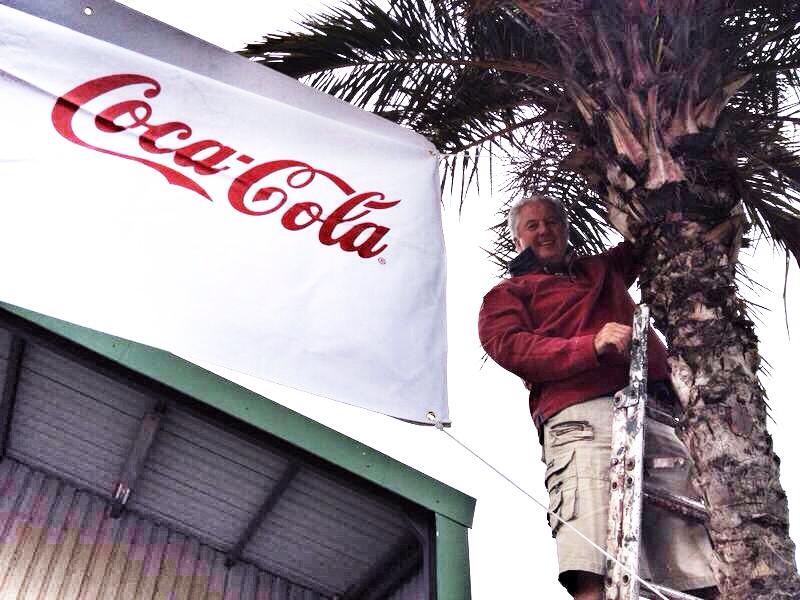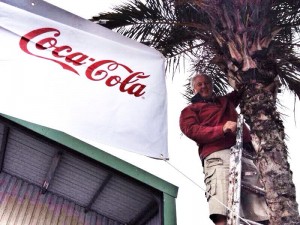 President John Routley of Hout Bay Rotary our centennial twin club preparing for the Family Health Days.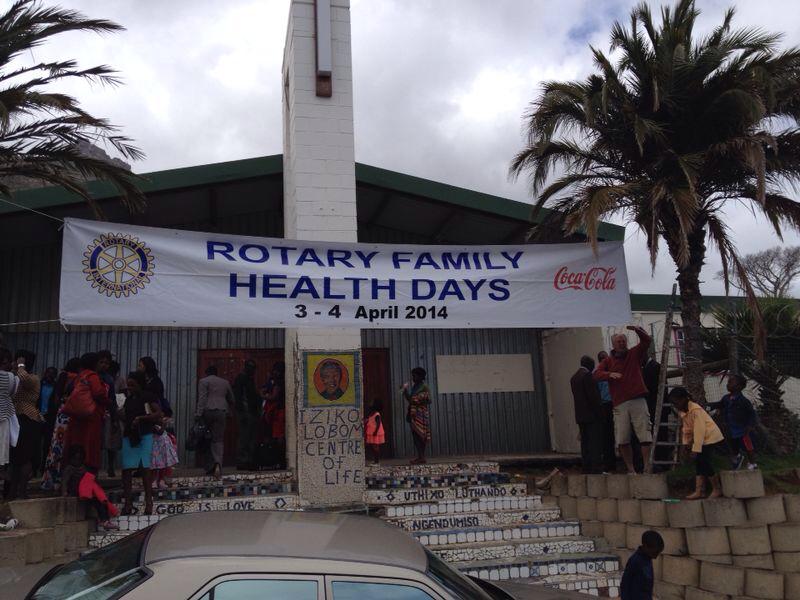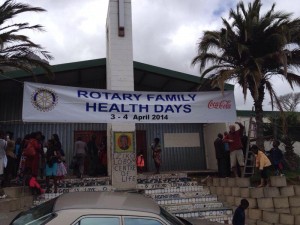 Hout Bay Ready
2014 Program Goals: The goal for 2014 will be to service 375,000 citizens as follows:
South Africa 160 sites; Ghana 30 sites; Uganda 120 sites; Nigeria 150 sites.
The country of Swaziland will pilot the program, with the support of the South Africa Rotary clubs at seven sites. RFHA, with the support of the CDC and the S.A. Department of Health, put together a data collection tool that will be used at all the sites in all countries. In addition, Dr. Phil Silvers (Past Rotary International Director) created a template to do a 90 day impact study in all the countries this year.
Marion Bunch (RFHD Founder), Elana Afrika (SABC 3's Expresso Breakfast Show), & Sue Paget (National Program Director), discussed the progress of the Rotary Family Health Days.
ON THE LIGHTER SIDE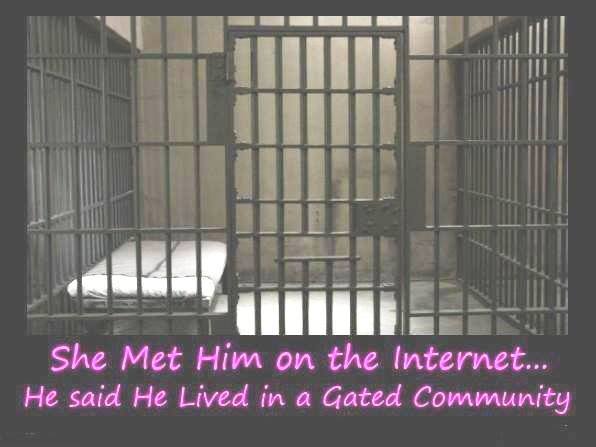 Fish and Chips
A Chinaman, a German and a Kiwi are working on a high rise construction site.
At lunch time, they sat down together and opened their lunchboxes. The Chinaman looked inside and said, "Ah, if I get dumpling again, I gonna jump off the building".
The German looked inside and said, "Mann, if I get Sauerkraut nd Pickle again, I vill jump off zee building too". The Kiwi looked inside and said
"Smokes if I get fush and chups again, I'm gonna jump off this building as well'! The next day at lunchtime, they open their lunchboxes.
The Chinaman looked inside and said, "Ah, DUMPLINGS!!!". He jumped off the 32nd floor and died. The German looked inside and said, "Mann, SAUERKRAUT ND PICKLE!!!!" He jumped off the 32nd floor and died. The Kiwi looked inside and said, "Smokes, FUSH AND CHUPS!!!" He jumped off the 32nd floor and died.
At the funeral, the Chinamans wife said, "If I know he no like dumplings, I will have make something different". The Germans wife said, "If I know he doesn't like Sauerkraut nd Pickle, I vould have made zompting (something) divferent."
Everyone looked at the Kiwi's wife. She said, "Don't look at me, he made his own lunch".
The Vampire

A vampire bat came flapping in from the night covered in fresh blood and parked himself on the roof of the cave to get some sleep.
Pretty soon all the other bats smelt the blood and began hassling him about where he got it. He told them to go away and let him get some sleep, but they persisted until he finally gave in.
"OK, follow me," he said and flew out of the cave with hundreds of bats behind him. Down through a valley they went, across a river and into a forest of trees.
Finally he slowed down and all the other bats excitedly milled around him.
"Now, do you see that tree over there?" he asked.
"YES, YES, YES!!" the bats all screamed in a frenzy.
"Good!" said the first bat, "Because I bloody well didn't!"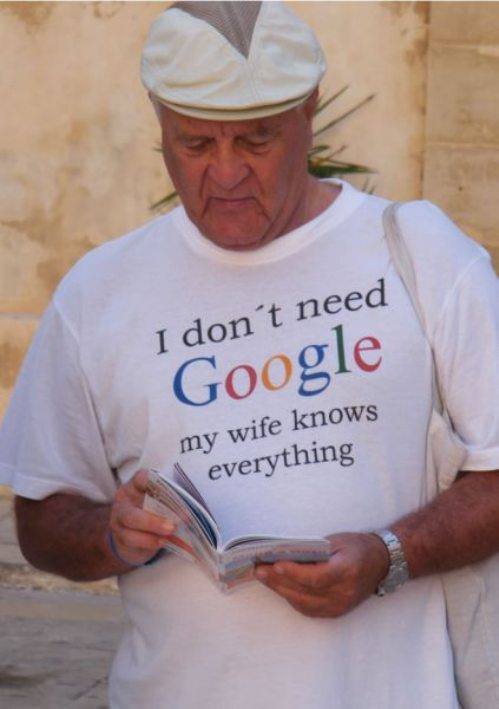 ROTARY INTERNATIONAL PRESIDENT RON BURTON: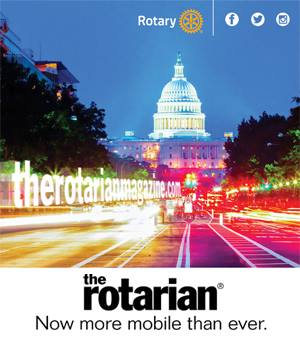 Rotary magazines remind us that as Rotarians, we are all part of something larger than ourselves. They show us just how much we can achieve through #Rotary.
Read Rotary International President Ron Burton's message about Magazine Month atwww.rotary.org/myrotary/en/presidential-message.
ONLY IN AFRICA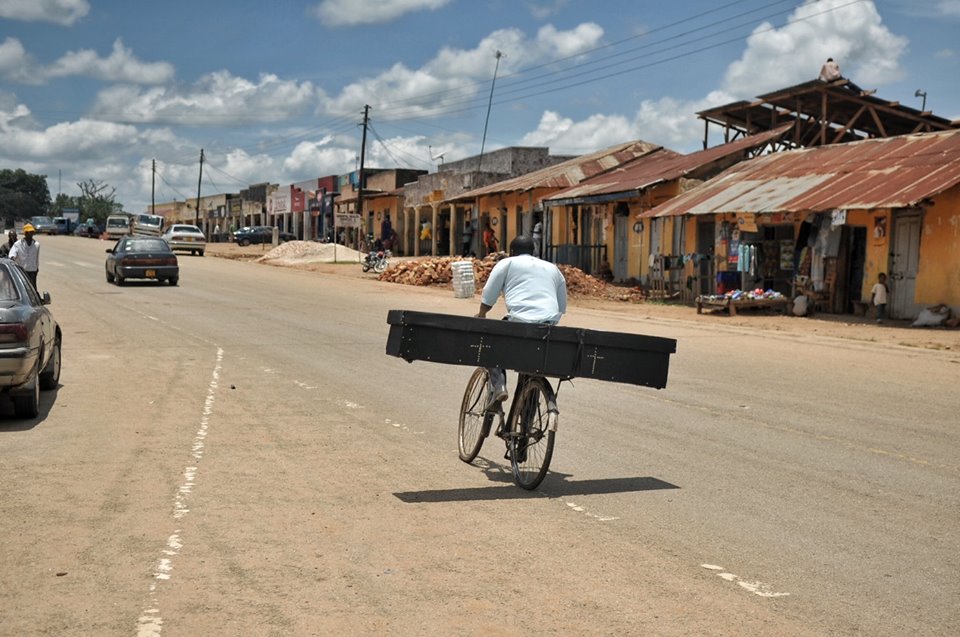 The Undertaker
OUT OF AFRICA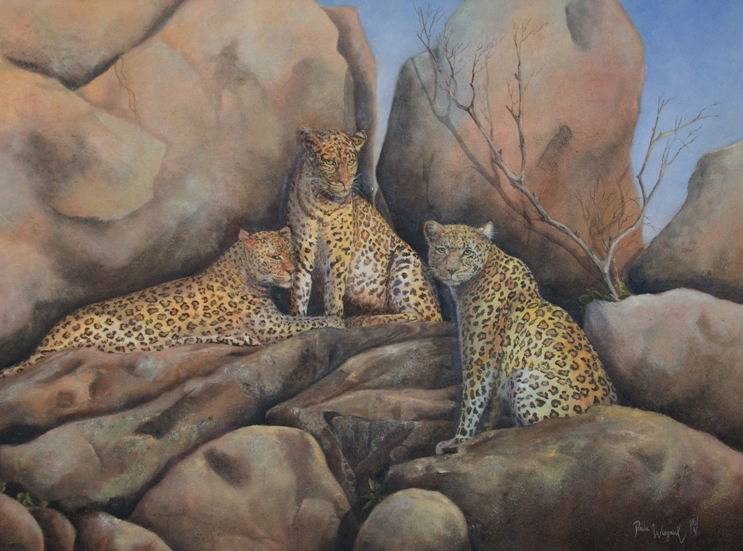 One of the prints of the oil paintings done by Paula Wiedmink from Perth.  This print will be one of three to be auctioned at the Kenyan International Night om May 10th in Ganmain.
CAUSES WORTH SUPPORTING
COOLAMON ROTARY EASTER MARKETS SATURDAY 19th APRIL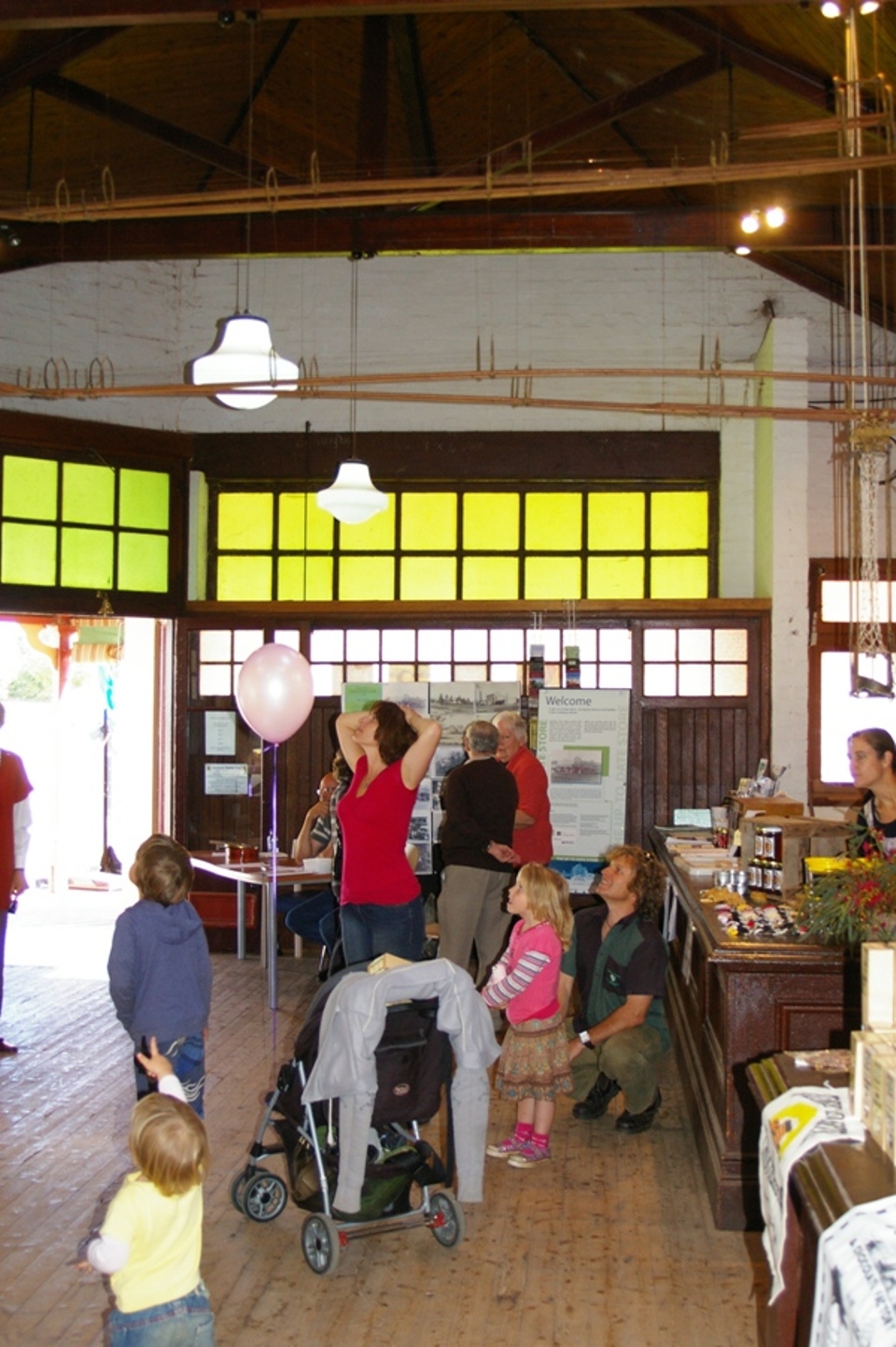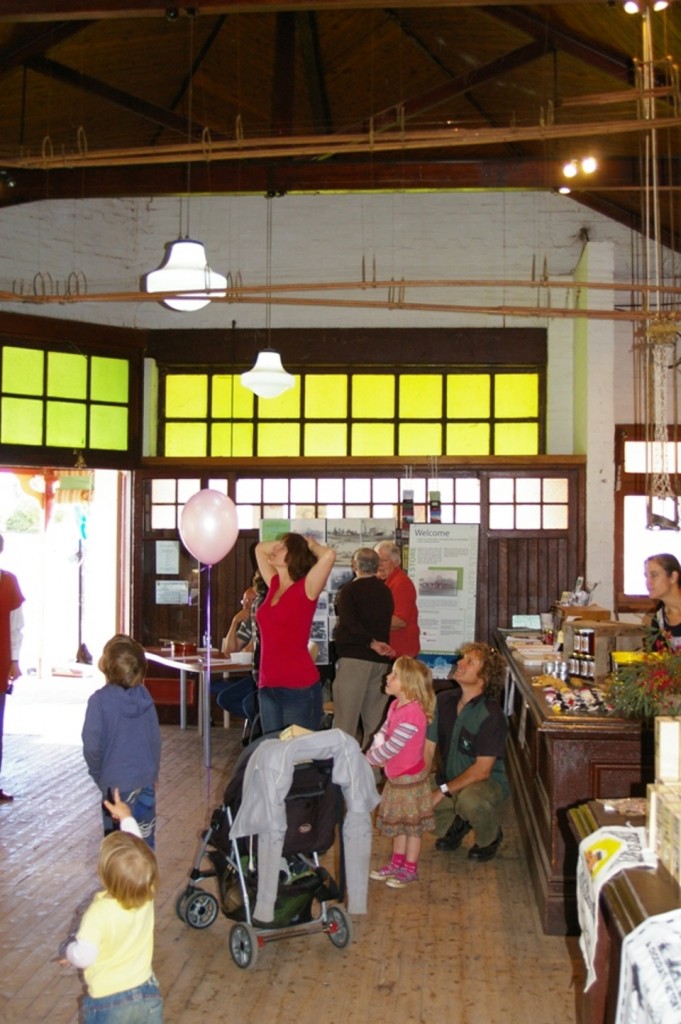 These visitors/shoppers are looking at the Lamson Paragon working want to see what it does?  Well come on down on Easter Saturday April 19th. to the Coolamon Historic Up-to-Date Store and see for yourself.
SYDNEY ROTARY CONVENTION

ENTERTAINMENT OPENING PLENARY SESSION SUNDAY 11.30 AM
HUMAN NATURE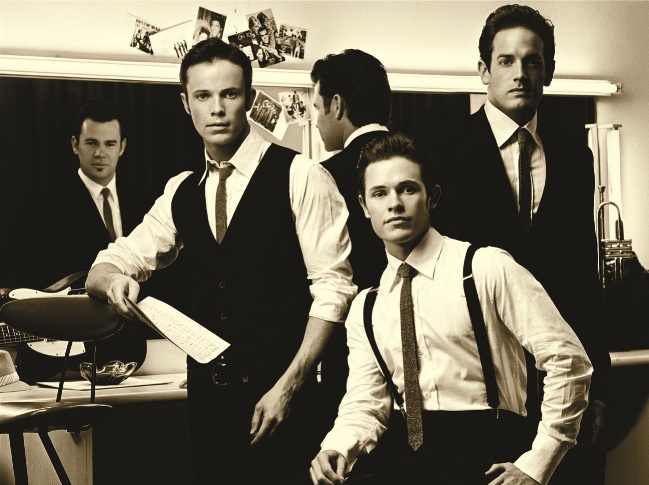 Inspired by the music of Motown, brothers Andrew and Mike Tierney, and high school friends Phil Burton and Toby Allen are Australia's most successful male vocal group. The group has released 10 albums — 5 reaching #1 — garnering over 24 platinum awards, 18 Top 40 hits, ARIA Awards, and album sales well over 2 million in Australia alone.
Since 2009, the group has been thriving in Las Vegas, currently performing five nights a week at The Venetian Resort-Hotel-Casino where they will surpass their 1,000th show in March.www.humannaturelive.com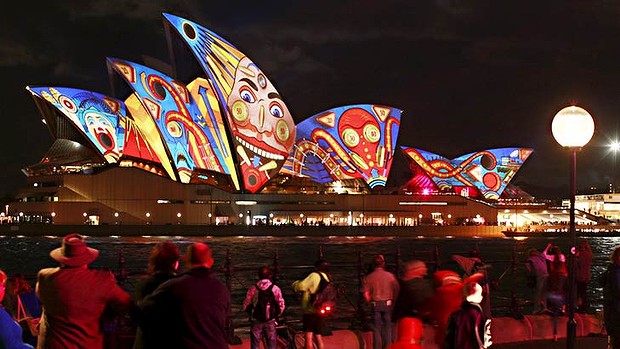 You can find the list of the speakers by going to our page here:
Tommy Spaulding
Monday 2nd June 2nd Plenary Session 10.00 am.
World-renowned expert on leadership and president of Spaulding Companies Corporation, a national leadership development and excecutive coaching organization. Topic: Changing the World One Relationship at a Time
Read more about Tommy Spaulding

The programme Click to Enlarge:
ROTARY INTERNATIONAL CONVENTION
WE HAVE BEEN ALLOCATED BOOTH #224 IN THE BILLABONG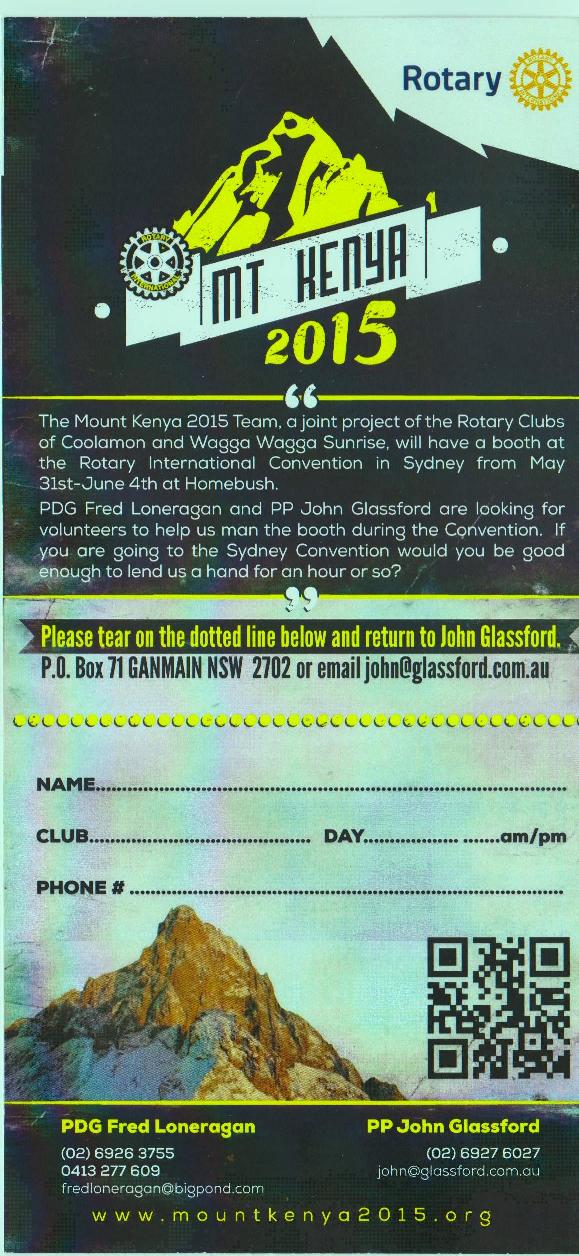 If you are going to Sydney and can help us man our booth please let us know.
THANKS!
FOOT NOTE
The Federal Department of Veteran's Affairs in Canberra have given us permission to use the ANZAC name and the ANZAC Day centennial Logo to promote our Mount Kenya 2015 ANZAC Day Climb.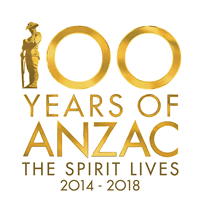 HAPPY 80th. BIRTHDAY TO Dr. Jane Goodall.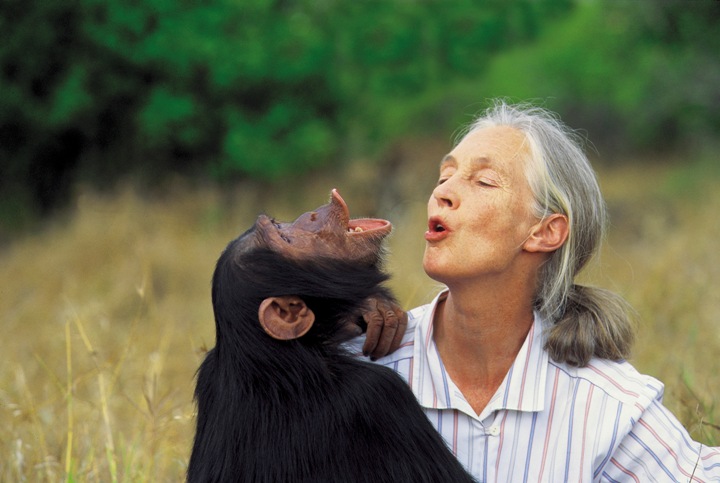 Yours in Rotary John Glassford Chair 2013 -2014
Proposed Rotarian Action Group for Endangered Species
PLEASE CALL ME ANYTIME 02 6927 6027.
Bulletin Editor and Web Site:  John Glassford
Don't forget to regularly check our club web site for current information such as bingo rosters and various newsletters from the District Governor, the School of St. Jude's, the monthly membership on the move newsletter as well as several other club bulletins.
Rotary International President Ron Burton
Governor of District 9700 Geoff Tancred
Coolamon Club President  Dick Jennings
Coolamon Club Secretary Paul Weston
Club Treasurer  Henk Hulsman
Coolamon Rotary Club Inc. P.O. Box 23 COOLAMON N.S.W. 2701
Websites of Interest
Coolamon Rotary Club: http://coolamonrotary.com
Road MAPS to Africa a Coolamon Rotary Project: http://www.mountainsofthemoon.org/
Rotary Down Under on line: http://flipflashpages.uniflip.com/2/26587/49598/pub
Mount Kenya 2015 Web Site incorporating the ORK: http://theork.com/
Our Rotary Centennial Twin Club Hout Bay, Cape Town, South Africa: http://www.rotaryhoutbay.org
Proposed Rotarian Action Group for Endangered Species RAGES: http://www.endangeredrag.org/#