Coolamon Rotary News Bulletin #39
MAY IS ROTARY INTERNATIONAL CONVENTION MONTH.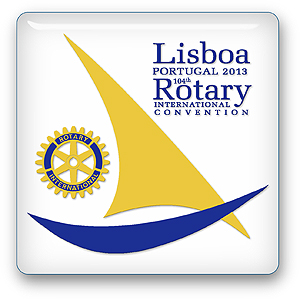 Rotary International Conventions are held annually in a different country in the world.  Some conventions have had over 40,000 attend, next year it is in Australia and then Brazil in 2015.  Here are some photos from the 2010 Montreal Convention (remember to click on the thumb nails to get a larger photo):
RED SHIELD APPEAL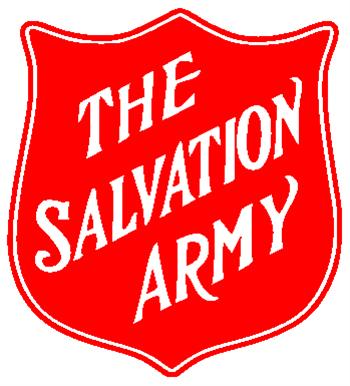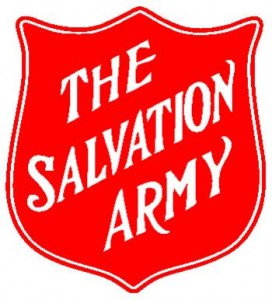 Coolamon Rotary will be volunteering this weekend to collect for the Salvation Army.  The following members have volunteered:
IN COOLAMON SATURDAY 25th MAY MEET AT THE SPORTS CLUB 9.00am.
Paul Weston, Ian Jennings, Leslie Weston, Neil Munro, Christine Atkinson, Wayne Lewis, Ted Hutcheon and Mark Reardon.
IN GANMAIN SATURDAY 25th MAY MEET AT THE HAY STACK 9.00am
Miffy Collette, Bernadette Milne and John Glassford.
Please call John Glassford or Dick Jennings for any further information.
DISTRICT 9700 ASSEMBLY
Sunday 19th May 2013 at Grenfell New South Wales.  Four members from our club went to Grenfell for our annual district assembly and these were Dick Jennings, Neil Munro, Ian Jennings and John Glassford.  The sessions were well attended from all over our district and the fellowship was excellent as was the food put on by the Grenfell Rotary Club, thank you Grenfell.  DGE Geoff Tancred is on the ball and has the directory for his year in our hands.  Most of the directory will be up on the district web site.
There were two break out sessions and the general assembly all went well.  On the trip home the four of us had a few ideas to implement for the next Rotary year.  Also congratulations to DGND Gary Roberts on being selected as our DG for 2015-2016.
Some photos: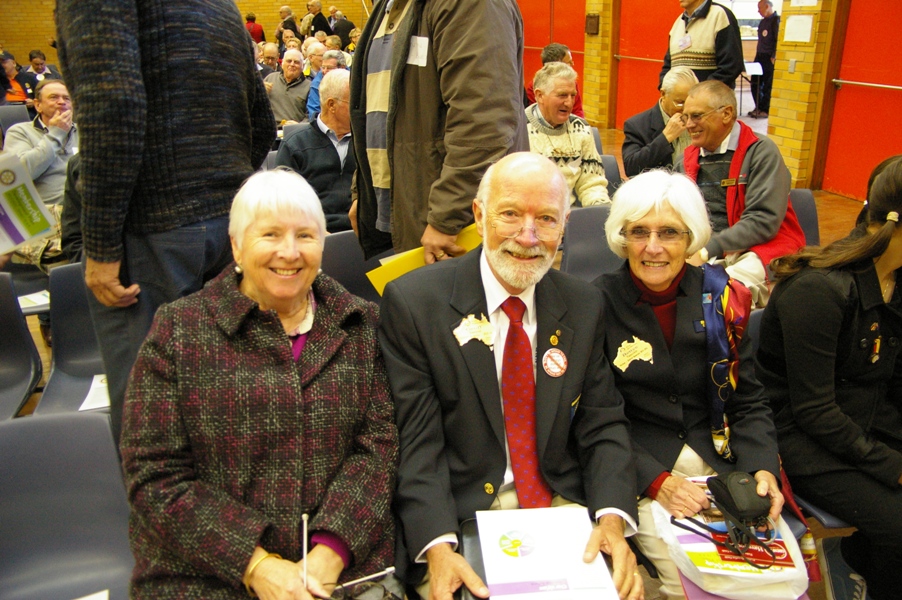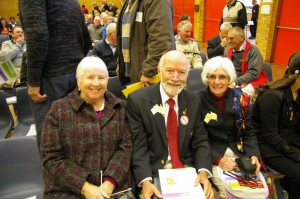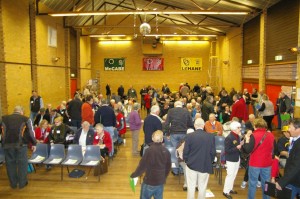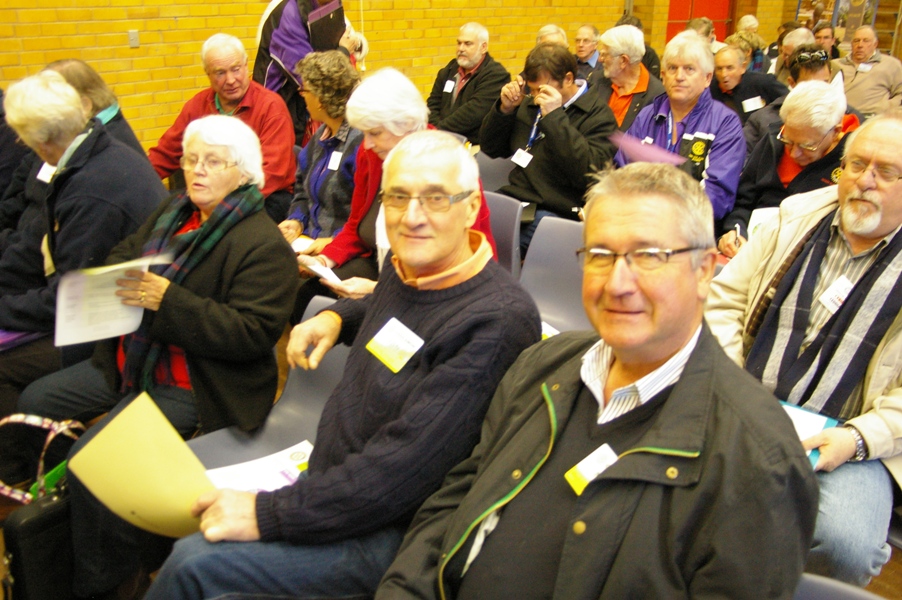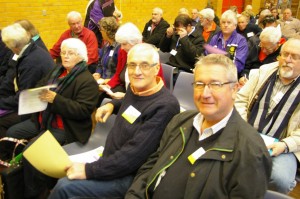 TWO NEW AUSSIES
Last week Leslie and Paul Weston were granted Australian Citizenship by the Mayor of Coolamon Shire John Seymour.
All our members wish them both well as Australians and look forward to many happy years as Rotarians in Coolamon.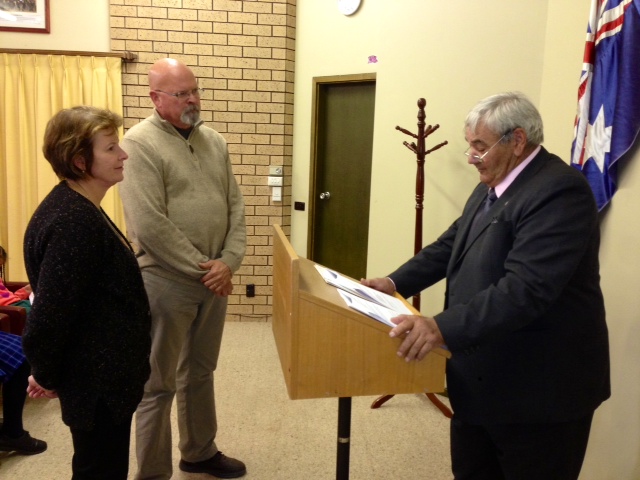 MONDAY MEETING
This week we had a very special meeting with the induction of 3 members to our club.  President Paul inducted Bernadette Milne, Myfanwy Collette and Ted Hutcheon to our club.  Bernadette and Miffy are sponsored by John Glassford and Ted is a returning Past President of our club and is sponsored by PE Dick Jennings.   PE Dick then outlined his plans for his year as president.  Dick also gave a report on the D9700 Assembly held at Grenfell on Sunday and the meat tray was won by John.
Guests included:  Helen Lewis, Lexi Furner, Don Dyce, Russell Milne and Susan Glassford.
Members present, Paul Weston, John Glassford, Ian Jennings, Leslie Weston, Dick Jennings, Ian Durham, Christine Atkinson, Ivan Furner, Garth Perkin, Wayne Lewis, Neil Munro, Miffy Collette, Bernadette Milne and Ted Hutcheon.
A good roll up of members and it was especially great to see Ivan and Lexi Furner again.
We started the meeting by singing the National anthem in honour of our two new Australians Paul and Leslie Weston.
Reminder to all those who volunteered for the Salvation Army Red Shield Appeal this weekend.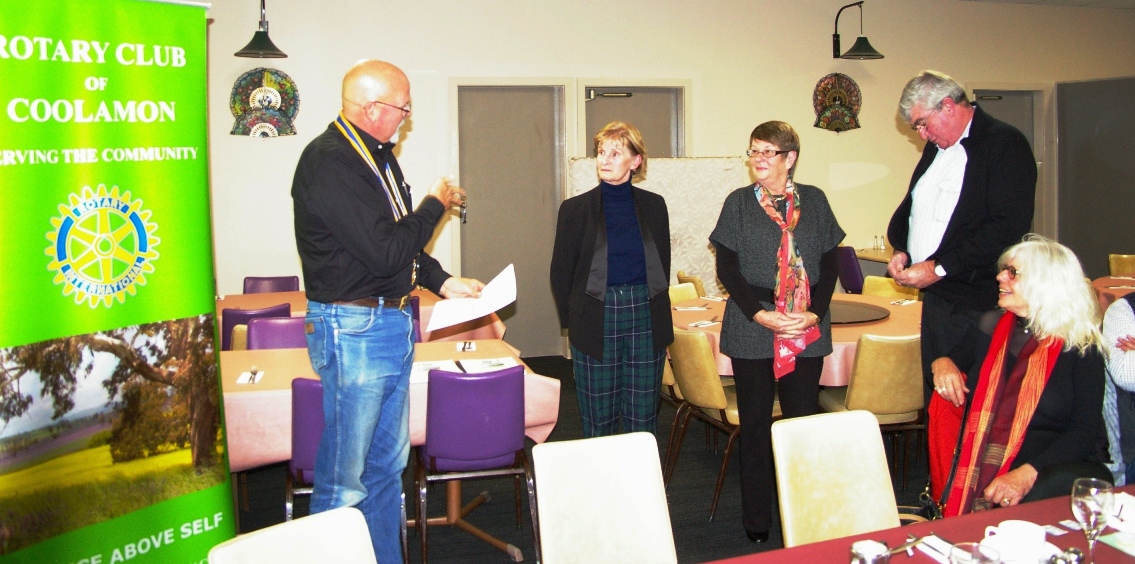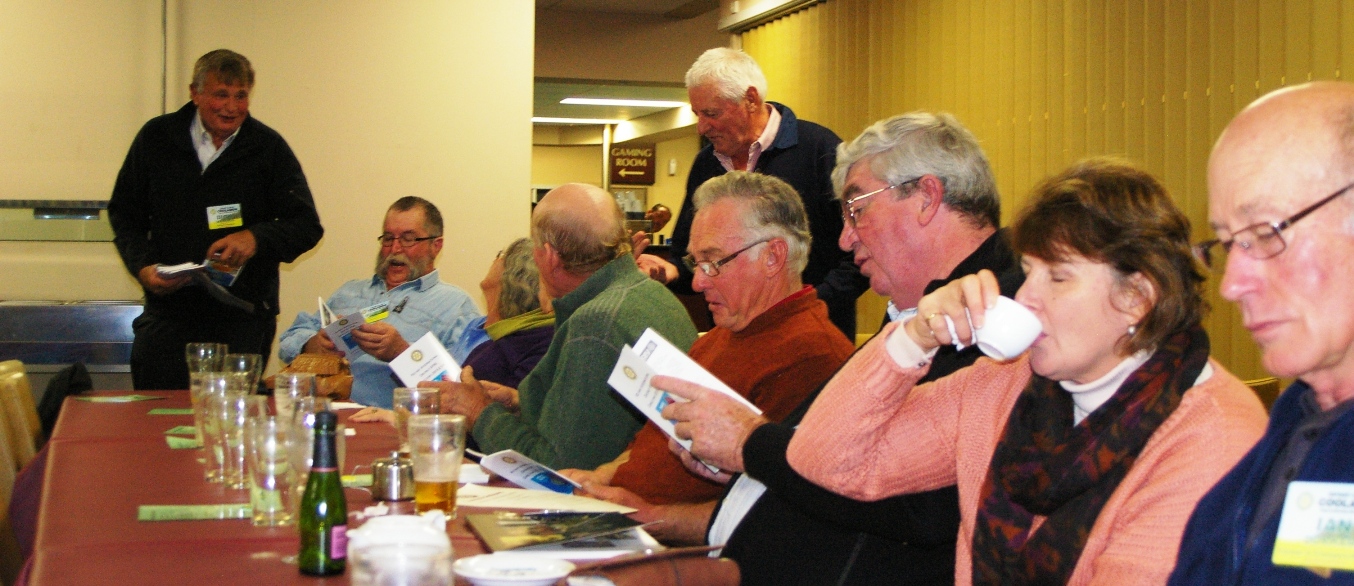 PRESIDENT PAUL WESTON'S REPORT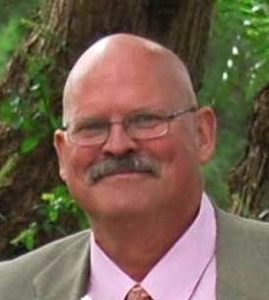 President's report
The past week has been a significant one for Coolamon Rotary and for Leslie and me on a personal level.  On Monday, we inducted three new members: Miffy Clarke, Bernadette Milne, and Ted Hutcheon.  We are thrilled to have three new additions to our great club, and look forward to doing even better things.  New members are the lifeblood of a service organisation, and we are extremely grateful that these members of the community have agreed to join us in our efforts to improve our local community and to have a positive impact on the world.
On a personal level, Leslie and I were extremely proud to pledge our commitment to be Australian citizens last week.  We went through a citizenship ceremony at the Coolamon Shire Council chambers on Thursday, and shared a bit of fellowship with the members of the Coolamon Shire Council and several guests at a reception following the ceremony.  Thanks to Rotarians John Glassford, Dick Jennings, Ian Jennings, and Ted Hutcheon, along with Marilyn Jennings and Greg Guthrie, for sharing our special day with us.  Thanks also to the club for singing Advance Australia Fair in our honour at our meeting on Monday.  We look forward to spending the rest of our days in this great country and becoming fully involved citizens.
Don't forget the Red Shield Appeal this coming Saturday!
Yours in Rotary,
Paul
Diary Reminders
Red Shield Appeal 2013 25-26 May Ganmain and Coolamon.
*Monday May 27th Ian Jennings member's Night Talk. Club Catering.
*Sunday June 2nd Griffith Avanti RC Change Over Lunch at 12 noon.
Saturday June 8th Coolamon Rotary Street Raffle.
Monday June 10th NO Meeting Queen's Birthday Holiday.
Thursday June 13th BINGO Roster:  John Glassford, Neil Munro, Christine Atkinson and Henk Hulsman.
Monday June 17th. Business and Board Meeting ALL Members Invited to Attend.  Club Catering.
June 23-26 2013 Rotary International Convention in Lisbon.   RI Convention Lisbon.
*Tuesday 25th June Wagga Wagga Sunrise Annual Change Over Dinner Country Club Wagga 6.30pm.
*Wednesday June 26th Henty RC Annual Change Over Dinner.  Community Club 6.30pm.
*Thursday 27th June Wagga Wagga Rotary Change over Dinner.
*Saturday June 29th District 9700 Annual Change Over Dinner.
*Monday July 1st COOLAMON 42nd Change Over Night.
*Monday July 1st Temora RC Annual Change Over Dinner. Temora Bowling Club 6.30pm.
*Sunday July 7th Junee RC Annual Change Over LUNCH,  noon for 12.30.
*Partners and Guests Night.
ROTARY INTERNATIONAL PRESIDENT SAKUJI TANAKA

I'm really looking forward to attending the third Rotary Global Peace Forum, which begins tomorrow in Hiroshima, Japan. The forum's theme "Peace Begins with You" focuses on the new generations and the challenge to seek Peace Through Service. I hope to see you there.
いよいよ明日、広島でロータリー世界平和フォーラムが開幕します。ベルリン、ホノルルに続いて3度目、そして最後となるこのフォーラムで、ロータリアンや新世代の若者たちが、平和のために行動する方法を語り合います。明日、広島で皆さまをお待ちしております。

Past RI President Luis Giay and I dancing with the members of Children's Creative Play for Peace — "I PRAY" during the closing session of the Peace Forum on 18 May. Since its creation in 1996, I PRAY has been presented each year on 6 August, the day in 1945 when Hiroshima was bombed during World War II. (Photo courtesy of The Rotary-no-Tomo)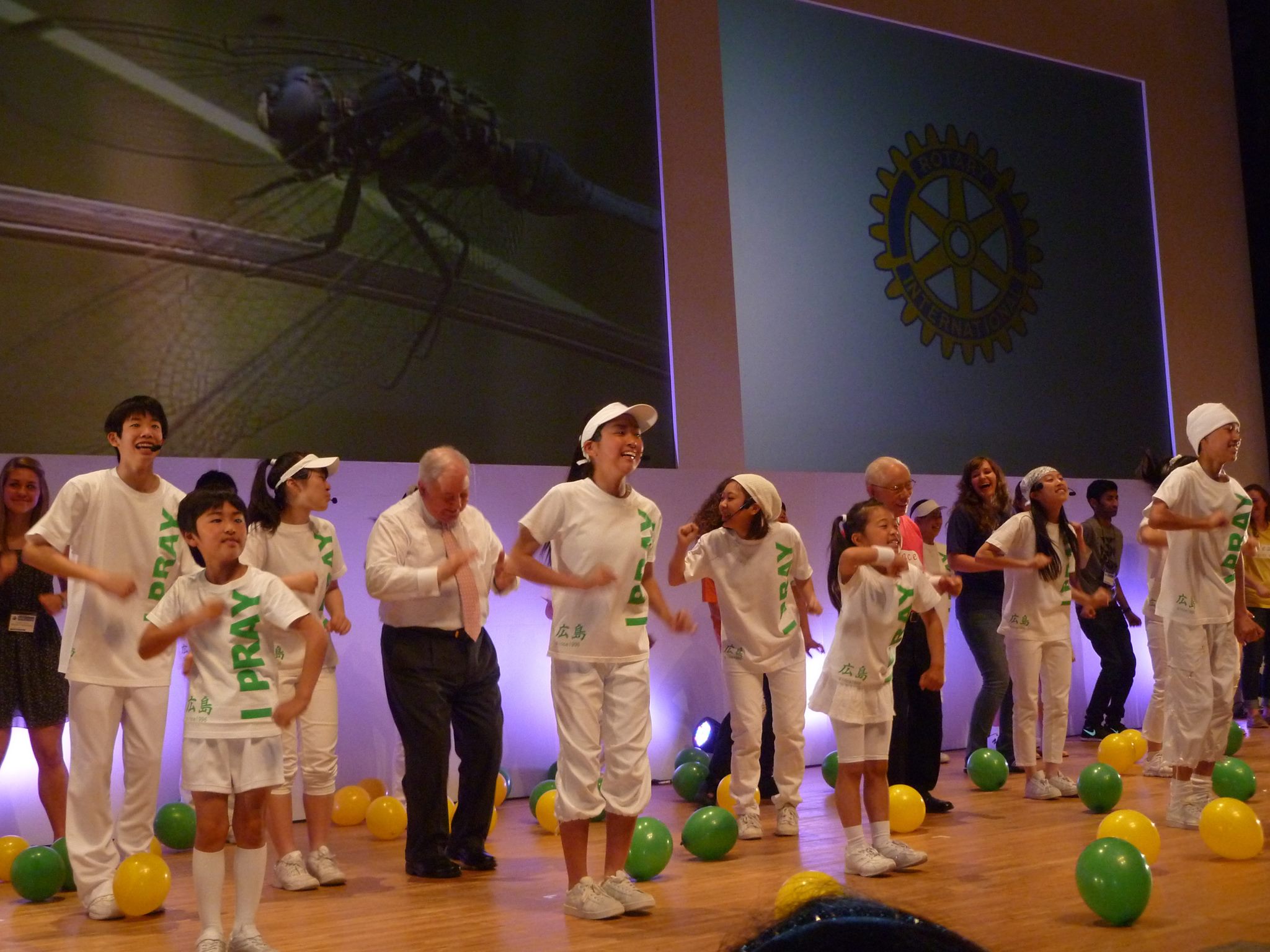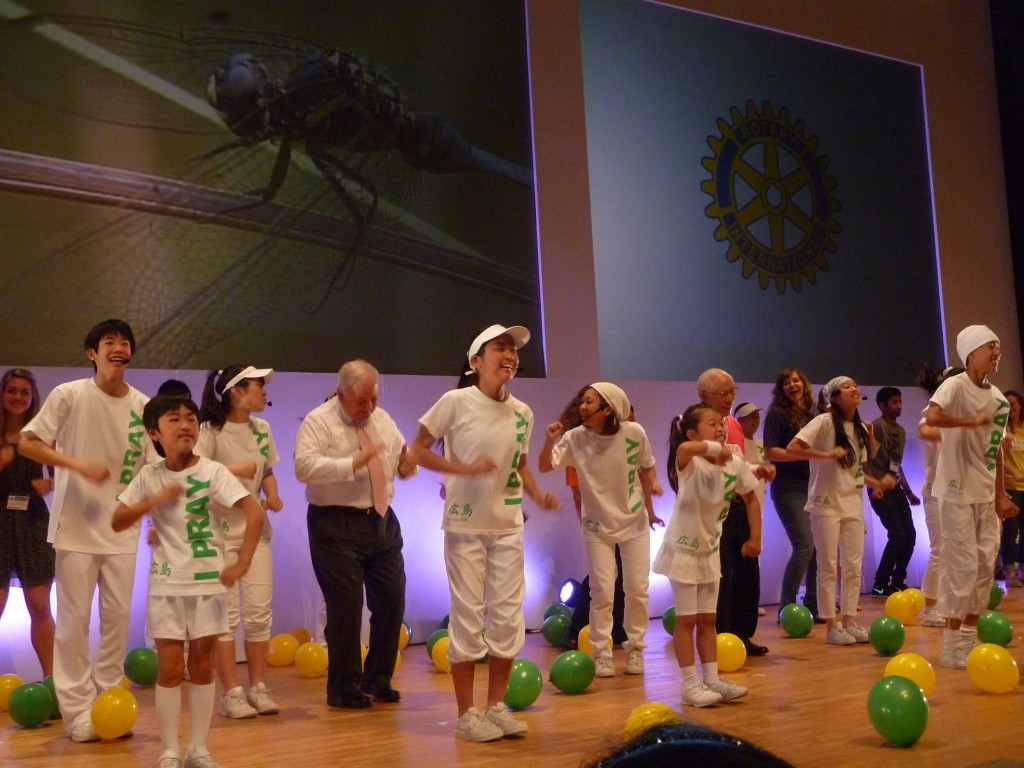 ON THE LIGHTER SIDE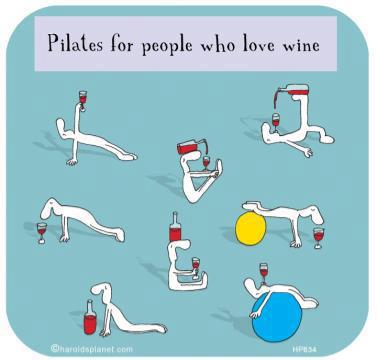 The Angel
Three Aussies were fishing in a lake one day, when an angel appeared in the boat.
When the three astonished men had settled down enough to speak, the first guy asked the angel humbly, "I've suffered from back pain ever since I took shrapnel in the Vietnam War … Could you help me?"
"Of course," the angel said, and when he touched the man's back, the man felt relief for the first time in years.
The second guy who wore very thick glasses and had a hard time reading and driving. He asked if the angel could do anything about his poor eyesight. The angel smiled, removed the man's glasses and tossed them into the lake. When they hit the water, the man's eyes cleared and he could see everything distinctly.
When the angel turned to the third guy, the guy put his hands out defensively — "Don't touch me!" he cried, "I'm on a disability pension."
ERIV VAN SOEST
The Taxi Driver
A taxi passenger tapped the driver on the shoulder to ask him a question.  The driver screamed, lost control of the car, nearly hit a bus, went up on the footpath, and stopped centimetres from a shop window. For a second everything went quiet in the cab, then the driver said, "Hey man, don't ever do that again. You scared the daylights out of me!"
The passenger apologized and said, "I didn't realize that a little tap would scare you so much." The driver replied, "Sorry, it's not really your fault. Today is my first day as a cab driver.. I've been driving a funeral van for the last 25 years."  Diane
Three Sisters
Three sisters, ages 92, 94, and 96, live together. One night the 96-year-0ld draws a bath.
She puts one foot in and pauses. "Was I getting in the tub or out?" she yells.
The 94-year-old hollers back, "I don't know, I'll come up to see."
She starts up the stairs and stops. She shouts, "Was I going up or going down?"
The 92-year-old is sitting at the kitchen table having tea, listening to her sisters.
She shakes her head and says, "I sure hope I never get that forgetful", and knocks on wood for good measure.
Then she yells, "I'll come up and help both of you as soon as I see who's at the door."
ROTARY INFORMATION
Rotary receives top honours for Future Vision

From left, RI President-elect Ron Burton and wife, Jetta, Foundation Trustee Chair Wilfrid J. Wilkinson, Past RI President Luis Vicente Giay, RI President Sakuji Tanaka, RI General Secretary John Hewko, and Celia Elena Cruz de Giay at the awards banquet.
Rotary has received a silver Edison Award in recognition of the Future Vision Plan, the new grant model that enhances the scope, impact, and sustainability of humanitarian and educational projects funded by The Rotary Foundation.
Since 1987, the Edison Awards have recognized innovative new products, services and business leaders in the United States. The awards symbolize the persistence and excellence personified by Thomas Edison. Winners represent active contributors to the cause of innovation in the world.
RI President Sakuji Tanaka accepted the award during the annual Edison Awards gala held 25 April in Chicago, the city where Rotary was founded in 1905. The Future Vision Plan received top honors among funding models competing in the Lifestyle and Social Impact category. Nominee ballots were judged by a panel of more than 3,000, including members of seven associations that represent a wide range of industries and disciplines.
"This Edison Award recognizes and validates Rotary's innovative approach to humanitarian service, as we constantly strive to improve lives and communities by addressing the world's most pressing problems," says Tanaka. "It is a great honor to accept such a prestigious award on behalf of Rotary's global membership of 1.2 million men and women."
The Edison Award coincides with the successful completion of a three-year pilot in which 100 Rotary districts in more than 70 countries tested Rotary's new grant model.
The Future Vision Plan simplifies Rotary's grant process, and focuses Rotarian service efforts where they will have the greatest impact. The model is innovative in combining Rotary's volunteer base and a global reach with local resources to support sustainable, high-impact results in communities all over the world. The model funds more than US$100 million in service projects annually.
The new grant model will be implemented 1 July for Rotary clubs worldwide.
BUCKET LIST
Notre Dame Basilica Montreal
When in Montreal make up ate the Rotary Club of Montreal web site below:
CAUSES WORTH SUPPORTING
THE SALVATION ARMY RED SHIELD APPEAL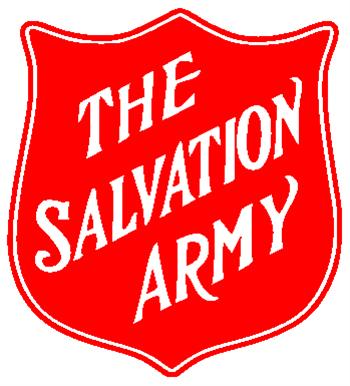 This coming Sunday is Red Shield Appeal Day we are looking for volunteers for Coolamon and Ganmain.  You can also donate on line below:
Rotary International President Sakuji Tanaka
Governor of District 9700  Greg Brown
Coolamon Club President  Paul Weston
Coolamon Club Secretary  John Glassford
Club Treasurer  Henk Hulsman
Coolamon Rotary Club Inc. P.O. Box 23 COOLAMON N.S.W. 2701
Websites of Interest
Coolamon Rotary Club: http://coolamonrotary.com
Road MAPS to Africa a Coolamon Rotary Project: http://www.mountainsofthemoon.org/
Rotary Down Under on line: http://flipflashpages.uniflip.com/2/26587/49598/pub
The Orphan Rescue Kit a Coolamon RC Project: http://theork.com/
Our Rotary Centennial Twin Club Hout Bay, Cape Town, South Africa: http://www.rotaryhoutbay.org
Don't forget to regularly check our club web site for current information such as bingo rosters and various newsletters from the District Governor, the School of St. Jude's, the monthly membership on the move newsletter as well as several other club bulletins.