Coolamon Rotary News Bulletin #40
MAY IS ROTARY INTERNATIONAL CONVENTION MONTH.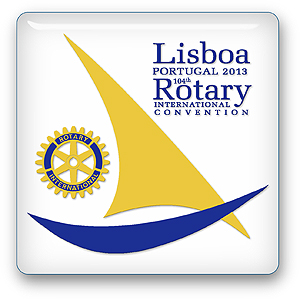 SYDNEY 2014 is fast approaching:


Rotary International Conventions are held annually in a different country in the world.  Some conventions have had over 40,000 attend, next year it is in Australia and then Brazil in 2015.  Here are some photos from the 2012 Bangkok Convention (remember to click on the thumb nails to get a larger photo):
MONDAY MEETING
Tonight was a members social night with a talk by PP Ian Jennings on his life.  Ian is our longest serving member and has been a member of Coolamon Rotary for 36 years and was president in 1982-83 and again in 1995-96.  Ian is a Paul Harris Fellow. The Jennings settled in the Coolamon area in 1879 after arriving in Australia from Cambridge in 1854.  A long and well established family and PE Dick Jennings is Ian's cousin.
Ian married Marilyn in 1974 and they have an adopted son Tom Jennings who Marilyn and Ian adopted from Sri Lanka in 1991.  Ian studied Agricultural Economics at the University of New England and has been farming "Raywood" since he completed his studies.  Ian is community minded and as a member of the Anglican Parish and on the Parish Council Ian and Marilyn support many local community projects.  Marilyn is the force behind the Coolamon Arts Exhibitions held at the Up-to-Date Store.  Thanks Ian for a very interesting talk we now know you and Marilyn a whole lot better.
Some photos of Ian and Marilyn as always click on the thumb nails for a larger photo:
There were 9 members and one yet to be inducted member present tonight to hear Ian's story and this meeting also:
Ted Hutcheon spoke about the Red Shield Appeal on behalf of Mark and Sharon Reardon saying that we had raised $2130 in Coolamon.  Next Week we will be in Ganmain and in Coolamon at the football games.  Thank you to all the volunteers from our club Wayne Lewis, Ian Jennings, Dick Jennings, Ted Hutcheon, and Paul Weston.  We also had three students from the Coolamon Central School assist with the door knocking.
Raffle in Coolamon Saturday June 8th roster:
7.00-9.00 am Ted Hutcheon and Garth Perkin also Wayne Lewis if required.
9.00-10.30 am Ian Jennings and Don Dyce.
10.30-12.00 Paul Weston and Dick Jennings.
A new bingo roster is now up on our web site under the drop down for Bingo.
Reminder that next week we will be inducting Don Dyce as our latest member.  Please bring your partners as we will also be having 4 of our members explain what we do in Rotary covering the 5 avenues of service available to us in Rotary.
STOP THE PRESS.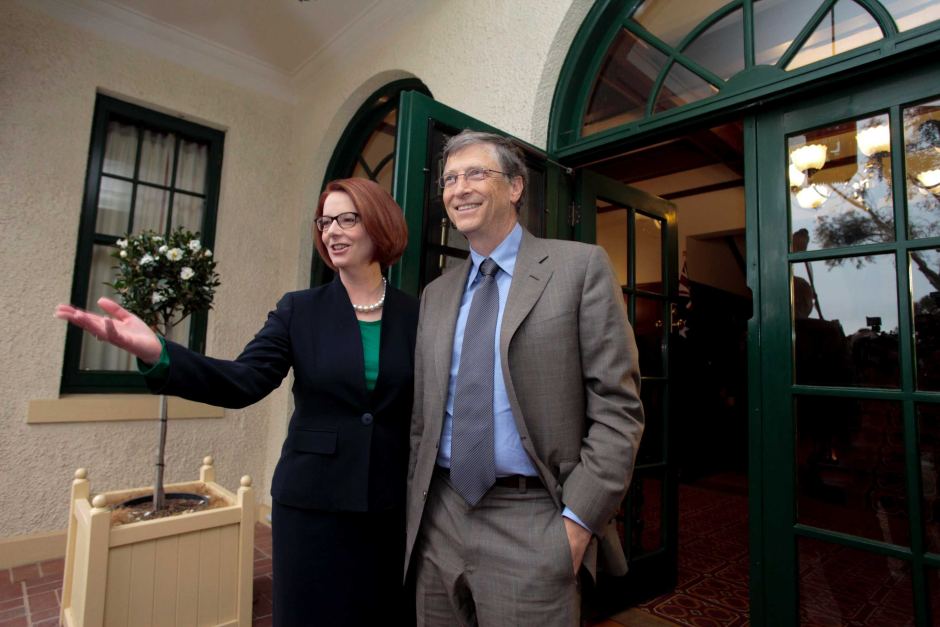 Prime Minister Julia Gillard and Bill Gates at the Lodge 28th May 2013
Prime Minister Julia Gillard and Foreign Minister Bob Carr today announced further funding to help eradicate polio – a debilitating disease that continues to strike the world's most vulnerable people, especially children.
Australia will provide $80 million over four years from 2015 to 2018 to help finish the job and achieve worldwide polio eradication.
It was Australia's Sir Clem Renouf who, as President of Rotary International in 1978 and 1979, led the international campaign to vaccinate every child against polio. As a result of these early efforts by Rotary, the global community came together in 1988 to launch the Global Polio Eradication Initiative.
Shortly before addressing the National Press Club, Mr Gates met with Prime Minister Julia Gillard at the Lodge where he lobbied for an increase to Australia's $5 billion overseas aid budget.
The Bill and Melinda Gates Foundation is contributing $US1.8 billion to help eradicate polio.
The Government's announcement brings its total funding for the Global Polio Eradication Initiative to $130 million.
Diary Reminders
*Sunday June 2nd Griffith Avanti RC Change Over Lunch at 12 noon.
*Monday June 3rd Induction of Don Dyce and an introduction to Rotary.  Gilbert Catering.
Saturday June 8th Coolamon Rotary Street Raffle.
Monday June 10th NO Meeting Queen's Birthday Holiday.
Thursday June 13th BINGO Roster:  John Glassford, Neil Munro, Christine Atkinson and Henk Hulsman.
Monday June 17th. Business and Board Meeting ALL Members Invited to Attend.  Club Catering.
June 23-26 2013 Rotary International Convention in Lisbon.   RI Convention Lisbon.
Monday 24th June TBA.
*Tuesday 25th June Wagga Wagga Sunrise Annual Change Over Dinner Country Club Wagga 6.30pm.
*Wednesday June 26th Henty RC Annual Change Over Dinner.  Community Club 6.30pm.
*Thursday 27th June Wagga Wagga Rotary Change over Dinner.
*Saturday June 29th District 9700 Annual Change Over Dinner.
*Monday July 1st COOLAMON 42nd Change Over Night.
*Monday July 1st Temora RC Annual Change Over Dinner. Temora Bowling Club 6.30pm.
*Sunday July 7th Junee RC Annual Change Over LUNCH,  noon for 12.30.
*Partners and Guests Night.
ROTARY INTERNATIONAL PRESIDENT SAKUJI TANAKA

The RI Convention in Lisbon will be the highlight of my term as president. With guest speakers Dr. Jane Goodall, Céline S. Cousteau and many others, this convention promises to be one of the best ever. Register today online. I hope to see you there. http://ow.ly/lhPwP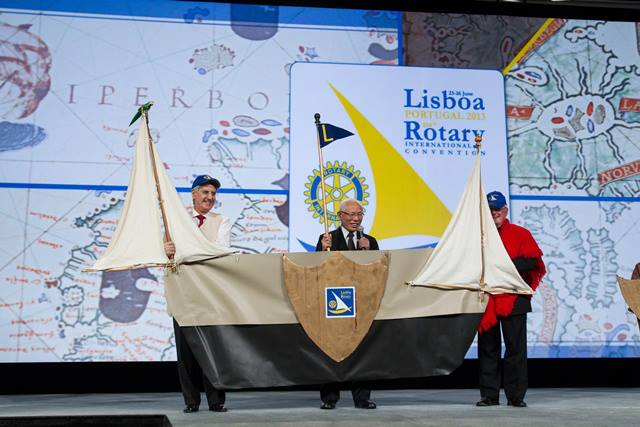 ON THE LIGHTER SIDE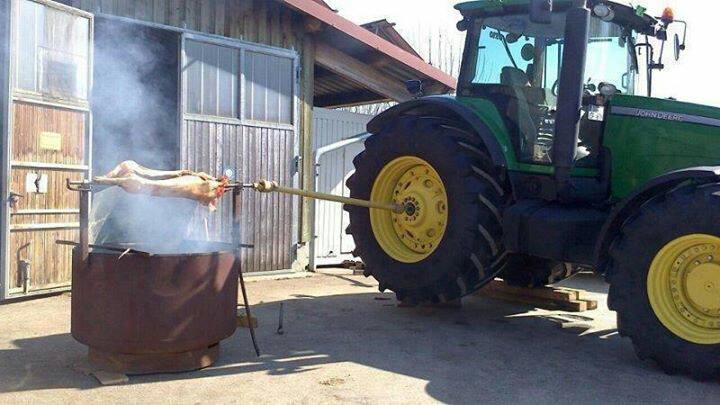 The Arm
A lawyer defending a man accused of burglary tried a creative defence to get his client off the hook. "My client merely inserted his arm into the window and removed a few paltry items. His arm is not himself, so I fail to see how you can punish the whole individual for an offence committed solely by his arm."
"Well put," the judge replied with a grin. "Using that same logic, I sentence the defendant's arm to one year's imprisonment. Your client can accompany the arm or not, as he chooses."
The defendant smiled. With his lawyer's help, he detached his artificial limb, laid it on the bench and walked out.
Blondes Fishing
Three blondes are sitting by the side of a river holding fishing poles with the lines in the water. A Game Warden comes up behind them, taps them on the shoulder and says, "Excuse me, ladies, I'd like to see your fishing licenses."
"We don't have any," replied the first blonde.
"Well, if you're going to fish, you need fishing licenses," said the Game Warden.
"But officer," replied the second blonde, "we aren't fishing. We all have magnets at the end of our lines and we're collecting debris off the bottom of the river."
The Game Warden lifted up all the lines and, sure enough, there were horseshoe magnets tied on the end of each line. "Well, I know of no law against it," said the Game Warden. "Take all the debris you want." And with that, he left.
As soon as the Game Warden was out of sight, the three blondes started laughing hysterically. "What a dumb Fish Cop," the second blonde said to the other two. " Doesn't he know that there are steelhead trout in this river?"
John Lennon
"When I was 5 years old, my mother always told me that happiness was the key to life. When I went to school, they asked me what I wanted to be when I grew up. I wrote down 'happy'. They told me I didn't understand the assignment, and I told them they didn't understand life."
― John Lennon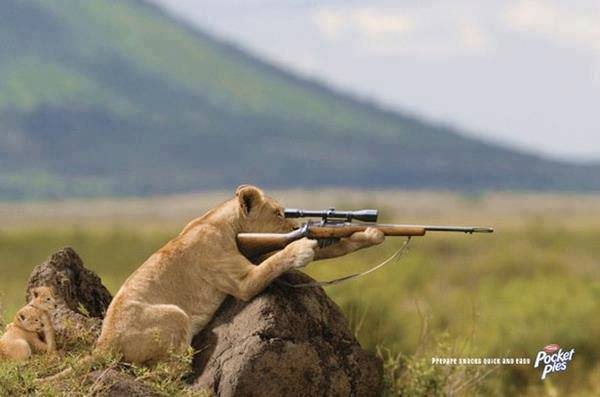 ROTARY INFORMATION

The Rotary Family Health Days (RFHD) are a signature programme of the Rotarians For Family Health & Aids Prevention, Inc. (RFHA), who initiate, coordinate and manage this program with the other partner organizations.
Rotary Family Health Days (RFHD) are a comprehensive, holistic offering of free health care services over three days across South Africa for parents, children, grandparents, friends and all the family.
The RFHD will be carried out at 180 sites across the country, and will include the following services:
HIV counseling and testing
TB testing
Diabetes and blood pressure screening
Polio and measles vaccination
Deworming
Vitamin A tablets
A Hout Bay Perspective on the family Health Days held by Rotarians For Family Health and AIDS Prevention or RFHA which was RFFA.
"Sometimes we are blessed in unexpected ways. What began as a laudable exercise in the grand scheme of Rotary International with the massive financial backing of Coca Cola turned into a plethora of last minute problems to be sorted out. Rotary Hout Bay being initially struck off the government listing as participants due to the interference [unintended in its consequences] by a neighbouring Club was just the beginning. Losing our Hout Bay Clinic as a venue [which turned out to be a blessing] and lacking nursing staff at the opening on Thursday morning were just some of the other tribulations.
Funding was entirely inadequate for purposes intended and we have had to dig deep into our own pockets for this. The cost of printing the registration and other forms. Even paying for taxi services to Hangberg and Victoria Hospitals for those who presented with really serious health problems. And so on, and so on.But as with so many of these occasions where struggle has been necessary, the successful result is that much sweeter.None of this would have been possible without the dedicated persistence of our Patrick. By that I mean that, whatever good intentions we had would have come to an embarrassing nothing without Patrick giving this his all. Full time working and with a lovely but ailing Joyce to look after, I just scratch my head at how he manages to find the time."
Full story below and well done Patrick, you are an amazing man.
Hout Bay Rotary Family Health Days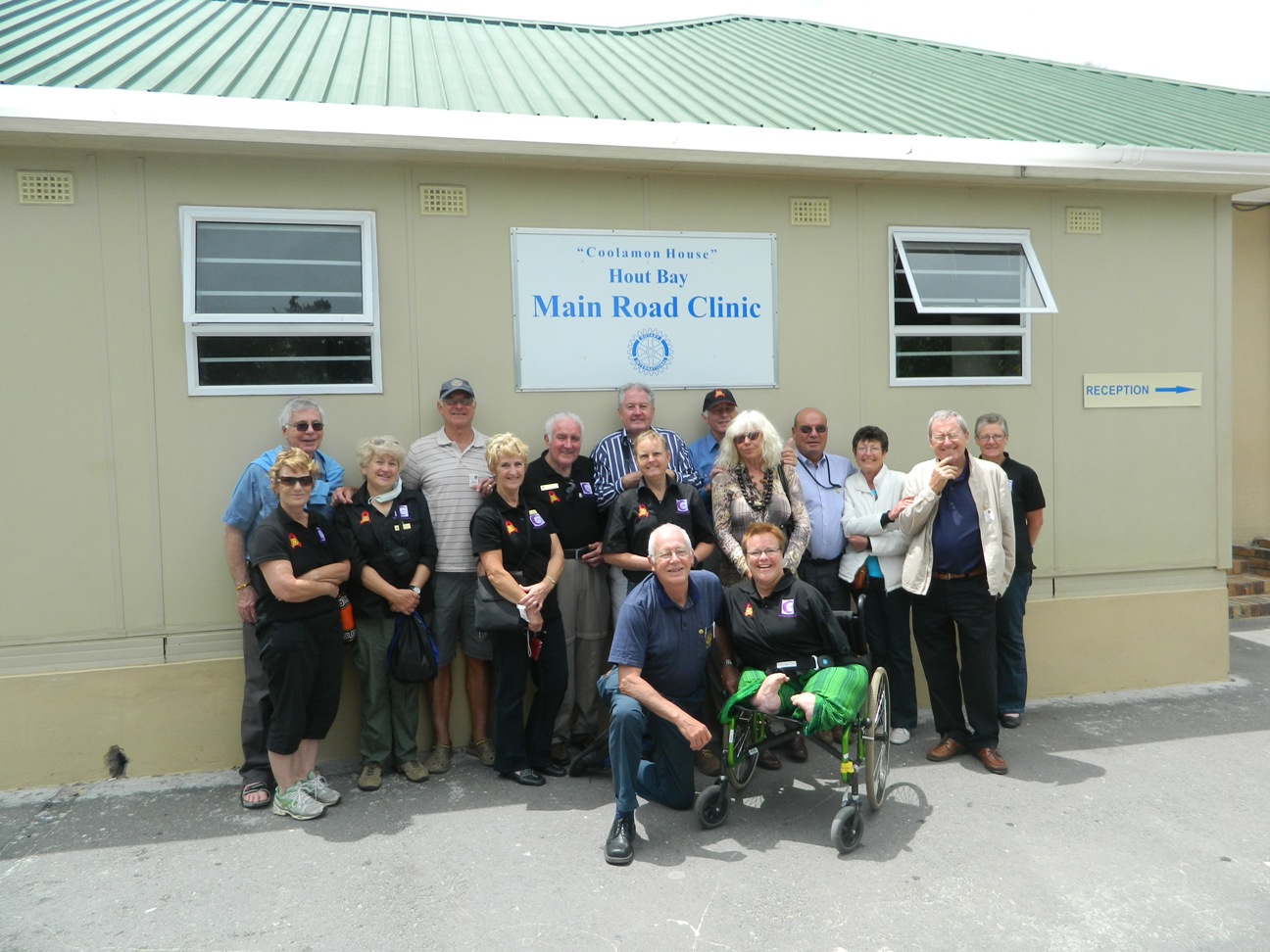 PP Patrick McLaughlin (kneeling) with the Mountains of the Moon team and Hout Bay members at Coolamon House.
BUCKET LIST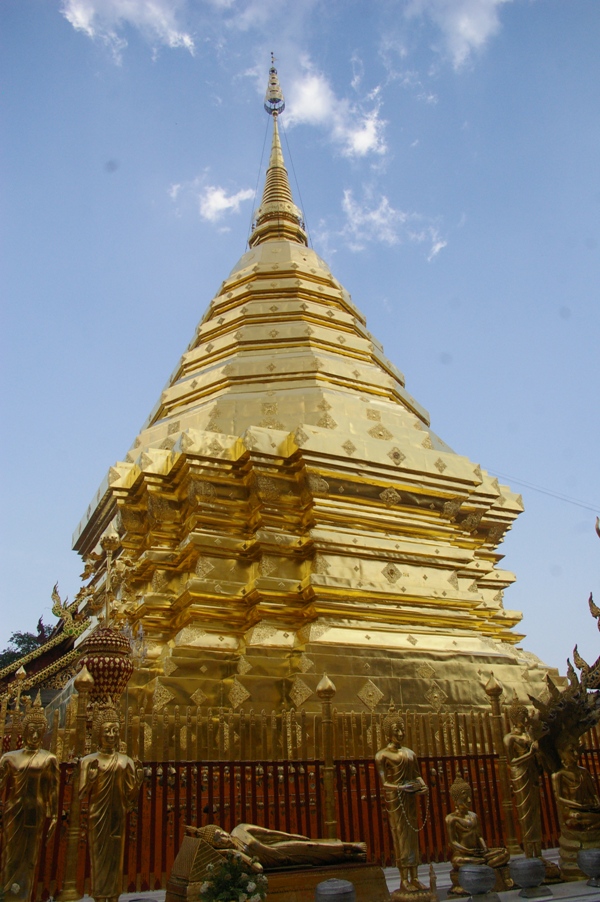 Doi Sutep Temple Chiang Mai Thailand.
CAUSES WORTH SUPPORTING
HAT DAY AUSTRALIAN ROTARY HEALTH
Australian Rotary Health will be hosting their next Hat Day on Friday the 11th of October, when are you hosting yours?
Do you want to do something to show your support for mental health research and reduce the stigma of mental illness in Australia?
Join us in celebrating Hat Day by wearing a hat on October 11th and Donate Online
OR
We're encouraging everyone to Host their own Hat Day during Mental Health Month (October). It could be a morning tea at work, a fancy dress day at school or a dinner at home. Get your family and friends together to lift the hat off mental health issues in Australia.
What is Hat Day?
Hat Day is Australian Rotary Health's community action and awareness day. In recent years we have received hundreds of grant applicants looking to research mental health issues, however a lack of funding has seen only 5% of these receive funding.
By taking part in Hat Day you will be helping the four million Australians affected by mental illnesses. By donating to mental health research you are helping us fund research aimed at finding treatments and cures for mental illnesses such as depression, anxiety and schizophrenia.
Click on the logo below for the web site for Sydney 2014.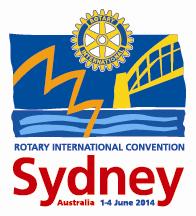 SYDNEY 2014 RI CONVENTION JUNE 1-4 2014
Rotary International President Sakuji Tanaka
Governor of District 9700  Greg Brown
Coolamon Club President  Paul Weston
Vice-President Neil Munro
President Elect Dick Jennings
Coolamon Club Secretary  John Glassford
Club Treasurer  Henk Hulsman
Foundation Director Ian Jennings
Service Projects Director Grahame Miles
Club Administration Director Garth Perkin
Membership Director Ian Durham
Public Relations Director Leslie Weston
Vocational Services Director Dick Jennings
Youth Services Director John Burns
Contact Phone Number (02) 6927 6027
Coolamon Rotary Club Inc. P.O. Box 23 COOLAMON N.S.W. 2701
Websites of Interest
Coolamon Rotary Club: http://coolamonrotary.com
Road MAPS to Africa a Coolamon Rotary Project: http://www.mountainsofthemoon.org/
Rotary Down Under on line: http://flipflashpages.uniflip.com/2/26587/49598/pub
The Orphan Rescue Kit a Coolamon RC Project: http://theork.com/
Our Rotary Centennial Twin Club Hout Bay, Cape Town, South Africa: http://www.rotaryhoutbay.org
Don't forget to regularly check our club web site for current information such as bingo rosters and various newsletters from the District Governor, the School of St. Jude's, the monthly membership on the move newsletter as well as several other club bulletins.