Thursday 23rd February 1905
On 23 February 1905, Paul P. Harris, Gustavus Loehr, Silvester Schiele, and Hiram E. Shorey gathered in Loehr's office for what would become known as the first Rotary club meeting.
Harris's desire for camaraderie among business associates brought together these four men and eventually led to an international organization of service and fellowship.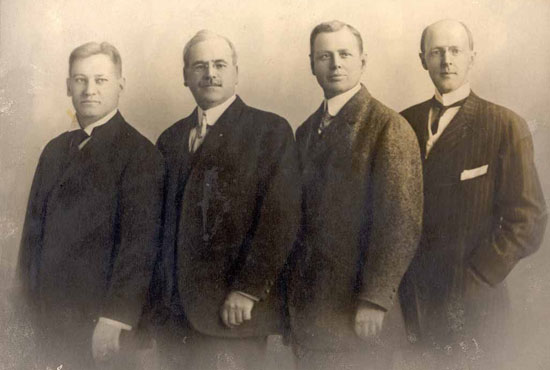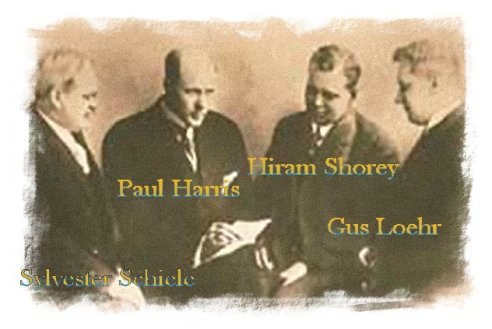 23 February 1905: Rotary Club of Chicago the First of the Sixteen Clubs prior to the formation of the National Association of Rotary Clubs. First gathering, on Thursday evening, 23 February 1905 in Chicago, Illinois, U.S.A. by attorney Paul P. Harris. Young Harris, fresh from a wild five years as a reporter, actor, cowboy, seaman, granite salesman, fruit picker and hotel clerk, five years building a successful law practice, then had an idea. It was regarding observations of success and respect which could come from organizing professional acquaintances. More years past. He had given this much thought by the time he and Silvester Schiele walked over to Gus Loehr's office, in Room 711 that cold winter night in 1905, almost 9 years from his arrival in Chicago. Several weeks later, Schiele was elected the first president of Rotary when the meeting was held in his office. Harris suggested several names, one of them being "Rotary."
Thanks to Ron Nethercutt from the Rotary Club of  Mabalacat   D 3790
Angeles City, Philippines, for the story above.  Ron is also a member of ROTI or Rotarians On The Internet. Ron also plays the trombone and is known as the Jazz Professor.