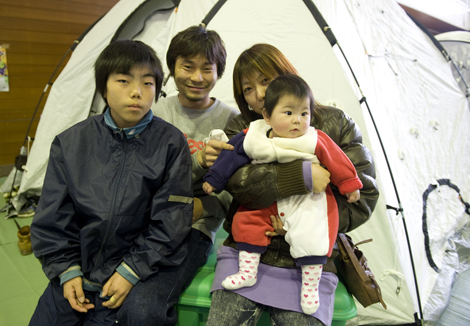 Lifesaving aid from ShelterBox is helping families in Japan as they begin to rebuild their lives after the earthquake and tsunami that hit the country on March 11.
The charity's work is being welcomed by officials in Japan's Prefectural government system who say ShelterBoxes will be used to provide emergency assistance to the most vulnerable.
Takanori Hirai, Director of the Climate Change and Energy Policy Division for the Iwate Prefectural Government said: 'We thank you from the bottom of our hearts for your kind donation of ShelterBoxes after Japan's horrible earthquake and tsunami disaster.
'These ShelterBoxes will be used in a variety of ways; as shelters in the affected areas, protecting the privacy of those living in shelters and creating a space for families to live in.
'We have the deepest respect for the efforts that ShelterBox is carrying out throughout the world. We hope that your organisation will grow even larger in the future.'