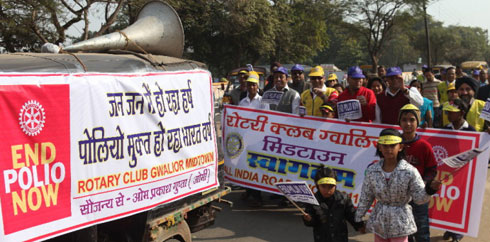 THIS IS WHAT IT TAKES OT RID THE WORLD OF POLIO.
Message from Tom Telfer a member of ROTI or Rotarians On The Internet
Just completed the first National Immunisation Day of 2012 on February 19, 2012
India in the Andhra Pradesh region.
Did you know what it involved? Here are just some basic facts ……
* 800,000 vaccination booths
* 2.3 Million vaccinators
* 1.2 Million vaccination teams
*
155,000 supervisors, with 155,000 vehicles ( cars, motorcycles, mopeds,
bicycles, boats, elephants, camels or whatever it takes )
* 220 Million doses of Polio Vaccine, carried around the country in 2.0 Million vaccine carrier bags
*
6.3 Million ice packs to keep all those doses of polio vaccine in the
2.0 Million vaccine carries bags to maintaine the cold chain.
* 91 Million homes visited
* 170 Million children immunized during each NID – of these, 10 crore children immunized in just one day at booths. 1 crore equals 10 million, so 10 crore would be 100 million!
No Polio Case was reported this week.
P.P. Tom Telfer, B.A.
P.H.F.
Past Chair of Rotary Editors & Publishers
Charter member of Rotarians on the Internet
Member Rotary Rolodex
Member ICUFR
AMAZING WORK