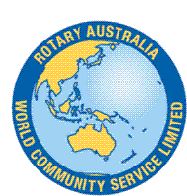 Rotary Australia World Community Service Ltd (RAWCS) assists Rotary Clubs develop and manage world community service projects.
Australian Rotarians participate in activities to improve the lives and living conditions of others and to promote international understanding and goodwill.
Rotary Clubs are active in supporting developing countries in our region in the fields of Health, Hunger, Education and other Humanitarian Aid programmes. RAWCS facilitates their work.
Their is a link to their new web site under Rotary Links on the R/H side bar.
You can also access RAWCS here:
Looking for  a Deductible Gift Recipient (DGR) ?
RAWCS Overseas Aid Fund is a Deductible Gift Recipient so is able to offer tax deductible donations to support organisations with worthy projects in Australia and overseas.
Our Overseas Aid Fund holds the following registrations which will enable it to accept tax deductible donations and grants from all sources in Australia including business coorporations and not-for-profit organisations.
Deductable Gift Recipient
Tax Concession Charity
Income Tax Exempt Fund
RAWCS: MAKING A DIFFERENCE IN LIVES AROUND THE WORLD.
FOR A FULL LIST OF RAWCS APPROVED PROJECTS GO HERE: