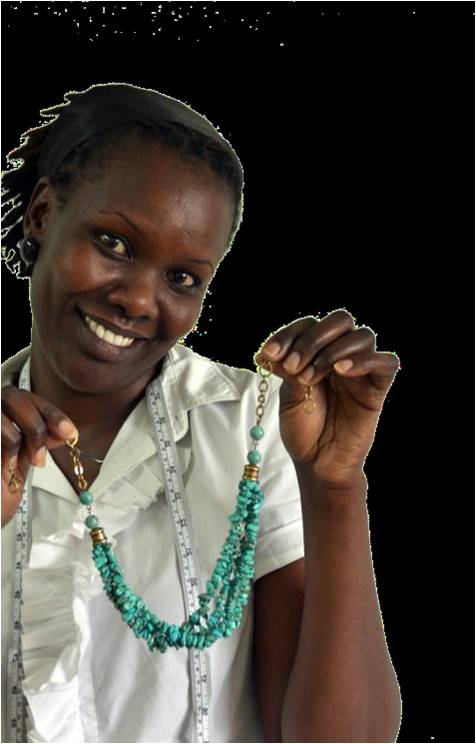 Sasa Designs is a jewelry business employing and providing fair wages to Deaf artisans in Kenya.With an estimated unemployment rate of 85% among the Deaf in Kenya, few will have an opportunity to discover their potential, work in dignity and earn a fair wage. Employers are simply not willing to deal with the communication issues of working with the Deaf.  After waiting for so long for an opportunity to appear, many Deaf people have lost hope.
Often Deaf mothers struggle to provide food for their family. Clean water and sanitary home conditions in the slums are often out of their reach. One way out of poverty is education, but Deaf families struggle to pay school fees, provide books or purchase the required school uniforms for their children.  Sasa means "now" in Swahili.  We believe that "Now is her time to shine."
Sasa Designs gives Deaf artisans the chance they've been waiting for – the chance to learn new skills, to discover what she is capable of and to feel productive.The income these artisans earn gives them a way to support their families — to send their children to good schools, to provide better nutrition and healthcare for them.  Instead of always feeling like a burden to the family, she moves to a position of respect as one who contributes to the household income.
As she comes to work each day, she also enjoys the fellowship of other Deaf artisans with whom she can easily communicate through Kenyan Sign Language.  D.O.O.R. (Deaf Opportunity OutReach) International, in partnership with One Maker, has launched Sasa Designs in response to the overwhelming poverty and joblessness among Deaf people in Kenya.  Creating opportunities for the Deaf through this business is a tangible expression of God's love for them.