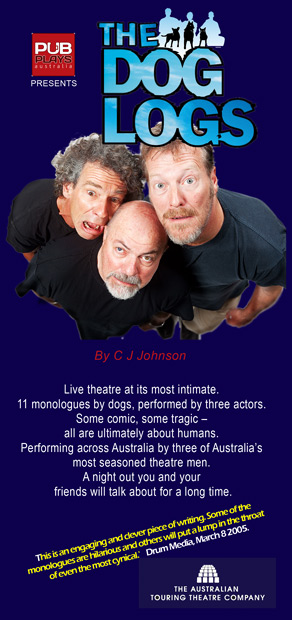 Hello Committee Members & Guests just letting you know a bit about the performance that is happening on the night of the Saturday the 11th of June at the Ariah Park Hotel, tickets are $50 each with up to $5 from tickets sales going to the Ariah Park Youth Shed.  The Hotel is providing a two course meal and the show.  Bookings are essential and can be made on:
(02)69741068
The play that we are performing is called The Dog Logs and is 11 monologues performed by three seasoned actors/comedians who portray the stories from the dog's perspective.  Some of the stories will make you laugh and some cry but ultimately leave the audience begging for more.
Pub Plays is a branch of The Australian Touring Theatre Company and aims to bring quality theatre to remote, regional parts of NSW, QLD and Victoria performing at pubs, clubs, and outback theatres.  Three Plays are currently touring 'Come to Bits' 'The Dog Logs' and 'The Exchange'.
Tony Masters
Allanah Millis is behind this (Les Millis's daughter).  Looks like a good laugh!