Last night we welcomed Leslie and Paul Weston to our club as members of the Rotary Club of Coolamon.  Their induction will take place soon.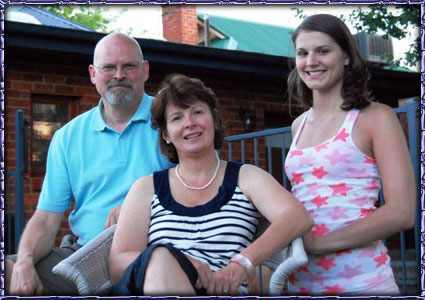 Paul, Leslie and Nicole Weston
The NSW Government has been successful in encouraging one of the world's 'best and brightest' minds to relocate to inland NSW to carry out innovative research into the development of natural herbicides. Professor Leslie Weston, from Cornell University, one of the United State's premier research universities, has relocated to the EH Graham Centre for Agricultural Innovation at Charles Sturt University's (CSU) Wagga Wagga Campus under the government's Life Science Research Awards. The NSW Minister for Science and Medical Research, Ms Verity Firth said, "Professor Weston is a recognised leader in her field of research and her relocation to the state is a major scientific coup and will cement NSW at the leading edge of scientific research into natural herbicides." CSU Deputy Vice-Chancellor and Vice-President (Research), Professor Paul Burnett has welcomed Professor Weston's move, stating it is a fantastic outcome for the University. The EH Graham Centre for Agricultural Innovation is a collaborative alliance between CSU and the NSW Department of Primary Industries.
Leslie was our guest speaker last Monday night.   Originally from Western in New York State, USA
A special congratulations also to Nicole Weston who made her riding debut in Australia at the National show. Nicki was Reserve National Champion in Amateur Western Pleasure and Reserve Jackpot Futurity Champion in Amateur Western Pleasure aboard Time To Be Radical! Way to go Nicki!
Dr Paul Weston, BS Cornell University; MS & PhD Michigan State University.  Paul also works at CSU in Wagga Wagga
Insect ecology and behaviour
Intergrated pest management
Isolation and identification of biologically active natural products
Simulation modelling of insect behaviour and population dynamics
Degree-day modelling of insect development
Invasion and establishment of exotic insect pests
Biological control of insects and weeds
Web-based information delivery.
We look forward to a long and mutually rewarding association with the Weston Family.
Their passion: