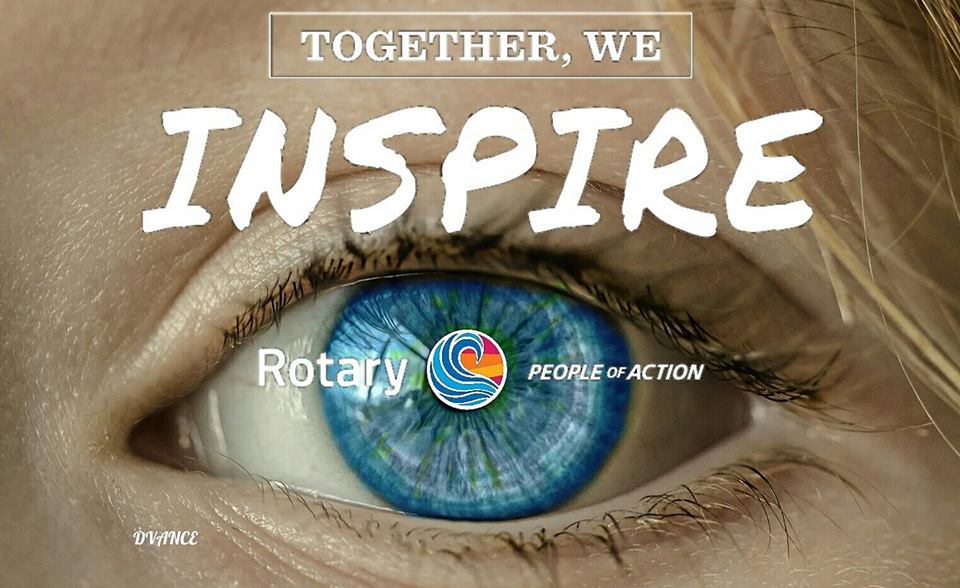 NOVEMBER IS ROTARY FOUNDATION MONTH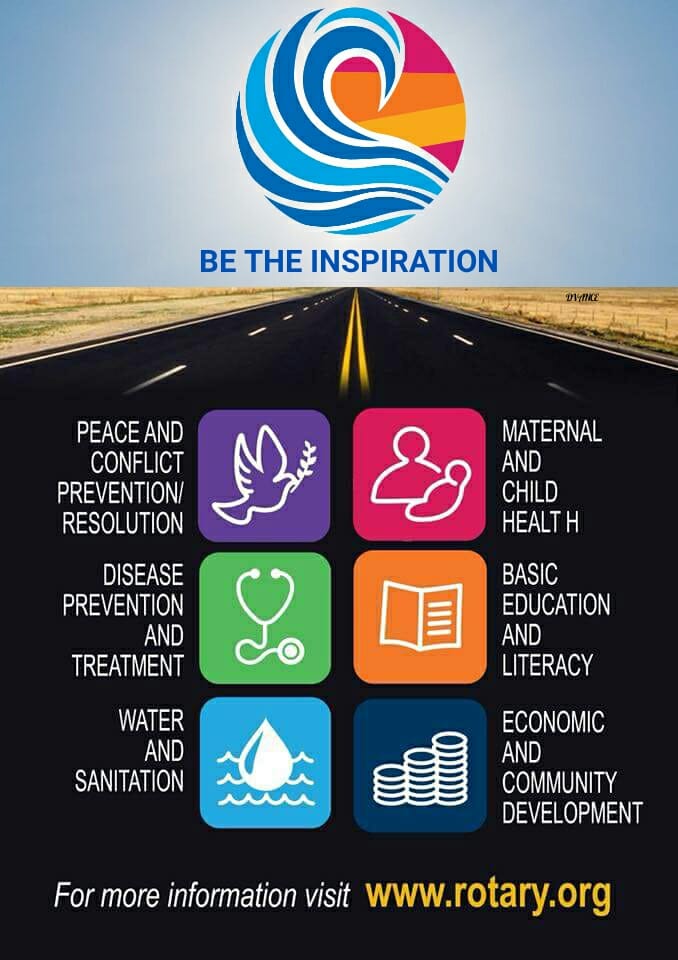 AGM Meeting – November 19th, 2018
President Daryl Breust welcomed 17 members & guests Barry Lillywhite & Helen Lewis
Apologies from John B, Henk H, Paul W, Don D, Steve E, Bruce H, Dick J & Neil M
Great news announced by Daryl that we were successful in grant application for storage shed for Food Van which will be located on the showground site.
Invitations to school presentation nights; please consider if you can represent our Club at one of these
Ganmain Tuesday, 4 Dec.
Marrar Thursday, Dec 6,
Matong Tuesday, Dec 11,
Coolamon Central Thursday Dec 13
Ardlethan Tuesday Dec 18
Letter from NSW Health asking our Club to cater for Opening of Ambulance Station from 9.30 to 11.30 on Friday, December 7th. Members agreed to cater at this event.
AGM 2018
President Elect Wayne Lewis was elected to chair the AGM
He explained the possibility of having a buddy system to assist those elected to director positions
Stand-in secretary John Glassford read out minutes of last year's AGM 2017
Financial report read out by President Daryl Breust
Board Positions nominated & voted
President: 2019-2020: Wayne Lewis
Immediate Past President & Vice President: Daryl Breust
Secretary: John Glassford
Treasurer: Henk Hulsman
Club Admin: Dave McKinley
Service Projects: Howard Atkinson
Youth: Sarah Collins
Foundation: Neil Munro
Public Relations: Grahame Miles
Membership: Paul Weston with buddy Dick Jennings
Bulletin Editor: Grahame Miles & Sarah Collins
Sergeant-at-Arms: Ted Hutcheon & buddy Alex Thompson
QUOTE OF THE WEEK
Which famous musician made this quote? – To win a raffle ticket
'With our love, we could save the world'.
Please email your answer to Grahame at [email protected]
or to Paul at [email protected]
DIARY
Saturday,  1st December –  Clearing Sale at Steve Exton's.  Details to be announced
Sunday 9th December 10.00-16.00 DisTec18 I.T. Young DGE John McKenzie
DisTec 18 Postponed to Sunday April 28th 2019
Thursday,  December 13th – Bingo.  Community Centre Hall, 6.45 – 10:00.      Grahame (Captain), Bern M,, Myffy C &  Alex T
* Saturday, 15th December – Christmas Party. Residence of Daryl & Jan Breust. Details to be finalised.
Saturday 2nd March 09.15-17.00 PETS Young President Elects 2019-2020 DGE John McKenzie
Saturday 2nd March 14.00-16.30 D9700 District Leadership Team Training Young DGE John McKenzie
Saturday 2nd March 19.00 PETS Dinner Young President Elects 2019-2020 DGE John McKenzie
Sunday 3rd March 09.30-15.00 PETS Young President Elects 2019-2020 DGE John McKenzie
Sunday 28th April 10.00-16.00 DisTec 19 I.T. Young DGE John McKenzie
Sunday 26th May 2019 09.30-15.00 District Assembly Young DGE John McKenzie
Friday 29-31 March 2019 D9700 Conference Griffith DG JG D9700

Saturday 1st -5th June 2019 RI CONVENTION HAMBURG
* denotes partner & guest night
UPCOMING EVENTS
 ROTARY DISTRICT 9700 CONFERENCE GRIFFITH 2019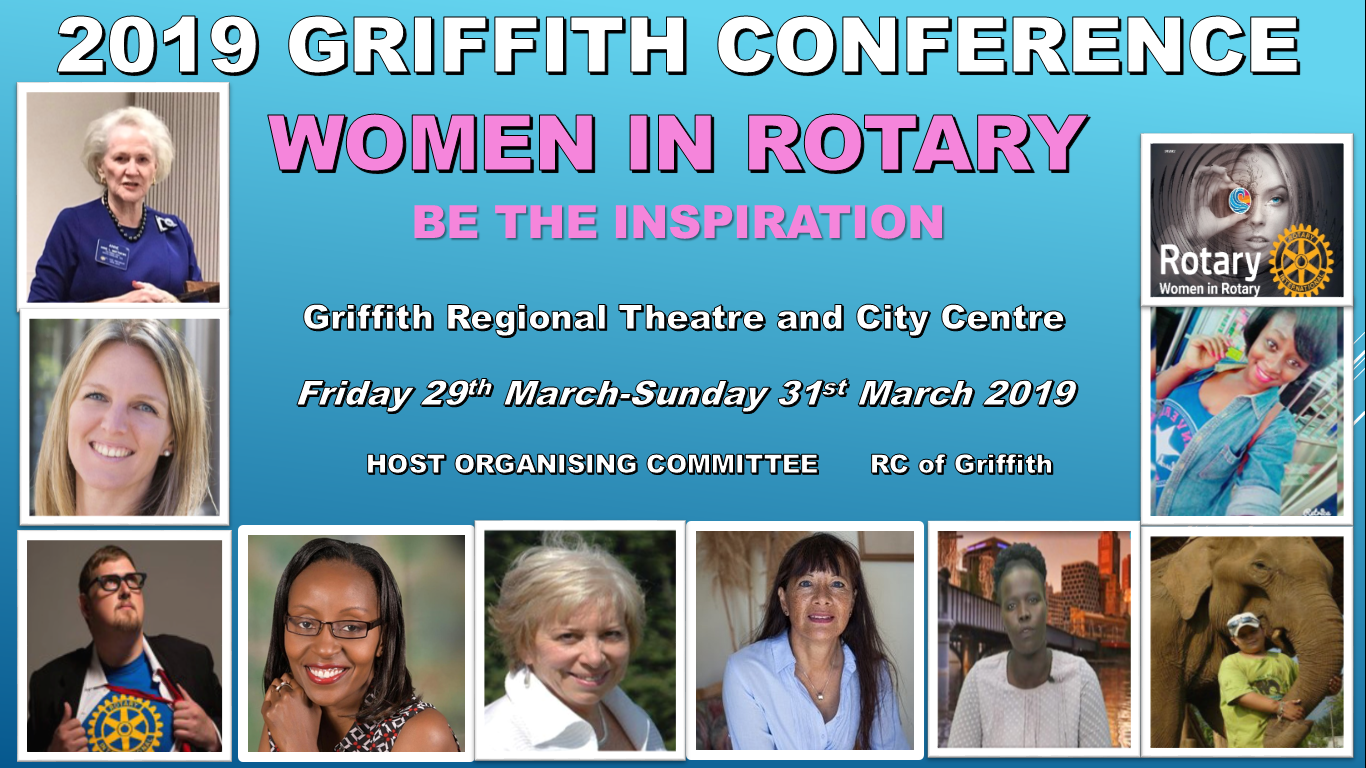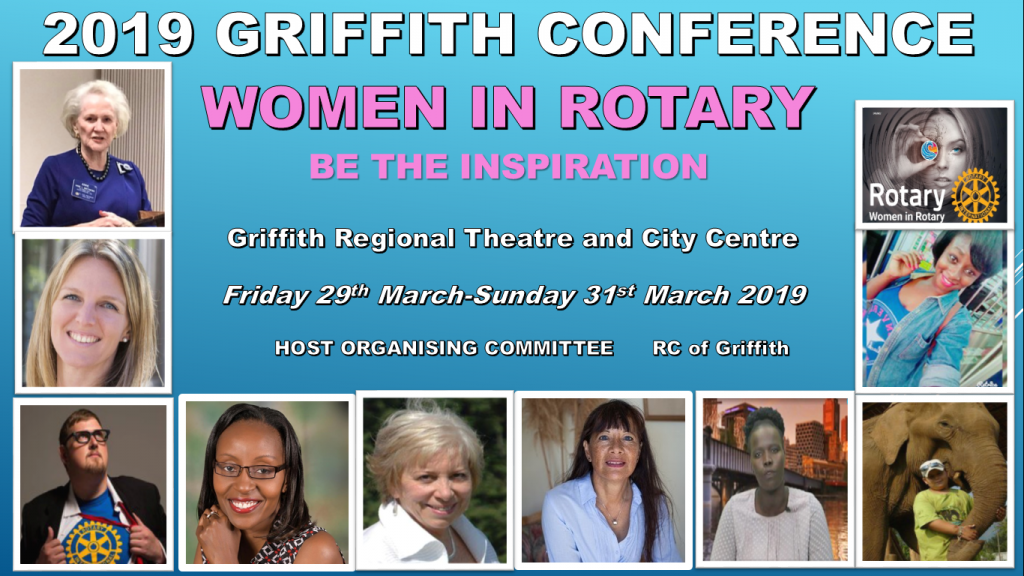 BRIEF BIO OF ONE OF OUR SPEAKERS FEATURING:
STEPHANIE WOOLLARD SEVEN WOMEN NEPAL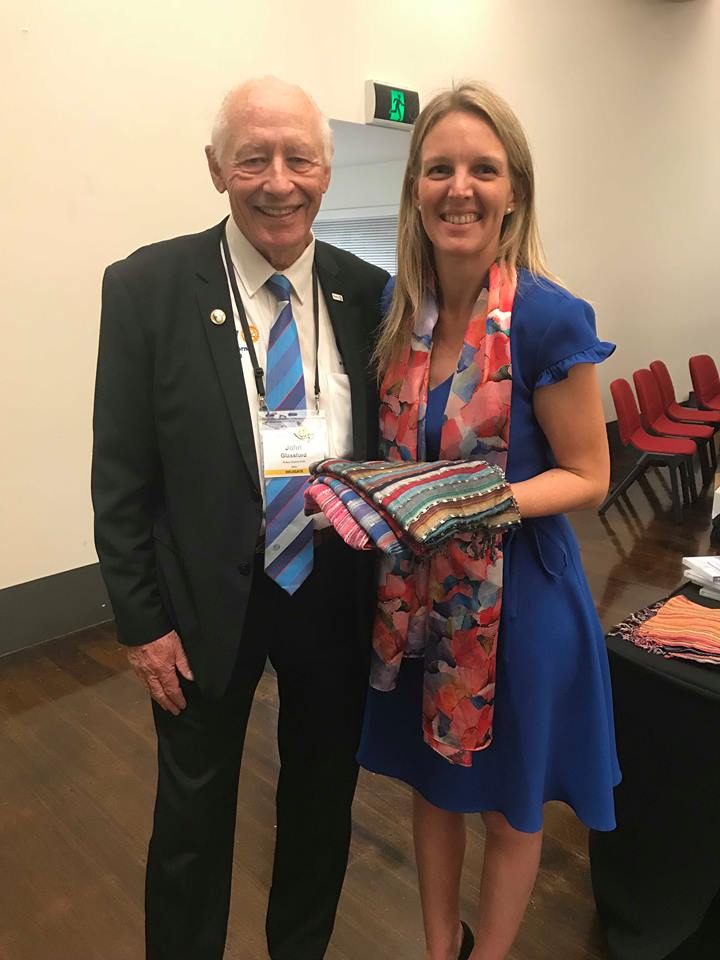 Above STEPHANIE WOOLLARD with DG John Glassford 
Rotary Peace Scholar & Member of the Rotary Club of Melbourne
Nominee for Australian of the Year 2016
Rotary International Peace Fellow, Recipient of the Rotary International Responsible Business Award presented at the United Nations in NY in 2016
Moral Fairground's National 'Most Ethical Enterprise Award 2014', La Trobe Uni. Young Achiever Alumni of the Year Award 2016
Masters in Peace & Conflict Research from Uppsala University, Sweden
Stephanie Woollard began Seven Women at 22 after meeting seven disabled women working in a tin shed in Kathmandu.
These seven women were struggling to make a living in the face of harsh discrimination. With her last $200, Steph paid for a trainer to teach the women how to produce products for sale locally and abroad – and Seven Women was born.
Since 2006 Steph has built up the Seven Women team and launched an Australian arm for fundraising and a sales channel for our ever growing operation in Nepal.
12 years after her meeting in a tin shed that started it all, over 5,000 women have been educated, trained and employed by Seven Women.
Seven Women is empowering Nepali women, transforming their lives and their communities.
RI CONVENTION 2019
HAMBURG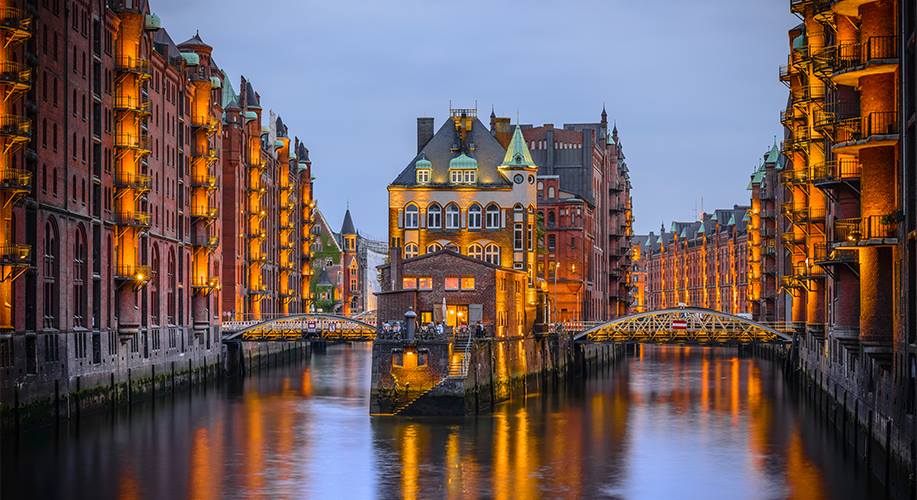 Join us in Hamburg for the Rotary Convention! Don't miss the early registration deadline on 15 December.
FOOTNOTE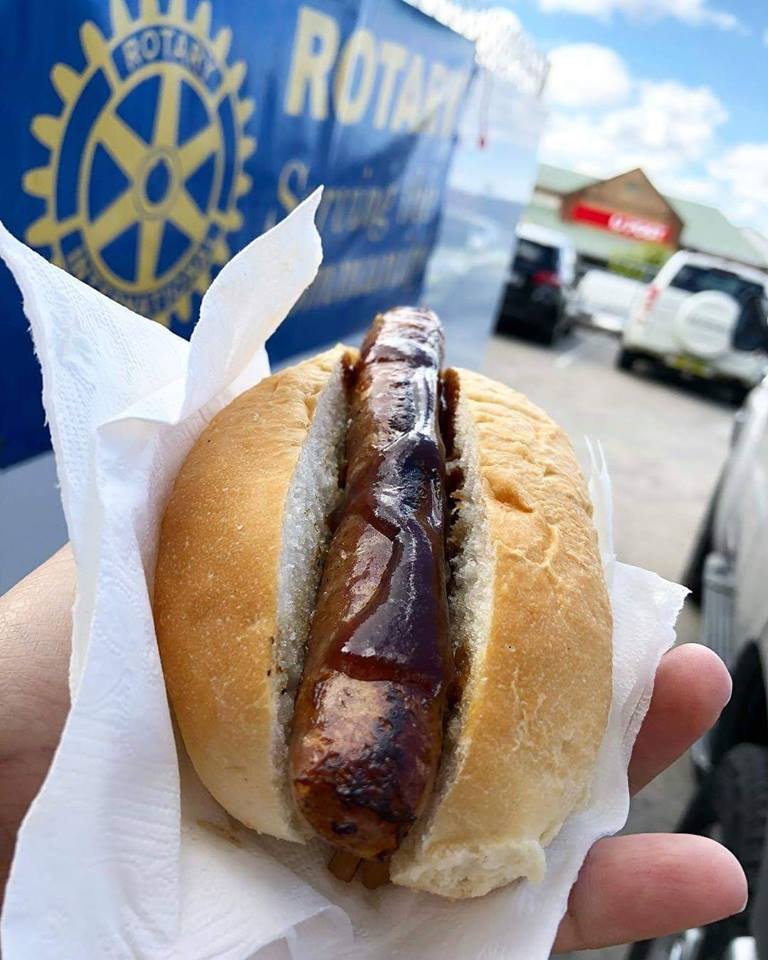 Bunnings OH&S Onions on the bottom!!!
Dear Presidents
I'm aware that Bunnings have slipped in some cruel standards for how we serve our sausages, which is causing some of our long-standing 'expert' BBQers some angst!
I have been asked to make an executive ruling as to whether we need to obey these harrowing standards which are being imposed upon us. From what I understand, Bunnings have, because of OHS issues, proclaimed that we must put the onions on the bottom of the sandwich with the sausage on top.
More info available just message me!
DG Sue Hayward D9675
BREAKING NEWS:
Reports Suggest. Local Bunnings Warehouse has suspended operations due to a near fatal onion slipping incident.
Multiple rescue helicopters were called in to help local chippie Dazza when he slipped a little bit on an onion but recomposed himself like a champion.
Bunnings elf in an apron and manager Trevor said "we aren't taking chances with Dazza … it could have been 10 times worse".
Dazza can be seen in the photo being winched to safety and is currently on route to Westmead Hospital for scans and a hug. Dazza could be heard shouting " Mate I'm alright it was just a bit of a slip and I was more upset about the lack of BBQ sauce."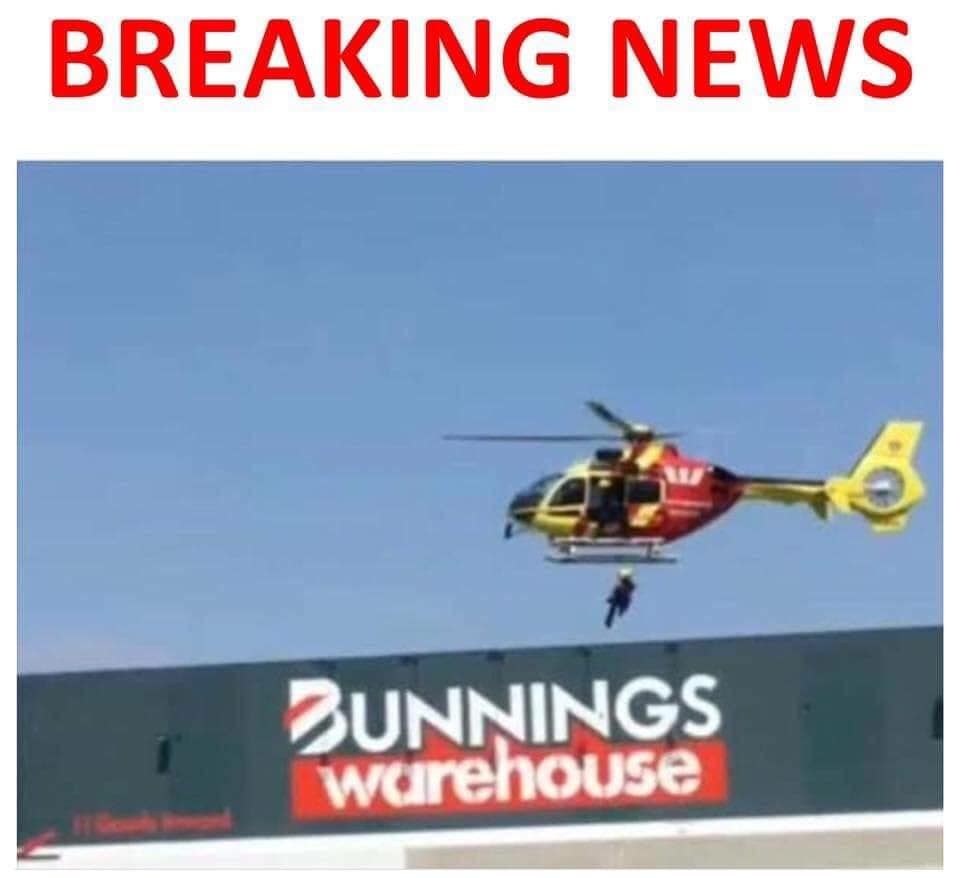 Local Orange RSPCA have taken Dazza's kelpie who witnessed the incident to the local animal shelter for psychological tests as the animal showed signs of stress.
Two other people were flown out in separate helicopters due to gluten intolerance.
Several vegans were also counselled at the scene as they found it too traumatic.
Local member Andrew Whizz will petition parliament for an "Onion Buy Back Scheme" on Monday sighting the potential for onions to be a major cause of injury to the general public shopping for hardware. 😂
ROTARY CLUB OF COOLAMON Inc. 2018-19
Chartered March 3rd, 1971; Sponsoring Club Narrandera Rotary Club
President: Daryl Breust 0409 551 140
President-Elect: Wayne Lewis 6927 3501
Service Projects: vacant
Secretary: Paul Weston  6927 2972
Treasurer: Henk Hulsman 6927 3486
Rotary Foundation Director: Neil Munro 6927 3156
Club Admin Director:  Daryl Breust 0409 551 140
Youth Director: Dave McKinley 6927 8553
Membership Director: Wayne Lewis 6927 3501
Public Image Directors: Myffy Collette 6927 6313 / Bernadette Milne
Immediate Past President: Paul Weston  6927 2972
Sergeant @ Arms: 
Ted Hutcheon 6927 3349  
Bulletin Editor: 
Sarah Collins 0448 118 003 and Grahame Miles