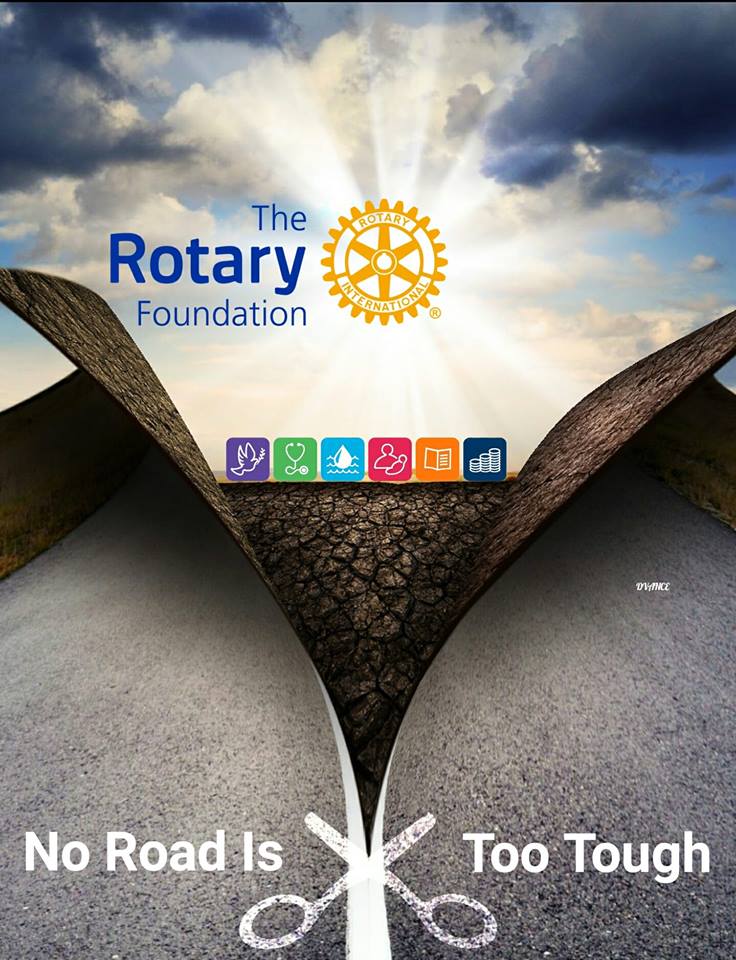 NOVEMBER IS ROTARY FOUNDATION MONTH
Meeting – November 26th, 2018
President Daryl welcomed 13 members & guests Barry Lillywhite, Anne B, Asta Doongarna & Helen Lewis
Apologies from John Bond, Ian Jennings, John Nulty, John Glassford, Dave McKinley, Paul Weston, Steve Exton, Bruce Hamilton, Dick Jennings & Neil Munro.
Catering at Steve Exton's Clearing sale this Saturday
8 – 9.30am   – Daryl, Howard & Anne, Anne R
9.30 – 11am  – Alex T, Don D, Ted H & Henk H
Invitations to school presentation nights; please consider if you can represent our Club at one of these not committed
Ganmain Tuesday, 4 Dec.  – Bern & Myffy
Ganmain St. Brendan's,   – Bern & Myffy
Marrar Thursday, Dec 6,  – Alex, Chez & Ted
Matong Tuesday, Dec 11, –  member needed
Coolamon Central Thursday Dec 13,  – Daryl B
Coolamon St. Michaels,   – Wayne & Helen
Ardlethan Tuesday Dec 18,  – member needed
Beckom School on Friday, 14th Dec, – Howard & Ann
Wayne announced some great news:
President Elect for 2020-2021 will be Howard Atkinson;   Congratulations Howard
Because it is our DG's District Conference, we should all be supporting it if we can. Bulk booking accommodation for District Conference at Griffith was brought up for discussion. If you would like to be included in the bulk booking in onsite cabins please let Grahame know.
Trainee doctor Asta, who is working with our Doctor Amir for 2 weeks and is staying with Howard & Anne, gave a brief talk on her life & goals.  President Daryl presented her with a gift for her presentation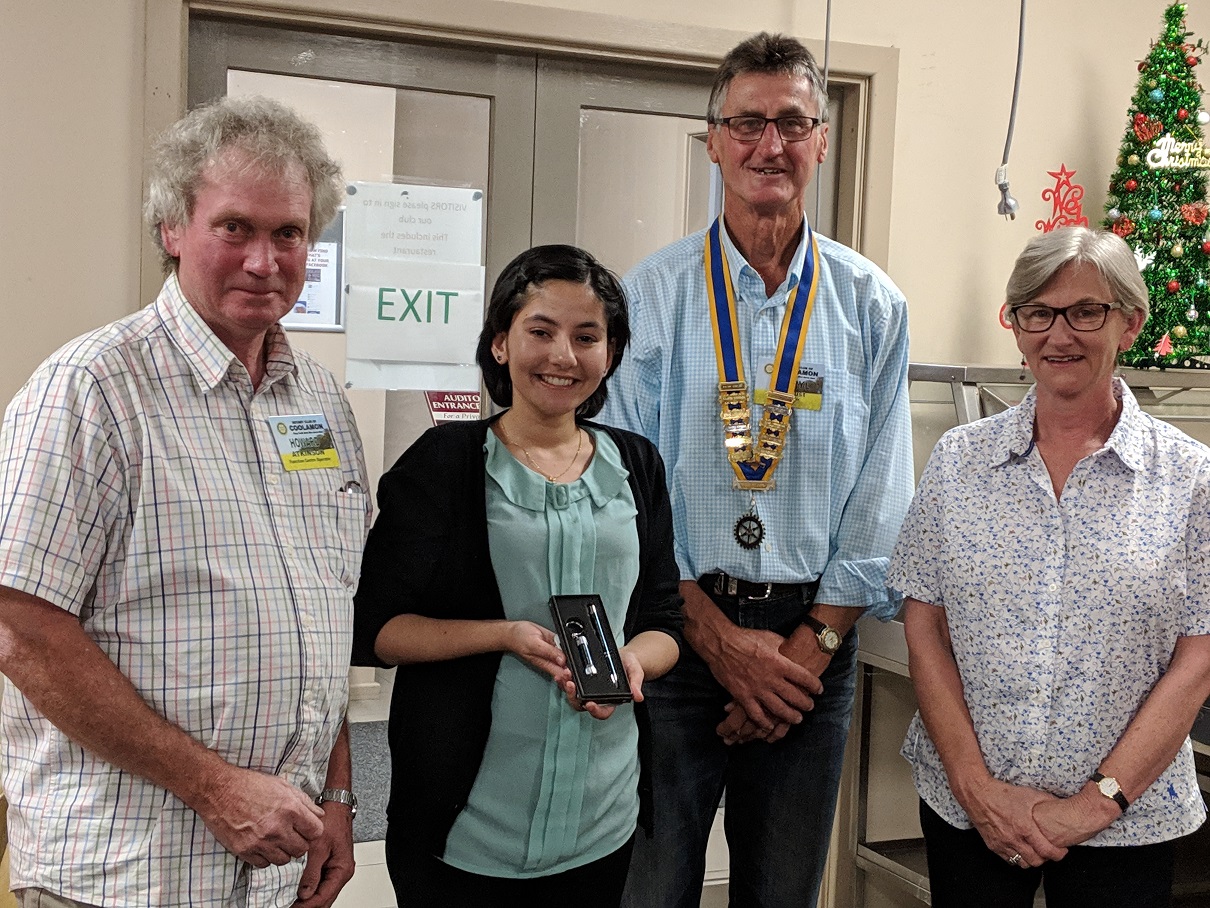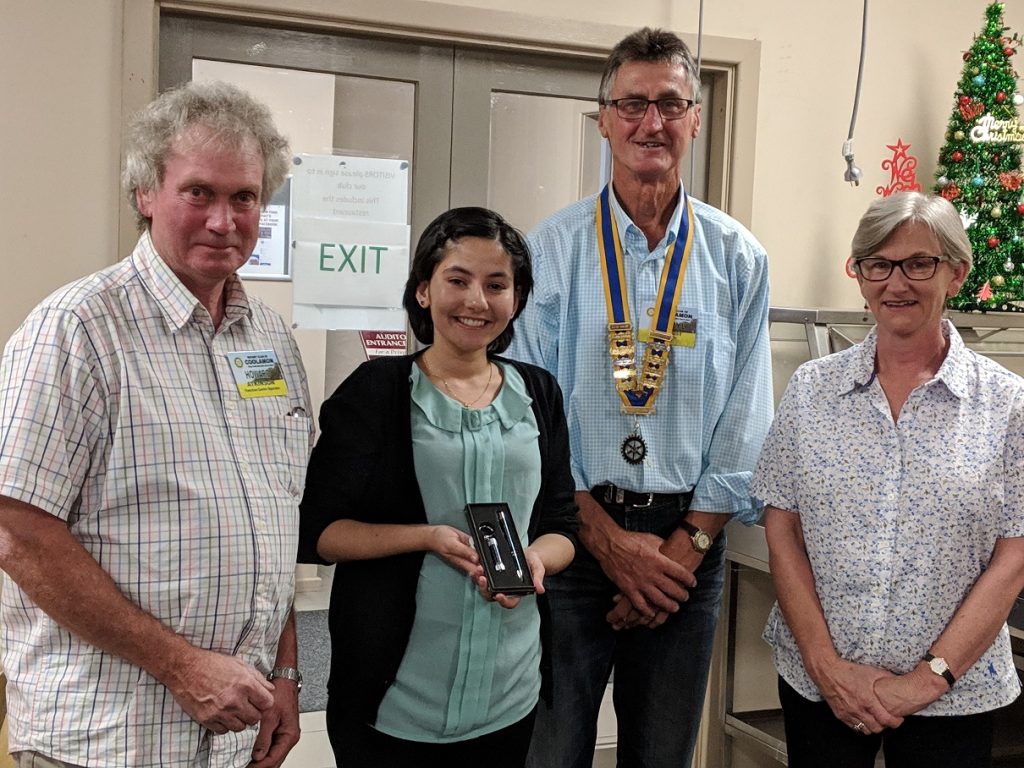 See the Quote of the week & Club Diary below
Who famously made this quote? – To win a  raffle ticket
'A friend is someone who gives you total freedom to be yourself'
Please email your answer to Grahame at   [email protected]
or to  Paul at  [email protected]
DIARY
Saturday,  1st December –  Clearing Sale at Steve Exton's.  Details to be announced
Monday December  10th Last Meeting for 2018
Thursday,  December 13th – Bingo.  Community Centre Hall, 6.45 – 10:00.      Grahame (Captain), Bern M,, Myffy C &  Alex T
* Saturday, 15th December – Christmas Party. Residence of Daryl & Jan Breust. Details to be finalised.
Wednesday, 16th January, 2019 – Board meeting.  Coolamon Sport & Rec Club, 7:00 pm.
Monday, 21st January – First Dinner meeting for 2019.  Coolamon Sport & Rec Club, 6:30 for 7:00 pm.
Saturday 2nd March 09.15-17.00 PETS Young President Elects 2019-2020 DGE John McKenzie
Saturday 2nd March 14.00-16.30 D9700 District Leadership Team Training Young DGE John McKenzie
Saturday 2nd March 19.00 PETS Dinner Young President Elects 2019-2020 DGE John McKenzie
Sunday 3rd March 09.30-15.00 PETS Young President Elects 2019-2020 DGE John McKenzie
Sunday 28th April 10.00-16.00 DisTec 19 I.T. Young DGE John McKenzie
Sunday 26th May 2019 09.30-15.00 District Assembly Young DGE John McKenzie
Friday 29-31 March 2019 D9700 Conference Griffith DG JG D9700
Saturday 1st -5th June 2019 RI CONVENTION HAMBURG
* denotes partner & guest night
UPCOMING EVENTS
 ROTARY DISTRICT 9700 CONFERENCE GRIFFITH 2019


BRIEF BIO OF ONE OF OUR SPEAKERS FEATURING: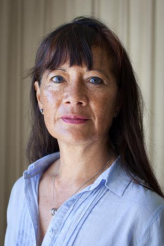 PATRICIA GARCIA A.O. SYDNEY AUSTRALIA
National Program Manager UN Sustainable Development Goals
Rotary Peace Scholar Chulalongkorn University in Bangkok Thailand.
"Over 20 years experience working in the world's conflicts including Afghanistan, Sudan, South Sudan, Bosnia and Burma I have managed humanitarian aid and development programmes to assist refugees and IDPS. I have been engaged as Programme Manager and Director with international NGOs and UN agencies (Oxfam, Peace Winds Japan, German Agro Action, Norwegian Church Aid UNOPS, and UNHCR) and with Austcare and Act for Peace in Australia. I have recently completed a short term consultancy with Concord is International as their Sudan Country Director.
I continue to be actively engaged in humanitarian advocacy and research and training in peacebuilding and human rights with a focus on gender based violence and disarmament issues.
Currently, I am a Casual Academic and Visiting Scholar at the Centre for Peace and Conflict Studies, University of Sydney. My languages in addition to English are Spanish and French. In 2011 I received an Australian Federal Government award for services to the overseas humanitarian sector.
In 2014 I was selected as one of the subjects for the UNSW Australian Human Rights Centre Faculty of Law photographic exhibition project entitled "Positively Remarkable People Ending Violence Against Women" (www.positivelyremarkable.wordpress.com).
I was awarded the 2016 State Finalist Australian of the Year and have recently joined the group of inspirational speakers at Celebrity Speakers.
http://www.celebrityspeakers.com.au/patricia-garcia/
I received the Queen's Birthday Honours Award of Officer of the General Division of the Order of Australia (AO) on 13th June 2016. In November 2016 I received a Rotary Peace Fellowship for professional development study at the Rotary Peace Centre at Chulalongkorn University in Bangkok Thailand."
RI CONVENTION 2019
HAMBURG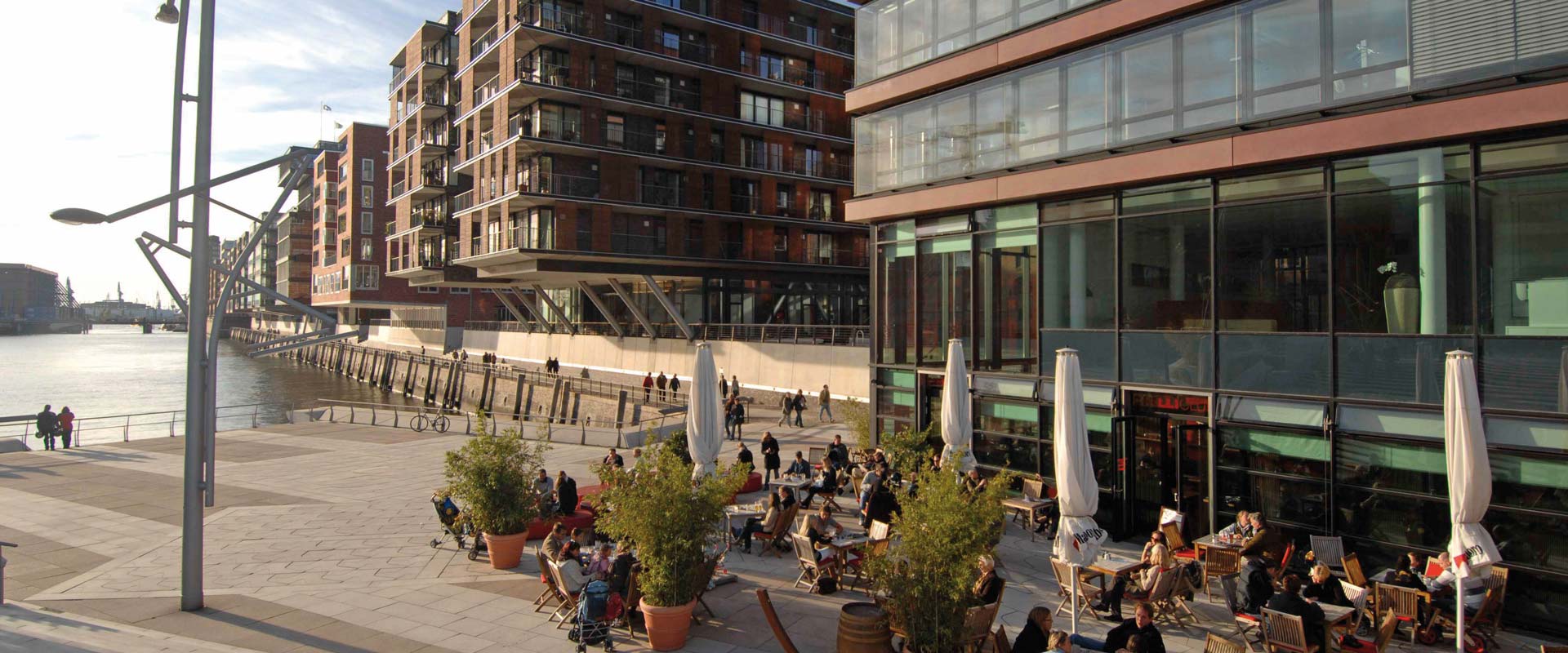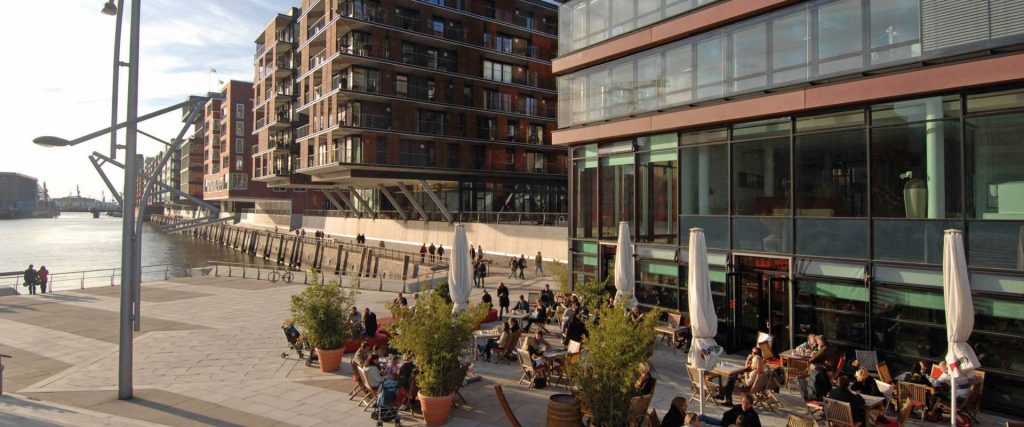 Join us in Hamburg for the Rotary Convention! Don't miss the early registration deadline on 15 December.
Important deadlines
27 June 2018: Last day for special promotional discount
15 December 2018: Last day for early-registration discount
31 March 2019: Last day for preregistration discount
30 April 2019: Last day to request to cancel registrations or tickets
5 June 2019: Last day for online registration
FOOTNOTE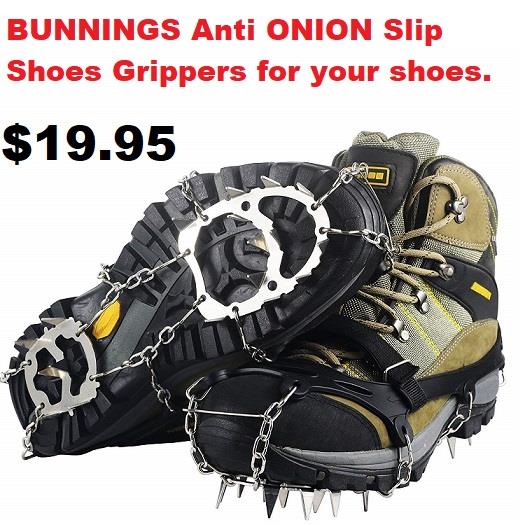 ROTARY CLUB OF COOLAMON Inc. 2018-19
Chartered March 3rd, 1971; Sponsoring Club Narrandera Rotary Club
President: Daryl Breust 0409 551 140
President-Elect: Wayne Lewis 6927 3501
Service Projects: vacant
Secretary: Paul Weston  6927 2972
Treasurer: Henk Hulsman 6927 3486
Rotary Foundation Director: Neil Munro 6927 3156
Club Admin Director:  Daryl Breust 0409 551 140
Youth Director: Dave McKinley 6927 8553
Membership Director: Wayne Lewis 6927 3501
Public Image Directors: Myffy Collette 6927 6313 / Bernadette Milne
Immediate Past President: Paul Weston  6927 2972
Sergeant @ Arms: 
Ted Hutcheon 6927 3349  
Bulletin Editor: 
Sarah Collins 0448 118 003 and Grahame Miles