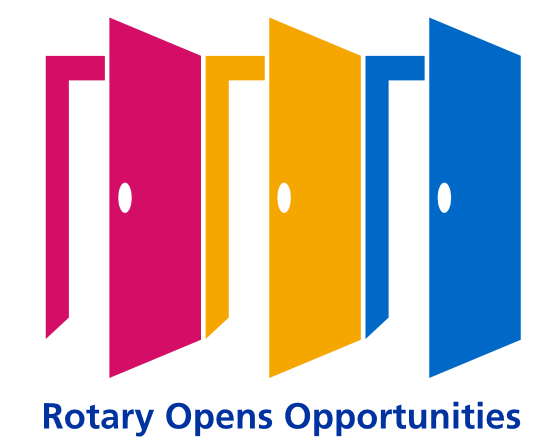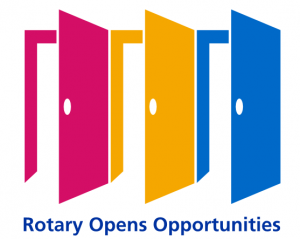 Week of 15th March 2021
Howard welcomed 18 members and 4 guests to our weekly meeting. This week's meeting featured a presentation by Annette St Clair, who established the Amie St Clair Melanoma Trust.  Annette's story was quite moving; she described how her daughter, aged 20, developed a lump in her groin that turned out to be a melanoma,  Over the next couple of years, Amie underwent several surgeries, chemotherapy, and experimental radiowave treatment in an attempt to remove the cancer, all to no avail.  After Amie passed away (at the age of 23), Annette was inspired to establish a trust in Amie's name to help victims of melanoma and their families to endure the medical treatments and life adjustments resulting from this cancer.  Normally, melanoma is preceded by an obvious lesion on the skin (following exposure to UV light, either from the sun or tanning beds), but Amie never had any such lesions (although she might have had one that fell away, which sometimes happens).  Annette concluded her talk by encouraging everyone present (especially those that spend a lot of time in the sun) to have regular skin scans in order to detect melanomas in their early stages, when they're easily managed.  Paul thanked Annette for her moving story and increasing awareness of melanoma, one of the more common forms of cancer afflicting Australians.  (for more information, visit the Amie St Clair Melanoma Trust foundation at https://www.amiestclairmelanoma.org.au/about-amie.aspx.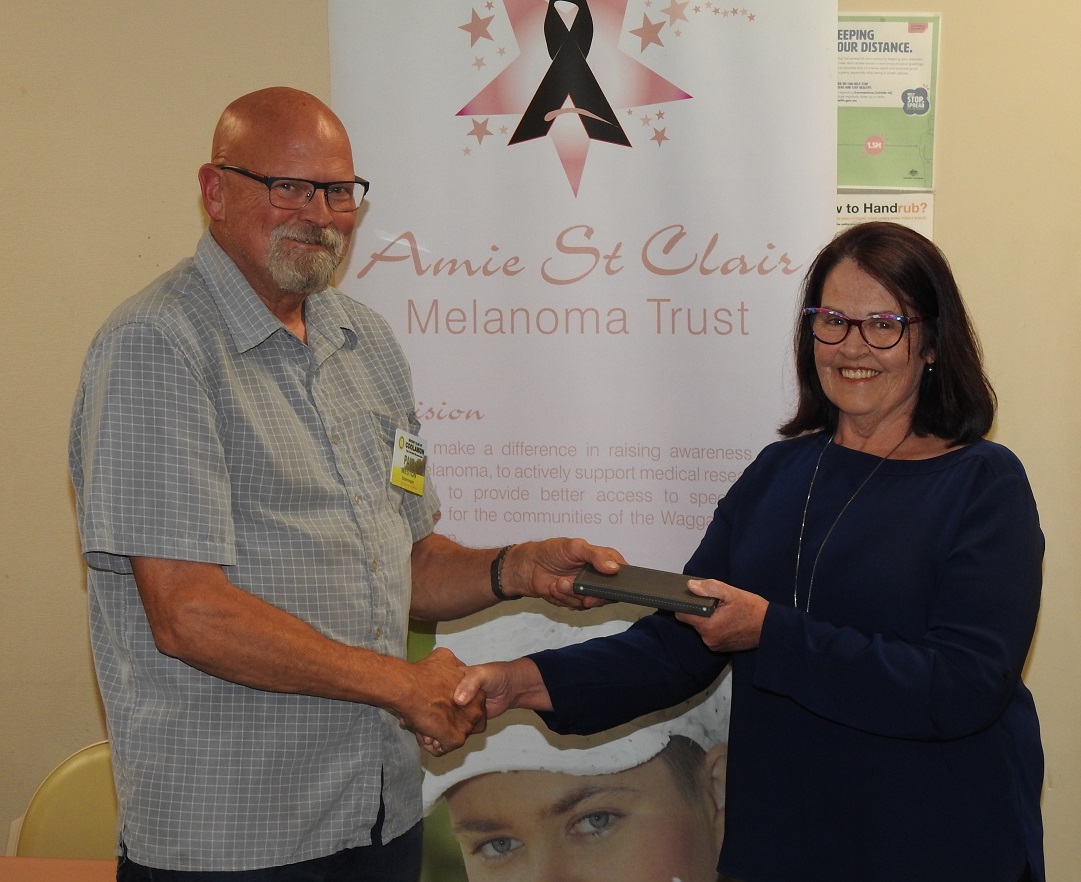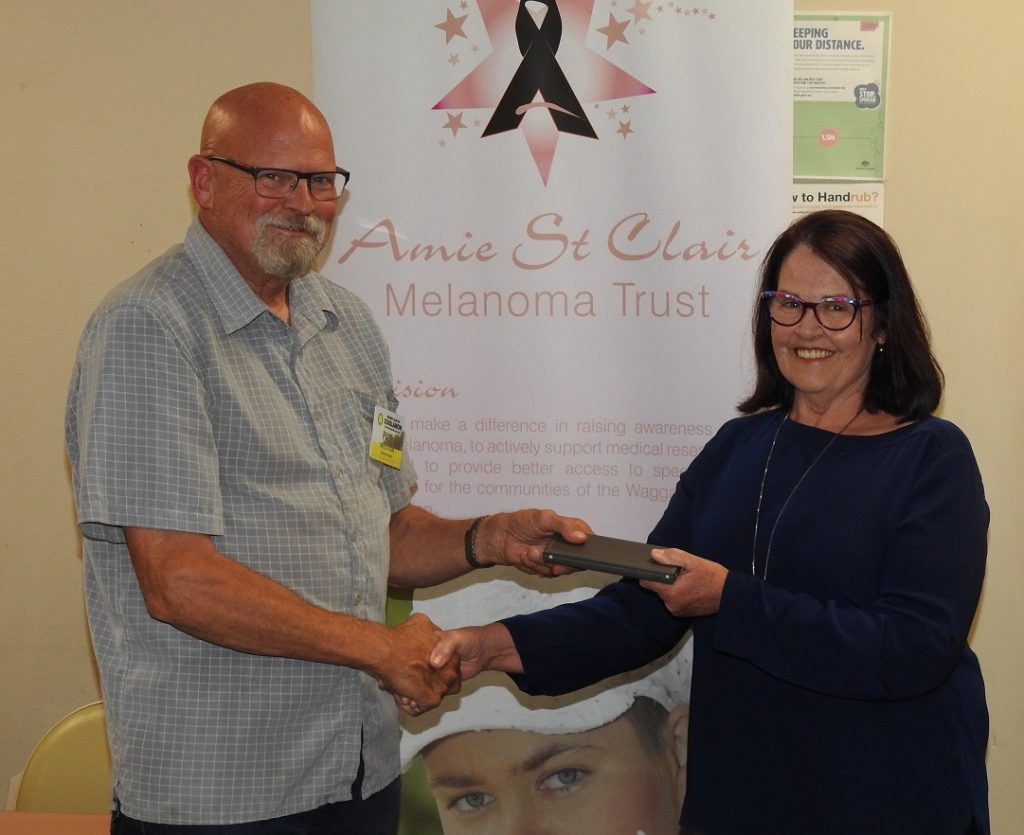 The meeting concluded with a fine session and raffle; fittingly, Annette won one of the raffle prizes.  With regard to the fine session, it must be mentioned that Dick was fined for an event that happened over 20 years ago, which just goes to show how far Albert is willing to go to extract a fine from members!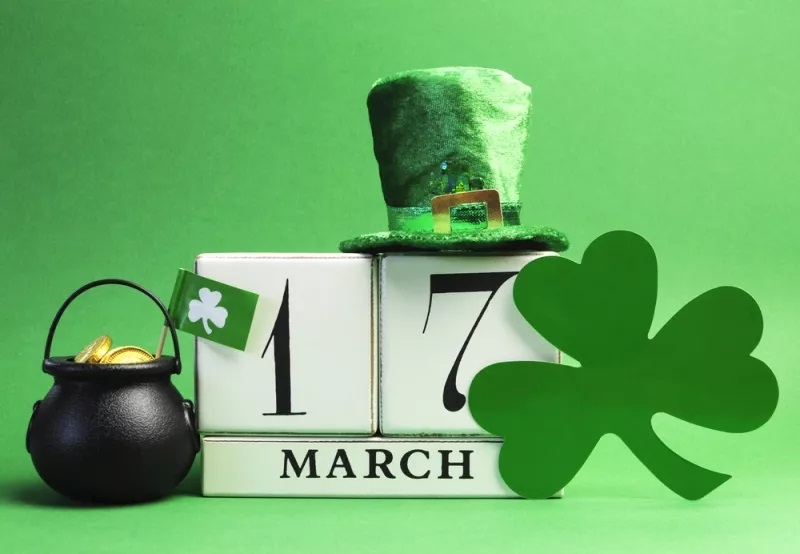 Rewild is hosting a market in Coolamon in collaboration with The Station Collective and The Sill ;
The details:

 Date: Sunday 28th March 2021

 Where: Station Place, Coolamon

 Time: 10am – 2pm
VENDORS WANTED 
 Tap below to join the Rewild Community ~
https://www.rewildandco.com.au/markets/apply/
Sites are limited and we are almost at capacity!
DIARY
Wednesday 17th March – Board Meeting.  Coolamon Sport & Rec Club, 7.30 pm.
Friday 19th-Sunday 21st March – District 9705 Conference.  Bathurst Convention Centre, Bathurst.
Monday 22nd March – Club Assembly. Coolamon Sport & Rec Club, 6.30 for 7.00 pm.
Monday 5th April – NO Meeting (Easter Monday).
Saturday 15th-16th May – D9705 Assembly. Young Services Club, Young.  10.00 am Sat – 1.00 pm Sun.
* denotes partner and guest night
JUST FOR LAUGHS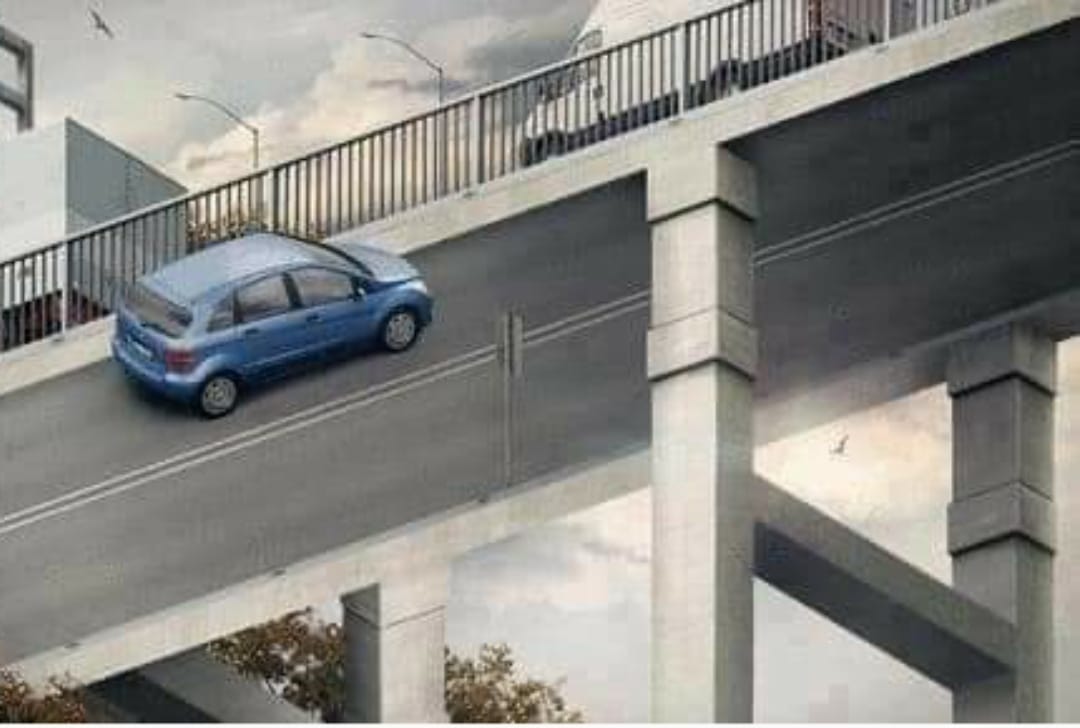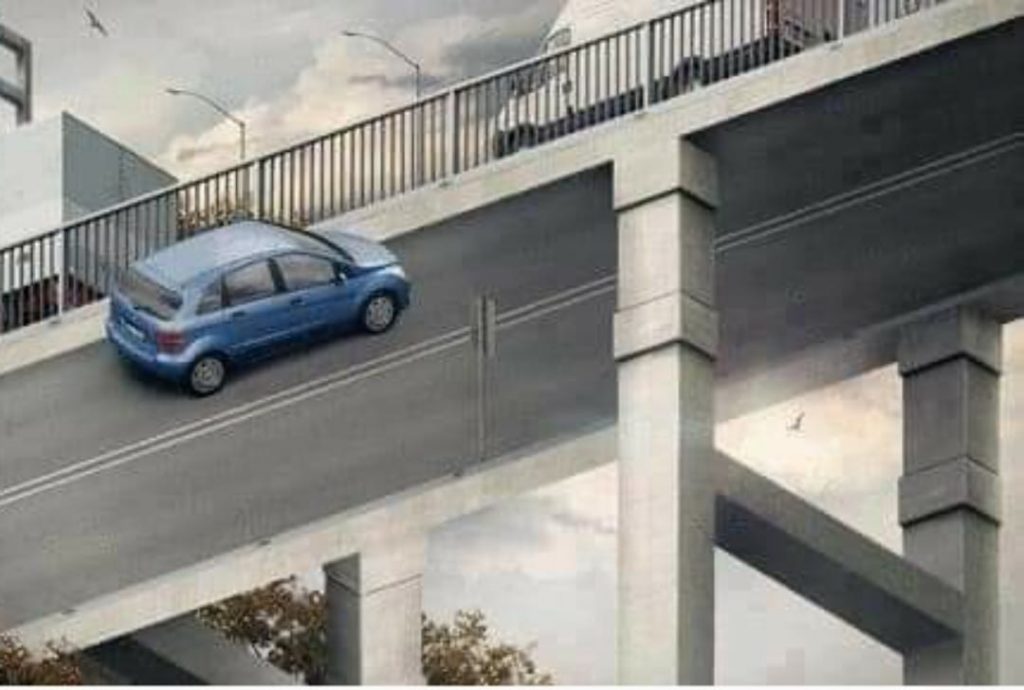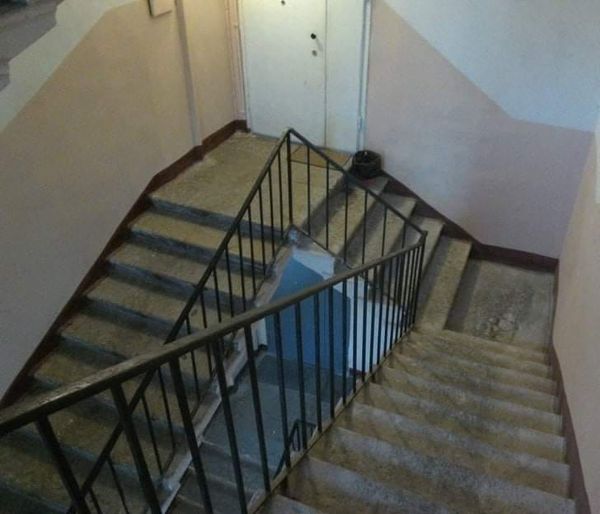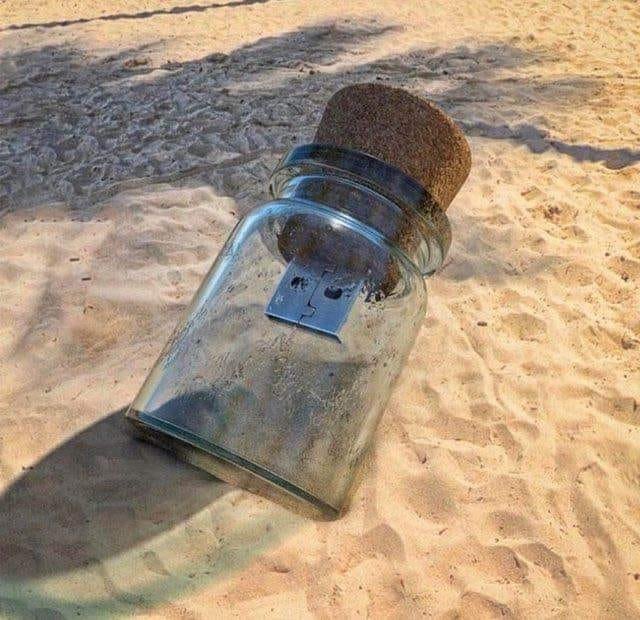 The Bank President
An elderly woman walked into the Bank of Ireland one morning with a purse full of money. She wanted to open a savings account and insisted on talking to the president of the Bank because, she said, she had a lot of money.
After many lengthy discussions (after all, the client is always right) an employee took the elderly woman to the president's office.
The president of the bank asked her how much she wanted to deposit. She placed her purse on his desk and replied, '$165,000'.
The president was curious and asked her how she had been able to save so much money. The elderly woman replied that she made bets.
The president was surprised and asked, 'What kind of bets?'
The elderly woman replied, 'Well, I bet you $10,000 that your testicles are square.'
The president started to laugh and told the woman that it was impossible to win a bet like that.
The woman never batted an eye. She just looked at the president and said, 'Would you like to take my bet?'
'Certainly', replied the president. 'I bet you $10,000 that my testicles are not square.'
'Done', the elderly woman answered. 'But given the amount of money involved, if you don't mind I would like to come back at 10 o'clock tomorrow morning with my lawyer as a witness.'
'No problem', said the president of the bank confidently.
That night, the president became very nervous about the bet and spent a long time in front of the mirror examining his testicles, turning them this way and that, checking them over again and again until he was positive that no one could consider his testicles as square and reassuring himself that there was no way he could lose the bet.
The next morning at exactly 10 o'clock the elderly woman arrived at the president's office with her lawyer and acknowledged the $10,000 bet made the day before that the president's testicles were square.
The president confirmed that the bet was the same as the one made the day before. Then the elderly woman asked him to drop his pants etc. so that she and her lawyer could see clearly.
The president was happy to oblige.
The elderly woman came closer so she could see better and asked the president if she could touch them. 'Of course', said the president. 'Given the amount of money involved, you should be 100% sure.'
The elderly woman did so with a little smile. Suddenly the president noticed that the lawyer was banging his head against the wall. He asked the elderly woman why he was doing that and she replied, 'Oh, it's probably because I bet him $100,000 that around 10 o'clock this morning I would be holding the balls of the President of the Bank of Ireland.
THE PUZZLER
Answer to last week's puzzler: There are a number of  possible solutions to last week's puzzler, one of which is shown below.  This one involves moving the indicated match from the number eight on the left, making it a nine, and placing it  in the middle of the zero on the right, making it an eight.  Now the equation is mathematically correct (9+3=12, and12-4=8).


This week's puzzler: A man looking at a photograph says, "Brothers and sisters I have none, but that man's father is my father's son." Who is in the photo?
ROTARY NEWS
1. MAR 27-28 ROTARY AUSSIE PEACE WALK 2021
A World Peace Bell one of 24 in the World. A 365 kg Temple style Bell hung in dramatic pavilion on the shores of Lake Burley Griffin.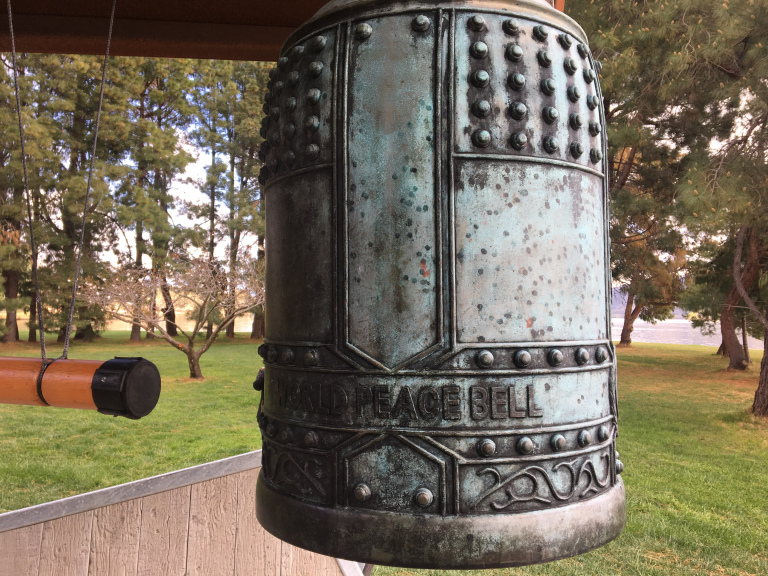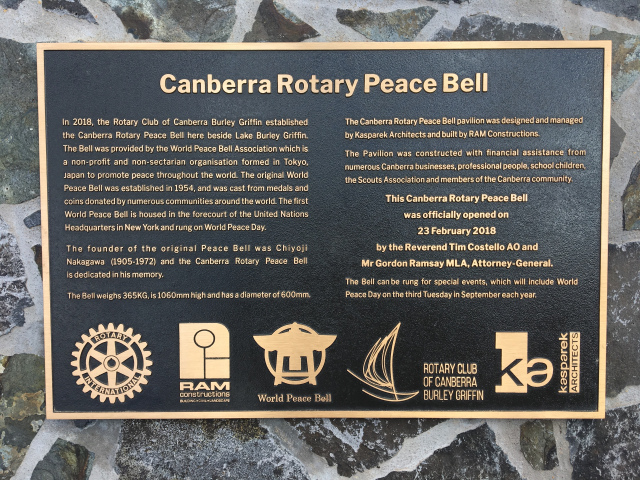 In 2021, Rotary celebrates 100 years of community service in Australia and New Zealand. The 2021 event will also be recognised as the 30th Canberra Two-Day Walk. 
Register now
 for the two day challenge on 
27-28 March 2021
.
Event Director, Chris Edwards, explained a key component of the vision for the 2021 event; 'By renaming the event the Rotary Aussie Peace Walk, we hope to create a colourful festival weekend focused on peace. And, because of travel restrictions, our overseas friends can't get here, so we encourage every entrant, to choose a country to represent. It may be their place of origin or just a country they are passionate about. But to choose a country and bring a little of the culture of your chosen country to the event.'
2. New Rotary Foundation grant supports scaling proven malaria program in Zambia
The $2 million grant goes toward Rotary club-led Partners for a Malaria-Free Zambia program; an additional $4 million contributed by partners the Bill & Melinda Gates Foundation and World Vision USA.
MARCH 14th
Every year on March 14, the world celebrates Pi Day to recognise the mathematical constant, pi (π). It defines the ratio of a circle's circumference to its diameter (circumference = π*diameter) and the value for π is 3.14. The day was recognised in 1988 by physicist Larry Shaw as he organised a large-scale celebration at the San Francisco Exploratorium in the United States. In 2019, UNESCO's 40th General Conference decided to observe Pi Day as the International Day of Mathematics.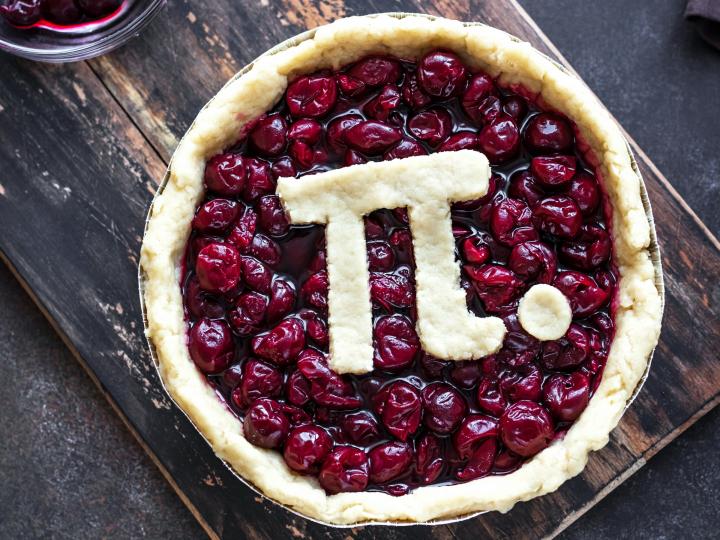 March is Rotary Water and Sanitation Month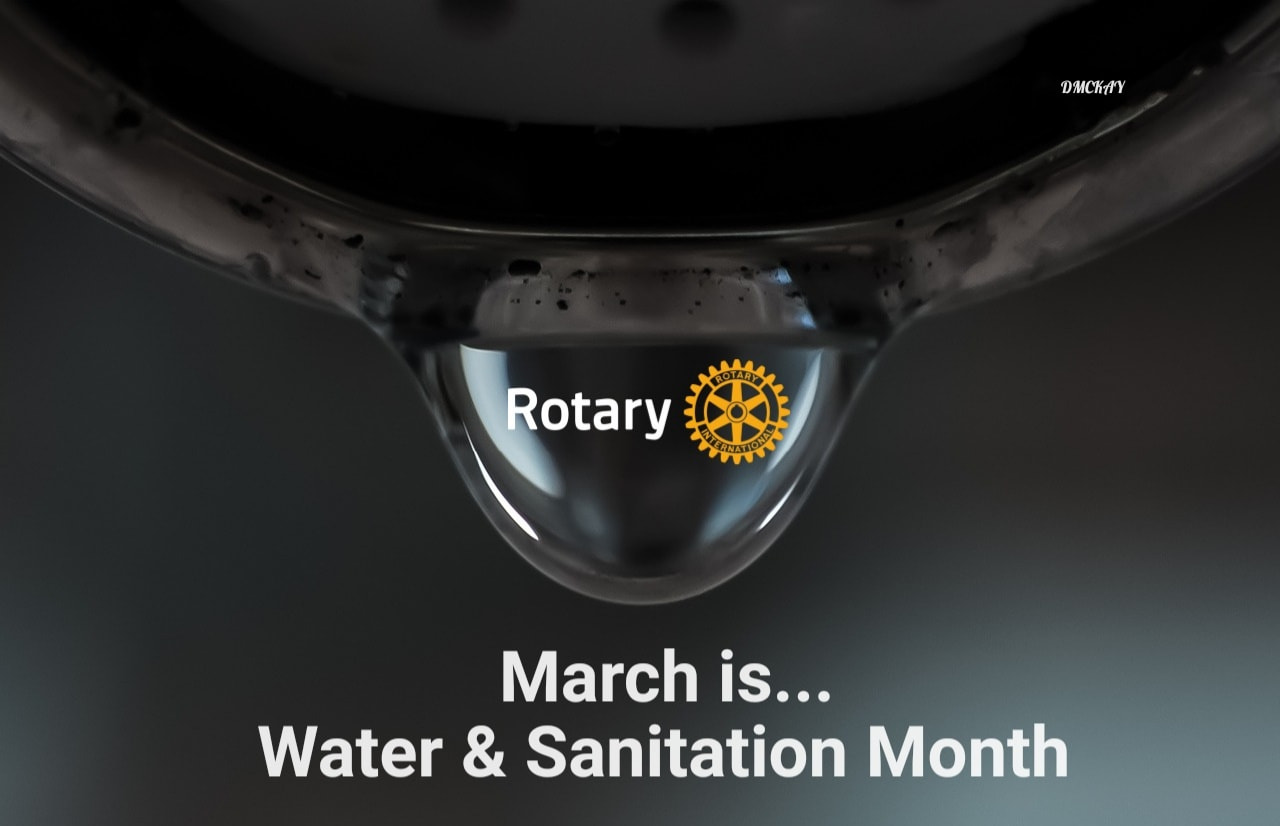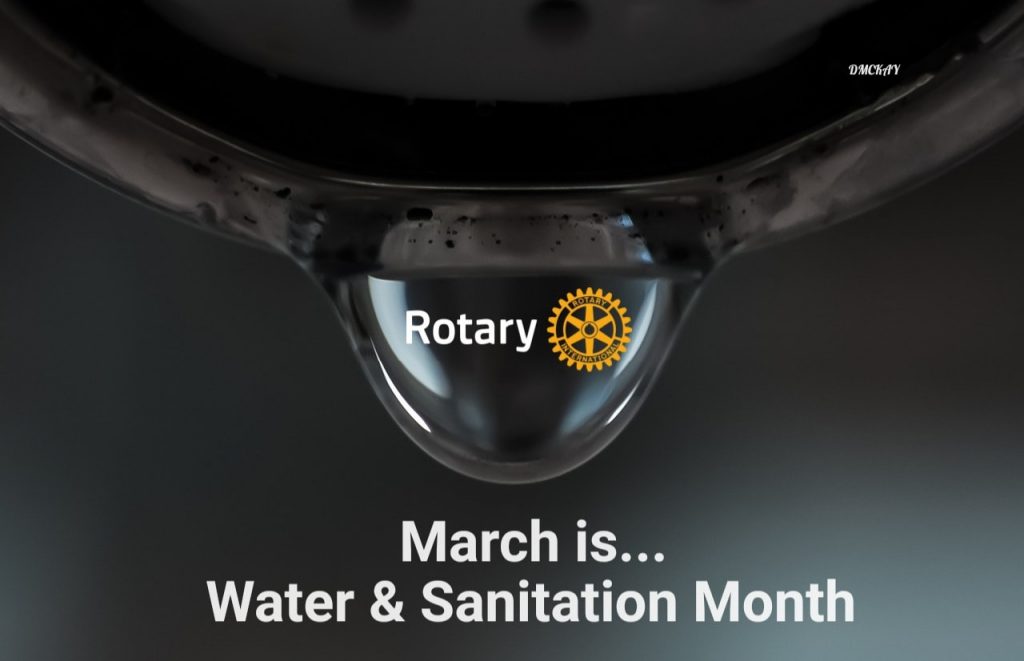 Graphics by Debbie Vance McKay from Canada
ROTARY CLUB OF COOLAMON Inc. 2020-21
Chartered March 3rd, 1971; Sponsoring Club Narrandera Rotary Club
President: Howard Atkinson
President-Elect 2021-2022: Albert Suidgeest
President-Elect Nominee 2022-2023: Paul Weston
Secretary: John Glassford
Treasurer: Henk Hulsman
Rotary Foundation Director: Neil Munro
Membership Director: Dick Jennings
Service Projects Director 1: Albert Suidgeest
Service Projects Director 2: Dave McKinley
Youth Services Director: Anne Rzeszkowski
Club Admin Director:  Paul Weston
Public Image Director: Grahame Miles
Immediate Past President: Daryl Breust
Sergeant @ Arms: Albert Suidgeest
Bulletin Editors: Paul Weston and John Glassford
Webmaster: John Glassford