Meeting of Monday 14th August
President John Bond welcomed 21 members and our guest speakers from Wollundry Rotary Club:  Phil McIntosh, David Byfield, Peter Crozier and Phil Burgess.
John Bond then spoke about the volunteers required for this Saturday's Ganmain Show as parking attendants.  Adrian Lindner has it covered with 12 volunteers.
Marrar Madness Bear Brian Pattison spoke on what we will need and again Adrian has a list for volunteers going around for members.
Mary Post advised the meeting that Mary had visited Neil Munro in hospital and Neil sends his regards to all of us.  Neil is undergoing dialysis at the moment prior to treatment for his blood disorder.  Neil loves all the cards and wishes from members.
Ian Jennings reported that Dick was having both knees replaced.
Henk Hulsman requested that all the 2018 telephone books be returned by the 21st August meeting with indications as to who is not around or have moved.
Paul Weston advised all board members of the next Board meeting to be held at 5.15pm on Monday 21st at the Sports Club.
Gears and Beers by Phil McIntosh Wollundry RC.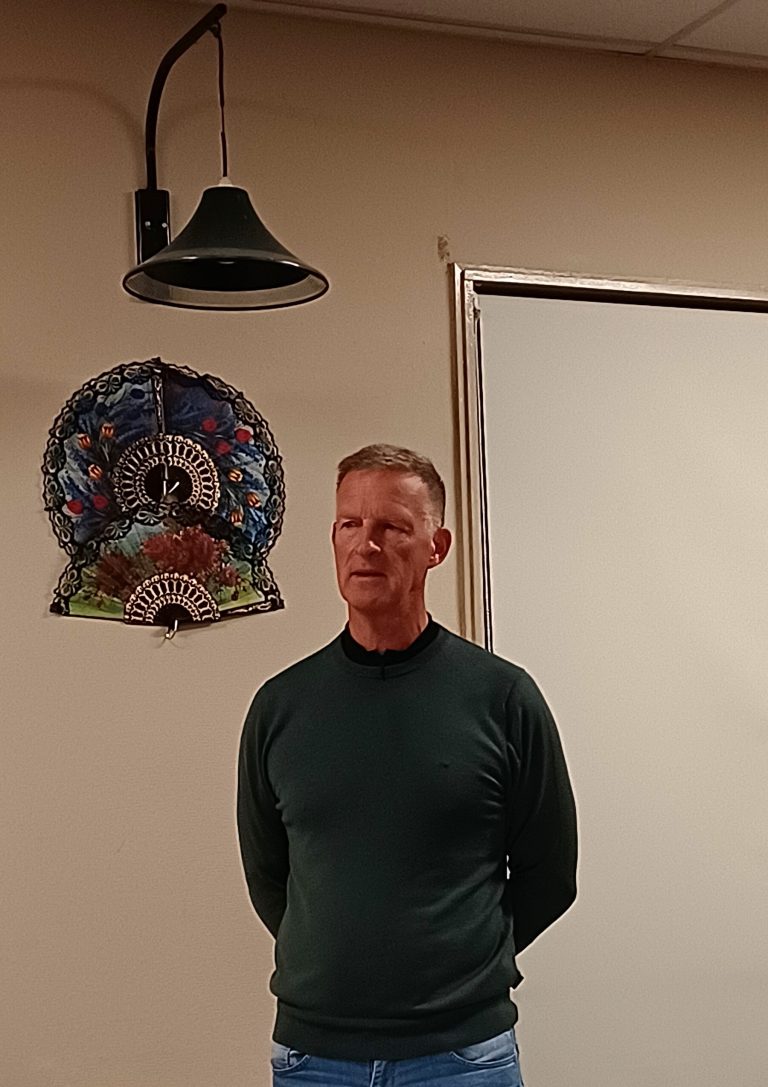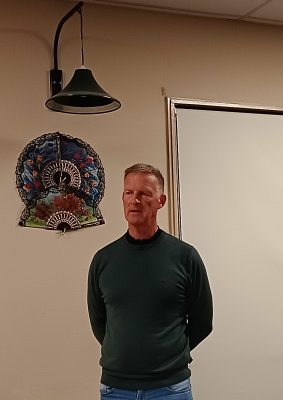 Phil gave us the details for the upcoming Gears & Beers weekend, Saturday 30th September-Sunday 1st October.
Modern technology let us down tonight so Phil's talk was verbal and an excellent outline of what we will be doing on Sunday 1st October.  Phil started by thanking Adrian Lindner for the use of his canola paddocks for the 2022 Gears & Beers event.  Phil said it was an outstanding way to introduce city folk to the country life.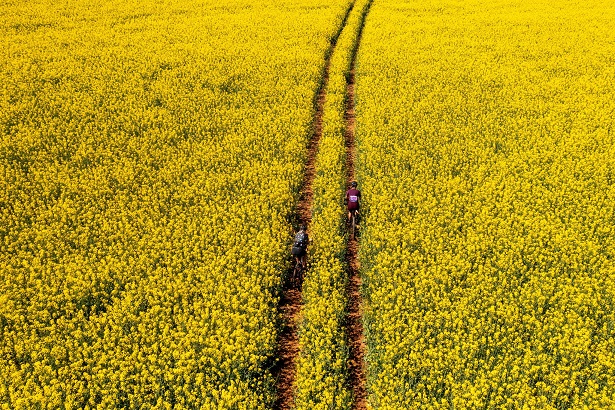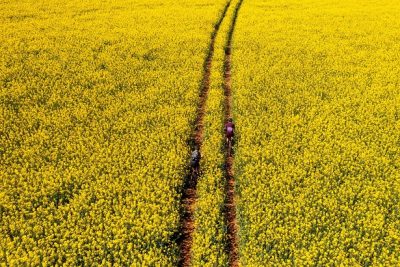 Phil went on to say how much the riders appreciated the Coolamon hospitality and especially the legendary ANZAC biscuits.  The contribution from Coolamon is immense and so much appreciated by Phil and his committee.
Phil gave us more information for Albert Suidgeest and Bear Brian Pattison and their committee.  Daryl Breust will be in Europe for this year's Gears & Beers.  However it is in good hands.
The main event the Dirty 130 leaves Wagga at 7.00am on Sunday 1st October and will be in Coolamon by 9.00am.  This year they will be coming in from a different direction.  The routes are available here on the Gears & Bears website:
Gears & Beers October 1st 2023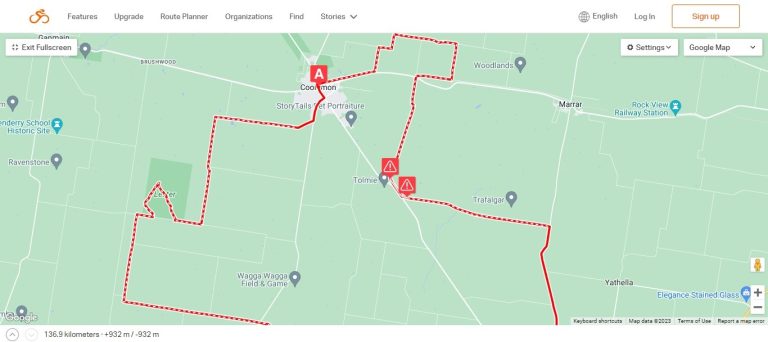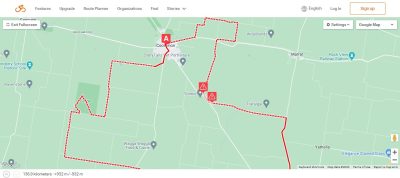 Phil went on to say that the Dirty 130 is not a race and that they work on ideas like the canola crop as a way of local community attractions.  This generated a couple of responses from the members including Ian Jennings suggesting that one such attraction would be Barry Langtry's machinery shed.  Bruce Hamilton offered a mob of sheep to ride through if they went further South next time.
Phil then said that the 115km ride will be going via Marrar and expected in Coolamon at 9.15am.  Phil encouraged us to have plenty of colourful bunting in Lions Park and create a festival like atmosphere.  Phil concluded by saying that the entries are down this year however they hope to reach 2,000 riders.
You can also look up the Gears & Beers Facebook page and they are also on Instagram:
President John Bond thanked Phil and Wollundry Rotary Club and guaranteed that we would be there on Sunday October 1st.
S@A Garth Perkin held a short impromptu fines session and the raffle was won by Craig Lambert.
DIARY
N.B. You are always welcome to bring guests to most of our meetings, just advise Ian Jennings if you want to bring a guest along when you respond to the weekly dinner roll call!
Saturday 19th August – Ganmain Annual Show.  CRC members will support the Lions Club of Coolamon for car parking duties.  Ganmain Show
Monday  21st August – CRC Board Meeting.   Coolamon Sport & Rec Club, 5.00 for 5.15 pm.
Monday  21st August – Normal Meeting.   Coolamon Sport & Rec Club, 6.30 for 7 pm.
*Saturday 26th August – Junee Rotary Club evening with Rtn Ken Hutt RC of Berry. Ken will talk on "The attempt to paraglide off Mt. Everest."   Junee Ex Services Club, 6.30 for 7.00 pm. Cost is $30.00 per head to benefit Polio Plus .
Details in the attached pdf file below:
Saturday 16th September – Marrar Madness  Car Parking volunteers needed.  10.00am-6.00pm
Saturday September 30th and Sunday October 1st. Gears & Beers Wollundry RC Weekend.
Saturday 7th October and Sunday 8th October – Volunteers needed see Mary Potts for the
Friday 20th-Sunday 22nd October – Rotary District 9705 Annual Conference. Queanbeyan.
* Partner's night
JUST FOR LAUGHS
N.B.  ALL of the above images were obtained from Facebook
ROTARY NEWS
Corporate Social Responsibility Grants
This is an exciting new way to get a grant from our Foundation in conjunction with a corporate sponsor.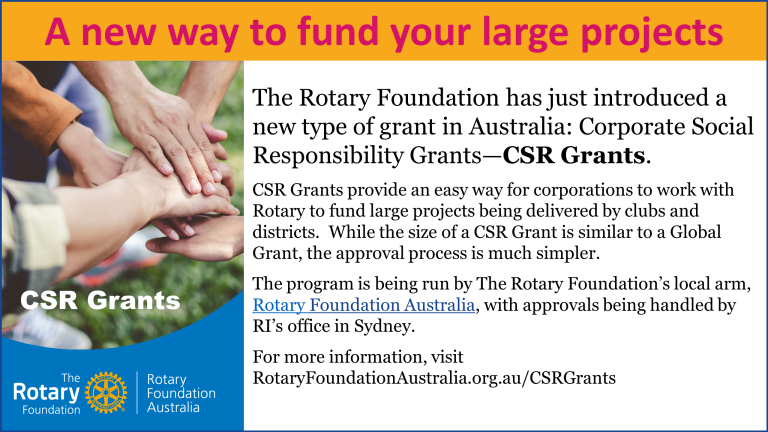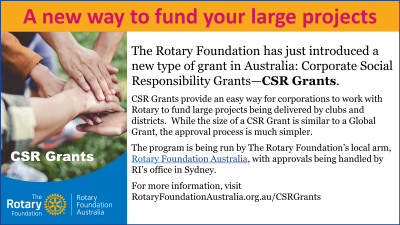 https://www.rotaryfoundationaustralia.org.au/csrgrants
CSR Grants provide a straightforward way for corporations to engage with Rotary in the delivery of mutually agreed outcomes.
For example, if a corporation has a focus on making a difference in the education of children in indigenous communities, chances are there's a Rotary club that will have very similar aspirations—along with the 'feet on the ground' to bring the project to life.
In other cases, an Australian Rotary club may, as an example, be looking for funding for a project that will deliver outstanding outcomes in the growth of small businesses in a country where the corporation is doing business. Rotary's network of over 35,000 clubs, in almost every country in the world, can help make this possible.
August is Rotary's Membership & New Club Development Month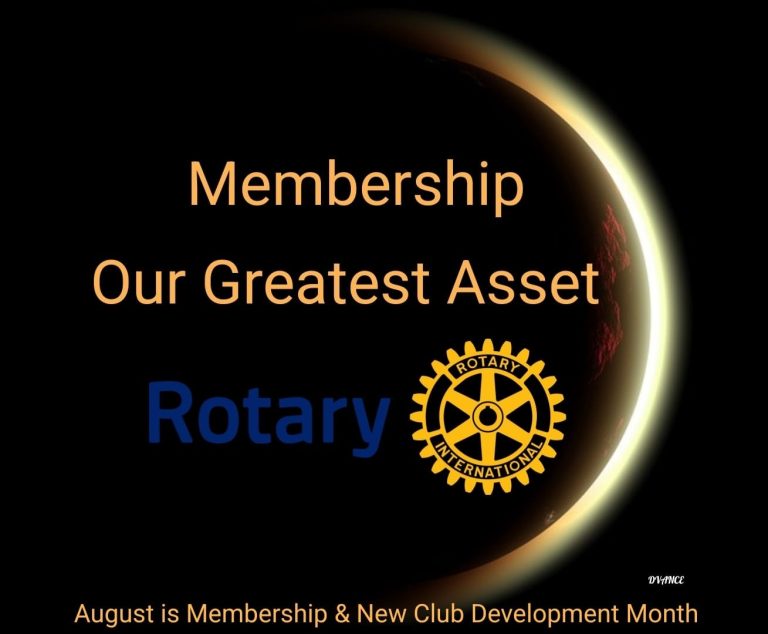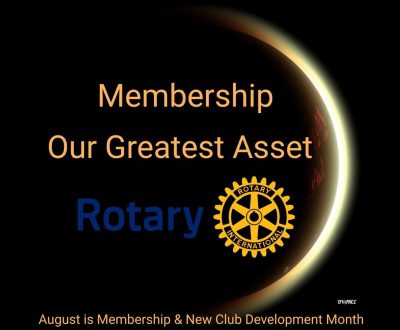 Graphics by Debbie Vance from Canada
ROTARY CLUB OF COOLAMON Inc. 2023-24
Chartered March 3rd, 1971; Sponsoring Club Narrandera Rotary Club
President: John Bond
President-Elect 2024-2025: Adrian Lindner
Secretary: Paul Weston
Treasurer: Mary Potts
Membership Director: Leslie Weston
Service Projects Director:  Adrian Lindner
Youth Services Director: Scott Mudd
Club Admin Director:  Henk Hulsman
Public Image Director: Grahame Miles
Sergeant @ Arms: Dick Jennings
Immediate Past President and Vice-President: Paul Weston
Bulletin Editors: Paul Weston and John Glassford
Webmaster: John Glassford