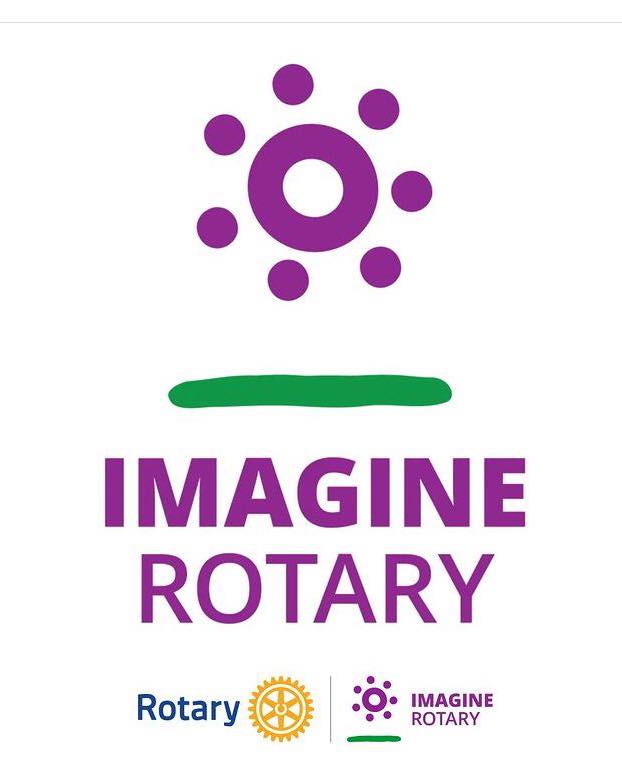 MEETINGS OF MARCH 2023
Click on the link below for the full Monday meeting report sent on the 6th of March:
Meeting of Monday 13th March.
President Paul Weston welcomed 22 members and three guests:  Gary Truscott, Barry Langtry and Ann Weedon.  Tonight we did not have any guest speakers, so it was fellowship and a good time was had by all.
Some reminders included:
Saturday 18th BBQ lunch at Garth Perkin's home 12.00 midday onwards.
Red Shield appeal 21st May 2023 looking for volunteers.
Next week we have a Rotary Foundation meeting with guest speaker Rob Byrne from RI Oceania HQ in Sydney.
Change Over Dinner agreed for Monday July 3rd.
Ideas canvassed for guest speakers.
 Craig Corrigan has resigned as a member of the CRC.
GARTH'S PARTY.
Many friends of Garth attended his party on Saturday 18th March someone said it was Garth's 80th!  The Wagga Wagga Rugby choir turned up and sang for our entertainment, they are very good.  Many attending were non Rotarians however many of us did join in the afternoon.  Great food and meeting new and old friends was special. 
Thank you Garth:
Meeting of Monday 20th March.
President Paul Weston welcomed all our guests and 18 of our own members.  Our guests included Rotarians and partners from Junee RC, Narrandera RC, Wagga Wagga Sunrise RC, RC Wollundry Wagga, Wagga Wagga Kooringal RC, Melissa Mudd, Ann Weedon and our two potential new members Barry Langtree and Gary Truscott.
We had in all 45 people in attendance for dinner and to listen to our guest speaker:
ROB BYRNE
Senior Coordinator – Foundation Services
Rotary International Norwest SYDNEY.
Rob was introduced by our Foundation Director Neil Munro.  Neil organised the event and did a wonderful job, thank you Neil.
Rob gave a thorough and very interesting talk on the Rotary Foundation and the good that we do as Rotarians around teh world.  Rob explained in great detail where the funds we raise go to what impact the Foundation delivers and above all what TRF does for us as Rotarians.
Rob explained how or grant system works with District Grants, Disaster response Grant, Global Grants and our Overseas Aid Fund.
A new area of funding projects within Australia is now active encouraging corporate bodies in Australia to become involved in worthwhile projects in Australia.  This project is known as the Australian Corporate Engagement Programme.  Some examples of what this programme can achieve include:
RC of Cairns Trinity received a global grant of $50,000 from our Foundation for a low level literacy programme.  
Low Level Literacy Programme RC Cairns Trinity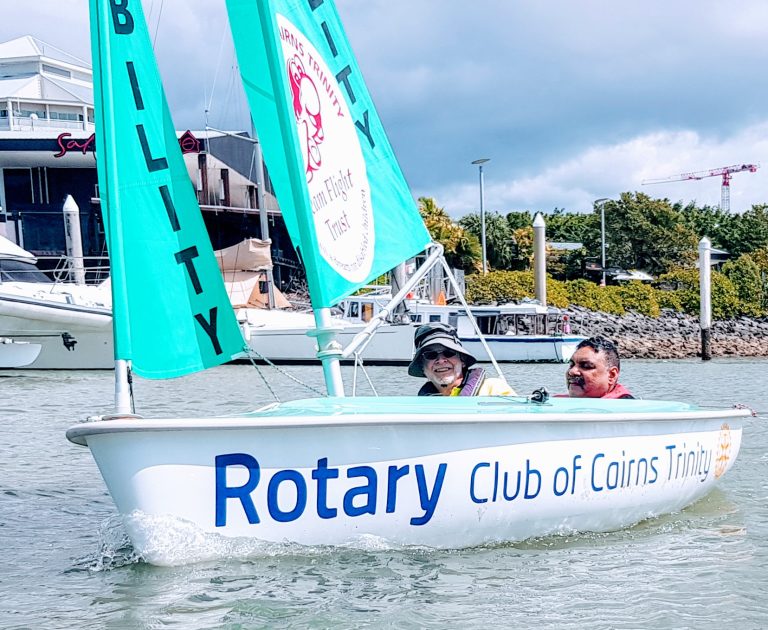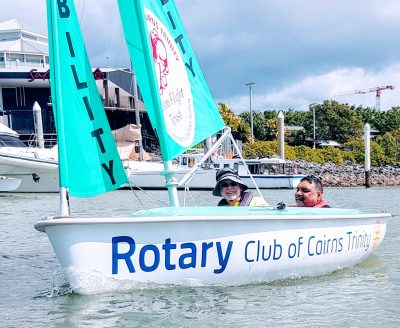 2.  RC of The Hills Kellyville eye clinic at the Westmead Children's Hospital in Sydney achieved a global grant of $64,000.  
RC of The Hills Kellyville Facebook Page
3.  Rotary Give Every Child a Future this project has raised over $3.7 million to date in partnership with UNICEF, the Asian Development Bank and Rotary districts .
The goal is to protect 100,000 children from rotavirus, pneumococcal disease and cervical cancer across nine South Pacific Island countries over three years. We are committed to . . .
Rob concluded with the many ways we can as Rotarians contribute to our Foundation.
Centurion Club
Paul Harris Fellow Recognition.
Paul Harris Society
Club as a Major Donor
The Bequest Society
Become an End Polio Club
Some photos of the evening:
PP Daryl Breust gave Rob a sincere vote of thanks
GIGI in Coolamon donated a lovely hamper for the raffle of which the proceeds go to our Foundation.  This was won by Deidre Tome from Wagga Wagga Sunrise RC.
Please support GIGI:
99 Cowabbie St, Coolamon (02) 6927 2501
Meeting of Monday 27th March
Tonight President Paul welcomed 18 members including our two new members in Gary Truscott and Barry Langtry.
Our guest speaker was Deidre Tome form Wagga Wagga Sunrise RC and her husband Philip Tome from Kooringal Wagga Wagga RC.
Neil Munro called for a minute's silence in memory of Stuart Allen who passed away.  Stuart was a member of Lions Coolamon and well known in Coolamon.
Paul advised the meeting that we would be inducting our three new members on Monday 17th April and that partners and guests are encouraged to attend.
GUEST SPEAKER DEIDRE TOME
Deidre is one passionate Rotarian and Deidre is a firm believer that for a community group to thrive, those who participate in it must set aside their time to helping it operate and run as smoothly as possible.
It is this attitude and her unrivalled dedication towards volunteering that has earned her the title of Wagga's 2022 Citizen of the Year.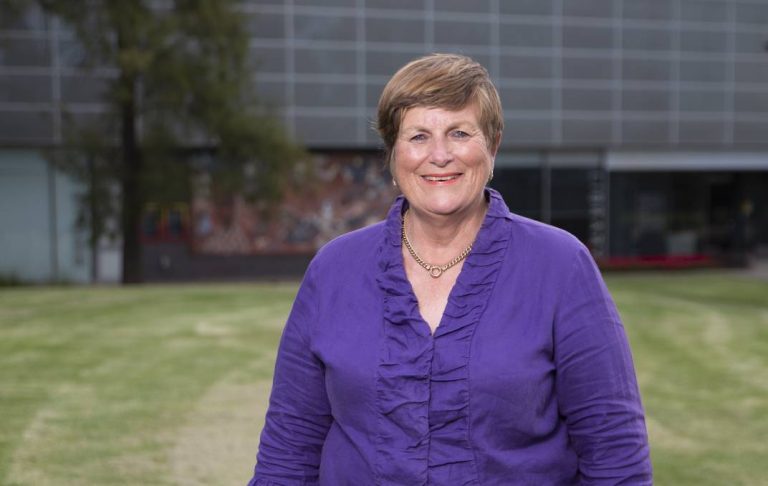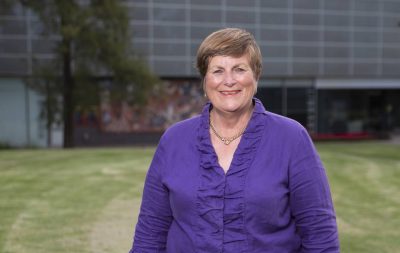 Deidre is a very hard worker for the Rotary District Peace Communities Programme and Deidre told us:
THAT Peace begins with ME + YOU making a difference …
Rotary service projects are projects for peace.
Through service projects, Rotarians are taking action to address the underlying causes of disadvantage and disharmony within our communities, locally and globally. These projects are making a difference to ourselves, our families and our communities.  The idea of Peace Communities was initiated in District 9700 with Wagga Wagga being declared the world's first Rotary Peace City in 1993. 
Embraced by many Rotary districts and clubs, designated Rotary peace communities can now be found around the world. Including Coolamon 25 years ago now on the 26th January 1998.  Deidre always looks our for our flags in Lions Park when they visit Coolamon.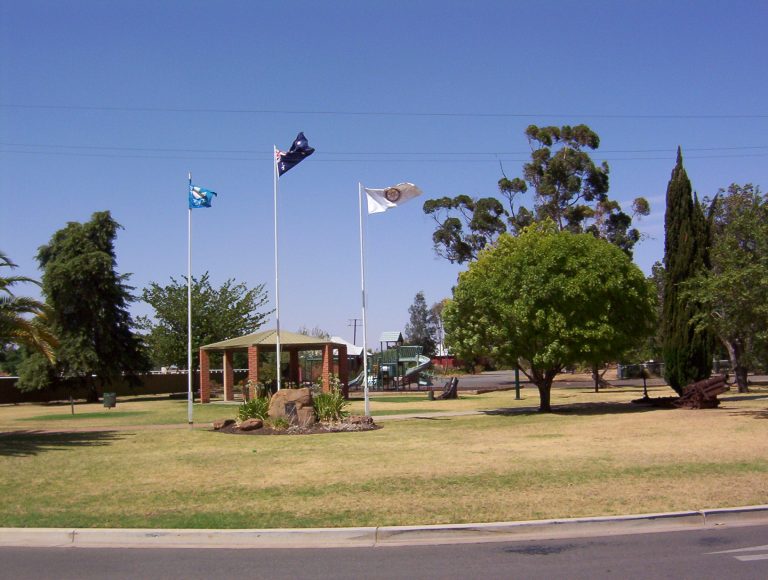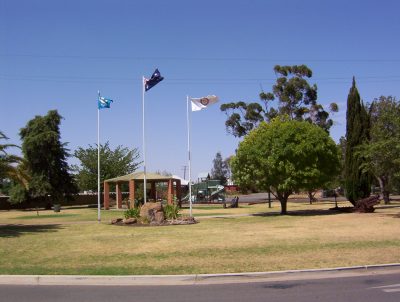 While the projects speak for themselves, Rotarians committed to furthering peace often set up peace symbols on suitable sites where community members can meet on significant days to recognise the achievements and contributions made by students, schools and organisations within the community using the program's credo.
Credo of the Rotary District Peace Communities Program
Respect for the life and dignity of every person, without discrimination or prejudice
Rejection of violence in all of its forms and towards all people
Resolution of conflict among people within local and global communities
Reconciliation of differences and the pursuit of harmony
Freedom of expression and cultural diversity
Deidre asked many questions of us and what we see a peace community as being.  It is as important for our local community a sit is for the world.  Some 70 million people are displaced around the world due to conflict and the change to our climate.
Deidre concluded her talk with a description of Rotary Peace Poles and Rotary Peace Bells such as the one in Cowra.
What is a Peace Pole? A Peace Pole is an internationally recognized symbol of the hopes and dreams of the entire human family, bearing the message May Peace Prevail on Earth in different languages on each of its four sides.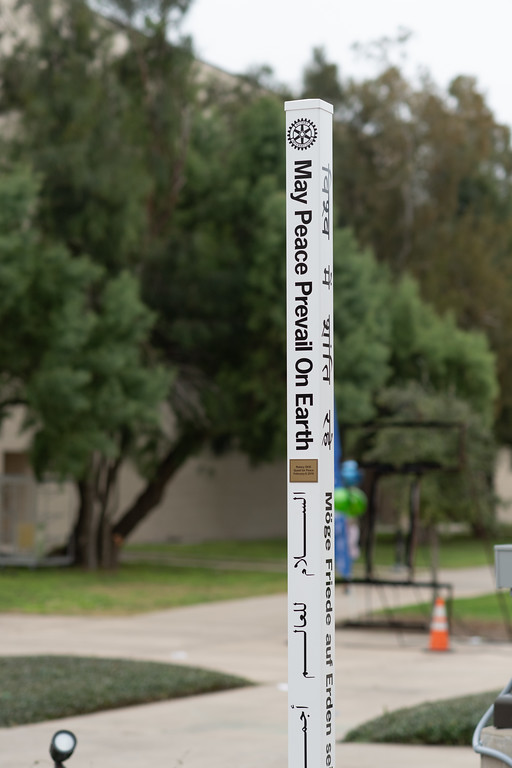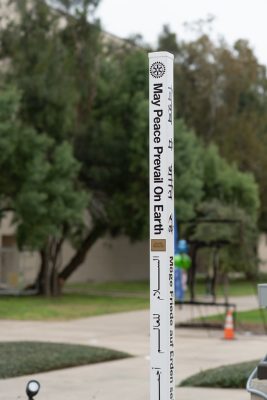 "Peace begins with a smile"  Mother Teresa.
We finished on time with a fines session by Dick Jennings and as always with Dick no one was spared.
DIARY
N.B. You are always welcome to bring guests to most of our meetings, just advise Ian Jennings if you want to bring a guest along when you respond to the weekly dinner roll call!
Monday 10th April EASTER Monday NO Meeting.
Monday April 17th Board Meeting at the Sports Club at 5.15pm.
Monday April 17th Normal Meeting at the Sports Club 6.30 for 7.00pm start.
Tuesday May 9th – Friday May 12th Road Safety Awareness or RYDA Rotary Youth driver Awareness.  Coolamon Central School will have 23 students on Wednesday 10th May.  VOLUNTEERS NEEDED.
Saturday to Wednesday 27-31 May — Rotary International Convention, Melbourne, Australia.
*Friday 16th June 2023:  LIONS Coolamon 2023 Changeover Dinner.  7.00pm for 7.30pm $35 per head at the Coolamon Sports Club.  Dress: Jacket & Tie or Ladies Equivalent.  RSVP Email: [email protected]
*Monday July 3rd CRC 52nd Change Over Dinner: 6.30pm for 7.00pm start at the Coolamon Sports Club.
* Partner's night
JUST FOR LAUGHS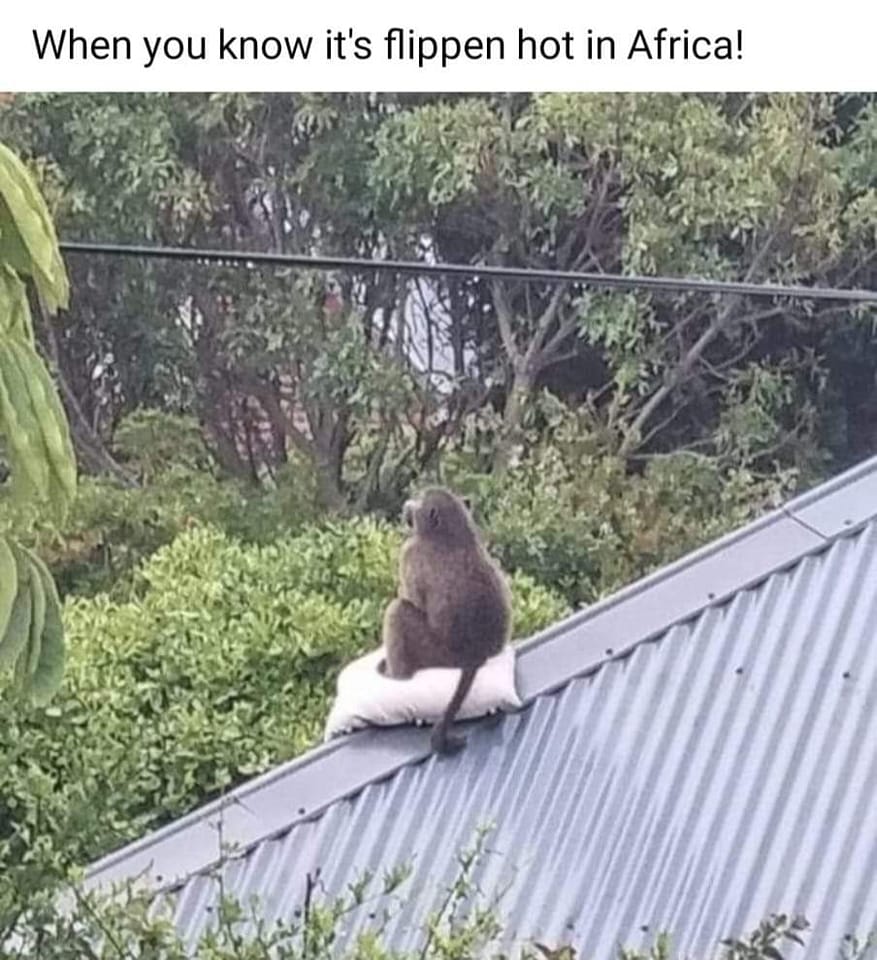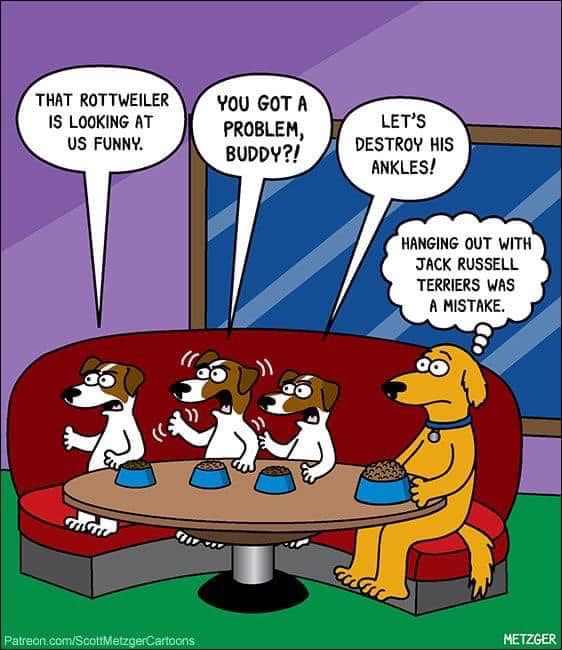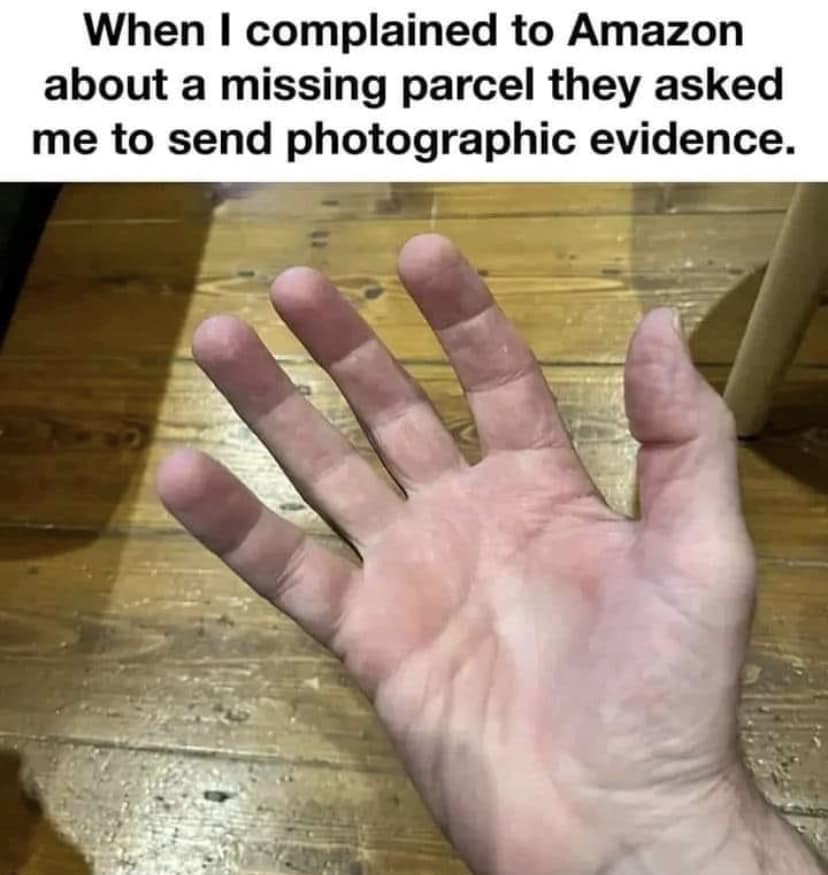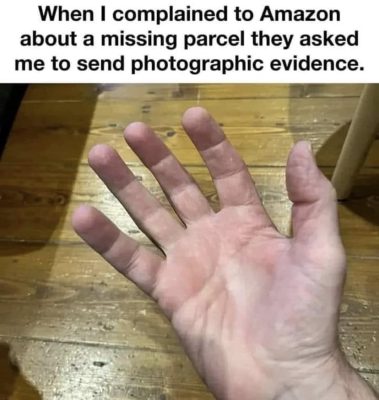 THE PUZZLER
Answers to the last puzzlers:
Easier one: red paint
Harder one: This is possible if the 22nd and 24th president were the same person! In fact, this really happened; Grover Cleveland served as both the 22nd and 24th President of the US.
This month's puzzlers:
Easier one: How does Easter end?
Harder one:  How can you make Easter easier?
ROTARY NEWS
1.  THE ENVIRONMENT AND ROTARY
April is Rotary's Environment Month
The Rotary Foundation Trustees and RI Board of Directors both unanimously approved adding a new area of focus: supporting the environment. Creating a distinct area of focus for the environment will give Rotary members even more ways to bring about positive change in the world and increase our impact. More details will be announced soon…..  
The Rotary Foundation Trustees and Rotary International Board of Directors have both unanimously approved adding a new area of focus: supporting the environment.
More than $18 million in Foundation global grant funding has been allocated to environment-related projects over the past five years.
Seventh Area of Focus the Environment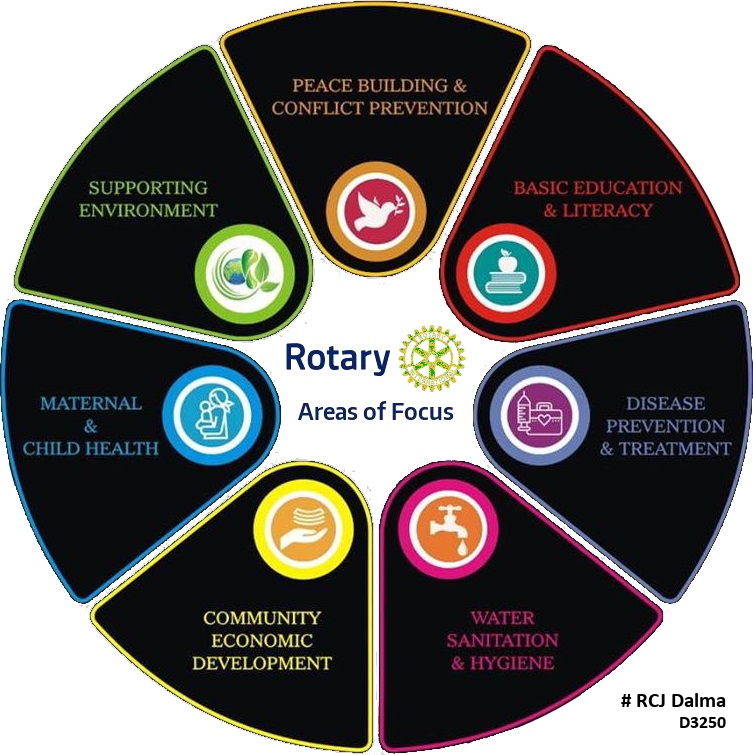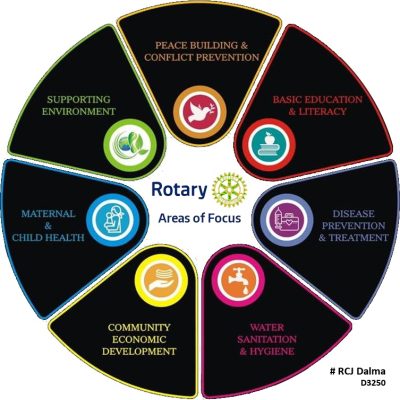 2.  YOUR FOUNDATION AT WORK
COOLAMON HOUSE HOUT BAY
Following the very interesting talk by Rob Byrnes from the Rotary Foundation here is one of the two projects in Africa that we have received a grant for.
Coolamon House, as it is known in Hout Bay, is in honour of our Rotary club, and was opened in 2013. Our club project Road MAPS to Africa, raised approx. $US 100,000 or 1 million South African Rand, for the clinic in Hout Bay. This included a Rotary Foundation Matching Grant for US$22,000.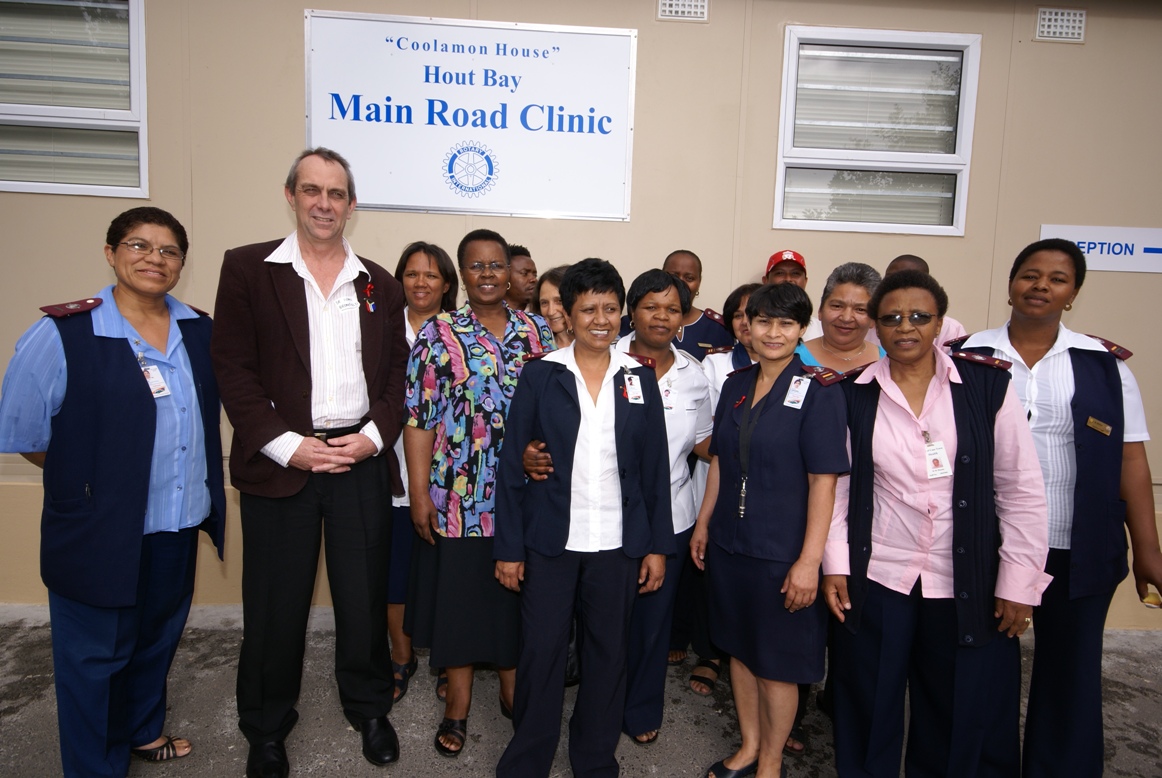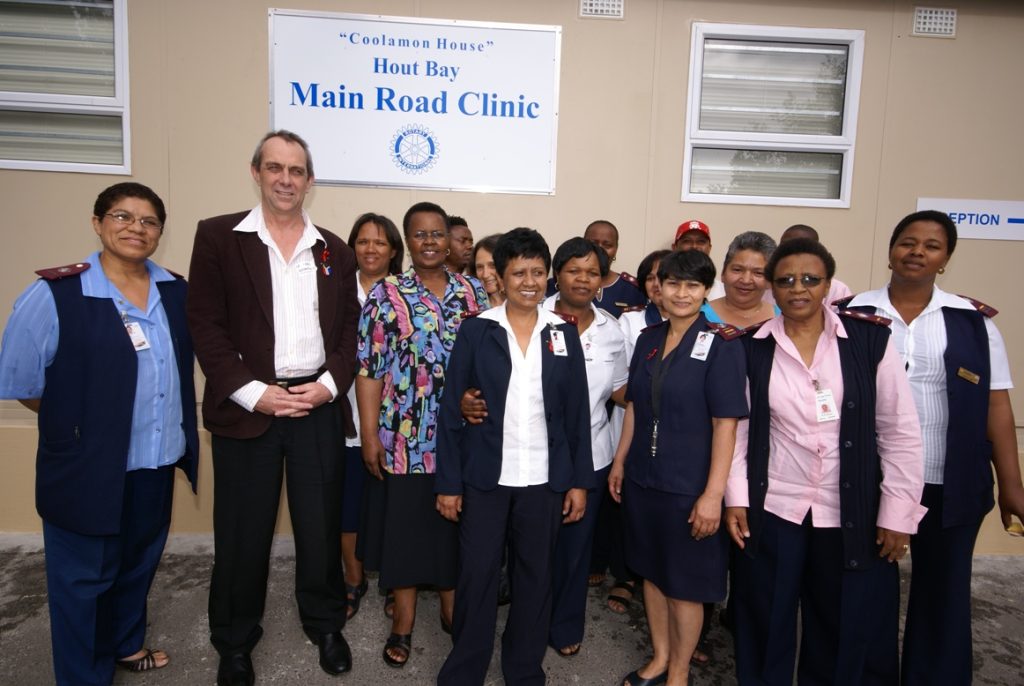 Above: Dr Ivan Bromfield, on the left, City of Cape Town Director of Health, who officiated at the opening of Coolamon House and seen here with clinic staff, said it was a "wonderful example of international communities and Rotary working together to save lives". In the centre is Sister Carolus.
This project will enable the small clinic to seriously begin the fight back on HIV/Aids and TB in the nearby poverty-ridden shack township of Imizamo Yethu. Over 4,500 patient calls a month are handled by Sister Carolus in what has been called "very difficult conditions"
We took a team of 16 women and men to climb Mount Kilimanjaro in 2007 to raise funds for Coolamon House and together with a Matching Grant from the Rotary Foundation we were able to assist Hout Bay Rotary Club in the project.
March is Water, Sanitation & Hygiene Month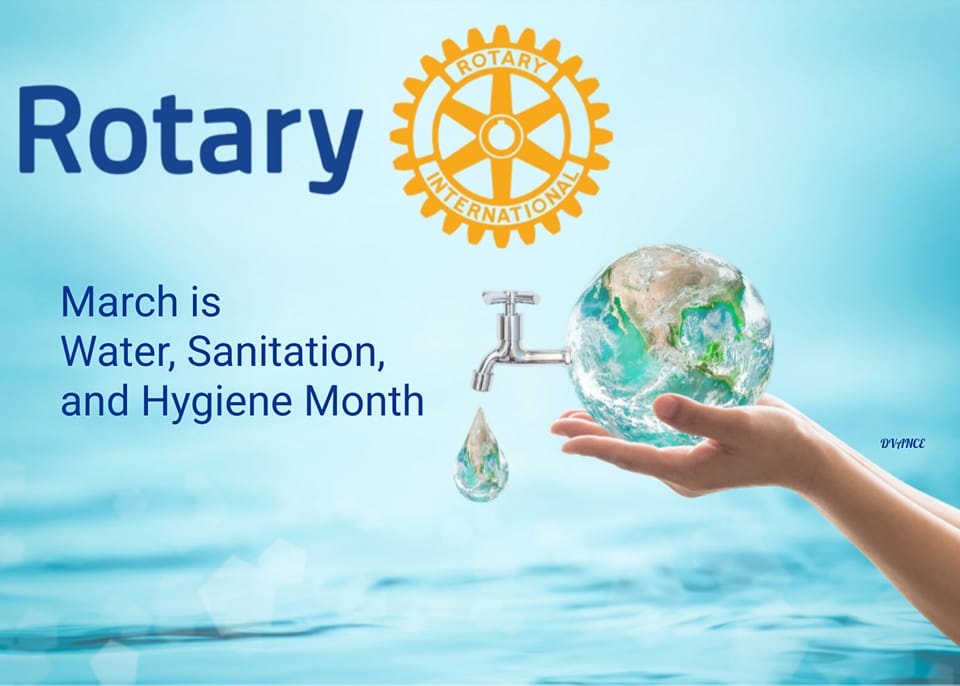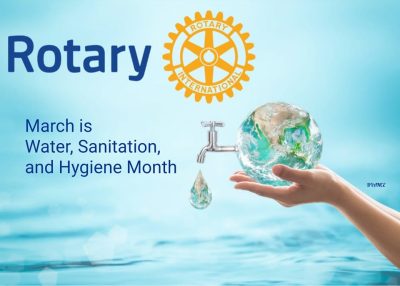 April is Rotary's Environment Month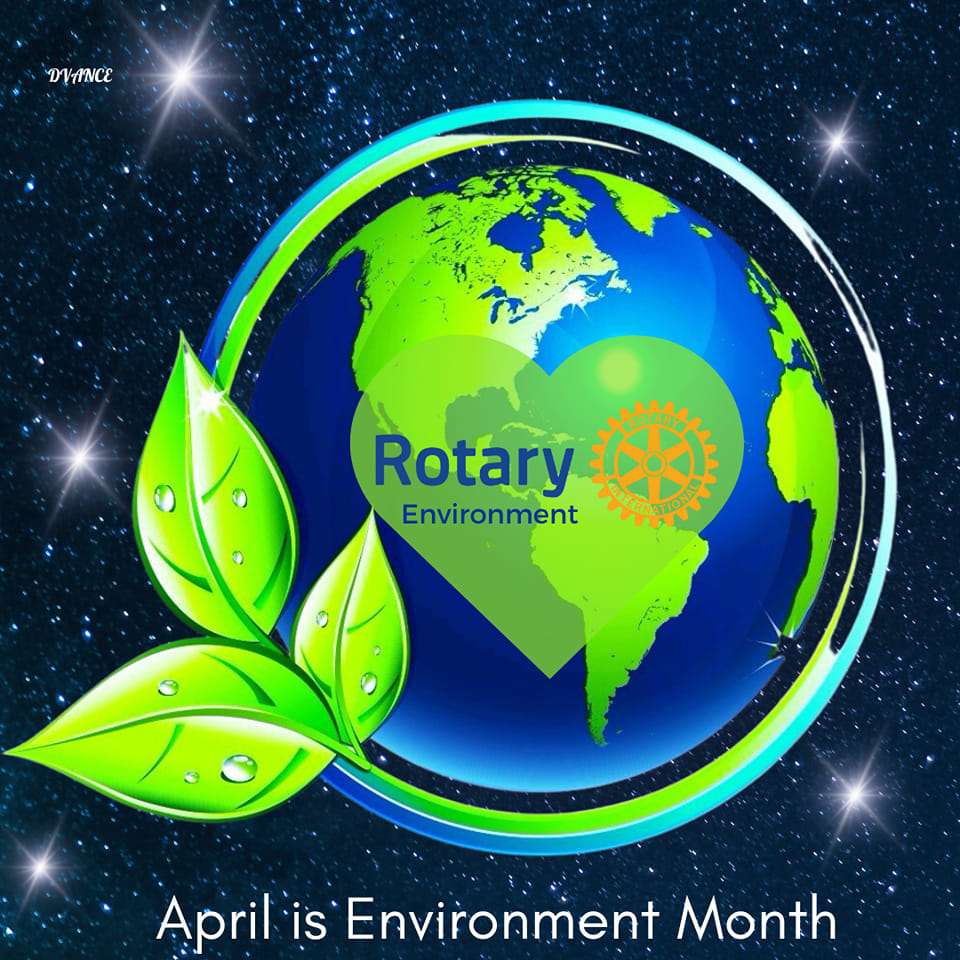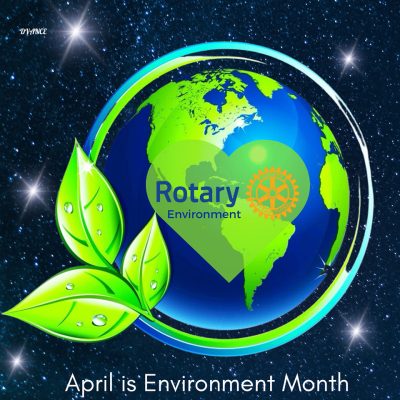 Graphics by Debbie Vance from Canada
ROTARY CLUB OF COOLAMON Inc. 2022-23
Chartered March 3rd, 1971; Sponsoring Club Narrandera Rotary Club
President: Paul Weston
President-Elect 2023-2024: John Bond
Secretary: John Glassford
Treasurer: Mary Potts
Membership Director: John Nulty
Service Projects Director:  John Bond
Youth Services Director:

Anne Rzeszkowski

Club Admin Director:  Henk Hulsman
Public Image Director: Grahame Miles
Sergeant @ Arms: Garth Perkin
Immediate Past President and Vice-President: Albert Suidgeest
Bulletin Editors: Paul Weston and John Glassford
Webmaster: John Glassford