Coolamon Rotary Bulletin for October 29th 2023
Meeting of Monday 23rd October
President John Bond welcomed 21 members and 1 guest Mick from Marrar a friend of Brian Pattison (Bear) to the meeting.
Items of importance discussed included:
Paul Weston on the Christmas Shoe Box appeal and that we will be donating $300.00 to the Anglican Church. Paul also advised the members that as from next year Beyond Bank will not be accepting cheques.  Mary Potts said that this would not be a problem.
Paul also spoke about the Working With Children Check #s and that 50% of our members either do not have one or their WWC# has expired.  Paul said that if any one needed help to ask JJG.
Mary Potts spoke about a March Peace Walk 5-10ks.  More information forthcoming.
Henk Hulsman reported on the Country Makers Market held at Redgrave Park last Saturday. There were a few hiccups which was brought up at a special meeting following the weekly meeting.  There was a very low turn out of patrons and we had a few kilos of bacon and sausages left over.  These we bought by members present.  A profit of $268 was made.  Thanks go to Albert, Barry, Alex, Henk, Grahame, Bear, Bruce, Anne, Bondy and Ted for volunteering their time. 
Henk advised the members that the Friday bowls at the Club will be based on individual entries and not as a business house as in the past. Entrants will be designated to a team on the night.
Grahame Miles has organised our 5th Monday in the month social day, to be held at the Ganmain Sports Club, on the 1st Wednesday of the month.  We need 20 members to attend with their partners or guests to make it worthwhile.  Contact Grahame Miles.
Albert Suidgeest had a request from Neil Munro to meet up with his fellow Rotarians.  The gathering will be at Neil and Clare's home in Coolamon at 10.30 am Tuesday.  Clare will make the scones and anyone going please bring their own coffee or tea.
*Footnote Grahame reported that there were 20 visitors to Neil and Clare on Wednesday morning.  Neil was in good spirits and he said that he was honoured to have so many friends from his Rotary club, to come around for Clare's scones and to say G 'day. Thanks go to Albert for getting this organised and to all who went around to Neil's home.
Albert said that the Thursday morning Coffee Club will be in the park in support of the McGrath Foundation and pink cup cakes will be sold to raise funds.  As usual 10.30 am.
CLUB ACTIVITY REPORT
The meeting was then addressed by AG Garth Perkin and PE Adrian Lindner who were delegates to the District 9705 Conference held in Queanbeyan last weekend.
Garth said that both Adrian and Phil McIntosh from Wollundry RC spoke on events held by their respective clubs.  Garth enjoyed the weekend and his highlight was the talk by Rob de Costello who is teaching young indigenous runners on the skills of long distance running.
Adrian also enjoyed the weekend and was inspired by Craig Foster the Socceroo and champion of the game in Australia.  Adrian also enjoyed the Rotary projects such as:

Rotary Health and Malaria projects
NO to family violence programme upcoming and a proposed day of action further information will be available.
Adrian was very impressed with the Youth Exchange team of 7 from various countries especially the lass from Finland who could be available to be a guest speaker to our club.
The launch of a Rotaract e-Club.
Dancing with dementia for old folks homes.
Driver Training Simulator from Young RC.
Bunnings mentoring and training teenagers.

Adrian reported to the delegates on some of our club's projects and events over the past year including the Coolamon Community Chronicle, Kindra Park, the pathway to Ganmain and tree planting.
The 2024 DISCON (District Conference), will be held in Mittagong.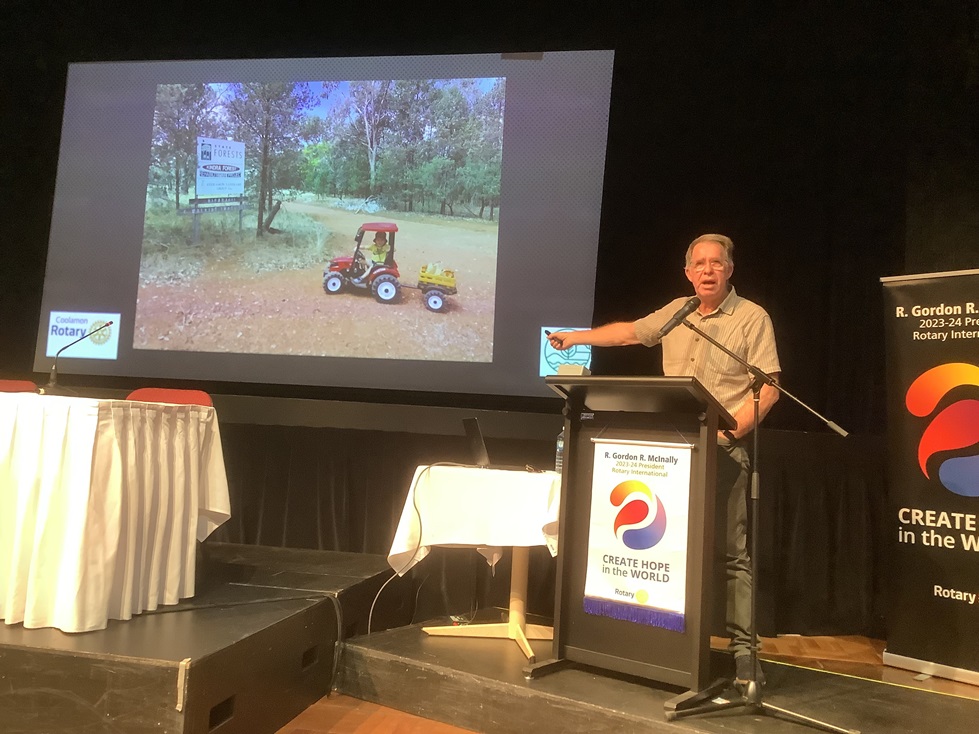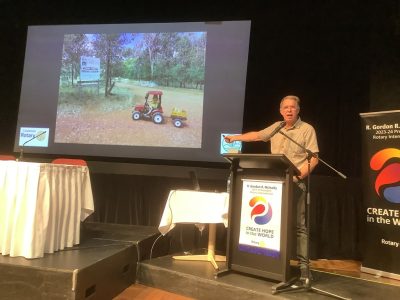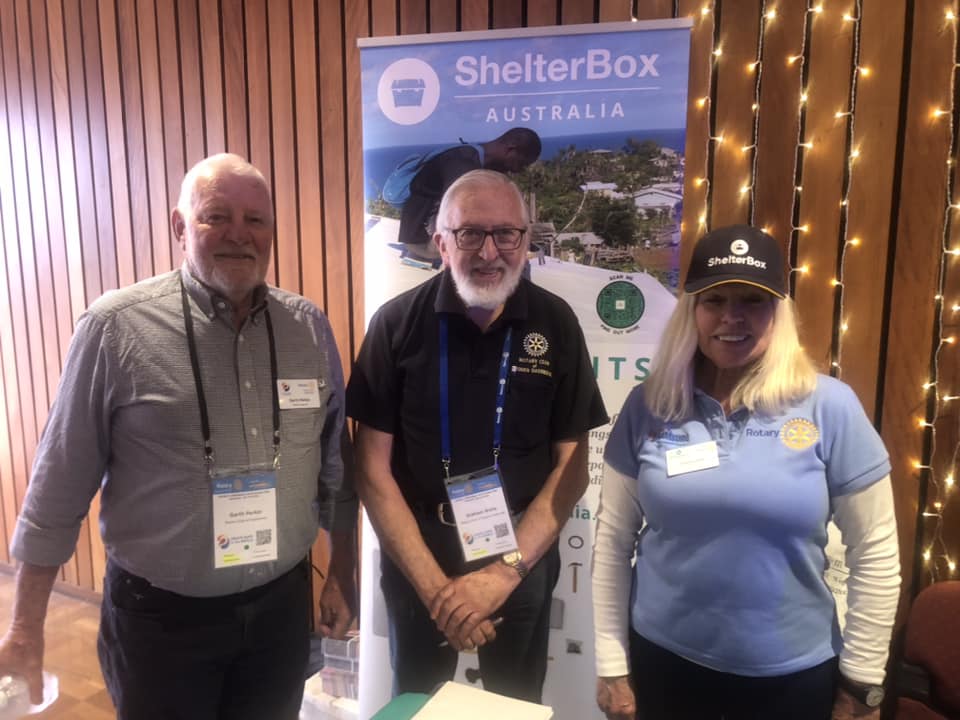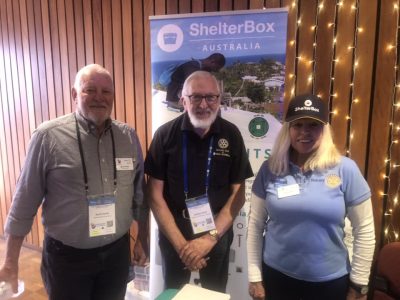 The Other event over the past weekend was the Country Makers market in Redgrave Park as reported above and here are some photos taken by Grahame Miles.
SPECIAL MEETING ON THE CARAVAN
Following the ordinary meeting we had a quickly convened special meeting to discuss the club caravan.
This came about due to some failings on the event at Redgrave Park.  Members present gave their ideas and how we can avoid the same problems in the future.  This will include changing the old gas bottles for new 9kg standard gas bottles.  The main problem is the heat being generated in the caravan from the internal gas hotplate.
It was a hot day but not as hot as some New Year Eve's in the main street of Coolamon.  Members were asked to come up with some solutions for the future; as it was decided to keep this valuable asset.
UPCOMING EVENTS for the CRC:
Sat 4 Nov – Tackle the track – catering van CANCELLED plus marshalling TO BE ADVISED.
Marshalling 10 am-2 pm– Marilyn, Ian, Alex
Marshalling 2-5 pm– Vicki (from 3pm), Bear, Adrian
 Sat 11 Nov – Wagga Cycle track, Pomingalarna – catering
10 am-2 pm– Lexi, Anne, Alex, Ian, Marilyn
2-5 pm– Lexi, Anne, Alex, Bondy, Bear
5-8 pm– Lexi, Anne, Alex, Mary, Bear
DIARY
N.B. You are always welcome to bring guests to most of our meetings, just advise Ian Jennings if you want to bring a guest along when you respond to the weekly dinner roll call!
Saturday 28th-Sunday 29th October – Rotary Zone 8 Virtual Conference.
Monday 30th October NO MEETING
Wednesday 1st November Social Meeting at the GANMAIN Sports Club 6.30 for 7.00pm please notify Grahame Miles of your attendance.
Saturday 4th November – Tackle the Track Bike Ride 10:00 am – 5:00 pm.
Monday 6th November – Normal Club Meeting. Coolamon Sport & Rec Club, 6.30 for 7 pm.
Saturday 11th November – Wagga Cycle Club Event.  CRC to cater lunch and dinner for cycling
event at Pomegolarna Reserve Wagga Wagga. Volunteers needed.
Monday 20th November – CRC Annual General Meeting. Coolamon Sport & Rec Club, 6.30 for 7 pm.
* Partner's night
JUST FOR LAUGHS
N.B.  ALL of the above images were obtained from Facebook
ROTARY NEWS
DISTRICT 9705 CONFERENCE PICTORIAL.
This is one comment that I have been able to find on the D9705 DISCON in Queanbeyan last weekend.  This from Debbie Harris from Tumbarumba RC.
"A huge day of listening and learning at the Rotary District 9705 conference today in Queanbeyan. Some heavy topics such as mental health, suicide, malaria, domestic and family violence and flood relief were interspersed with joyful youth programs.  Plus the many ways Rotary is working to make the world a better place. There's a lot going on around the world that's for sure! My absolute highlight of the day was Craig Foster talking about his life and how he came to be where he is today. 'Courage against injustice' was his theme and it was just what I needed to hear. It's always good to catch up with Rotary friends from around the district too!"
(Click on the thumb nails for a larger image).
October is RI's Community Economic & Development Month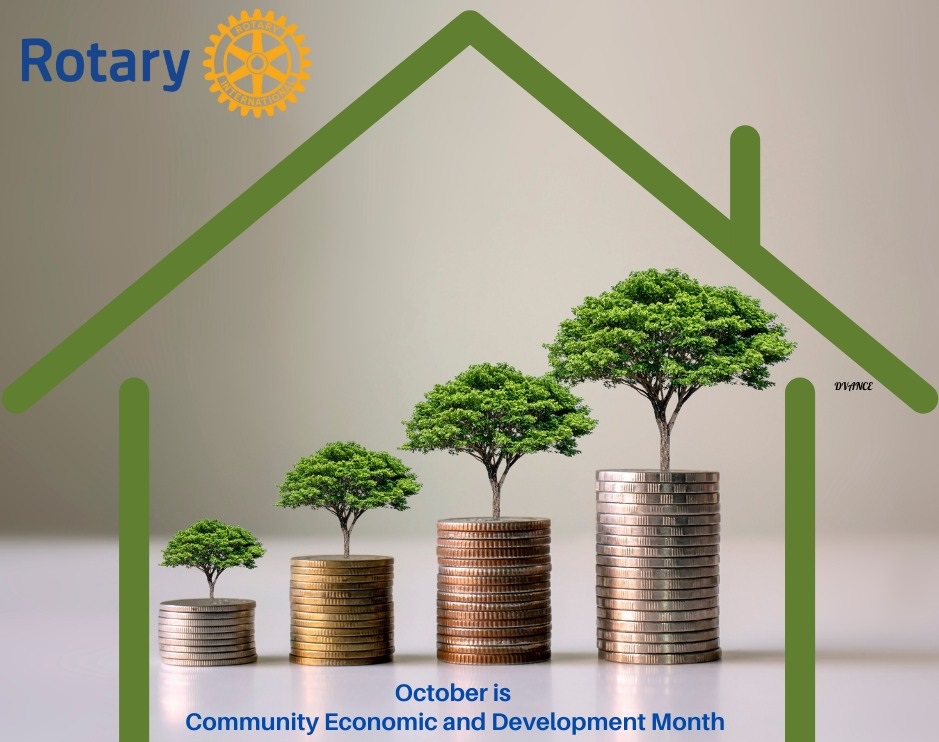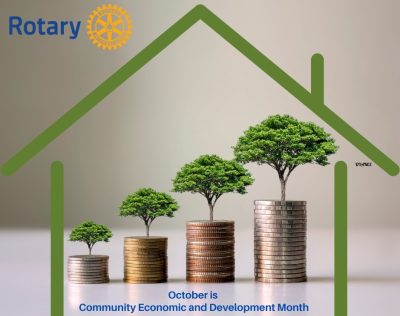 Graphics by Debbie Vance from Canada
ROTARY CLUB OF COOLAMON Inc. 2023-24
Chartered March 3rd, 1971; Sponsoring Club Narrandera Rotary Club
President: John Bond
President-Elect 2024-2025: Adrian Lindner
Secretary: Paul Weston
Treasurer: Mary Potts
Membership Director: Leslie Weston
Service Projects Director:  Adrian Lindner
Youth Services Director: Scott Mudd
Club Admin Director:  Henk Hulsman
Public Image Director: Grahame Miles
Sergeant @ Arms: Dick Jennings
Immediate Past President and Vice-President: Paul Weston
Bulletin Editors: Paul Weston and John Glassford
Webmaster: John Glassford