Coolamon Rotary Bulletin for October 22nd 2023
Meeting of Monday 17th October
President John Bond welcomed 17 members and 2 guests (Marilyn Jennings and Vicki Langtry) to the meeting.
Items of importance discussed included:
Telephone directory – We still have 3 more sets of the 4 page entries to come back.  Thank you Vicki and Bear for doing another couple of sets of entries.  Hopefully we will have them all done by next week.  Overall we have lost a net 300 entries so far.
Paul Weston opened up the discussion on the upcoming Country Makers market this Saturday 21st October.  The roster is set and the caravan will be there thanks to Bear.
Ian Jennings said that the Tackle the Track volunteers are also in place. However we will need to work with Lions to be able to man the check points.
Paul also spoke about the Working With Children Check #s and that all members need to get their WWC# renewed if out of date or apply for one if they don't have one.
Garth Perkin, although not present, will be looking at the club completing a D9705 survey.
Rotary will be promoting local and statewide events in conjunction with the NSW Police to raise awareness on domestic and family violence.  This will happen from the 25th November to the 10th December.
Albert Suidgeest reported on the raffle which raised $700 on the past weekend at Foodworks.
Albert said that the Cambodian appeal was now at $300 and that Dick had contributed $100.
Albert reported that Commins & Hendricks had pink cupcakes for sale to support the McGrath Foundation.
JJG asked the members present if they were all receiving their copy of RDU.
CRC ROTARIAN GARY TRUSCOTT'S STORY
Tonight we had the pleasure of listening to Gary Truscott's story. (Thanks to Henk for recording Gary's talk).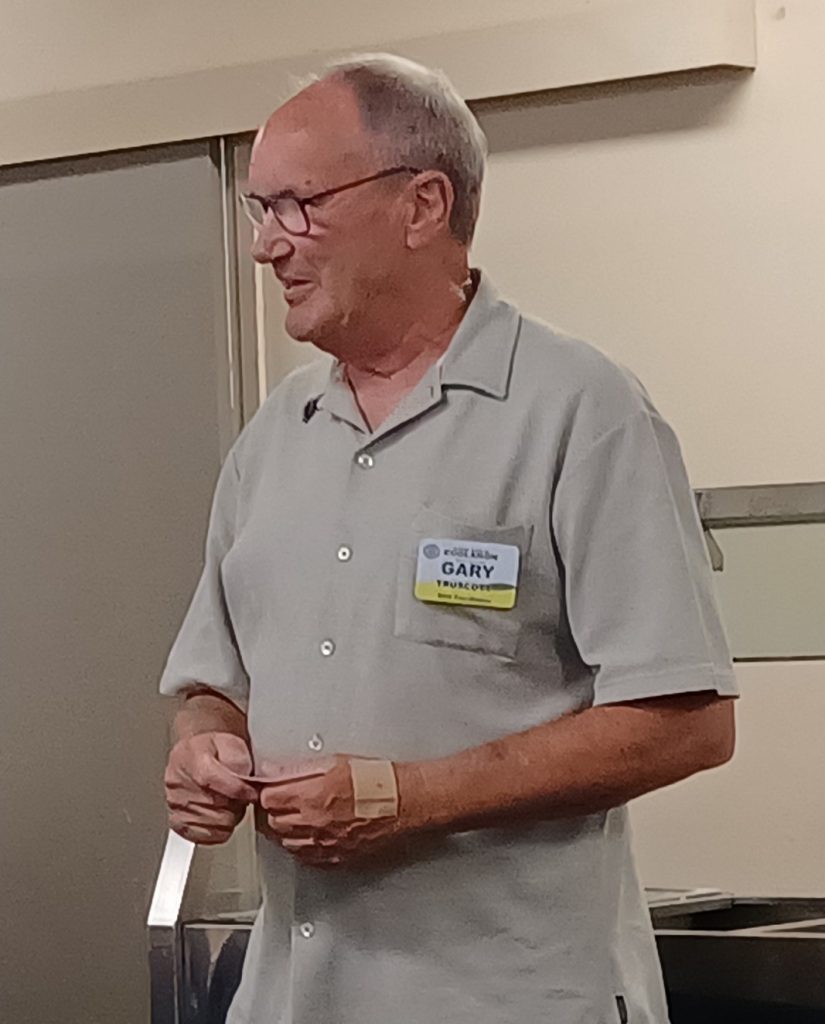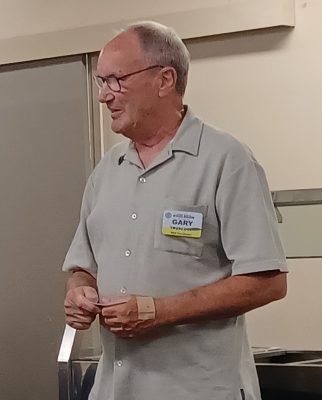 Was born in the Jacaranda Hospital in Cronulla NSW, "The Shire", on 13th February, 1957.
Gary's mother was from Taree and his father was a fitter and turner with the railroad for 25 years. His father then purchased a couple of trucks and conducted a business in the transport industry. In 1982 he drove his truck to Brisbane and conducted his transport business there.
His father suggested that Gary should find employment with a government department, thereby being sure to have regular employment for the rest of his life.
Gary has a sister in Cairns and a brother in Brisbane.
In 1975 Gary joined the Department of Family & Community Services and enjoyed his work as an auditor, travelling the state for six years. He married his wife, Trish, and took a position in OH&S with the same department. Gary and Trish bought a home in The Shire and brought up their family, two daughters (Hayley and Lauren) and a son (Matt) in the south of Sydney.
Matt  resides in Sydney and employed in the technical side of instrumentation. Daughter Lauren lives in Melbourne. The other, Hayley, joined the police force and met and married Jake Ellis, who  was  also in the force and stationed in Coolamon for a couple of years.  In fact they enjoyed the area so much, they  built a home in Campbell's Lane, Coolamon. They have three children, two boys and a girl.
Gary and Trish  visited a couple of times and decided Coolamon is a lovely area to live and as grandchildren reside here, they sold their home in Cronulla and bought a home in Dunrobin Street in Coolamon.
The meeting concluded with a fines session by stand in sergeant Ian Jennings and Ian even fined Marilyn!
There were several prizes in the weekly raffle: 1st prize was won by Grahame Miles and other prizes won by Adrian, JJG, Vicki, Do, Leslie and Henk.  Thanks to those who brought along eggs, limes and ANZAC biscuits for prizes.
UPCOMING EVENTS for the CRC:
Sat 21 Oct – Country Markets, Redgrave Park – catering van
Albert – bringing the van
9-11 am– Barry, Alex, Henk, Grahame, Bear, Bruce
11 am-1 pm– Anne, Bondy, Bear, Ted
Sat 4 Nov – Tackle the track – catering van plus marshalling
Garth – bringing the van
Catering 10 am-2 pm– Vicki (to midday), Bear, Mary, Anne
Marshalling 10 am-2 pm– Marilyn, Ian, Alex
Catering 2-5 pm– Alex, Henk, Ted, Ian
Marshalling 2-5 pm– Vicki (from 3pm), Bear, Adrian
 Sat 11 Nov – Wagga Cycle track, Pomingalarna – catering
10 am-2 pm– Lexi, Anne, Alex, Ian, Marilyn
2-5 pm– Lexi, Anne, Alex, Bondy, Bear
5-8 pm– Lexi, Anne, Alex, Mary, Bear
DIARY
N.B. You are always welcome to bring guests to most of our meetings, just advise Ian Jennings if you want to bring a guest along when you respond to the weekly dinner roll call!
Friday 20th-Sunday 22nd October – Rotary District 9705 Annual Conference. Queanbeyan.
Saturday 21st October – Country Makers Market. Redgrave Park, Coolamon, 9 am to 1 pm.  Catering Van To Be Confirmed and volunteers will be needed.
WORLD POLIO DAY 2023 – OCTOBER 24th
Saturday 28th-Sunday 29th October – Rotary Zone 8 Virtual Conference.
Saturday 4th November – Tackle the Track Bike Ride 10:00 am – 5:00 pm.
Saturday 11th November – Wagga Cycle Club Event.  CRC to cater lunch and dinner for cycling
event at Pomegolarna Reserve Wagga Wagga. Volunteers needed.
Monday 20th November – CRC Annual General Meeting. Coolamon Sport & Rec Club, 6.30 for 7 pm.
* Partner's night
JUST FOR LAUGHS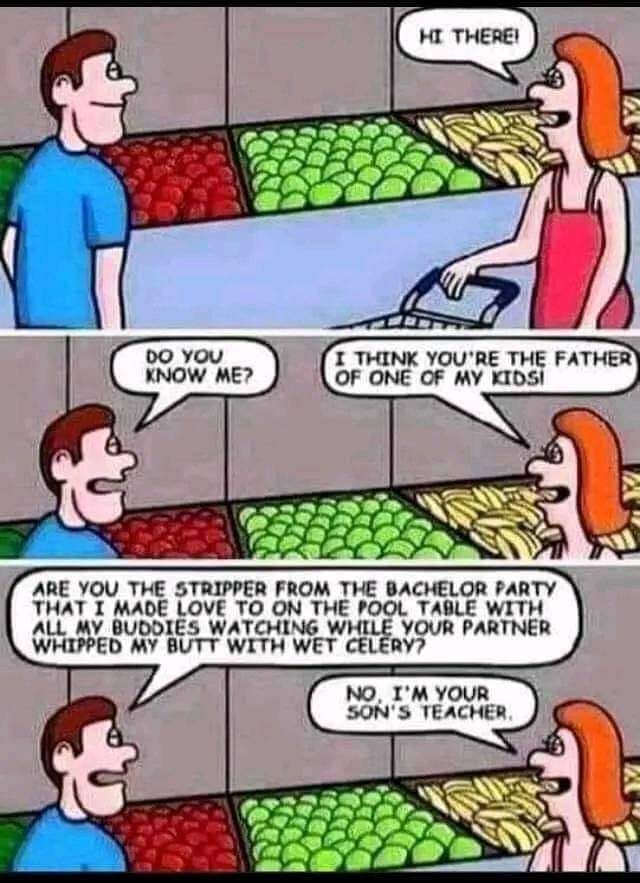 N.B.  ALL of the above images were obtained from Facebook
ROTARY NEWS
WORLD POLIO DAY 2023 OCTOBER 24th
Polio outbreak in Ukraine closed – A success story for public health despite extreme challenges of war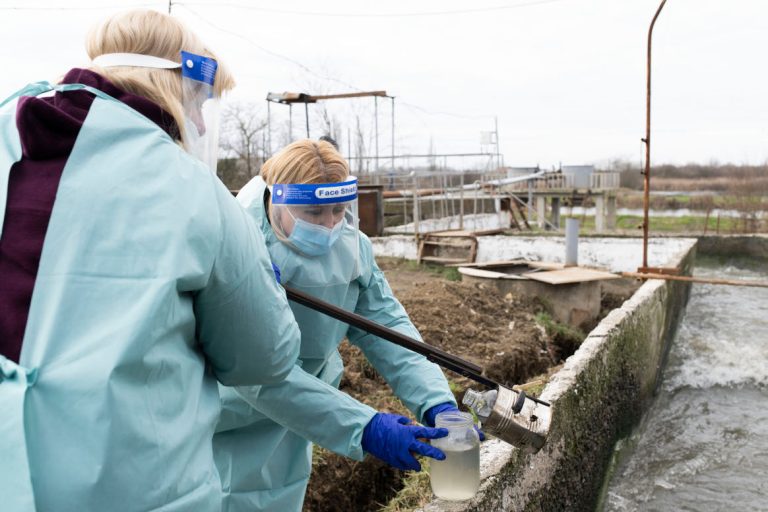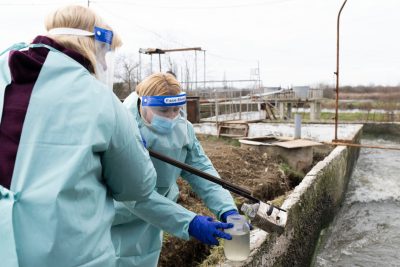 Related video: https://youtu.be/hqpxjOWBsyE
WHO/Europe has declared an outbreak of poliovirus in Ukraine, detected in October 2021, officially closed. The European Regional Commission for the Certification of Poliomyelitis Eradication endorsed the closure of the outbreak during its annual meeting on 8 September 2023. The country has achieved this milestone – stopping transmission of the virus that threatened the lives and futures of its children and preventing spread to other countries – in the face of the ongoing war.
The comprehensive outbreak response, initiated by the Ministry of Health of Ukraine in December 2021, faced multiple challenges since the end of February 2022, including massive population displacement, destruction of health-care infrastructure and disruption of logistical routes for medical product deliveries.
"Stopping the spread of poliovirus in the midst of a devastating war is a major achievement and a clear demonstration of the highest level of political commitment of the Government of Ukraine to the welfare of its population," said Dr Hans Henri P. Kluge, WHO Regional Director for Europe.
"In the face of unprecedented challenges, the necessary steps taken by the Ministry of Health of Ukraine to prevent the spread of poliovirus within and beyond the borders of Ukraine are immensely commendable."
The decision to close the outbreak was based on:
the recommendations of a poliovirus outbreak response assessment (OBRA) conducted by Global Polio Eradication Initiative (GPEI) partners, including WHO, in May 2023;
additional documentation provided by Ukraine in support of the ongoing surveillance, immunization and communication efforts since May; and
a comprehensive review of poliovirus surveillance and vaccination performance in the countries hosting the majority of the Ukrainian refugee population.
The outbreak was first detected in a young child in Ukraine in October 2021, following the importation of a poliovirus that had emerged in Pakistan and was previously detected in Tajikistan in 2021. A second child became paralysed in December 2021, and an additional 19 close contacts tested positive without developing symptoms.
"The Ministry of Health of Ukraine declared importation of this poliovirus a local public health emergency, and acted swiftly since its detection in close coordination with the global public health community," said Dr Viktor Liashko, Minister of Health of Ukraine.
Dr Liashko continued, "The outbreak is now closed, but our work to prevent polio and other vaccine-preventable diseases in Ukraine continues despite all obstacles. As long as polio remains a threat globally, Ukraine will remain vulnerable. The Ministry of Health is committed to strengthening vaccine-preventable disease surveillance and working to achieve and sustain high routine immunization coverage nationwide to protect every child."


October is RI's Community Economic & Development Month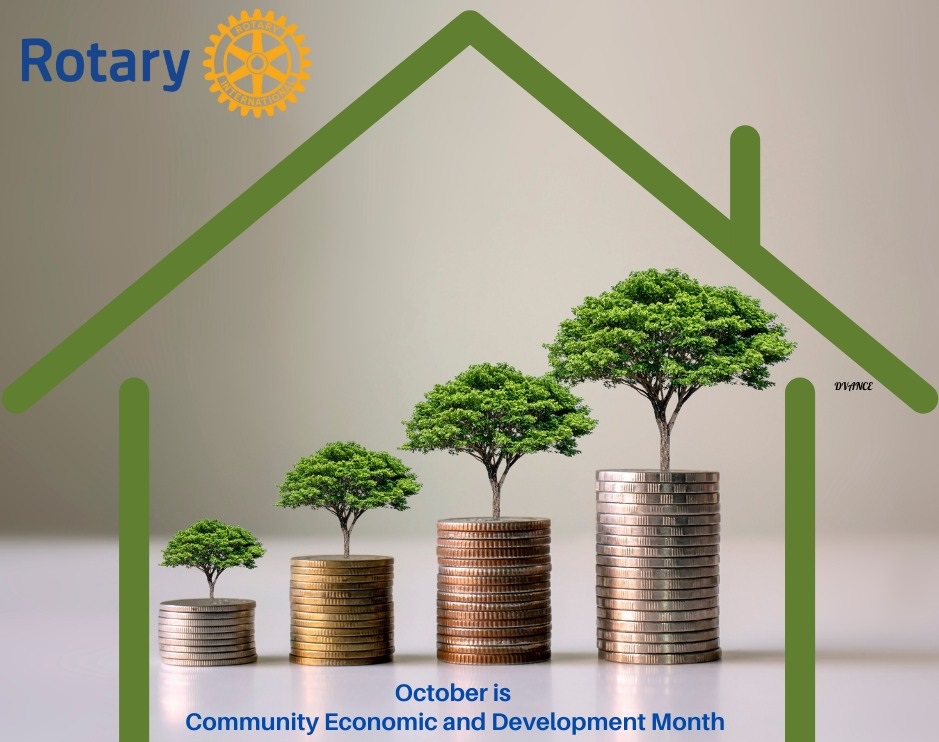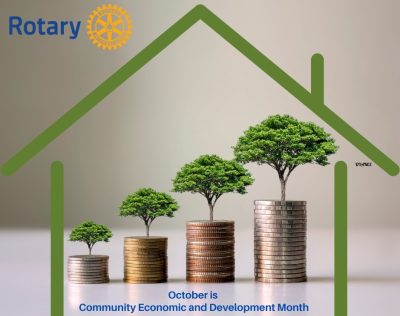 Graphics by Debbie Vance from Canada
ROTARY CLUB OF COOLAMON Inc. 2023-24
Chartered March 3rd, 1971; Sponsoring Club Narrandera Rotary Club
President: John Bond
President-Elect 2024-2025: Adrian Lindner
Secretary: Paul Weston
Treasurer: Mary Potts
Membership Director: Leslie Weston
Service Projects Director:  Adrian Lindner
Youth Services Director: Scott Mudd
Club Admin Director:  Henk Hulsman
Public Image Director: Grahame Miles
Sergeant @ Arms: Dick Jennings
Immediate Past President and Vice-President: Paul Weston
Bulletin Editors: Paul Weston and John Glassford
Webmaster: John Glassford