MEETING MONDAY April 13, 2015
posted by Henk Hulsman
Last week's meeting was well attended, with 21 members and guests present to appreciate the presentation on Interplast made by Wagga Rotarian Eugene Maloney and the induction of two new members to our club.  John Nulty and his wife Jan were introduced by Ian Durham. Secondly Dave McKinley and wife Heather were introduced by Wayne Lewis.  It is very pleasing to see the membership growing, as new people bring new experience to the club.  It was also great to see David Jenkins taking part in one of our meetings again. David has been along to a couple of functions now and may be persuaded by Leslie and Paul Weston to form a stronger bond with Coolamon Rotary.
PP Dick Jennings and Ian Durham (left) and Wayne Lewis (right) welcome new inductees John Nulty (left) and Dave McKinley (right) to Coolamon Rotary.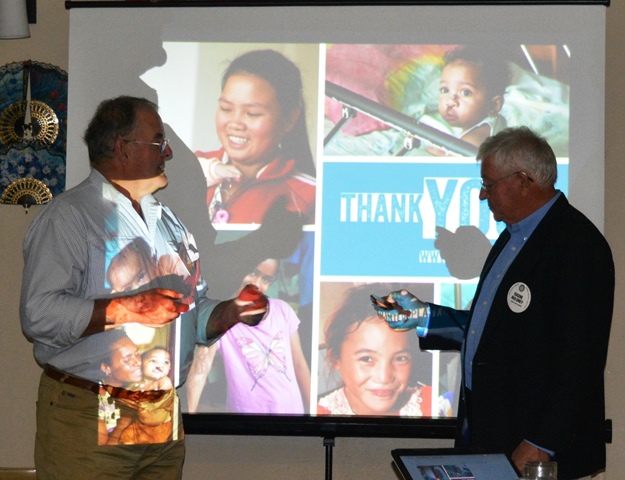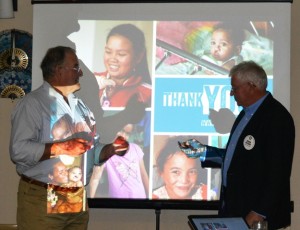 Newest member Dave McKinley thanks visiting Rotarian Eugene Maloney for a very interesting and inspiring talk on Interplast and how it helps burn victims and those born with birth defects in Asian rim developing countries.
Neil Munro reported on the April Bingo which showed a profit of $225. The Jackpot did not go off this month; possibly it will in May when it will amount to $120.  Many thanks to Ian Jennings, Wayne Lewis, Mark Reardon and Ted Hutcheon who formed the team on the night.  Co-ordinator Neil Munro mentioned that players have requested more substantial prizes for 'liners' as they consider a little more could be spent. Currently the princely sum of approximately $20 is expended on 10 prizes.  Line prizes tend to extend the time taken to complete the game, and additional expenditure will further reduce the profit achieved. Possibly double the price per prize, e.g. $4.00 but have only five prizes.  Food for thought.
Last meeting, Christine Atkinson went to a great deal of trouble to obtain a raffle prize with a difference, a presentation basket of a dozen different jars of jam and chutney prepared by Col and Brenda Patterson.  It always pays to purchase raffle prizes that the buyer believes they would enjoy winning themselves. As luck would have it, and a great deal of tickets to assist the cause, Christine herself took the basket home.
Diary Reminders
Saturday 11th April – Sunday 10th May: Mount Kenya ANZAC Day 2015 Climb in Kenya.
Saturday, 25th April: ANZAC Day ceremonies in Coolamon and Ganmain.
Monday, 27th April: Regular meeting, guest speakers Bronwyn Hatty, Libby Cruikshank and Keryl Dallinger speaking on local community health programs.
Sunday, 3rd May: D9700 Assembly at West Wyalong venue West Wyalong High School.
Monday, 4th May: Regular meeting (guest speaker TBA).
BINGO Thursday, 14th May: Grahame Miles (Captain), Paul Weston, Wayne Lewis, Dick Jennings
Saturday, 6th June – Tuesday 9th June: 2015 RI Convention Sao Paulo BRAZIL.
*Monday, June 29th.  Annual Change Over Dinner
*Partners and Guests Night.
Apologies for Monday meetings call Christine Atkinson on 0427 880 158 or 6927 3521 BY FRIDAY 12.00 pm.
MOUNT KENYA 2015 ANZAC DAY CLIMB
This will be a permanent section for the next 12 months in our weekly bulletin and I will update stories to this article as and when we get them.   The Australian Commonwealth Department of Veterans Affairs have approved our application to be part of the Centenary for ANZAC and we are allowed to use the logo below with some rules on it's use: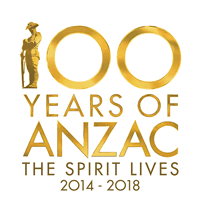 The Mount Kenya 2015 web site can be found here on clicking the banner below: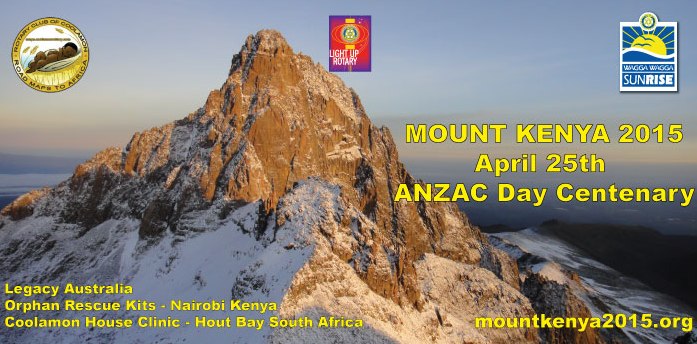 PLEASE CALL ME ANYTIME 02 6927 6027.
Bulletin Editor and Web Site:  John Glassford
Yours in Rotary John Glassford Chair 2014 -2015
Rotarian Action Group for Endangered Species
Don't  forget to regularly check our club web site for current information such as bingo rosters and various newsletters from the District Governor, the School of St. Jude's, the monthly membership on the move newsletter as well as several other club bulletins.
Rotary International President Gary Huang
Governor of District 9700 David Kennedy
Coolamon Club President  Garth Perkin
Coolamon Club Secretary Paul Weston
Club Treasurer  Henk Hulsman
Coolamon Rotary Club Inc. P.O. Box 23 COOLAMON N.S.W. 2701
Websites of Interest
Coolamon Rotary Club: http://coolamonrotary.com
Road MAPS to Africa a Coolamon Rotary Project: http://www.mountainsofthemoon.org/
Rotary Down Under on line: http://flipflashpages.uniflip.com/2/26587/49598/pub
Mount Kenya 2015 Web Site incorporating the ORK: http://theork.com/
Our Rotary Centennial Twin Club Hout Bay, Cape Town, South Africa: http://www.rotaryhoutbay.org
Rotarian Action Group for Endangered Species RAGES: http://www.endangeredrag.org/#