MEETING MONDAY April 20, 2015
posted by Henk Hulsman
Guest speaker on this occasion was Sharon Walsh, editor of the Ganmain Guardian.
The Ganmain Guardian came into being as a community newsletter in 2005 as an A4 letter that provided local gossip and details of upcoming events, once a month.
Sharon moved to Ganmain from the Wollongong area with her husband in 1992. Since that time she had had various types of work, including cook at the Red Steer Motel (Wagga) and the bistro at the Ganmain Sports Club.  She now works at the Ganmain Hotel, while also working two days a week on producing the Guardian which is now a fourteen page A5 booklet. Four hundred copies are distributed free to all Ganmain households monthly.  This increased size of the publication was made possible through a $50,000 grant which enabled the purchase of a larger photocopier and folding equipment, as well as a laptop computer.
The Ganmain Guardian charges a token amount for advertising and is well supported by local businesses as well as some from Coolamon.  Their office is situated in the Rural Transaction Centre and Sharon's efforts are very much appreciated by the community.
Sharon provided an enthusiastic and confident presentation, and fielded a great many questions from the very interested seventeen people present. It was obvious that the Coolamon members were jealous of Ganmain's local news sheet and would like one for Coolamon township.
A vote of thanks was provided by Henk Hulsman on behalf of all present.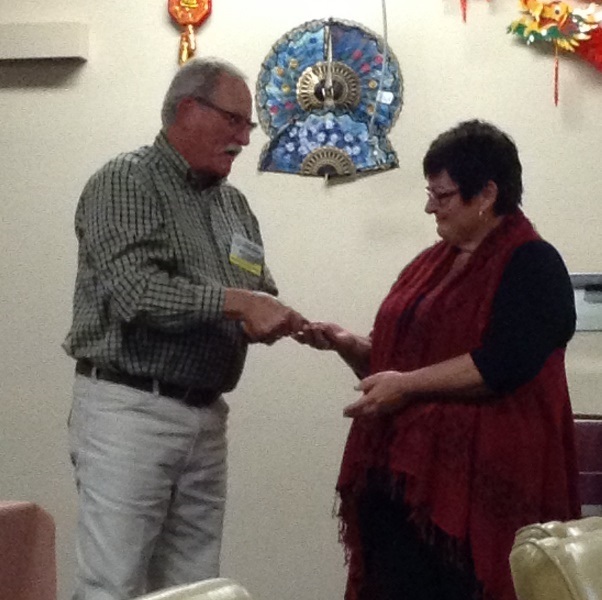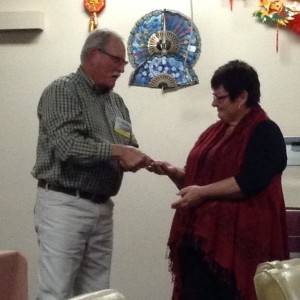 Henk Hulsman presents Sharon Walsh with the traditional kangaroo hide change purse as thanks for her presentation.
On a more somber note, Dick Jennings brought to the attention of club members the plight of the mother of Grahame and Sharon Miles' grandson, Darcy, who is battling a very aggressive cancer at present.  Unfortunately, the Federal Government has withdrawn subsidies on medications, which Louisa requires.  It currently costs almost $100,000 a year to provide the care she so desperately requires.  Beside Darcy who is thirteen years of age, Louisa has a three-year-old daughter Tilda.
In support of Grahame and Sharon's family, it was suggested that proceeds of the raffle ($124) and club fine session ($257) be donated to Louise to assist in defraying costs. This was a marvelous response by members as the raffle would normally realise about $70 and the fine session $15.   The board will meet and decide on the amount the club is prepared to donate to this cause, on top of what was raised at the meeting.
On the lighter side of life
The apprentice had been left in charge of the chemist shop at lunch hour. When the chemist returned he enquired if there had been any customers.
"Just one," said the apprentice. "A bloke came in with a hacking cough, so I gave him a gigantic dose of castor oil."
"You what?" said the chemist. "You know that castor oil is not a remedy for a cough."
"Well it worked. He's been hanging on that lamp post over there for an hour and hasn't dared to give one cough!"
Timely reminder that flu shots should now be available from your friendly chemist.
Diary Reminders
Saturday 11th April – Sunday 10th May: Mount Kenya ANZAC Day 2015 Climb in Kenya.
Saturday, 25th April: ANZAC Day ceremonies in Coolamon and Ganmain.
Monday, 27th April: Regular meeting, guest speakers Bronwyn Hatty, Libby Cruikshank and Keryl Dallinger speaking on local community health programs.
Sunday, 3rd May: D9700 Assembly at West Wyalong venue West Wyalong High School.
Monday, 4th May: Regular meeting (guest speaker TBA).
BINGO Thursday, 14th May: Grahame Miles (Captain), Paul Weston, Wayne Lewis, Dick Jennings
Saturday, 6th June – Tuesday 9th June: 2015 RI Convention Sao Paulo BRAZIL.
*Monday, June 29th.  Annual Change Over Dinner
*Partners and Guests Night.
Apologies for Monday meetings call Christine Atkinson on 0427 880 158 or 6927 3521 BY FRIDAY 12.00 pm.
MOUNT KENYA 2015 ANZAC DAY CLIMB
This will be a permanent section for the next 12 months in our weekly bulletin and I will update stories to this article as and when we get them.   The Australian Commonwealth Department of Veterans Affairs have approved our application to be part of the Centenary for ANZAC and we are allowed to use the logo below with some rules on it's use: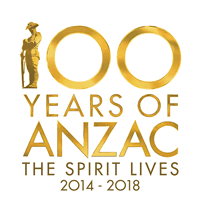 The Mount Kenya 2015 web site can be found here on clicking the banner below: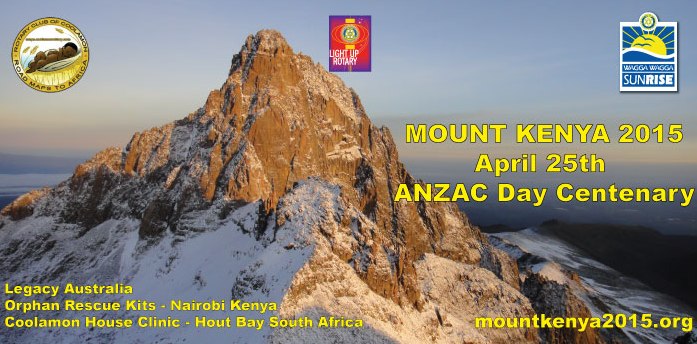 PLEASE CALL ME ANYTIME 02 6927 6027.
Bulletin Editor and Web Site:  John Glassford
Yours in Rotary John Glassford Chair 2014 -2015
Rotarian Action Group for Endangered Species
Don't  forget to regularly check our club web site for current information such as bingo rosters and various newsletters from the District Governor, the School of St. Jude's, the monthly membership on the move newsletter as well as several other club bulletins.
Rotary International President Gary Huang
Governor of District 9700 David Kennedy
Coolamon Club President  Garth Perkin
Coolamon Club Secretary Paul Weston
Club Treasurer  Henk Hulsman
Coolamon Rotary Club Inc. P.O. Box 23 COOLAMON N.S.W. 2701
Websites of Interest
Coolamon Rotary Club: http://coolamonrotary.com
Road MAPS to Africa a Coolamon Rotary Project: http://www.mountainsofthemoon.org/
Rotary Down Under on line: http://flipflashpages.uniflip.com/2/26587/49598/pub
Mount Kenya 2015 Web Site incorporating the ORK: http://theork.com/
Our Rotary Centennial Twin Club Hout Bay, Cape Town, South Africa: http://www.rotaryhoutbay.org
Rotarian Action Group for Endangered Species RAGES: http://www.endangeredrag.org/#