Coolamon Rotary News Bulletin #03
JULY IS ROTARY NEW YEAR MONTH
During July, Rotarians celebrate the new Rotary year with new leaders new plans and renewed focus on Service Above Self.  Have a great Rotary New Year!
DG Gary Roberts and Marilyn Roberts visit is on Monday 17th August.
Bring your goals and ideas along for this Rotary year.  Maybe write them down on coloured post notes for the DG's wall!
MEETING MONDAY JULY 20th. 2015
We had several guests including our speaker Dr Jane Quinn from Charles Sturt University.  In all 13 members attended with some potential new members.  Daryl Breust, John Franklin, John Bond, Andrew Quinn and Helen Lewis.
President Wayne Lewis welcomed everyone and we got straight down to business.  There is a fund raising at the Allawah Lodge on August 1st for Nepal.  Contact Annette on 0428 560 082.
Dick Jennings informed us that the cut off for donations ot the Operation Hope appeal is set for Monday 27th July.
John Glassford reminded members that there is a Mount Kenya Climb Post Mortem on Saturday at 11.00 am in Temora at the Ex-Services Club.
Dr Jane Quinn gave a very interesting talk on toxicity in some of our plants grown in the area.  Jane said that the toxic plants cost upwards of $180 million in stock losses annually in the Southern region some of these plants are the panicum species such as Hairy Panic.  Grazing hairy panic causes severe liver damage.
Jane went on to describe a toxicological detective story on a case where the poisoning was not diagnosed correctly until they traced the movement of the animals. In this case it was due to grazing on the amaranthus plant found in a paddock where the animals only stayed for a short period the property was near Uranquinty.
Grazier PE Don Dyce presents Jane with our Kangaroo Money Pouch.
Diary Reminders
Saturday July 25th Mount Kenya Post Mortem Meeting Temora Ex Services Club 11.00 am.
*Monday July 27th.  Guest Speaker Steven Grinter Coolamon on INDIA Hands on Volunteering.
Monday August 3rd Meeting with Past AG Alan Sharp: Rotary Back to Basics
Monday 10th August Normal Meeting followed by Board Meeting.  All welcome to attend.
BINGO Roster Thursday August 13th:   Ian Jennings (Captain), Henk Hulsman, Don Dyce, John Nolte
*Monday August 17th DG Gary Roberts Official Visit.
*Monday 24th August Grahame Miles History of Liverpool England.
Saturday 5th and Sunday 6th September.  Canberra Australian Rotary Success Conference & Youth Summit 2015 At the Hellenic Club.
Friday 22nd – Sunday 24th April 2016 D9700 Conference in Wagga Wagga.
Saturday 28th May 2016 – Wednesday June 1st Seoul RICON South Korea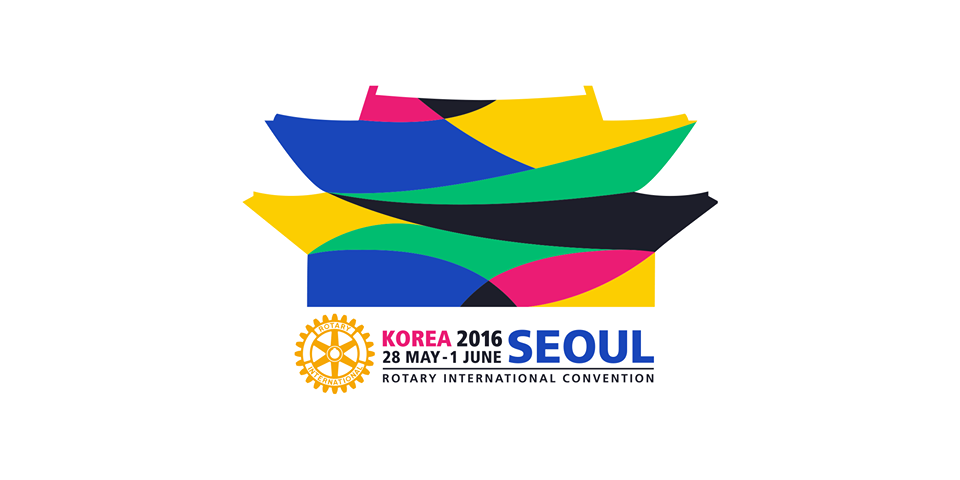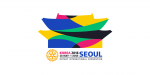 *Partners and Guests Night.
Apologies for Monday meetings call Ian Jennings on 0428 492 157  BY FRIDAY 12.00 pm.
ON THE LIGHTER SIDE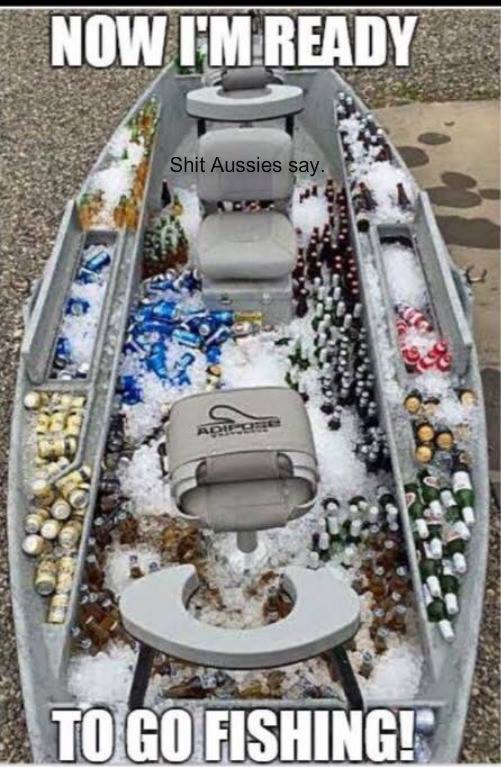 The Bagpipes
Enjoy every moment of life. As a bagpiper, I play many gigs. Recently I was asked by a funeral director to play at a graveside service for a homeless man. He had no family or friends, so the service was to be at a pauper's cemetery in the Nova Scotia back country.
As I was not familiar with the backwoods, I got lost and, being a typical man, I didn't stop for directions. I finally arrived an hour late and saw the funeral guy had evidently gone and the hearse was nowhere in sight.
There were only the diggers and crew left and they were eating lunch.
I felt badly and apologized to the men for being late.
I went to the side of the grave and looked down and the vault lid was already in place. I didn't know what else to do, so I started to play.
The workers put down their lunches and began to gather around. I played out my heart and soul for this man with no family and friends. I played like I've never played before for this homeless man
And as I played "Amazing Grace", the workers began to weep. They wept, I wept, we all wept together. When I finished, I packed my bagpipes and started for my car. Though my head was hung low, my heart was full.
As I opened the door to my car, I heard one of the workers say, "I never seen nothing like that before and I've been puttin' in septic tanks for more than twenty years……………."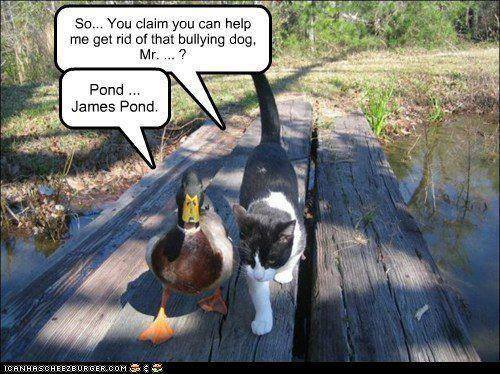 ROTARY INTERNATIONAL PRESIDENT
 K.R. "RAVI" RAVINDRAN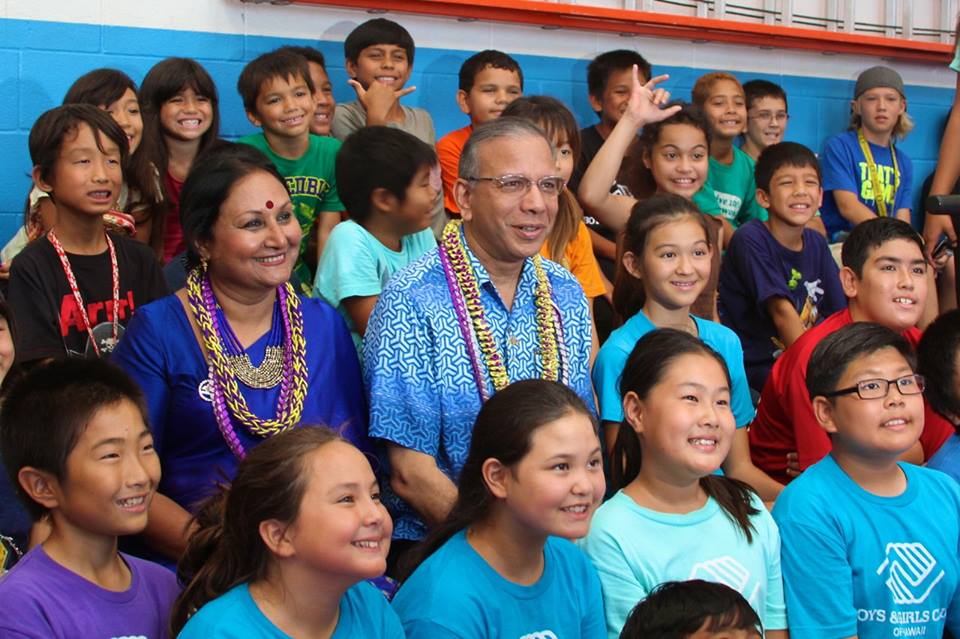 I traveled to Hawaii to take part in the centennial celebrations of the Rotary Club of Honolulu. While there, Vanathy and I visited the Boys & Girls Club of Hawaii, where the Rotary Club of Honolulu is modernizing their gym as part of their centenary project.


DISTRICT GOVERNOR GARY ROBERTS D 9700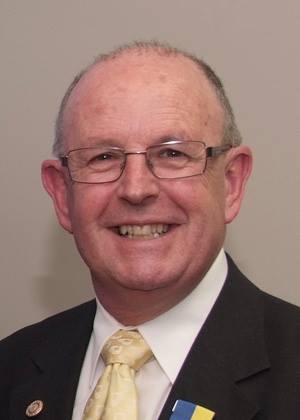 DG GARY AND HIS GIFT WALL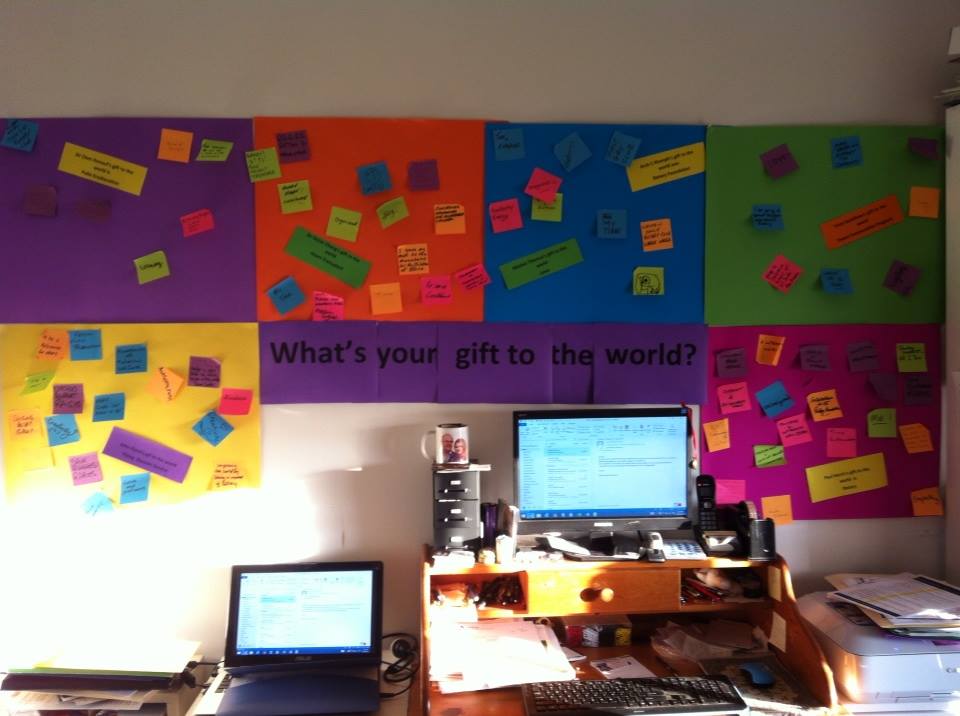 At District Changeover I requested all guests to write on a post it note their Gift To The World.  I was amazed at the responses and have created a "Gift Wall" in my Rotary office at home. I find them inspirational, gifts included, love, time, enthusiasm leadership, New Rotarians, New Clubs.
Marilyn and I are looking forward to meeting as many club members and partners as possible. The program for my visits will focus on making our clubs "The Place To Be" and inclusion of our partners in Rotary.
Please encourage all to come and bring their partners.  I promise an interesting program and Marilyn will assist with a presentation to your partners. It will not be a dull D.G visit but hopefully inspiring and uplifting as we talk about Peace, Youth Programs and Business in Rotary.
I look forward to "breaking the mould" and bringing new life to Rotary D9700 at Coolamon on Monday August  17th.
D9700 E Directory
Available now on the D9700 Web Site.
ROTARY INFORMATION
AUSTRALIAN STUDENTS TAKE OPPORTUNITY BY THE HORNS
The rules of the Shaftesbury Rodeo Academy are simple: no school, no rodeo. It's a message that teenagers who attend school at Bisley Farm, most of whom have never attended any school regularly, take seriously. Because come Friday night, these aspiring rodeo heroes want to join their friends to ride bulls for a heart-stopping eight seconds, if they last that long.
The school in rural Queensland, Australia, also teaches the boys, who are of the Wakka Wakka Aboriginal people, basic academics and farming skills, including how to care for crops and livestock. It's a fairly common form of schooling in Australia, an alternative education for students with troubled backgrounds. For many of them, Bisley Farm is the best chance for them to improve their lives.
RICON 2016 SEOUL.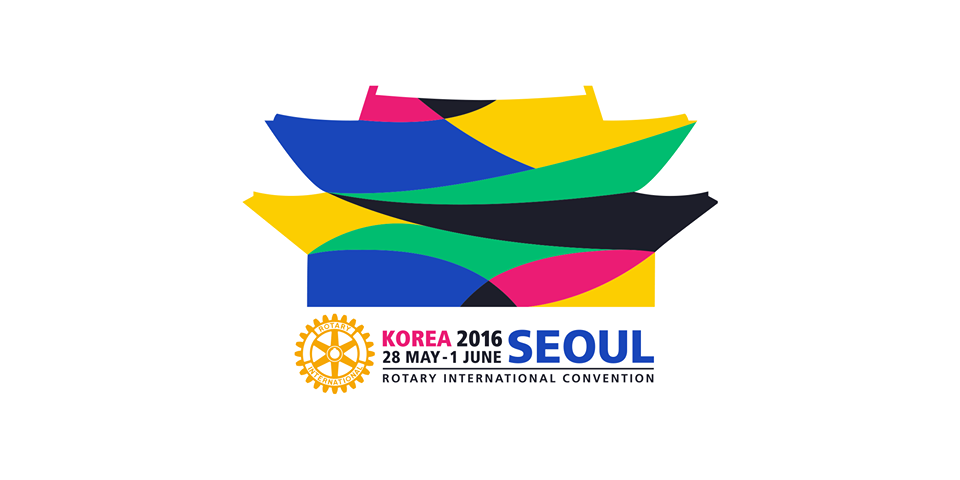 The 2016 Rotary Convention is your chance to meet Rotary members from around the globe. You'll reconnect with old friends and make new ones while exploring different cultures and exchanging ideas for a better world.
Something for every Rotarian
Whether you've just joined Rotary or are a longtime club member, our annual convention will deepen your understanding and appreciation of Rotary. You'll make personal connections on a global scale, discover new ideas for making positive change, and return to your club inspired and energized to take action. All this and the chance to explore Korea's capital, Seoul.
The Seoul convention will be a unique experience highlighted by once-in-a-lifetime activities arranged by the Host Organization Committee:
Tour Korea with local Rotary members
Enjoy stirring music and dance performances by local artists
Show off your talents at the Rotary Family Talent Contest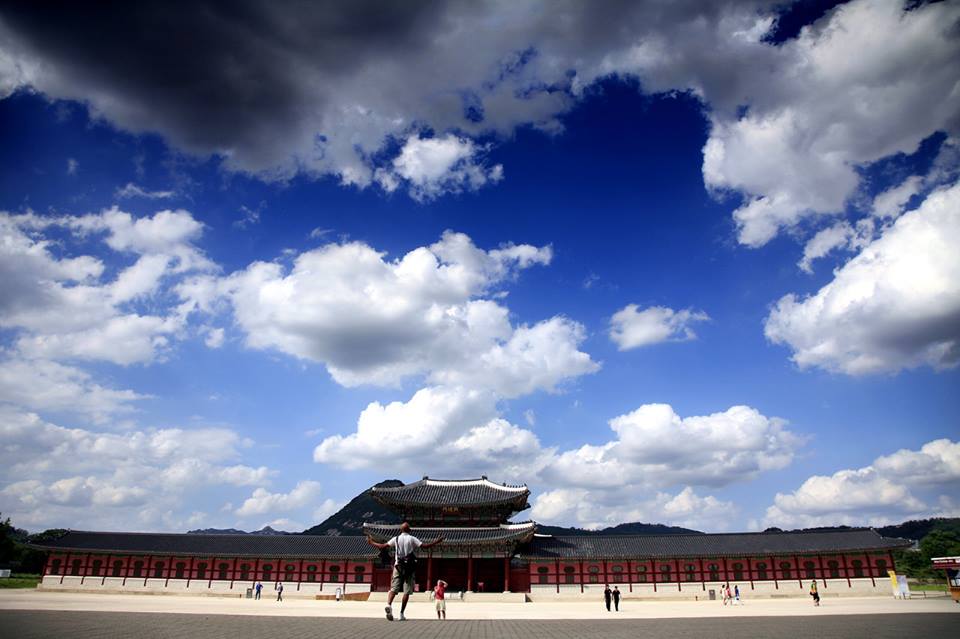 LATEST NEWS FROM RAGES.
This bouncing bundle of energy is the calf of poaching survivor Thandi.
Read more about Thandi's story.
Rhino are known to be able to reach speeds of 48 – 64 km per hour (30 – 40 miles per hour), something that our young Thembi is working very hard to achieve! A rhino calf will more than likely never meet its father but rhino mothers have a very nurturing nature. Thandi will be close to her calf Thembi for the next 2.5 years to keep an eye on her and protect her.
Did you meet Thandi and Thembi while on safari at Kariega? We would love to hear about your encounters with this inspiring pair.
Thembi playing with the wildebeests.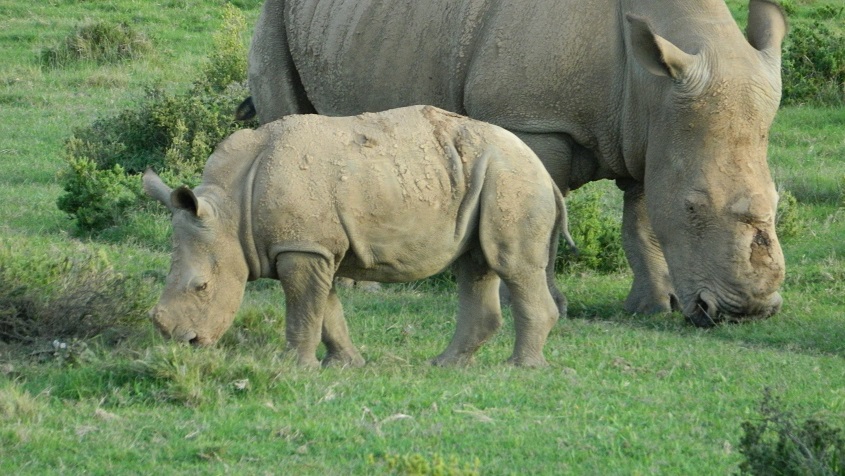 Thembi and her mum Thandi taken by JJG May 2015 at Kariega.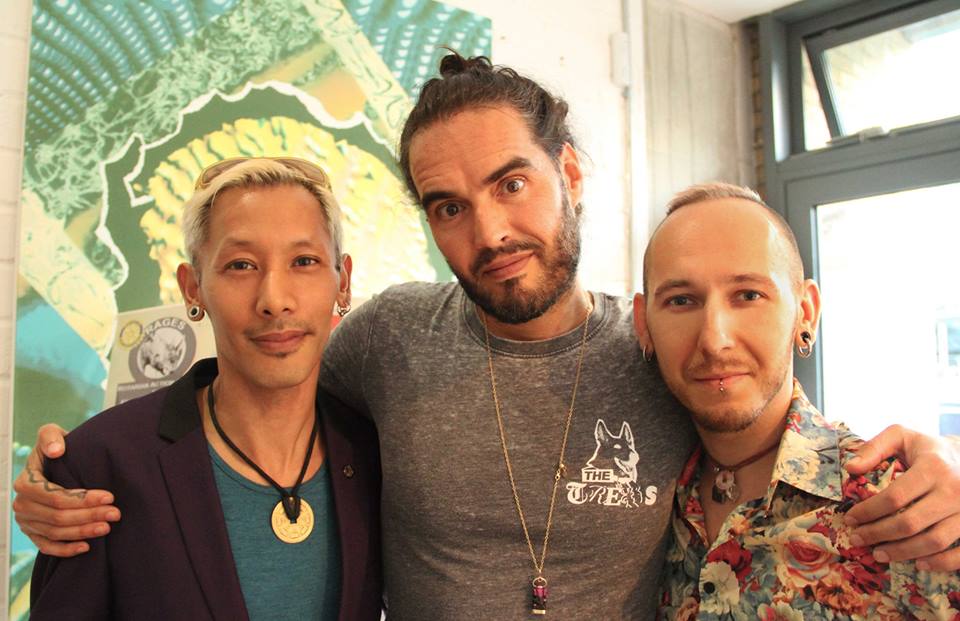 Next to Say NO!

ONLY IN AFRICA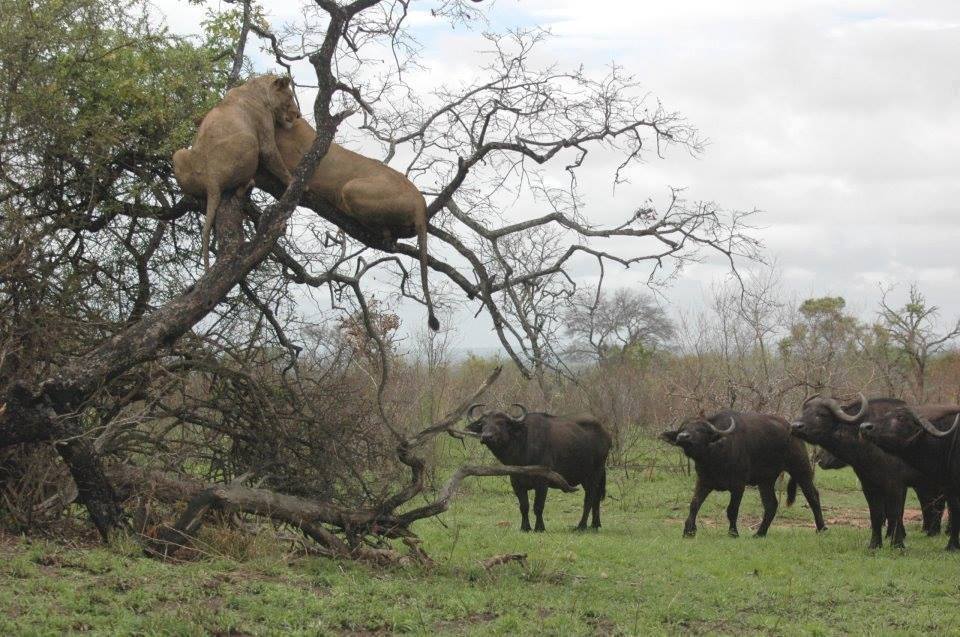 King of the jungle??
FOOTNOTE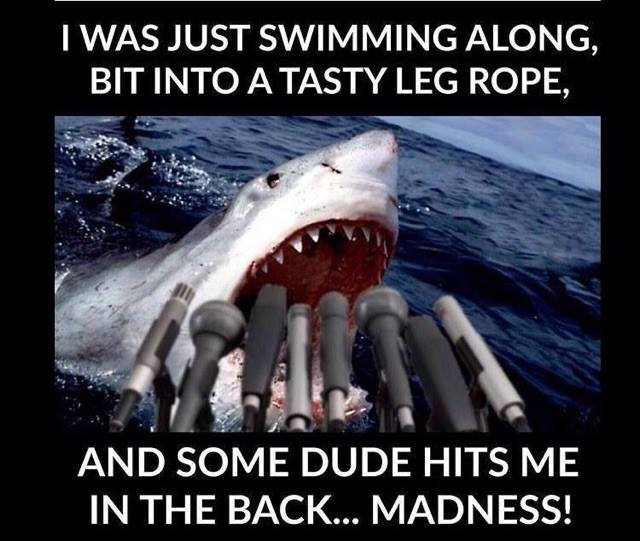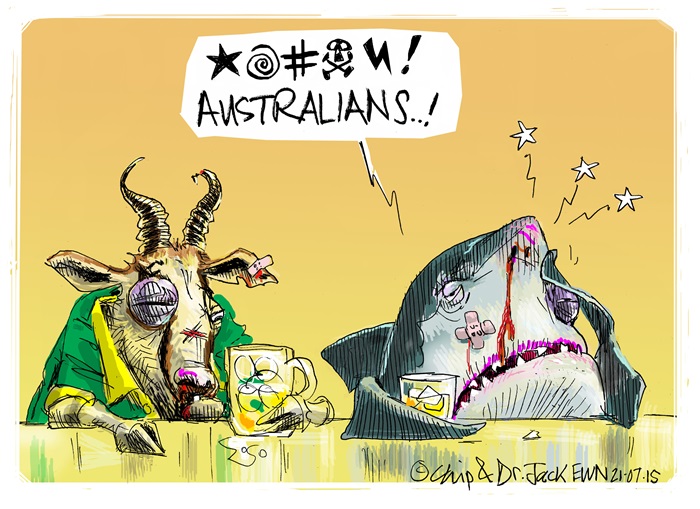 PLEASE CALL ME ANYTIME 02 6927 6027.
Bulletin Editor and Web Site:  John Glassford
Yours in Rotary John Glassford Chair 2014 -2016
Rotarian Action Group for Endangered Species
Don't  forget to regularly check our club web site for current information such as bingo rosters and various newsletters from the District Governor, the School of St. Jude's, the monthly membership on the move newsletter as well as several other club bulletins.
Rotary International President K.R. "Ravi" Ravindran
Governor of District 9700 Gary Roberts
Coolamon Club President  Wayne Lewis
Coolamon Club Secretary Paul Weston
Club Treasurer  Henk Hulsman
Coolamon Rotary Club Inc. P.O. Box 23 COOLAMON N.S.W. 2701
Websites of Interest
Coolamon Rotary Club: http://coolamonrotary.com
Road MAPS to Africa a Coolamon Rotary Project: http://www.mountainsofthemoon.org/
Rotary Down Under on line: http://flipflashpages.uniflip.com/2/26587/49598/pub
Mount Kenya 2015 Web Site incorporating the ORK: http://theork.com/
Our Rotary Centennial Twin Club Hout Bay, Cape Town, South Africa: http://www.rotaryhoutbay.org
Rotarian Action Group for Endangered Species RAGES: http://www.endangeredrag.org/#