Coolamon Rotary News Bulletin #07

AUGUST IS ROTARY MEMBERSHIP MONTH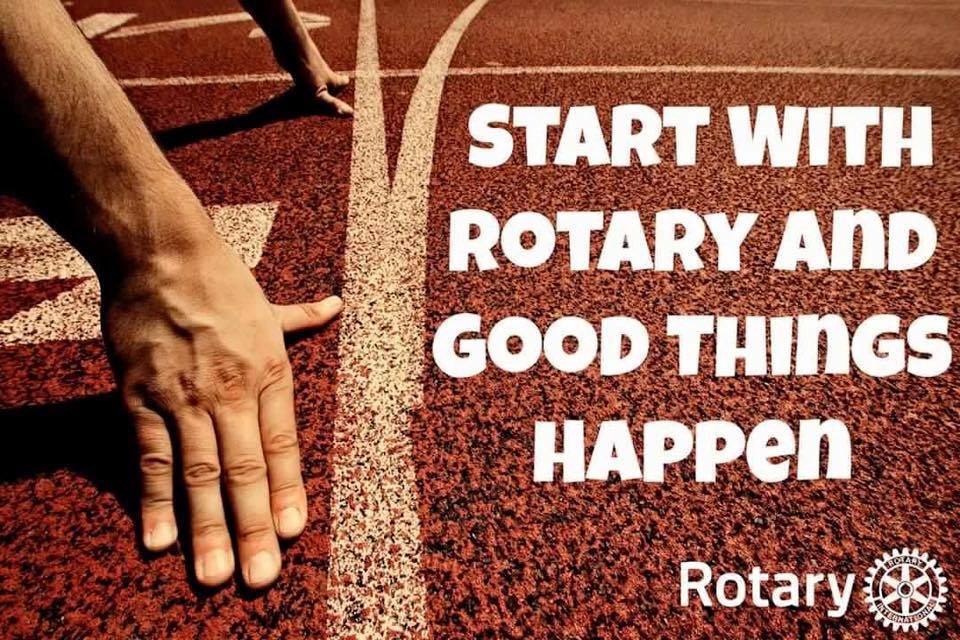 INDUCTION OF DARYL BREUST.
Tonight our District Governor Gary Roberts inducted our newest member to our club Daryl Breust.  Daryl  is a builder and was accompanied by his wife Jan Breust.  A great start to our meeting with the DG.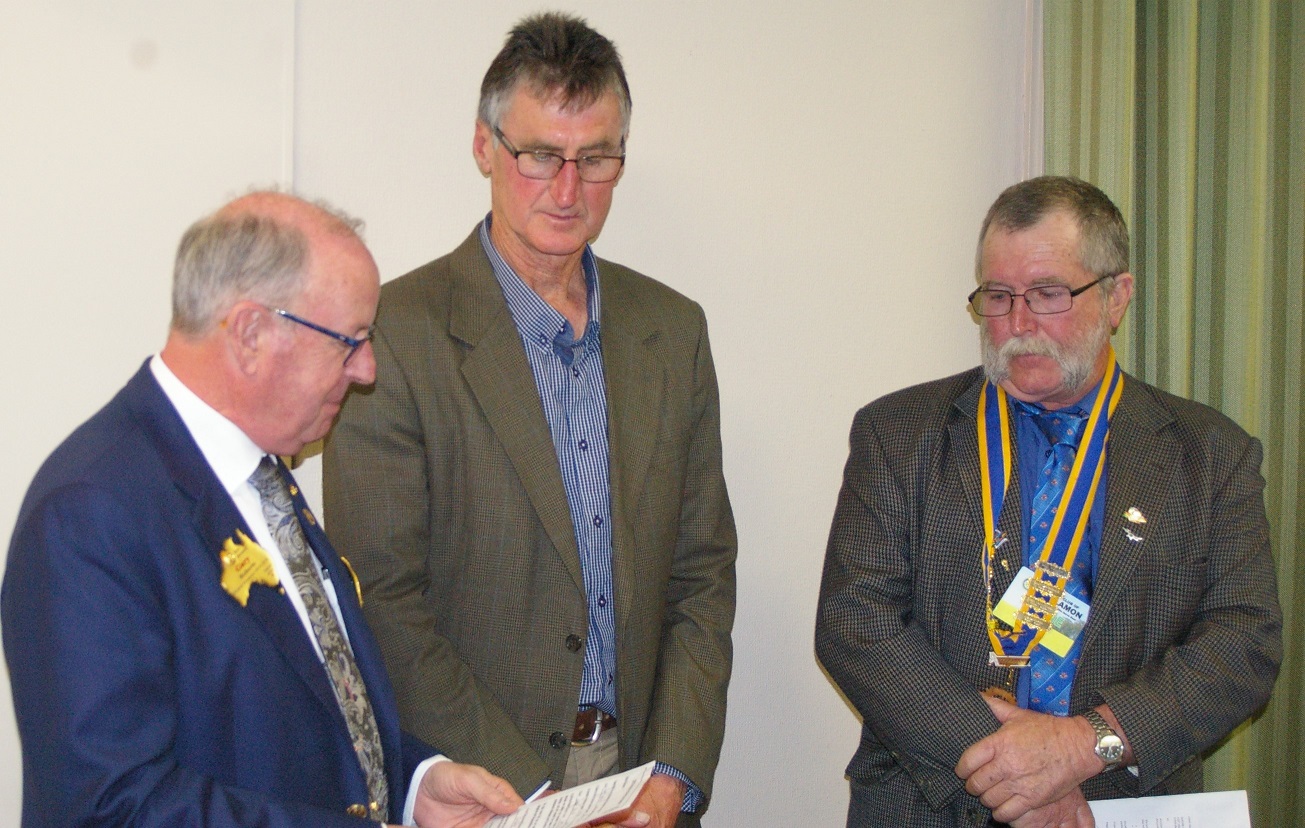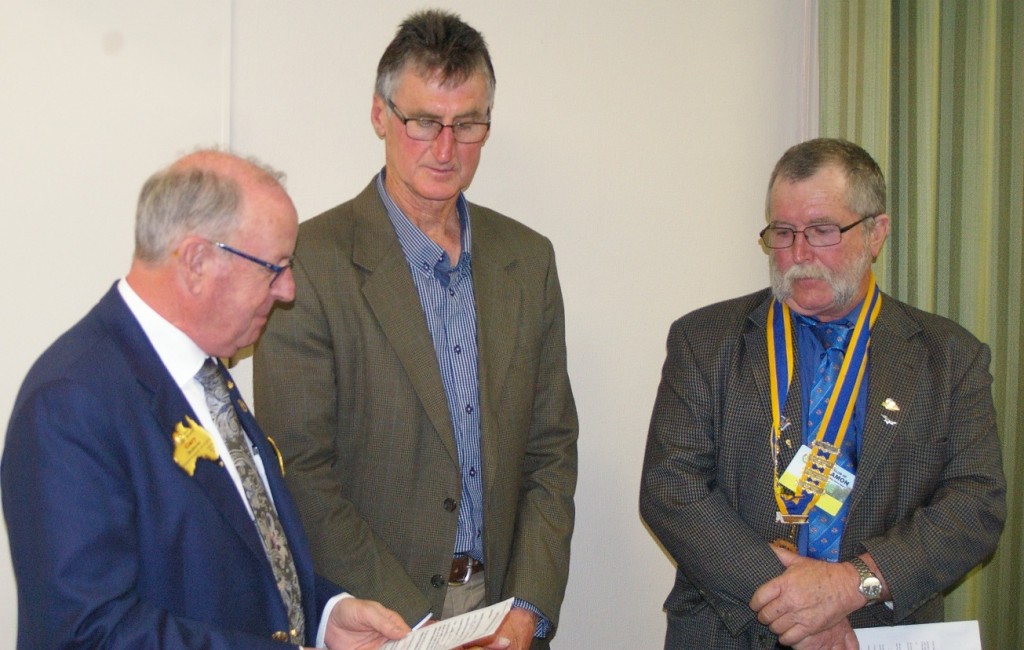 DG Gary Roberts, Rtn. Daryl Breust and President Wayne Lewis.
Welcome Daryl and Jan to our club and we look forward to working with you in Rotary.
MEETING MONDAY AUGUST 17th. 2015
DISTRICT GOVERNOR'S VISIT
Our guests tonight DG Gary Roberts, Marilyn Roberts, Marilyn Jennings, Helen Lewis, Susan Glassford, Maureen Hulsman, Jan Breust, Heather McKinley, Jan Nulty and Clare Munro.  Together with 14 of our members.
Tonight we had the pleasure of the visit of District Governor District 9700 Gary Roberts and his wife Marilyn Roberts on the annual visit of our Governor.   DG Gary started his Rotary journey in 1981 when he joined the Rotary Club of Kooringal.  Gary went onto create a new club in Wagga Wagga called WW Murrumbidgee where he is still a member.
DG Gary outlined his goals for his year as Governor including:
 Be a gift to the world in service above self and do great things.
Institute peace in society as Rotary's first peace town in the world Coolamon has led the way.
Keep Rotary in the mind of the people of Coolamon by leaving a strong club for the future generations of Coolamon.
Make our club THE club/association that the people of Coolamon want to join.
Attend the D9700 Conference in Wagga Wagga 22nd – 24th April 2016.
Walk the streets of Coolamon and invite interested people to join us.
Support our Foundation.
As with all positions such as being a District Governor there is always a strong person behind the man/woman.  In this case it is Marilyn Roberts who spoke on the Rotary Foundation and Marilyn spoke passionately about maternal and child health one of the six areas of focus for our work around the world with the Rotary Foundation.
Marilyn asked us to join her in supporting the great work of the Foundation in this area where:
30,000 women die each year in Africa through child birth.
Marilyn went on to outline how we can support our Foundation:
Honouring partners behind the member with a Paul Harris Fellowship.
Become a Centurion with an annual donation of $100.
Attend a fund raising in Wagga Wagga on 12th November.
Wayne thanked Gary and Marilyn and went on to remind members that next week we have Grahame  Miles as our guest speaker on Liverpool and the Beatles.
Cool Grass Brunch Saturday 12th September volunteers wanted to man the caravan expected 50 customers.
ON this Friday at the Legacy Building in Wagga Wagga the Mount Kenya 2015 ANZAC Day team is presenting a cheque for $12,760 to the Lachlan Branch of Legacy. Time 2.00 pm and  you are all welcome to join us.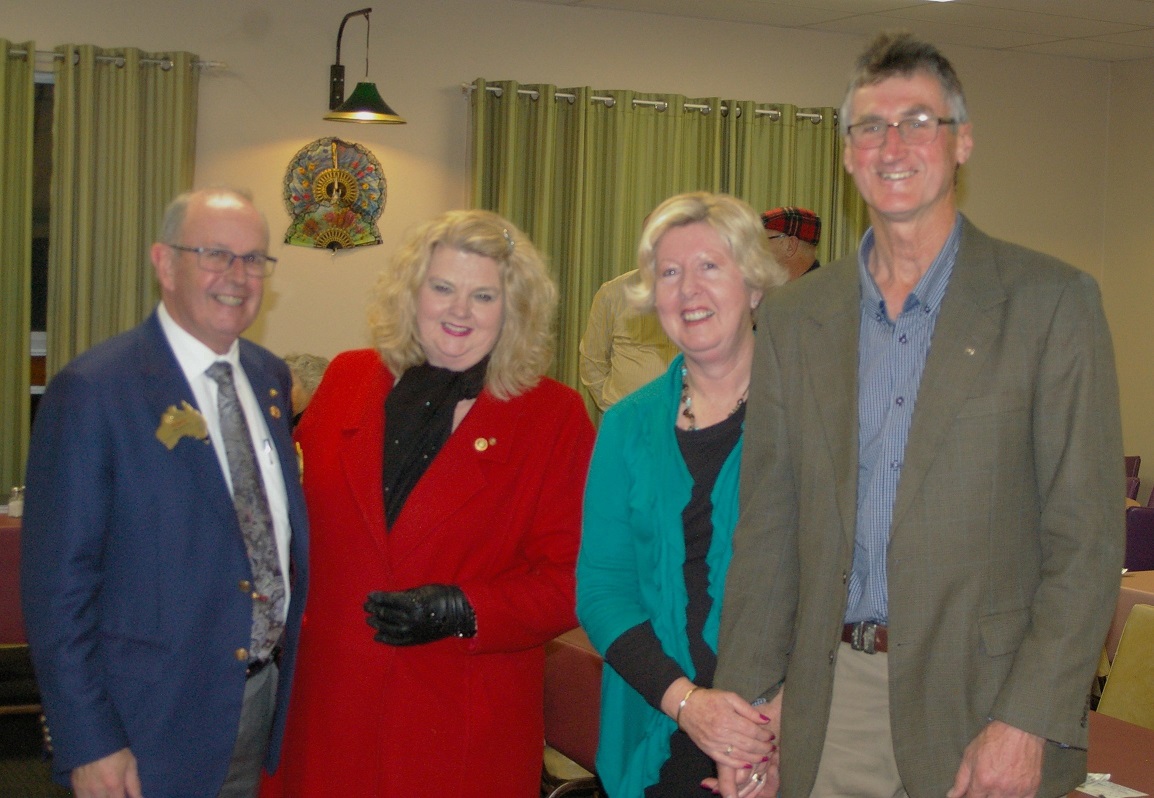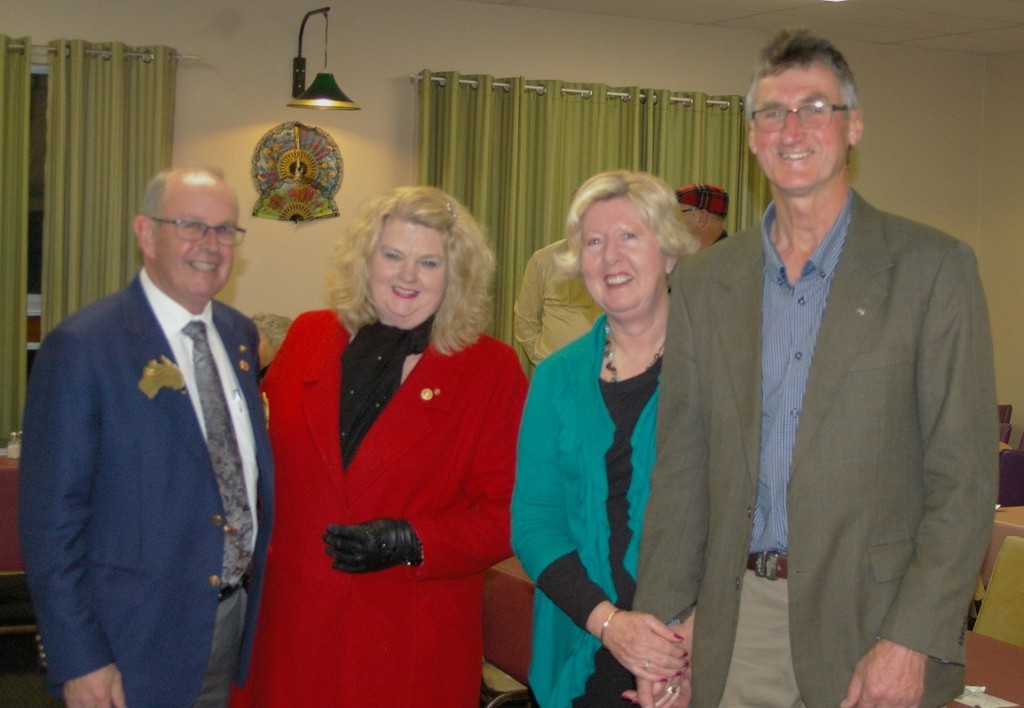 DG Gary and Marilyn Roberts with Jan and Daryl Breust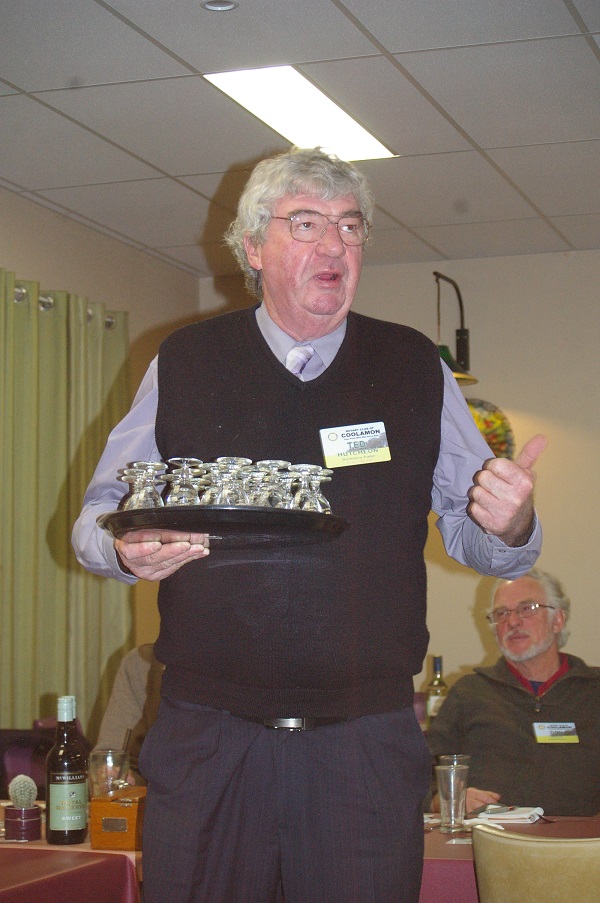 Ted Hutcheon new Grandfather of Rocco shouts the traditional port.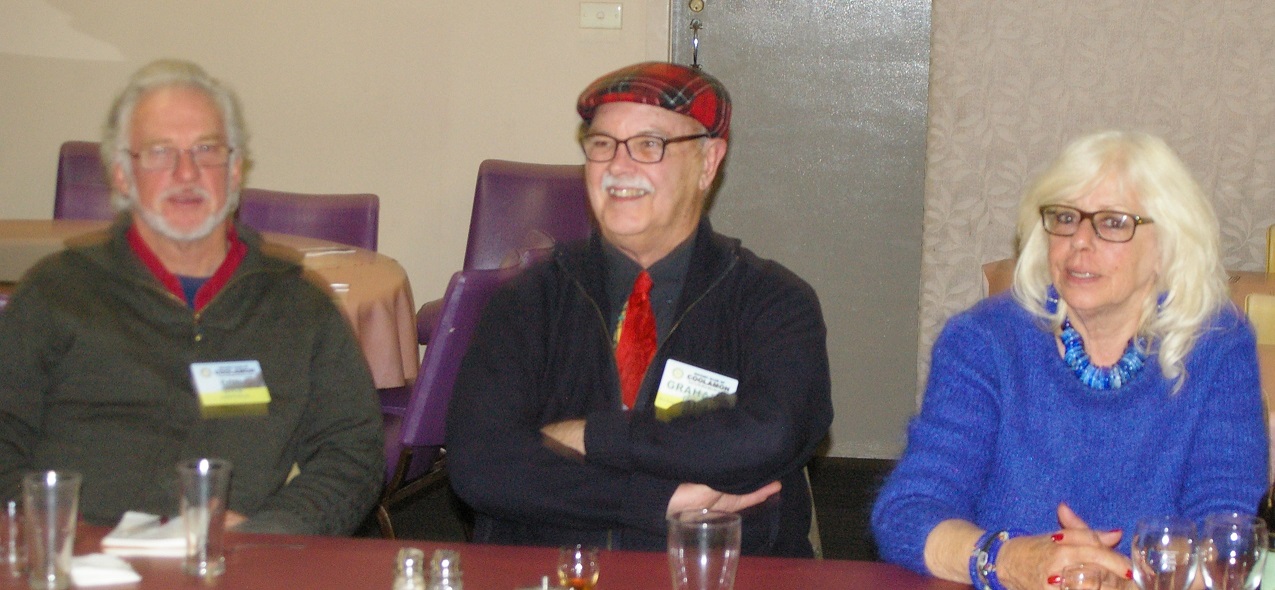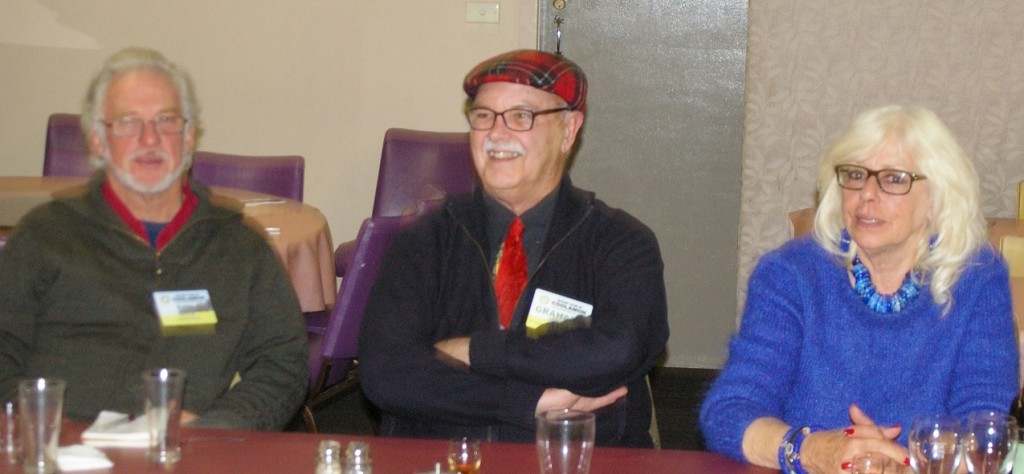 Don Dyce, Grahame Miles  and Susan Glassford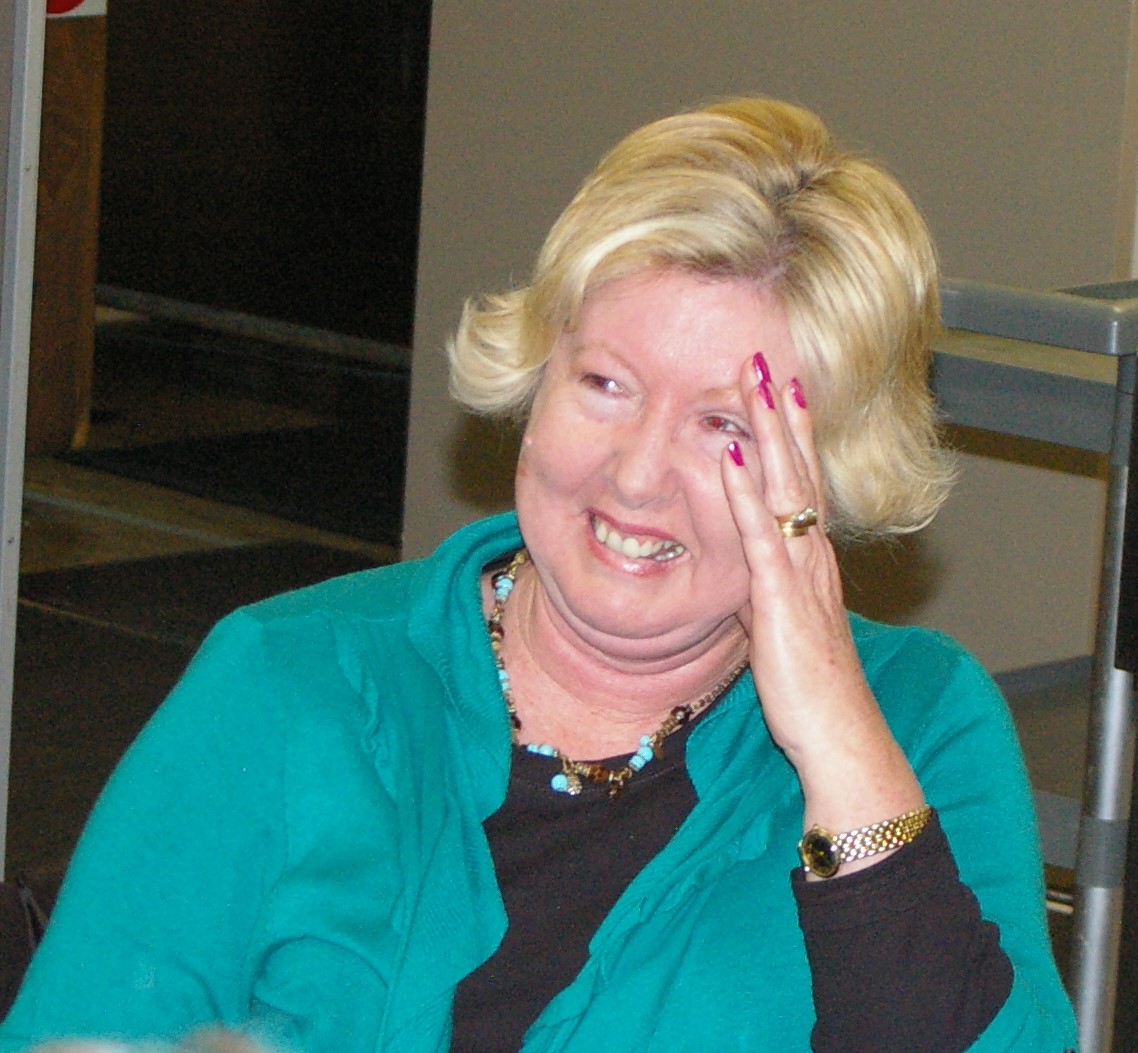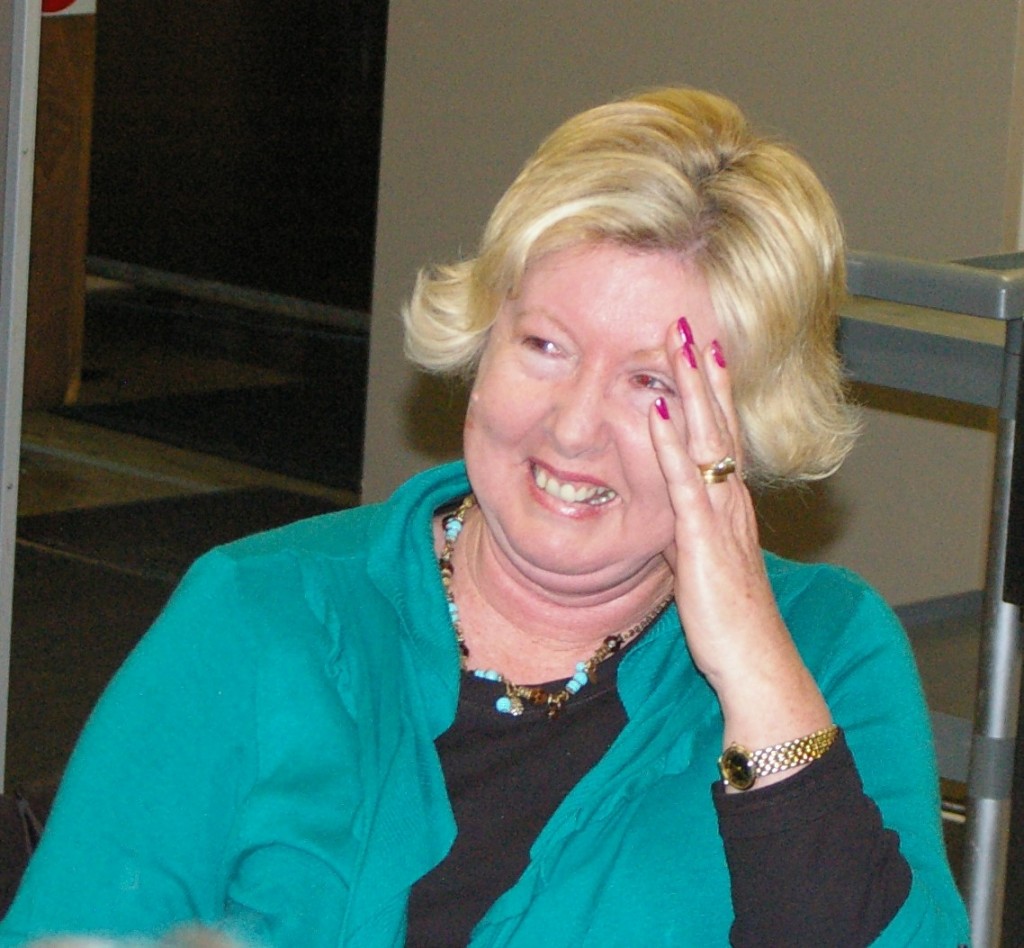 Jan Breust.
Diary Reminders
Friday 21st August Legacy Presentation 2.00 pm in Wagga Wagga All Welcome.
Friday 21st August Hospital Trivia Night at the Coolamon Sports and Recreation Club. Book a table of 8 $10 per person.  7.00 pm start call Kathy Goss 6927 3447 or Maree Jennings on 6927 3074.  
*Monday 24th August Grahame Miles History of Liverpool England.
*Monday 31st August. Guest Speaker PP Phil McIntosh Wollundry Rotary on the Wollundry Cycle Race Sunday October 4th including the Beer and Cider festival.
Saturday 5th and Sunday 6th September.  Canberra Australian Rotary Success Conference & Youth Summit 2015 At the Hellenic Club.
*Monday 7th September Guest Speaker: Steve Exton " Something Interesting"
Thursday 10th September BINGO Roster: Grahame Miles (Captain), Garth Perkin, Dick Jennings, Dave McKinley.
Monday 14th Fellowship Meeting followed by the September Board Meeting.
*Monday 21st September Matt Quade: "Security in Afghanistan, Libya and Somalia- A Hands on Experience."
*Monday 5th October NO MEETING Labor Day NSW Holiday.
Saturday 24th October Coolamon & Ganmain Hospital Fete at Ganmain.
Monday 26th October AGM and Election of Office Bearers for 2016-2017.
Friday 22nd – Sunday 24th April 2016 D9700 Conference in Wagga Wagga.
Saturday 28th May 2016 – Wednesday June 1st Seoul RICON South Korea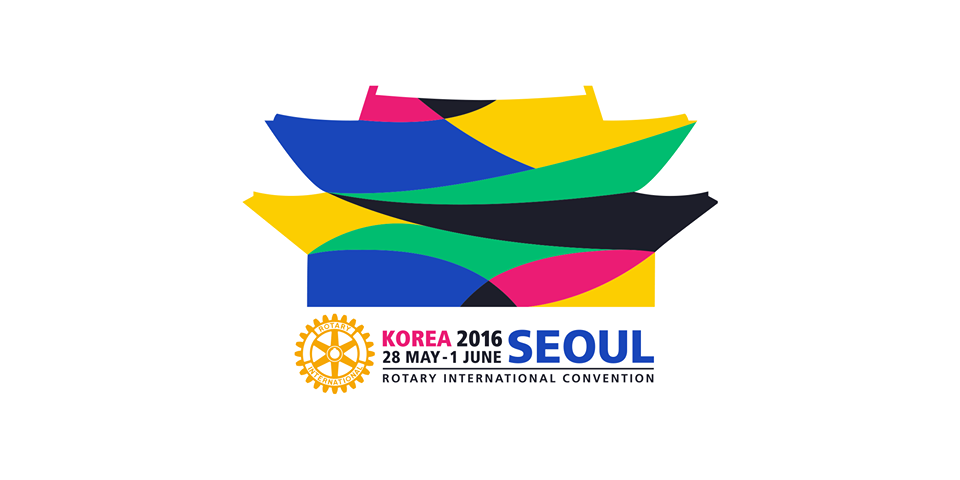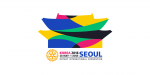 *Partners and Guests Night.
Apologies for Monday meetings call Ian Jennings on 0428 492 157  BY FRIDAY 12.00 pm.
ON THE LIGHTER SIDE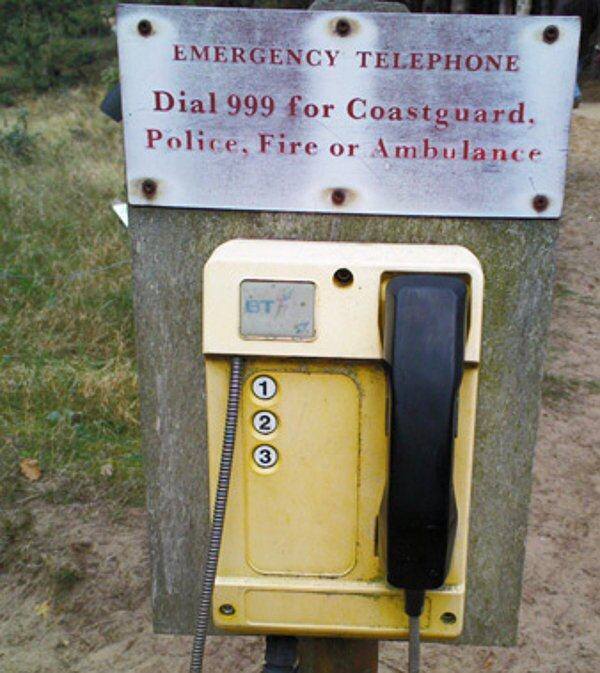 Proudly showing off his newly-leased downtown apartment to a couple of friends late one night, a drunk Maori led the way to his bedroom where there was a big brass gong hanging on the wall.
'What's that big brass gong for?' one of the friend's asked.
'Issss nod a gong. Issss a talking Australian clock' he drunkenly replied.
'A talking Australian clock – seriously?'
'Yup.' 'Hmmm (hic).'
'How's it work?' the second friend asked, squinting at it.
'Just watch' he said. He picked up a hammer, gave the gong an 'ear-shattering bash' and stepped back.
His three mates stood looking at one another for a moment in astounded silence.
Suddenly, an Australian voice from the other side of the wall screamed, 'For goodness sake, you stupid Kiwi It's ten past three in the morning !!!'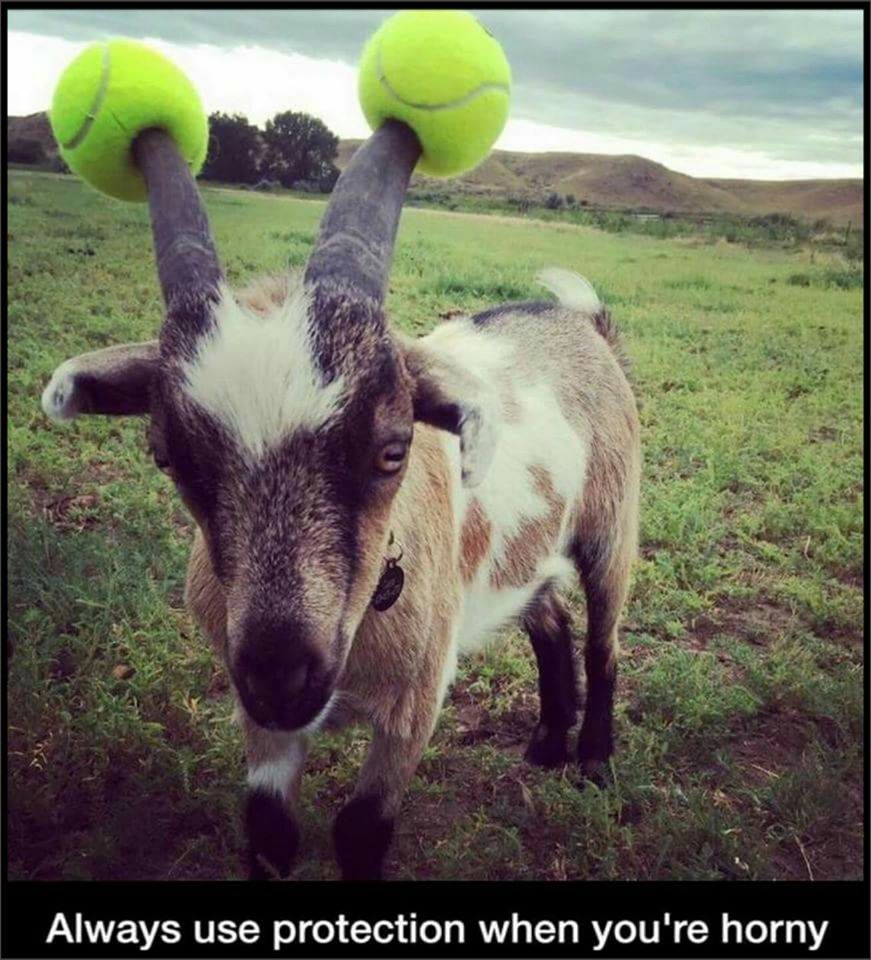 ROTARY INTERNATIONAL PRESIDENT
 K.R. "RAVI" RAVINDRAN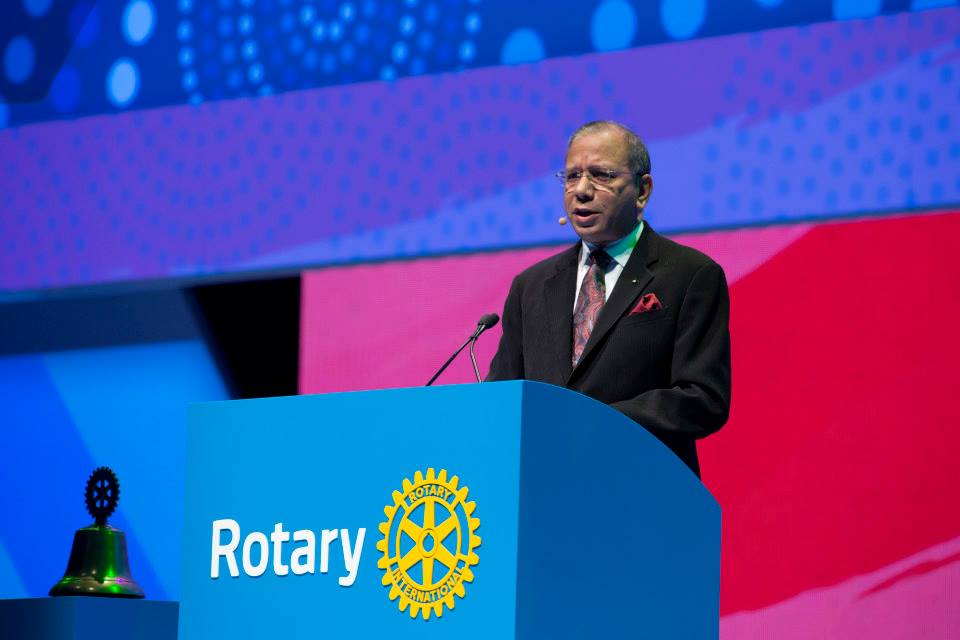 I am currently in Seoul, Korea and had the great pleasure of meeting Prime Minister Hwang Kyo-ahn. He has promised his government's full support during the Rotary convention in  Seoul next year. Register now: http://www.riconvention.org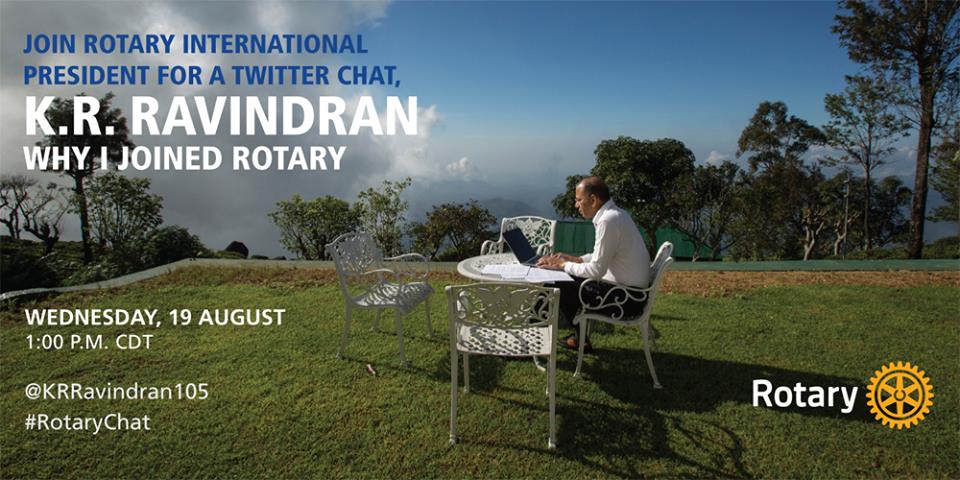 Be sure to join me on 19 August at 1:00 pm CDT for a Twitter chat on Why You Joined Rotary. Follow me on Twitter (http://buff.ly/1PcNJA2) and use #RotaryChatto participate: http://buff.ly/1PcNJA5


DISTRICT GOVERNOR GARY ROBERTS D 9700
Rotary Heritage Walk of Young.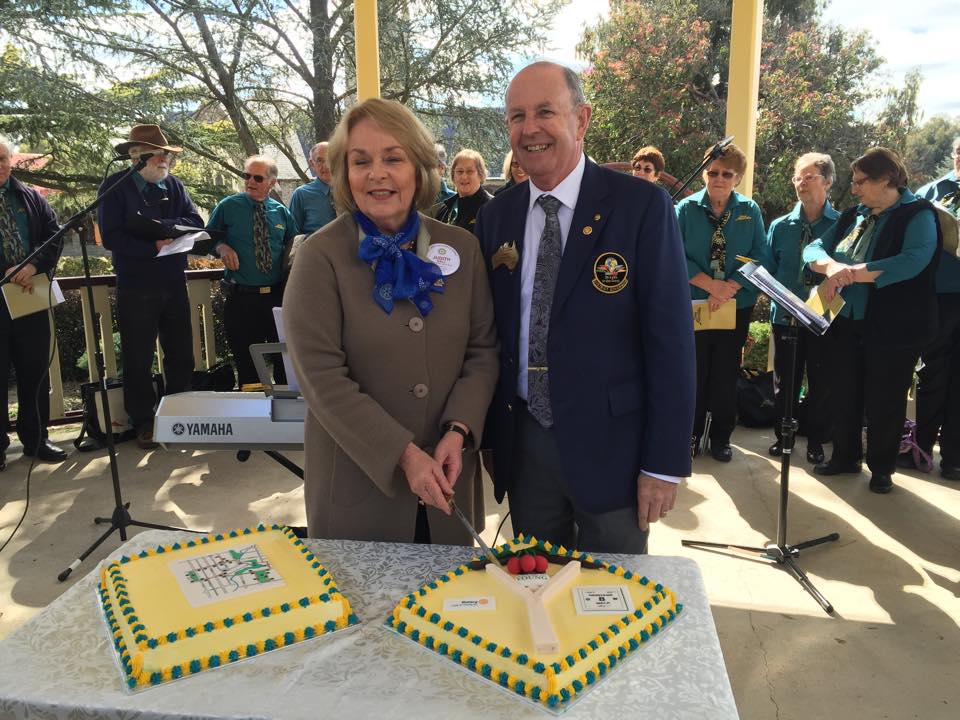 The cake cutting at Carrington Park in the Rotunda. We were entertained by Sing Australia and the Young School of Music Band and enjoyed the BBQ along with tea coffee and the cake . A great afternoon celebration for the Heritage Walk Opening.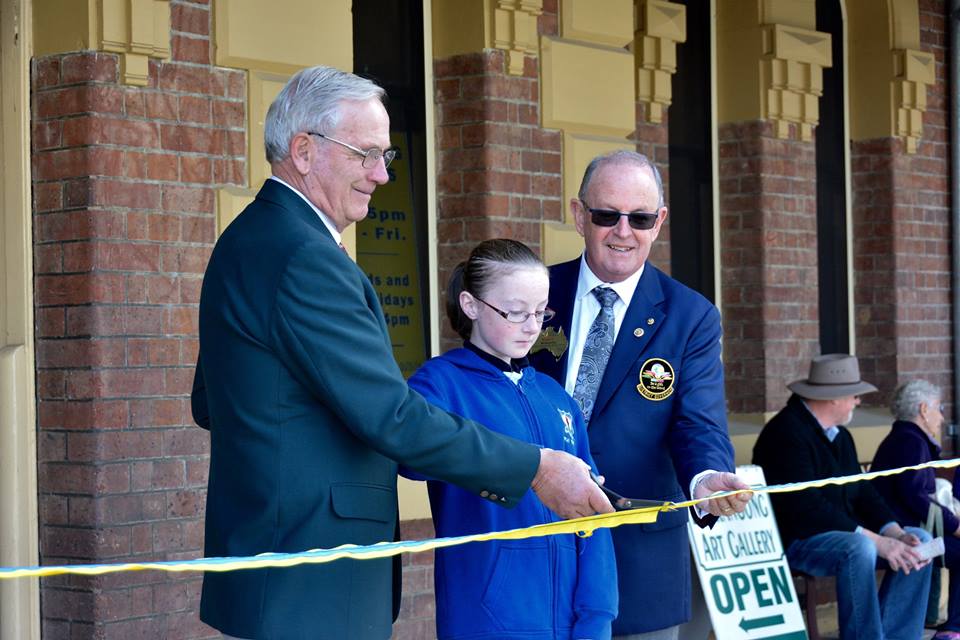 Young Rotary Club opened the Rotary Heritage Walk of Young. A big crowd witnessed the ceremonial cutting of the ribbon by Mayor John Walker, Indigenous junior representative Crystal Watterson and DG Gary Roberts.
This has been a long standing project of the Young club, and has come to fruition under the final leadership of Graham and Margaret Fathers. President Judith Hall also paid tribute to the others who had played a big leading part in finally seeing this project come alive.
ROTARY INFORMATION
MAKE UP MEETINGS ON TRAVELING.
Did you know that you're welcome to attend any club's meeting, anywhere in the world? Use the Club Finder tool or download the Club Locator app to find a meeting when you travel. Find out more tips about your membership: http://bit.ly/adozenways
One of the best parts of being in Rotary is that when you travel just about anywhere in the world you will find a local Rotary club.  Here you can meet the locals and learn about their town, city and country.  You can also exchange our club  banner with the banner of the club you are visiting.  Then bring the banner and memories back to Coolamon and add them to our collection.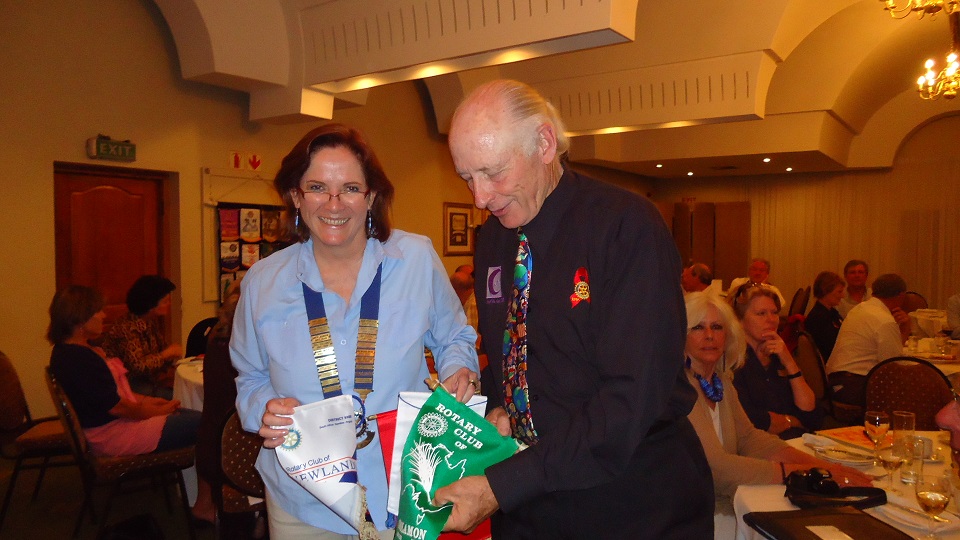 Exchanging banners at the Rotary Club of Newlands in South Africa.  This club meets at the Western Province Cricket Club Sports Centre Newlands in Cape Town.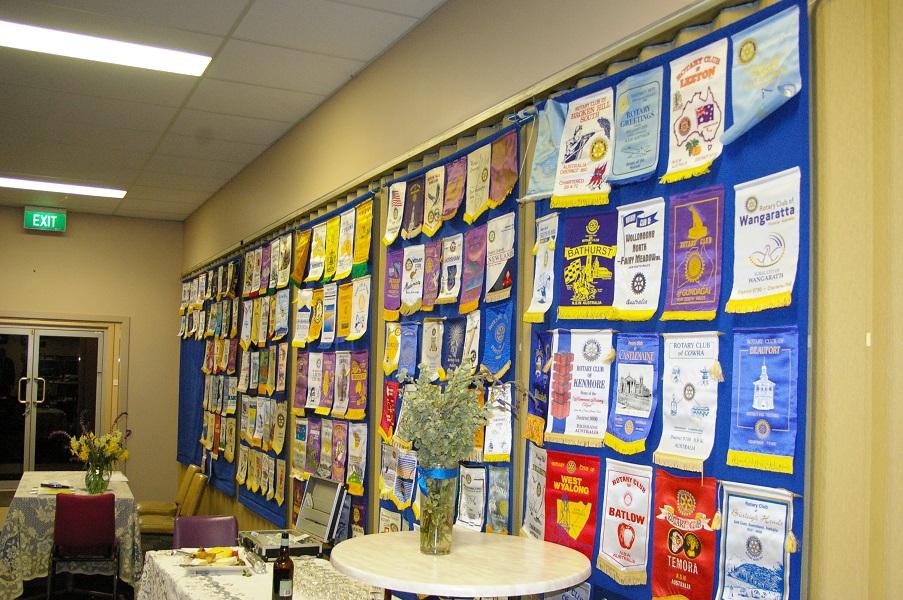 Where our banners are displayed so many now from so many Rotary clubs.
RICON 2016 SEOUL.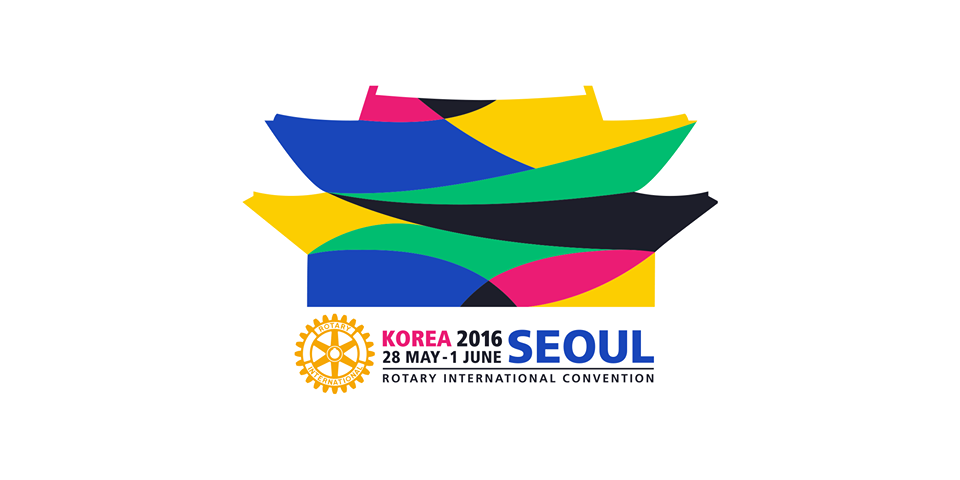 The 2016 Rotary Convention is your chance to meet Rotary members from around the globe. You'll reconnect with old friends and make new ones while exploring different cultures and exchanging ideas for a better world.
Something for every Rotarian
Whether you've just joined Rotary or are a longtime club member, our annual convention will deepen your understanding and appreciation of Rotary. You'll make personal connections on a global scale, discover new ideas for making positive change, and return to your club inspired and energized to take action. All this and the chance to explore Korea's capital, Seoul.
The Seoul convention will be a unique experience highlighted by once-in-a-lifetime activities arranged by the Host Organization Committee:
Tour Korea with local Rotary members
Enjoy stirring music and dance performances by local artists
Show off your talents at the Rotary Family Talent Contest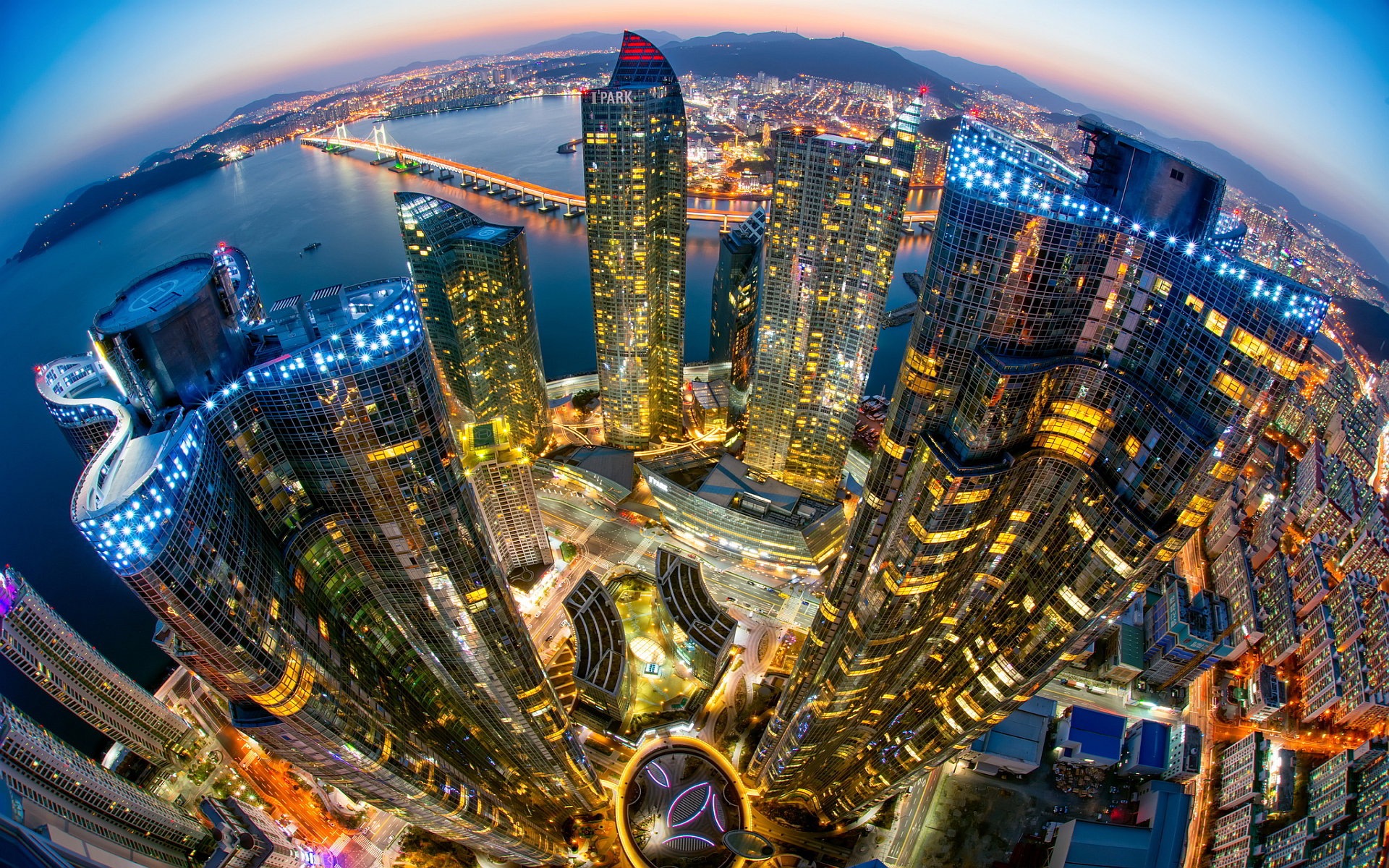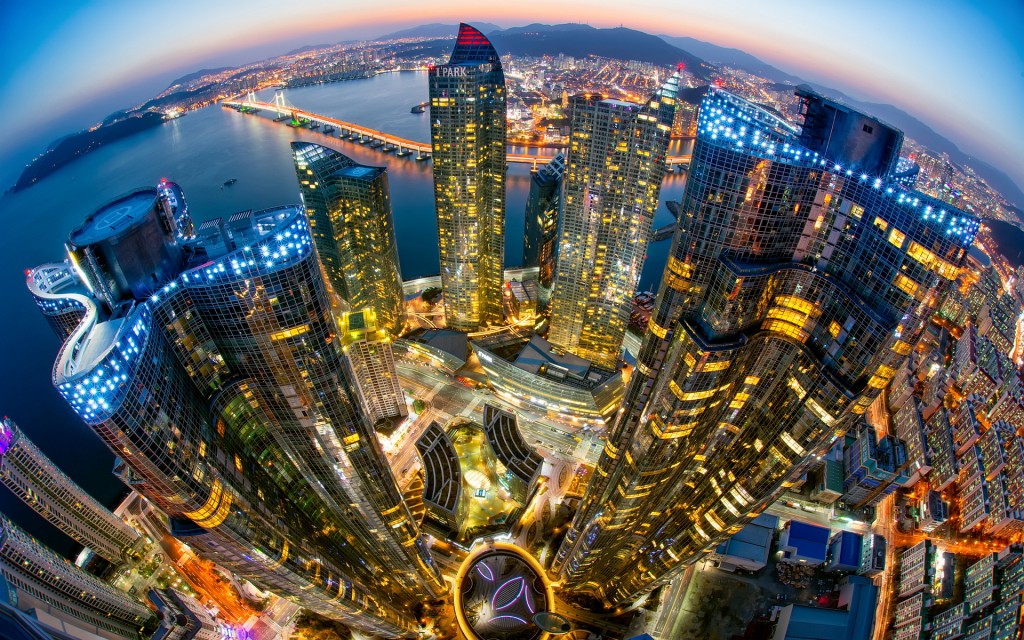 LATEST NEWS FROM RAGES.
African rhinoceros are to be flown to Australia to save them from extinction.
Secure breeding herds will be established in the Outback later this year to make sure the heavily poached species survive.
The group behind the ambitious plan – The Australian Rhino Project (ARP) – said it hoped to ensure the survival of the heavily poached species by creating secure breeding herds in the country.
African rhino currently face a relentless onslaught from organised poaching syndicates armed with high powered rifles and night vision equipment after their horn.

ONLY IN AFRICA
One man's trash is another man's eyewear! Meet Kenyan junk artist Cyrus Kabiru!
FOOTNOTE
Following on Marilyn Robert's talk last night on our Foundation I would like to let our members new old and thinking of joining us that our Club Coolamon has raised a large amount of funds that we sent to our Foundation around $25,000 following the Mount Kilimanjaro Climb in 2007.  This money was returned to us as a matching grant for the Medical Care Clinic in Hout Bay, Cape Town South Africa.
This clinic known as Coolamon,on House saves lives each and every day through their programme Operation Medical Hope.  It is here that maternal health and child  care are front and centre with their work in the prevention of the transmission of the HIV virus from mother to child.  This among many programmes they have for the population of the township in Hout Bay.  Our small club has pulled it's  weight for our Foundation and enjoyed the returns.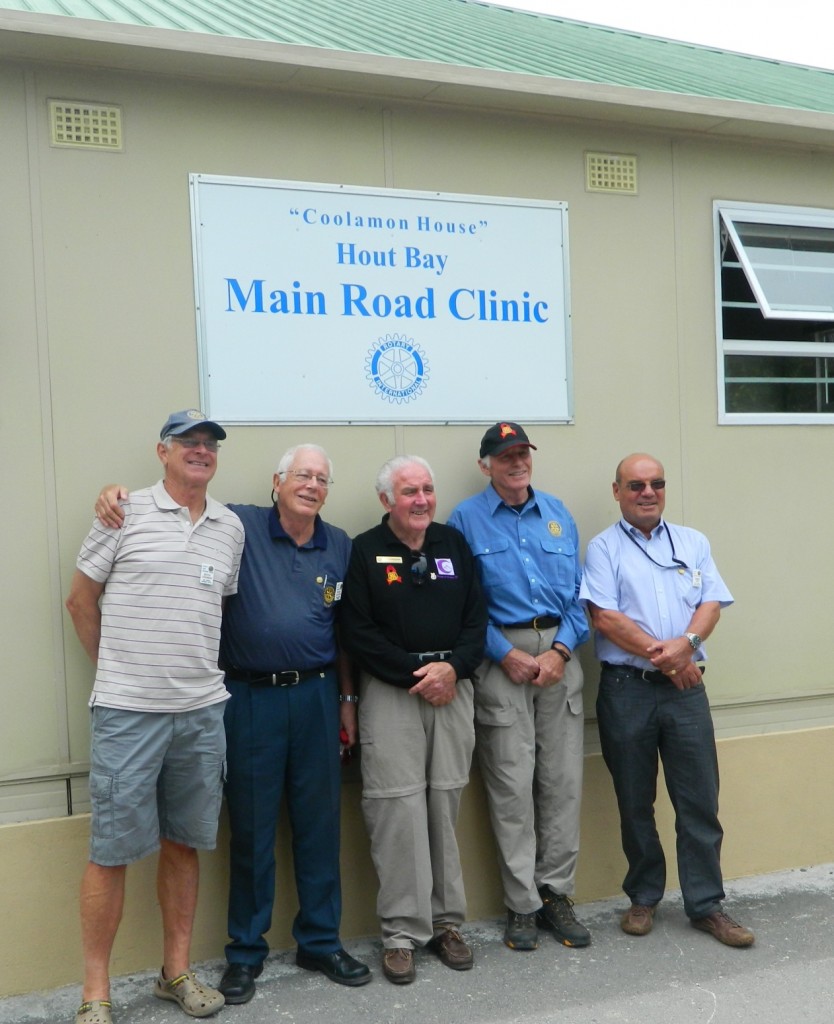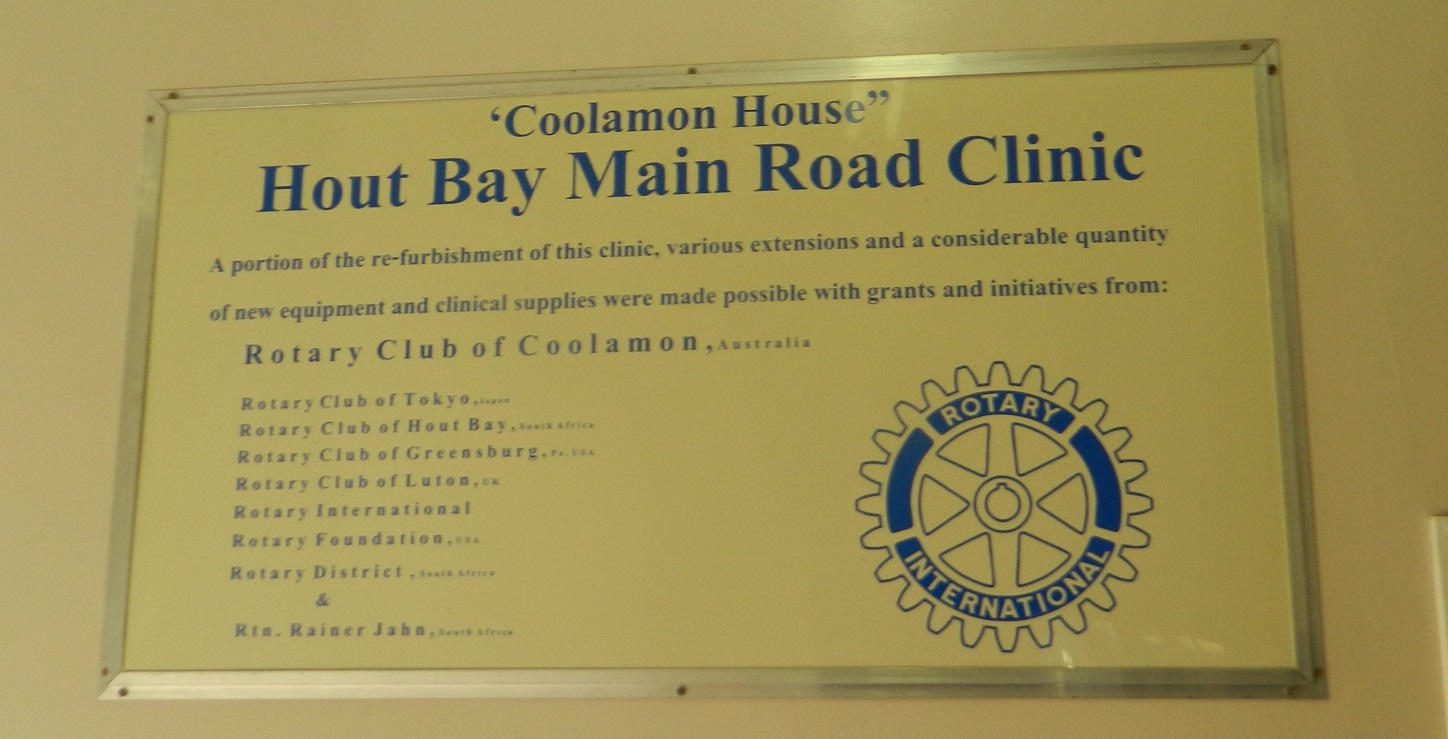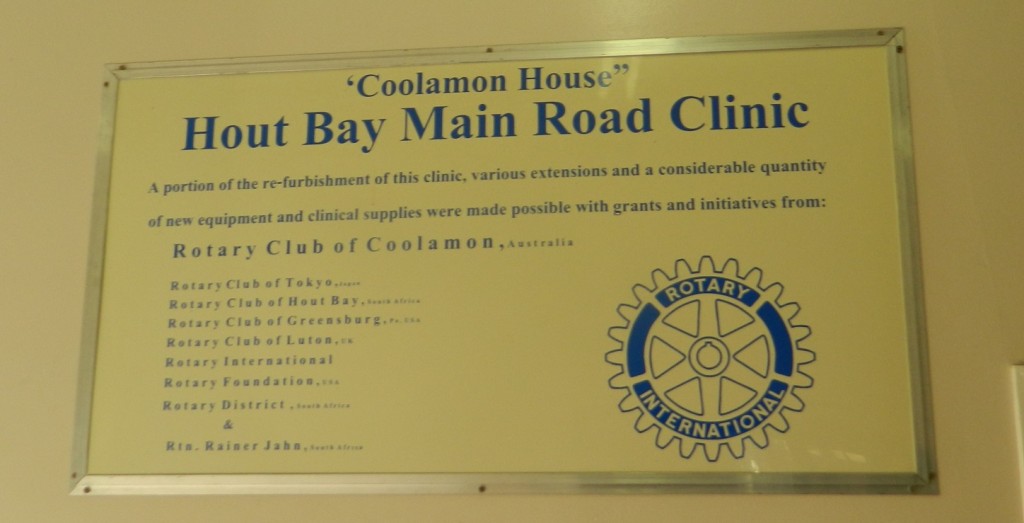 Coolamon House Hout Bay.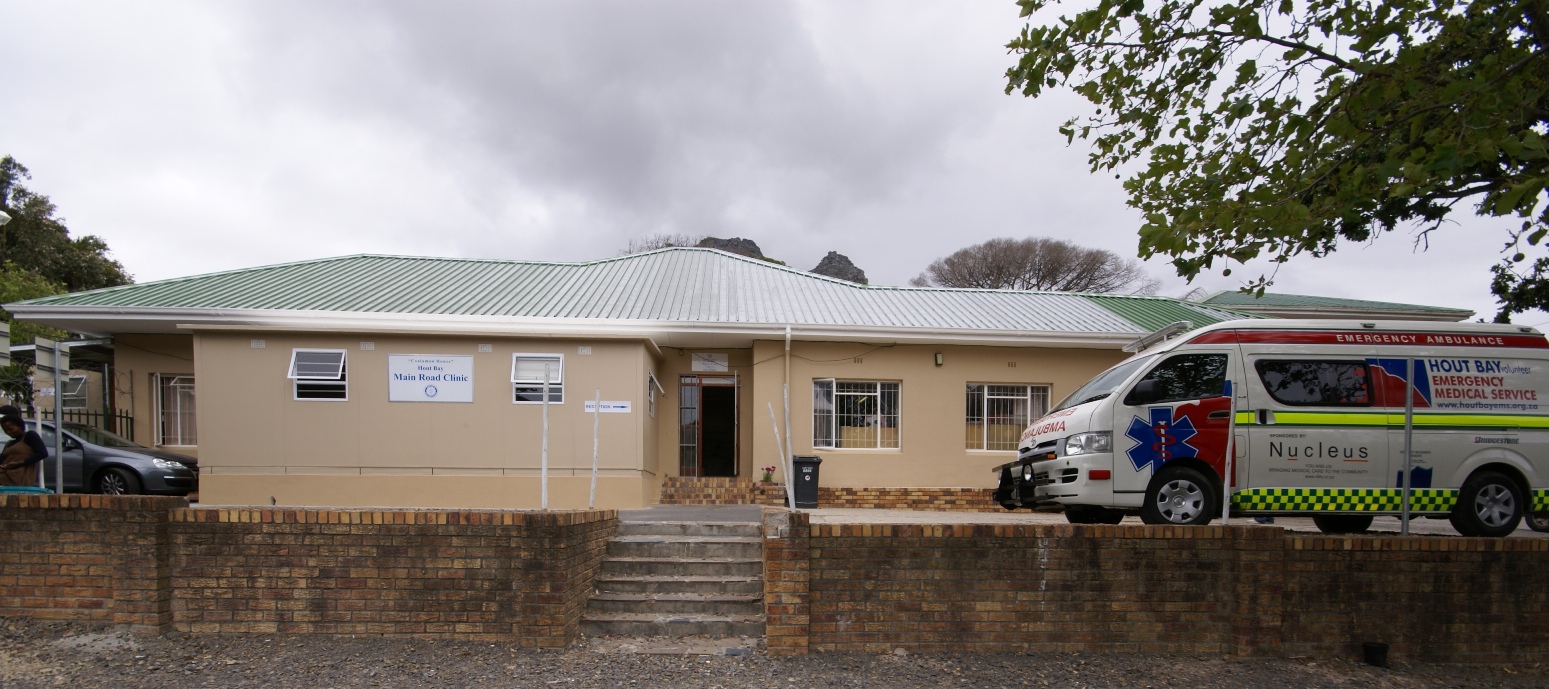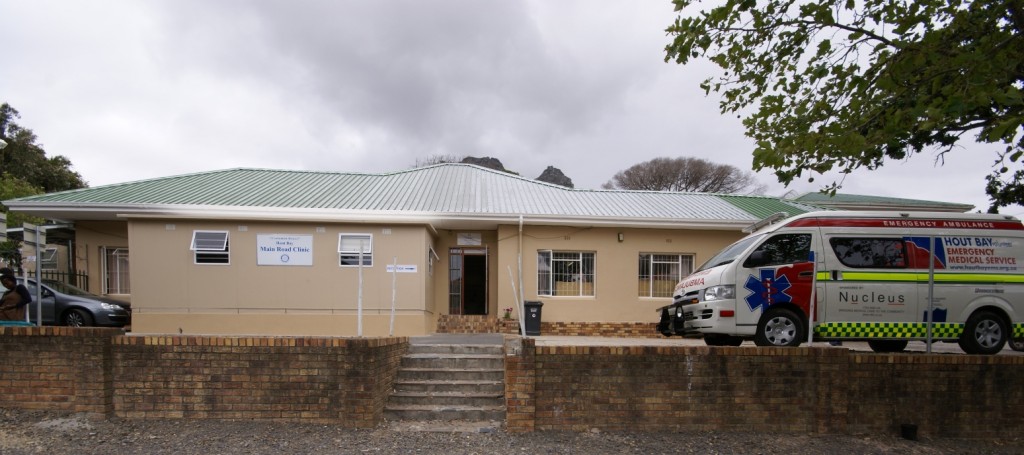 PLEASE CALL ME ANYTIME 02 6927 6027.
Bulletin Editor and Web Site:  John Glassford
Yours in Rotary John Glassford Chair 2014 -2016
Rotarian Action Group for Endangered Species
Don't  forget to regularly check our club web site for current information such as bingo rosters and various newsletters from the District Governor, the School of St. Jude's, the monthly membership on the move newsletter as well as several other club bulletins.
Rotary International President K.R. "Ravi" Ravindran
Governor of District 9700 Gary Roberts
Coolamon Club President  Wayne Lewis
Coolamon Club Secretary Paul Weston
Club Treasurer  Henk Hulsman
Coolamon Rotary Club Inc. P.O. Box 23 COOLAMON N.S.W. 2701
Websites of Interest
Coolamon Rotary Club: http://coolamonrotary.com
Road MAPS to Africa a Coolamon Rotary Project: http://www.mountainsofthemoon.org/
Rotary Down Under on line: http://flipflashpages.uniflip.com/2/26587/49598/pub
Mount Kenya 2015 Web Site incorporating the ORK: http://theork.com/
Our Rotary Centennial Twin Club Hout Bay, Cape Town, South Africa: http://www.rotaryhoutbay.org
Rotarian Action Group for Endangered Species RAGES: http://www.endangeredrag.org/#