Coolamon Rotary News Bulletin #09
SPRING HAS SPRUNG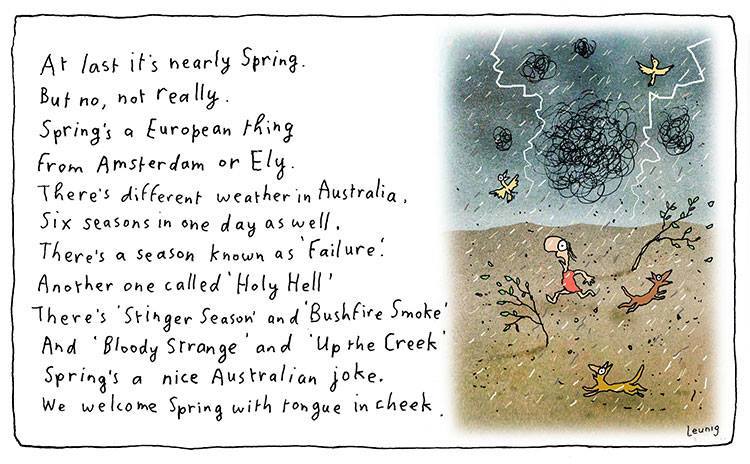 SEPTEMBER IS NEW GENERATIONS MONTH
INTERACT CLUBS
Interact gives students ages 12-18 the chance to make a real difference while having fun. Every Interact club carries out two service projects a year: one that helps their school or community and one that promotes international understanding.
Clubs meet at least twice a month and are sponsored by their local Rotary club. When you sponsor an Interact club, you're helping young people:
connect with community leaders
develop leadership skills
make international connections
discover more opportunities to connect with Rotary, including Rotaract, RYLA, and Youth Exchange.Learn more about Interact.
MEETING MONDAY SEPTEMBER 1st. 2014
Tonight we welcomed home Dick Jennings and Ian Durham.  Our guests included Helen Lewis and Liam Armstrong our guests speaker.  13 members attended with Dick in the chair.  Our members were reminded that on Saturday night in Ganmain there is a Trivia night so far 15 are attending.
On this Wednesday night i.e. tomorrow night there is a meeting at the Sports and Recreation Club in Coolamon on forming a committee to look at having an ambulance station located in Coolamon.  Members are encouraged to attend.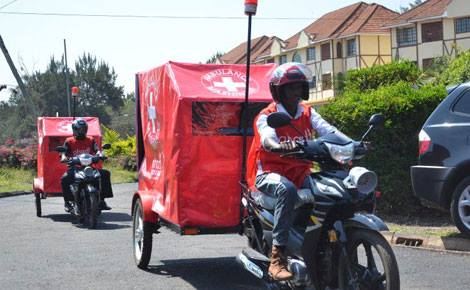 There will also be a farewell to Ray Wall on October 30th again at the Coolamon Sports and Recreation Club cost $35 per person.
Henk Hulsman our Treasurer reminded all that our 6 monthly fees are due now.
Henk Hulsman called for volunteers for Sunday 14th September from 7.00 am at the Central School to man our van and cook for 200 delegates to the Rural Womens Conference and Workshops.  So far Wayne Lewis, Ted Hutcheon, Paul Weston, Myffy Collette, Bernadette Milne, Henk Hulsman, Dick Jennings and John Glassford have volunteered.
We had an excellent talk given to us by Liam Armstrong from Coolamon.  Liam works in the Coolamon Butchers and is well known to us.  Liam's mother and father run the Coolamon Post Office.  Liam is a passionate lover of harness racing and spoke well on his career to date and how he started harness racing at the age of 7 with his ponies Little B and Mr Wilson.
All who were present were well entertained by Liam and we found out about his life and his passion.  Liam is doing very well and has driven in a Group 3 race at Menangle among many other of his 96 drives to date.  Liam is well respected in the harness driving industry and were all very impressed with Liam and Liam is welcome back at anytime to our club.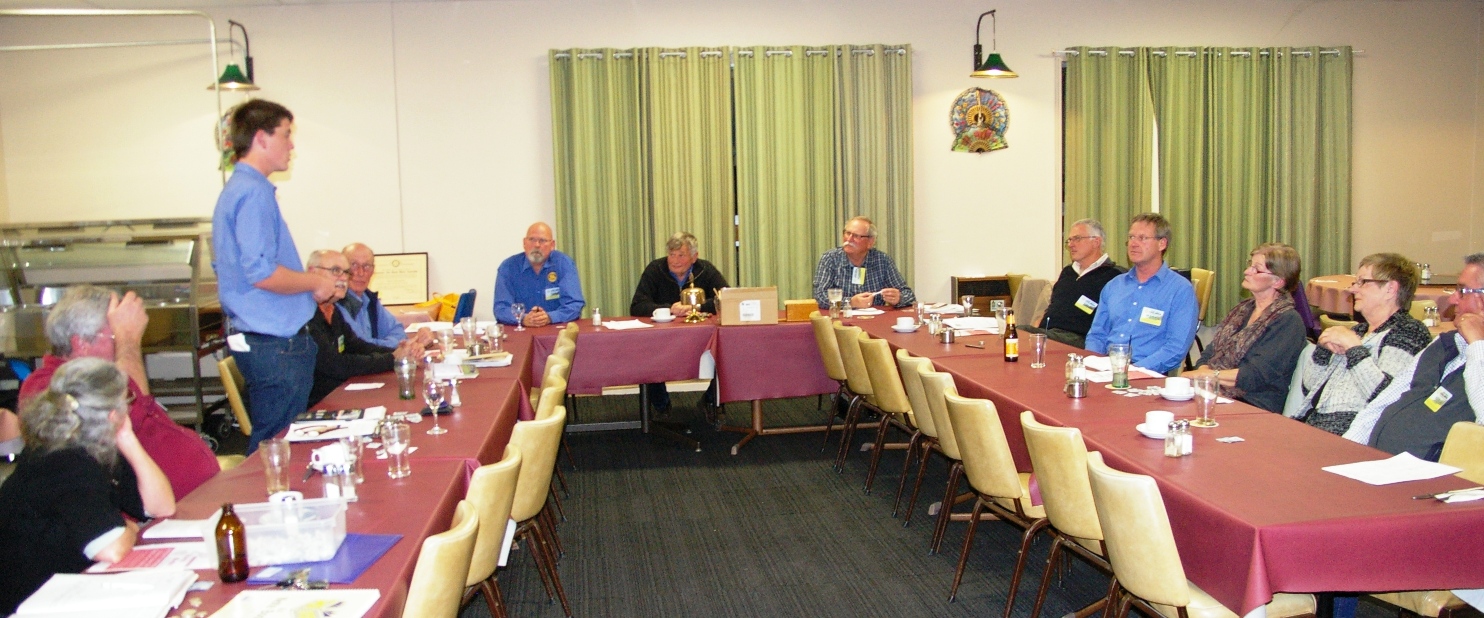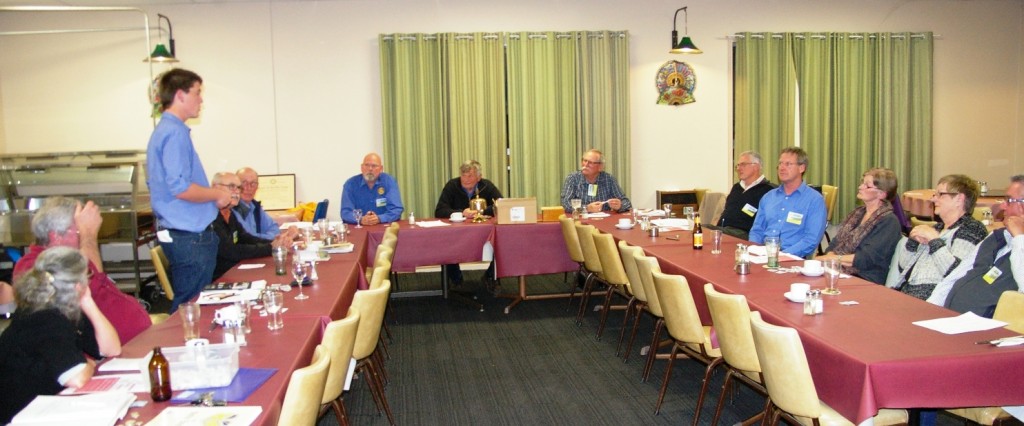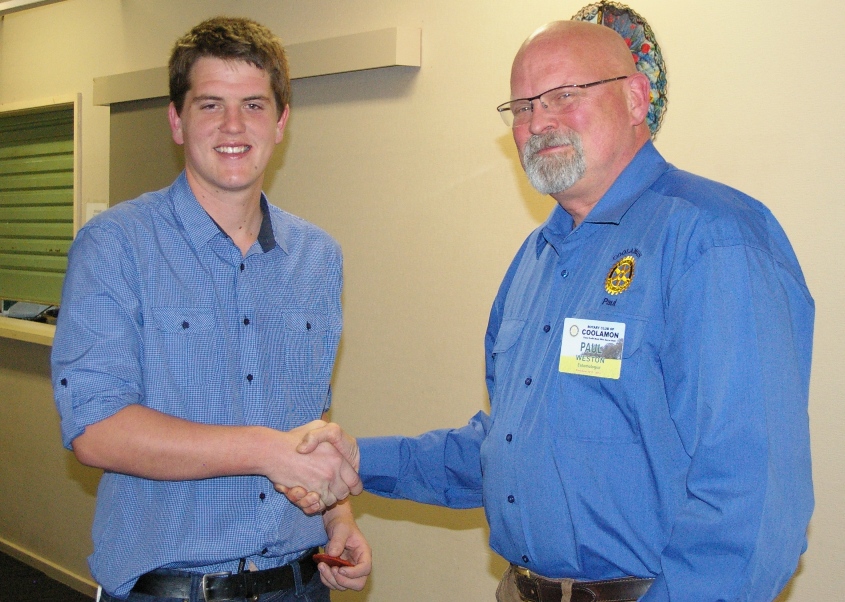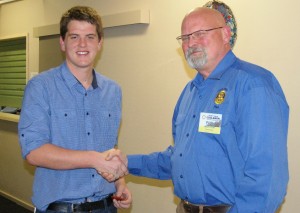 Liam Armstrong receives a vote of thanks and a Kangaroo pouch, from PP Paul Weston
Diary Reminders
Wednesday 3rd September Coolamon Ambulance Meeting at Coolamon Sports Club 7.00 pm.
Friday 5th September Blokes Biggest Lunch for Prostrate Cancer Research Wagga Wagga RSL.
Saturday 6th September Ganmain Trivia Night
Monday 8th September Board Meeting.
Thursday 11th September BINGO Roster Ian  Durham  (Captain), Myffy Collette, Bernadette Milne, John Glassford.
Thursday 11th September Mount Kenya ANZAC Day Climb 2015 Meeting at the Wagga Wagga Commercial Club 6.30 pm for a 7.00 pm start.  This will include several members from clubs in our area.  PDG Fred Loneragan will chair the meeting.
Friday, Saturday, Sunday 12 ,13, 14th September Rural Womens Conference and Workshops in Coolamon.
Saturday 13th September Run2Raise Sausage Sizzle at Rural Supplies Coolamon.
Sunday 14th September Breakfast for the Rural Womens Conference at the Coolamon Central School start time 7.00 am.  Volunteers wanted.
*Monday 15th September Guest Speaker Luke Mulley: " Desert Marathons and long distance running in general"
*Monday 22nd September Guest Speaker PP Barry Lillywhite and Anton Green on the proposed Cheese Factory for Coolamon. 
*Monday 29th September 2014 DG David Kennedy's Visit
Saturday 4th October Scarecrow Festival by the Coolamon Men's Shed
Monday 6th October NO MEETING.
* Tuesday October 7th Joint Foundation Meeting at Junee with PDG Ian Simpson D9700 DRFC.  In lieu of Monday Meeting N.B.
Thursday 9th October BINGO Roster  Neil  Munro  (Captain), Ted Hutcheon, Wayne Lewis, Don Dyce
Monday 13th October Board Meeting.
Friday 17th October Run2Raise Raffle at the Bottom Pub $60 per person includes dinner.  Prize a night at the Hilton Hotel in Sydney.  In aid of Alice Bailey-Brown and Kellie Wall.
*Monday 20th October Garth Perkin as our guest speaker.
Thursday 30th October Ray Wall's farewell Coolamon Sports Club $35 per head.
Monday 10th November AGM.
*Partners and Guests Night.
Apologies for Monday meetings call Christine Atkinson on 0427 880 158 or 6927 3521 BY FRIDAY 12.00 pm.
ROTARY INTERNATIONAL PRESIDENT GARY HUANG
PRESIDENT GARY HUANG SEPTEMBER MESSAGE
SEPTEMBER 2014
One of the great privileges of being president of Rotary International is having the chance to visit so many parts of the Rotary world. Usually I travel to participate in Rotary events; speak at Rotary clubs, conferences, and institutes; and encourage Rotarians in their service. But as president, I am responsible for all branches of the Rotary family. This means that it is also my privilege to support the service of Rotary's youngest generations: our Rotaractors, Interactors, Rotary Youth Exchange students, and Rotary Youth Leadership Awards participants.
 HOLD A ROTARY DAY & SHARE ON SOCIAL MEDIA.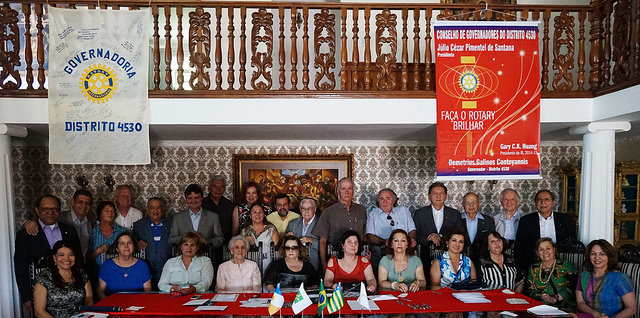 Share your #RotaryDay photos on social media using #RotaryDay, or upload your photo to your Flickr stream and share it with Rotary on its Family of Rotary Group at www.flickr.com/groups/familyofrotary/. 
To share your video, upload it to YouTube and send a link to [email protected].

Learn more about Rotary Day at www.rotary.org/myrotary/en/rotary-days.
Family of Rotary www.flickr.com
The Family of Rotary Flickr group is a forum for Rotary members to share photos of what their clubs are doing around the world, uniting leaders from diverse background to solve the world's most challenging problems
DISTRICT GOVERNOR DAVID KENNEDY D 9700
This is the way to enjoy a Rotary meeting!!
A typical meeting of Blayney Rotary Club that's our President John Power with Past District Governor Ian Tooke enjoying a red wine
Domestic violence officer wins police of the year.

Executive officer Kristy-Lee Holmes, senior constable Matthew Owen from the traffic and highway patrol, Coolamon senior constable Brad Hallam, Sunrise Rotary president Jo Wilson, constable Madonna Reardon, superint Bob Noble, constable Brayden Sharrock and Wagga LAC volunteer Ray Pelletier with their awards at the gala presentation. Picture: Kieren L Tilly
ON THE LIGHTER SIDE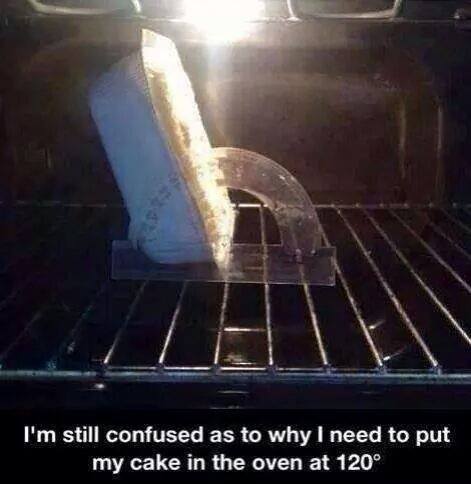 Deserted Island
Abe and Esther are flying to Australia for a two-week vacation to celebrate their 40th anniversary. Suddenly, over the public address system, the Captain announces, "Ladies and Gentlemen, I am afraid I have some very bad news. Our engines have ceased functioning and we will attempt an emergency landing. Luckily, I see an uncharted island below us and we should be able to land on the beach. However, the odds are that we may never be rescued and will have to live on the island for the rest of our lives!"
Thanks to the skill of the flight crew, the plane lands safely on the island. An hour later Abe turns to his wife and asks, "Esther, did we pay our $5,000 PBS pledge check yet?"
"No, sweetheart," she responds.
Abe, still shaken from the crash landing, then asks, "Esther, did we pay our American Express card yet?"
"Oh, no! I'm sorry. I forgot to send the check," she says.
"One last thing, Esther. Did you remember to send checks for the Visa and MasterCard this month?" he asks.
"Oy, forgive me, Abie," begged Esther. "I didn't send that one, either."
Abe grabs her and gives her the biggest kiss in 40 years. Esther pulls away and asks him, "What was that for?"
Abe answers, "They'll find us!"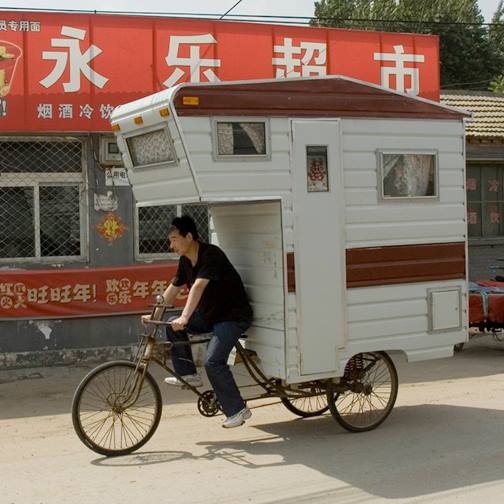 ROTARY INFORMATION
POLIO'S RETREAT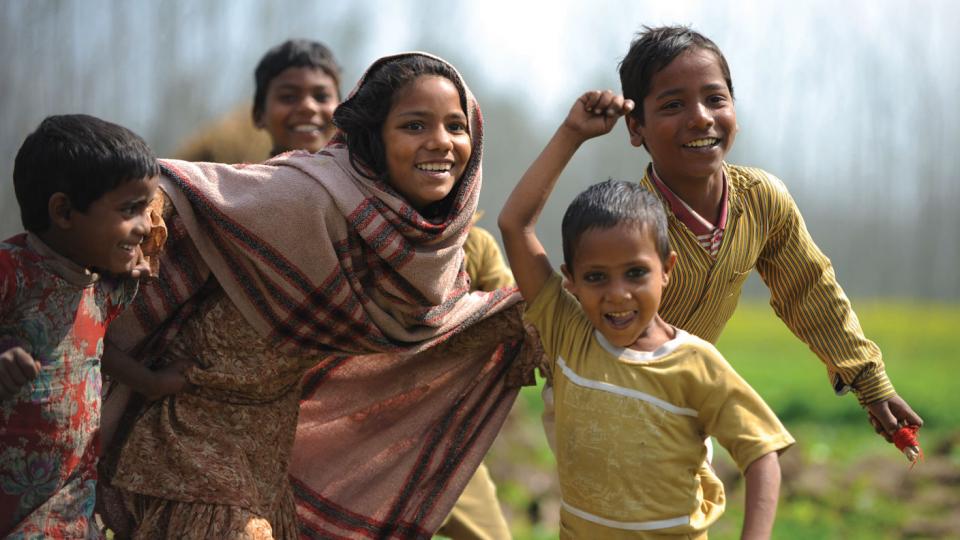 Months of physical therapy have allowed Samir to keep active with his siblings. He loves to play outside, and his favorite game is chase. Since 1995, when India held its first national polio immunization campaign, 2.3 million vaccinators have visited 209 million households to immunize 170 million children every year. Their efforts will help provide a polio-free future for generations to come throughout Southeast Asia.
Photo Credit: Allison Kwesell
As photojournalist Allison Kwesell walks through the narrow streets of an Indian village, familiarity sets in. She visited here four years ago, when she first met Samir and his family. He was two years old then and had recently contracted polio.
Kwesell approaches the front porch of a home when she hears an older woman yelling "Samir! Samir!" She runs toward the voice, wondering if she'll recognize the boy. She sees six children playing chase on the dry earth, the dirt forming clouds around their feet. From afar she notices a young boy, not unlike the other barefoot children in the backyard overlooking patches of farmland, except for his slight limp. She moves closer and the children pause, half encircled around the boy. Kwesell recognizes him by his eyes. Samir is six now, and with the help of physical therapy, he can run and play with the rest of the children in his village on the outskirts of Moradabad.
Samir is one of the last children in India to contract polio. In March 2014, the World Health Organization announced that its Southeast Asia region is officially polio-free. The certification came on the heels of India's successful fight against the disease: It celebrated three years without polio in January.
OUT OF AFRICA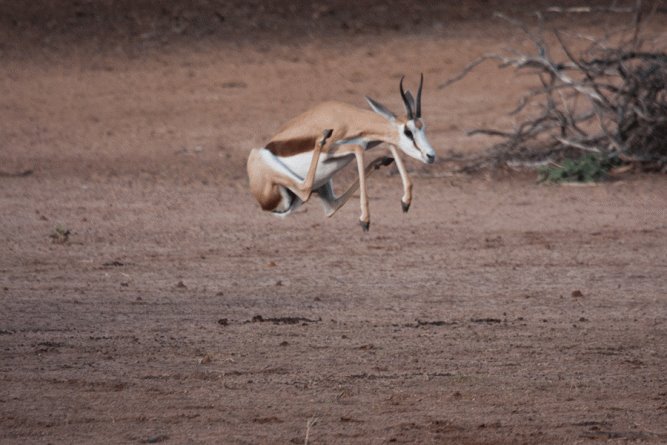 Spring has sprung in Southern Africa!
MOUNT KENYA 2015 ANZAC DAY CLIMB
This will be a permanent section for the next 12 months in our weekly bulletin and I will update stories to this article as and when we get them.   The Australian Commonwealth Department of Veterans Affairs have approved our application to be part of the Centenary for ANZAC and we are allowed to use the logo below with some rules on it's use: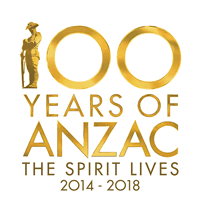 The Mount Kenya 2015 web site can be found here on clicking the banner below: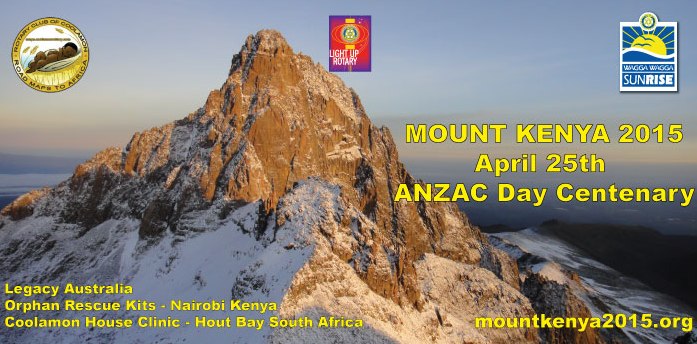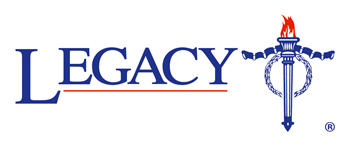 THE SAFARI TEAM
Staying Here want to join us?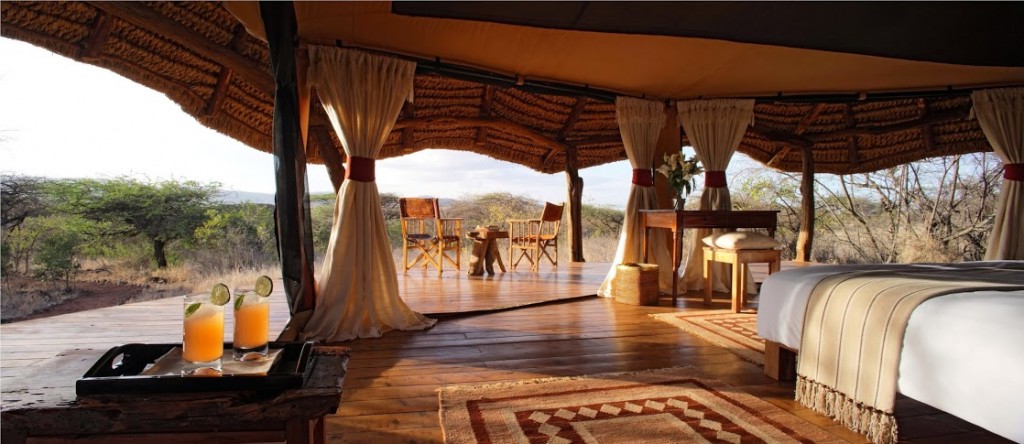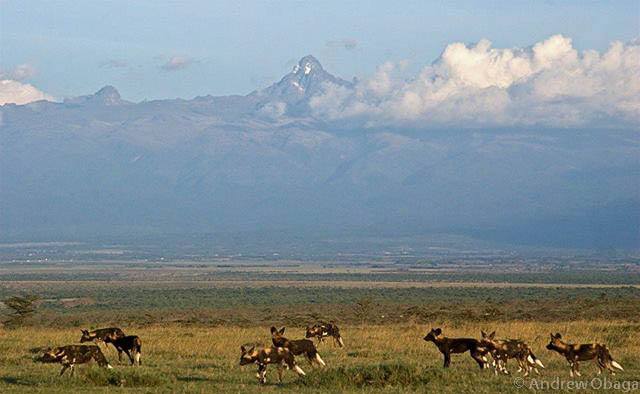 Wild Dogs at Ol Pajeta Conservancy one of the parks the Safari Team is visiting.
FOOT NOTE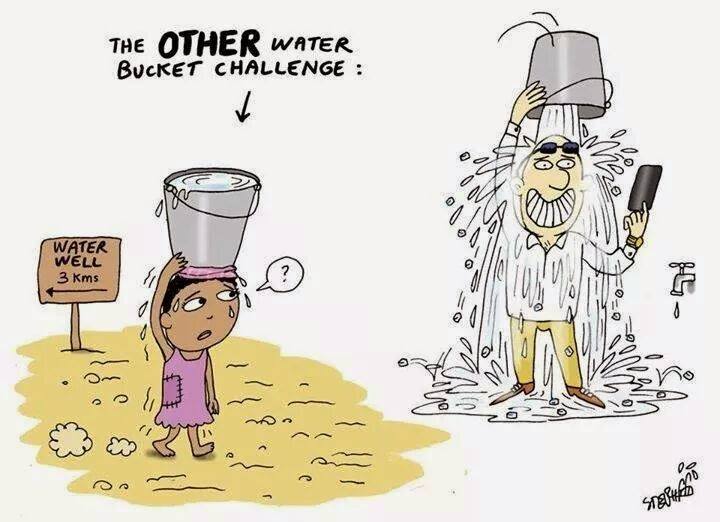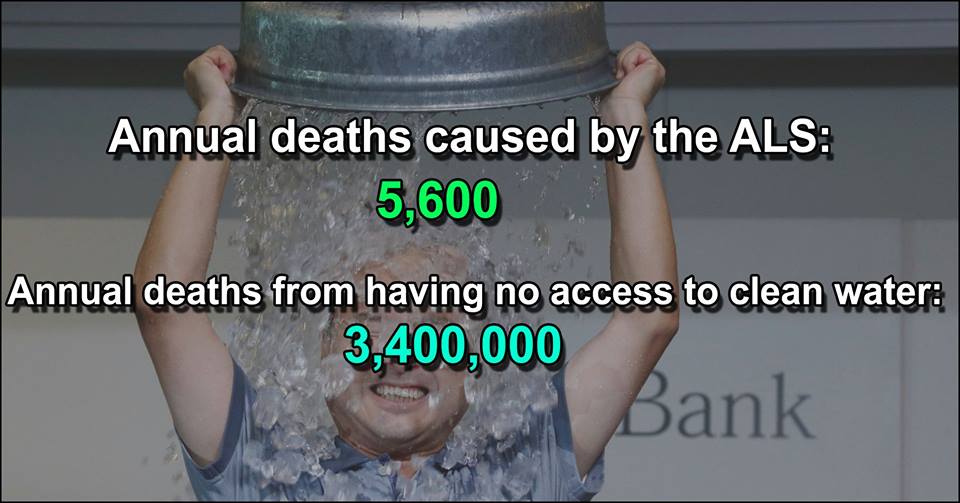 Yours in Rotary John Glassford Chair 2014 -2015
Proposed Rotarian Action Group for Endangered Species
PLEASE CALL ME ANYTIME 02 6927 6027.
Bulletin Editor and Web Site:  John Glassford
Don't forget to regularly check our club web site for current information such as bingo rosters and various newsletters from the District Governor, the School of St. Jude's, the monthly membership on the move newsletter as well as several other club bulletins.
Rotary International President Gary Huang
Governor of District 9700 David Kennedy
Coolamon Club President  Garth Perkin
Coolamon Club Secretary Paul Weston
Club Treasurer  Henk Hulsman
Coolamon Rotary Club Inc. P.O. Box 23 COOLAMON N.S.W. 2701
Websites of Interest
Coolamon Rotary Club: http://coolamonrotary.com
Road MAPS to Africa a Coolamon Rotary Project: http://www.mountainsofthemoon.org/
Rotary Down Under on line: http://flipflashpages.uniflip.com/2/26587/49598/pub
Mount Kenya 2015 Web Site incorporating the ORK: http://theork.com/
Our Rotary Centennial Twin Club Hout Bay, Cape Town, South Africa: http://www.rotaryhoutbay.org
Proposed Rotarian Action Group for Endangered Species RAGES: http://www.endangeredrag.org/#