Coolamon Rotary News Bulletin #09
AUGUST IS MEMBERSHIP AND EXTENSIONS MONTH.

THE NEW ROTARY LOGO LAUNCHED TODAY 26 August 2013
MONDAY MEETING 26th AUGUST 2013
Tonight we had a regular meeting with our guest speaker being John Franklin a Coolamon Resident.
Guests present were a Past President of Coolamon Rotary Bob McCormack and John Franklin.  12 members also attended and we had a fine roast dinner.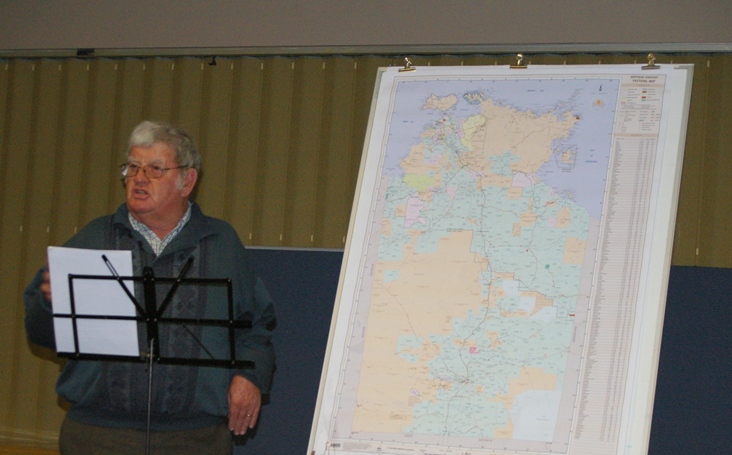 John Franklin and a map of the Northern Territory.
John was born in Lake Cargelligo and worked for Elders.  John became a Pastoral Inspector for the Department of Lands in the Northern Territory and spent 21 years there with two other pastoral inspectors.  Their duties included overseeing rental leases for the 221 pastoral leases that covered some 1,346,000 square kilometres.  John was based in Darwin and told us many stories on life in the Northern Territory during his time there.  We learnt that the NT obtained self government in 1978 from Canberra.
Ucharonidge Station one of the many pastoral leases that John looked after and one with a connection to Coolamon via John Glassford.  It is a small world and John Glassford once bought 1,000 "Yaks" Brahman Cross Bos Indicus steers from Ucharonidge and shipped them to Trangie.  Ucharonidge was owned by the Beebe Brothers who eventually sold to Kerry Packer.  Ucharonidge was a relatively small property some 250,000 hectares.
President Dick won the meat tray raffle and we had a good night of fellowship following the meeting.
Reminder to all our guests that next Monday is a partners night with another excellent speaker in Colleen Wilson Lord OAM please advise Christine Atkinson of your attendance.
Diary Reminders
Friday August 30th Steam Train in Coolamon Morning Tea  TBA.  Volunteers required.
*Monday 2nd September Guest Speaker Colleen Wilson Lord OAM.
Tuesday 3rd September Memory, Movement and Motivation Information Day Coolamon  by Colleen Lord OAM Health and Wellness Day at the Allawah Community Centre. Contact Clare Munro: 6927 3548.
Monday 9th September Regular Meeting followed by a Board Meeting, all members are invited to attend.
Thursday 12th September BINGO:  Christine Atkinson, Mark Reardon, Dick Jennings, Neil Munro
*Monday 30th September DG Geoff Tancred's Visit.
Sunday 6th October Coolamon Scarecrow Festival.
Monday 7th October NO Meeting Labour Day Weekend.
Thursday 10th October BINGO:   Ian Jennings, John Glassford, Grahame Miles, Ted Hutcheon
Saturday 12th October Coolamon and Ganmain Hospital Fete IN Ganmain.
Saturday 26th October Street Raffle in Coolamon.
Sunday December 8th Early Pre-Christmas Rotary Community Market Day in Coolamon.
Saturday 22nd and Sunday 23rd February PETS in Young
Friday 14th March Trike Convention Catering in Wagga Wagga proceeds to Ronald McDonald House in Wagga Wagga.
Friday March 21st-Sunday March 23rd D9700 Conference in Orange.
Sunday 18th May D9700 Assembly in Grenfell
Saturday 24th May Red Shield Appeal Street Stall.
Sunday June 1st-Wednesday June 4th.  SYDNEY 2014 RI Convention See promotion at the end of this bulletin.
*Partners and Guests Night.
ROTARY INTERNATIONAL PRESIDENT RON BURTON: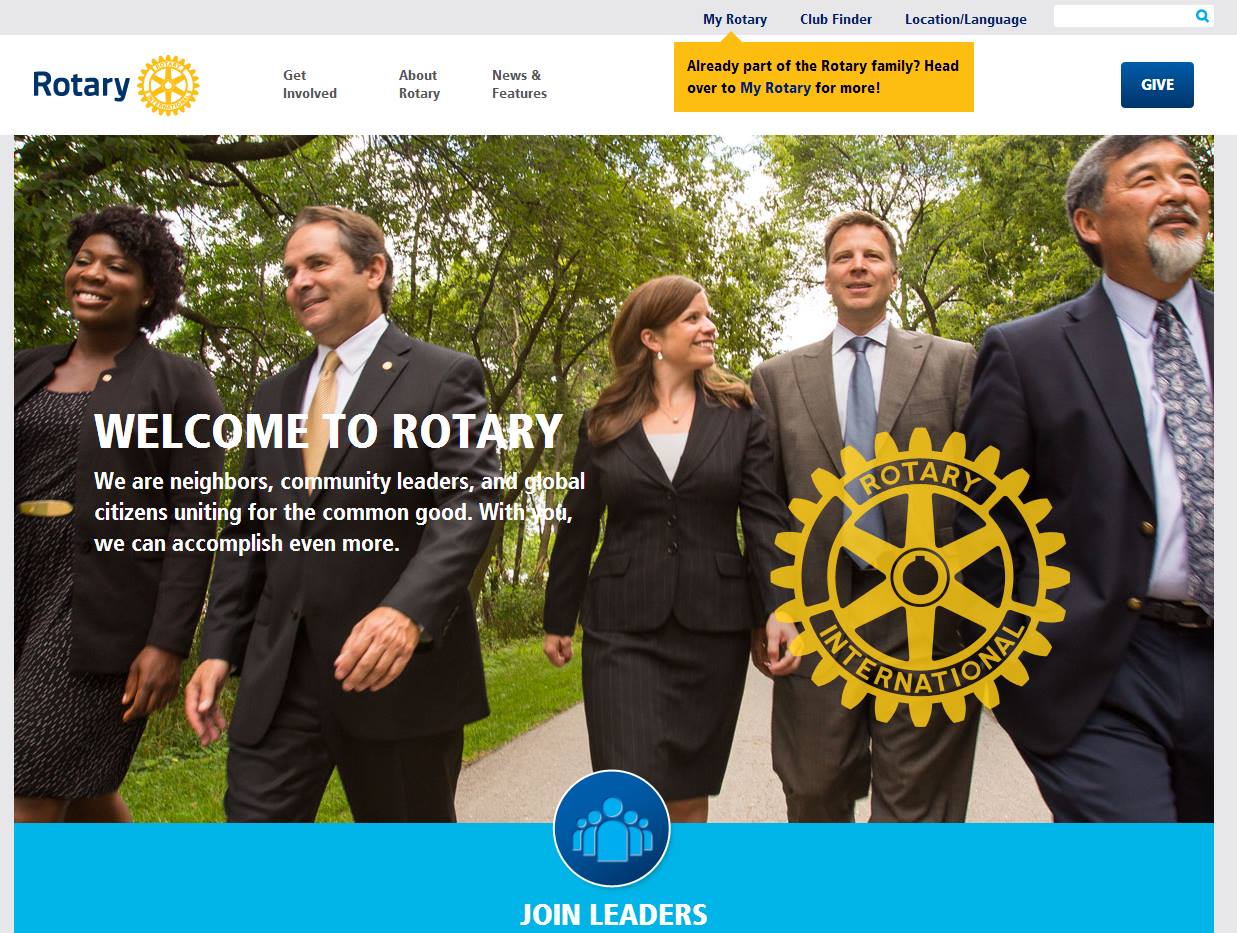 Rotary's new website will launch 26 August, and I want to encourage each one of you to take a look. I've had a sneak preview, and I'm excited about the new face this will give Rotary as well the new opportunities for Rotarians to connect with one another.
After the launch, I encourage you to register and review your profile, update it, and pay special attention to the club profile in Rotary Club Central. This tool can assist your membership efforts, and it offers a great analysis about how your club can be improved. It will show you how your club functions, which includes providing a snapshot of your local community involvement.
Keep in mind, as with any new website, it's a work in progress. #Rotary staff has worked hard implementing the website Rotarians have been requesting, and they will continue to work on making improvements. I hope you find our new website exciting as well as a big step forward.
You can read more about the new site on:  http://www.rotary.org/
ON THE LIGHTER SIDE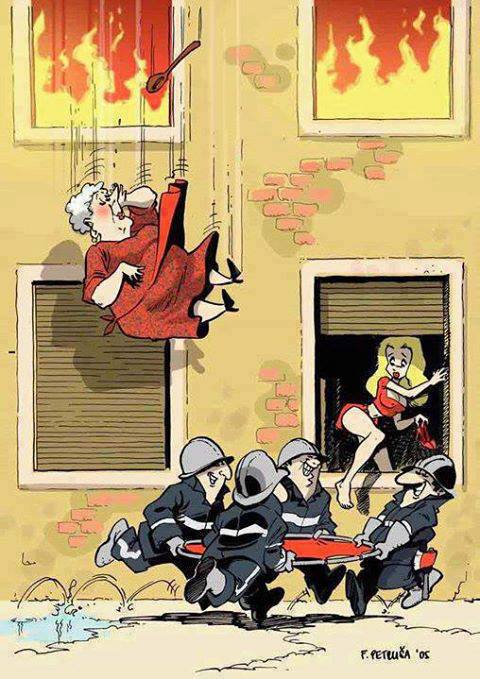 Priorities
Woman's Day
A man was sick and tired of going to work every day while his wife stayed home.
He wanted her to see what he went through so he prayed, "Dear Lord, I go to
work every day and put in 8 hours while my wife merely stays at home.
I want her to know what I go through, so please create a trade in our bodies.
" God, in his infinite wisdom, granted the man's wish.
The next morning, sure enough, the man awoke as a woman. He arose, cooked breakfast
for his mate, awakened the kids, set out their school clothes, fed them breakfast, packed
their lunches, drove them to school, came home and picked up the dry cleaning, took it to
the cleaners and stopped at the bank to draw out money to pay the power bill and
telephone bill, drove to the power company and the phone company and paid the bills,
went grocery shopping, came home and put away the groceries.
He cleaned the cat's litter box and bathed the dog. Then it was already 1 p.m. and he hurried
to make the beds, do the laundry, vacuum, dust, and sweep and mop the kitchen floor.
Ran to the school to pick up the kids and got into an argument with them on the way home.
Set out cookies and milk and got the kids organized to do their homework, then set up the
ironing board and watched TV while he did the ironing.
At 4:30 he began peeling potatoes and washing greens for salad, breaded the pork chops
and snapped fresh beans for supper. After supper he cleaned the kitchen, ran the dishwasher,
folded laundry, bathed the kids, and put them to bed. At 9 p.m. he was exhausted and,
though his daily chores weren't finished, he went to bed where he was expected to make love
— which he managed to get through without complaint.
The next morning he awoke and immediately knelt by the bed and said,
"Lord, I don't know what I was thinking. I was so wrong to envy my wife's being able to stay
home all day. Please, oh please, let us trade back."
The Lord, in his infinite wisdom, replied, "My son, I feel you have learned your lesson and I
will be happy to change things back to the way they were. You'll have to wait 9 months,
though. You got pregnant last night!"
ERIC VAN SOEST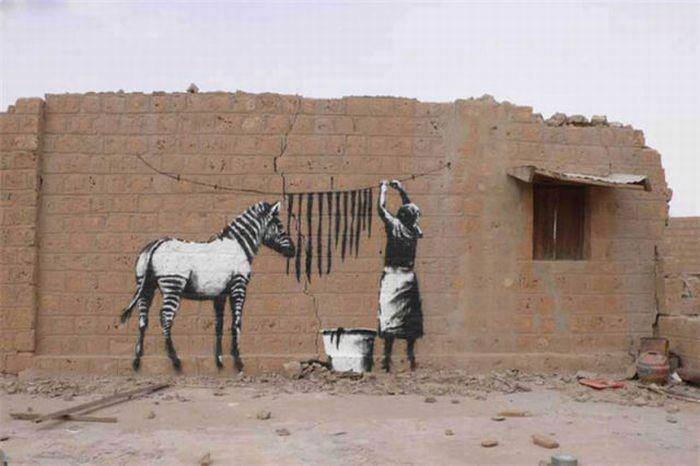 ROTARY INFORMATION
NEW ROTARY WEB SITE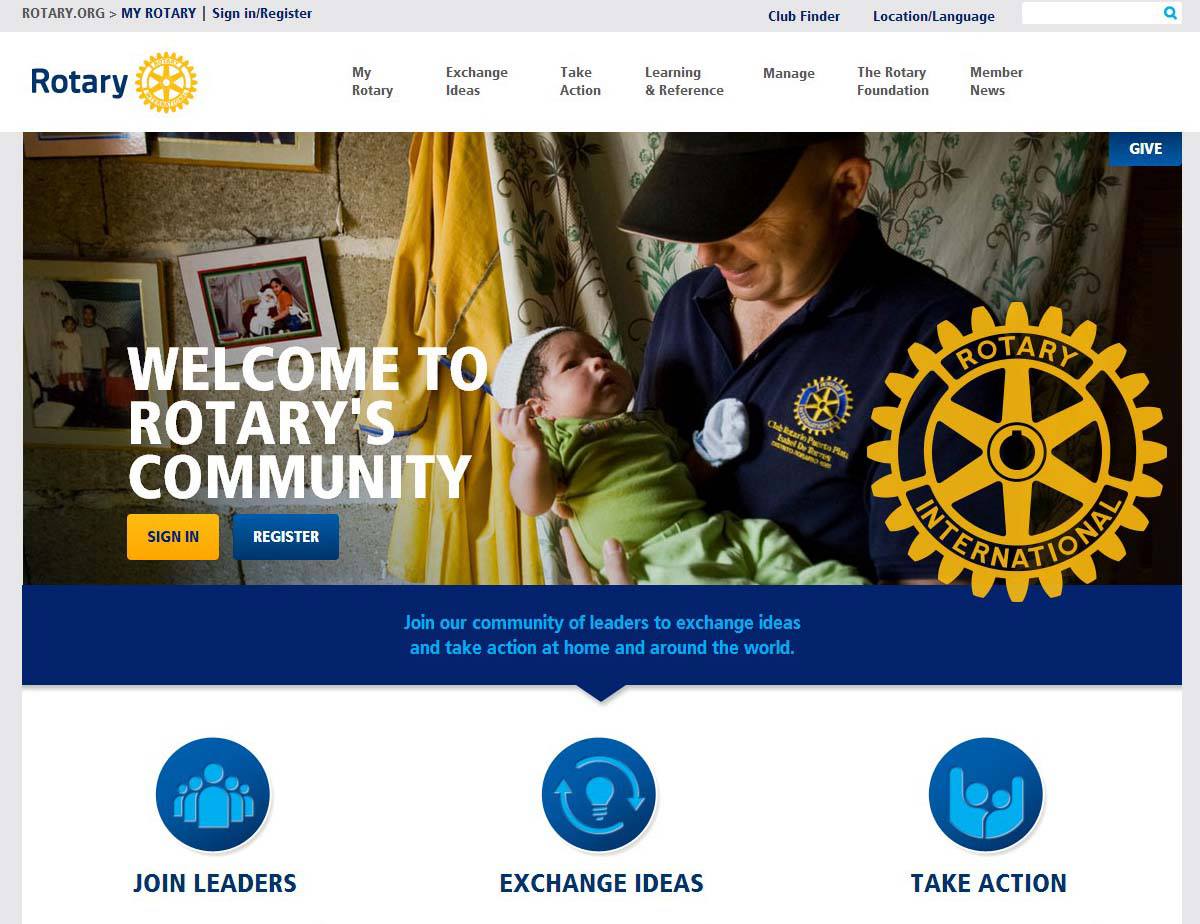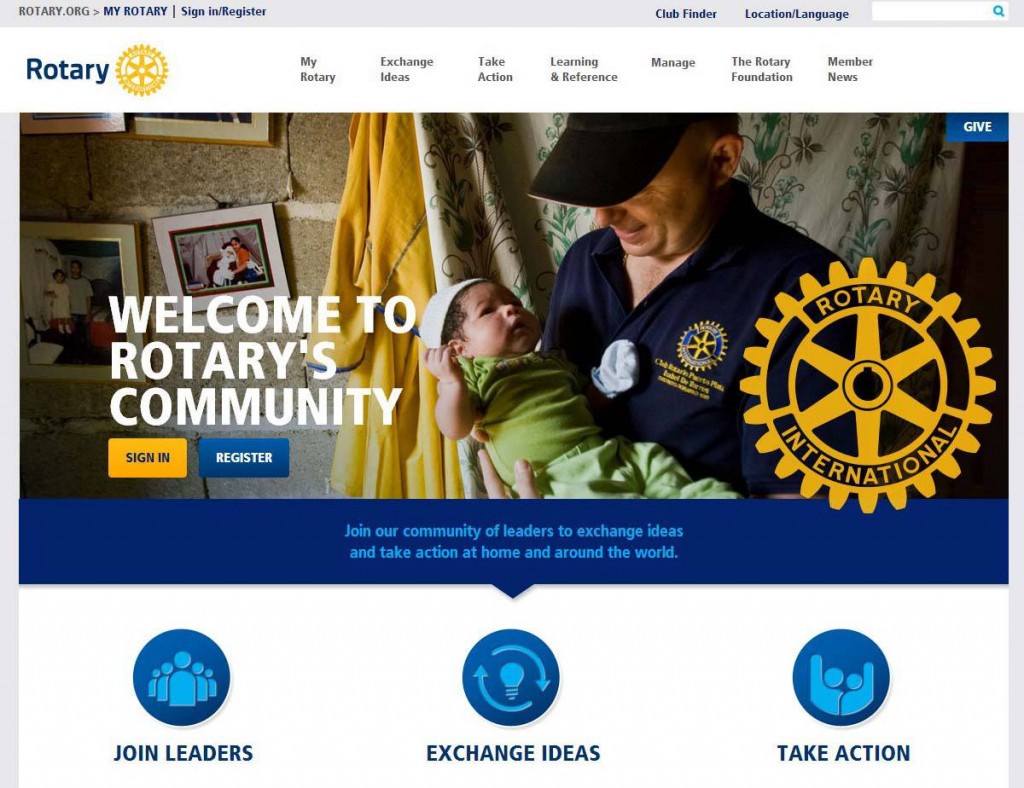 Today a new Rotary International web site is being launched at the start of business Chicago Time Monday 26th August.
Now you will need to log in as before on the old site however you may need to register as well:
Once there then upload your details to your profile.  You may need your membership number and or the club number.
It is a blog based web site on Word Press which is what we use for all our web sites.  I have found it easy to use and a lot faster than the old site.  There are many many features and it is totally different and there are some teething problems which are being sorted out.
This web site is only as good as you make it as an individual.  However there are some great new features such as starting up your own group with a  group discussion.
The club finder is simply excellent and as we learn about the site I am sure you will all agree that Rotary has entered the 21st century!!!
DIVE RIGHT IN
There's a lot more we could say about the site, but the best way to find out what's new is to use it. Explore the sections. Add your voice to a discussion group. Post your club project or browse community projects from across the Rotary world. And let us know what you think. Like any undertaking of this scope, it won't be perfect. But rest assured that we haven't finished with the site. In fact, we're already working on new features and improvements to make your experience the best it can be.

What's new about the Rotary website? Everything!
Welcome to your new Rotary website. We've heard from many corners that Rotary needs a faster, improved website that makes it easy to find what you're looking for and helps you get your Rotary business done. We listened – and we hope you're as excited as we are.
"I encourage you to register and review your profile, update it, and pay special attention to the club profile in Rotary Club Central," say Burton. "I hope you find our new website exciting as well as a big step forward."
ONLY IN AFRICA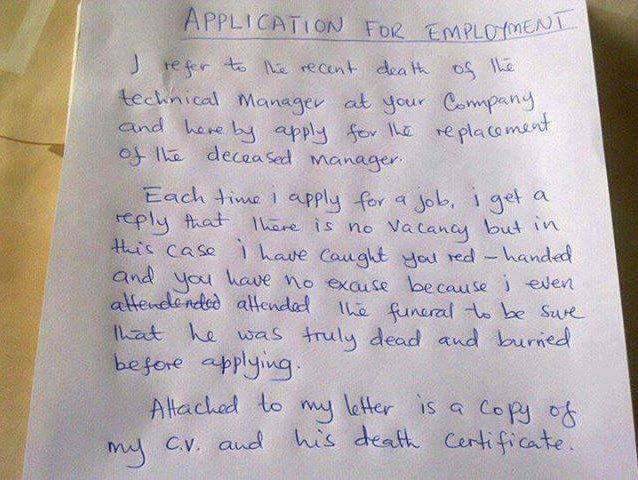 OUT OF AFRICA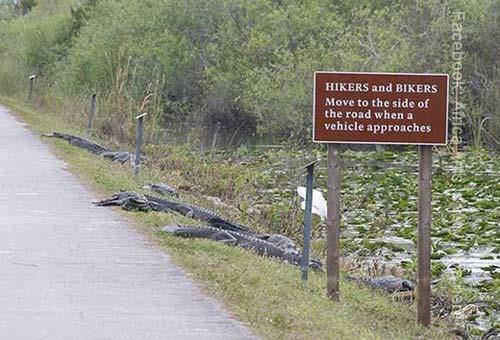 CAUSES WORTH SUPPORTING
SCHOOL OF ST JUDES TANZANIA
It has been a while since we promoted one of the best projects anywhere so here is some news from St Judes.
If class sizes allow for it, St Jude's occasionally selects students from neighbouring government schools so they can benefit from a free education. Recently, 32 new Standard 2 students were selected to join our wonderful school.
Here is Jesca enjoying her first day. All of the new students are bright, motivated and eager to learn! Like others at St Jude's, they'll have access to the best learning through more than 200 highly qualified Tanzanian teachers, well stocked libraries and state-of-the-art science and ICT labs.
VISIT THEIR WEB SITE AND DONATE DIRECTLY:
Rotary International President Ron Burton
Governor of District 9700 Geoff Tancred
Coolamon Club President  Dick Jennings
Coolamon Club Secretary Paul Weston
Club Treasurer  Henk Hulsman
Coolamon Rotary Club Inc. P.O. Box 23 COOLAMON N.S.W. 2701
Websites of Interest
Coolamon Rotary Club: http://coolamonrotary.com
Road MAPS to Africa a Coolamon Rotary Project: http://www.mountainsofthemoon.org/
Rotary Down Under on line: http://flipflashpages.uniflip.com/2/26587/49598/pub
Mount Kenya 2015 Web Site incorporating the ORK: http://theork.com/
Our Rotary Centennial Twin Club Hout Bay, Cape Town, South Africa: http://www.rotaryhoutbay.org
Proposed Rotarian Action Group for Endangered Species RAGES: http://www.endangeredrag.org/#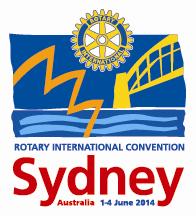 Register early for Sydney convention and save
Register early for the 2014 Rotary International Convention in  Sydney, Australia, 1-4 June, and pay US$100 less than the on-site  registration fee. Rotary's annual convention is a wonderful way to experience the true internationality of Rotary, as you connect with leaders, exchange ideas, and get inspired to take action to benefit communities worldwide.
GREAT AUSSIE BBQ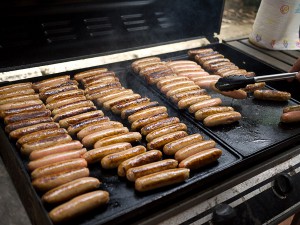 Where: Sydney Olympic Park, Homebush
When: 12pm – 3pm, Sunday 1 June 2014 – between the two Convention Opening Session
Price: Free
To kick off the Convention, join us for the "Great Aussie BBQ". Australian Rotary clubs are famous for their traditional Aussie barbecues. This event will be held at the conveniently located Cathy Freeman Park, in Sydney Olympic Park, close to the main plenary hall, Allphones Arena. The Great Outdoor Barbecue will be held between the two opening ceremonies on Sunday, June 1, and will provide wonderful fellowship opportunities.
Details
The Great Aussie BBQ will be held in Cathy Freeman Park in Sydney Olympic Park, close to the main plenary hall, AllPhones Arena. Please Book Now to assist catering. We need to know how many snags* to order.
Inclusions
Aussie snags* with onions and tomato sauce, BBQ sauce or mustard in a fresh bread roll. We will cater for food variations for cultural, religious and dietary requests.
* snags – traditional Aussie meat sausage.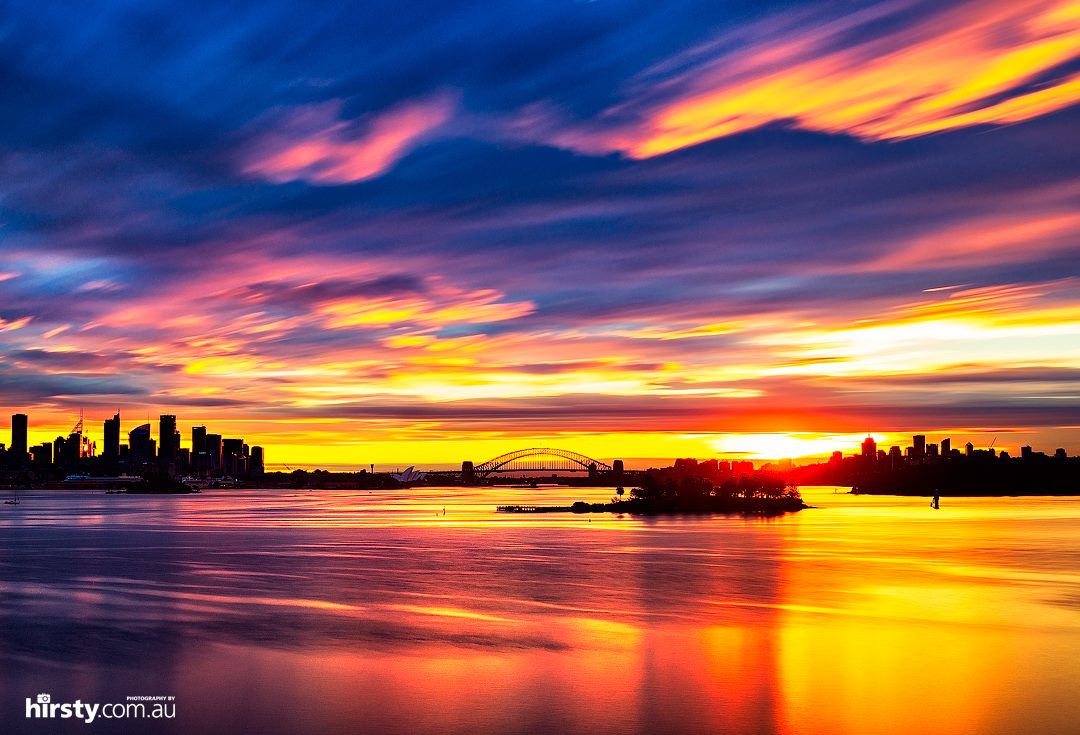 'Before & After', Sydney Harbour – this very long exposure captures the final minutes before the sun sets, as the last piercing light ray throws deep shadows, and the few minutes after, as the first splash of colour starts to ascend.
Bulletin Editor and Web Site:  John Glassford
Don't forget to regularly check our club web site for current information such as bingo rosters and various newsletters from the District Governor, the School of St. Jude's, the monthly membership on the move newsletter as well as several other club bulletins.