Coolamon Rotary News Bulletin #14
SEPTEMBER IS NEW GENERATIONS MONTH.

THE NEW ROTARY LOGO LAUNCHED on the 26 August 2013
MONDAY MEETING  30th. SEPTEMBER 2013
District Governor Geoff Tancred and his wife Betty Tancred along with Assistant Governor Alan Sharp  and 11 members attended with 9 guests including Maree Jennings, Marilyn Jennings, Susan Glassford, Helen Lewis, Lorraine and John Companion.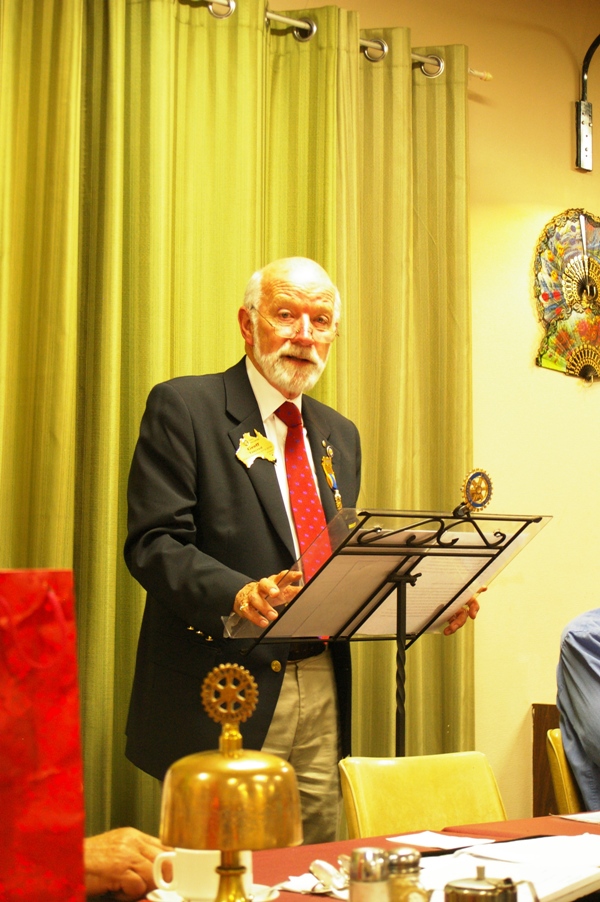 Tonight we had our annual get together with our District Governor Geoff Tancred and Bettye Tancred.
Geoff joined the Orange Calare Rotary in 1986 and was President 1989-1990.
He is a Paul Harris Fellow with two sapphire pins.  Geoff was District Treasurer for 18 years and 20 years District Insurance Officer and is currently District Public   Officer. In 2008 Geoff was named District 9700's "Rotarian of the Year".
In 1991, Geoff was a member of a RAWCS volunteer team building Teacher Housing at Brahman Mission in Papua New Guinea. Geoff also spent three months in 2008 working in Central China on a poverty alleviation program for peasant farmers.
Geoff has worked in the Insurance Industry for 49 years. He has been self employed as an Insurance Agent since 1985. He and Bettye were also Principals of a Tax Accounting Practice.  Apart from Rotary, Geoff supported the Salvation Army Red Shield Appeal for 11 years, five years as its Committee Chairman. He is a Past President of the Australian Freshwater Fishermen's Assembly, a former national freshwater fishing lobby group.
Bettye has had a career in finance being one of the first computer examiners with the Bank of New South Wales.  Bettye then worked for 23 years in high school administration and finance before joining Geoff as "director of first impressions" in their Insurance and Tax Accounting Businesses.
Geoff & Bettye have three daughters and eight grandchildren.  Geoff's leisure time is spent fly fishing for trout whilst Bettye enjoys fine arts and gardening.
Bettye Tancred spoke on her support for ROMAC and we bought tickets in the ROMAC raffle.
Geoff then spoke on many different and interesting avenues that we as Rotarians can become involved in.  Starting with our District 9700 Conference in March 2014 held in Orange.  Geoff also invited us all to attend the Rotary International Convention in Sydney next June.  Geoff also encouraged us all to contribute to our Foundation and Polio Plus.
John Glassford was recognised for his 10 years service as a Rotarian with a 100% attendance record.
Friday March 21st-Sunday March 23rd D9700 Conference in Orange.
Come and join us for a weekend of fun at the 9700 Annual Conference in Orange.  Meet old friends and new.   Hear inspirational speakers.   Learn about Rotary programs and achievements.  Share experiences of Rotary in action in the clubs of our district.   Great accommodation choices.   Excellent conference facilities.  We look forward to welcoming you to our City of Orange which will be dressed in its best Autumn colours for your arrival.

Diary Reminders
Sunday 6th October Coolamon Scarecrow Festival.
Monday 7th October NO Meeting Labour Day Weekend.
Thursday 10th October BINGO:   Ian Jennings, John Glassford, Grahame Miles, Ted Hutcheon
Saturday 12th October Coolamon and Ganmain Hospital Fete IN Ganmain.
Monday 14th October Regular Meeting followed by a Board Meeting.
Saturday 19th October Street Raffle in Coolamon.
Monday October 28th AGM all members requested to attend.
Saturday 9th November Rotary Club of  Cootamundra Bike Festival.
Thursday 14th November BINGO Henk Hulsman, Leslie Weston, Paul Weston, Bernadette Milne
Saturday 22nd and Sunday 23rd February PETS in Young
Friday 14th March Trike Convention Catering in Wagga Wagga proceeds to Ronald McDonald House in Wagga Wagga.
Friday March 21st-Sunday March 23rd D9700 Conference in Orange.
*Saturday May 10th International Night in Ganmain for AFRICA'S rhinos.
Sunday 18th May D9700 Assembly in Grenfell
Saturday 24th May Red Shield Appeal Street Stall.
Sunday June 1st-Wednesday June 4th.  SYDNEY 2014 RI Convention See promotion at the end of this bulletin.
*Partners and Guests Night.
ROTARY INTERNATIONAL PRESIDENT RON BURTON: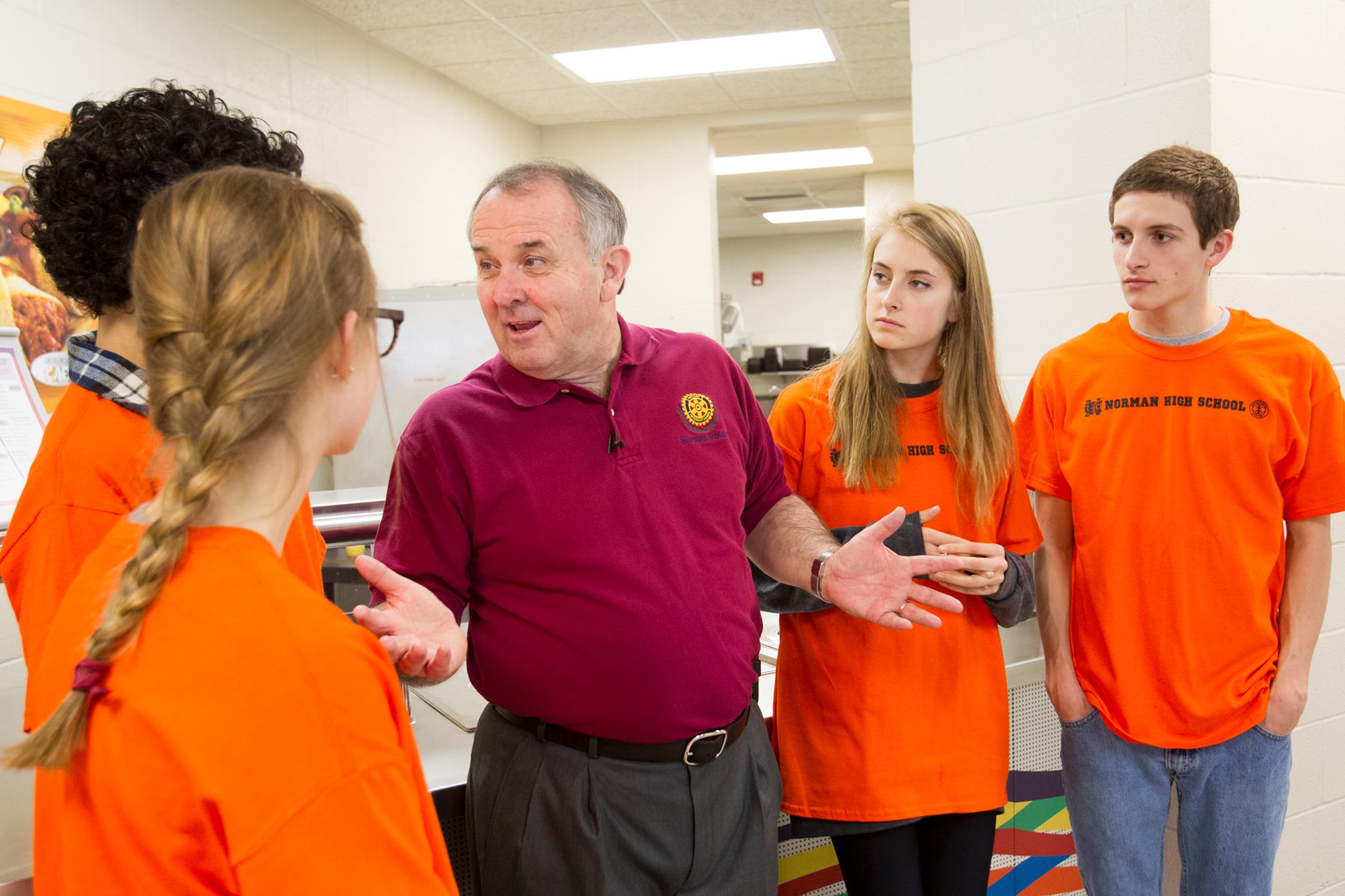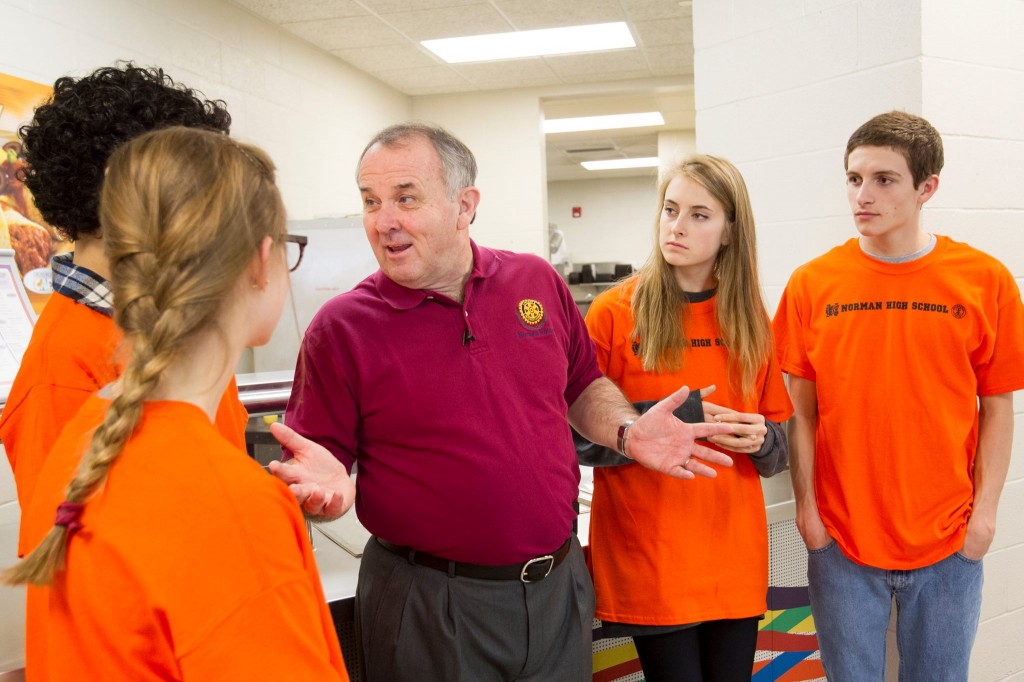 Ron Burton chats with Interactors during a pancake breakfast service project at Norman High School, in Norman, OK, USA.
Rotary International President Ron Burton is hosting a series of Presidential New Generations Conferences to bring together emerging young leaders and Rotary members from around the world. The first conference will be held 5-6 October in Chennai, Tamil Nadu, India.
ON THE LIGHTER SIDE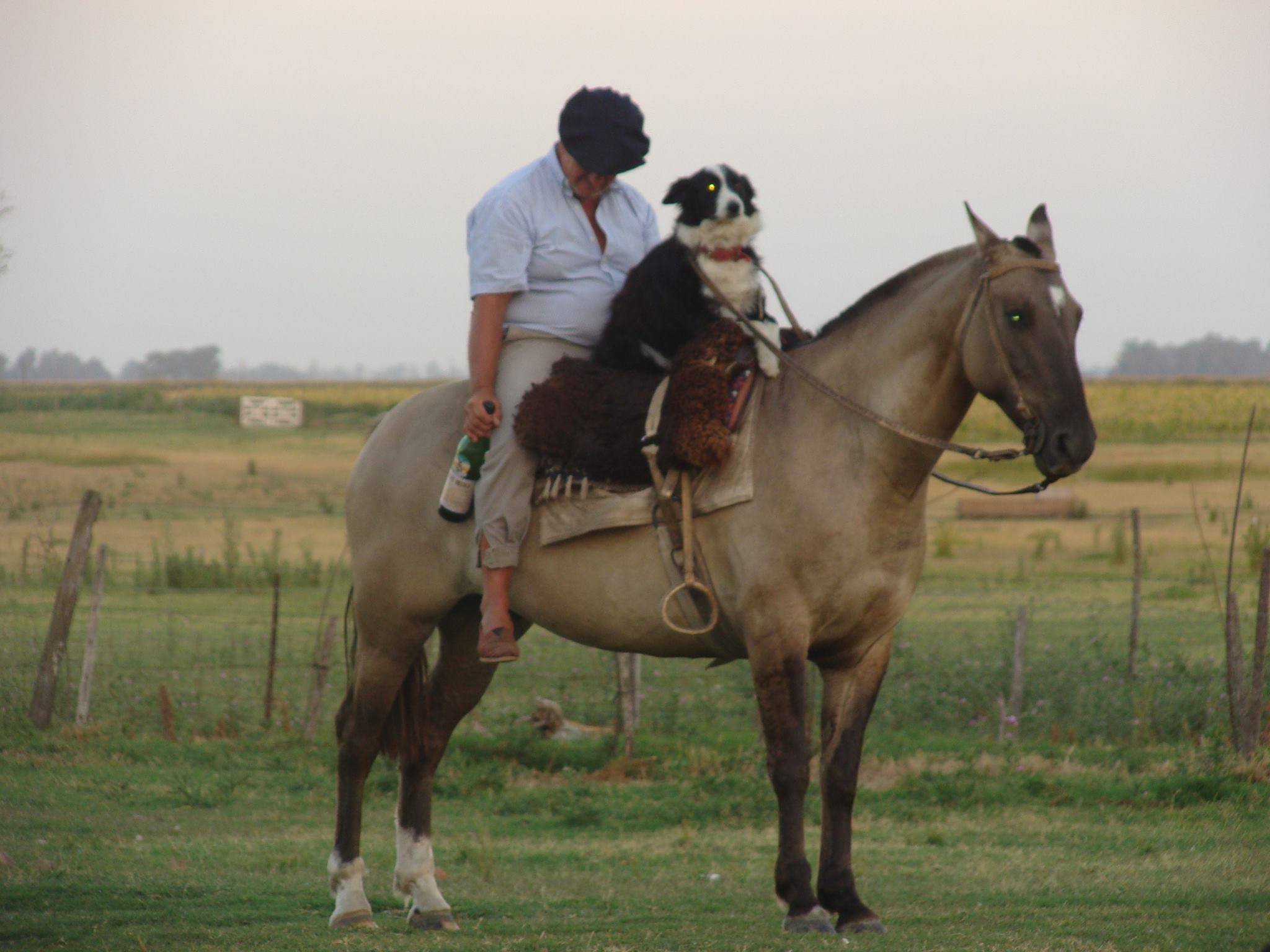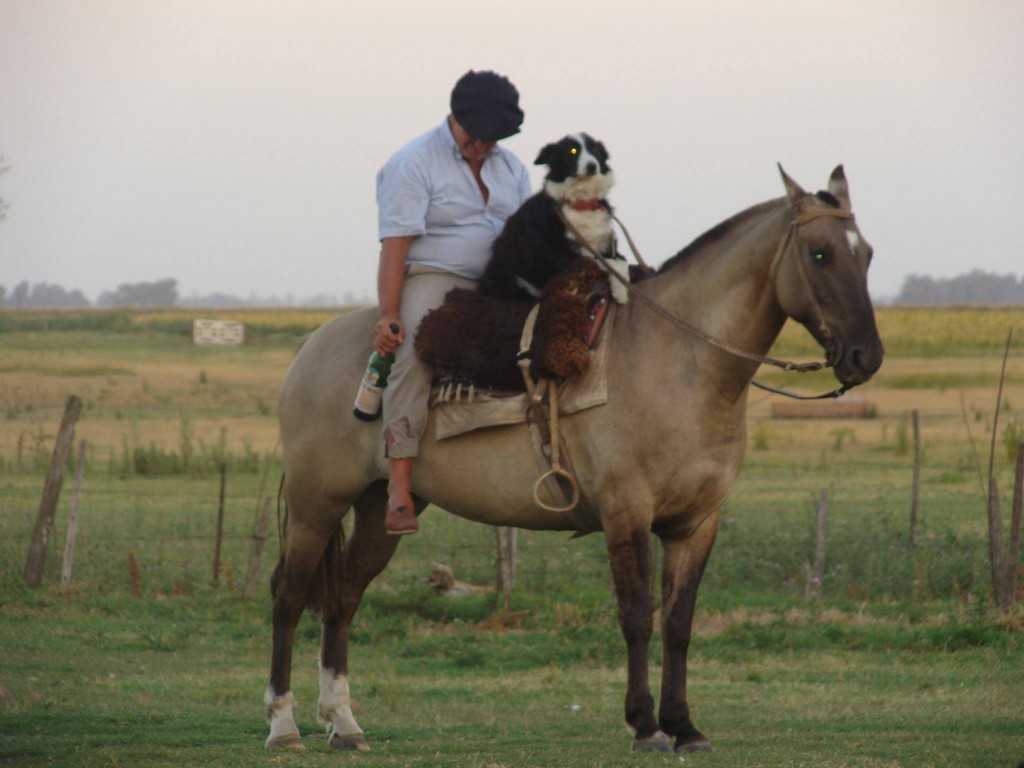 Husband to wife :- Today is a fine day.
Next day he says :- Today is a fine day.
Again next day, he says same thing – Today
is a fine day.
Finally after a week, the wife can't take it
and asks her husband :-
Since last one week, you are saying this
'Today is a fine day'. I am fed up. What's
the matter?
Husband :- Last week when we had an
argument, you said,"I will leave you one
fine day." I was just trying to remind you
DEVIL
Friendship
Friendship among women:
A woman doesn't come home at night. The next day she tells her husband she slept over at a friends' house. The man calls his wife's 10 best friends. None of them know about it.
Friendship among men:
A man doesn't come home at night. The next day he tells his wife he slept over at a friends' house. The woman calls her husbands' 10 best friends. 8 of them say he did sleep over and 2 claim he's still there.
Moral of the story, "friendship among men is too good, but at the same time it is too dangerous too."
DEVIL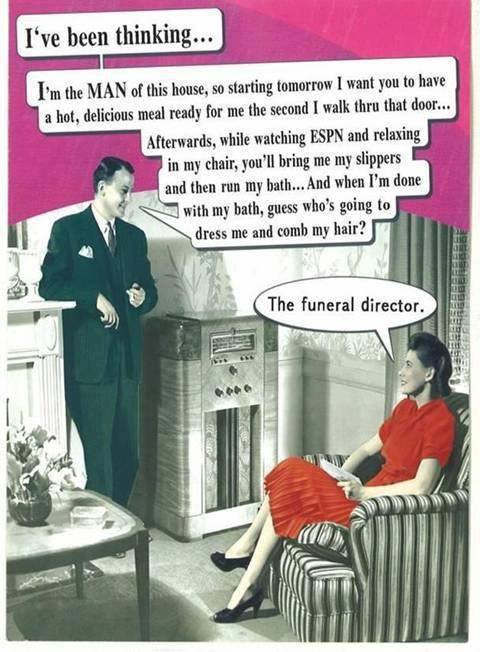 ROTARY INFORMATION
YOUNG PROFESSIONALS BRING THEIR VISION OF ROTARY TO THE TABLE

Evan Burrell, a member of the Rotary E-Club of Greater Sydney, New South Wales, Australia participated in Rotaract, RYLA, and Rotary's Group Study Exchange.
How will you make room for the next generation of young professionals and volunteers in your clubs? We asked Rotaractors and young Rotarians to weigh in on how it should work and what it will take to turn today's young leaders into tomorrow's Rotary members.
Here's an excerpt from the roundtable discussion.
What should older Rotary members understand about young people?
Alyssa Gapske, 22, Rotaract Club of Kalamazoo, Michigan, USA: A major difference is the way we connect. The greatest advantage of social media is that it allows us not only to share meeting and project details but also to communicate with clubs around the world. As a moderator of my club's Facebook page, I see messages every week from clubs hoping to work with us, or community members interested in attending meetings or joining our club.
Evan Burrell, 32, Rotary E-Club of Greater Sydney, New South Wales, Australia; past Rotaractor, RYLA participant, and GSE team member: Our spirit of community service is no different from that of older generations; we just have different methods. We're results-driven, we move quickly — some might think too quickly. We want to feel that our work has purpose when we participate in something, and we get frustrated when our ideas aren't considered just because they're unfamiliar.
ONLY IN AFRICA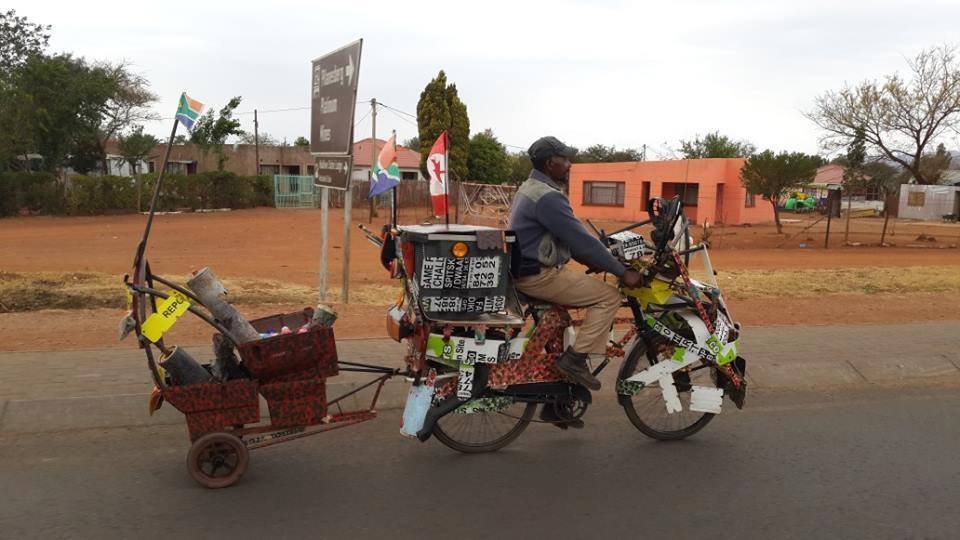 OUT OF AFRICA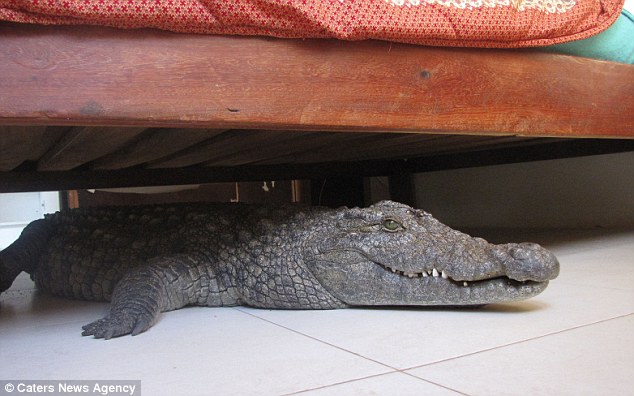 Breakfast in bed? Terrified man finds an 8ft crocodile hidden under his bed after it spent entire night just inches from where he slept.
CAUSES WORTH SUPPORTING
Hat Day is coming! Friday Oct 11 is the official date.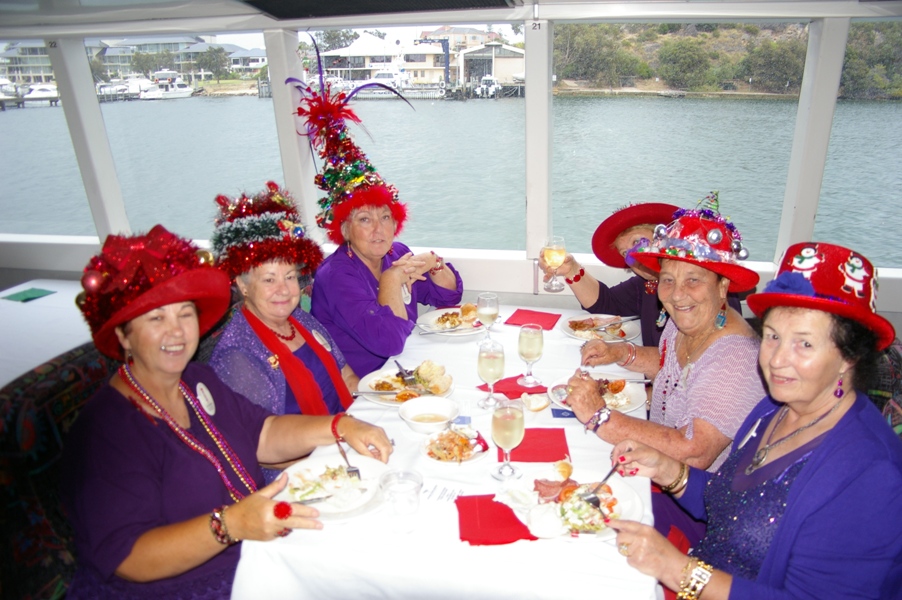 So what is it all about?
Hat Day is the fundraising event by Australian Rotary Health  to support research into Mental Health. We are trying to pinpoint the causes of mental health issues, and of course are looking at ways that best support those with mental health problems so they can lead normal, fruitful lives.
It is a very important issue. Health professionals tell us that one person in five will be a sufferer during their lifespan. This causes great strain on marriages, workplace environments and families. Depression often leads to tragic events.
We can and need to do something about this, and this is where Research comes in. The more we know, the more information we can gather, the better the chance to change the nature of this problem.
Your Australian Rotary Health is leading the way.
How can you be part of this?
We are asking each club to hold a Hat Day event.  Your club has an information kit that was sent out a little while ago.
Some clubs are holding a special fund raiser, such as a trivia night.
Others are wearing funny hats and doing a bucket drop on the busy shopping nights.
The local Milliners have swung in behind some clubs and are holding Hat Day parades.
Maybe you could have a Silly Hat competition at your meeting that week and charge each member $5 for entering or not entering.
The list of possibilities is endless.
On a business level, why not have a Hat Day at work, just as we participate in the "Worlds Biggest Morning Tea" for Cancer. It is a fun thing to do and it will generate interest in the community as well as brighten up the work week.
What ever you decide, we do ask that you get behind your club in the spirit of the event and help us help some of these sufferers.
Keep well,
PDG John Egan
Member of Board ARH
Rotary International President Ron Burton
Governor of District 9700 Geoff Tancred
Coolamon Club President  Dick Jennings
Coolamon Club Secretary Paul Weston
Club Treasurer  Henk Hulsman
Coolamon Rotary Club Inc. P.O. Box 23 COOLAMON N.S.W. 2701
Websites of Interest
Coolamon Rotary Club: http://coolamonrotary.com
Road MAPS to Africa a Coolamon Rotary Project: http://www.mountainsofthemoon.org/
Rotary Down Under on line: http://flipflashpages.uniflip.com/2/26587/49598/pub
Mount Kenya 2015 Web Site incorporating the ORK: http://theork.com/
Our Rotary Centennial Twin Club Hout Bay, Cape Town, South Africa: http://www.rotaryhoutbay.org
Proposed Rotarian Action Group for Endangered Species RAGES: http://www.endangeredrag.org/#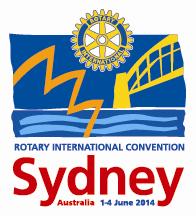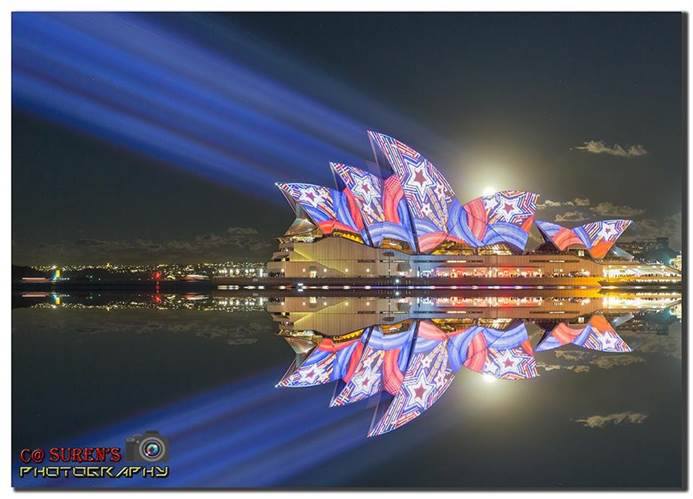 Register early for Sydney convention and save
Register early for the 2014 Rotary International Convention in  Sydney, Australia, 1-4 June, and pay US$100 less than the on-site  registration fee. Rotary's annual convention is a wonderful way to experience the true internationality of Rotary, as you connect with leaders, exchange ideas, and get inspired to take action to benefit communities worldwide.
The programme Click to Enlarge:
THE BILLABONG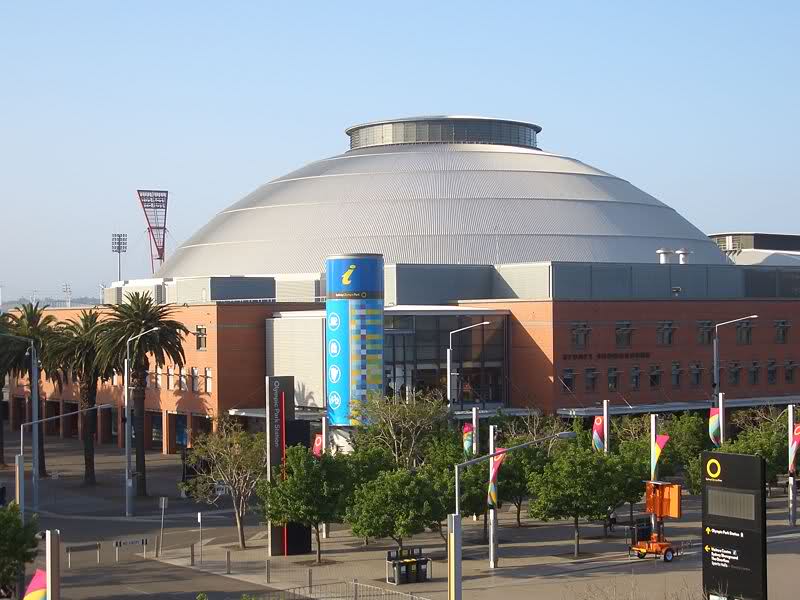 The traditional House of Friendship has been renamed The Billabong for Sydney 2014.  A Billabong is an aboriginal name for a waterhole around which meetings would often be held.  The 2014 Billabong will be located in the grounds of the Sydney Showground, part of Sydney Olympic Park at Homebush. Located in The Dome (a spectacular timber structure and the largest of its kind in the southern hemisphere) and Exhibition Halls 2, 3 and 4.  The Billabong will have over 14,000 square metres of display space, and will be the place to meet old and new acquaintances. See exhibits or displays of Rotary work from all over the world, discuss projects and learn of the many opportunities provided to Rotarians.
Approximately one half of the Billabong will be dedicated to the work of Rotary International and Rotary clubs where you can pick up great ideas for new projects for your club and learn of the assistance Rotary International can provide to support this work.  The other half of the Billabong will illustrate more great Rotary work and show many aspects of Australia and its Rotary clubs.
The Billabong will also feature examples of our unique Australian fauna and you will be able to shop for great Rotary jewellery, clothing and souvenirs. There will also be the opportunity to sample a variety of excellent Australian wines.
Rest your tired feet and enjoy a wide choice of food and great Australian entertainment.
The Billabong will be where the world of Rotary International comes together!
If you are interested in participating in The Billabong as an Exhibitor or Sponsor please contact PDG Harold Sharp * as soon as possible for information on opportunities.
* Go to Contact Us at top right, select Convention Sponsorship / Exhibition and enter your details and send us your email.
Bulletin Editor and Web Site:  John Glassford
Don't forget to regularly check our club web site for current information such as bingo rosters and various newsletters from the District Governor, the School of St. Jude's, the monthly membership on the move newsletter as well as several other club bulletins.
FOOT NOTE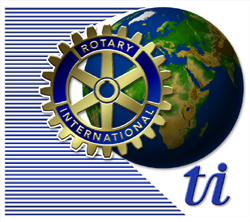 ROTI Discussion below:
http://www.eturbonews.com/38156/zimbabwe-massacre-elephants-poisoned-cyanide
Zimbabwe Massacre: Elephants poisoned with cyanide
By Gill Staden, eTN Africa | Sep 22, 2013
There has been so much in the news during the week about the death of at least 69 elephants in Hwange National Park after being poisoned with cyanide. The cyanide had been mixed with salt and placed near a waterhole.  The poachers have been arrested and are now in cells awaiting trial. According to one report they were given the cyanide by a South African businessman.
A big delegation of Ministers from the Zimbabwe government went to take a look at the damage. They all agreed that, if this type of incident is to be stopped, the villagers living around the park have to benefit from it. They also called for stiffer penalties for poachers.
A South African businessman is believed to be behind the Hwange elephant poisonings. …
Police named him only as Ishmael and that he used a Chivu farmer and ivory buyer Farai Chitsa to distribute stocks of cyanide to local people in Pelandaba and Pumula areas of Tsholotsho. Chitsa was arrested when his truck became stuck in sands while collecting tusks from poachers. Two brothers – Sipho and Misheck Mafu – have also been arrested and have provided police and wildlife investigators with wide-ranging information.
Police revealed that the poachers would mix up a combination of cyanide, salt and water. This would then be poured onto salt licks at watering holes known to be frequented by elephants. At other watering holes the poachers would dig holes and place containers containing the deadly mixture into the holes.
The technique was so effective at killing elephants that when the poachers took police to the sites that had been contaminated there were bodies of elephants with small tusks still intact because it wasn't worth the effort to take the tusks, The poachers were being paid as little as $700 for 9 tusks.
It was not just elephants that were killed by the cyanide but a wide range of other animals carcasses were found including buffalo, lions, vultures and jackals. …
Police Assistant Commissioner Micheck Mabunda is also calling for the establishment of aircraft patrols in the Hwange National Park. He notes that poachers in neighbouring Botswana will quickly disperse when their aircraft patrol flies overhead. However when those poachers enter Zimbabwe there is no threat of being discovered. He suggests that Pandematenga Border Post would be an ideal location to base an air based patrol from.
Ashok M
Cotonou Centre
BENIN  D9102
Ashok R. Mirchandani, Consul Gen. Hon.de l'Inde
They should have placed the same salt in the poachers prison food! I would have been pleased to hand it to them.
Philip Merritt
Poachers should be shot on sight!
Chris Stubbs
Major Donor, Past District GSE Chair
Paul Harris Fellow +8, DSA, MSA
Rotary District 6980, Central Florida
I'm with you on this Chris – Poachers should be shot. On the other hand isn't that too kind? Maybe they should be given cyanide – makes for a more painful death.
Ivan M Henry
RC Metro Roxas, D3850
Capiz, Philippines
FOOT NOTE:
AMAZING and impressive how quickly Zimbabwe caught, processed and sentenced these 'cyanide poachers' – ( less than a month ) – BRAVO ZIMBABWE !
"A Zimbabwe court on Wednesday sentenced three poachers to at least 15 years in prison each for poisoning and killing 81 elephants, state radio reported.
A provincial magistrate sentenced 25-year-old Diyane Tshuma to 16 years in prison for poisoning elephants with cyanide at in Hwange National Park, in the west of Zimbabwe, Spot FM reported.
His co-accused Robert Maphosa, 42, and Thabani Zondo, 24, were each sentenced to 15 years."