Coolamon Rotary News Bulletin #15
OCTOBER IS VOCATIONAL SERVICES MONTH.

THE NEW ROTARY LOGO LAUNCHED on the 26 August 2013
PP BILL INNES MPHF 1934-2013
Above: Bill doing what he did best looking after the money!
"This week our Scottish friend and past president of our club Bill Innes passed away.   Bill was a Charter Member of the Coolamon Rotary Club.  Of late Bill was not in the best of health and we have missed his presence at our meetings.  Always a man with conviction and a wicked sense of humour.
Bill served the club well and he was always one of the first to put his hand up if anything needed doing within our community.
Bill joined Coolamon Rotary as a charter member on the 15th November 1971 and was awarded his Paul Harris Fellow in September 1988.   In June 2008 Bill was awarded a Paul Harris Fellow Sapphire pin for his amazing work with Legacy in Wagga Wagga.  Apart from his work in Rotary Bill had been a volunteer with Legacy since 2002.  Bill was responsible for the welfare of 18 War Widows and tended to their needs and welfare. Bill was the second highest fund raiser for Legacy in the Riverina from Wagga to Deniliquin, and was highly regarded by the staff at Legacy House in Wagga Wagga.
Bill was a great mentor for me personally and I will miss him very much."
PP John Glassford
"Bill was so dedicated to the Rotary cause & supported many of its programs. One of my significant memories was his work at the early BINGO where he was so 'adored' by most of the players of those times and was present at most of the monthly Bingo events.  He was also very passionate in his fund-raising from Walk-a-thons that he organised around our local area."
PP Grahame Miles.
"Bill lived & breathed Rotary, rarely missing a meeting.
It was in the Club's second year that it was decided to run an Art Union & source donations to built two Aged Persons Units in Coolamon.  Although, thought to be a massive undertaking for a fledgling Club, the funds were raised, land donated by the Patterson family and the Coolamon Council organized building of the units.
Bill was elected as Club President 1976-77.   During his year he inducted ten new members.  Collected for the National Heart Appeal and did the first Salvation Army Red Shield Appeal. Now 36 years later the club still collects for this cause.
During that year, the Club arranged to send five young people to Sydney for a weeks holiday. Which was a completely new experience for our country kids.  In return, five Sydney children visited Coolamon for a week.
The plane trip was an added experience.
The Club's first Overseas  Exchange student was sent to Canada.   Bill was always one for doing things for the kids.
In 1984, while Community Service Director of the Club, he researched and conducted the first Blue Light Disco for the Shire's young people. This disco was held bi- monthly and continued for over 20 years. Any surplus funds raised through the Disco was put aside and utilized on the young people of the district.
Also during this year, he was a driving force in  compiling a Large Print Community Telephone book, for the area.
Conducted a Walk-a-thon to Raise sufficient funds to air-condition the Coolamon Pre-school.
During that year, Bill recruited the help of school children to walk the side of all Coolamon's main access roads, picking up rubbish discarded by travelers. Over ten tons of rubbish was the result.
While able, Bill and Joan attended every District Conference.
As a Rotarian, Bill Innes instigated a lot and achieved a great deal. He will be sadly missed for his community involvement."
PP Henk Hulsman.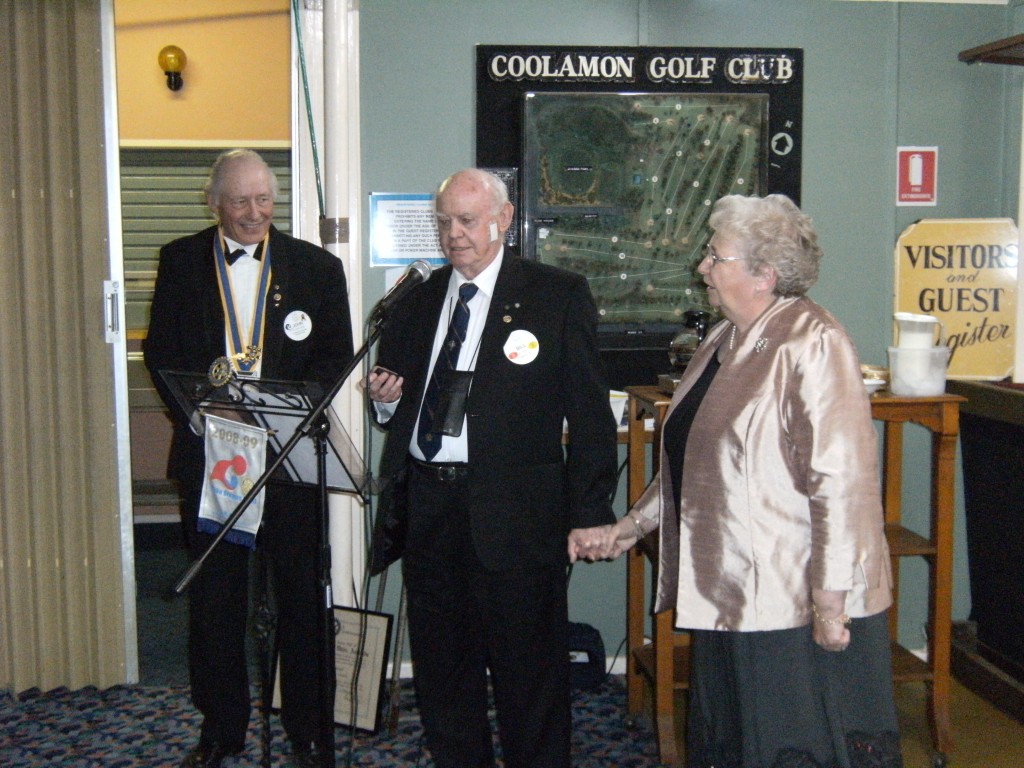 Above: Bill left speechless on receiving his PHF Sapphire Pin with Joan Innes.
For Bill:
O flower of Scotland
When will we see your like again
That fought and died for
Your wee bit hill and glen
And stood against him
Proud Edward's army
And sent him homeward
Tae think again
The hills are bare now
And autumn leaves lie thick and still
O'er land that is lost now
Which those so dearly held
And stood against him
Proud Edward's army
And sent him homeward
Tae think again
Those days are passed now
And in the past they must remain
But we can still rise now
And be the nation again
That stood against him
Proud Edward's army
And sent him homeward
Tae think again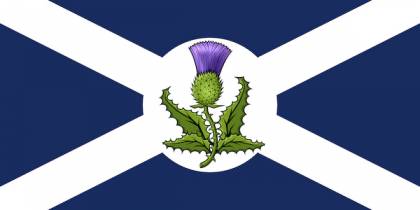 Bill will be laid to rest on Thursday 17th October at the Wagga Wagga Crematorium starting at 1.00 pm.  All Rotarians are invited to attend and support Joan and the family, please wear your dinner badge.
MONDAY MEETING  14th. October 2013
We had a regular meeting followed by our monthly board meeting.  President Dick Jennings spoke on the passing of PP Bill Innes and invited all members to attend his funeral in Wagga on Thursday at 1 pm and to please wear your dinner badges.  Dick also thanked all those members who volunteered at the Scarecrow Festival and the Hospital fete.
1.  Scarecrow Festival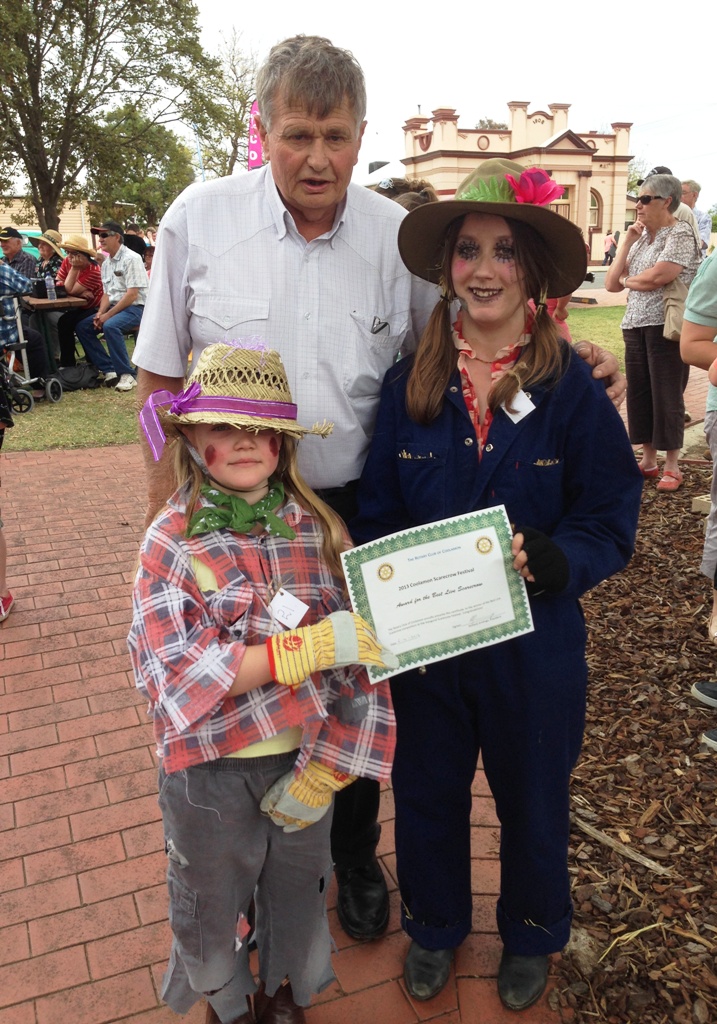 President Dick Jennings presenting the prizes to the "live" scarecrow winners.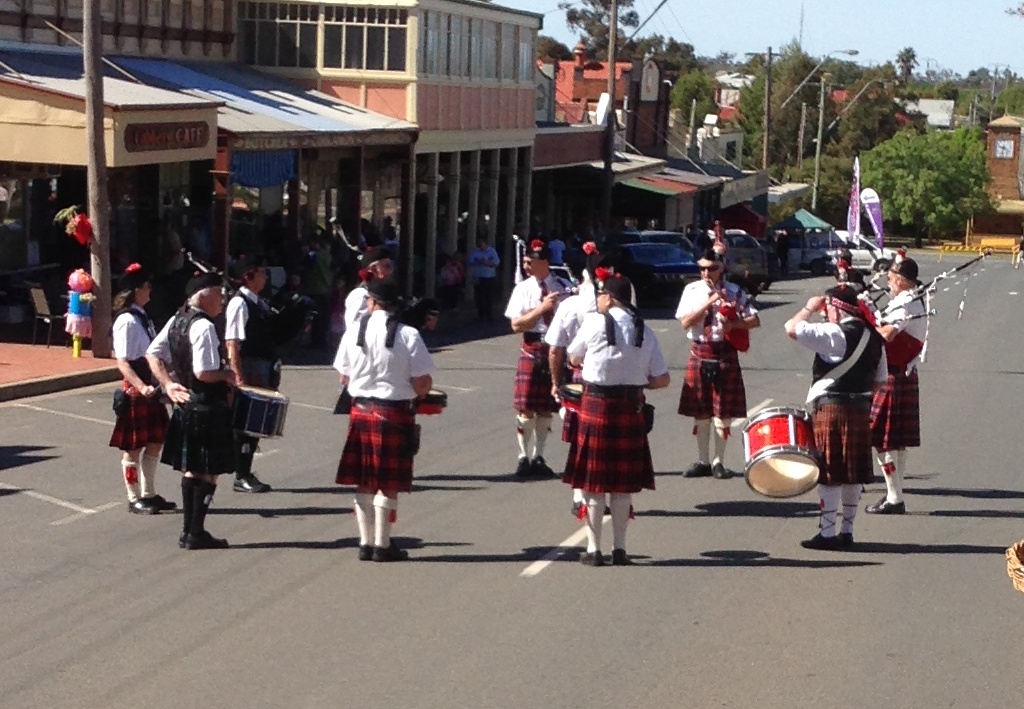 The pipes and drums playing for the scarecrows in Coolamon.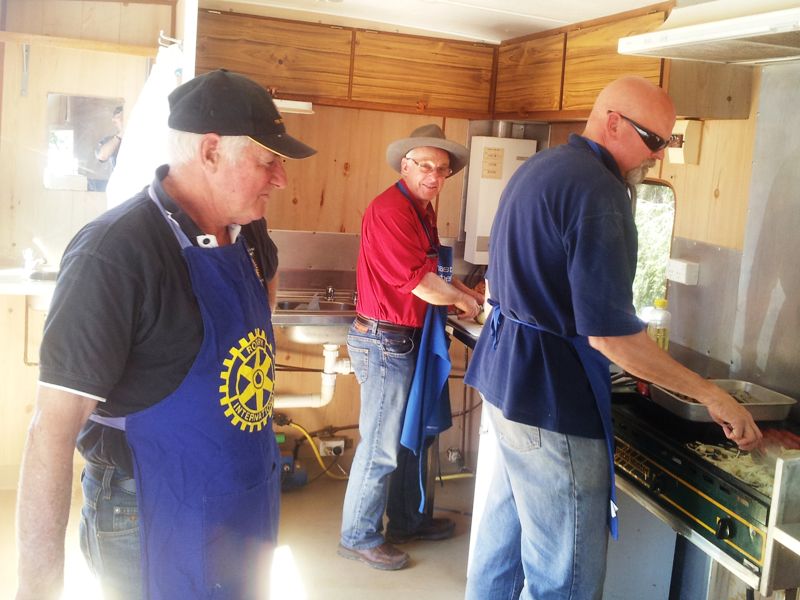 Garth Perkin, Don Dyce and Paul Weston hard at work serving the hungry scarecrows.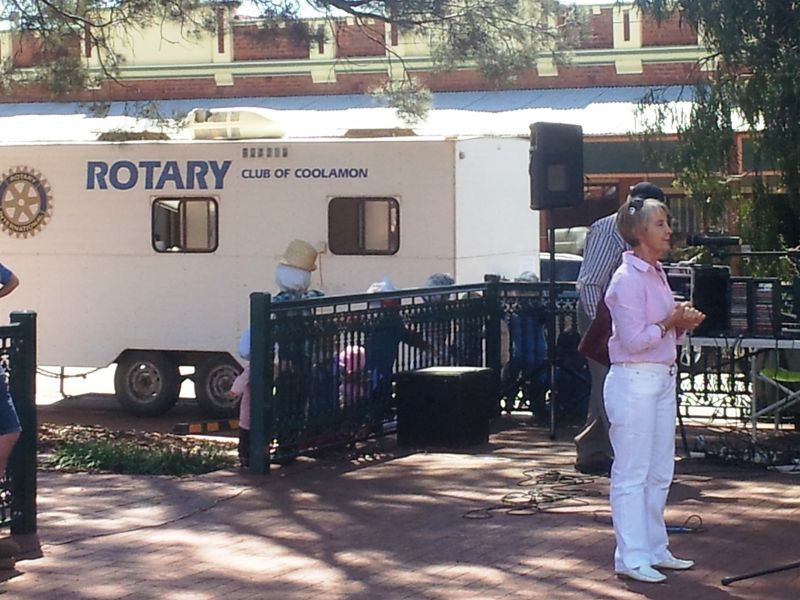 Former Federal member for Riverina Kay Hull opening the Festival.
2.  Coolamon & Ganmain Hospital Fete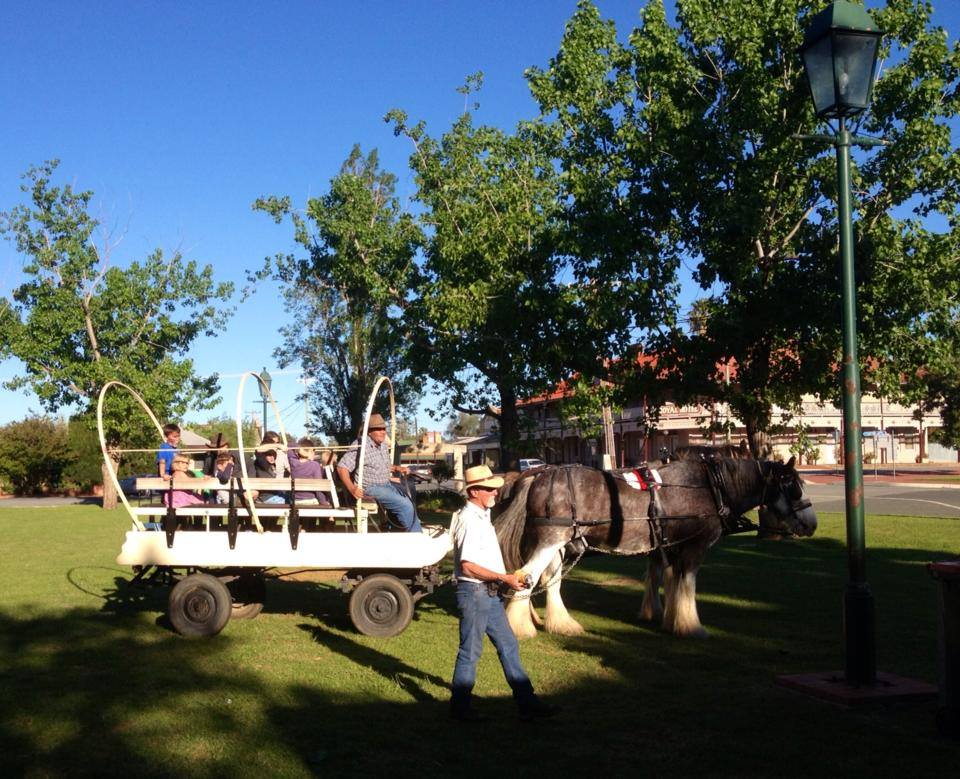 Congrats to the Coolamon& Ganmain hospital auxiliary on another fun fete! Thanks to all who came down to the Ganmain park to support this great cause! The Clydesdale wagon rides with Mr Jones were the crowd favourite!!!!
Thanks go to Ian Durham, Garth Perkin, Don Dyce, Wayne Lewis, Miffy Collette and Henk Hulsman.
Diary Reminders
Saturday 19th October Street Raffle in Coolamon.
Saturday 19th October Coolamon Rodeo Volunteers: (Garth, Dick, Leslie and Paul).
Monday 21st October:  Celebrity cook, author and "Granny Skills" entrepreneur Rebecca Sullivan is visiting Ganmain Hall on Monday October 21st as part of the Taste Riverina Food Festival. We would love you and your friends to join us from 9:30 am-12 noon for Rebecca's presentation and book signing and, to browse some interesting local trade stalls. This is an Advance Ganmain fundraiser with entry $10 pre-paid at the Ganmain Craft Cottage or $15 on the day. For details visit: http://www.coolamonshire.com.au/events/event-calendar/celebrity-guest-foodie-in-ganmain.aspx
Monday 21st October Guest Speaker Rev Mike Perrott (a member of the Rotary Club of Narrandera).
Wednesday 23rd October Coolamon Suicide Awareness/Prevention Family Fun Day venue Coolamon Sports Club.
Monday October 28th AGM all members requested to attend.
Saturday 9th November Rotary Club of  Cootamundra Bike Festival.
Thursday 14th November BINGO Henk Hulsman, Leslie Weston, Paul Weston, Bernadette Milne
Saturday 22nd and Sunday 23rd February PETS in Young
Friday 14th March Trike Convention Catering in Wagga Wagga proceeds to Ronald McDonald House in Wagga Wagga.
Friday March 21st-Sunday March 23rd D9700 Conference in Orange.
*Saturday May 10th International Night in Ganmain for AFRICA'S rhinos.
Sunday 18th May D9700 Assembly in Grenfell
Saturday 24th May Red Shield Appeal Street Stall.
Sunday June 1st-Wednesday June 4th.  SYDNEY 2014 RI Convention See promotion at the end of this bulletin.
*Partners and Guests Night.
ROTARY INTERNATIONAL PRESIDENT RON BURTON: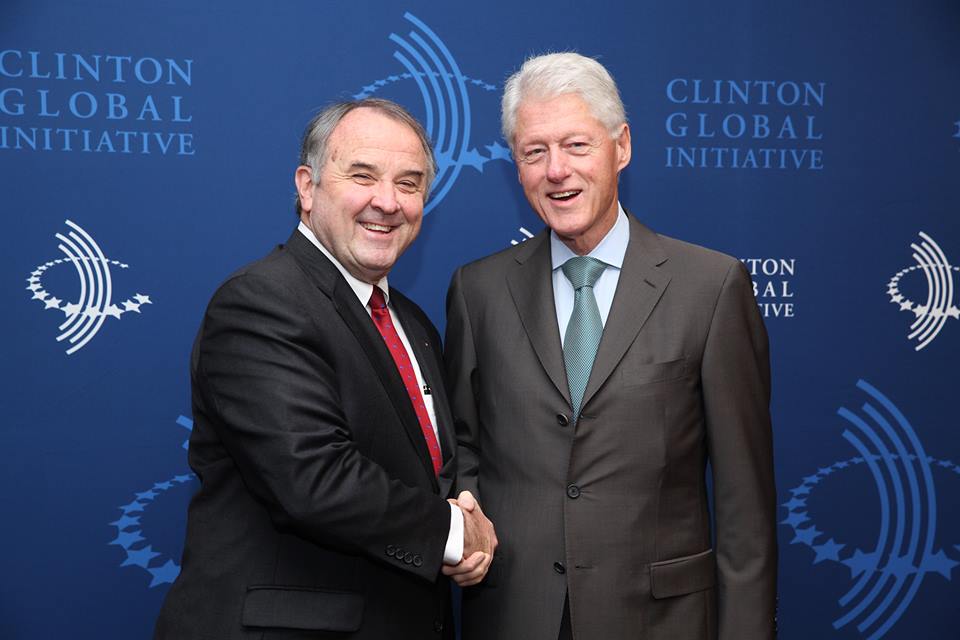 Rotary International President Ron Burton attended theClinton Global Initiative in New York City from 23 to 26 September where he met past U.S. President Bill Clinton. The event brought together business leaders and humanitarians from all over the world to talk about innovative solutions to the world's most pressing problems.
Learn more about the event at http://www.clintonglobalinitiative.org/aboutus/
ON THE LIGHTER SIDE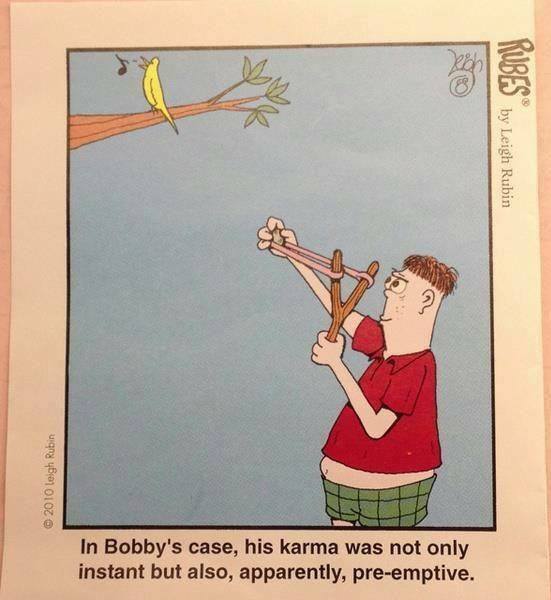 Dead Duck

A woman brought a very limp duck into a veterinary surgeon. As she laid her pet on the table, the vet pulled out his stethoscope and listened to the bird's chest. After a moment or two, the vet shook his head and sadly said, "I'm sorry, your duck, Cuddles, has passed away." The distressed woman wailed, "Are you sure?" "Yes, I am sure. Your duck is dead," replied the vet.. "How can you be so sure?" she protested. "I mean you haven't done any testing on him or anything. He might just be in a coma or something."
The vet rolled his eyes, turned around and left the room. He returned a few minutes later with a black Labrador Retriever. As the duck's owner looked on in amazement, the dog stood on his hind legs, put his front paws on the examination table and sniffed the duck from top to bottom. He then looked up at the vet with sad eyes and shook his head. The vet patted the dog on the head and took it out of the room.
A few minutes later he returned with a cat. The cat jumped on the table and also delicately sniffed the bird from head to foot. The cat sat back on its haunches, shook its head, meowed softly and strolled out of the room. The vet looked at the woman and said, "I'm sorry, but as I said, this is most definitely, 100% certifiably, a dead duck."
The vet turned to his computer terminal, hit a few keys and produced a bill, which he handed to the woman.. The duck's owner, still in shock, took the bill. "$150!" she cried, "$150 just to tell me my duck is dead!" The vet shrugged, "I'm sorry. If you had just taken my word for it, the bill would have been $20, but with the Lab Report and the Cat Scan, it's now $150."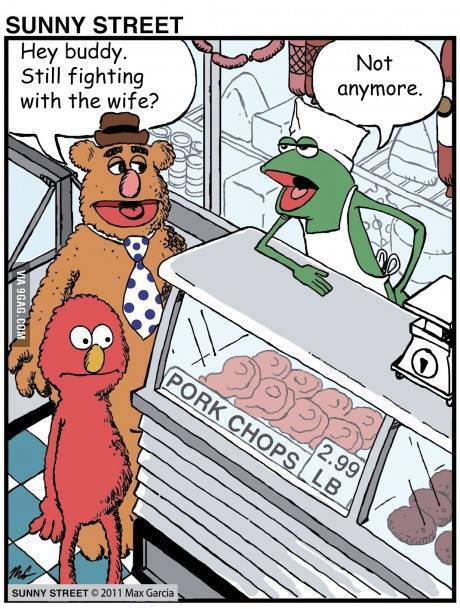 ROTARY INFORMATION
MEETINGS ATTENDANCE REQUIREMENTS
Article 9  Attendance
Section 1 General Provisions. Each member should attend this club's regular meetings, or satellite club's regular meetings if provided in the bylaws, and engage in this club's service projects, other events and activities. A member shall be counted as attending a regular meeting if the member is present for at least 60 percent of the meeting, or is present and is called away unexpectedly and subsequently produces evidence to the satisfaction of the board that such action was reasonable, or makes up for an absence in any of the following ways:
(a)  14 Days Before or After the Meeting. If, within fourteen (14) days before or after the regular time for that meeting, the member
(1)  attends at least 60 percent of the regular meeting of another club, of a satellite club meeting of another club, or of a provisional club; or
AND SO ON:
One of the most enjoyable parts of being a Rotarian is the fact that there are over 34,000 Rotary Clubs in the world and wherever you go there is a Rotary Club nearby where you will always be welcome to join in their meetings.
This week  I am writing this from Surfers Paradise and made up a meeting at the Rotary Club of Surfers Paradise:
We had an excellent speaker talking about the Gold Coast Light Rail that will be operational in June 2014.  Not all the members present thought that this development should have gone ahead.
I was made very welcome by President Kirk Mason and we exchanged our club banners.
Click on the thumb nails for a larger photo.
ONLY IN AFRICA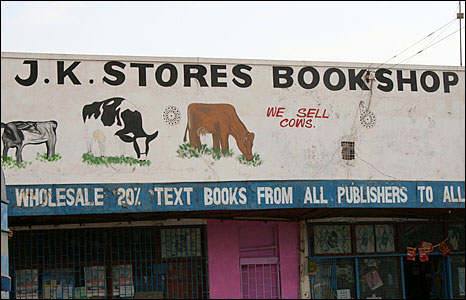 OUT OF AFRICA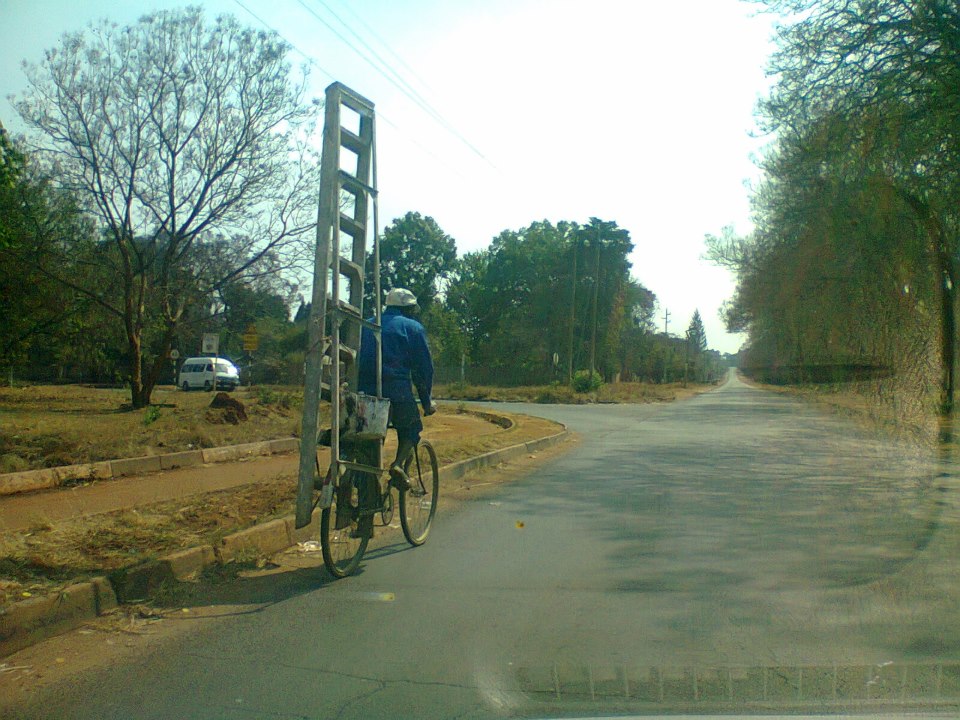 CAUSES WORTH SUPPORTING
To honour the memory of PP Bill Innes please support Legacy Australia:
2013 represents a special year for Legacy, as we celebrate their 90th Anniversary.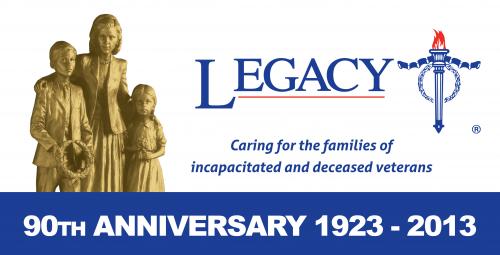 Join us as we celebrate and reconnect!
This anniversary is an opportunity for the Legacy 'family' to reconnect, sharing stories and insights and making new friends and to celebrate 90 great years.
There are many ways you can join us as we celebrate 90 years of Legacy.
ATTEND A REUNION. There are events happening all around the country. Click here to find out more and to register to attend your local event.
SHARE YOUR STORY. Click here to submit your Legacy story.
BUY A COMMEMORATIVE MEDALLION. Click here to purchase Legacy 90th Anniversary Commemorative Coins and Medallions.
Rotary International President Ron Burton
Governor of District 9700 Geoff Tancred
Coolamon Club President  Dick Jennings
Coolamon Club Secretary Paul Weston
Club Treasurer  Henk Hulsman
Coolamon Rotary Club Inc. P.O. Box 23 COOLAMON N.S.W. 2701
Websites of Interest
Coolamon Rotary Club: http://coolamonrotary.com
Road MAPS to Africa a Coolamon Rotary Project: http://www.mountainsofthemoon.org/
Rotary Down Under on line: http://flipflashpages.uniflip.com/2/26587/49598/pub
Mount Kenya 2015 Web Site incorporating the ORK: http://theork.com/
Our Rotary Centennial Twin Club Hout Bay, Cape Town, South Africa: http://www.rotaryhoutbay.org
Proposed Rotarian Action Group for Endangered Species RAGES: http://www.endangeredrag.org/#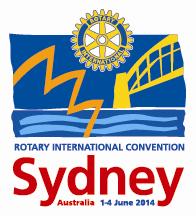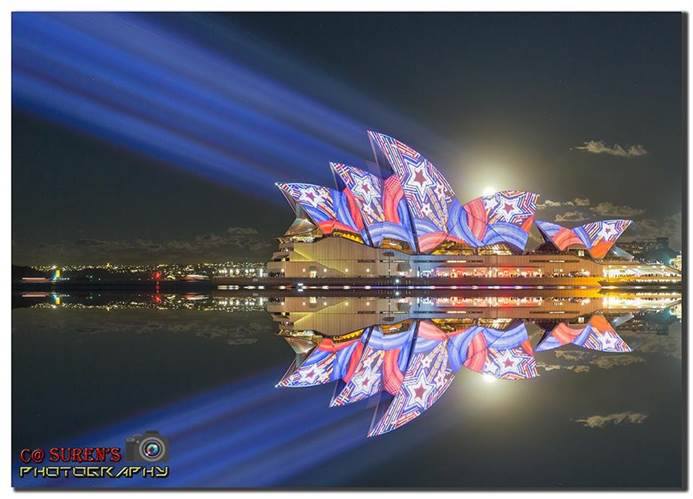 Register early for Sydney convention and save
Register early for the 2014 Rotary International Convention in  Sydney, Australia, 1-4 June, and pay US$100 less than the on-site  registration fee. Rotary's annual convention is a wonderful way to experience the true internationality of Rotary, as you connect with leaders, exchange ideas, and get inspired to take action to benefit communities worldwide.
The programme Click to Enlarge:
THE INVITATION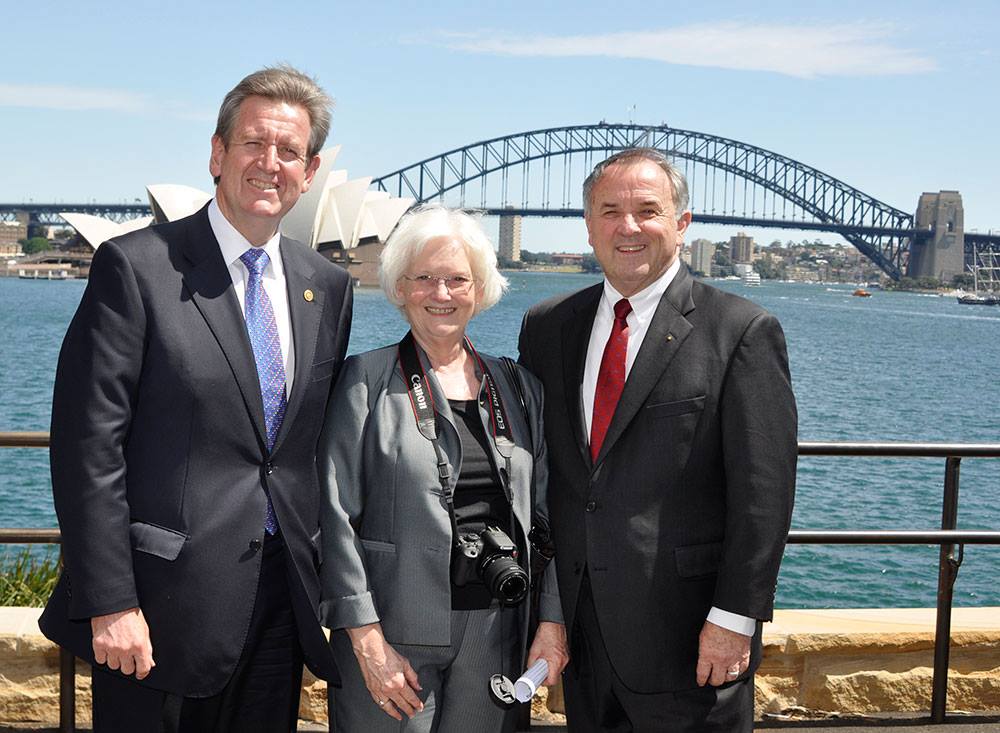 Sydney is hosting #Rotary International's 105th annual convention 1-4 June 2014, which is expected to attract more than 18,000 Rotary club members from more than 150 countries while injecting an estimated AUD 60.5 million into the local economy.
NSW Premier Barry O'Farrell said Rotary clubs and volunteers around the world provide outstanding service to the community and Sydney is proud to host the 2014 Rotary International Convention.
"Sydney is the major events capital of the Asia Pacific and this event provides us with another fantastic opportunity to showcase our harbor city to the thousands of Rotary delegates travelling here from around the world."
Register and learn more at www.riconvention.org(#ricon14)
In the photo: Premier Barry O'Farrell, RI President Ron Burton and his wife, Jetta.
Bulletin Editor and Web Site:  John Glassford
Don't forget to regularly check our club web site for current information such as bingo rosters and various newsletters from the District Governor, the School of St. Jude's, the monthly membership on the move newsletter as well as several other club bulletins.
FOOT NOTE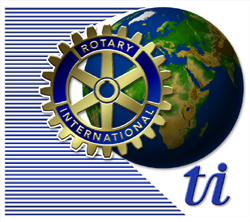 The week has been quiet on ROTI however Hari Ratan, a valued member of ROTI,  from India posted some amazing photos of his recent journey to the Himalayas:

The journey in photos below:
http://www.flickr.com/photos/ratan/sets/72157629976821042/