Week of 1 November
It was a slow week in Coolamon, so this week's bulletin will be a bit brief.  Our weekly meeting was a club assembly, so no guest speaker this week.  The major topic of consideration this week is identifying candidates for the board and president-elect for next Rotary year.  Our AGM is on Monday, so if you're interested in serving on the board, please make your interest known to President Don or one of the board members.
Working bees this Saturday
The last Moo Poo working bee will be on Saturday morning at Ted Hutcheon's place starting at 8:00.  In addition, the backyard at the Parkes residence is getting a bit overgrown, so several club members will be heading over on Saturday arvo after the Moo Poo working bee with whipper snippers and other trimmers in hand to get things under control (mowers will not be useful because the vegetation is too overgrown).  Feel free to come to one or both of these important club activities.
Wanna bowl?
The Coolamon Sport & Rec Club will once again be hosting pre-Christmas business house  bowls again in November and December.  We had enough interest last year to field two Rotary teams; if you're interested, let Henk know and he'll get us sorted.  Registration is $20 per team, and there's a charge of $20 per week divided by the team members.  There are prizes on offer each week for the top scoring teams, and a very nice prize (typically a ham) for each member of the top-scoring team at the end of the comp.
On the lighter side
The Puzzler
This week's puzzler is an optical one.  Have a good look at the following drawing: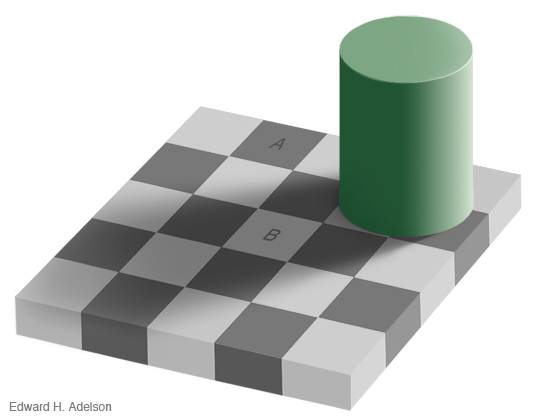 Which of the squares labelled "A" and "B" is darker?
Answer to last week's puzzler: The words that link each pair of words in order: 1 – key, 2 – deck, 3 – boot, 4 – pupil, 5 – case, 6 – bank.
Diary
Monday, 7 November: AGM.  Coolamon Sport & Rec Club. 6:30 for 7 pm.
Wednesday, 10 November: Bingo. Neil (Captain), Daryl, John N, Leslie.
Monday, 14 November: Regular meeting*.  Guest speaker: Rep from Kurrajong-Warratah Recycling.  Coolamon Sport & Rec Club. 6:30 for 7 pm.
Saturday, 26 November: Street Raffle.
Monday, 28 November: Bowls Night in lieu of regular meeting.  Coolamon Sport & Rec Club. 6:30 for 7 pm.
Saturday, 10 December: Christmas Party.  Details to come.
25-26 Feb, 2017: Presidents-Elect Training (Paul Weston), Young.
17-19 March, 2017: District 9700 Conference, Orange.
30 April, 2017: District 9700 Assembly (All Directors), Young.
10-14 June, 2017: Rotary International Convention, Atlanta, GA, USA.
*Partners and Guests Night
Apologies for Monday meetings: call Ian Jennings on 0428 492 157  BY FRIDAY 12:00 pm.