Week of 7 November
This week's highlight was our AGM.  The following directors were elected to serve on the board during President-elect Paul Weston's year: Club administration, Don Dyce; Foundation, Alex Thompson; Membership, Wayne Lewis; Public Relations, Myffy Collette; Service Projects, Daryl Breust; Vocational Service, Ian Jennings. Henk Hulsman will continue on as Treasurer, and John Bond as secretary.  President-elect for 2018-2019 is Daryl Breust.  Congratulations to all.  Onward and upward!
Calling all aprons!
Most of our Rotary aprons have disappeared from the food van.  If you know the whereabouts of any of them, their confidential return would be appreciated.
Uncertainty about the future of the Sport & Rec Club
Those of you that attended the extraordinary meeting of the Coolamon Sport & Rec Club this past Sunday would know that the club is in a precarious financial position, in part at least because of possible fraud (the matter is under investigation by the police).  Regardless of the cause, the Sport & Rec Club is facing a very large debt that must be resolved in the near future if they are to remain viable.  We will be discussing what role our club should play, if any, to assist with the financial bailout required to keep the Sport & Rec club afloat at our next club assembly, which is scheduled for 21 November.  Please be there to make your opinion known!
Shakeup in the land of Uncle Sam
I can't let this week go by without commenting on the results of the presidential election in the US, which was held this past Tuesday (which you couldn't have missed unless you've been living under a rock or were able to totally avoid mass media).  The result was predicted by exactly no one, and is bound to have profound impacts on the world, much less the U S of A.  Let's just hope that reason prevails, and that smart people are enlisted to help in the day-to-day running of the country. Those that wanted a change certainly got one, but I'm not sure this change is for the better!  The violent street protests against the election result are a bit of a worry, but hopefully not a sign of things to come.  Only time will tell.
On the lighter side
The Puzzler
What country name is hidden in the following sentence?
As defendants, we deny all involvement in the unscrupulous dealings which have come to light in the recent government investigation.
Answer to last week's puzzler: The two squares were exactly the same shade of grey.  The optical illusion arises from the neighbouring squares, which trick the eye into thinking that the one surrounded by white squares is darker than the one surrounded by dark squares.  You can prove this by using a colour picker in an image editor such as Photoshop, or looking at the squares while masking out the surrounding squares.  Below is visual proof (the two grey stripes are uniform in colour matching that of the two squares in question).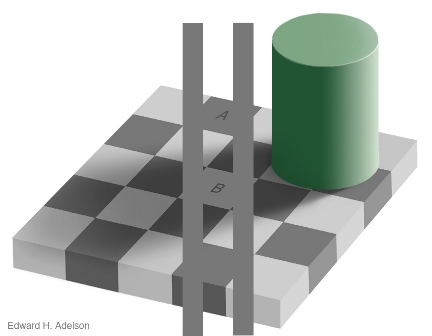 Diary
Monday, 14 November: Regular meeting*.  Guest speaker: Rep from Kurrajong-Warratah Recycling.  Coolamon Sport & Rec Club. 6:30 for 7 pm.
Monday, 21 November: Club assembly.  Special focus on the future of the Sport & Rec Club.  Coolamon Sport & Rec Club. 6:30 for 7 pm.
Saturday, 26 November: Street Raffle.
Monday, 28 November: Bowls Night in lieu of regular meeting.  Coolamon Sport & Rec Club. 6:30 for 7 pm.
Saturday, 10 December: Christmas Party.  Date subject to change pending progress of the harvest.
25-26 Feb, 2017: Presidents-Elect Training (Paul Weston), Young.
17-19 March, 2017: District 9700 Conference, Orange.
30 April, 2017: District 9700 Assembly (All Directors), Young.
10-14 June, 2017: Rotary International Convention, Atlanta, GA, USA.
*Partners and Guests Night
Apologies for Monday meetings: call Ian Jennings on 0428 492 157  BY FRIDAY 12:00 pm.