Week of 14 November
This week's meeting featured a guest speaker from Kurrajong-Waratah.  For those of you not familiar with this important support organisation, they provide "support, training and opportunities to people with an intellectual disability/development delay and their families/carers" through targeted services.  Tracey Collins described some of the vital services that Kurrajong-Waratah provides to the local community.  Tracey stressed the importance of developing relationships with their clientele in order to build trust and allow Kurrajong-Waratah to better meet their needs.  Daryl Breust thanked Tracey for a very enthusiastic and informative presentation, and presented her with to token change pouch as thanks.  The meeting concluded with an entertaining fine session led by Garth and a raffle, which was won by Don Dyce.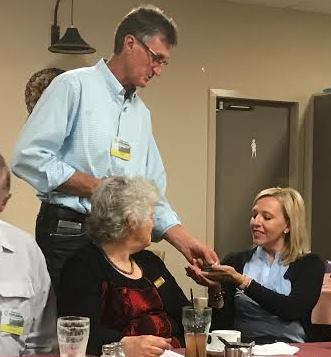 Beach Boys and Temptations coming to Wagga Wagga???!!!
Yes, it's true!  The Beach Boys, who made surf rock famous and originated classics such as "Surfin' USA", "Good vibrations" and "Kokomo", will be performing at McDonald's Park in Wagga on Saturday, 11 Feb, 2017.  The band will include founding member Mike Love and early replacement member Bruce Johnston.  If that weren't enough, the Temptations will be performing on the night at the same venue.  The Temps, part of the Motown Sound (based out of Detroit), were known for their soulful originals such as "My Girl" and "Papa Was a Rolling Stone".  Tickets are $89.  If interested in accompanying a group of Coolamon Rotarians to the show, let Henk know soon so arrangements can be made for ticket purchase and transport.
The Lighter Side
Memorable quotes
Hard work never killed anybody, but why take a chance? – Edgar Bergen
There is a fine line between fishing and just standing on the shore like an idiot.  – Steven Wright
He who laughs last didn't get it. – Helen Giangregorio
To make a mistake is human, but to blame it on someone else, that's even more human. – Anonymous
The man who smiles when things go wrong has thought of someone to blame it on. – Robert Bloch
The probability of meeting someone you know increases a hundredfold when you're with someone you're not supposed to be seen with. – Anonymous
You can only be young once. But you can always be immature. – Dave Barry
Camping is nature's way of promoting the motel business. – Dave Barry
Constantly choosing the lesser of two evils is still choosing evil.  – Jerry Garcia
Always remember you're unique, just like everyone else. – Alison Boulter
The puzzler
Below are six glasses. Three of these glasses contain orange juice. Moving only ONE glass, can you arrange the glasses such that those containing the orange juice are together?

Answer to last week's Puzzler:
The country name hidden in the sentence was Sweden.
Diary
Monday, 21 November: Club assembly.  Special focus on the future of the Sport & Rec Club.  Coolamon Sport & Rec Club. 6:30 for 7 pm.
Saturday, 26 November: Street Raffle.
Monday, 28 November: Bowls Night in lieu of regular meeting.  Coolamon Sport & Rec Club. 6:30 for 7 pm.
Saturday, 10 December: Christmas Party.  Date subject to change pending progress of the harvest.
25-26 Feb, 2017: Presidents-Elect Training (Paul Weston), Young.
17-19 March, 2017: District 9700 Conference, Orange.
30 April, 2017: District 9700 Assembly (All Directors), Young.
10-14 June, 2017: Rotary International Convention, Atlanta, GA, USA.
*Partners and Guests Night
Apologies for Monday meetings: call Ian Jennings on 0428 492 157  BY FRIDAY 12:00 pm.