Week of 6 February
This week's meeting was a club assembly, which gave us some time to do some reflection of the NYE festival and some planning for the upcoming telephone directory and other activities.  It was a good way to get back into the swing of things after a lengthy time away from serious business.  The meeting finished right on 9:00, which is a great start to the new year because we'll need to be more mindful of the ending time as the club will not be keeping staff on beyond that time.  Speaking of the club, you might want to come to Monday's meeting (13 Feb) to hear an update on the status of the club by Trevor Jose, CEO of the sport & rec club.  
One other bit of news: Trevor Parkes is now home from hospital and recuperating!  He still has a bit of rehabilitation to undergo, but he has recovered from pacreatitis and is well on the path to normal activity. We look forward to having you back on board, Trevor!
On the lighter side
Here's a collection of quotes by a number of American talk show hosts and commetators over the course of the recent presidential campaign in the US.  Now that Trump is president, a lot of these quotes don't sound so funny, even if they're stretching the truth a bit!
"Say what you will about Trump, he is not stupid. He is a smart man with a deep understanding of what stupid people want."―Andy Borowitz
"Donald Trump has had several foreign wives. It turns out that there are really are jobs Americans won't do."–Mitt Romney
"Nearly 70 percent of Americans said a Trump presidency would make them 'anxious.' And 30 percent said a Trump presidency would make them 'Canadian.'"–Conan O'Brien
"Analysts say Hillary Clinton's plan to defeat Donald Trump involves painting Trump as 'dangerous and bigoted.' She plans on doing this by quoting Trump accurately."—Conan O'Brien
"After he won yesterday's Nevada caucus, Donald Trump said, 'I love the poorly educated.' Trump then said, 'And when I'm president there'll be more of them than ever.'" —Conan O'Brien
"Donald Trump said yesterday that if he's elected, he would 'probably not talk as much.' That's right, if Donald Trump is elected, even HE will be speechless."—Seth Meyers
"Donald Trump has canceled a planned trip to Israel. When asked why, Trump said, 'They already have a wall and a fear of Muslims. My work there is done.'"—Conan O'Brien
"A word association poll found the words most associated with Donald Trump are idiot, jerk, stupid, and dumb. In other words, he really could be our next president. He's got everything it takes."—Conan O'Brien
The puzzler
Here's a visual puzzler submitted by John Glassford, who has disqualified himself from any prize.  Which container in the diagram below will fill with water first once the flow is turned on to container 1?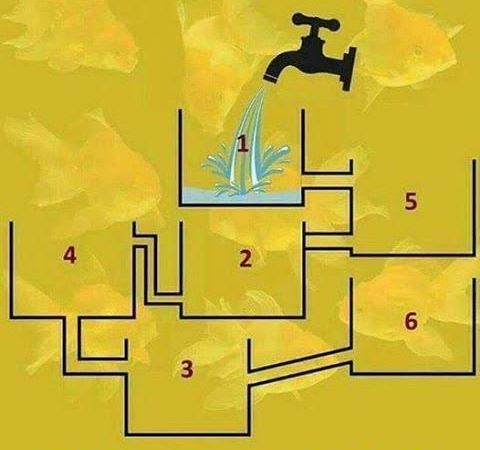 Answer to the last Puzzler:
The missing numbers are 12 and 11, in that order.  The order is important because the second number is subtracted from the first to give the first digit (or two) of the resulting number; the second two digits of the result are the sum of the two numbers on the left side of the equation.
Diary
*Monday, 13 February: Regular meeting. Guest speaker: Trevor Jose, CEO Coolamon Sport & Rec Club, speaking on the status of the club.  6:30 for 7:00 pm,  Coolamon Sport & Rec Club. 
Monday, 20 February: Regular meeting.  6:30 for 7:00 pm,  Coolamon Sport & Rec Club.
*Monday, 27 February: Regular meeting. Guest speaker: Neil & Coral Druce, Junee Licorice and Chocolate.  6:30 for 7:00 pm,  Coolamon Sport & Rec Club.
25-26 Feb, 2017: Presidents-Elect Training (Paul Weston), Young.
17-19 March, 2017: District 9700 Conference, Orange.
30 April, 2017: District 9700 Assembly (All Directors), Young.
10-14 June, 2017: Rotary International Convention, Atlanta, GA, USA.
*Partners and Guests Night
Apologies for Monday meetings: call Ian Jennings on 0428 492 157  BY FRIDAY 12:00 pm.