Week of 27 February
This week's meeting featured a presentation by Neil and Coral Druce, proprietors of Junee Licorice & Chocolate and Corowa Whiskey and Chocolate. We heard a most interesting story of how the licorice factry came to be, and how the Druces ended up developing a distillery in an abandoned flour mill in Corowa.  Those in attendance listened with great interest as Neil and Coral described how they almost accidentally ended up becoming one of the largest makers and distributors of licorice in eastern Australia, and how they ended up occupying their first abandoned flour mill in Junee.  We learned how whiskey is made in Scotland and in Australia (the Aussie version made by Neil and Coral is made from barley as the starting grain).  Steve Exton formally thanked Neil and Coral, and presented them with our trademark souvenir, kangaroo-hide coin pouches.  The evening concluded with an entertaining fine session led by Ian Jennings and a meat raffle won by Susan Glassford.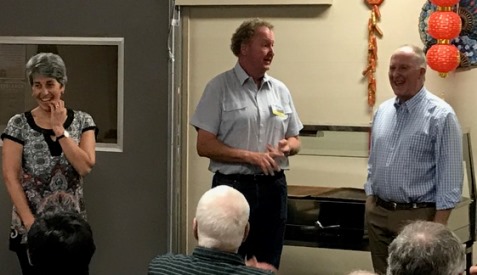 On the lighter side
 
The puzzler
Scrambled animals
Below are the names of six animals whose letters have been scrambled and divided into two groups of three, but the order of the letters is in sequence in each half.  For example, WOMBAT might be represented as OBA WMT (or WOT MBA, or many other possibilities). One other wrinkle: the groups of three letters for each animal are not in the same row. What are the six animals?
CYO ARU
WLS DNE
EAR FEE
OKY OTE
RRT JAR
AGU BVE
Answer to the last Puzzler:
There were several correct answers to last week's puzzler, including 8-4=4 (move the vertical stick from the plus sign to the open side of the 6, making it an 8), 0+4=4 (move the middle horizontal stick of the 6 to the open side, making it a zero), 5+4=9 (move the lower left vertical stick from the 6 to the top of the 4, making the 6 a 5 and the 4 a nine), and 6-4 NE 4 (moving the vertical stick from the plus sign across the equal sign, making it a "not equal" sign).
Diary
Monday, 6 March: Club Assembly. 6:30 for 7:00 pm,  Coolamon Sport & Rec Club.
Thursday, 9 March: Bingo.  6:45 pm, Allawah Lodge. Rostered: Grahame (Captain), Myffy, Dick, Bernie.
*Monday, 13 March: Regular meeting. Guest speaker: Liz Summerville, Australian Livestock & Property Association. 6:30 for 7:00 pm,  Coolamon Sport & Rec Club.
*Monday 20th March YOUTH EXCHANGE .  Jackson Wykes, our proposed 2018 Youth Exchange student, and his family will meet AG Bryan Short, DGE George Weston and at least 2 Outward Bound Students who have returned from 12 months abroad.
17-19 March, 2017: District 9700 Conference, Orange.
30 April, 2017: District 9700 Assembly (All Directors), Young.
10-14 June, 2017: Rotary International Convention, Atlanta, GA, USA.
*Partners and Guests Night
Apologies for Monday meetings: call Ian Jennings on 0428 492 157  BY FRIDAY 12:00 pm.