Regular meeting, 22 August
This week's meeting was a regular meeting at which we hosted a number of Rotarians from Wagga/Woollundry to discuss our role in the upcoming Gears and Beers event, to be held on the Sunday of the October long weekend (2 October).  The event is growing, so additional riders are expected to pass through the town as they make their way through the shire.  We'll be expected to direct riders and hand out water and fruit. Other fine points of the ride were covered in an effort to ensure an even more successful event than last year.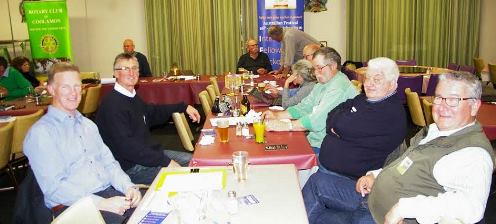 Pictured above (foreground) are Phil McIntosh (Woollundry), Daryl Breust, Wayne Lewis, John Nulty, and Neil Munro.  Pictured below are David Byfield (Woollundry), David Benn (Woollundry), Garth Perkin and Ian Jennings.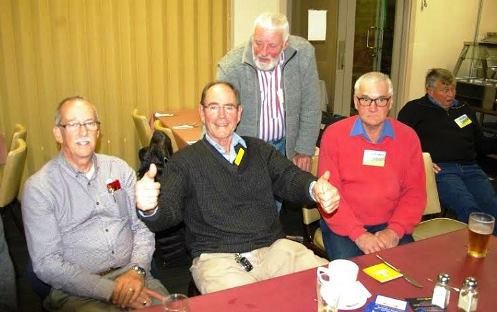 It was a fine evening of fellowship with our visitors from Wagga.  The evening concluded with an entertaining fine session led by Sargeant-At-Arms Ted Hutcheon, although Ted's grasp of the facts slipped a bit this week.  The raffle was won by visiting Rotarian David Byfield.
Moo Poo Working Bee
A very successful working been was held on Saturday to get a start on bagging the miracle product "Moo Poo" (composted cow manure).  Assisting on the day were Don Dyce, Wayne Lewis, Dave McKinley, John Glassford, Alex Thompson, Daryl Breust, Neil Munro, John Bond and Ted Hutcheon.  All up, some 250 bags were packed and stacked on pallets, ready for delivery to our business partners in Ganmain (At & Vet), Coolamon (Delta Ag) and Marrar (Marrar Sales & Service).  The product is selling for $6 per bag, or $30 for 6 bags. Another working bee will be held on Saturday week to continue to process of bagging this wonder of nature.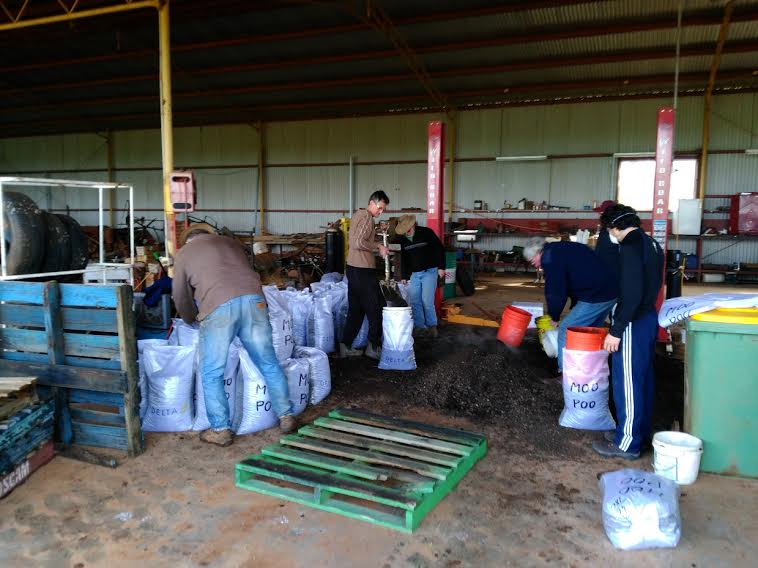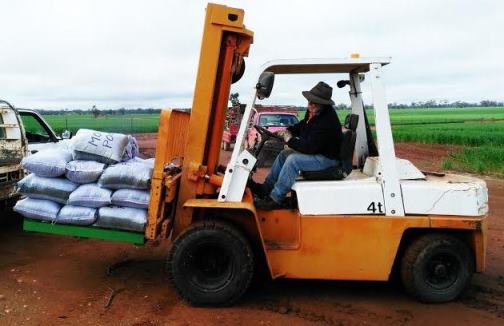 On the lighter side
Another way to tell the sex of a fly
Any experienced entomologist will tell you the easiest way to tell the sex of a moth is to turn it on its back and look between its legs for mothballs.
Run for your life!
Two campers were hiking in the forest when all of a sudden a bear jumps out of a bush and starts chasing them. Both campers start running for their lives, when one of them stops and starts to put on his running shoes. His partner says, "What are you doing? You can't outrun a bear!" His friend replies, "I don't have to outrun the bear, I only have to outrun you!"
A puzzler for you
Bill and John both have some apples.  If Bill gives one apple to John, they'll both have the same number of apples.  If John gives an apple to Bill, Bill will have twice as many apples as John.  How many apples do Bill and John have?
Answer to last week's puzzler
First, fill the three-gallon jug with milk and pour it into the five-gallon jug.  Then ill the three-gallon jug again, and transfer two gallons to the five-gallon jug, which will now be full.  What is left in the three-gallon jug is exactly one gallon.
Diary
29 August: Bowls & Pizza night (in lieu of regular meeting).  Coolamon Sport & Rec Club, 6:30 pm.  Feel free to invite prospective members (but let Ian J know).
Monday, 5 September: Club assembly.  Coolamon Sport & Rec Club, 6:30 for 7 pm start.
Thursday, 8 September: Bingo. Allawah Lodge, 6:45 for 7 pm. Roster: Paul Weston (Capt), Ivan Furner, Steve Exton, Garth Perkin.
Saturday, 10 September: Youth Sports Awards Night. Coolamon Sport & Rec Club, 5:00-8:00 pm (club members will be manning the BBQ).
Monday, 12 September: Regular meeting and visit by DG Michael Millston. Coolamon Sport & Rec Club.
Wednesday, 14 September: Board meeting.  Don Dyce & Sally Farmer residence. 7 pm.
Saturday, 17 September: Kindra Forest Multipurpose Trail Opening.
Saturday, 17 September: Coolamon Cheese Factory Grand Opening.
Monday, 26 September: CSU Field Plot Twilight Tour (in lieu of weekly meeting).  Stay tuned for details.
Sunday, 2 October: Gears & Beers. Stay tuned for details!
Sunday, 16 October: President's Forum and D9700 AGM, Young.
Saturday, 22 October: Hospital Fete. Details to come.
Saturday, 26 November: Street Raffle.
---
*Partners and Guests Night
Apologies for Monday meetings: call Ian Jennings on 0428 492 157  BY FRIDAY 12:00 pm.