Week of 29 August
This week we decided to have an alternative meeting in lieu of our regular weekly meeting because it was the fifth Monday of the month.  Although it's not the usual time of year for lawn bowls, we bowled and dined on pizza at the Sport and Rec Club.  A fair few members had other commitments, but we had ten bowlers (7 members plus 3 guests) game enough to brave the winter chill, which was quite tolerable because of the cloud cover and still air.  The team of Daryl Breust and Kevin Farrell defeated Henk Hulsman and Helen Lewis, while the team of Don Dyce, John Bond and Paul Weston bested Alex Thompson, Marion Farrell and Wayne Lewis.  Non-stop pizza helped fuel the bowlers, but the form of some may have been hampered by the excess food intake.  John Bond won the extra raffle ticket by virtue of solving last week's puzzler, but that wasn't enough for him to win the meat tray, which was won by our fearless leader, Don.
Moo Poo Working Bee, Take 2
Another working bee is scheduled for this Saturday, 3 September to continue bagging the miracle garden supplement known as Moo Poo.  We'll be meeting at 8:00 at Ted's place and will be working under cover, so we're on come rain or shine.  Be there or be square!
IMPORTANT REVISION: THE WORKING BEE HAS BEEN POSTPONED BECAUSE OF RAIN, WHICH WILL MAKE IT LIKELY THAT VEHICLES WILL BECOME BOGGED GETTING INTO AND OUT OF THE STORAGE AREA. STAY TUNED FOR FURTHER UPDATES.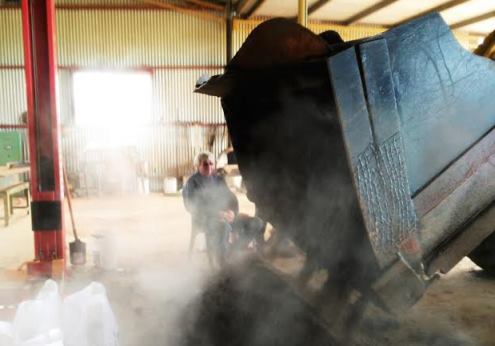 FU
Coolamon Community Chronicle, Issue 2
The September issue of the CCC is off the press and available at local shops around the shire.  This issue is special in that it was entirely put together by students at the Coolamon Central School.  Pick up a copy and have a squiz!
Bingo Jackpot at an All-Time High!
September's bingo (next Thursday, 8 September) might be a good time to whip out your bingo marker and make your way to Allawah Lodge.  The jackpot will be $180, the highest it's ever been, and it likely to go off on the night.  So, turn off the telly, get off yer bums, and make your way to Rotary bingo at 6:45 for 7:00 pm (and bring a plate of goodies, please!).  The members rostered on for the night (Paul, Ivan, Steve and Garth) are reminded to show up ready to work.
On the lighter side
Magic father
Jake: What does your father do for a living?
Matt: He's a magician. He performs tricks, like sawing people in half.
Jake: Do you have any brothers or sisters?
Matt: Yep, four half-sisters and a half-brother.
Don't look now!
An armed hooded robber bursts into Westpac and forces the tellers to load a sack full of cash. On his way out the door with the loot one brave customer grabs the hood and pulls it off revealing the robber's face.
The robber shoots the man without hesitation.
He then looks around the bank to see if anyone else has seen him. One of the tellers is looking straight at him and the robber walks over and calmly shoots him dead.
Everyone by now is very scared and looking down at the floor.
"Did anyone else see my face?" screams the robber.
There is a few moments of silence then one elderly woman, looking down, tentatively raises her hand and says, "I think my husband here may have caught a glimpse."
The Puzzler
This week's puzzler is short and sweet: Suppose you flip an unbiased coin four times and get four heads in a row.  What are the odds that you'll get heads on the fifth toss?
Answer to last week's puzzler: Bill had 7 apples and John had 5. You can work this out by trial and error, or by solving simultaneous equations!
Diary
Monday, 5 September: Club assembly.  Coolamon Sport & Rec Club, 6:30 for 7 pm start.
Thursday, 8 September: Bingo. Allawah Lodge, 6:45 for 7 pm. Roster: Paul Weston (Capt), Ivan Furner, Steve Exton, Garth Perkin.
Saturday, 10 September: Youth Sports Awards Night. Coolamon Sport & Rec Club, 5:00-8:00 pm (club members will be manning the BBQ).
Monday, 12 September: Regular meeting and visit by DG Michael Millston. Coolamon Sport & Rec Club.
Wednesday, 14 September: Board meeting.  Don Dyce & Sally Farmer residence. 7 pm.
Saturday, 17 September: Kindra Forest Multipurpose Trail Opening.
Saturday, 17 September: Coolamon Cheese Factory Grand Opening.
Monday, 26 September: CSU Field Plot Twilight Tour (in lieu of weekly meeting).  Stay tuned for details.
Sunday, 2 October: Gears & Beers. Stay tuned for details!
Sunday, 16 October: President's Forum and D9700 AGM, Young.
Saturday, 22 October: Hospital Fete. Details to come.
Saturday, 26 November: Street Raffle.
---
*Partners and Guests Night
Apologies for Monday meetings: call Ian Jennings on 0428 492 157  BY FRIDAY 12:00 pm.