Coolamon Rotary News Bulletin #18
MEETING November 5th. 2012
NOVEMBER IS ROTARY FOUNDATION MONTH.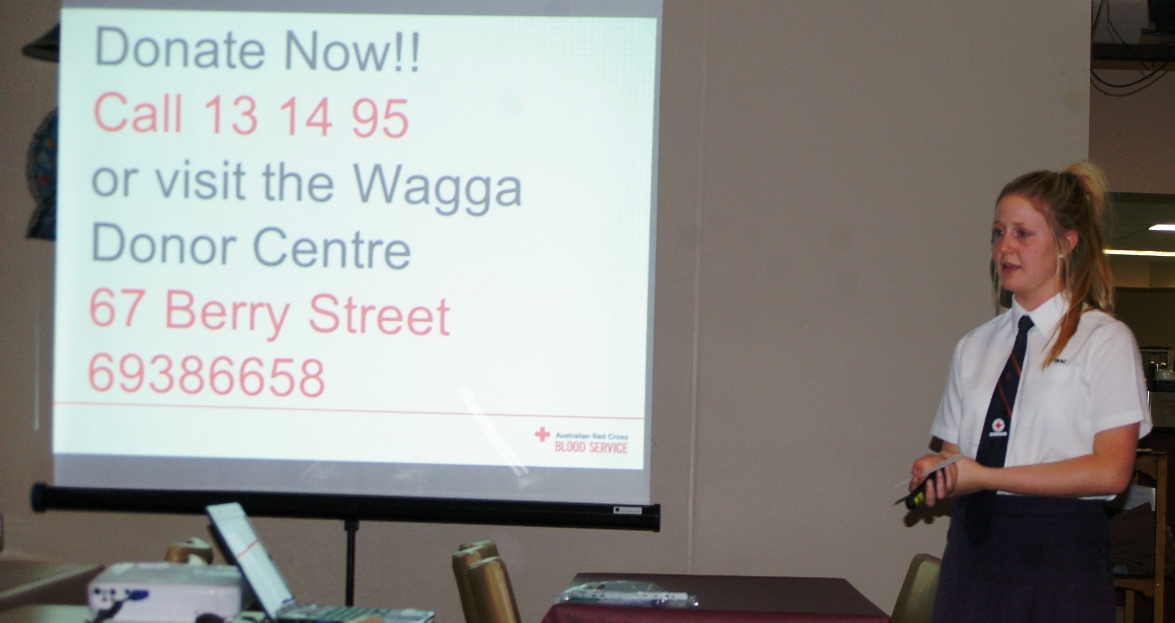 Georgia Roberts a Red Cross Ambassador from Coolamon
Now NB Donate means blood not money!
Members present: Paul Weston, Leslie Weston, Henk Hulsman, John Burns, John Glassford, Grahame Miles, Ian Jennings, Dick Jennings and Ian Durham
Guests: Christine Lorraine and Val Burns.
Guest Speaker Georgia Roberts Red Cross Ambassador.
Tonight we learned a lot about the Red Cross from this inspirational young lady.
You can give blood by donating full blood every 12 weeks, plasma every 2 weeks and platelets every 4 weeks.
Blood donors help local residents daily.
Contact The Red Cross on line below or 13 14 95 or 6938 6658.
Georgia is in Year 11 at the Riverina Anglican College in Wagga Wagga and we should all be very proud of Georgia from Coolamon.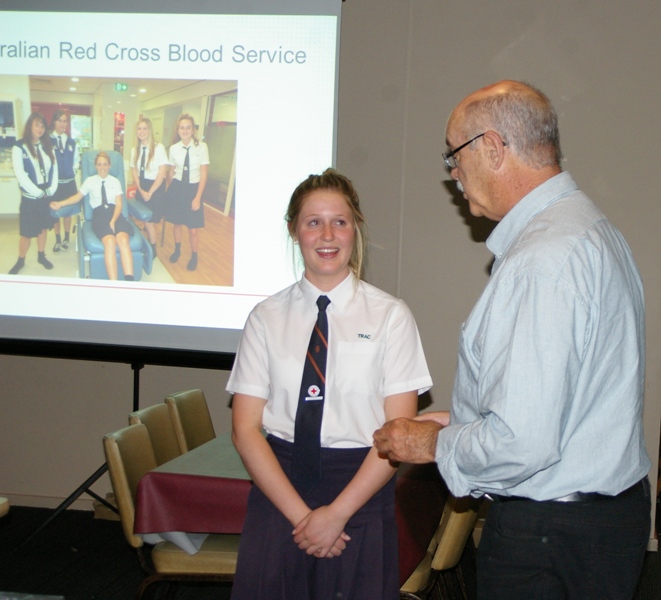 PRESIDENT PAUL WESTON'S REPORT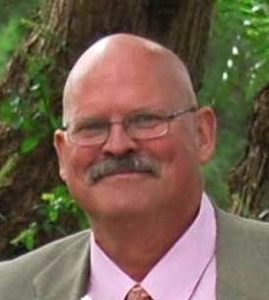 Things are starting to wind down for the year, but we do have some important Rotary business to attend to before we break for the silly season. First up is our AGM, which will be held next Monday (12/11) at the Sport and Rec Club (Andrew catering). This is a vitally important meeting for our club, and with a number of us being out of town next week, it's even more important that as many of us attend as possible. We need to elect our officers and directors for 2013-2014, and we need a quorum to conduct our business. We're also looking for a few members to put their hand up for some vacancies on the board, specifically Club Administration Director, Service Projects Director, Youth New Generations Director, and
Vocational Services Director. Please let John G. know if you're interested in one of these positions.
The following week will be a member's night, featuring Ian Durham. It should be an interesting night. The following Sunday (25/11) will feature our produce and craft markets at the Up-To-Date Store. We have some special entertainment lined up for the day: hay rides through town and live musos. Please save the date, and consider signing up for a slot to help out on the day.
We had a great meeting last night. Our speaker for the night was Georgia Roberts, a youth ambassador for the Red Cross. Georgia (a Coolamon resident and student at TRAC) gave a very good presentation on the need for blood donations, how donated blood is used, and how we can help TRAC meet their goal of having 100 blood donations in their name over the year. Most impressive from such a young speaker! Henk received a "Kransky Award" from the president for his exceptional service in the mission of procuring sausages for the food van at the Scarecrow Festival; if you're not familiar with the Kransky Award, you need to start coming to meetings! Dick conducted a rousing fine session, as usual, and closed the night out by shouting a bottle of port in honour of his brand-new granddaughter (Rosie Maree), whose birth was announced by a phone call during the meeting.
I'll be out of town from 10-22 November (visiting the Motherland to participate in a scientific conference and take in a little deer hunting). See you on the other side.
Onward and upward!
Yours in Rotary,
Paul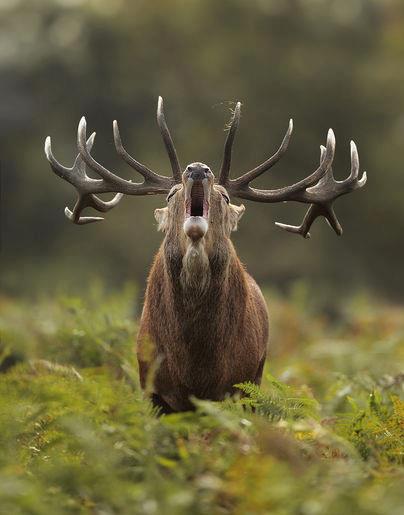 DIARY REMINDERS
Thursday 8th November:    BINGO on duty:   John Burns,  Henk Hulsman,  Leslie Weston & Paul Weston
Monday 12th November AGM and Election of Office Bearers for 2013-2014.
Monday 19th November Ian Durham Speaker on his journey of life.
Sunday November 25th Rotary Markets in Coolamon.
Friday December 21st Christmas Party
Peace Ceremony in Coolamon February 2013
Friday 19th to Sunday 21st April 2013 D9700 Conference Leeton
June 23-26 2013 Rotary International Convention in Lisbon. RI Convention Lisbon
*Partners and Guests Night.
ROTARY INTERNATIONAL PRESIDENT SAKUJI TANAKA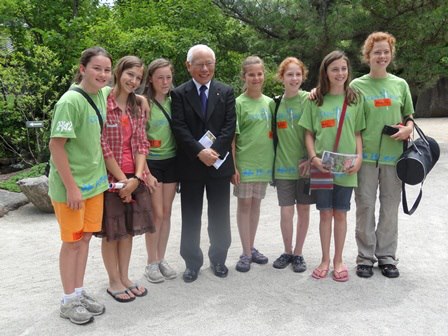 On this the 50th anniversary of Interact it gives me great hope for the future to see so many young people who have embraced the idea of Service Above Self. Rotary service means doing your best —not for yourself, but for others. It means achieving as much as you can, to make other people's lives better. So congratulations Interactors! You all deserve a nice round of Rotary applause.
インターアクトは今年で50周年を迎えます。大勢の若い人たちが、50年にわたって超我の奉仕の精神でボランティア活動を行ってきました。自分のためでなく、誰かのために何かをしてあげること、しかも「ベストを尽くすこと」が、ロータリーの奉仕だと思います。世界中のインターアクターの皆さん、ご活躍を期待しています。50周年、おめでとうございます。
ON THE LIGHTER SIDE
The Coffin
A man who makes coffins was rushing to deliver a coffin at new Nyanza general hospital mortuary,along the way his car broke down,so he decided to go on foot carrying the coffin on his head.
On reaching Kisumu the Kakamega highway policemen spotted him and decided to rob him of some cash 'bribe'.
"Omera where are you going ?".
"I am not happy with where I was buried so I am looking for a better place to relocate."
The policemen ran away and the man proceeded with his journey.
The Blonde Pilot
A blonde pilot decided she wanted to learn how to fly a helicopter.
She went to the airport, but the only one available was a solo-helicopter. The instructor figured he could let her go up alone since she was already a pilot for small planes and he could instruct her via radio. So, up the blonde went.
She reached 1,000 feet and everything was going smoothly.
She reached 2,000 feet. The blonde and the instructor kept talking via radio. Everything was going smoothly.
At 3,000 feet, the helicopter suddenly came down quickly! It skimmed the top of some trees and crash landed in the woods. The instructor jumped into his Jeep and rushed out to see if the blonde was okay. As he reached the edge of the woods, the blonde was walking out.
"What happened"? the instructor asked. "All was going so well until you reached 3,000 feet. What happened then"?
"Well," began the blonde. "I got cold, so I turned off the ceiling fan."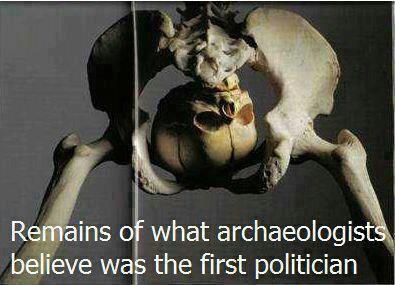 ROTARY INFORMATION

Interact clubs celebrate the program's golden anniversary
The very first Interact club, formed at Melbourne High School in Melbourne, Florida, USA, is joining Interact clubs and their sponsors around the globe in celebrating the program's 50th anniversary during World Interact Week, 5-11 November.
Interact is Rotary International's service club for young people ages 12 to 18. Interact clubs are sponsored by individual Rotary clubs, which provide support and guidance, but they are self-governing and self-supporting.
Club membership varies greatly. Clubs can be single gender or mixed, large or small. They can draw from the student body of a single school or from two or more schools in the same community.
Each year, Interact clubs complete at least two community service projects, one of which furthers international understanding and goodwill. Through these efforts, Interactors develop a network of friendships with local and overseas clubs and learn the importance of
Developing leadership skills and personal integrity
Demonstrating helpfulness and respect for others
Understanding the value of individual responsibility and hard work
Advancing international understanding and goodwill
As one of the most significant and fastest-growing programs of Rotary service, with more than 10,700 clubs in 109 countries and geographical areas, Interact has become a worldwide phenomenon. Almost 200,000 young people are involved in Interact.
BUCKET LIST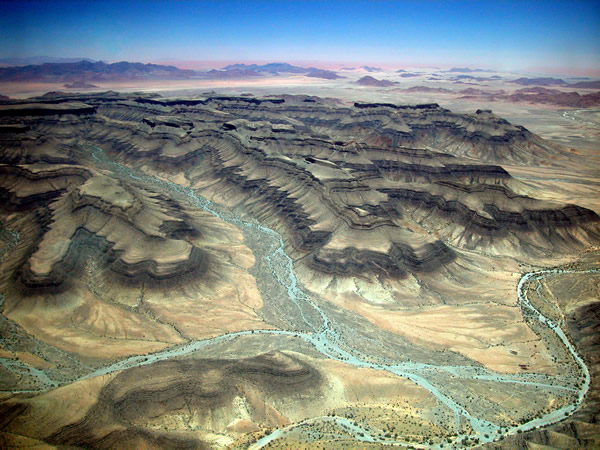 Namibia: Meerkats live here as do the desert elephants and black rhino.
TOO CUTE
Rotary International President Sakuji Tanaka
Governor of District 9700  Greg Brown
Coolamon Club President  Paul Weston
Coolamon Club Secretary  John Glassford Coolamon
Club Treasurer  Henk Hulsman
Coolamon Rotary Club Inc. P.O. Box 23 COOLAMON N.S.W. 2701
Websites of Interest
Coolamon Rotary Club: http://coolamonrotary.com
Road MAPS to Africa a Coolamon Rotary Project: http://www.mountainsofthemoon.org/
Rotary Down Under on line: http://flipflashpages.uniflip.com/2/26587/49598/pub
Rotarians For Fighting AIDS AUSTRALIA: http://theork.com/
Our Rotary Centennial Twin Club Hout Bay, Cape Town, South Africa: http://www.rotaryhoutbay.org
Don't forget to regularly check our club web site for current information such as bingo rosters and various newsletters from the District Governor, the School of St. Jude's, the monthly membership on the move newsletter as well as several other club bulletins.