Coolamon Rotary News Bulletin #19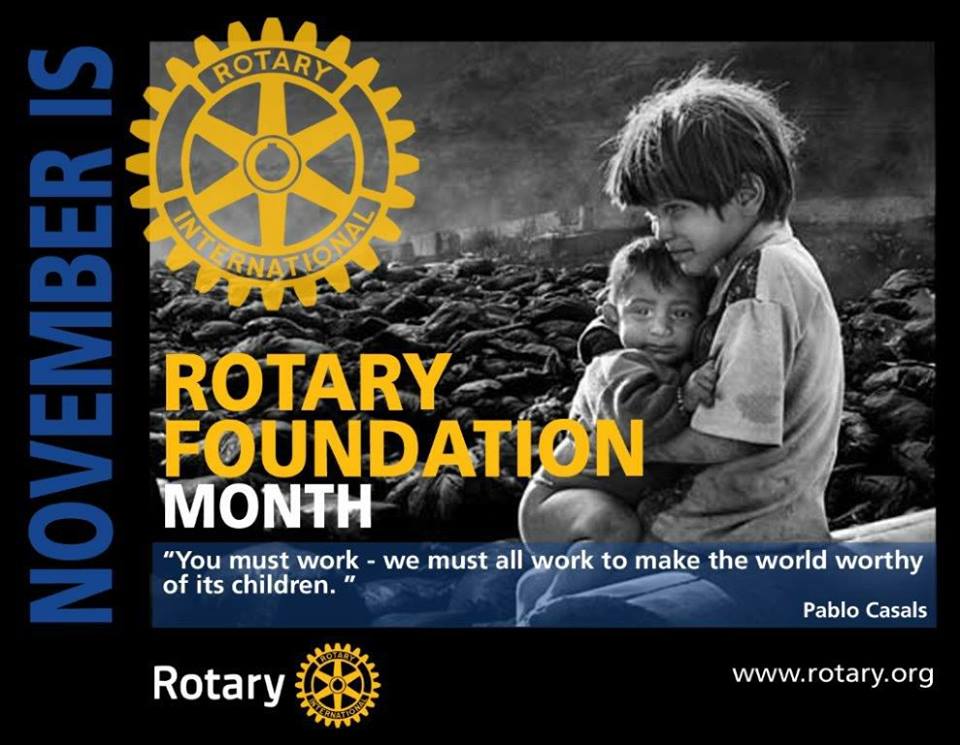 NOVEMBER IS THE ROTARY FOUNDATION MONTH
ANDREW BEST R.I. AUSTRALIA RIDES FOR POLIO PLUS
"My last day of training here at the office before I leave for my Rotary International Ride to End Polio. Thank you to the amazing RI Staff from this office who collectively have donated USD $560 of their own money. We truly believe in our work !!! Thanks Barbara for my balloon".
 All this training and motivation was made possible by the amazing team Vision Personal Training Thanks Samina and the rest of the team.#endpolio #rotary #tucson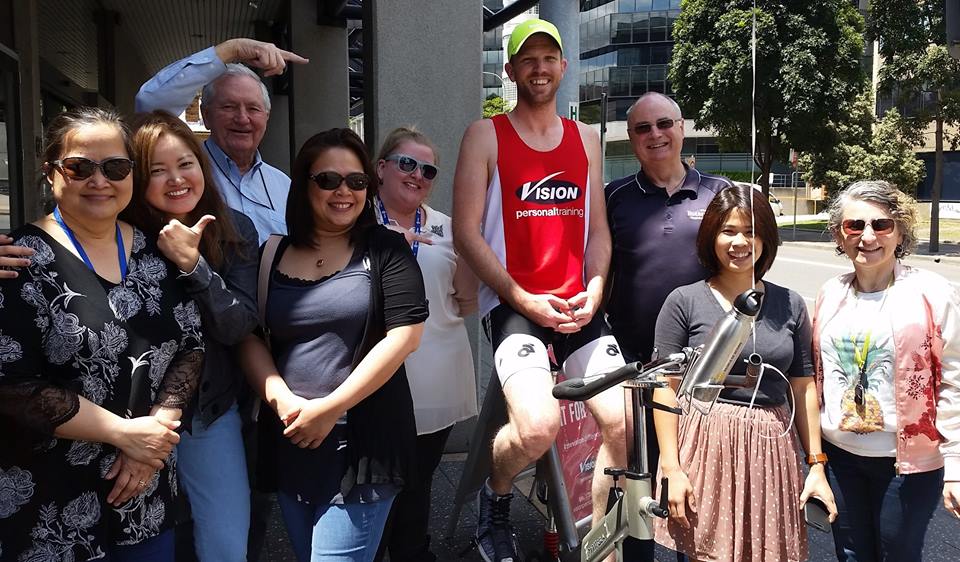 Rotary International staff will join Rotarians from District 5500 and around the world as they challenge themselves to ride up to 106 miles to raise funds in the Ride to End Polio, part of El Tour de Tucson 2017.
All contributions will be matched 2:1 by the Bill and Melinda Gates Foundation. Please consider supporting this effort to #EndPolio.
For tax receipts and Rotary Foundation recognition, please login with My Rotary.
MEETING NOVEMBER  13th. 2017
Tonight a surprise visit from the Wollundry Rotary Club's Gears & Beers leadership team.  PP Phil McIntosh, PP David Byfield and current President Paul Milde.  Phil presented a cheque for $5,000 to President Paul Weston.  This being our share for manning check points, making bikkies, serving drinks and generally directing traffic on the October long weekend past.
Gears and Beers is growing and growing with 1,700 riders this year it could go as high as 2,500 in 2018.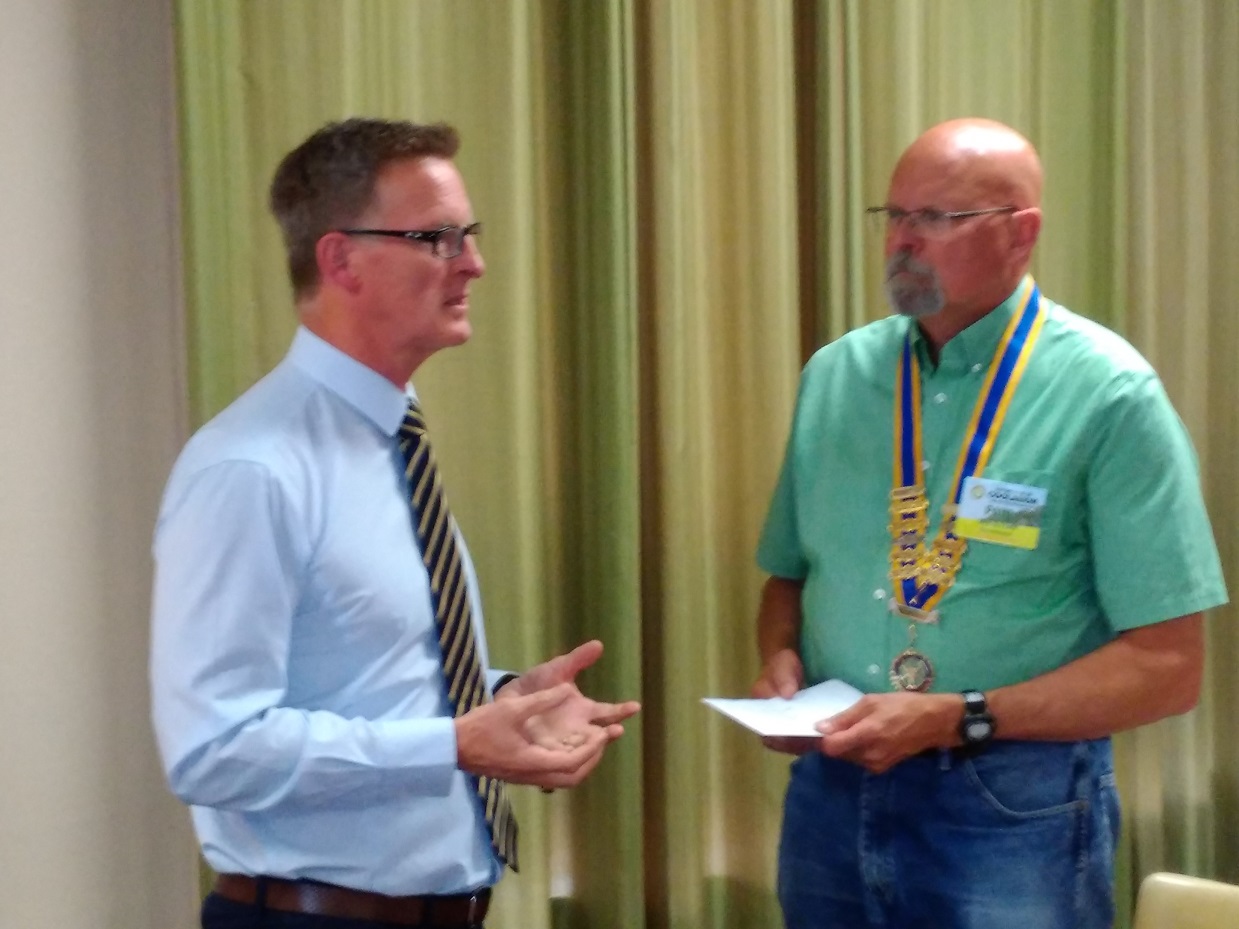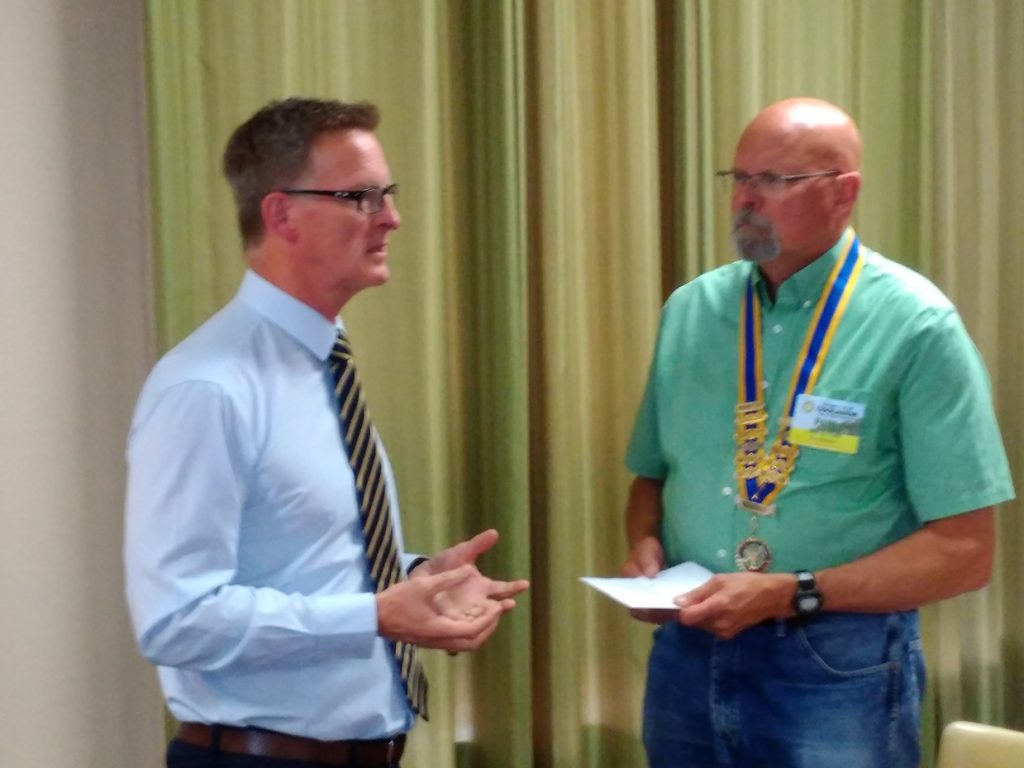 The Planning Meeting
We had 17 members including two guests.  We achieved an enormous amount and here in bullet form are some of the areas that we covered last night:
Bingo last week a profit of $301 thanks to Ian Jennings, Steve Exton, Daryl Breust and John Nulty.
Bingo to keep going for the next 6 months.
Paul Weston spoke on a recent meeting for drug and domestic violence meeting in Coolamon.
Neil Munro gave a presentation on the recent Peace Day 25th Anniversary to be held in Wagga Wagga on the 23-24th February 2018.
Daryl Breust called for more nominations for the AGM next week especially a Bulletin Editor and a President for 2019-2020.
Wayne Lewis spoke on the refurbishment of the caravan.  Some concerns were allayed by Grahame Miles.  Wayne said that the new exhaust fans have been installed.
Grahame Miles to look at two 400mm decals for the van.
We need another Peace Flag.
Wayne Lewis advised the meeting that we have received $500 to help with the van and $600 from the Membership Sustainability D9700 Grant.  Both grants are for membership promotion and to attract new members.
New Year's Eve Daryl Breust is looking for volunteers and a long discussion took place on supporting the event. We are also looking at support from other organisations such as the Men's Shed, Music 4 Mates and Lions, especially for the selling of the wrist bands.
Discussion on our Youth Exchange Students Lucia and Jackson.  Jackson Wykes will be doing a presentation on November 27th so please come along to support this exceptional young man before he leaves for Finland in January.  Lucia will be invited to present another talk in the New Year on her country and how they farm in her part of Germany. Lucia is going very well and is a very confident young lady.
Nominations called for by Coolamon Shire Council for the Australia Day awards.
Howard Atkinson offered the Convent for our Christmas Party to be held on the 16th December.
Wayne Lewis asked for the firewood owed to Matthew Lewis to be replaced.  Wayne would love a working bee for a good time and some physical work rather than write a cheque.
Ian Jennings spoke about a tree planting project which needs to be completed by April 25th 2018.
John Glassford on the D9700 and Coolamon combined change over dinner to be held at the Ganmain Hall on Saturday June 30th 2018.
A huge night of planning and forward thinking!
Paul Weston spoke on the Sunday I.T. Training Seminar in Young DisTec17.  This was an idea of DGE JG and taken up by Paul Murray our D9700 Webmaster and Executive Secretary.  Paul Weston reported that it was a success and Paul Murray did a great job ably supported by D9700 Trainer Geraldine Rurenga and DGN John McKenzie.
50 delegates including a PDG from D9685 Sydney.  This is a world first as far as we can tell and we were congratulated by Rotary International Director Noel Trevaskis.  Andrew Best from the RI Parramatta office did a video presentation on Rotary Club Central.
We learned plenty and we all have to get up to speed with the Internet.  Photos at the end of the bulletin.
My thanks to Paul Weston, Alex Thompson, Henk Hulsman for attending DisTec17 from Coolamon.
AGM MONDAY 20th NOVEMBER
Our Annual general Meeting will be held Monday 20th November.  President Elect Daryl Breust will looking to fill the following positions for 2018-2019:
President
 2018-2019: Daryl Breust 
Secretary:  
Treasurer:  
President Elect 2019-2020: 
Rotary Foundation Director: 
Club Admin Director: 
Youth Director: 
Service Projects: 
Membership Director: 
Public Image Director: 
Immediate Past President: Paul Weston
Sergeant @ Arms: 
Bulletin Editor & Webmaster: 
SOMETHING LIGHT!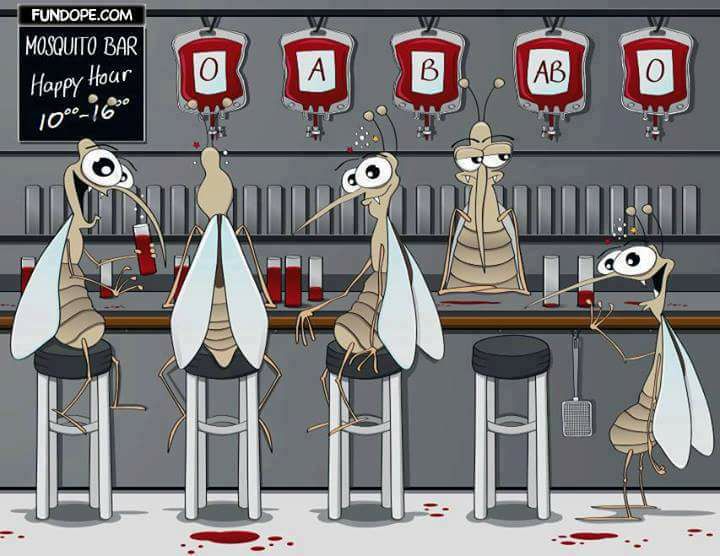 DIARY.
Wednesday, November 15th: Board Meeting. Coolamon Sport & Rec Club, 6:30 for 7 pm.
Monday, November 20th:  AGM and Election of Officers. Coolamon Sport & Rec Club, 6:30 for 7 pm.
*Monday, November 27th.  Regular meeting.  Guest speaker: Outbound Coolamon Youth Exchange Student Jackson Wykes. Coolamon Sport & Rec Club, 6:30 for 7 pm.
Monday, December 4th: Regular meeting.  Coolamon Sport & Rec Club, 6:30 for 7 pm.
Monday December 11th.  Wind up 2017 meeting!
Thursday December 14th. BINGO. Grahame (Capt.), Bernadette, Myffy, John B.
*Saturday December 16th December.  Christmas Party at the Convent.
New Year's Eve ALL HANDS in Coolamon.
Monday 15th January 2018  FIRST Meeting for 2018
Thursday February 8th 2018. BINGO. Henk (Capt.), Rod, Dick, Alex.
Saturday & Sunday, March 4th & 5th, 2018. PETS (President Elects Training Seminar).
Sunday, March 5th, 2018. D9700 Assembly. ALL Club Board Members to attend.  Young, 09:00-16:00
Thursday March 8th 2018, BINGO Neil Munro Capt, Dave McKinley, Don Dyce, Leslie Weston
Saturday & Sunday, May 5th & 6th, 2018. D9700 CONFERENCE. Roxy Theatre, Leeton.  Book accommodation early!
*Saturday June 30th 2018, District 9700 and Coolamon RC Changeover Dinner at the Ganmain Hall.
———————————————————–
*Partners and Guests Night
Apologies for Monday meetings: call John Nulty on 0439 459 196 BY FRIDAY
FOOTNOTE
Orange Daybreak RC Schoolies to Nepal
As many year 12 students prepare for a schoolies trip to the Gold Coast for the party of a lifetime, 32 students from schools in the Orange area are heading off on a slightly different schoolies adventure.

Mayoral Reception to farewell the Nepal Schoolies, a project of The Rotary Club of Orange Daybreak.
Good luck to all, and to Mary Brell, Mark & Wayne as the Rotarians on tour.
DISTRICT GOVERNOR ELECT NEWS: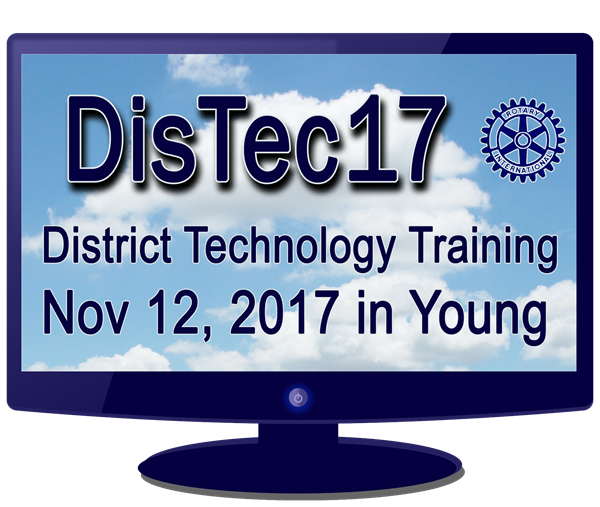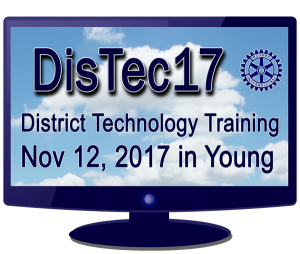 SUNDAY NOVEMBER 12th. IN YOUNG
What a great day and my thanks to PP Paul Murray and PP Geraldine Rurenga for their professional and dedicated work.  Paul Murray prepared an excellent programme which was well received by the 50 delegates.  21 Clubs were  represented including Coolamon with President Paul Weston, Henk Hulsman, Alex Thompson and JG.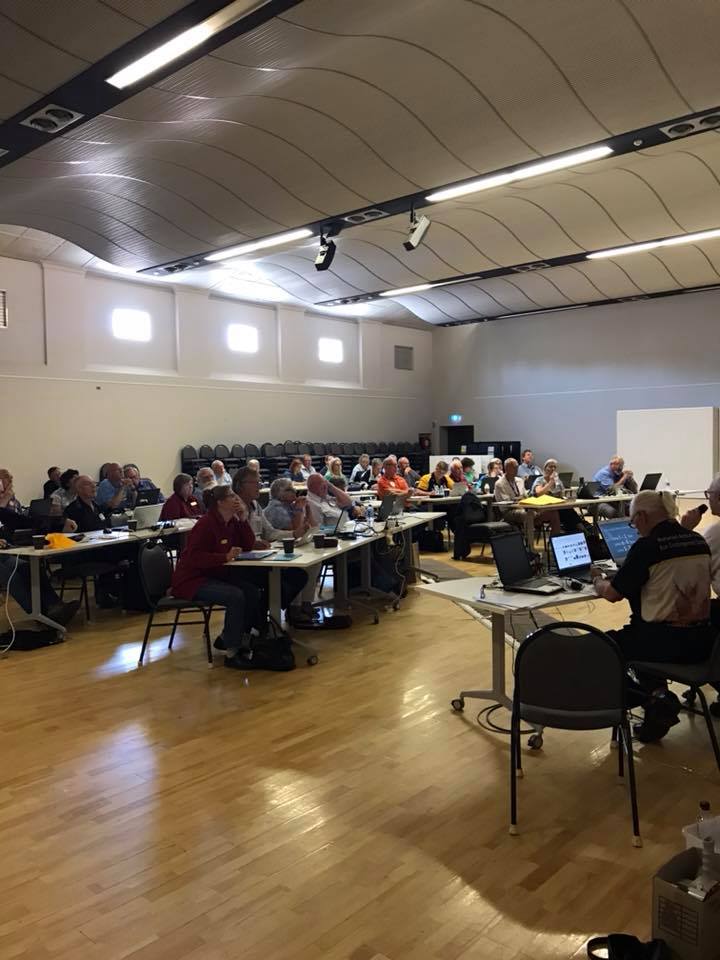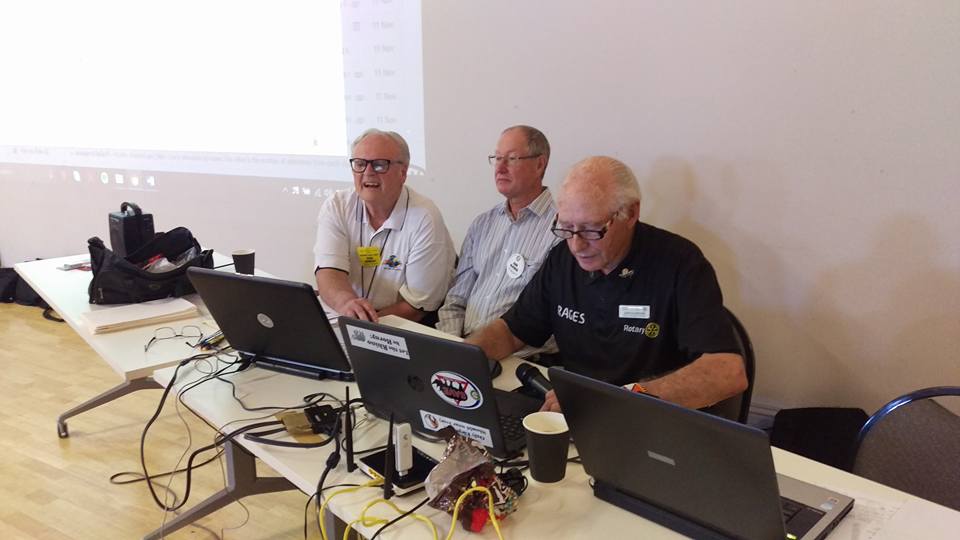 From Andrew Best:
On 14 November 2017 at 08:51, Andrew Best <[email protected]> wrote:
Dear DGE John,
I am really happy to read the event was a success. Congratulations on drawing in such a large number to a training day like this.
I'm sure we can provide the same support, or possibly physically attend next years event. Thanks for your openness to the light side of my video, I'm glad it was well received.
Its incredible Polio had such an impact on so many Rotarians. I am sorry for the loss of your friend. It is stories like this that motivate me to do as much as I can.
As of today, I have raised $15,300 USD. Once matched by the Gates foundation, that will look like $45,000 USD.
I  hope I can make the ride event you have planned. Let's hope dates don't clash.
Once I've completed the Tucson ride, I will certainly provide any ideas or feedback I have.
Regards,
Andrew
Hint in the above video for 2019 Griffith.
A Friendly Reminder
John Nulty is looking after the apologies for our Monday meetings; could you please make sure you let John know if you are unable to attend a meeting so catering can be finalised before the meeting. John can be contacted on  or 0439 459 196.
ROTARY CLUB OF COOLAMON Inc. 2017-2018
Chartered March 3rd 1971 Sponsoring Club Narrandera Rotary Club
President: Paul Weston  6927 2972
President Elect & Service Projects :  Daryl Breust 0409 551 140
Secretary:  John Bond 0427 273 226
Treasurer: Henk Hulsman 6927 3486
Rotary Foundation Director: Neil Munro 6927 3156
Club Admin Director: Don Dyce 6929 1215
Youth Director: Dave McKinley 6927 8553
Service Projects {Vocational} Director: Ian Jennings 6927 3390
Membership Director: Wayne Lewis 6927 3501
Public Image Director: Myffy Collette 6927 6313
Immediate Past President: Don Dyce 6929 1215
Sergeant @ Arms: Ted Hutcheon 6927 3349
Bulletin Editor: Julie Clark 
ROTARY INTERNATIONAL 2017-2018
President Ian Riseley RC of Sandringham Melbourne
President Elect Barry Rassin RC of East Nassau The Bahamas
District 9700 Governor George Weston RC of Leeton
District 9700 Governor Elect John Glassford RC of Coolamon