Coolamon Rotary News Bulletin #35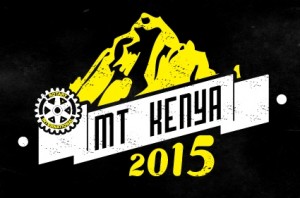 MARCH IS LITERACY MONTH.
South African projects advance literacy and basic education
By Mary Jo Jean-Francois, Area of Focus Manager for Basic Education & Literacy
There is absolutely nothing that makes my job better than visiting Rotarian projects and seeing the faces of children light up because of one simple thing: they are learning. Who am I and what incredible job do I have, you ask?
My name is Mary Jo Jean-Francois and I am the Area of Focus Manager for Basic Education & Literacy here at Rotary. A relatively new team, we are very excited to work with Rotarians throughout the world.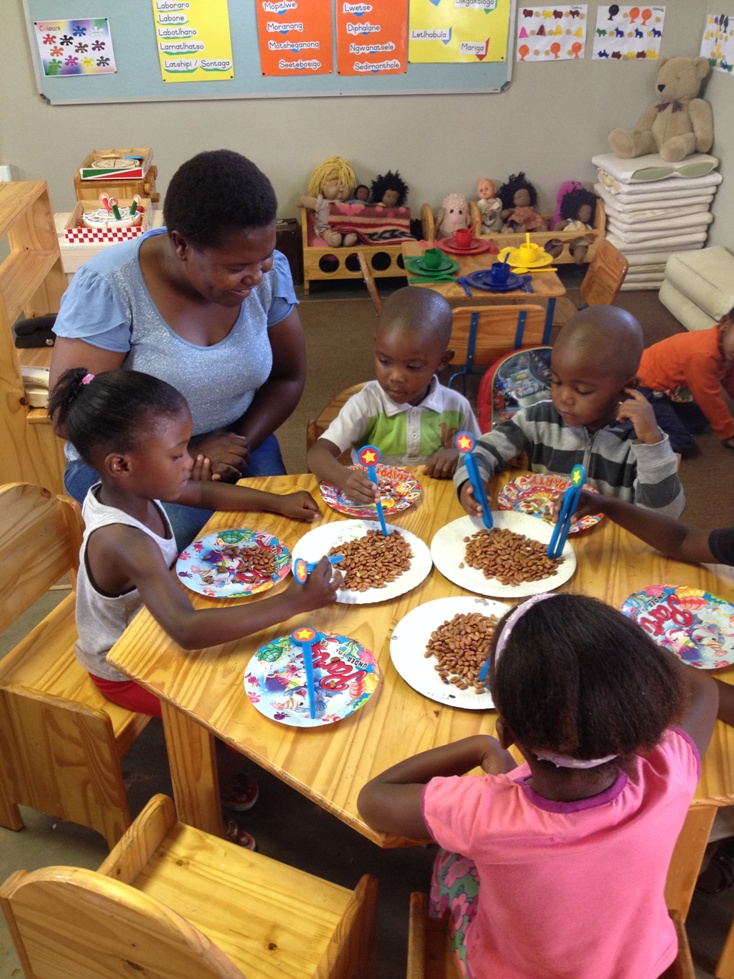 Teacher Maria works with three year olds on developing fine motor skills. Photo courtesy of Mary Jo Jean-Francois.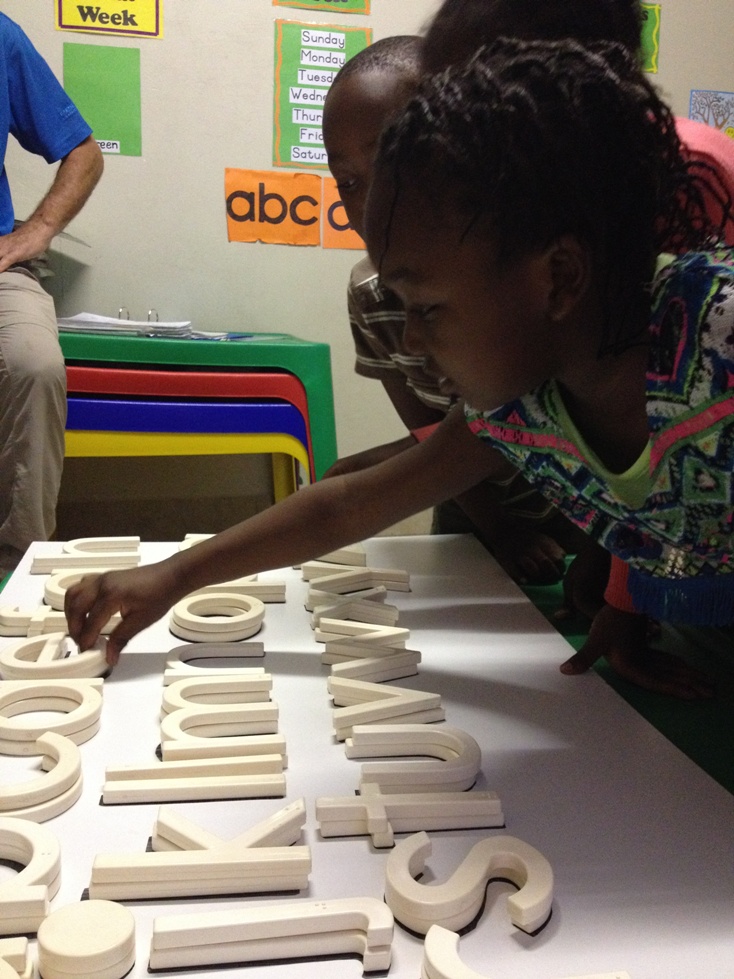 Students identify sounds to build words. Photo courtesy of Mary Jo Jean-Francois
MUSIC 4 MATES CONCERT COOLAMON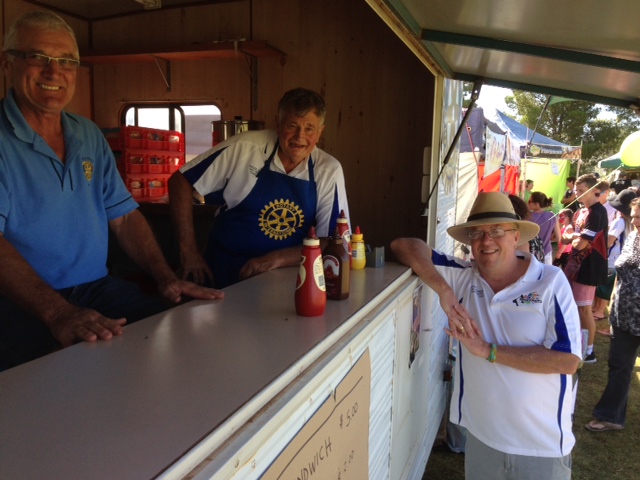 Ian Jennings, Dick Jennings and John Piltz at the Rotary Van.
Coolamon Rotary had a small part to play in this Music 4 Mates Concert held on Saturday afternoon and evening.  Over 1,500 attended this free concert and a substantial amount was raised.  A wonderful effort!  The concert was in aid of Suicide awareness and prevention and was hosted by the Coolamon Lions Club.  Our club cooked in our caravan.  Some photos follow:
Pictures from Bianca Marie Photographics via their Facebook page.
DISTRICT CONFERENCE ORANGE 2014
Last weekend was an excellent weekend of fun, food, fellowship and some serious networking.
District Governor Geoff Tancred and Bettye Tancred hosted the D9700 DISCON in Orange.  There were many outstanding speakers and among them none other than Father Chris Riley, Dr Keith Suter and Rob Pennicott from Tasmania.  There was also some Rotary work but most of the weekend was fellowship and listening to such diverse subjects as Prospects for Peace in 2014, Housing for Health, circumnavigating Australia in a rubber ducky, repairing fences and gates from bush fires and floods.  As well as these subjects we had three Vocational Excellence Awards presented where each recipient spoke on their projects, from midwifery in the Democratic Republic of the Congo, apple growing and Aboriginal health.Our thanks to PP Paul Cox who was the conference Chair and to his committee for putting on another great conference.
Here are some thumb nail photos of a small part of the Conference please click on the images to enlarge them.
MEETING MONDAY MARCH 24th. 2014
We had one guest in Christine Lorraine and in all 14 members attended.
Last night our club had a rare club assembly to discuss future projects.
President Dick Jennings reminded all of our members that there was a Ganmain Coolamon Hospital Auxiliary night to be held on Friday May 23rd.
Dick also thanked all of the members who supported the Mates 4 Mates Concert on Saturday night.
John Glassford reported on the District Conference at Orange held last weekend.
Ian Jennings reminded all members that next week will be a social night and BBQ at PE Garth Perkin's home,  BYO.   Please advise Christine of any guests that you may be bringing along.  6.30 for 7.00pm.
Diary Reminders.
Monday 31st  March Social Night at PE Garth and Marg Perkin's home.  BYO.
Saturday 29th March Wagga Wagga Food and Wine Festival Midday to 10 pm in the Wagga Civic Theatre Gardens hosted by the Wollundry Rotary Club.
*Monday 7th April Des Carmody Guest Speaker "Gallipoli Victory or Defeat?"
Thursday April 10th BINGO Rostered ON: Leslie Weston, Paul Weston, Ian Jennings, Ted Hutcheon
Monday 14th April Regular Meeting followed by the April Board Meeting.
Saturday 19th April EASTER MARKETS in Coolamon.
Monday April 21st EASTER No Meeting.
Monday April 28th Libby Cruikshank Guest Speaker Community Health.
Thursday May 8th BINGO Rostered ON: Bernadette Milne, Miffy Collette, Ian Durham, Mark Reardon
*Saturday May 10th International Night in Ganmain for AFRICA'S rhinos and elephants.

Sunday 18th May D9700 Assembly in Grenfell
Saturday 24th May Red Shield Appeal Street Stall.
Sunday June 1st-Wednesday June 4th.  SYDNEY 2014 RI Convention See promotion at the end of this bulletin.
Thursday June 12th BINGO Rostered ON: John Glassford, Neil Munro, Christine Atkinson, Henk Hulsman
Saturday 17 and Sunday 18 June Wagga Wagga Book Fair.
Saturday 28th June D9700 Change Over Dinner in Orange.
*Monday July 7th 2015 ANNUAL CHANGE OVER DINNER
Saturday 9th August Coolamon Street Raffle
*Partners and Guests Night.
Apologies for Monday meetings call Christine Atkinson on 0427 880 158 or 6927 3521 BY FRIDAY 12.00 pm.
ROTARY INFORMATION
Vocational training team uses collaborative approach for medical training
By Ellina Kushnir, Rotary Programs staff
f
A group of six obstetricians from England traveled to Sikkim, India, in April as part of the Collaborative Action in Lowering Maternity Encountered Deaths vocational training team. Known as CALMED, the joint initiative between Districts 1120 (England) and 3240 (parts of northeast India) brought together professionals and community members to train medical staff in emergency care for pregnant women and newborns. The team developed curricula and resources and used simulators to train local medical professionals involved with childbirth. Afterward, the newly trained medical staff trained rural medical workers — all part of the effort to reduce the risk of complications and death during pregnancy, birth, and the postnatal period. Watch a video of the exchange.
ON THE LIGHTER SIDE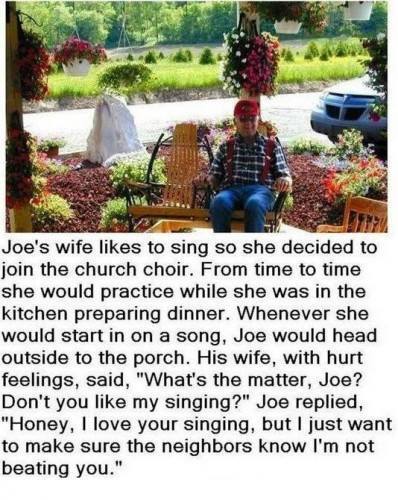 ADVICE FROM A RETIRED HUSBAND
It is important for men to remember that as women grow older, it becomes harder for them to maintain the same quality of housekeeping as when they were younger. When you notice this, try not to yell at them. Some are oversensitive, and there's nothing worse than an oversensitive woman.
My name is Wayne. Let me relate how I handled the situation with my wife.
When I retired a few years ago, it became necessary for Denise to get a full-time job, along with her part-time job, both for extra income and for the health benefits that we needed.
Shortly after she started working, I noticed she was beginning to show her age. I usually get home from the golf club about the same time she gets home from work.
Although she knows how hungry I am, she almost always says she has to rest for half an hour or so before she starts dinner. I don't yell at her. Instead, I tell her to take her time, and just wake me when she gets dinner on the table.
I generally have lunch in the Men's Grill at the club, so eating out is not reasonable. I'm ready for some home-cooked grub when I hit that door.
She used to do the dishes as soon as we finished eating, but now it's not unusual for them to sit on the table for several hours after dinner. I do what I can by diplomatically reminding her several times each evening that they won't clean themselves. I know she really appreciates this, as it does seem to motivate her to get them done before she goes to bed bed.
Another symptom of aging is complaining, I think. For example, she will say that it is difficult for her to find time to pay the monthly bills during her lunch hour. But boys, we take 'em for better or worse, so I just smile and offer encouragement. I tell her to stretch it out over two, or even three days. That way, she won't have to rush so much. I also remind her that missing lunch completely now and then wouldn't hurt her any (if you know what I mean). I like to think tact is one of my strong points.
When doing simple jobs, she seems to think she needs more rest periods. She had to take a break when she was only half-finished mowing the yard. I try not to make a scene. I'm a fair man. I tell her to fix herself a nice big cold glass of freshly-squeezed lemonade, and just sit for a while. And as long as she is making one for herself, she may as well make one for me too.
I know that I probably look like a saint in the way I support my wife. I'm not saying that showing this much consideration is easy. Many men will find it difficult. Some will find it impossible! Nobody knows better than I do how frustrating women get as they get older. However, guys, even if you just use a little more tact and less criticism of your aging wife because of this article, I will consider that writing it was well worthwhile. After all, we are put on this earth to help each other.
ED. NOTE: Wayne died suddenly on January 15th of a perforated rectum. The police report says he was found with a Calloway extra-long 50-inch Big Bertha Driver II golf club jammed up his rear end, with barely five inches of grip showing, and a sledge hammer lying nearby. His wife was arrested and charged with murder. The all-woman jury took only 10 minutes to find her not guilty, accepting her defence that Wayne, somehow without looking, accidentally sat down on his golf club.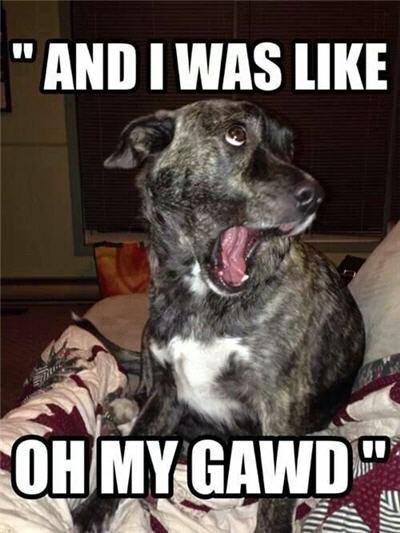 ROTARY INTERNATIONAL PRESIDENT RON BURTON: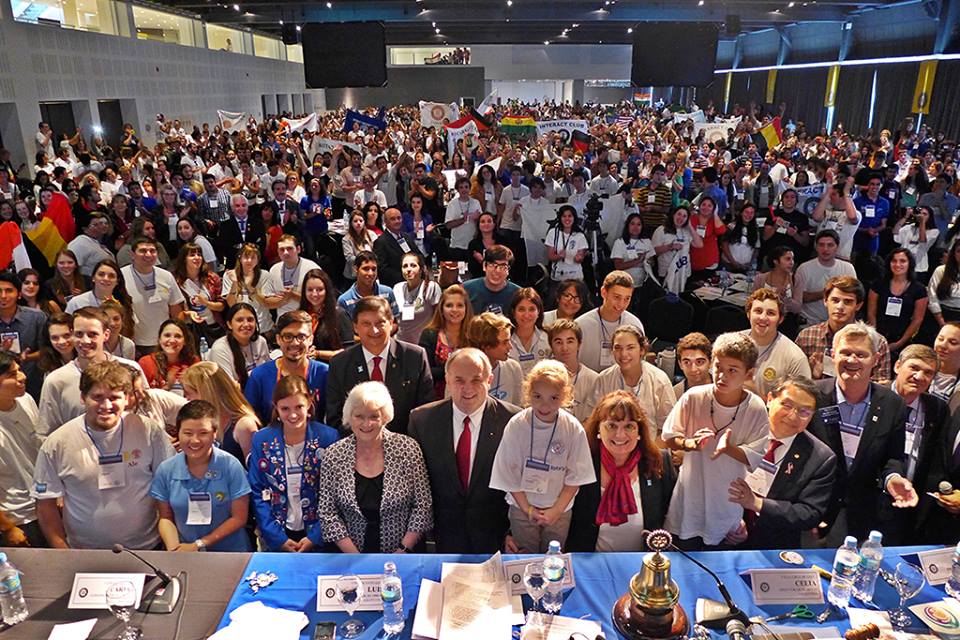 Today in #Rosario, #Argentina, over 1700 young leaders from 27 countries are gathering to exchange ideas at the third Presidential New Generations Conference. Follow #RosarioNG on Twitter for updates.
El presidente de Rotary International Ron Burton está organizando una serie de Conferencias Presidenciales sobre las Nuevas Generaciones para reunir a jóvenes líderes emergentes y socios rotarios de todo el mundo.
Los asistentes compartirán ideas acerca de cómo Rotary prepara a la próxima generación de líderes a gestionar el cambio. Entre los aspectos más sobresalientes de la conferencia estarán:
PRESIDENTIAL CONFERENCE
FOR THE NEW GENERATIONS
Rotary International President Ron Burton is hosting a series of Presidential Conferences on New Generations to bring together young emerging leaders and Rotarians around the world.
Attendees will share ideas about how Rotary prepares the next generation of leaders to manage change. Among the highlights of the conference will be:
Featured speakers, including the president of RI Burton.

A community service project.

Opportunities for exchange of ideas on the participation of young leaders in Rotary service.

Time of fellowship, friendship and joy.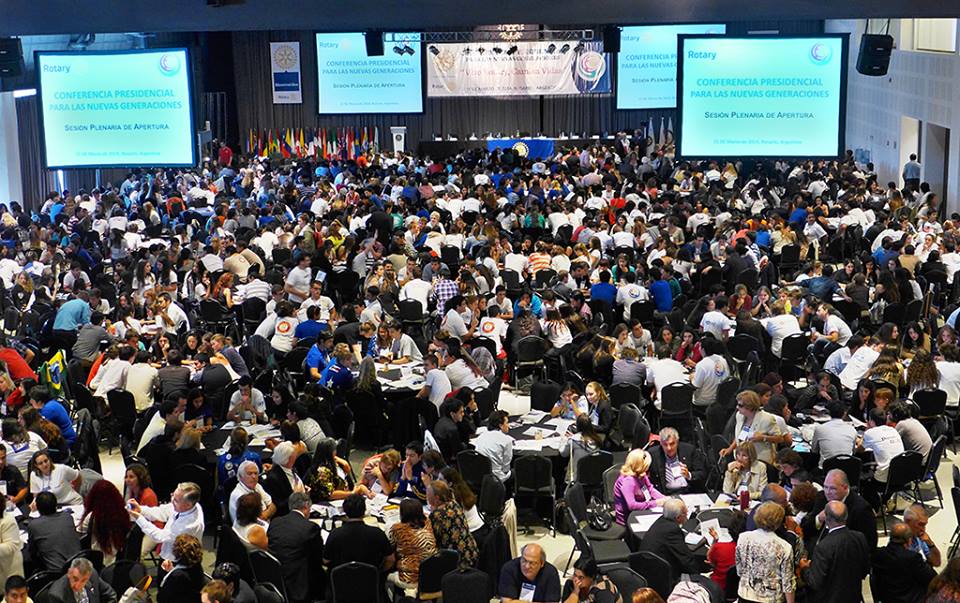 ONLY IN AFRICA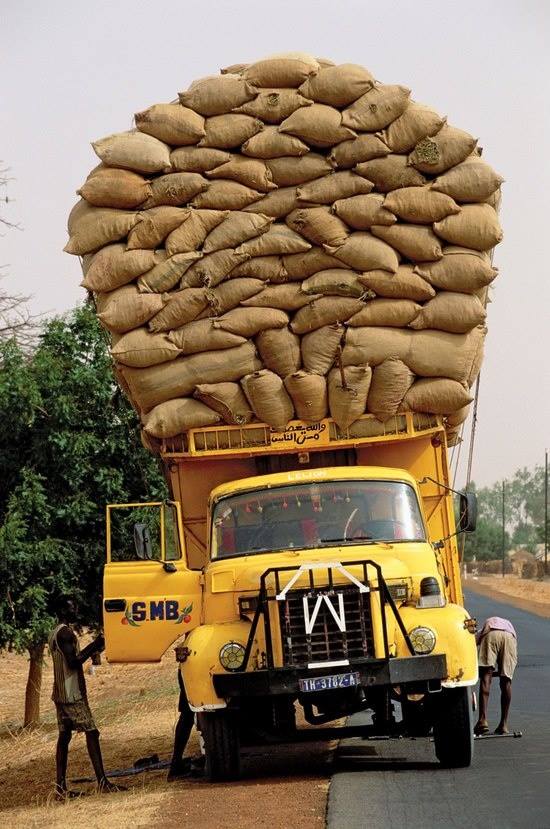 OUT OF AFRICA
CAUSES WORTH SUPPORTING
BLATANT PUBLICITY FOR THE KENYAN NIGHT IN GANMAIN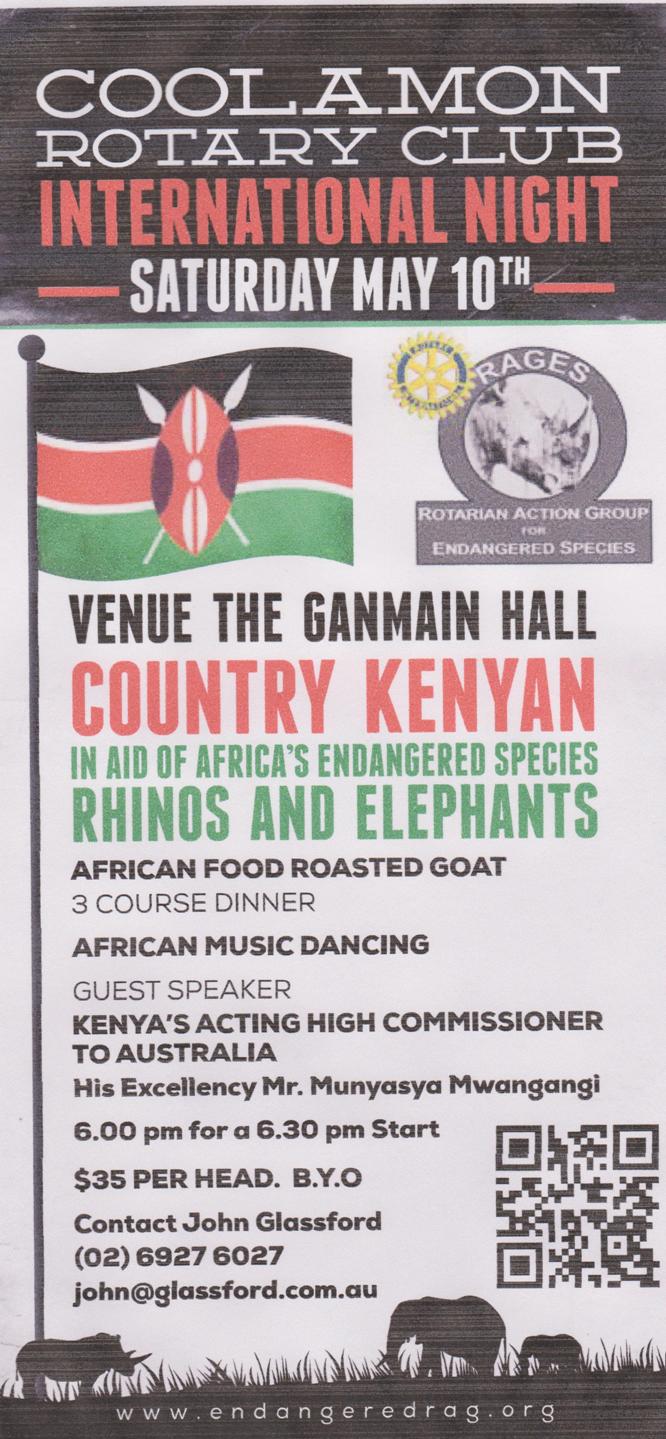 SYDNEY ROTARY CONVENTION

COME MEET SOME OF OUR NATIVES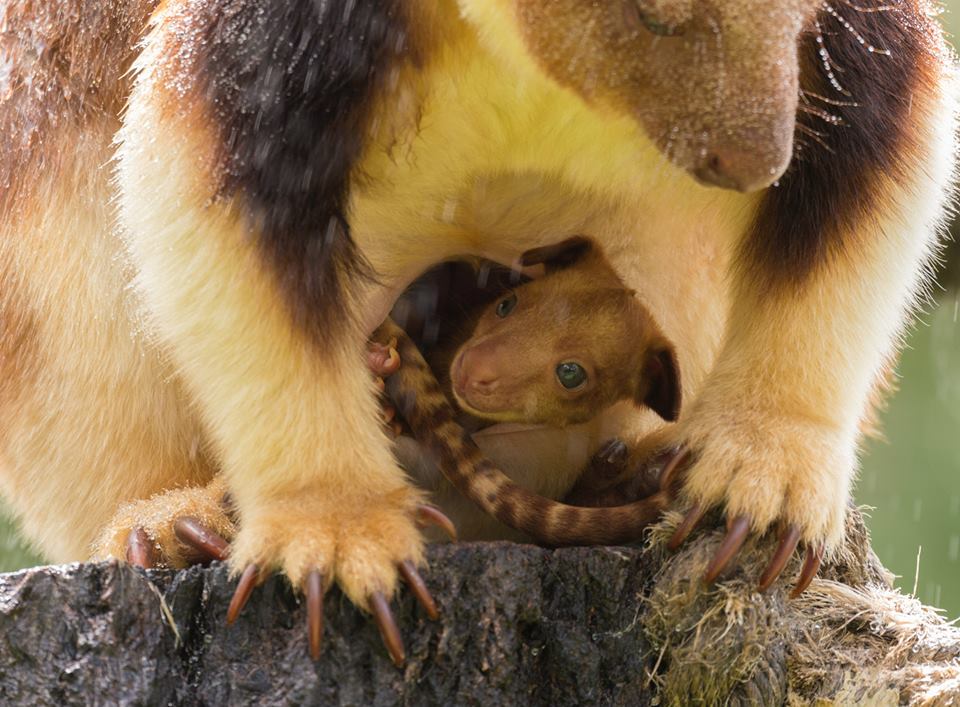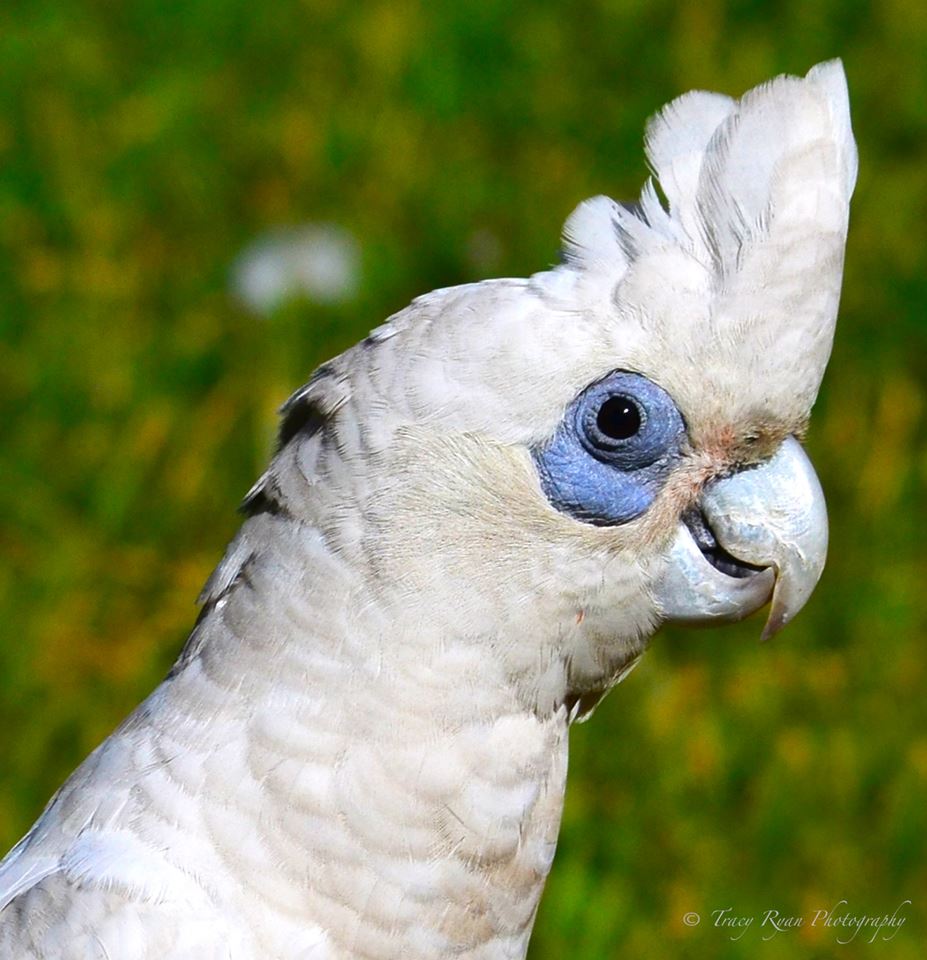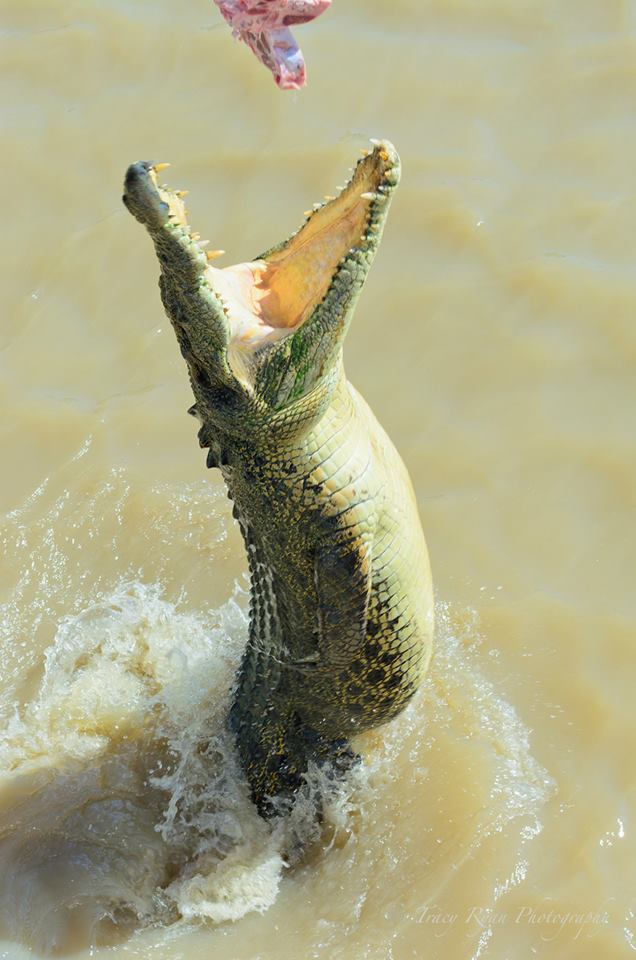 The programme Click to Enlarge:
ROTARY INTERNATIONAL CONVENTION
WE HAVE BEEN ALLOCATED BOOTH #224 IN THE BILLABONG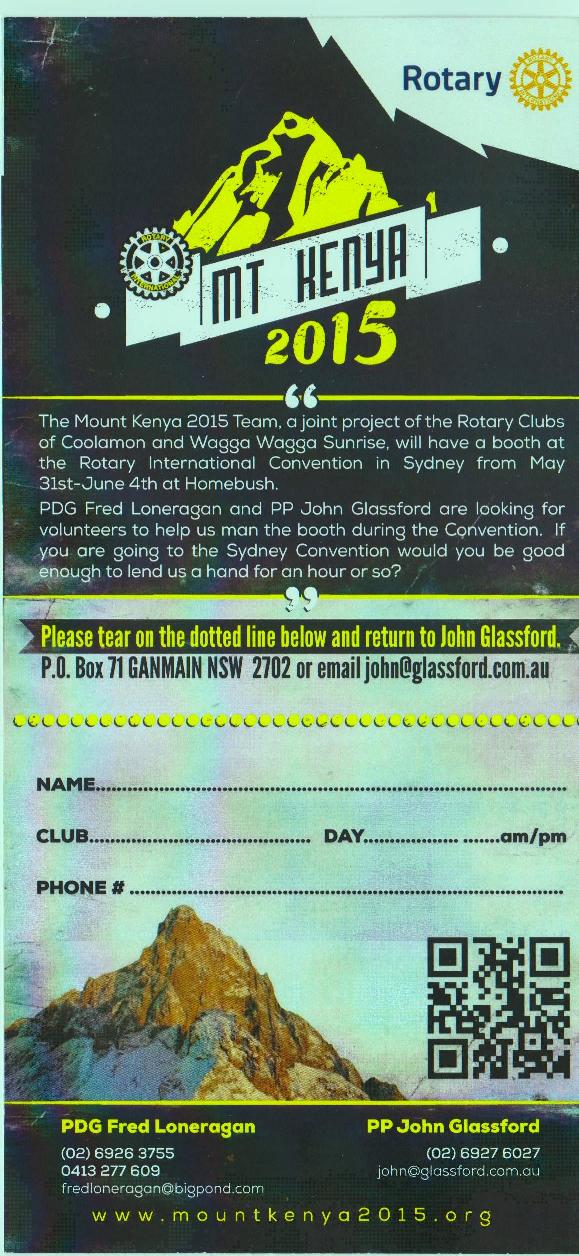 If you are going to Sydney and can help us man our booth please let us know.
THANKS!
FOOT NOTE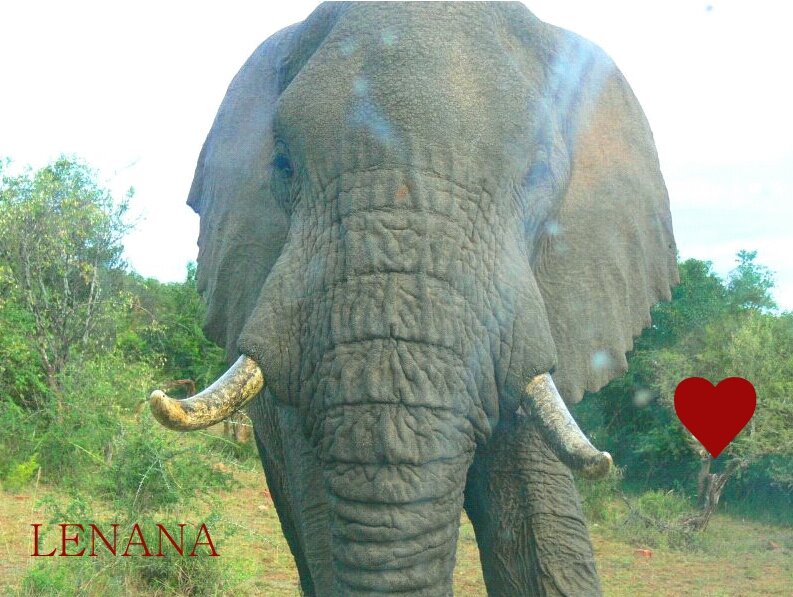 Tribute To Lenana, The Gentle One
Today we are remembering a very special elephant whom we knew as a friend. He was mercilessly murdered on this very day a year ago. For us it feels like only yesterday. His name was LENANA.
We know we were not the only ones who loved Lenana and so we would like to share this day with you.
We wish to remember Lenana as he was in life, strong, patient, majestic in all of his beautiful elephant-ness and ever gentle.
His memory lives on in our hearts and through our work to save his kind. We wish you were alive today. Free and wild among your fellow elephants.
We are thinking of you today, as we are everyday. Be at peace dear Lenana, now and forever.
Yours in Rotary John Glassford Chair 2013 -2014
Proposed Rotarian Action Group for Endangered Species
PLEASE CALL ME ANYTIME 02 6927 6027.
Bulletin Editor and Web Site:  John Glassford
Don't forget to regularly check our club web site for current information such as bingo rosters and various newsletters from the District Governor, the School of St. Jude's, the monthly membership on the move newsletter as well as several other club bulletins.
Rotary International President Ron Burton
Governor of District 9700 Geoff Tancred
Coolamon Club President  Dick Jennings
Coolamon Club Secretary Paul Weston
Club Treasurer  Henk Hulsman
Coolamon Rotary Club Inc. P.O. Box 23 COOLAMON N.S.W. 2701
Websites of Interest
Coolamon Rotary Club: http://coolamonrotary.com
Road MAPS to Africa a Coolamon Rotary Project: http://www.mountainsofthemoon.org/
Rotary Down Under on line: http://flipflashpages.uniflip.com/2/26587/49598/pub
Mount Kenya 2015 Web Site incorporating the ORK: http://theork.com/
Our Rotary Centennial Twin Club Hout Bay, Cape Town, South Africa: http://www.rotaryhoutbay.org
Proposed Rotarian Action Group for Endangered Species RAGES: http://www.endangeredrag.org/#