Coolamon Rotary News Bulletin #40
JUNE IS ROTARY FELLOWSHIP MONTH
During June, Rotarians celebrate the fellowship of Rotary. Family and friends of Rotarians, as well as Rotarians, focus on their relationships. There are many opportunities to join Rotary Fellowships around the world which cater to different interests.  Join a Fellowship Today!
From Rotary International, "Rotary Fellowships are groups of Rotary members who share a common interest in recreational, activities, sports, hobbies, or professions, further their vocational development with others in the same profession or field, enhance their Rotary experience by exploring new opportunities and making connections around the world."  Here's a list to view:
Amateur Radio www.ifroar.org
Italian Culture www.ICWRF.net
Antique Automobiles www.achafr.eu
Jazz www.rotaryjazz.com
Authors and Writers www.linkedin.com/groups/FellowshipOfAuthorsAndWriters
Latin Culture www.rotarioslatinos.org
Beer www.rotarybrew.org
Bird Watching www.ifbr.org
Magicians www.rotarianmagician.org
Bowling www.rotariansbowling.org
Magna Graecia www.fellowshipmagnagraecia.org
Canoeing http://sites.google.com/site/canoeingrotarians/
Marathon Running www.rotarianrun.org
Caravanning www.rotarianscaravanning.org.uk
Motorcycling www.ifmr.org
Music www.ifrm.org
Old and Rare Books www.rotaryoldbooks.org
Computer Users http://www.icufr.org/
Cooking www.rotariangourmet.com
Photographers www.ifrp.info
Convention Goers www.conventiongoers.org
Police and Law Enforcement www.polepfr.org
Pre-Columbian Civilizations [email protected]
Cruising www.facebook.com/CruisingRotariansFellowship
Quilters and Fiber Artists www.rotariansquilt.org
Curling www.curlingrotarians.com
Railroads www.ifrr.info
Cycling www.cycling2serve.org
Recreational Vehicles www.rvfweb.org
Doctors www.rotariandoctors.org
Rotary Global History www.rotaryhistoryfellowship.org
Doll Lovers www.rotarydlf.org
Rotary Heritage and History www.rhhif.org
E-Clubs http://rotarianseclubfellowship.org/
Rotary Means Business www.rotarymeansbusiness.com
Editors and Publishers www.facebook.com/groups/IFREP/
Rotary on Stamps www.rotaryonstamps.org
Environment www.envirorotarians.org
Scouting www.ifsr-net.org
Esperanto http://radesperanto.monsite-orange.fr/index.html
Scuba Diving www.ifrsd.org
Fishing www.facebook.com/groups/International
Singles www.rsfinternational.net
Flying www.iffr.org
Skiing www.isfrski.org
Geocaching www.ifgr.org
Social Networks www.rosnf.net
Tennis www.itfr.org
Golf www.igfr-international.com
Total Quality Management www.rotarytqm.it
Home Exchange www.rotarianhomeexchange.com
Travel and Hosting www.ithf.org
Honorary Consuls [email protected]
Wellness and Fitness [email protected]
Horseback Riding [email protected]
Wine www.rotarywine.net
Learn More at: Rotary Fellowships 
MEETING MONDAY JUNE 15th. 2015
 Tonight we had Don Dyce, Alex Thompson and John Glassford, with help from Sally Farmer and Susan Glassford (members of the G&T team),  present a slide show on their recent adventures in Africa.
20 guests were present with 10 members a good turn out wit some potential new members in the audience.
Alex Thompson starred with his Maasai jumps and sheer enjoyment of life.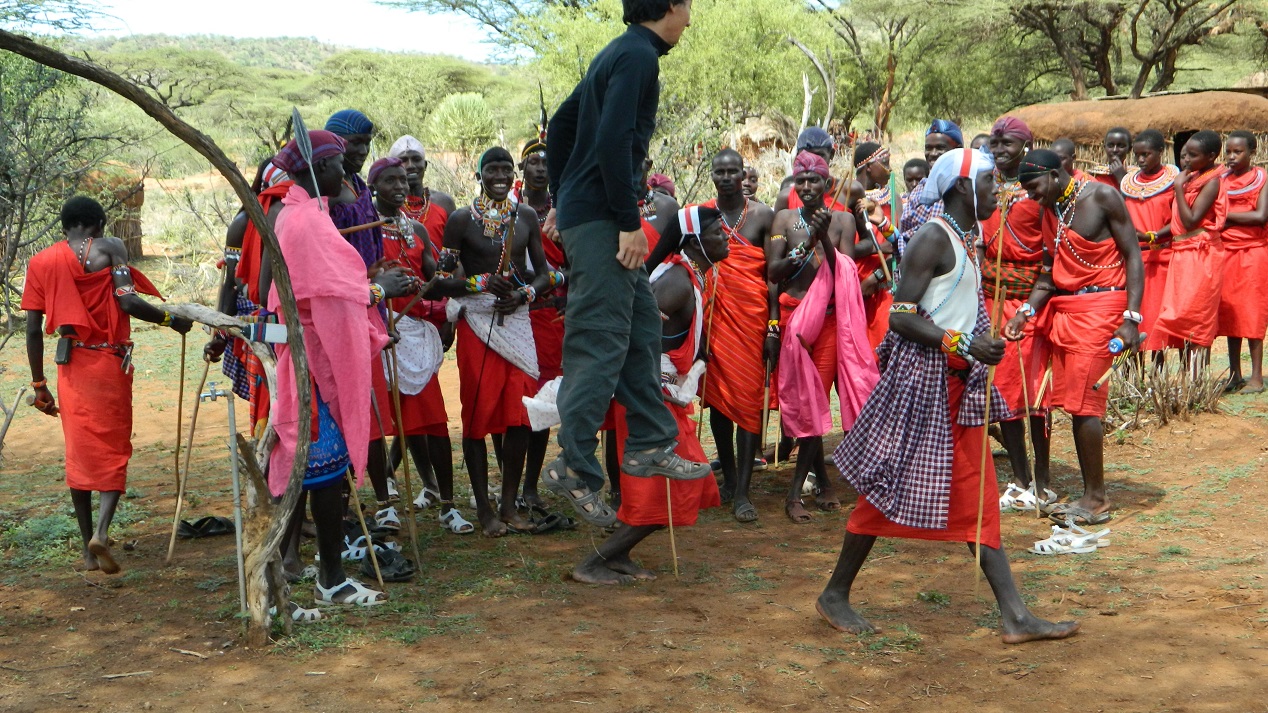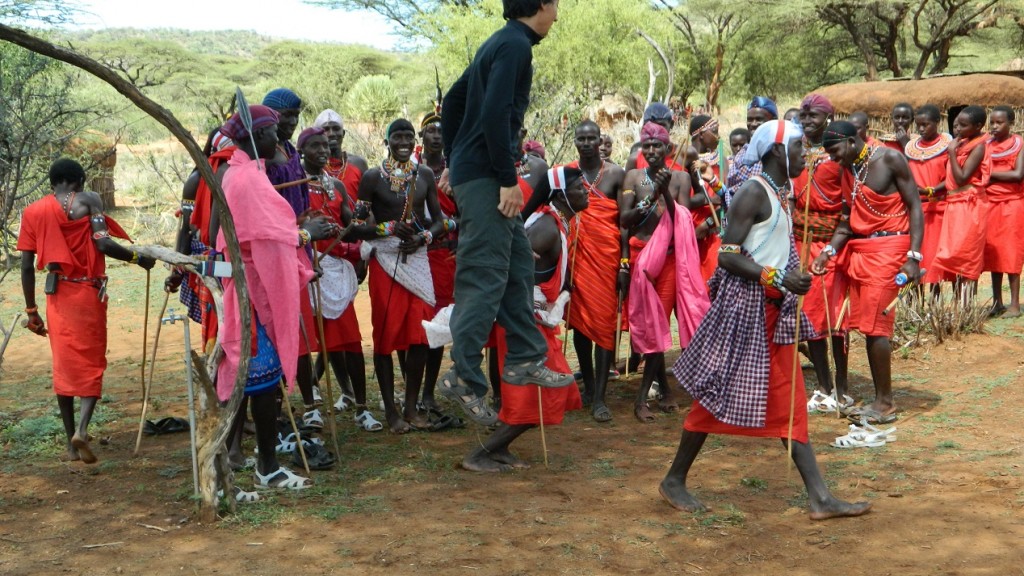 The presentation covered Mount Kenya Climb, the G&T Safari team, Mount Kenya Safari Club, the Oloimugi Maasai Village, Mathare, The Giraffe Manor, The Sheldrick Elephant orphans, Amboseli National Park, Hout Bay, Cape Town, Kenton-on-Sea and RAGES.   PP Ian Jennings presented Alex with a kangaroo pouch.
My favourite two photos from the climb: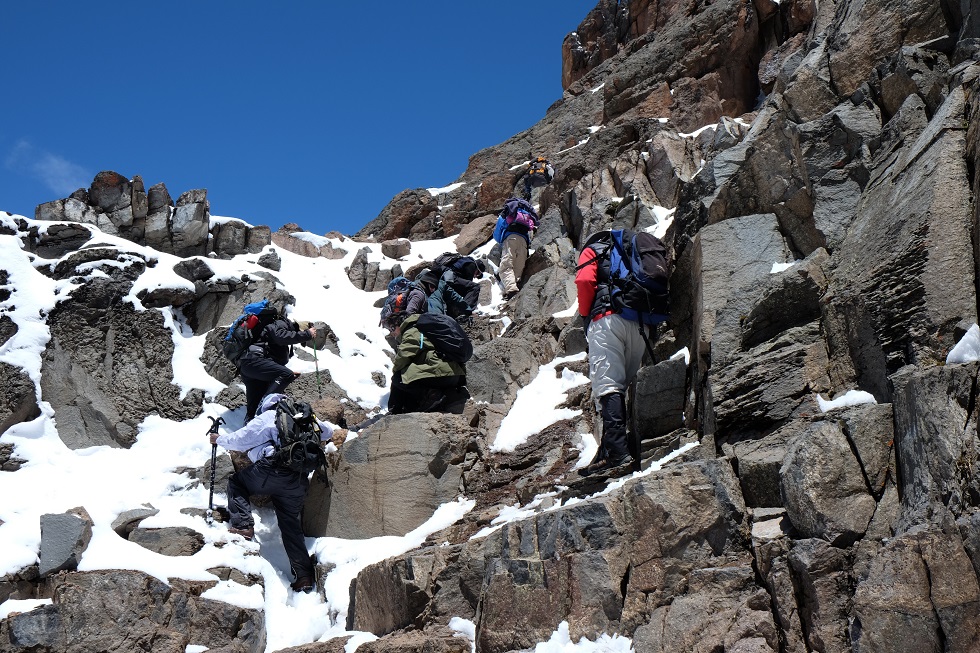 Approaching the summit of point Lenana at 4,985 metres.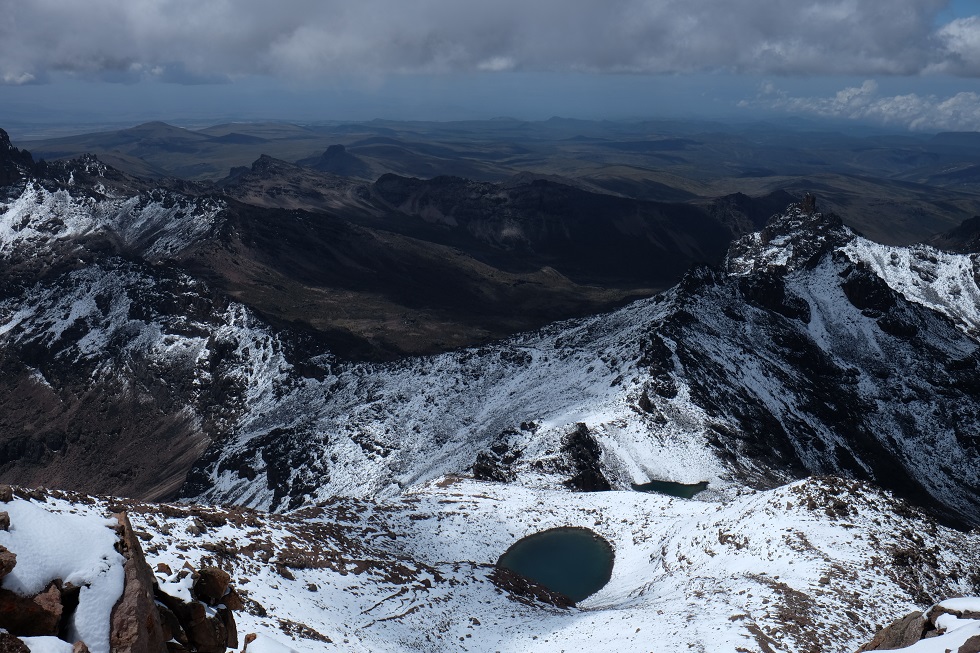 Looking down at the Harris Tarn way below us.
Dick Jennings put out a call for the following items to go to Bathurst to fill a container for our recently departed Christine Atkinson.  Unknown to us Christine was supporting an orphanage in Kenya before her untimely death.  Please bring items to next Monday night's meeting as we need to fill a trailer.
"exercise books, mathematics books, reading books, textas, stickers, maps, posters, scissors, rulers, shoe laces, paintbrushes, paint, play dough, any craft bead items, marbles, matchbox cars, puzzles, cards, games, balls, hand washers, material, cottons, wool, knitting needles, elastic, buttons, ribbons, CD's, dress up clothes, skipping ropes, black shoe polish, The schools colours are navy, brown and maroon and school uniform items, (red polo shirts, navy shorts, navy trousers, brown slacks and black shoes).
Diary Reminders
*Monday 22nd June Dr. Barney Dalgarno on the NBN and IT.
*Monday, June 29th.  Annual Change Over Dinner
Monday July 6th President Wayne Lewis 1st Meeting.
Friday July 18th Up2Date Art Exhibition Opening Night Details Follow.
*Partners and Guests Night.
Apologies for Monday meetings call Ian Jennings on 0428 492 157  BY FRIDAY 12.00 pm.
CLUB CHANGE OVER DATES:
RC WW Kooringal-17th June Country Club, 6.00 p.m. $40
RC West Wyalong-20th June S&C Sports Club, 6.30-7.00 p.m. $35
RC Henty-24th June Henty Civic Centre, 6.30-7.15 p.m. $30
RC Grenfell-24th June Golf Club, 6.30-7.00 p.m. $25
RC Wagga Wagga-Thursday, 25th June Country Club, 6.-6.30 p.m.$40/pp
District Changeover-27th June WW RSL Club, 6.30-7.00 p.m. $35
RC Junee Sunday 28th June at the EX Services Club Lunch Time say 12.00 pm.
RC Coolamon-29th June Coolamon Sport & Rec Club, 6.30-7.00 p.m. $30
RC WW Sunrise-30th June Elements at the Garden, 6.00-6.30 p.m. $45
RC Wollundry 30th June Commercial Club Wagga Wagga 6.30 pm
RC Narrandera 1st July Narrandera Golf Club 6.30 pm $35
ON THE LIGHTER SIDE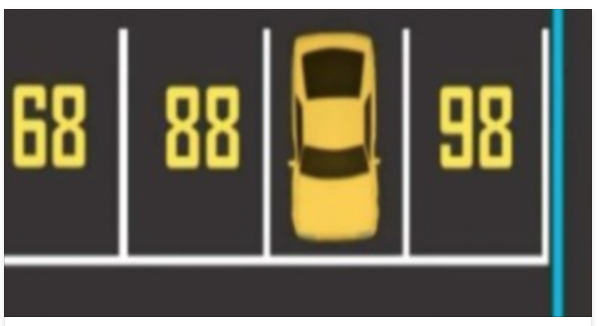 This Tricky Puzzle Can Be Solved In 20 Seconds By Most 6-Year Olds. Can You Solve It?
 What number is the car parked over?
You have 20 seconds to solve this. GO!
ANZAC Bickies
An elderly man lay dying in his bed.  While suffering the agonies of impending death, he suddenly smelled the aroma of his favourite Anzac bickies wafting up the stairs.

He gathered his remaining strength, and lifted himself from the bed. Leaning on the wall, he slowly made his way out of the bedroom, and with even greater effort, gripping the railing with both hands, he crawled downstairs. With laboured breath, he leaned against the door-frame, gazing into the kitchen. Were it not for death's agony, he would have thought himself already in heaven, for there, spread out upon waxed paper on the kitchen table were literally hundreds of his favourite Anzac bickies!

Was it heaven? Or was it one final act of love from his devoted Aussie wife of sixty years, seeing to it that he left this world a happy man?
Mustering one great final effort, he threw himself towards the table, landing on his knees in rumpled posture. His aged and withered hand trembled towards a biscuit at the edge of the table, when it was suddenly smacked by his wife with a spatula……..

"Leave them alone" she said, "they're for the funeral."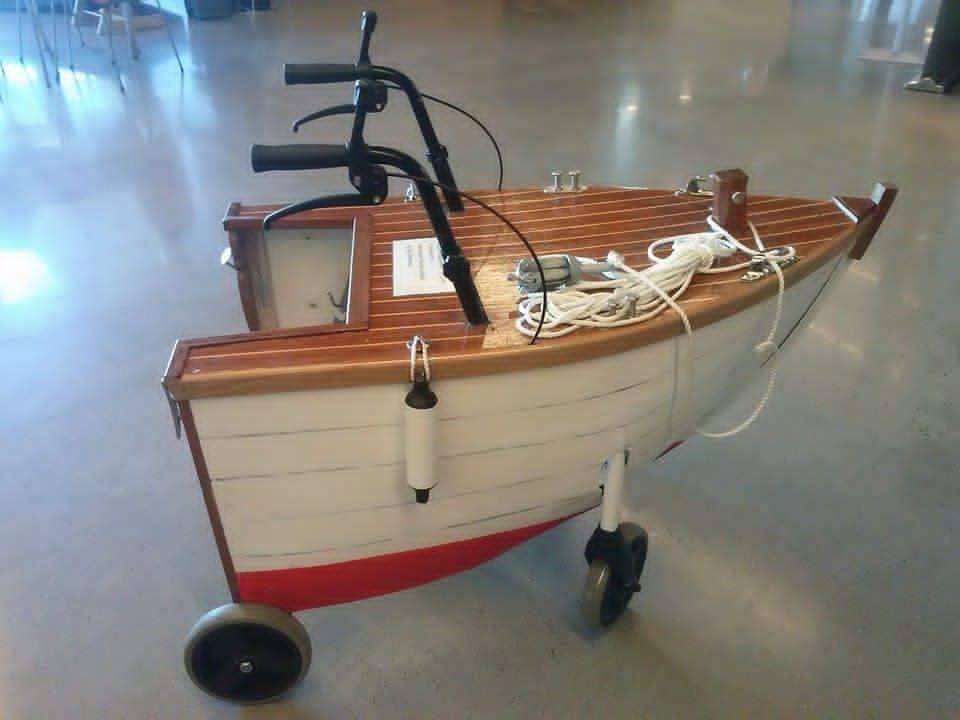 ROTARY INTERNATIONAL PRESIDENT GARY HUANG
HUANG BIDS FAREWELL
RI President Gary C.K. Huang joined Ravindran on stage to exchange club banners, a convention tradition that unofficially marks the changing of the guard.
The four-day convention in São Paulo attracted more than 14,500 attendees from more than 150 countries. Huang told convention goers that it was an honor to serve them as Rotary president.
"But what I value most [as president] are the conversations with Rotarians that, taken together, tell the story of Rotary," he said. "Some of their stories make me laugh. Others, which may sound simple and ordinary, deeply move me."
Huang talked about the projects he visited all over the world during his term, and how much they inspired him.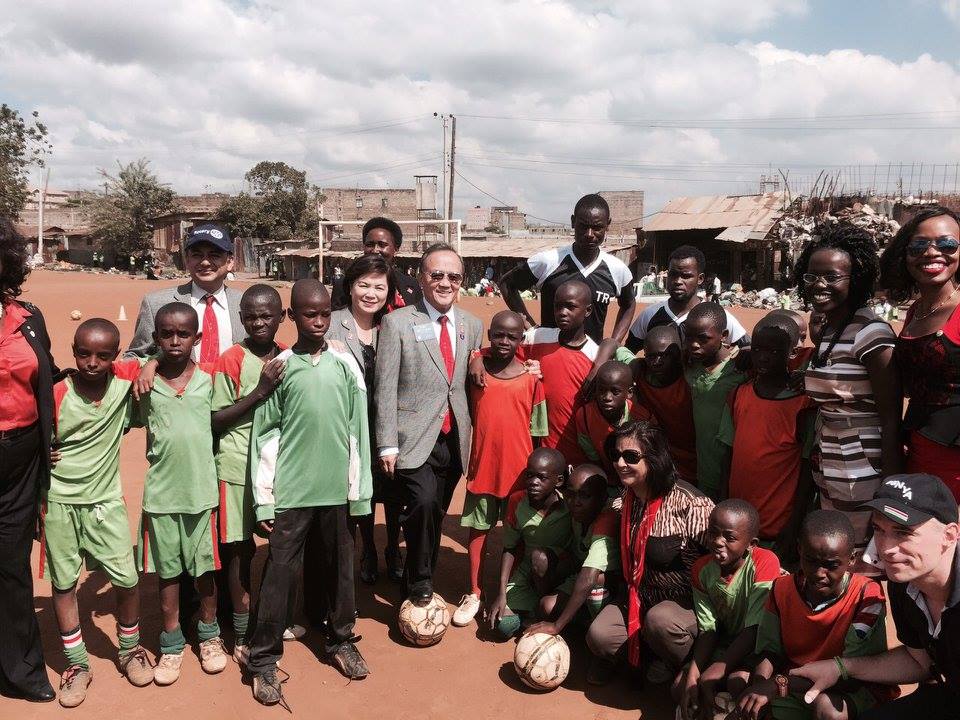 Rotary International President Gary C.K. Huang and his wife, Corinna, visited Rotary club members in Kenya. They also visited a project site in the Korogocho area of Nairobi, Kenya by the Rotary Club of Muthaiga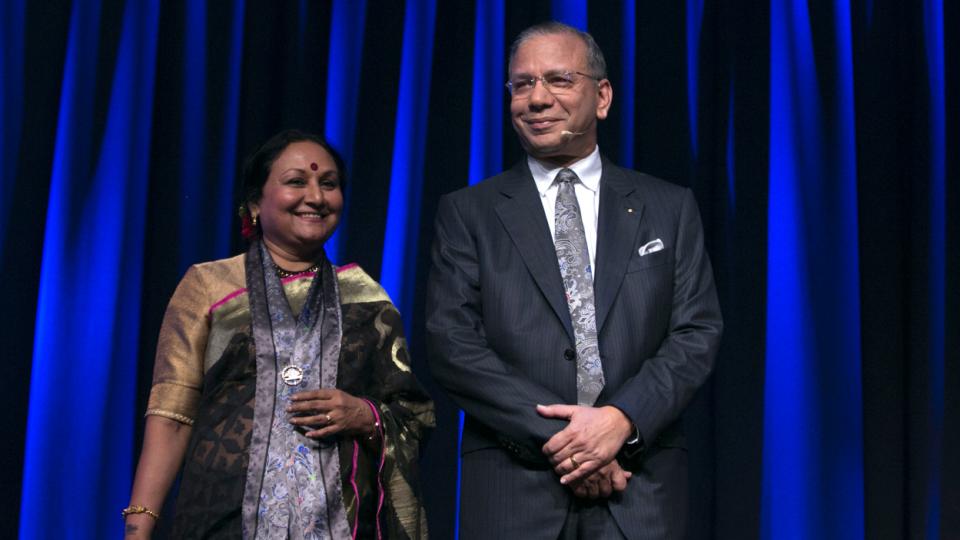 RI President-elect K.R. Ravindran and his wife, Vanathy, are introduced to the audience at the 2015 Rotary Convention closing plenary session on 9 June in São Paulo, Brazil. The four-day convention attracted more than 14,500 attendees from more than 150 countries.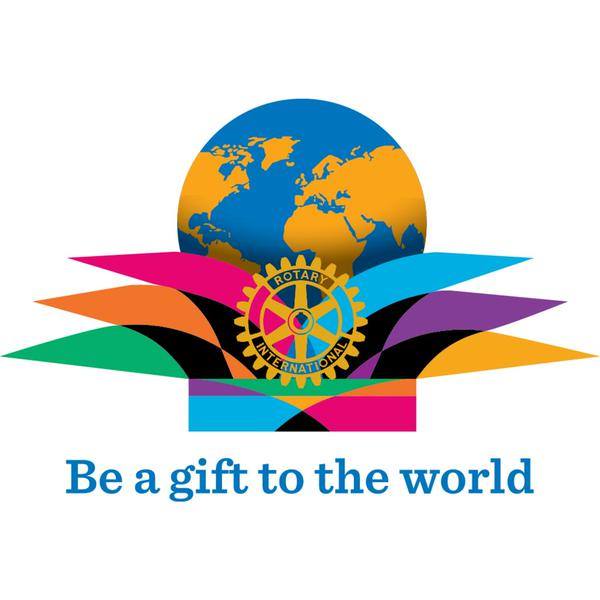 DISTRICT GOVERNOR DAVID KENNEDY D 9700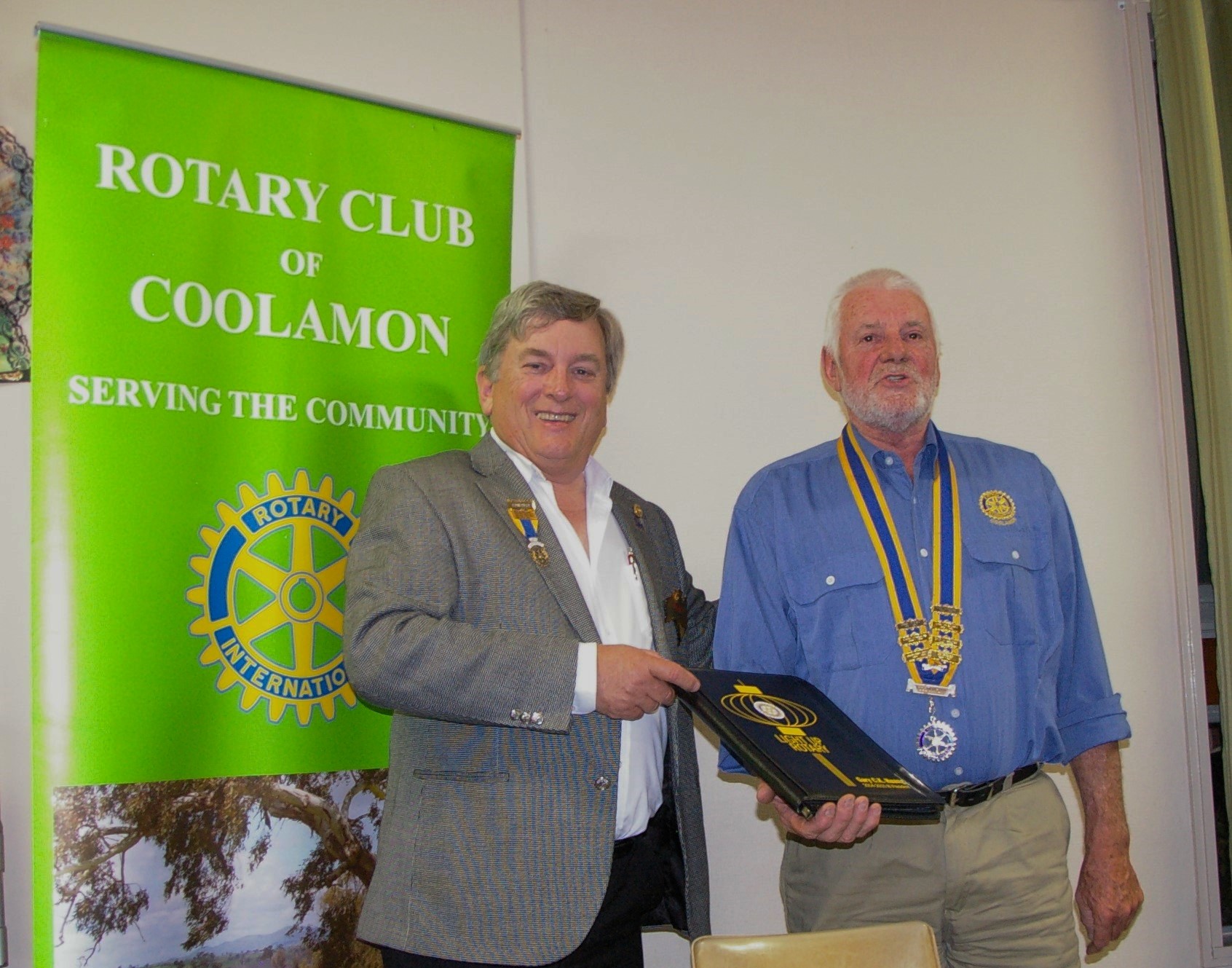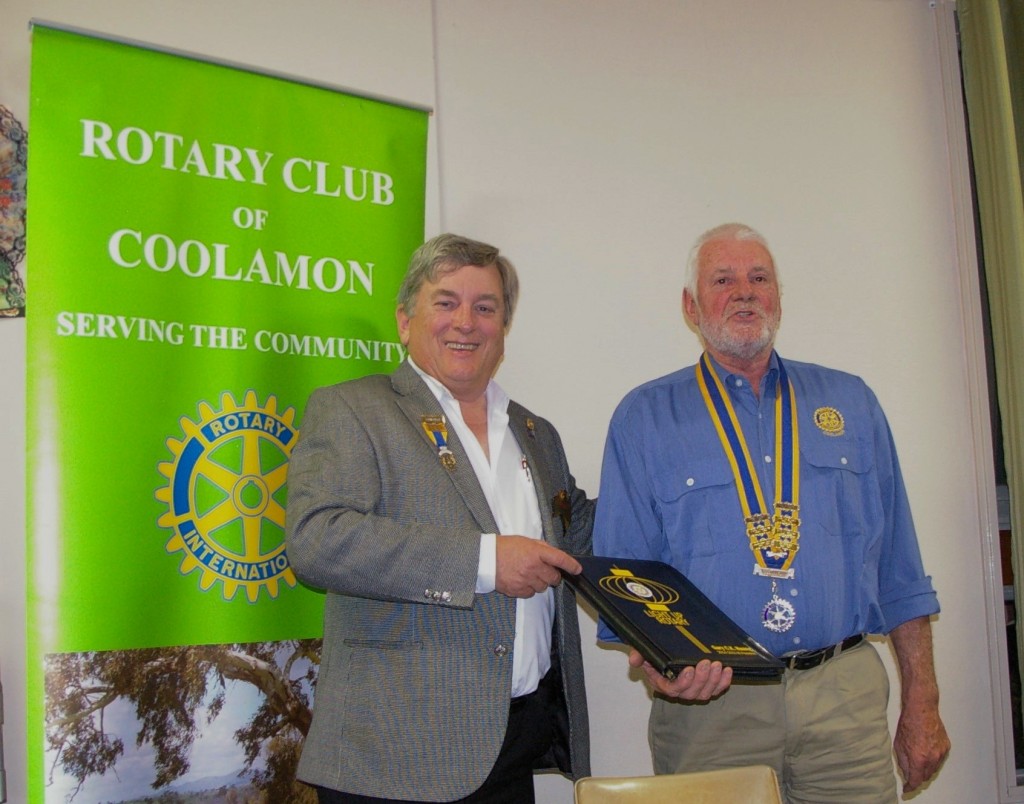 I would like to take the opportunity to say THANK YOU.
Thank You for the opportunity to represent the District as your Governor and for the new friends and acquaintances I have been fortunate enough to have made while travelling in the District and beyond.
We are blessed in District 9700 to have the depth of Rotary experience and knowledge to provide willing mentors and advisors for this and other roles and I will look forward to thanking those who have offered me that support and knowledge base.
We have achieved much in this last year and the whole District is able to share I that sense of pride that I certainly feel.
We have seen the establishment of:-
a new Rotaract Club, (Griffith)
our first Interact Club, (Bathurst)
our first Rotary Action Group (RAGES),
a Global Grant to Nepal,
a nett increase in membership, (approx 2%)
a successful new approach to Conferencing,
and we are still working on the formation of a new club, our first eclub which I hope will be completed before the end of June,
We have generously donated as both individual Clubs and the District to disaster areas such as Vanuatu and Nepal,
While still in its infancy we have joined every other District in Australia to have its own Paul Harris Society, one you should consider joining,
Many Clubs have begun to "Lighten Up Rotary" by simplifying protocols and have subsequently seen an upward swing in membership – coincidence? Probably not!
For the tech savvy we have successfully increased the exposure of our District projects through a PR vehicle called facebook – (thanks Julie Stott)
As a group of like-minded people we achieve many great things and without the District Secretary, District Treasurer, Foundation Director, Conference Chair, Assistant Governors, District Directors, Chairs, Coordinators, Trainers, Newsletter Editors and their spouses much of that work may not be completed – so, THANK YOU everyone that helps.
A special thanks to a couple of people that have been essential in maintaining my equilibrium through this year – you know who you are!
ROTARY INFORMATION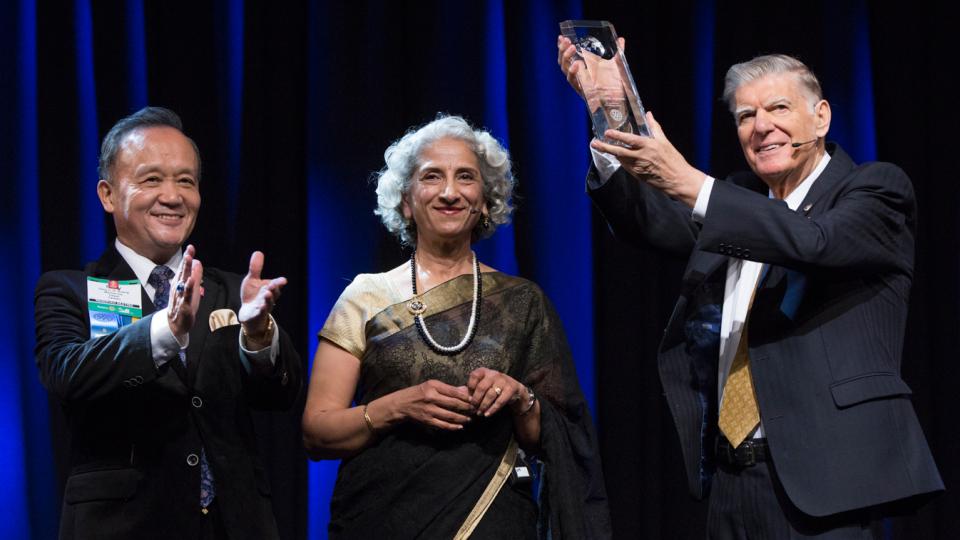 Geetha Jayaram, psychiatrist and associate professor at the Johns Hopkins School of Medicine (center), is presented the 2014-15 Global Alumni Service to Humanity Award by RI President Gary C.K. Huang (left) and Rotary Foundation Trustee Chair John Kenny. Jayaram has dedicated her life to helping people in her native India overcome mental illnesses.
John Kenny São Paulo, Brazil 8 June 2015 It is both a privilege and an honor to address you this morning as the chairman of the Trustees of The Rotary Foundation and to speak to you about the Foundation. Our Foundation. Rotary's charity. Indeed, Rotary's only charity. Most of the great foundations in the world have been created by powerful and rich families, but our Foundation has been created by the giving and the goodwill of thousands of Rotarians, just like you. This is why we are proud to call it our Foundation.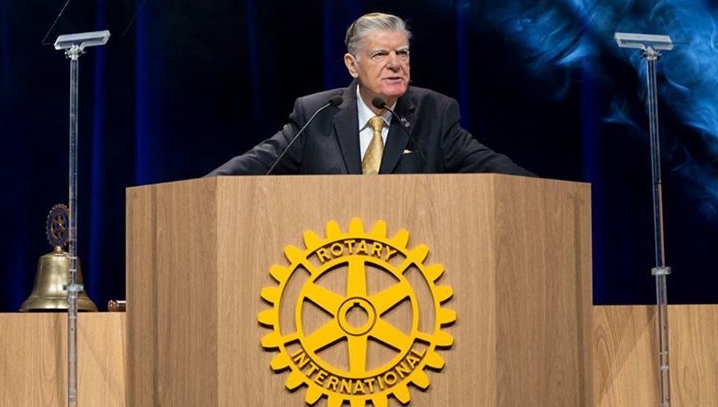 FULL REPORT BELOW:
ONLY IN AFRICA
 
It's just NOT cricket… without a rhino!
Known for their fierce hunting culture, these Maasai warriors show they are just as skilful when exchanging their spears for cricket bats.
The team today took part in a charity match against the British Army Training Unit Kenya in Nanyuki, at the foot of Mount Kenya.
The Maasai Cricket Warriors team are known for using the sport to raise awareness on HIV/AIDS, women's issues and poaching.
Today's game was held at the 90,000-acre Ol Pejeta Conservancy and organised in conjunction with the Australian High Commission.
The cricketers were also pictured with Sudan, who is now the last male of only five remaining northern-white rhinoceroses in the world.
The group also organise cricket safaris into Laikipia, where teams can play the sport in a nature reserve while being watched by wildlife.
Cricket was introduced to the Maasai in 2009 by South African primate researcher Aliya Bauer, who missed the sport while living in Kenya.
She began by teaching schoolchildren, before young Maasai warriors started watching the training sessions and then decided to join in.

MOUNT KENYA 2015 ANZAC DAY CLIMB
The result from the climb will not be know until we close the books at the end of the year December 31st 2015.  What we do know is that we have several projects ot support and one being education of the vulnerable and at risk girls from the slums of Nairobi.  Here are 4 of the girls that we will support and continue to support into the future.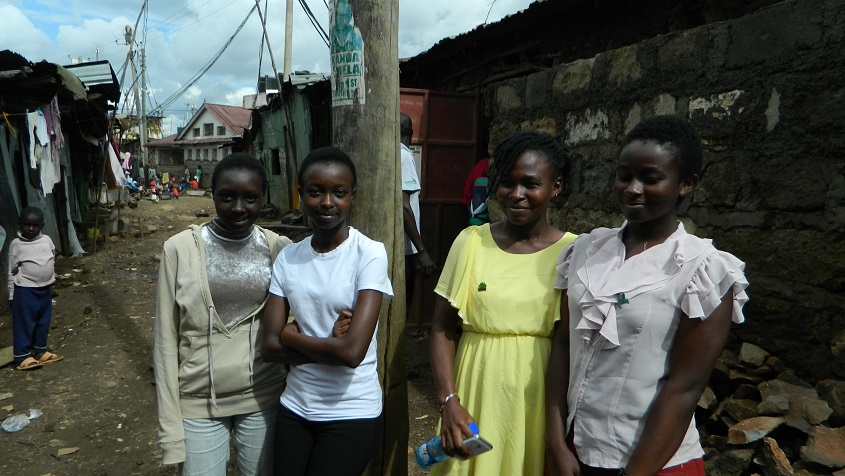 Neema, Susan, Quinter and Tracy our star pupil.  Tracy is doing very well and Quinter is ready to start her college degree for midwifery and then return to Mathare where she lives to help her people.  We will continue to raise funds for these girls.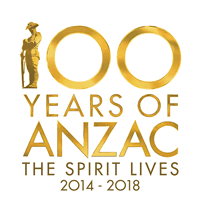 The Mount Kenya 2015 web site can be found here on clicking the banner below: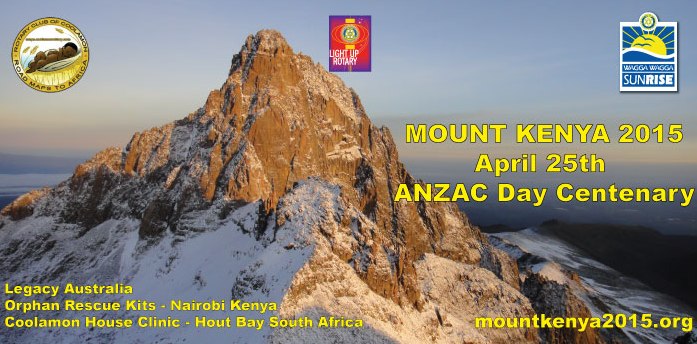 FOOTNOTE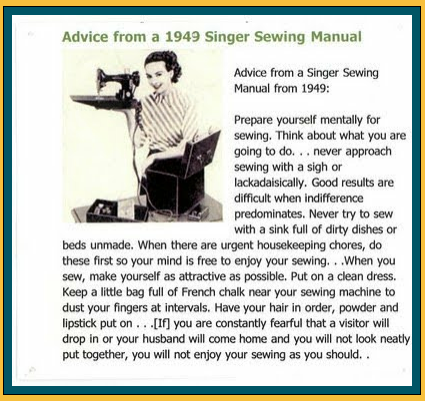 Advice 1949 for your wife!
LATEST NEWS FROM RAGES.
Staff at the International Animal Rescue centre in Indonesia use the barrows to take 80 young orangutans from their sleeping quarters to 'school' each morning.The International Animal Rescue centre in Indonesia houses 80 orangutans, mostly rescued from captive pet trade.
Read more: http://www.dailymail.co.uk/…/We-don-t-wanna-walk-like-oo-oo…
WHY? Because of palm oil and the way to stop this is to stop buying palm oil!
We will work on endangered primates in RAGES as we get mobile.
BESUREIS Band rehearsing for the concert in September.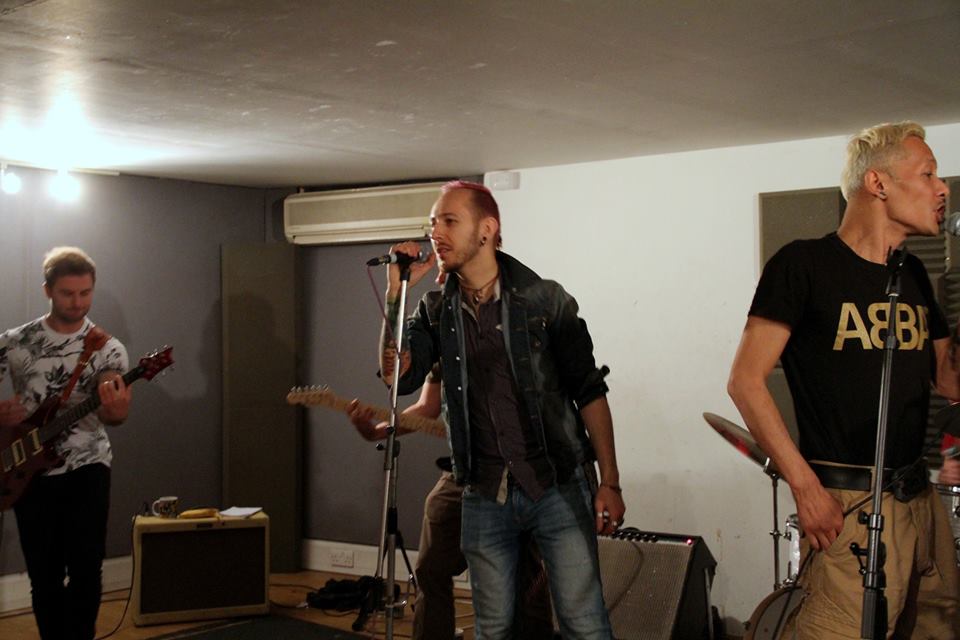 PLEASE CALL ME ANYTIME 02 6927 6027.
Bulletin Editor and Web Site:  John Glassford
Yours in Rotary John Glassford Chair 2014 -2015
Rotarian Action Group for Endangered Species
Don't  forget to regularly check our club web site for current information such as bingo rosters and various newsletters from the District Governor, the School of St. Jude's, the monthly membership on the move newsletter as well as several other club bulletins.
Rotary International President Gary Huang
Governor of District 9700 David Kennedy
Coolamon Club President  Garth Perkin
Coolamon Club Secretary Paul Weston
Club Treasurer  Henk Hulsman
Coolamon Rotary Club Inc. P.O. Box 23 COOLAMON N.S.W. 2701
Websites of Interest
Coolamon Rotary Club: http://coolamonrotary.com
Road MAPS to Africa a Coolamon Rotary Project: http://www.mountainsofthemoon.org/
Rotary Down Under on line: http://flipflashpages.uniflip.com/2/26587/49598/pub
Mount Kenya 2015 Web Site incorporating the ORK: http://theork.com/
Our Rotary Centennial Twin Club Hout Bay, Cape Town, South Africa: http://www.rotaryhoutbay.org
Rotarian Action Group for Endangered Species RAGES: http://www.endangeredrag.org/#