Coolamon Rotary News Bulletin #41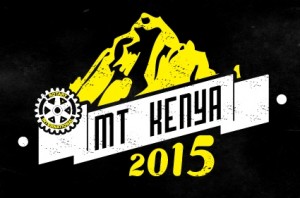 MAY IS ROTARY PROMOTE INTERNATIONAL CONVENTION MONTH.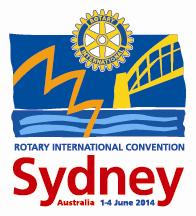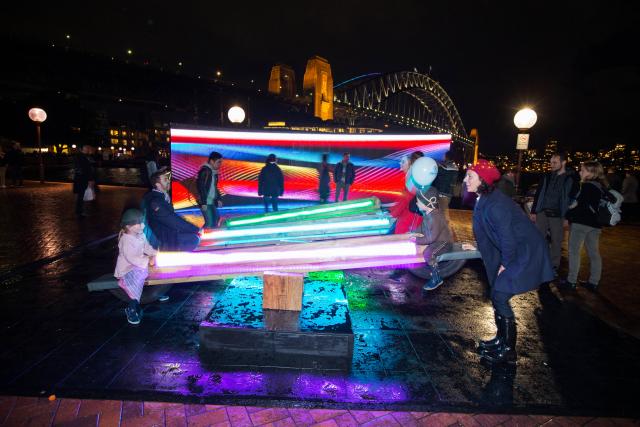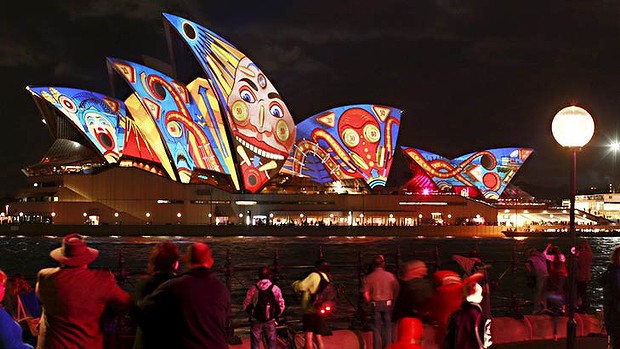 Vivid Sydney starts on May 23rd and will be a highlight during RICON 2014 in Sydney.
MONDAY MEETING MAY 5th 2014
Last night we had the pleasure of the company of Libby Cruikshank our guest speaker for the evening.
Libby used to be the chemist in charge at the Coolamon Pharmacy.  Libby now lives on a farm outside of Coolamon and works part time for the Coolamon Shire with Medicare Local.  Medicare Local provides preventative care to offset the likelihood of health problems before they happen.  This is a wonderful idea and deserves full support form all sides of politics.
Libby gave a sincere and informative presentation on what Medicare Local does and we learnt that they also conduct safe food handling classes, Men's Shed guidance, ageing population needs and preventative medical care.  We all agreed that we need to look at ways that Rotary can help Libby continue her work in our Shire.
Neil Munro presented Libby with a kangaroo money pouch:
As you all know Max Chapman was a member of our club and is now a member of the Wagga Wagga Sunrise Club.  Sue and Max are having an Open Garden Day at their home in Wagga Wagga.
SATURDAY MAY 17th 2014 Afternoon.
3 Olearia Place LAKE ALBERT
Live Music by Cross Country
Finger Food and BYO Poetry Readings
Funds raised go to the RC of Wagga Wagga Sunrise cost of entry $35 per person.
Please support Wagga Wagga Sunrise and call Joan Skewes on 6925 1702 to make your booking.
You will not be disappointed as Sue has done an amazing job on this their new home garden.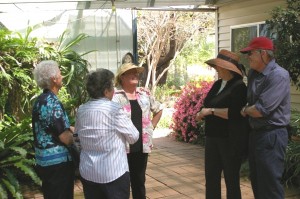 Diary Reminders
Thursday May 8th BINGO Rostered ON: Bernadette Milne, Miffy Collette, Ian Durham, Mark Reardon
*Saturday May 10th International Night in Ganmain for AFRICA'S rhinos and elephants.
Monday May 12th Regular meeting followed by a Board Meeting.
Saturday 17 and Sunday 18 May Wagga Wagga Book Fair.
Saturday 17th May Sue and Max Chapman Garden Tour and Live Music in Wagga Wagga.
Saturday 24th May Red Shield Appeal Street Stall.
Saturday May 31st to Wednesday June 4th.  SYDNEY 2014 RI Convention See promotion at the end of this bulletin.
Saturday June 7th and Sunday June 8th Brad's Fight for Life at the Coolamon Showground Volunteers needed.
Wednesday June 11th Meeting of the 2014-2015 Board at PE Garth Perkin's Home.
Thursday June 12th BINGO Rostered ON: John Glassford, Neil Munro, Christine Atkinson, Henk Hulsman
Wednesday June 18th RC Kooringal Change Over Dinner  6.00 pm $40 at the Wagga Wagga Country Club.
Saturday 28th June D9700 Change Over Dinner in Orange.
*Monday July 7th 2015 ANNUAL CHANGE OVER DINNER
Saturday 9th August Coolamon Street Raffle
*Partners and Guests Night.
Apologies for Monday meetings call Christine Atkinson on 0427 880 158 or 6927 3521 BY FRIDAY 12.00 pm.
ROTARY INFORMATION
DISTRICT 9700 ASSEMBLY GRENFELL 2014
This weekend we went to Grenfell for the D9700 Assembly.  It was COLD very COLD however the warmth of Rotarains in fellowship and a common purpose far outweighed the COLD.  The Rotary Club of Grenfell put on another good day for us all around 150  attended a good roll up.
District Assembly is where the incoming board members of each club in our District get to refresh and learn from our District Board on what is expected of us during the next Rotary year.   The day was conducted by our District Trainer Mary Brell from Orange Daybreak.
DGE David Kennedy introduced the theme for 2014-2015 Light Up Rotary: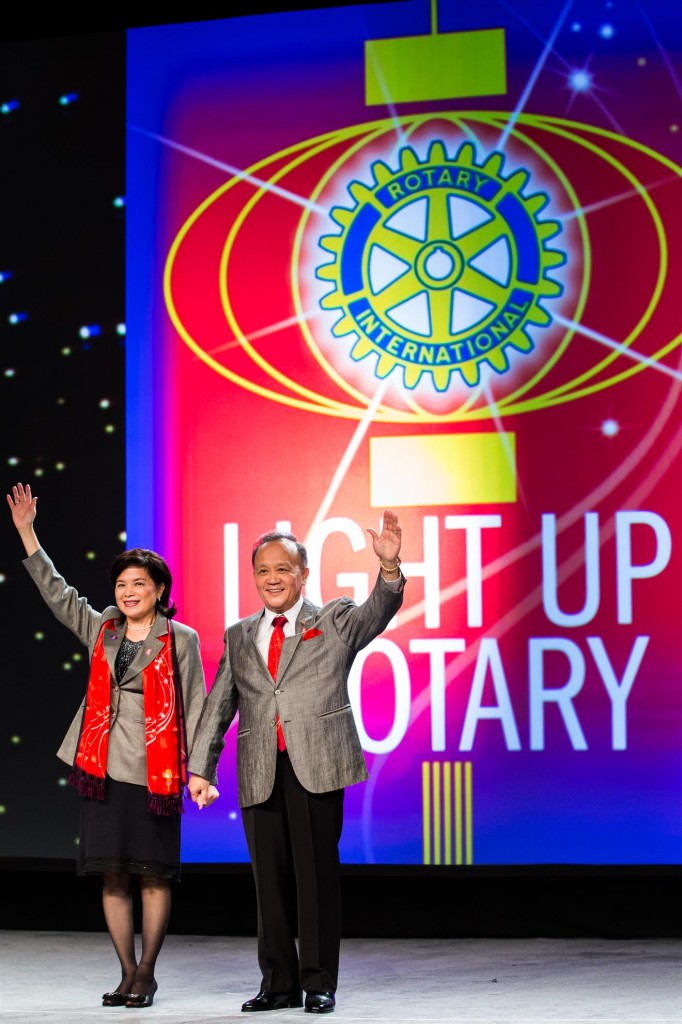 RIPE Gary Huang and Corinna Huang
RI President-elect Gary C.K. Huang chose Light Up Rotary as his theme for 2014-15. Huang was inspired by the teachings of Chinese philosopher Confucius who said: "It is better to light a single candle, than to sit and curse the darkness."
"There are so many problems in the world, so many people who need help. Many people say, 'There's nothing I can do.' So they sit there doing nothing. Meanwhile everything stays dark," Huang told the 537 district governors and their spouses and partners who are attending the 2014 International Assembly in San Diego, California.
"The Rotary way is the Confucius way. The Rotary way is to light a candle. I light one, you light one, 1.2 million Rotarians light one. Together, we light up the world," said Huang, who is a member of the Rotary Club of Taipei in Taiwan.
The Grenfell High School Hall please note bene the grey hair and the heavy jackets!
ON THE LIGHTER SIDE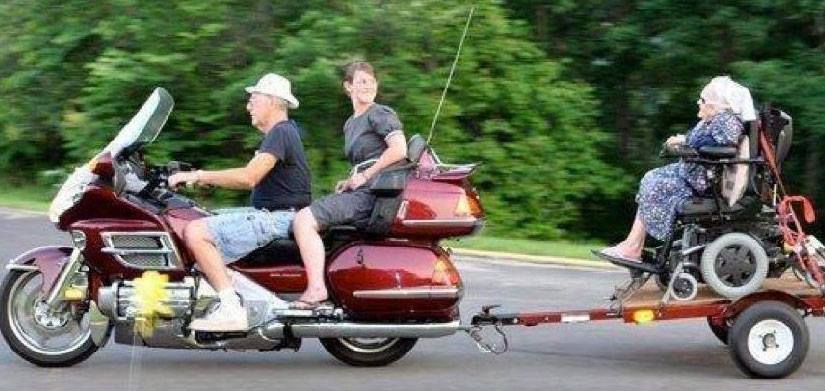 The Dream
A man goes into his son's room to wish him goodnight. His son is having a nightmare – the man wakes him and asks his son if he is OK? The son replies he is scared because he dreamt that Auntie Susie had died. The father assures the son that Auntie Susie is fine and sends him to bed.
The next day, Auntie Susie dies.
One week later, the man again goes into his son's room to wish him goodnight. His son is having another nightmare – the man again wakes his son. The son this time says that he had dreamt that granddaddy had died. The father assures the son that granddaddy is fine and sends him to bed.
The next day, granddaddy dies.
One week later, the man again goes into his son's room to wish him goodnight. His son is having another nightmare – the man again wakes his son. The son this time says that he had dreamt that daddy had died. The father assures the son that he is OK and sends the boy to bed.
The man goes to bed but cannot sleep because he is so terrified
The next day, the man is scared for his life- he is sure is going to die. After dressing he drives very cautiously to work fearful of a collision. He doesn't eat lunch because he is scared of food poisoning. He avoids everyone for he is sure he will somehow be killed. He jumps at every noise, starts at every movement and hides under his desk.
Upon walking in his front door at the end of the day, he finds his wife. "Good God, Dear," he proclaims, "I've just had the worst day of my entire life!"
She responds, "You think your day was bad, the milkman dropped dead on the doorstep this morning."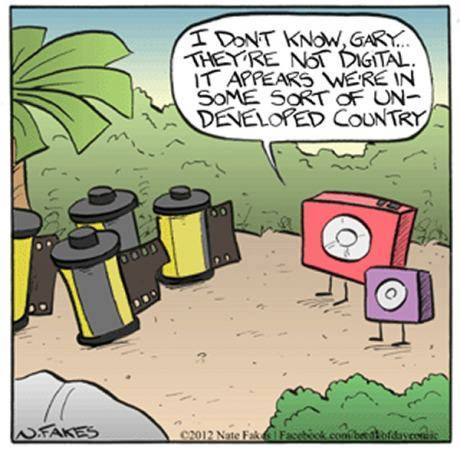 ROTARY INTERNATIONAL PRESIDENT RON BURTON: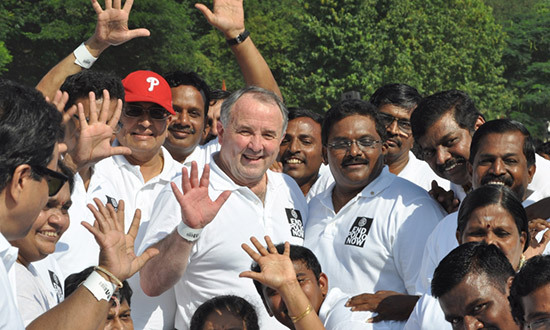 MAY 2014
I've had a unique opportunity to be a part of the polio eradication campaign from its very beginnings, more than a quarter century ago, to where we are now, which is truly "this close" to the end.
None of us knew back then how long eradication would take, or how many obstacles we'd meet along the way. I'm not sure how we would have felt about taking on the challenge if we had known. But there is one thing I know for sure: that every single day of the last 29 years has been worth it. Because over those years, we have saved millions of children from being paralyzed by polio. There's no way to put a price tag on that. And today, we are closer than ever to a world in which no child will be paralyzed, ever again.
It's been a long race to the finish line. That line is now in sight. But we'll only cross it if we keep moving forward. And the only way to do that is with the help of every single Rotarian, everywhere in the world.
The first thing we need is your voice, and your advocacy. Think ahead to World Polio Day, on 24 October: What can your club and district do to raise awareness? Write letters to your elected officials, hold a purple pinkie fundraiser, plan an event with a local school. If you or someone you know has a story to tell about polio, share it at www.endpolionow.org/stories. The most important thing is to keep the momentum going. Let your community, and the world, know that the fight against polio is at its most critical stage yet.
I'm glad to report that the End Polio Now – Make History Today campaign is going well. Rotary met the terms of the new agreement with the Bill & Melinda Gates Foundation and received US$70 million in matching funds in January, which will be fully committed in this calendar year. We have four more years of this agreement remaining, during which the Gates Foundation will match two-to-one every dollar Rotary spends on polio, to a maximum of $35 million per year. I encourage all of you to do what you can to help us make the most of this opportunity. I know that together, we can engage Rotary to end polio – and change the world, forever.
OUT OF AFRICA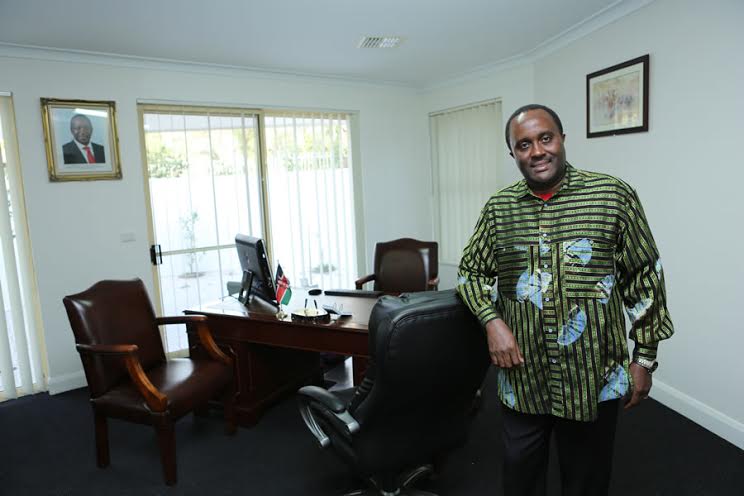 His Excellency Ambassador Isaiya Kabira from Kenya who will be our honoured guest speaker at our International Kenyan Night this Saturday May 10th in Ganmain.
MOUNT KENYA 2015 ANZAC DAY CLIMB
This will be a permanent section for the next 12 months in our weekly bulletin and I will update stories to this article as and when we get them.   The Australian Commonwealth Department of Veterans Affairs have approved our application to be part of the Centenary for ANZAC and we are allowed to use the logo below with some rules on it's use: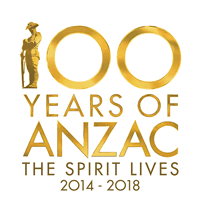 The Mount Kenya 2015 web site can be found here on clicking the banner below: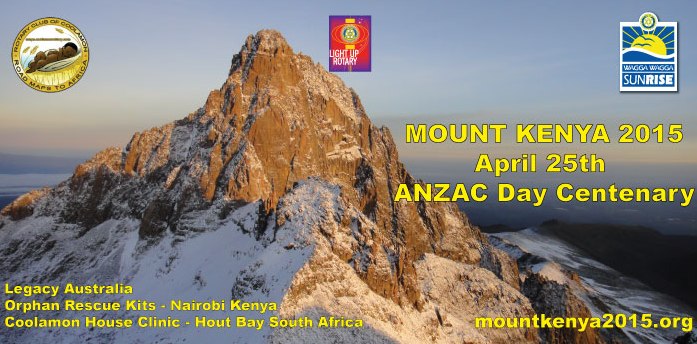 FOOT NOTE
KENYAN INTERNATIONAL NIGHT
Just a reminder as to what this night is about on Saturday: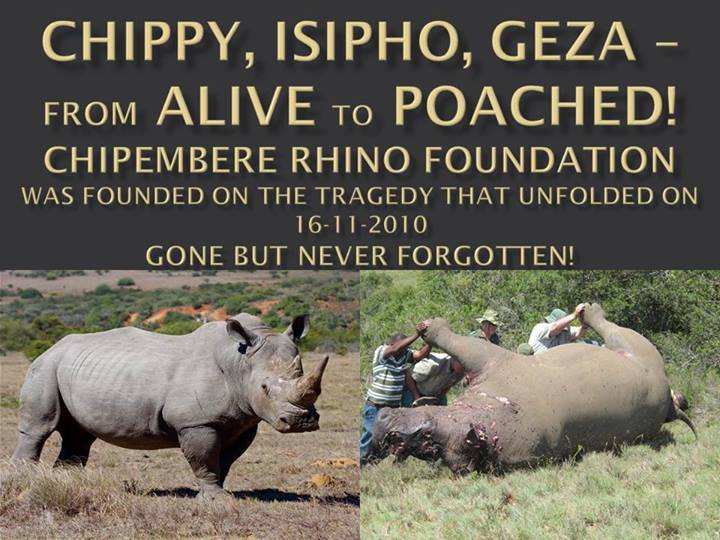 Yours in Rotary John Glassford Chair 2013 -2014
Proposed Rotarian Action Group for Endangered Species
PLEASE CALL ME ANYTIME 02 6927 6027.
Bulletin Editor and Web Site:  John Glassford
Don't forget to regularly check our club web site for current information such as bingo rosters and various newsletters from the District Governor, the School of St. Jude's, the monthly membership on the move newsletter as well as several other club bulletins.
Rotary International President Ron Burton
Governor of District 9700 Geoff Tancred
Coolamon Club President  Dick Jennings
Coolamon Club Secretary Paul Weston
Club Treasurer  Henk Hulsman
Coolamon Rotary Club Inc. P.O. Box 23 COOLAMON N.S.W. 2701
Websites of Interest
Coolamon Rotary Club: http://coolamonrotary.com
Road MAPS to Africa a Coolamon Rotary Project: http://www.mountainsofthemoon.org/
Rotary Down Under on line: http://flipflashpages.uniflip.com/2/26587/49598/pub
Mount Kenya 2015 Web Site incorporating the ORK: http://theork.com/
Our Rotary Centennial Twin Club Hout Bay, Cape Town, South Africa: http://www.rotaryhoutbay.org
Proposed Rotarian Action Group for Endangered Species RAGES: http://www.endangeredrag.org/#